We analyzed Google search trends and surveyed 1,000 word game players regarding their game preferences and habits. What percentage of Americans have tried Contexto, and how many have won? How long does the average American spend playing it each day, and how has its rise in popularity compared with the rise (and fall) of other popular word games?
Key Takeaways
Search volume for Contexto has gone up 447% in the past year.

Americans play word games for an average of 21 hours a month.

35% of children who are encouraged to play word games by their parents are A students.

Lovers of word games have spent an average of $125 on their favorite word games over the past year.
Joining the Popular Crowd
It seems like the public's interest shifts to a different word game every year. But are these "hot, new" games really new? How long does it take the average word game to reach peak popularity?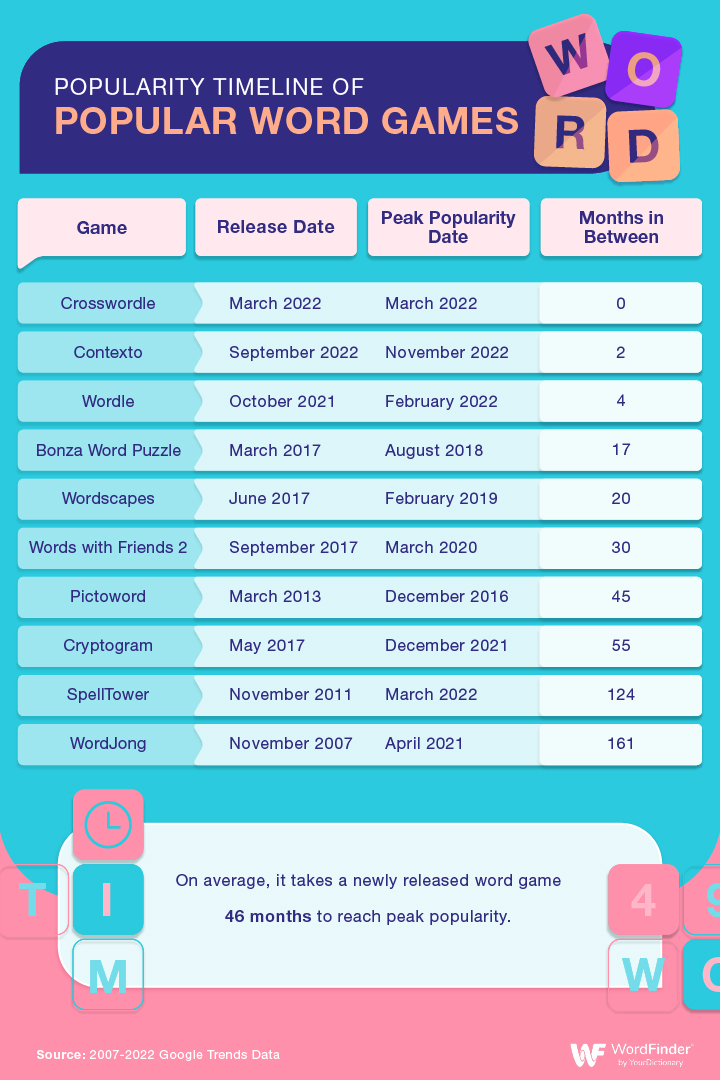 Infographic - Popularity timeline of word games
Despite the seemingly sudden popularity of certain word games, most of them take months or years to enter the mainstream. Wordle was touted as an overnight success in early 2022, but the game was actually released four months prior in October 2021. SpellTower and WordJong had even longer spans between release and peak popularity, about 10 and 13 years, respectively. Even Words with Friends 2 took over two years to become popular, even though many players were already obsessed with the original Words with Friends.
Of course, there are exceptions, and Contexto is one of them. Released in September 2022, it took just two months until Contexto became an online sensation in November of the same year. While this rise to fame was not as quick as that of Crosswordle, which reached peak popularity the same month it was released, Contexto's rapid ascent up the word game ranks may threaten Wordle's hold as America's favorite.
The A-List of Word Games
While Wordle reigned supreme as the most popular word game in 2022, word nerds have hundreds of other games to choose from. Which are the most popular, and who's playing them?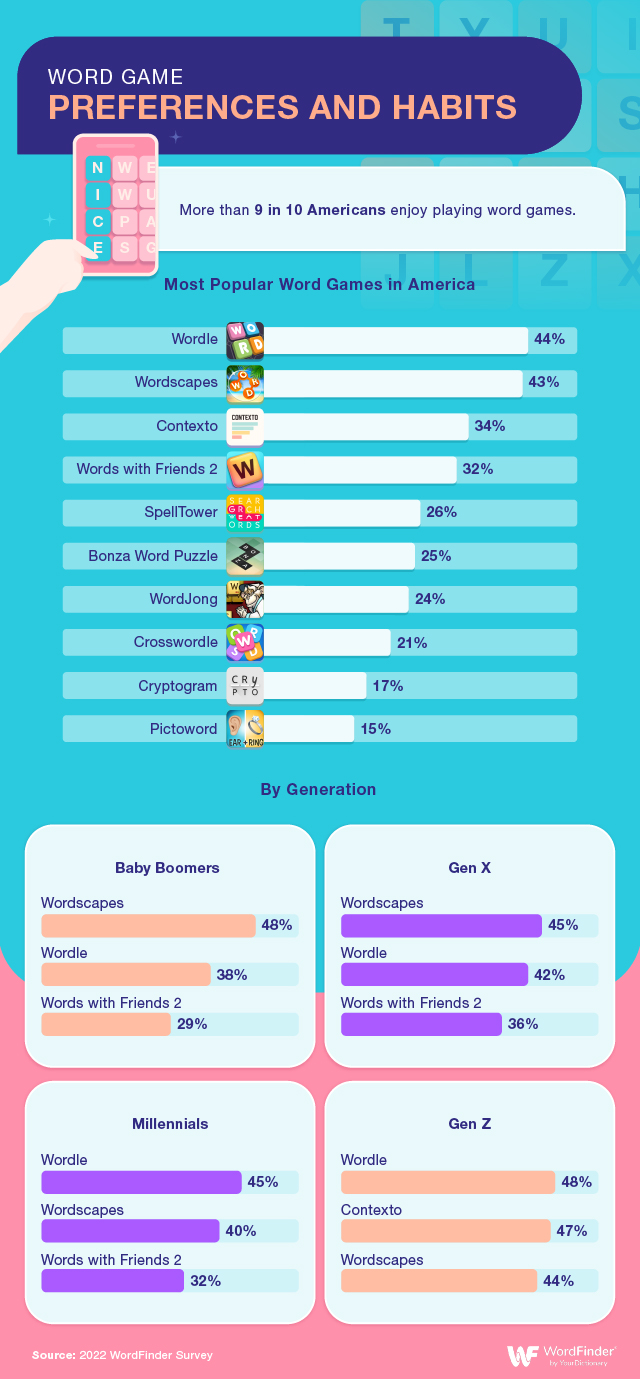 Infographic - Word game preferences and habits
Wordle has continued holding its spot as America's most popular word game, but not by much. Played by 44% of the Americans we surveyed, Wordle only led the pack by 1%. Wordscapes was the second most popular, played by 43%. Contexto came in third, played by 34%, which is impressive since it was only released seven months ago. Words with Friends 2 came in fourth at 32%, and Spelltower rounded out the top five at 26%.
Generationally, players were split. Baby boomers and Gen Xers favored Wordscapes, while millennials and Gen Zers preferred Wordle. Words with Friends 2 was the third most played by baby boomers, Gen X, and millennials. But unlike these multiplayer games, Gen Z's second and third choices were solitary options: Contexto and Wordscapes. Contexto was so popular with Gen Z that it came within 1% of beating Wordle for their top spot.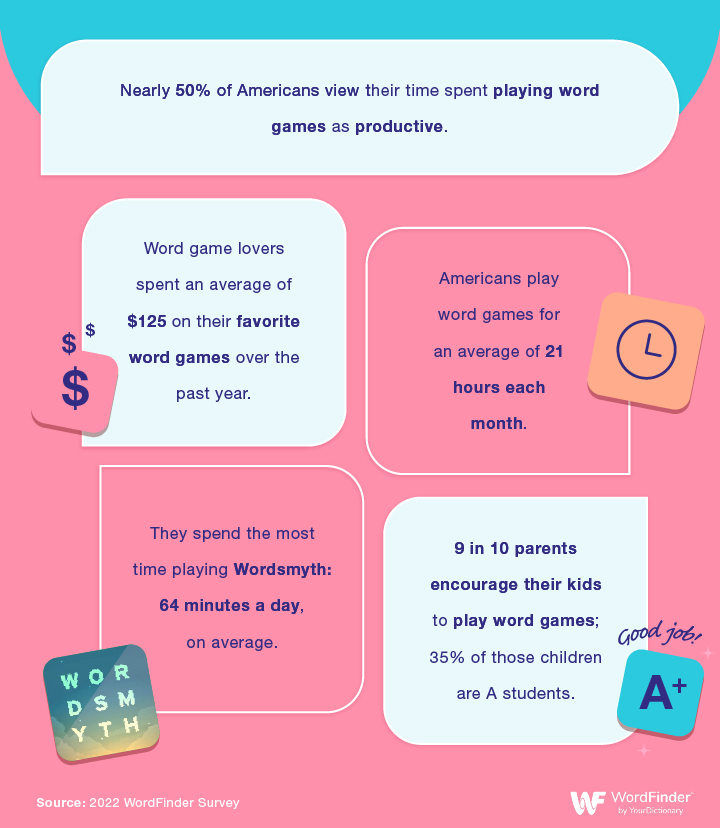 Infographic - How much time do people spend on word games
Whatever word game they're playing, Americans are happy to invest their time in word nerdery. Nearly 50% of Americans viewed playing word games as a productive use of their time, and word game fans spent an average of $125 on their favorites over the past year. Parents even encouraged their children to hop on devices to play word games, hoping it would make them smarter and improve their grades. And, for some, it did: 35% of children who played word games were also A students.
The New "It" Game
Most popular word games have a loyal following, and breaking into the fanbase isn't easy. But Contexto managed to enter the mainstream in just seven short months. Where did Contexto come from? How quickly is its popularity spreading?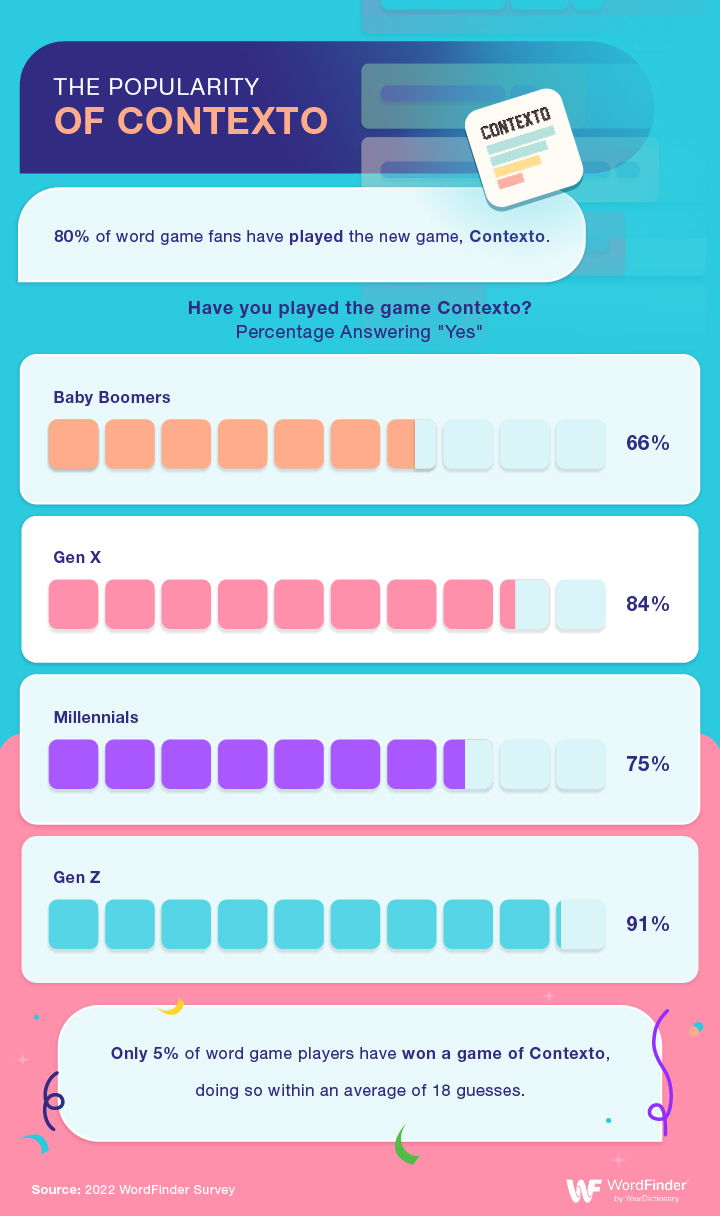 Infographic - The popularity of Contexto
Contexto was created by a Brazilian developer and quickly made the jump to North America. Over 80% of American word game fans played the game in the short time since its release, but only 5% actually won. Perhaps the game's difficulty is the key to its success: many players get close to the mystery word but can't quite nail it down. Missing the satisfaction of the win, players return again and again to test their word association smarts. And, to increase their odds, they inevitably turn to friends for help, spreading the obsession even further.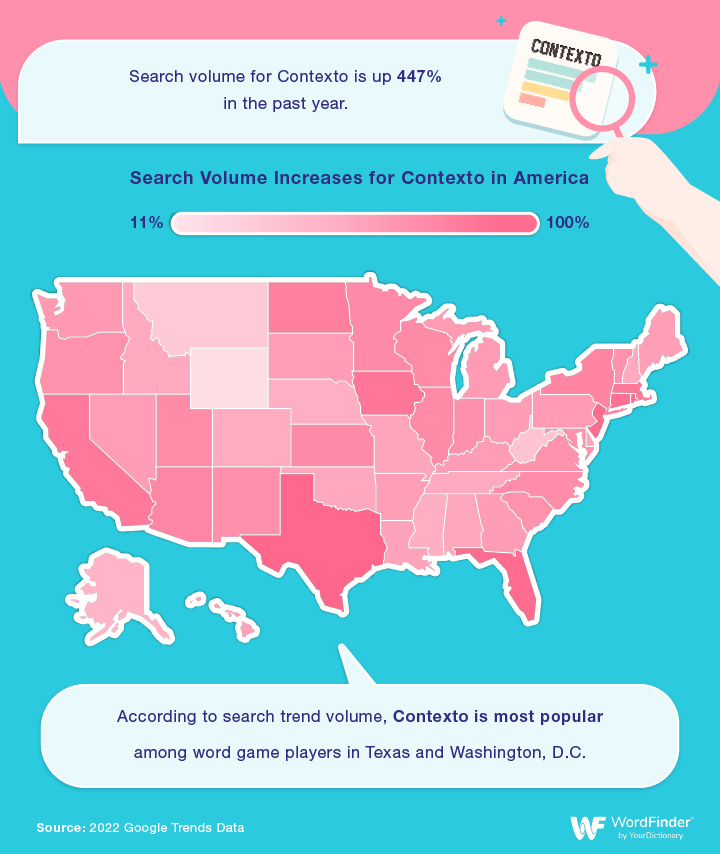 Map - Contexto search volume in the United States
That obsession is spreading fast; online search volume for Contexto has increased by 447% in the past year. Search volumes were particularly high in Texas and Washington, D.C. The biggest Contexto fans were Gen Zers, with 91% saying they've played it regularly. That said, the search volume for Wordle was up 60,953%, so Contexto still won't be crowned the new word game king any time soon.
There's No Such Thing as Too Many Word Games
From Contexto to Wordle to Wordscapes, Americans can't seem to get enough of word games. Some players are in it for the love of words, while others want a good challenge, simple fun, or academic improvement. No matter the reason for playing, there's a word game for everyone. And if there isn't one for you yet, there's probably one on the way.
However, new games can take months or even years to gain traction. The good news is that once in the mainstream, word games have tended to remain popular for a long time. We just wonder what word game is coming next? Whatever it is, we'll be ready to help you conquer it.
Methodology
We surveyed 1,000 word game lovers regarding their word game preferences and habits. The mean age of respondents was 35 years old. Among them, 55% were male, and 45% were female. Respondents comprised the following generational breakdown: 18% Gen Z, 51% millennials, 23% Gen X, and 8% baby boomers. Additionally, we analyzed Google Trends search data to discover state popularity and how long word games took to reach their peak popularity.
About WordFinder® by YourDictionary
WordFinder is a free word games helper. If you're stumped in Scrabble®, need a good start word for Wordle, or want to boost your score in another word game, visit WordFinder® for loads of helpful word game tools.
Fair Use Statement
Are you a word game nerd? Feel free to share this article with anyone you'd like. We just ask that you do so for noncommercial purposes only and provide a link to this page to give the authors their due credit.