Wordsmith
Get the kids into anagramming from a young age with Wordsmith. All they have to do is tap the letters in the right order to form the longest words they can find. It's easy enough for young kids to enjoy, because it starts with only three letters. Even at the highest level, there will be nothing larger than a five-letter word during the two-minute rounds. 
As players form words, they earn gems and hope. They can then use these to craft items like triple word score bonuses. Letters have different values, just like in Scrabble or Words With Friends. Form words, earn points, and maybe even learn some new vocabulary along the way.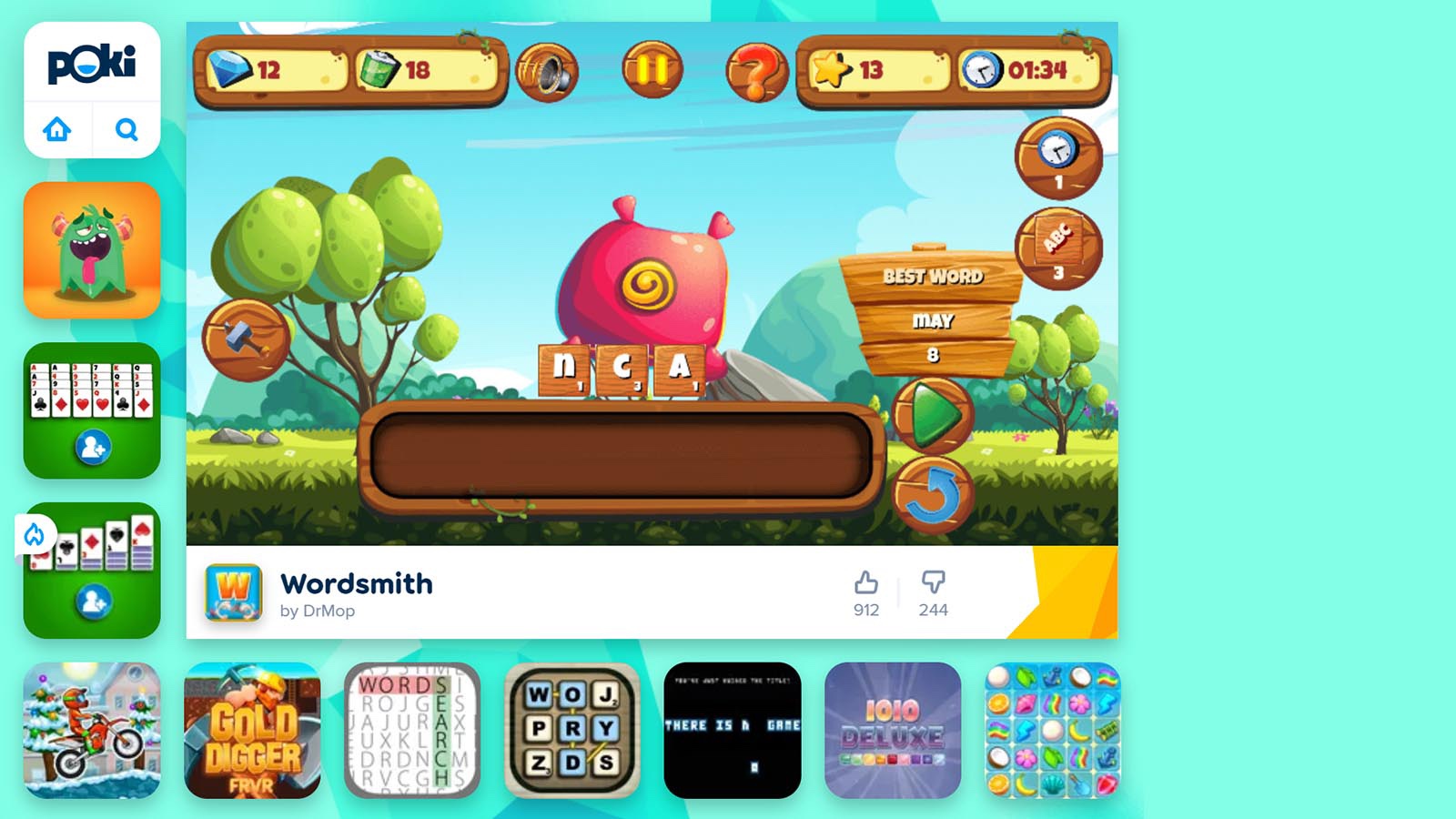 online Wordsmith game for kids
Spectacular Spelling Play
It's pretty obvious that children love familiar characters. Just look at their backpacks and lunchboxes. The same is true with word games online. In the case of Spectacular Spelling Play on the PBS Kids website, the game features Princess Presto from Super Why! 
The popular TV show is already great for teaching language. The online games are an extension of that. In fact, the game plays out a lot like a Super Why! episode. For younger children still learning the alphabet and basic phonics, this game challenges them to build words based on sounds. It's very simple with a single level at a time, rewarded with an interactive animated "stage" at the end.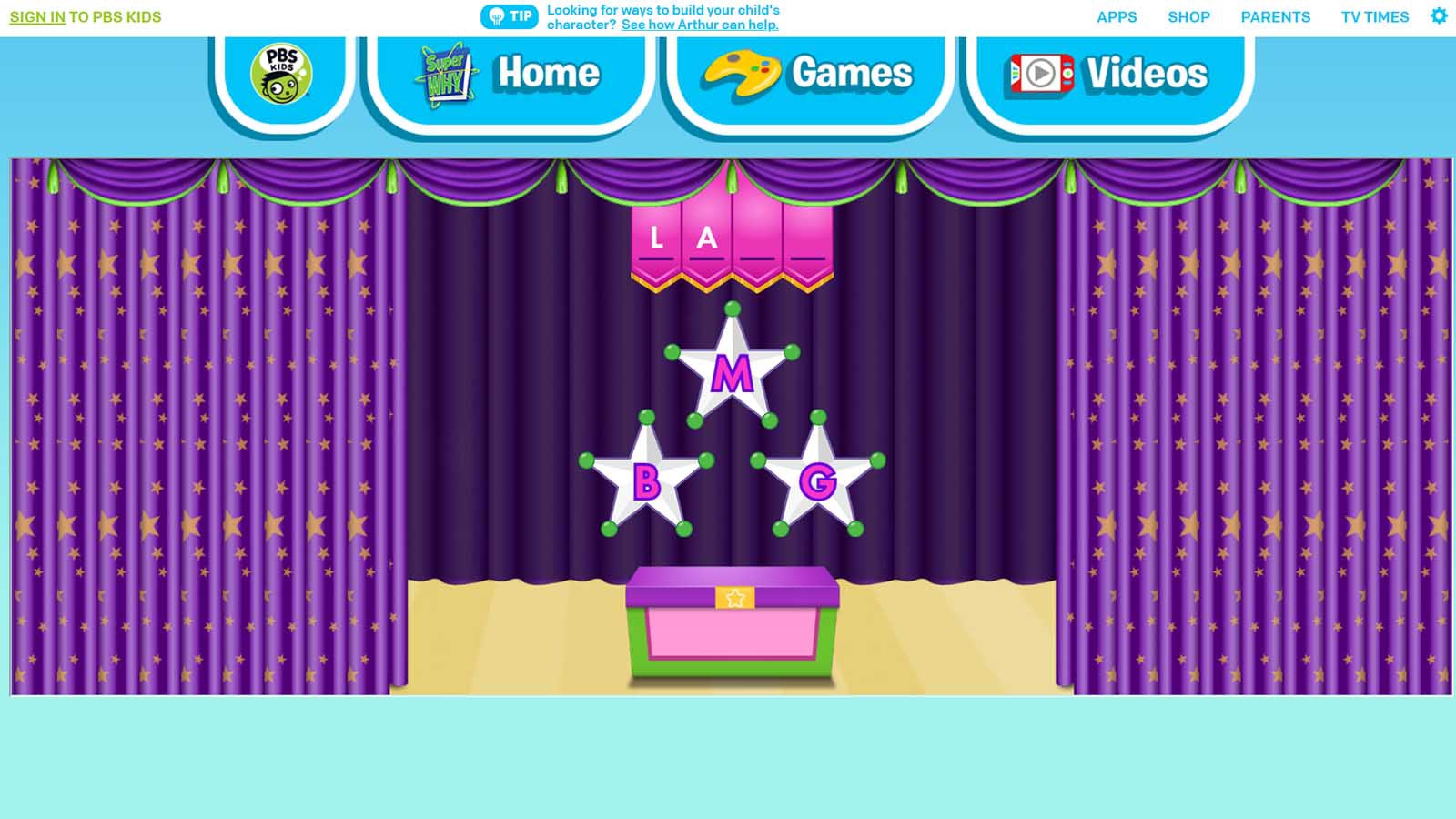 online word game kids Spectacular Spelling Play game
Word Ladder
Many children's games online use the same fundamental mechanic as games targeted toward older kids and adults. If you enjoy playing word chain games yourself, then your kids may enjoy playing Word Ladder. The goal is to move from the word at the top of the ladder to the word at the bottom, changing just one letter per rung. BAT can become CAT, which becomes CAR, and then FAR, for example. 
Word Ladder starts at level 1 with three-letter words on a three-step ladder for kindergarteners. Level 2 moves up to a four-step ladder, advancing all the way to level 15 with four-letter words on an eight-step ladder for grades 2 and 3. For each level, players get 10 ladders to solve. Kids are offered picture clues in earlier levels, moving up to word-based clues in later levels.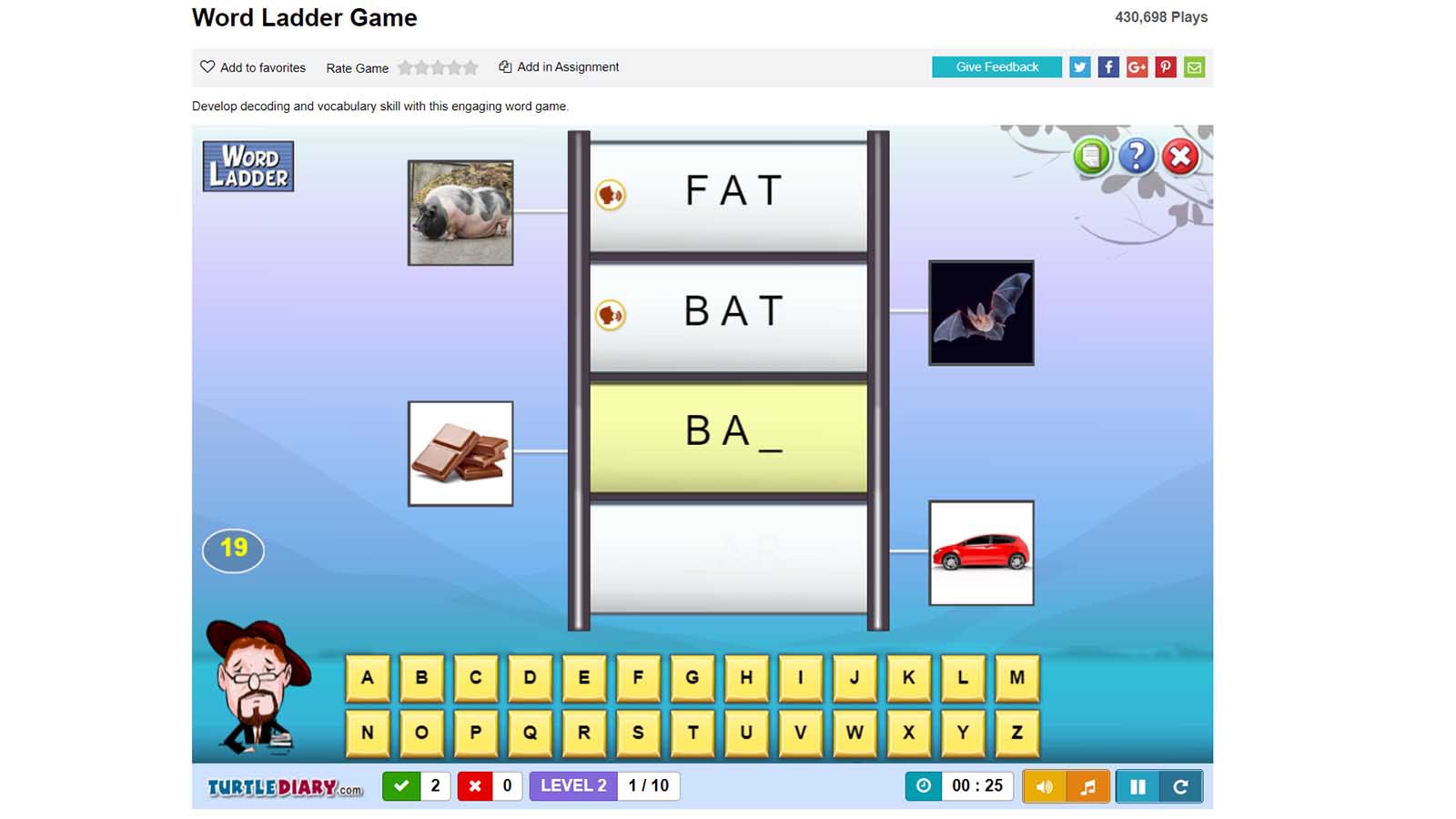 online word game kids Word Ladder game
Aim 2 Spell
Some educational games are obviously educational and savvy kids can spot them from a mile away. Hiding the spelling under the guise of an action puzzle game might be more effective for some young learners. A terrific example of this is Aim 2 Spell. If you've ever played a game like Zuma, you'll know how this works.
The cat in the middle of the stage rotates and "shoots" at the mice passing through the maze around it. Players try to spell the target word by hitting the right mice in the right order. Aim 2 Spell features four sample word lists.
K to Grade 2: Math Vocabulary

Grade 3 to 5: Kn- Words

Grades 3 to 5: Homophones

Grades 6 to 8: Science Words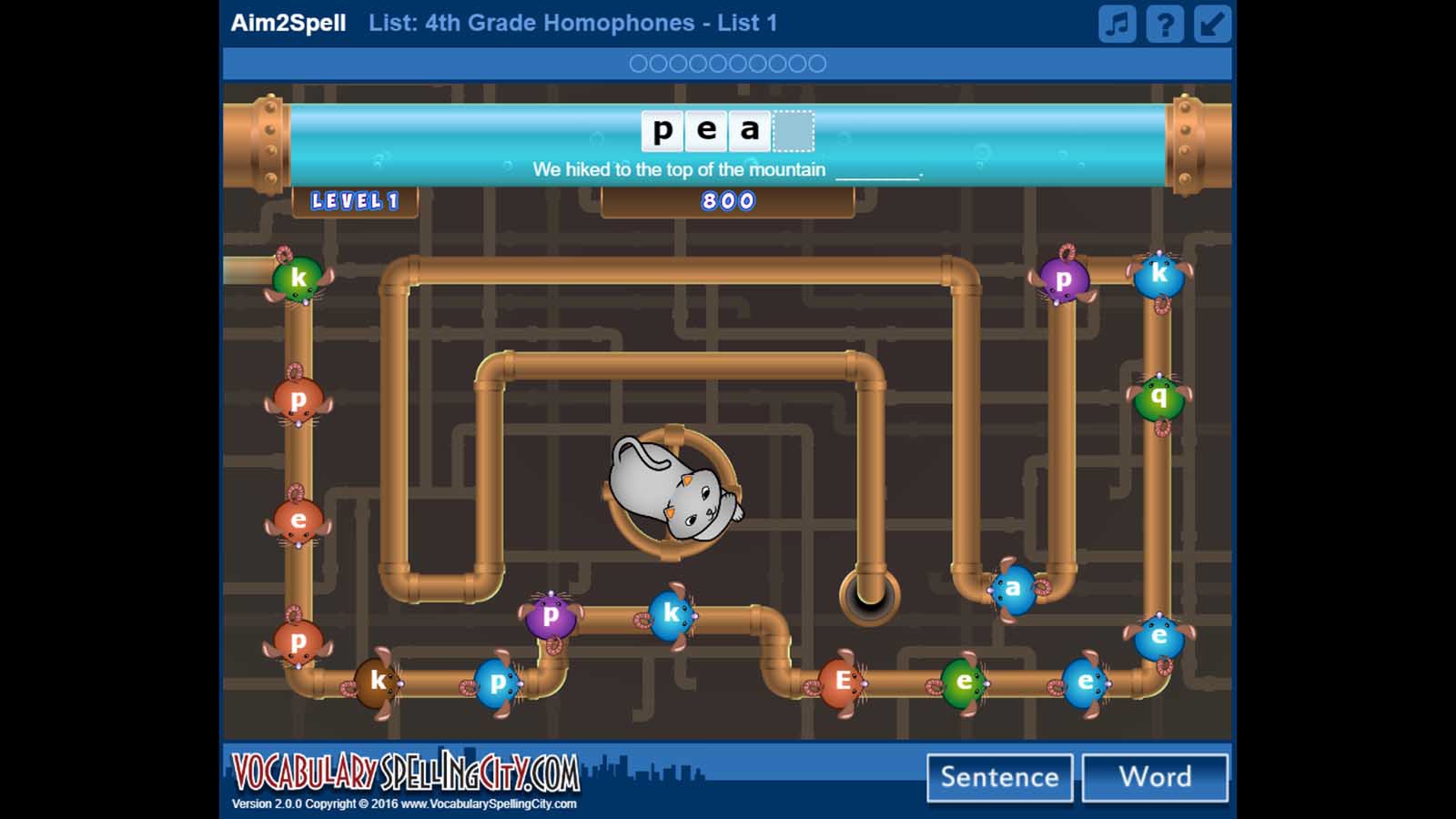 online word game kids Aim2Spell game
Word Scramble
Looking for a word jumble that's more challenging that Wordsmith but not quite as intense as bigger games? Word Scramble is a simple option for a broad range of age groups. Choose easier words for kids in kindergarten and scale all the way up to words for grade 9 students. 
To unscramble letters and form words, simply click and drag the letters in order. Players get an "error" sound when they're wrong, and the letters snap into place when they're right. There's no time limit, no pressure.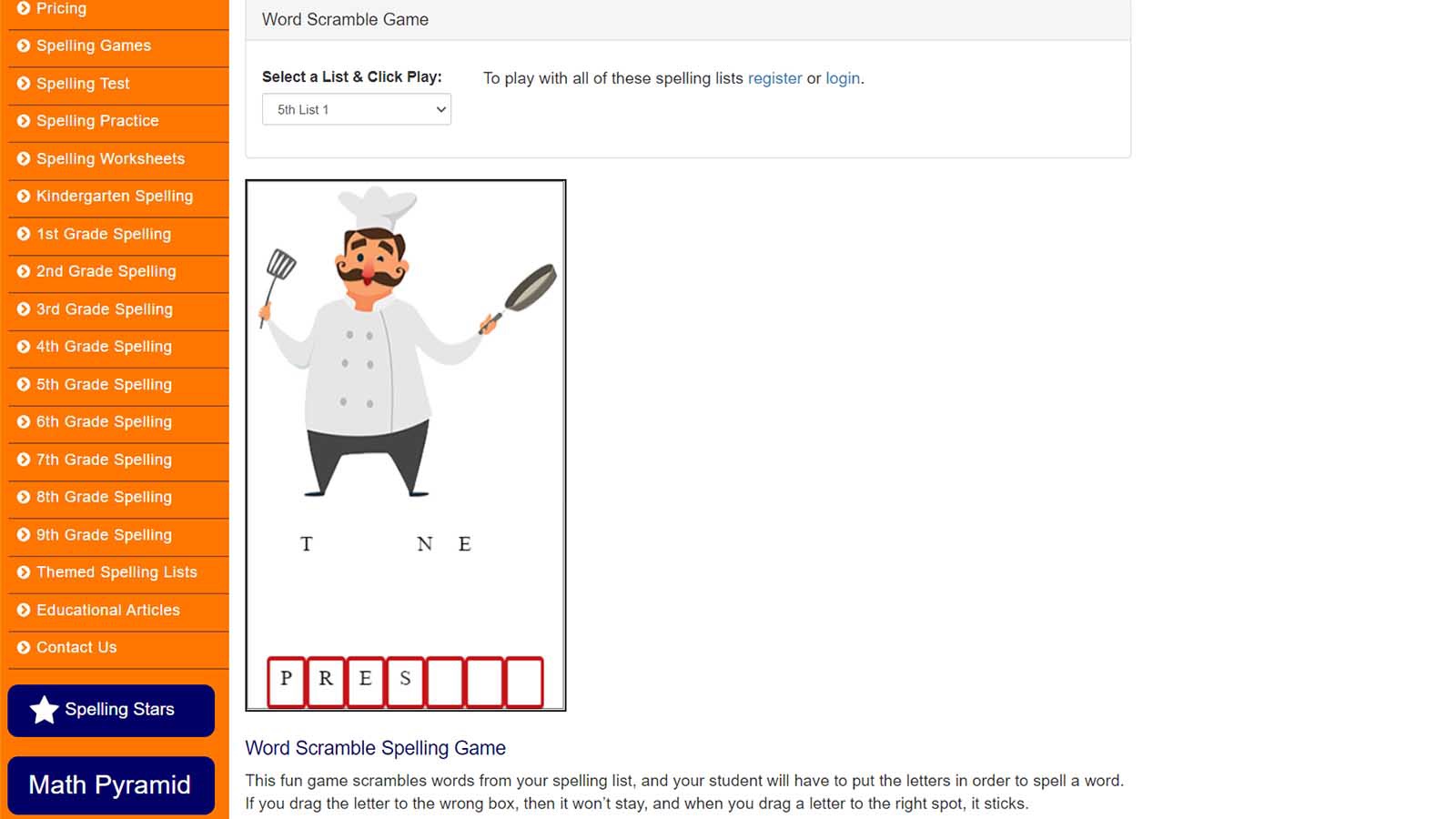 online word game kids Word Scramble game
Word Search
It's a classic! While typical word search puzzles may be overwhelming for younger children, the Word Search on The Learning Apps features shorter words on a smaller board. This makes it much more accessible for kids who want to play these types of online word games. 
The interface is straightforward enough. Simply click and drag across the letters in the word search puzzle when you find a word. Choose between such categories as animals, cities, colors, fruits, and vegetables.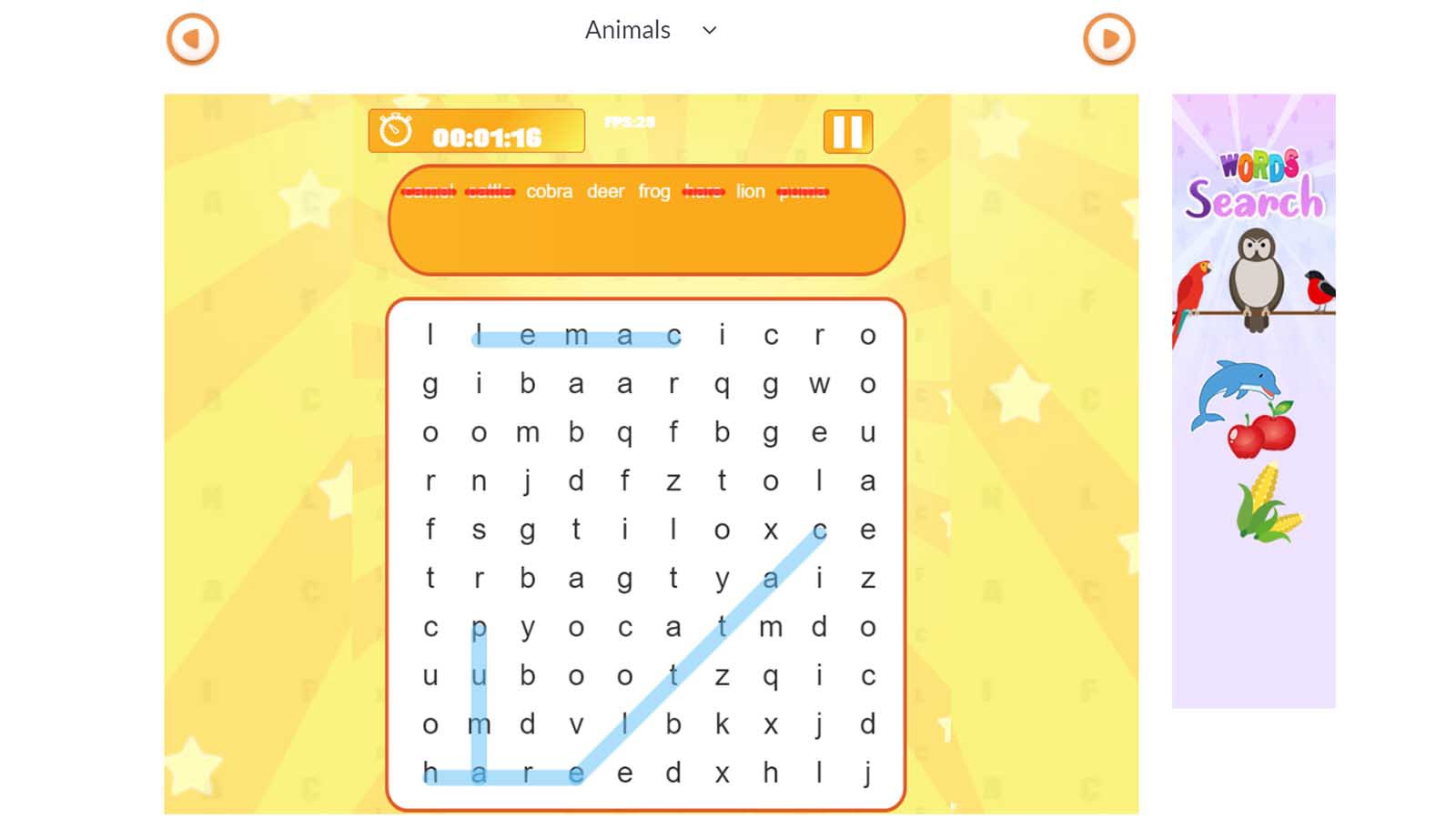 online word game kids WordSearch
Playing With Words Is Fun
Learning is both fun and fundamental when you've got the right word games for kids to play online. If you've got older children looking for a greater challenge, they may enjoy some of the single-player Scrabble games they can play online for free. Or, if you're planning a family road trip, remember to pack a travel Scrabble edition with you!
---
Michael Kwan is a professional writer and editor with over 14 years of experience. Fueled by caffeine and WiFi, he's no stranger to word games and dad jokes.