1. Play Scrabble
Play Scrabble is the newest home for online Scrabble. It's also the only officially licensed standalone Scrabble website. By visiting this free-to-join page, you can play any friends, strangers or computer opponents in single matches or tournaments. And don't ignore all of the extra free features. You can peruse the Scrabble dictionary, visit the community forums, select one of seven different languages to play with, and much more.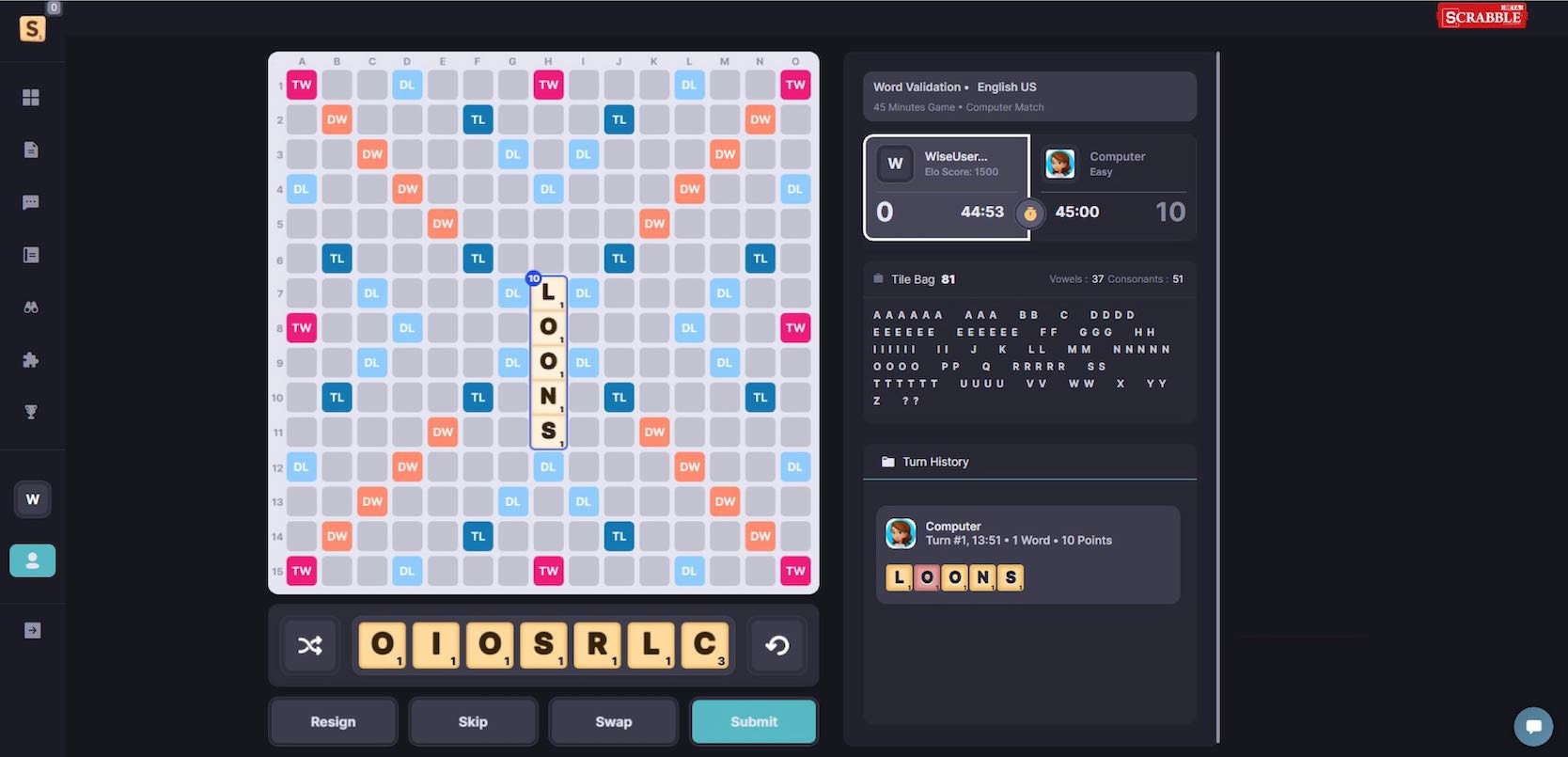 play scrabble desktop game
2. ScrabbleGames.Info
For a non-nonsense, single-player Scrabble experience online, ScrabbleGames.info could be a good choice. This is an unofficial site with an unofficial board layout, however, so it's not exactly like the official Scrabble board nor is it like Words With Friends. It's similar enough, though, and you can play Scrabble against computer opponents across five levels of difficulty.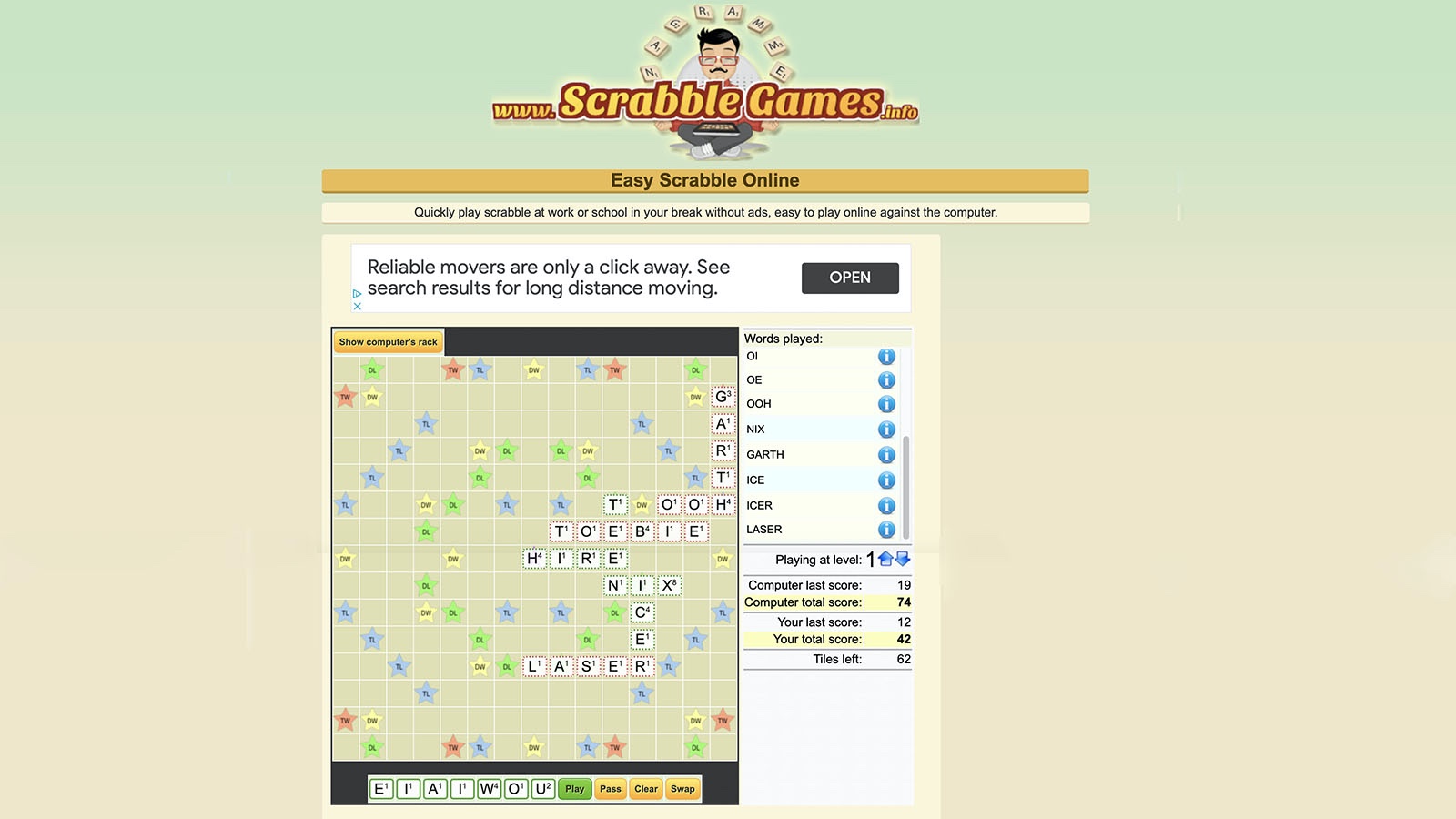 Screenshot of ScrabbleGames.info game
3. Funky Potato
If you'd rather not use ScrabbleGames.info for any reason, Funky Potato offers the exact same game version with identical functionality. It's the same modified Scrabble game board, though the site itself has a busier layout. And if you ever get tired of the Scrabble game, Funky Potato offers a wide variety of other free online games as well.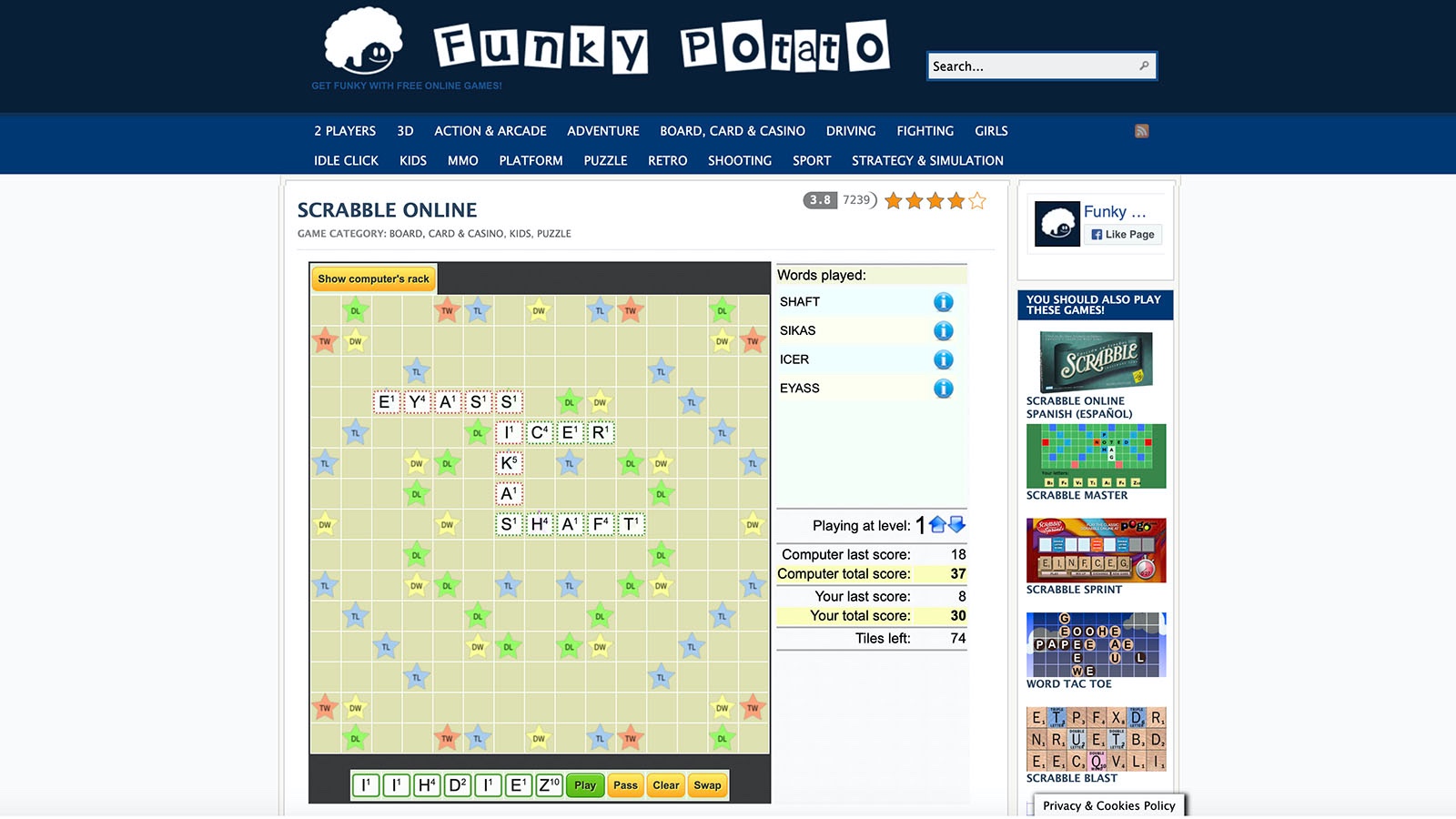 Screenshot of Funky Potato game
4. Pogo Games
Pogo has been around as a casual online gaming site for a number of years. The good news is that you can play Scrabble against computer-controlled players for free here. However, you'll need to deal with interstitial video ads that will interrupt your play. While you don't need a Pogo account to play, signing into your account will allow you to save your game progress. You can also upgrade to a paid Club Pogo account for an ad-free experience.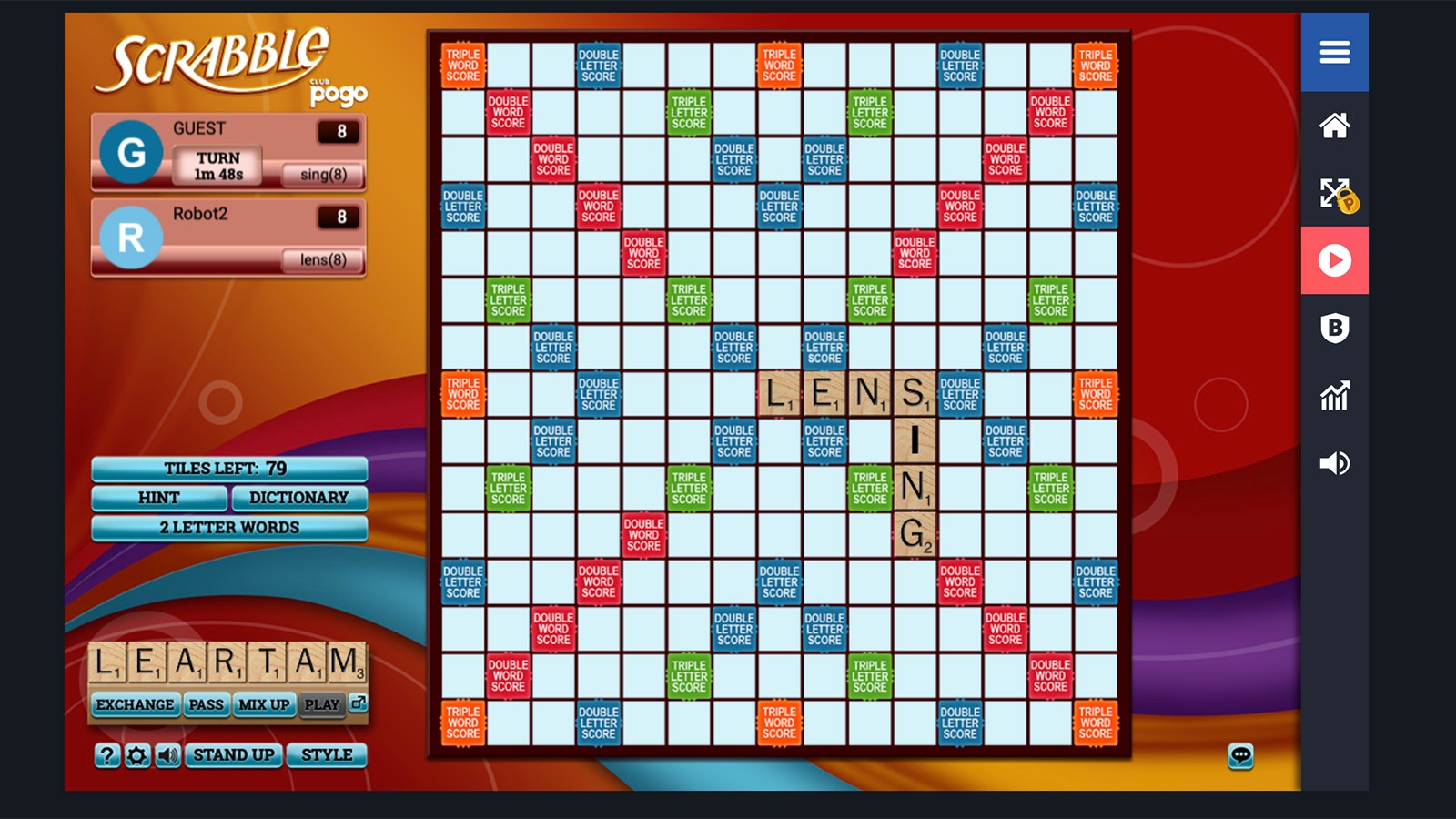 Screenshot of Pogo game
5. Aerolith Wordwalls 
Ready to put your word unscrambling skills to the test? A perfect training ground for your next big tournament, Aerolith Wordwalls pits you against the clock to find as many words as possible. You'll need to sign up for a free account to get started. Either log in with Facebook or sign in with Google. 
Choose among the single-player challenges, including by word length, as well as tougher challenges like blank bingos. When you're ready to start, the game will show you a rack of letters and you type in every valid word you find. Compare your results against the daily leaderboards.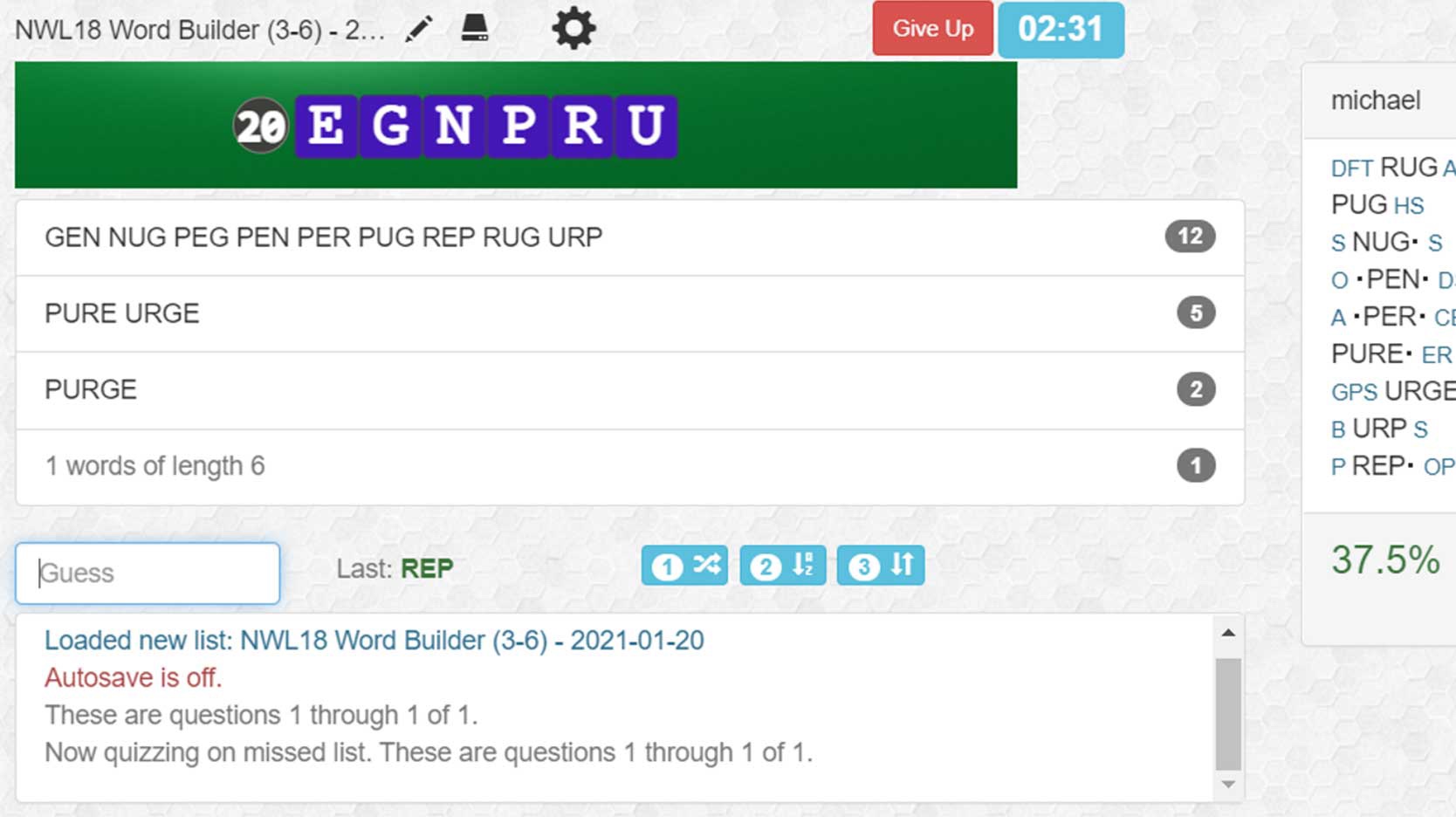 Screenshot of aerolith game
6. Play Scrabble on Joomla
Scrabble.joomla.com is a reliable and simple single-player Scrabble site. We say "reliable" because Joomla Scrabble gives you exactly what you come there to do: Scrabble games against a basic computer opponent. Aside from being able to pick the computer's difficulty level (easy, medium or hard), Scrabble on Joomla is exactly the same as traditional Scrabble.
The only extra feature the game offers is a practice mode. Here, you can practice finding the best words on your letter rack and on the board. The computer does not form words in this mode. Instead, it lets you keep making word after word until you have used all 100 letter tiles.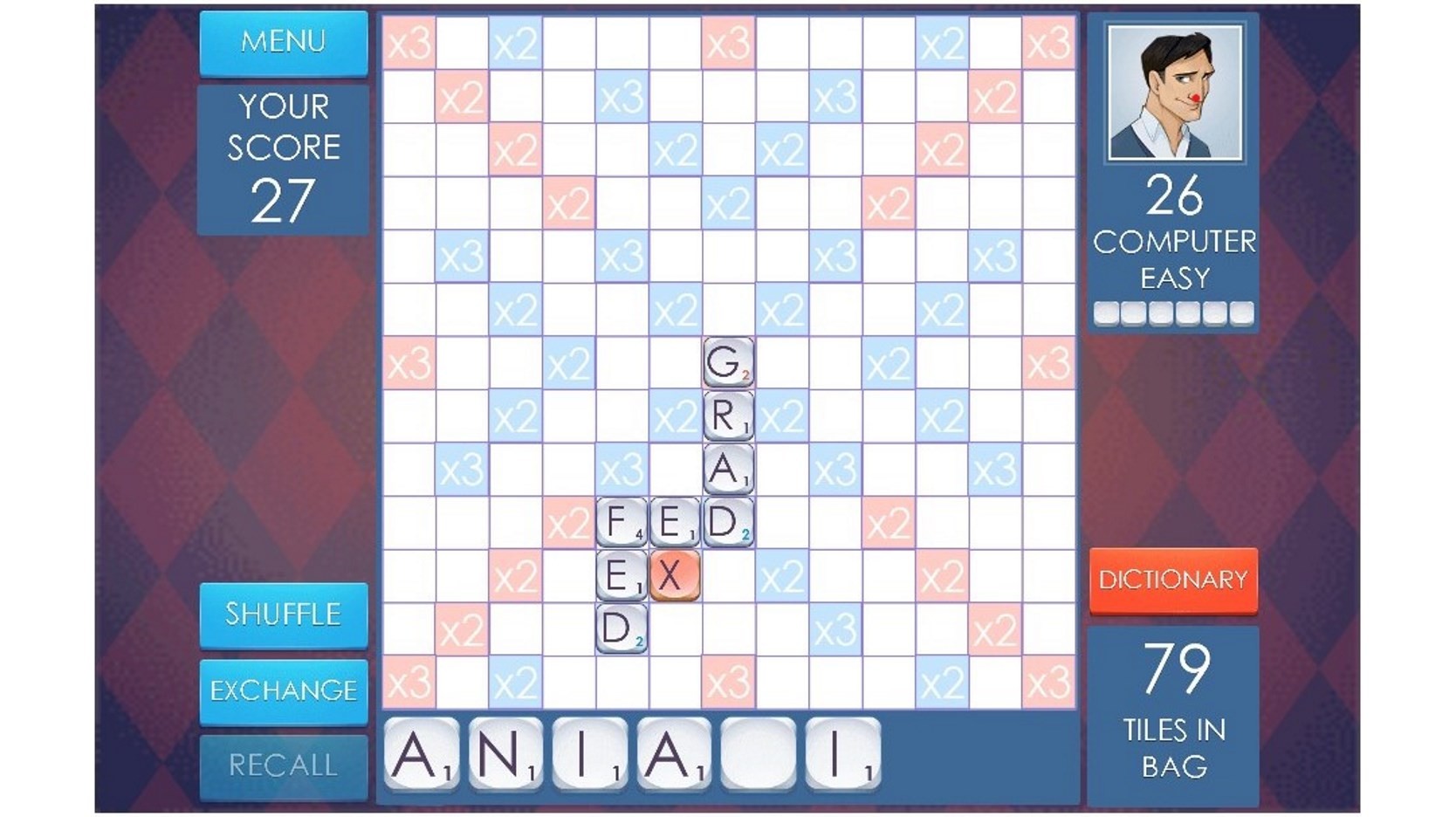 Scrabble game on Joomla screenshot
7. Scrabble Blast
Much like how Scrabble Sprint offers a different kind of single-player Scrabble game, Scrabble Blast on Arcade Spot is inspired by the original, but with different gameplay mechanics. Really, you could say it's more like Boggle. In this game, you connect adjoining tiles to make words, including diagonally. 
The initial board shows a 7 x 7 grid of tiles (including bonus tiles). The objective is to get as many points as you can while avoiding letting the "time bombs" get to the bottom. Hover over the game and click on the "controller" icon for a full list of keyboard controls. Double-tap on a letter to complete a word.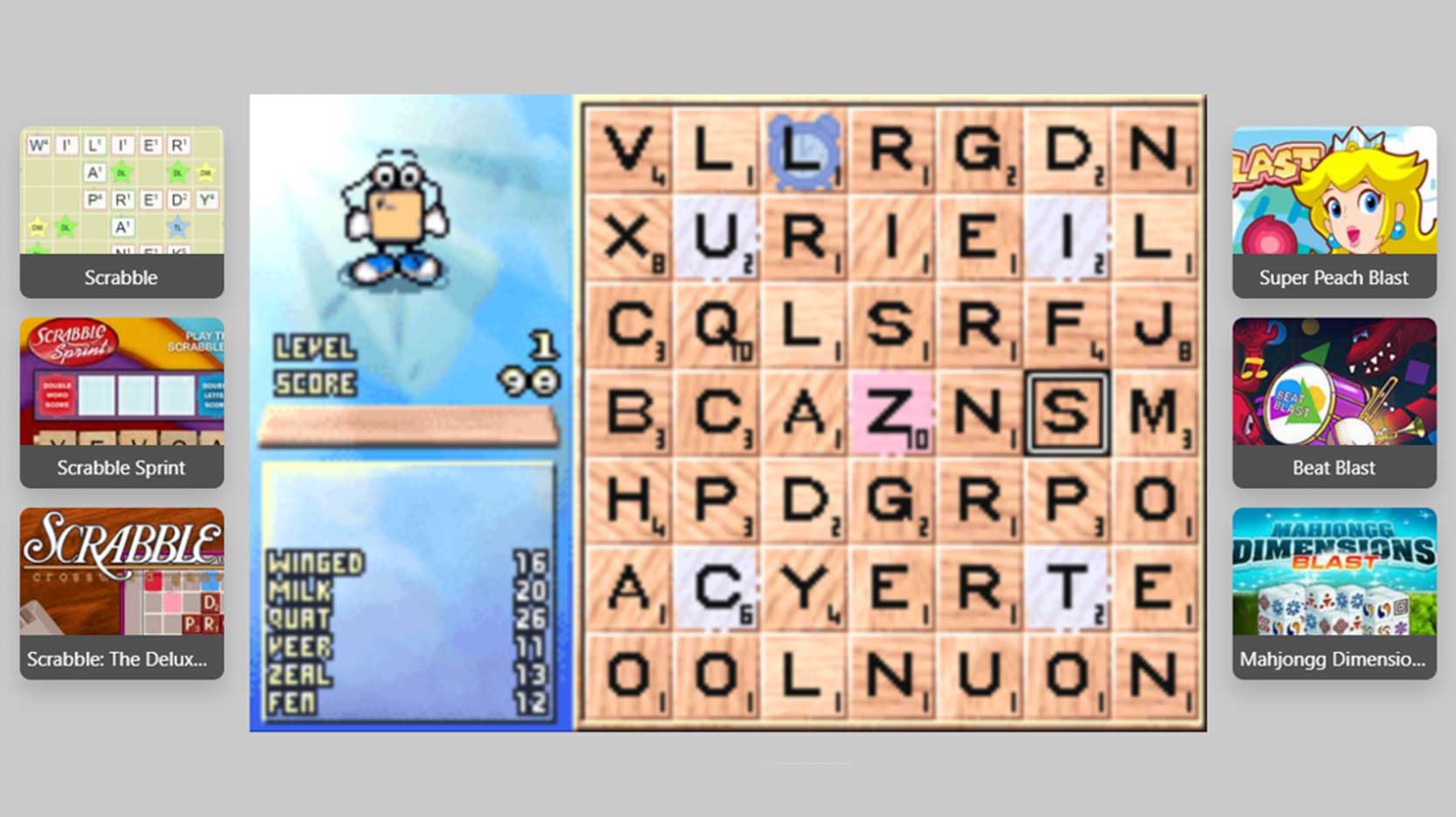 Screenshot of Scrabble-Blast game
8. Lexulous
On Lexulous, you get another Scrabble-inspired word game to play online via your web browser. You can play a free demo game against the computer, but you will need to sign up for a free account if you want to keep playing. You can also play online with friends and other players, including an option to play over email. There are reasons why you might choose Lexulous over Words With Friends and other similar games, like improved offline play. 
The bonus squares in Lexulous are color-coded but there's no wording on the board itself. For your reference, dark red is triple word, light pink is double word, dark blue is triple letter, and light blue is double letter bonus.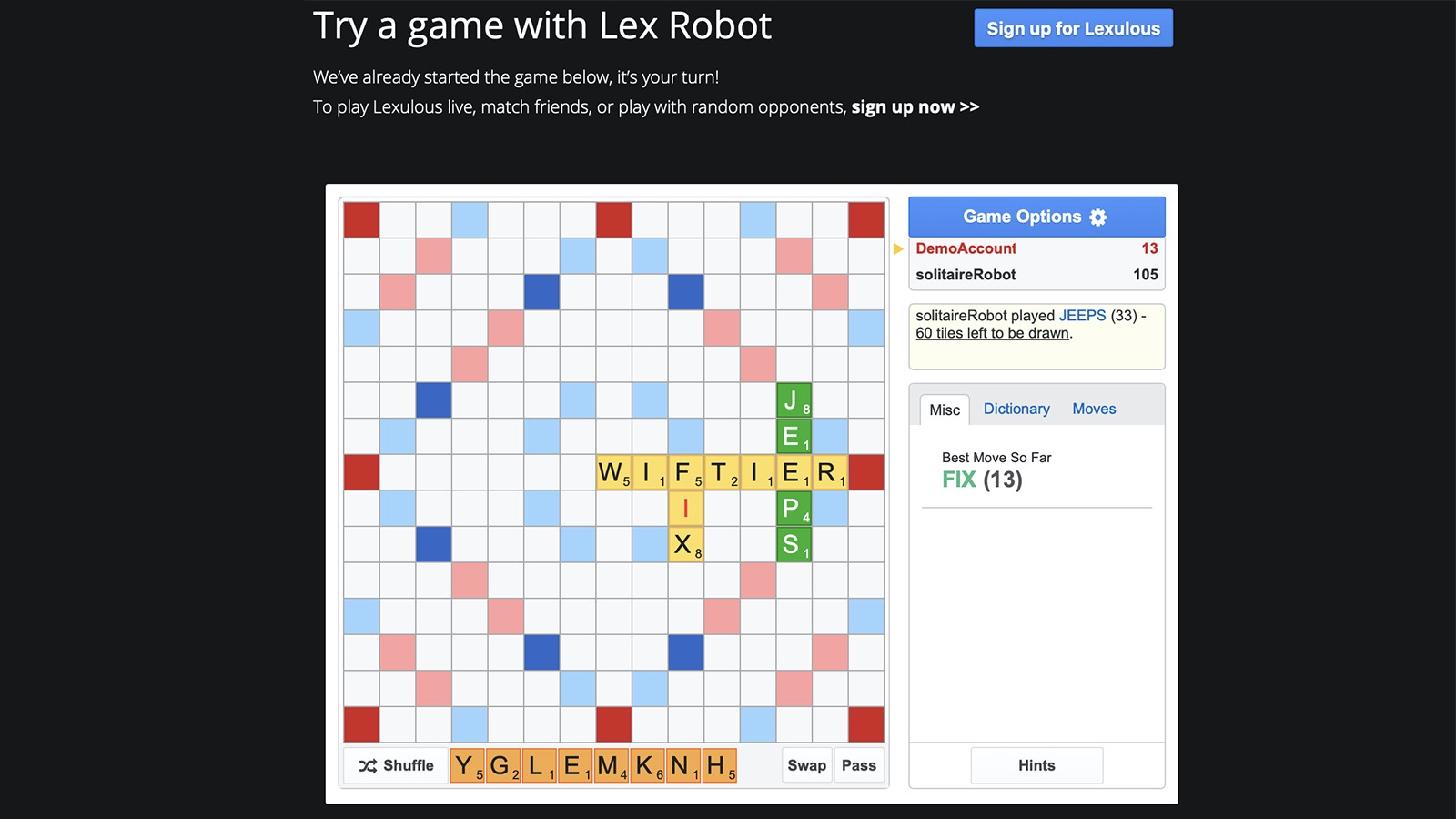 Screenshot of Lexulous game
9. Microsoft Store
If you'd rather install the game directly on your computer rather than play Scrabble in a web browser, you can download Words & Friends by Crazy IO Games via the Microsoft Store. The Windows 10 app is clearly inspired by Words With Friends and Scrabble, but it features a game board that isn't exactly like either of those games. The modern colorful layout is pleasant and the computer AI can offer a varying degree of challenge for players of all skill levels.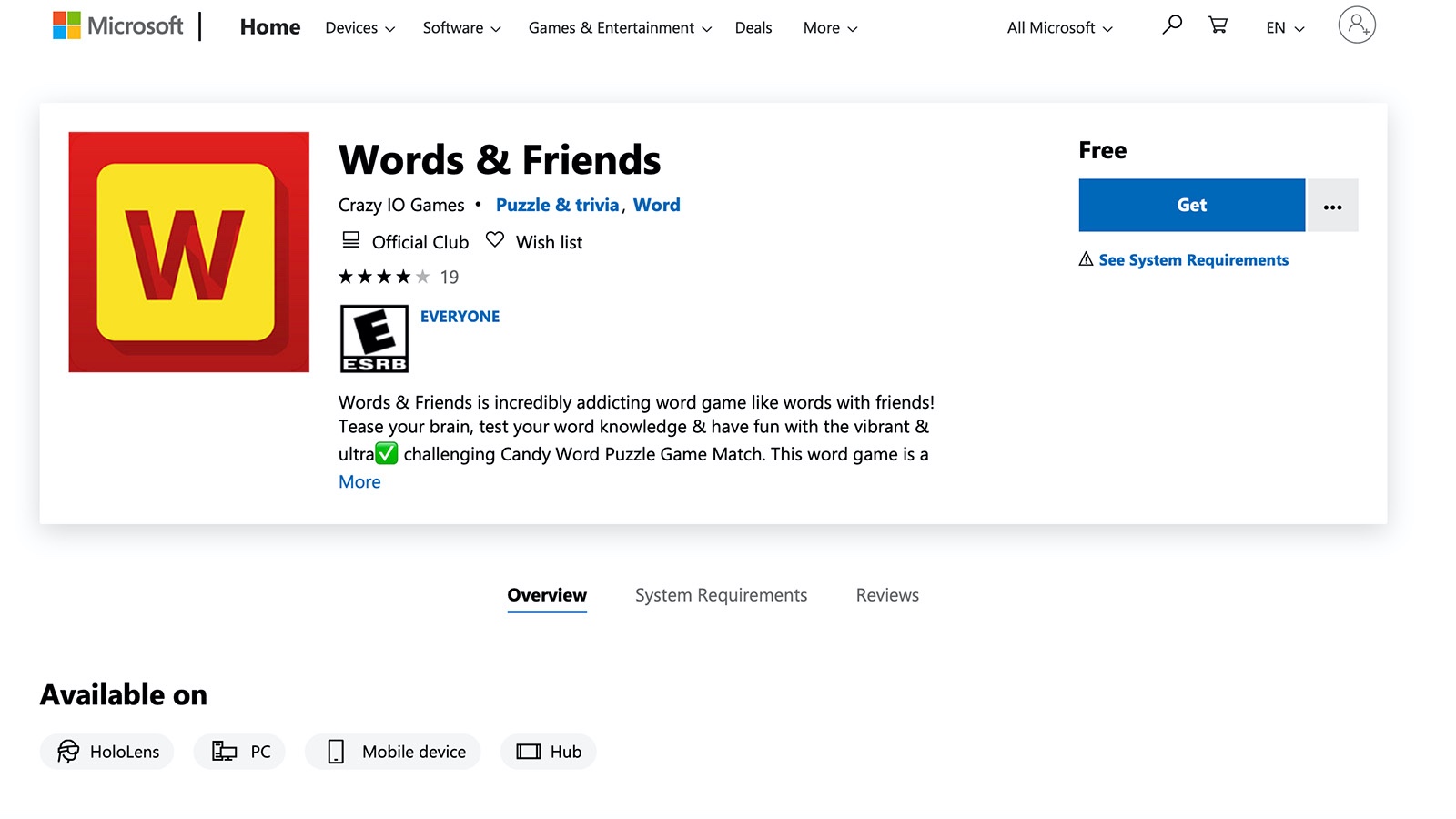 Screenshot of Words & Friends download screen
10. Play Classic Games
Want to kick it old school? Play Classic Games allows you to run Scrabble: The Deluxe Computer Edition right from within your web browser. Originally released as an MS-DOS game back in 1990, The Deluxe Computer Edition of Scrabble is necessarily retro-feeling, complete with blocky graphics and bleep-bloop type computer sound effects. Choose from 9 different computer skill levels, plus a Human vs. Human option.
Because the game is a few decades old at this point, bear in mind that you are playing with an older dictionary too. So, newer words are not valid plays in this game, even if they are valid in the current version of Scrabble). However, you can add them to the game's dictionary. You do get the official Scrabble board, of course, though there are no text markers on the bonus spaces. You can also adjust rules, like no 2-letter words or no S-words.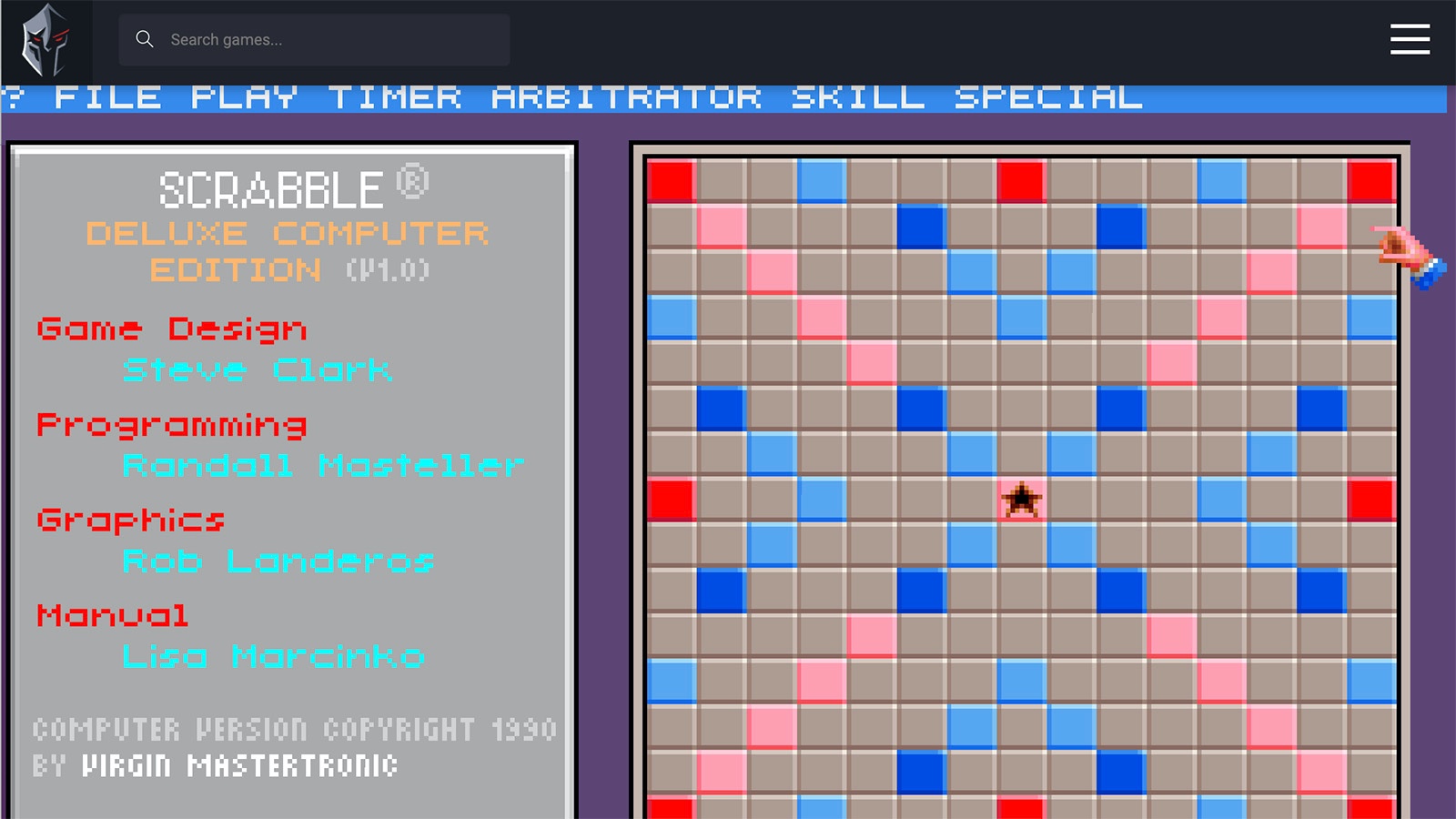 Screenshot of Play Classic Games
11. AOL - Just Words Online
Speaking of a blast from the past, AOL is still very much around. Just Words isn't an official Scrabble game, but its board layout is very similar, albeit in a slightly smaller format. Instead of the standard 225 squares on a 15 x 15 Scrabble board, Just Words has a 13 x 13 square layout. Also, instead of the standard 7 letter tiles, you only get 6 tiles on your rack. 
What's useful here is the "assembly" area where you build up a word and drag the whole thing over to the board, including using letters that are already in play. Choose to play an easy, medium or expert computer opponent, play solo (with no opponent), or play against a real person. You even get a virtual Elo rating based on how you do!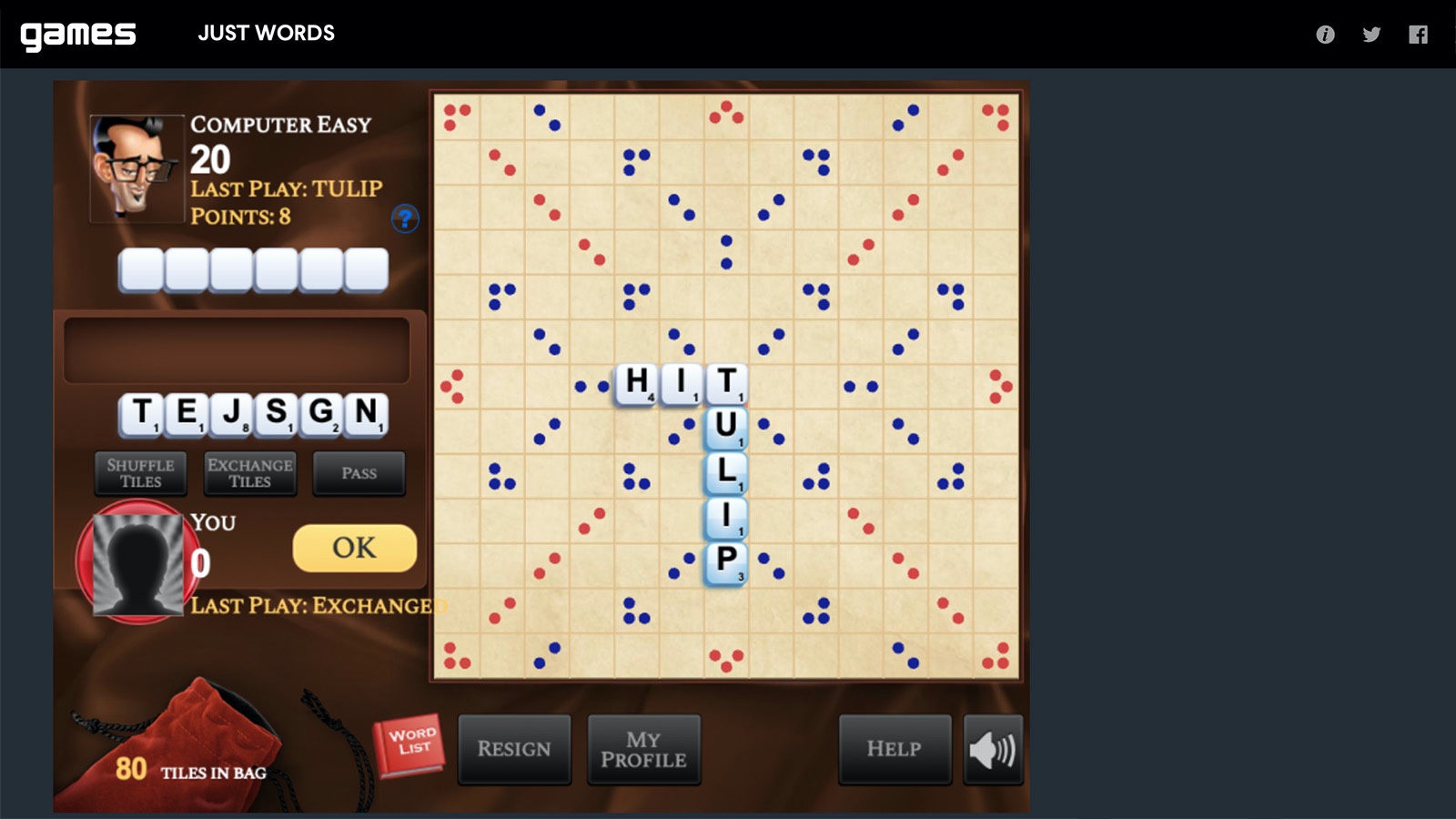 Screenshot of Just Words game
The Solo Scrabble Online Experience
After all that single-player Scrabble practice online, you'll be more than ready to take on challengers from all fronts. But, if you run into a bit of a snag and want to uncover the best possible word to play, our word finder tool is here to help. Simply enter the letters you have and it'll sort them into playable words, complete with how many points you can expect to earn. Never be "board" again! 
---
Michael Kwan is a professional writer and editor with over 14 years of experience. Fueled by caffeine and WiFi, he's no stranger to word games and dad jokes.