LA Times Daily Crossword: A Popular Standard
For our part, the LA Times Daily Crossword strikes that perfect balance of being easily accessible, but also just challenging enough. That way, you can revel in your satisfaction each time you complete the free daily crossword. The same daily puzzle appears in several other major newspapers too, like the Washington Post crossword.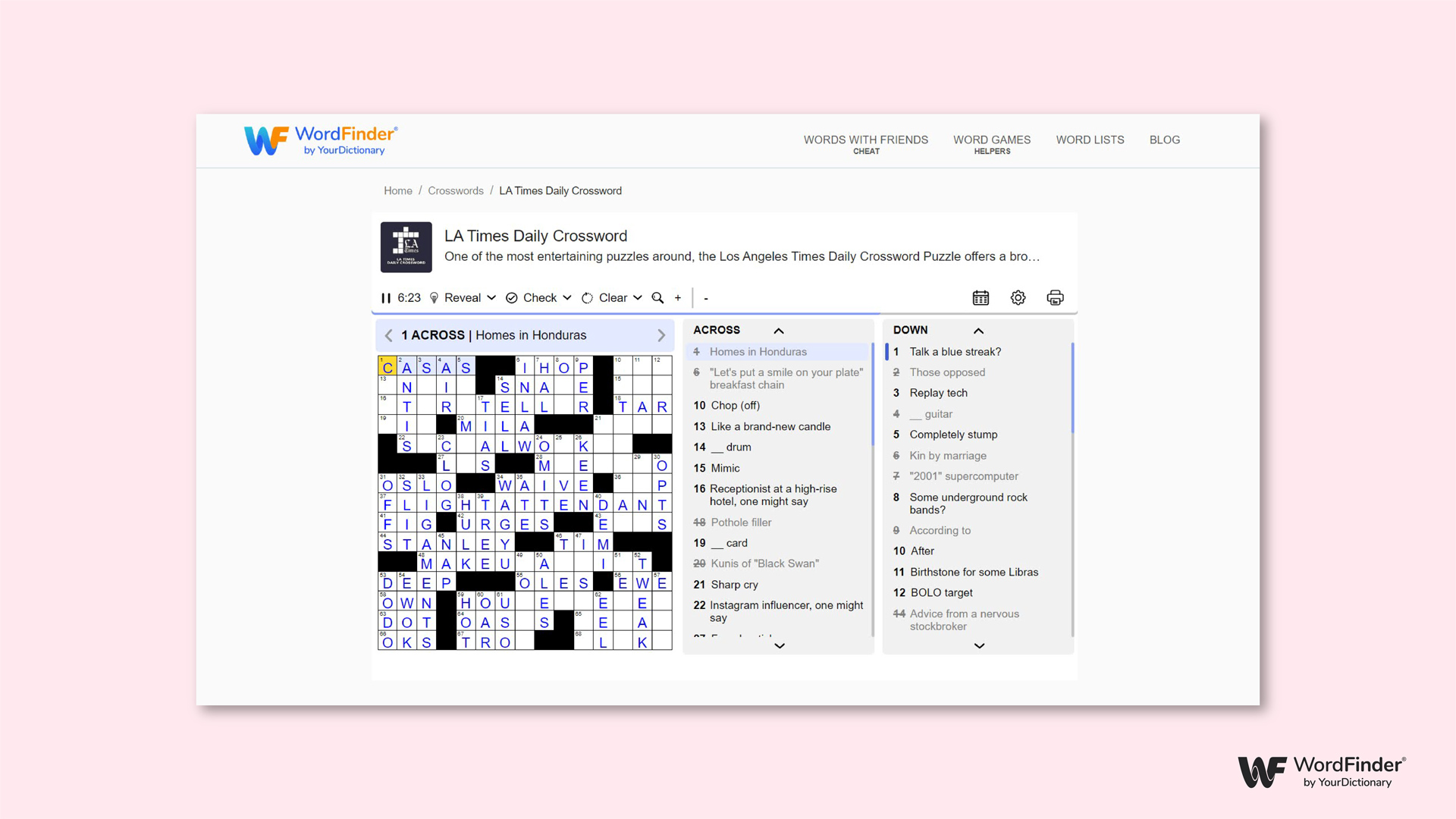 Free daily crossword from LA Times screenshot
Enjoy a variety of clues, from vocabulary to culture, with a sprinkling of wordplay too. Find the LA Times Daily Crossword on our new free online games site. We encourage you to explore the rest of the online games library there too, including sudoku, logic puzzles and more. 
Thomas Joseph Crossword: An American Classic
Speaking of the WordFinder games site, another crossword puzzle we'd like to highlight there is the Thomas Joseph Crossword. Like the LA Times Crossword, the Thomas Joseph Crossword doesn't try to reinvent the wheel. This is the traditional crossword puzzle you've known and loved for years. 
What's key here is that Thomas Joseph has clearly established himself as one of America's best crossword makers. Expect puzzles that are both fun and challenging, combining creative clues with common words. Take advantage of the "reveal" and "check" functions if you get stuck. You can choose to reveal an individual letter, a single word, or even the whole puzzle. 
NYT Mini Crossword: A Bite-Sized Break
Don't have time for the full New York Times Crossword? Not that interested in paying for a NYT Games subscription either? We've got some pleasant news for you, because the NYT Mini Crossword is free to play each day. It should only take you a minute (or less!) to finish. Expect about eight to 10 clues each day; most answers are no more than five letters long, but you may get a few that are six or seven letters on occasion.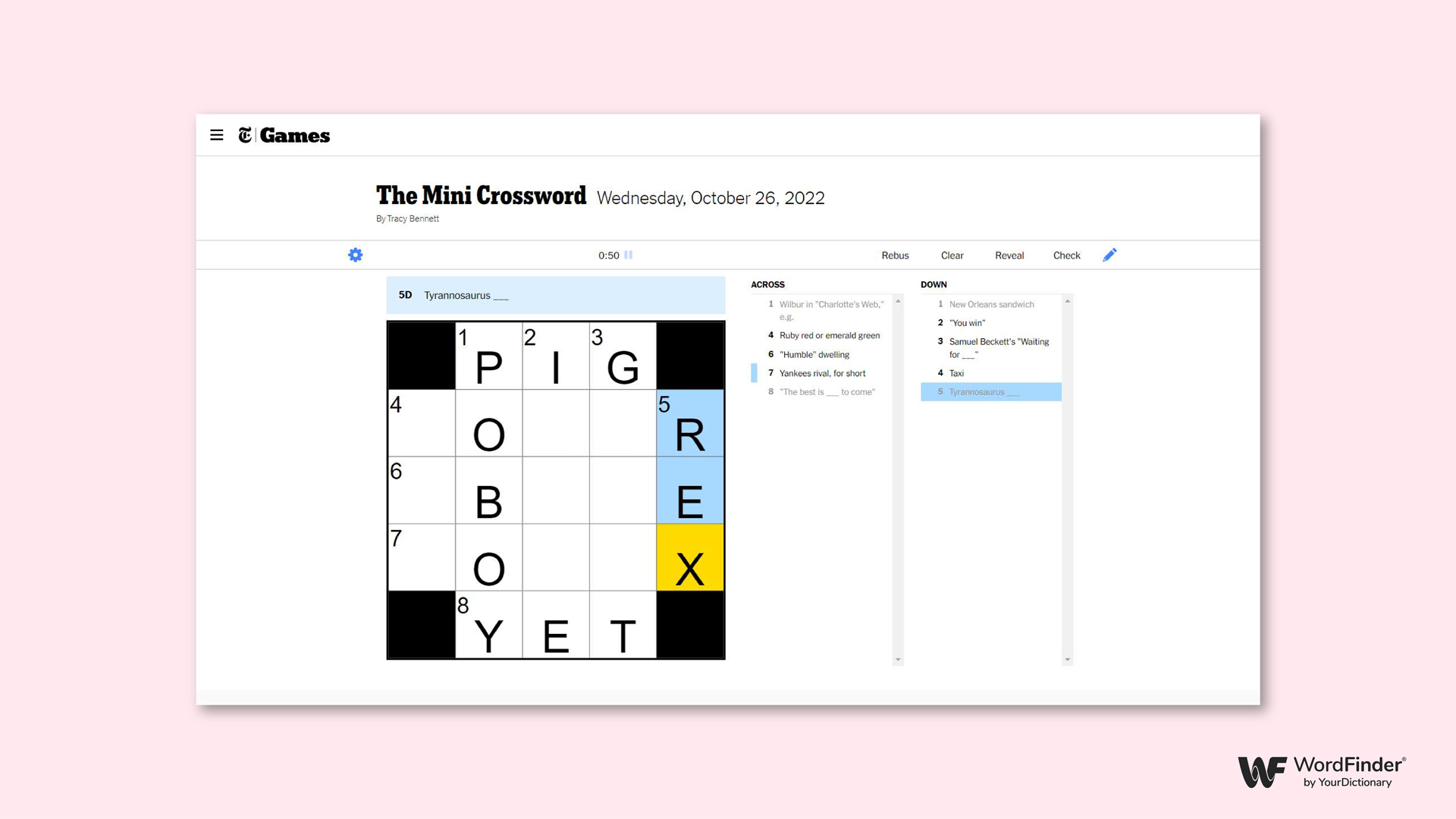 Free daily crossword from New York Times screenshot
One thing to keep in mind is that only today's NYT Mini Crossword is available to play for free. Unlike finding NYT Spelling Bee answers, though, you will be able to solve it through to completion each day. If you want to play older puzzles, you will need to pay for a subscription. 
Arkadium Daily Crossword: A Community of Gamers
You may or may not already be familiar with the Arkadium name. They've got tons of online games for you to enjoy, including the Arkadium Daily Crossword. You have the option to create a free online account on the site. This way, your name can appear on the leaderboards and you can participate in the discussions via the comments sections. 
One of the more appealing features here is that you can go through the archive of past daily crossword puzzles in case you missed any along the way. However, you'll need to play today's crossword to earn the daily bonus of 50 points. For each puzzle, you can choose to check letters, words or the whole puzzle, including an "autocheck" option. 
Daily Commuter Crossword: A Subway Selection
People tend to be creatures of habit. Maybe you start your day as a Wordle solver, seeking out the five-letter word of the day as you get ready in the morning. While it's not a good idea to complete this while driving, the Daily Commuter Crossword is a great way to pass the time while riding the subway or bus to or from work. 
The relative size of daily crossword puzzles can vary. The Daily Commuter Crossword strikes that Goldilocks zone where it's not too small nor is it too large, offering just the right difficulty level to finish during, well, your daily commute. Visit the puzzle settings to toggle automatic checking, showing the timer, skipping over filled squares and more. And remember that our crossword helper is here when one of the clues stumps you.
The Atlantic Crossword: A Delightful Daily Puzzle
In many ways, the Atlantic Crossword shares a lot in common with The New York Times Daily Crossword. Like its Big Apple counterpart, free daily crossword puzzles from The Atlantic get "a little more challenging every day, with the biggest puzzle on Sunday." This makes sense, as most people probably have the most time to devote to solving crosswords on Sundays.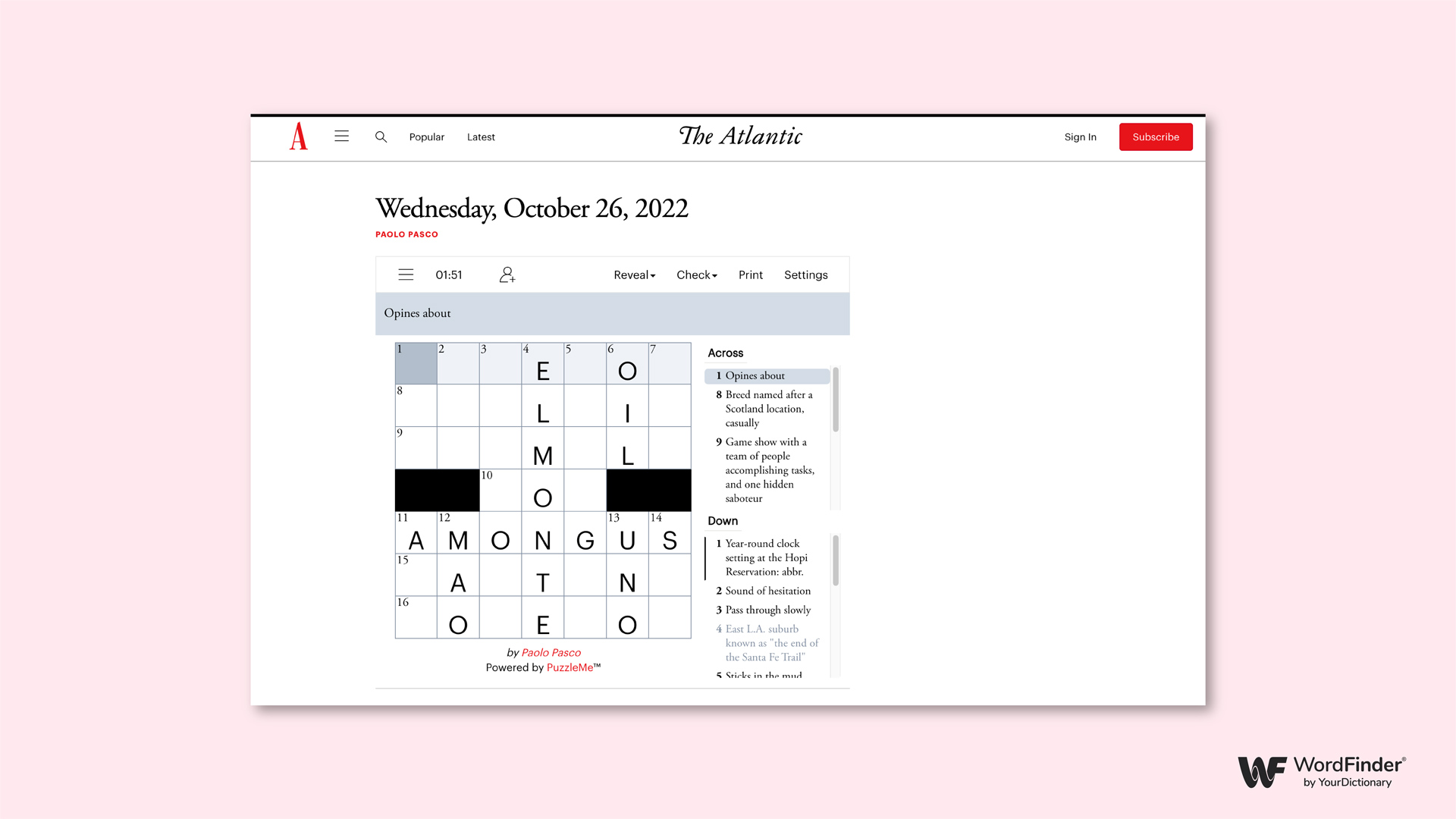 Free daily crossword from The Atlantic screenshot
Unlike the NYT Crossword, though, The Atlantic grants free access to a partial archive of previous crosswords. The archive goes back about two weeks. The crossword puzzles are powered by PuzzleMe and largely (though not exclusively) edited by Paolo Pasco. Monday puzzles are similar in size to the NYT Mini Crossword.
Stan's Daily Crossword: A Reader's Digest Pick
Reader's Digest has been a big part of the prevailing culture for a century. Yes, the monthly magazine was founded way back in 1922 and it likely has among the highest distribution of any magazine in the world. But, you don't need to wait for your next dentist or doctor's appointment to enjoy a Reader's Digest crossword puzzle.
Newsday's crossword editor Stan Newman shares Stan's Daily Crossword on the Reader's Digest Canada games site as well. The daily crossword puzzles here are also powered by Arkadium, so you'll get a near identical kind of layout and user experience. Play through past puzzles for extra practice as a jumble solver too. 
Vox Free Online Crossword Daily: A Modern Take
Many traditional newspapers like the Chicago Tribune and Washington Post offer free daily crosswords, both in their print and online editions. Newer media companies have followed suit, including Vox's free online crossword. Vox encourages readers to "take a mental break" with their daily crossword puzzle.
The crossword puzzles are put together by a team of expert crossword constructors and edited by Vox staff. You get a new daily crossword puzzle Monday through Saturday, though they take a break on Sundays. The Saturday crossword is typically the most challenging.
The Guardian Daily Cryptic Crossword: A Conversation Starter
Looking for a bit of a challenge? The Cryptic crossword from The Guardian is published every weekday. Literally tens of thousands of daily crossword puzzles have been concocted and solved over the years. Slowly make your way through the existing archive if you happen to have some extra time to spare.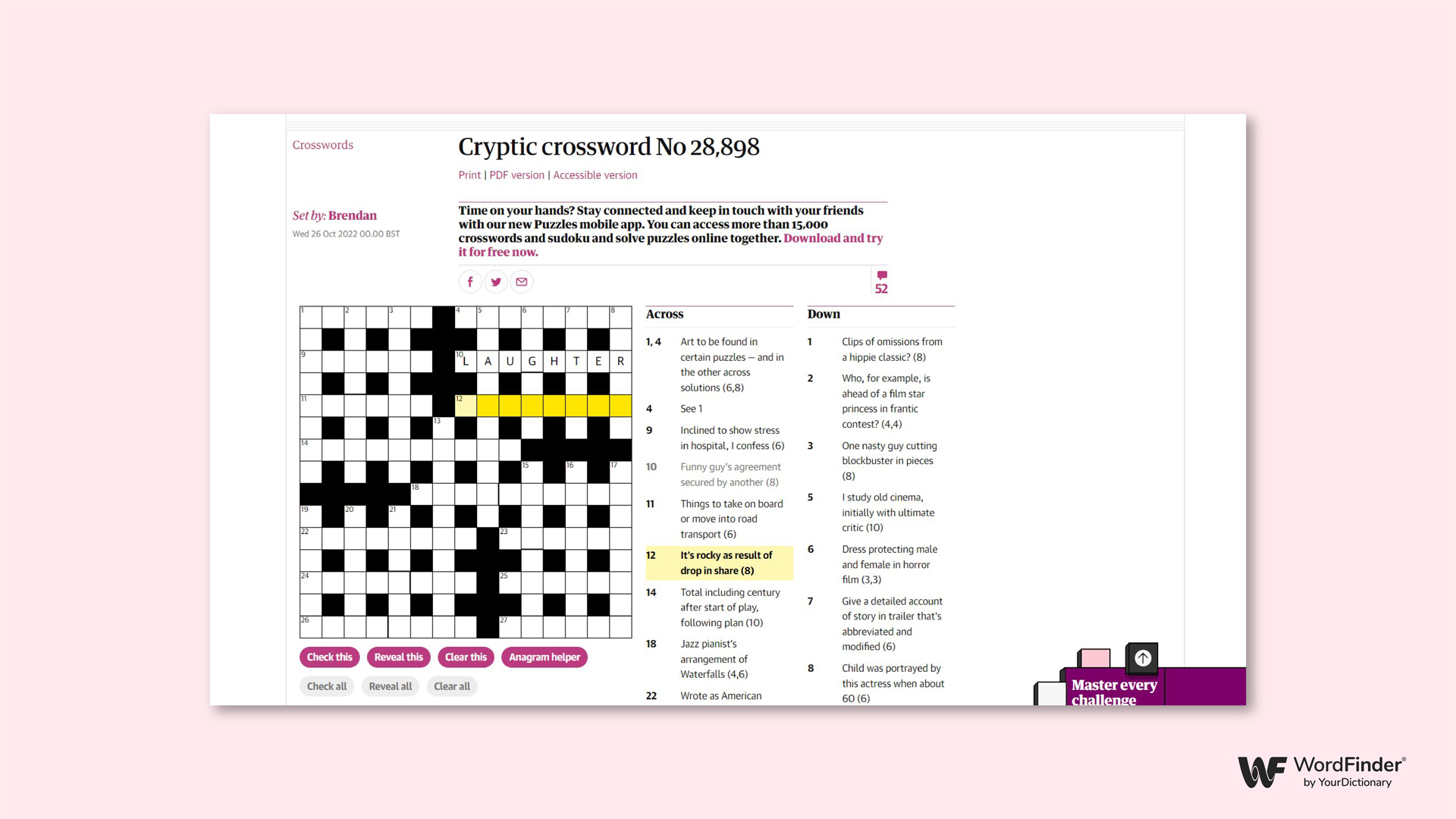 Free daily crossword from The Guardian screenshot
A relatively simple but great addition to the Guardian's daily Cryptic crossword is the comment section. Socialize with other crossword puzzles enthusiasts each day, discussing the unique crossword clues each day. Did you get stuck on the same ones as other players?
Free Daily Crosswords Keep the Mind Sharp
Word games are a great way to boost brainpower, especially as you work your way through the mental gymnastics of solving free daily crosswords. For players with more of a competitive edge, our Words With Friends cheat tool is a great way to get a leg up on the competition. Find the best words for the most points. 
And if you ever find yourself wanting more, head over to the Crosswords section on the WordFinder Games site! We've got plenty of free online crosswords to help you pass the time. 
---
Michael Kwan is a professional writer and editor with over 16 years of experience. Fueled by caffeine and WiFi, he's no stranger to word games and dad jokes.