11 Fun Word Games for Seniors to Boost Brainpower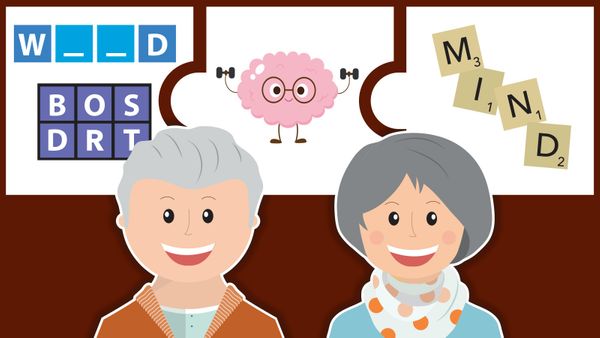 Adapted from Getty Images
As cliche as it may sound, it really is helpful to think about the brain like it's a muscle. If you want to keep your mind sharp as a tack, you've got to exercise it. And, you can have a great time doing it! There are lots of fun word games for seniors that are engaging and entertaining, offering a way to strengthen their mental wellbeing. A healthy brain is a great way to help maintain a healthy body too!
Free Online Word Games for Seniors
Playable virtually anywhere you've got a web browser, free online word games are a convenient option for seniors. If you have a harder time with smaller displays, a larger computer screen can be more accessible and enjoyable.
USA Today Daily Word Search
For decades, two of the most common pastimes have been the daily crossword puzzle and word search in the newspaper. You might sit down with your morning coffee, or perhaps over your lunch break, to work on these time-honored traditions. That ritual has since extended to the online realm too.
USA Today offers its daily word search for free via its website. Each daily puzzle, which consists of finding about 15 words, follows a unifying theme. You also have access to three hints in case you get stuck.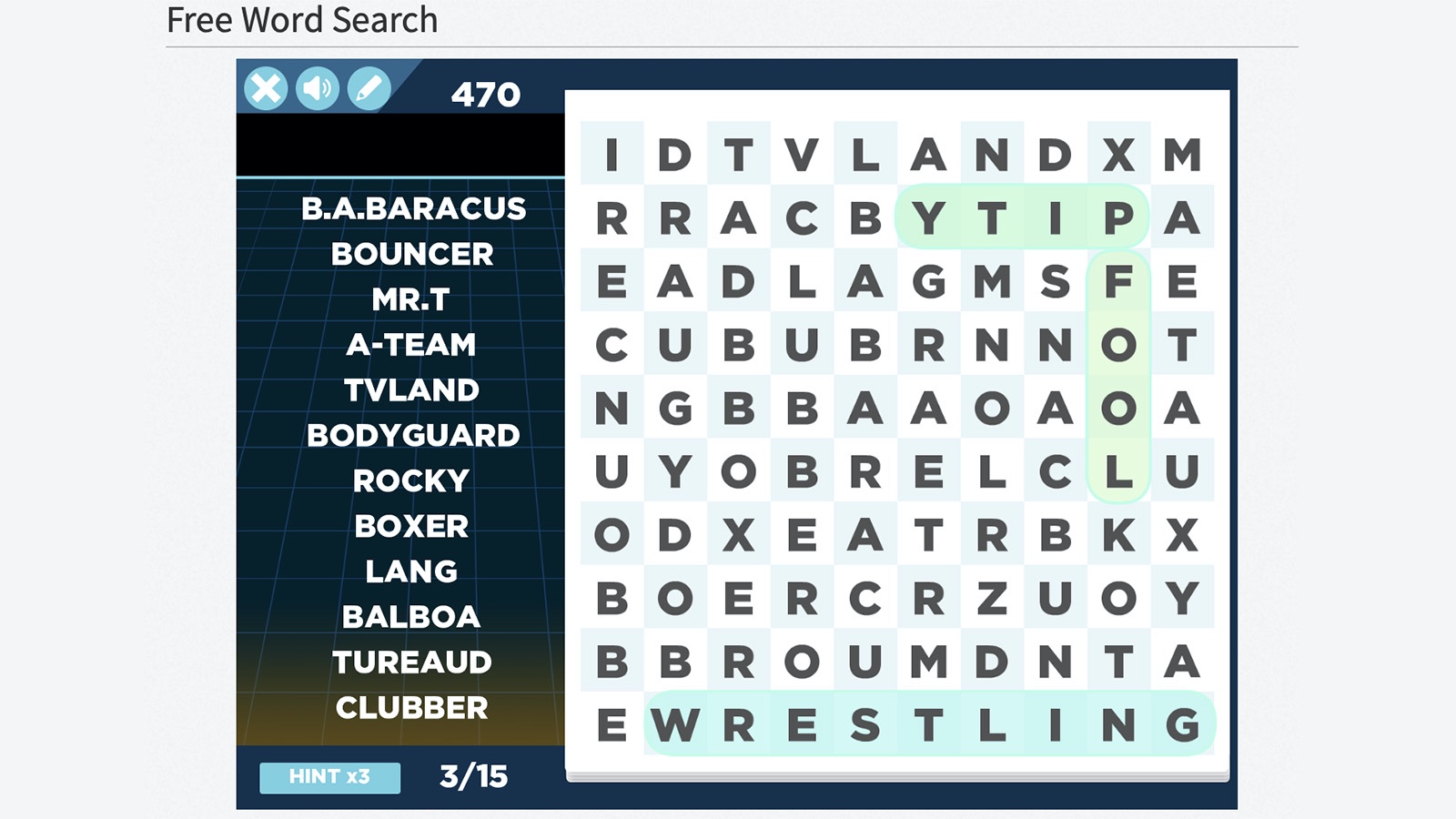 Screenshot of USA Today Daily Word Search game
Internet Scrabble Club
Seniors eager to flaunt their word knowledge and test their strategy skills can challenge players from all around the world on the Internet Scrabble Club. This is a website for purists who love the game of Scrabble, complete with a built-in community of equally eager enthusiasts. You can expect to find thousands of players logged into the site at any given time. There's always a game to play!
For more information on how to get started with the website, have a look at our comprehensive article featuring Internet Scrabble Club facts. Did you know there's a built-in rating system, as well as the opportunity to play against computer-controlled opponents?
Mahjong Words
Some of the best word games for seniors combine elements from more than one pastime. A prime example of this is Mahjong Words. Mahjong solitaire has been a popular game for years, challenging solo players to find matching pairs of tiles to clear the board. With Mahjong Words, a similar idea applies, except you must form words using letter tiles to clear them from the board.
It's like Scrabble meets Mahjong, complete with "bingo" bonuses when you form words using seven or eight letters. And, just like Scrabble, there are "wild" tiles that you can play as any letter. A relaxed pace with just enough challenge is great for both brain training and emotional wellbeing.
Word Whomp
Word Whomp is one of those browser games that instantly captures your focus the moment you start playing. It's been available online for a long time and continues to draw players who want to test their vocabularies.
At its core, the game has a simple premise: Spell as many words as possible using a limited set of letters, all while working under a time limit. Word Whomp is an easily accessible word game; anyone can start playing right away. And thankfully, it's also a decent challenge. You'll need to think fast and work your memory, which can hugely benefit your mental health.
Word Game Apps for Seniors
Older folks can enjoy mobile games just as much as their younger counterparts! In addition to offline word games for everyone, senior citizens can also benefit from "brain training" apps too. These apps are easy to figure out, and playing them can do wonders for your goal of keeping your mind sharp.
Peak
Get in your brain workout with Peak, a mobile app with a variety of brain games and puzzles "to challenge memory, language and critical thinking." The free app sets you up with a "daily workout" of up to three games or activities, including word games. Get the monthly subscription to unlock dozens of different games and puzzles so you can try them at any time.
Track your progress over time and peek into your "performance" across such dimensions as focus, language, memory and problem solving. Peak is available via the App Store for iPhone and the Google Play Store for Android.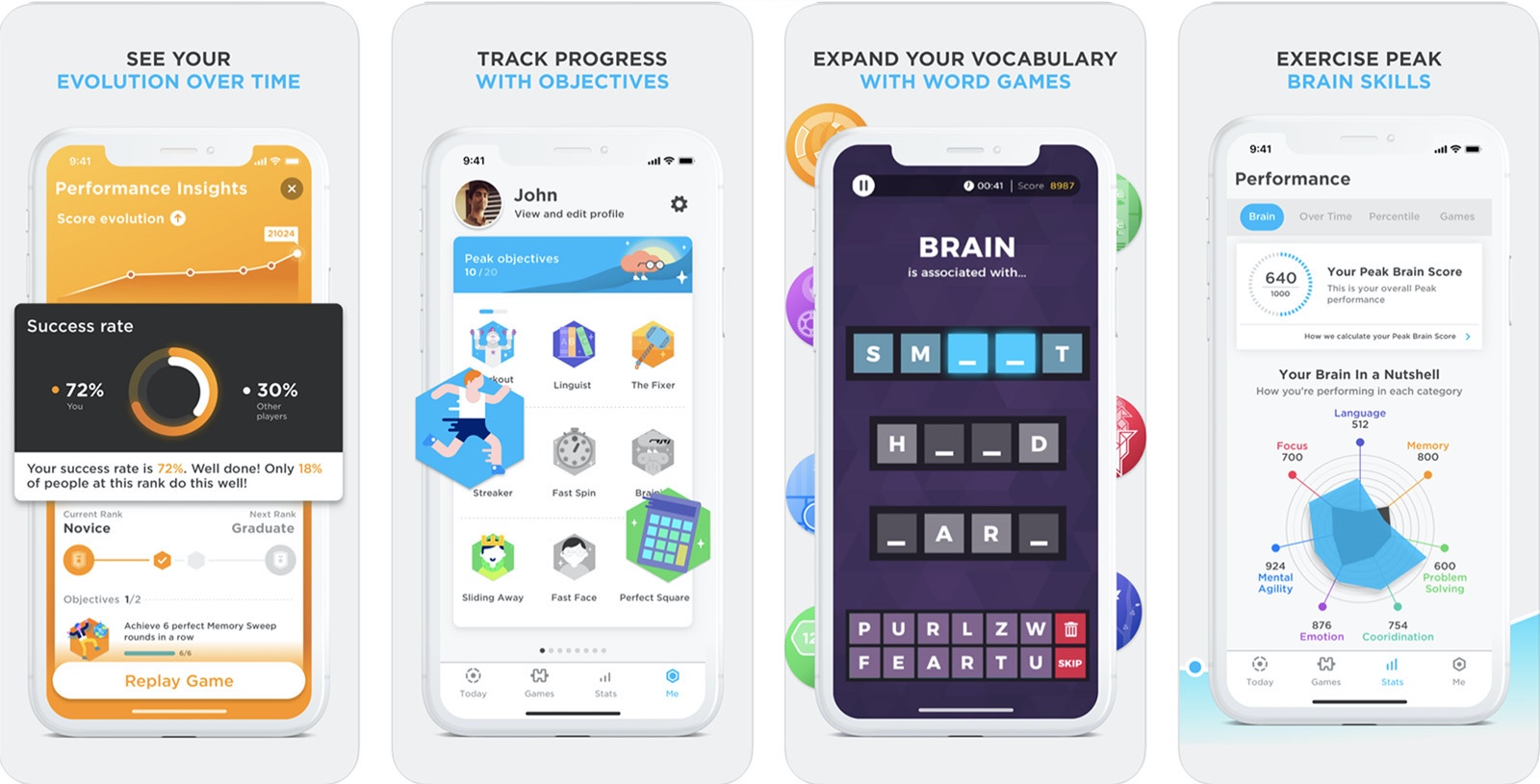 Screenshot of Peak Brain Game
Word Master Pro
Some people like all the pizzazz and variety of game modes in Words With Friends and Scrabble GO. Multiplayer word games can be a lot of fun. Other people may find all those extras to be distracting. If you're more like the latter and prefer a more traditional Scrabble experience, Word Master Pro might be for you.
It's everything you'd want out of a Scrabble-like word game with none of the extra distractions. Download it on Google Android and Apple iOS devices.
Wheel of Fortune
Do you love tuning into Pat Sajak and Vanna White every evening to play along with the contestants? Enjoy the Wheel of Fortune experience from the comfort of your smartphone or tablet with the popular mobile app. The familiarity with the TV will help you learn this game quickly. Just like the game show, you spin the wheel, guess letters and solve puzzles.
What's more, you'll be able to unlock new rewards, compete in tournaments and even win prizes and collectibles. Play with friends and family through Facebook too. Get it on Apple iOS or Google Android devices.
Elevate
Just like Peak, Elevate provides a variety of brain training games "designed to improve attention, speaking skills, processing speed, memory, math skills and more." The app will automatically adjust, adapting a personalized training program that's just for you.
There are more than 35 brain games in all, complete with adaptive difficulty, a workout calendar and detailed performance tracking. The word games help to expand your vocabulary, improve your communication skills and build speaking skills -- all things that any senior would appreciate. Get it for Android or iOS.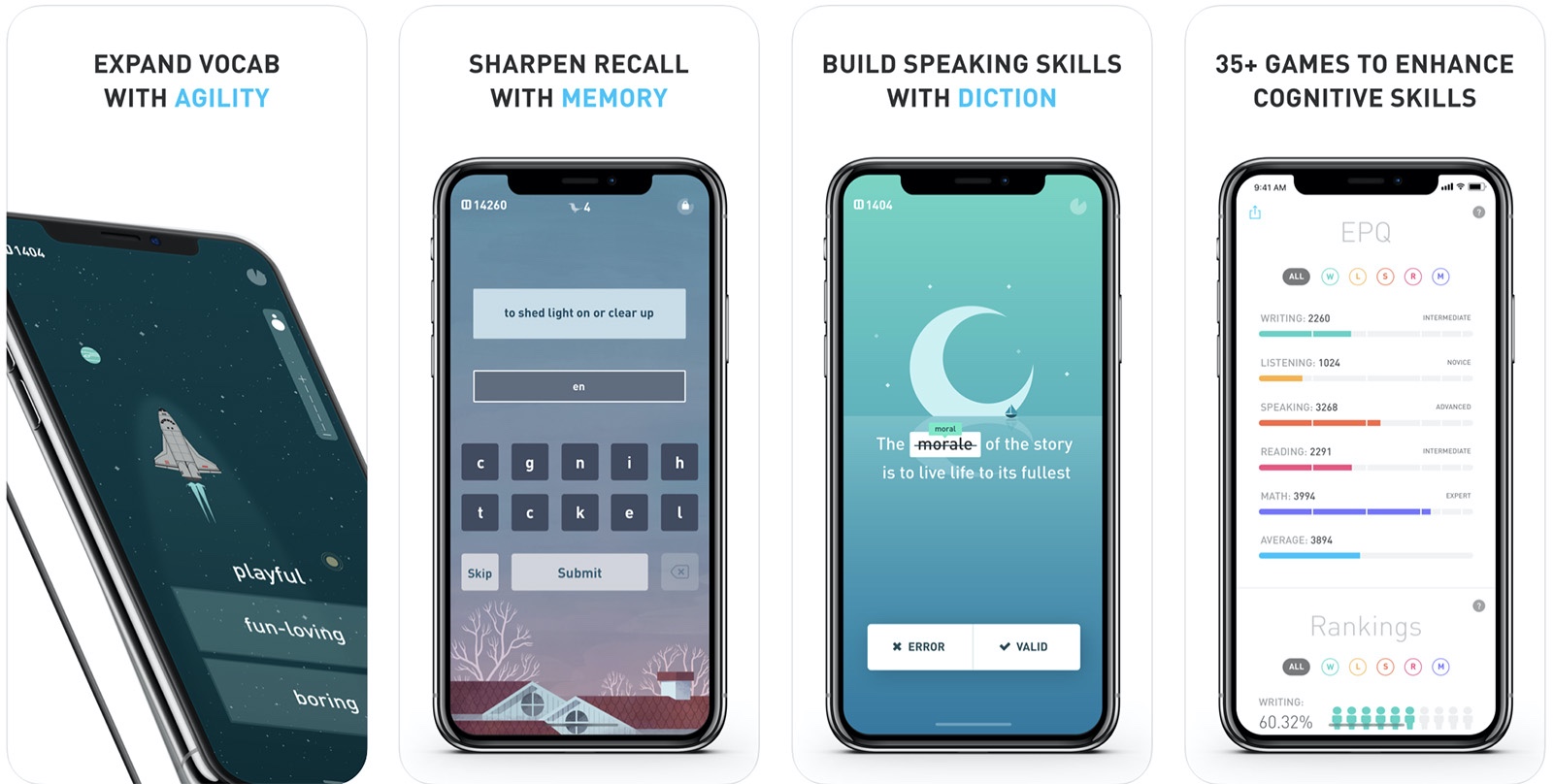 Screenshot of Elevate Brain Training Game
Offline Word Games for Senior Citizens
There's nothing quite like the social connection of sitting around the same physical table, playing games with friends and loved ones. Many seniors may find physical board games and card games easier to play than their digital counterparts too. It also helps that there is usually at least a bit more physical activity involved than playing the digital games.
Balderdash
How convincing can you be when you're lying through your teeth? In Balderdash, one player reads a question for the other players. The question might ask for the definition of a word, for example. The other players write down their answers, but these answers must be completely made up.
The original player reads out all the submitted answers, along with the real answer. Then, the other players guess which one is actually correct. If your made-up answer gets a vote, you earn a point. You also get a point for correctly guessing the right answer.
Scrabble Slam
The rules for Scrabble Slam are simple. Instead of playing on a larger game board with 100 letter tiles to form words, you play with a deck of letter cards. Starting with a four-letter word on the table, players race to play their letter cards, replacing individual letters to form new four-letter words. Up to four players can get in on the action, and the first player to get rid of all their cards wins.
There are no "turns" in Scrabble Slam, as every player plays at the same time. This fast-paced game challenges players to think and act quickly, a great way to boost brainpower! The game has the added benefit of working on the speed and dexterity of arthritic hands.
Upwords
If you're thinking about taking your word game to the next level, quite literally, then Upwords could be a fascinating option to add to the mix. The core gameplay style is familiar in that it's similar to Scrabble or Words With Friends board games. Place letter tiles on a board to form words.
What's different is that you can (and should) stack your letter tiles on top of existing tiles to make new words. Earn points for every tile you play. Adjust your game strategy accordingly and stretch that brain muscle to new lengths. And heights! It's a game that's both familiar and new at the same time.
Fun Brain Training Exercises
For many seniors, fun word games and other brain training exercises are the perfect way to keep their minds sharp and engaged. Whether you're playing on a computer, on a tablet or in-person the old-fashioned way, there's always a game to play. For more, check out this list of places to play single-player Scrabble for free online!
---
Michael Kwan is a professional writer and editor with over 14 years of experience. Fueled by caffeine and WiFi, he's no stranger to word games and dad jokes.