An estimated 53 million Americans are using online dating services in 2022. However, a recent Pew Research study found dating app users were eight times more likely to deem their search for a partner online less successful than in-person dating. Why might that be?
We gathered text and emojis from over 2,000 Tinder user bios to find out how online daters present themselves on dating apps today. We also surveyed over 1,000 single dating app users to see what they consider "red flags" and what would guarantee a right swipe, the way to show or receive interest. Read on to discover which online daters are doing it right and how you could find a date online by using the right words!
Key Takeaways
Height, "love," and "fun" were the most common words or topics in dating app bios.

According to dating app users, mentions of love, music, and relationships within a bio are the most likely to guarantee a right swipe.

✨, 😂, 🤷, 🍃, and 🖤 are the most common emojis found in dating app bios.

According to dating app users, 😊, 😍, or ☕ within a bio are the most likely to guarantee a right swipe.
Words on Dating Apps
Pictures aren't the only way to judge a potential match. Bios are vital in deciding whether to swipe right. We explored the most common text used in Tinder users' bios and asked respondents which words would be "red flag" vs. a "green flag."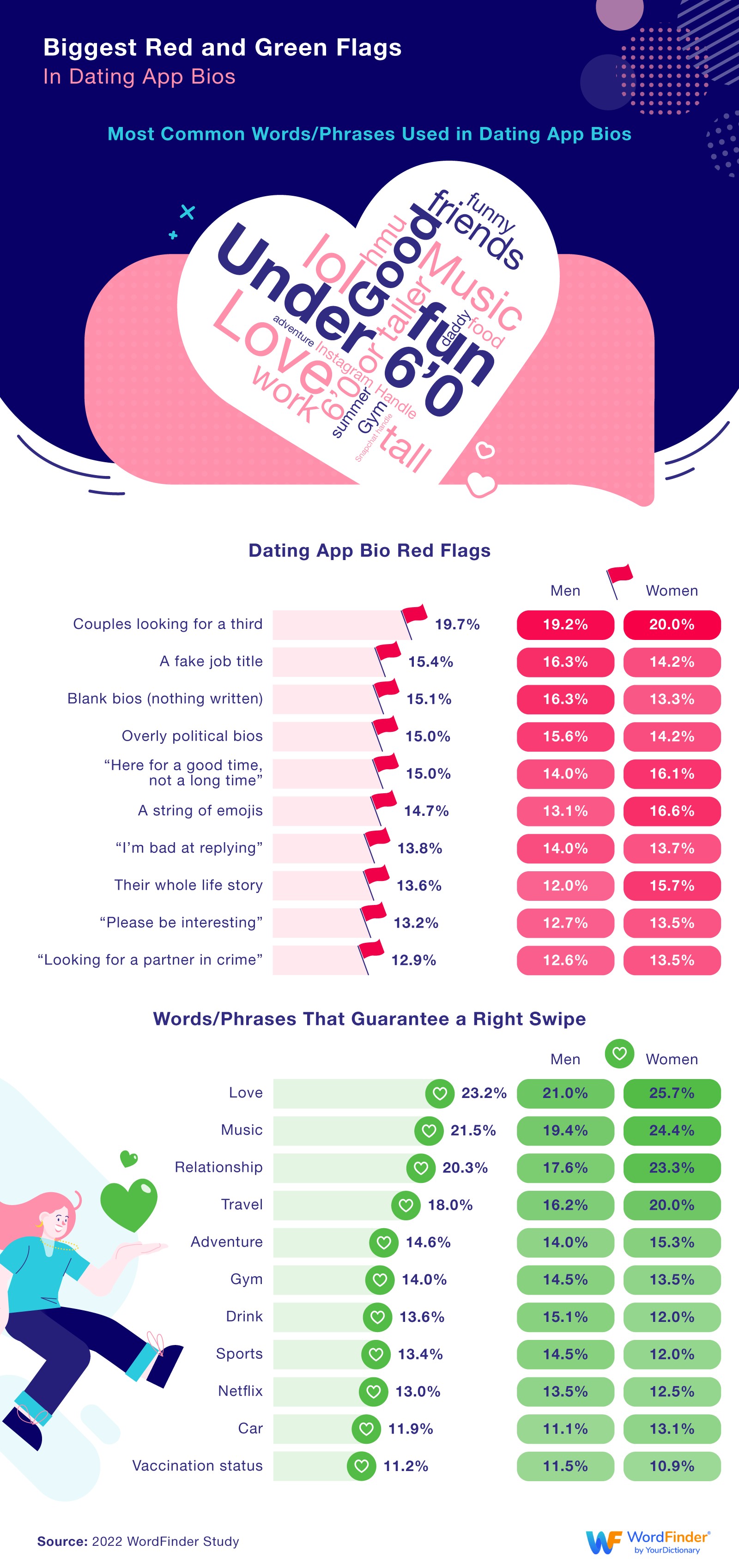 Red and green flags in dating app bios infographic
According to dating app users, including the word "love" in your bio would give you the best chance of getting a right swipe. "Music" (21.5%) and "relationship" (20.3%) were also in the top three best words.
Believe it or not, the top "red flag" you might have in your bio would be that you're already partnered and looking for a third (19.7%). Not having a bio was also a major "red flag" (15.1%), but more so according to men than women by about three percentage points. Given that more than 25% of the 2,728 bios we analyzed contained blank bios, this factor might be a key reason so many people have been unsuccessful! Whatever you write about yourself, don't get too political and keep it brief; you can save the jumbled words of your life story for that first date.
Despite being the most common thing mentioned in Tinder bios, height didn't make the list of "green" or "red flags." Tallness can be a very attractive feature in a partner, according to women looking to date men. It's also worth noting that women were more likely to find the terms "love," "music," and "relationship" as "green flags," while men were more likely to deem "drink," "sports," and "Netflix" as such.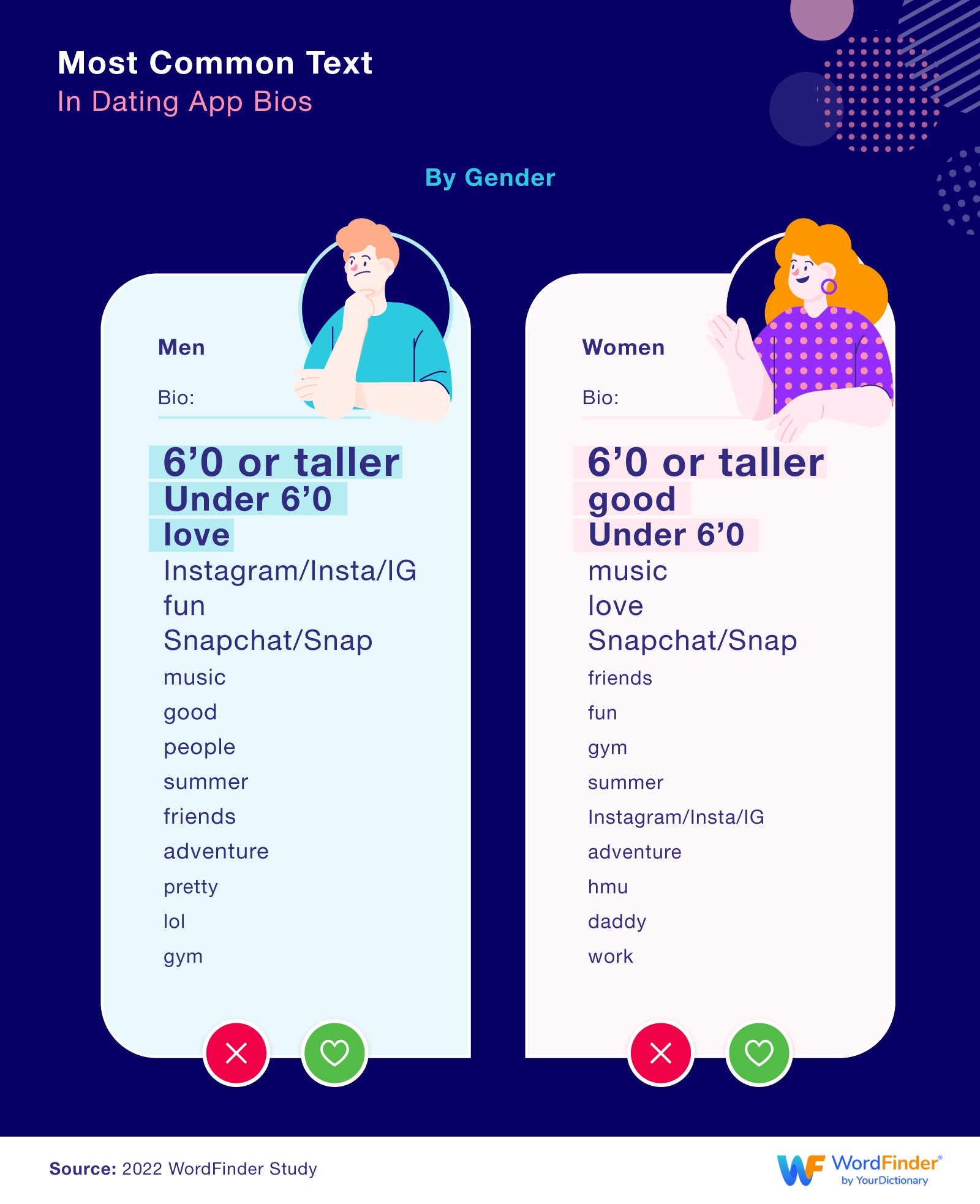 Most common dating app bio text by gender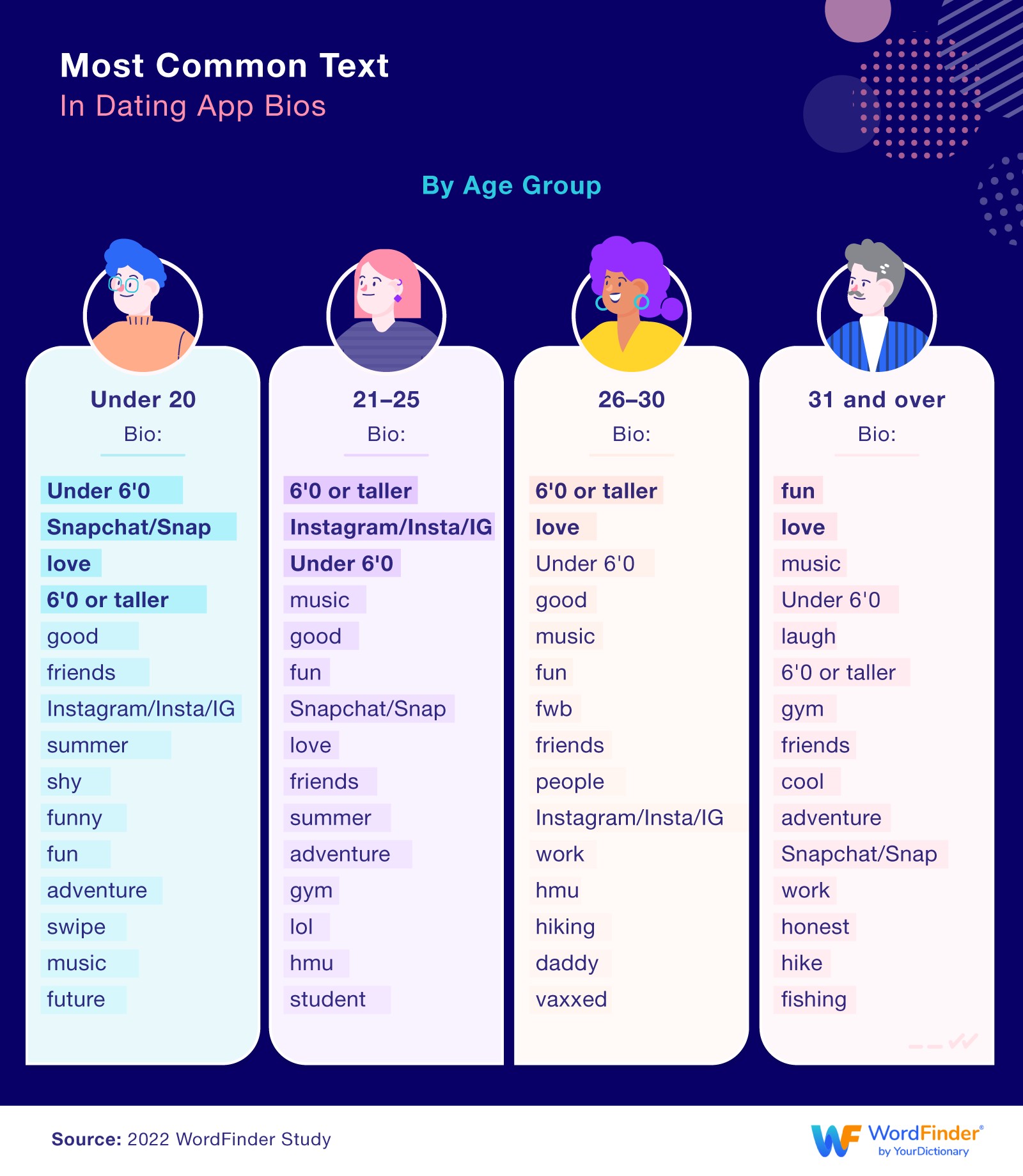 Most common text in dating app bios by age group infographic
We explored the most common elements of bios by demographics to see how content differs between genders and age groups. The phrase "6'0 or taller" was most common among men's and women's profiles, especially those aged 21-30. But the next most common phrase among men's bios was "under 6'0," particularly among the youngest respondents. Users under 20 were the most likely to include "Snapchat" in their Tinder bio, which tracks with Snapchat's popularity among young adults.
Emojis on Dating Apps
While about 15% of online daters considered a "string of emojis" as a "red flag" within bios, don't rule emojis out altogether. Let's look at which ones were the most common in Tinder bios and which ones online daters approved of (or didn't).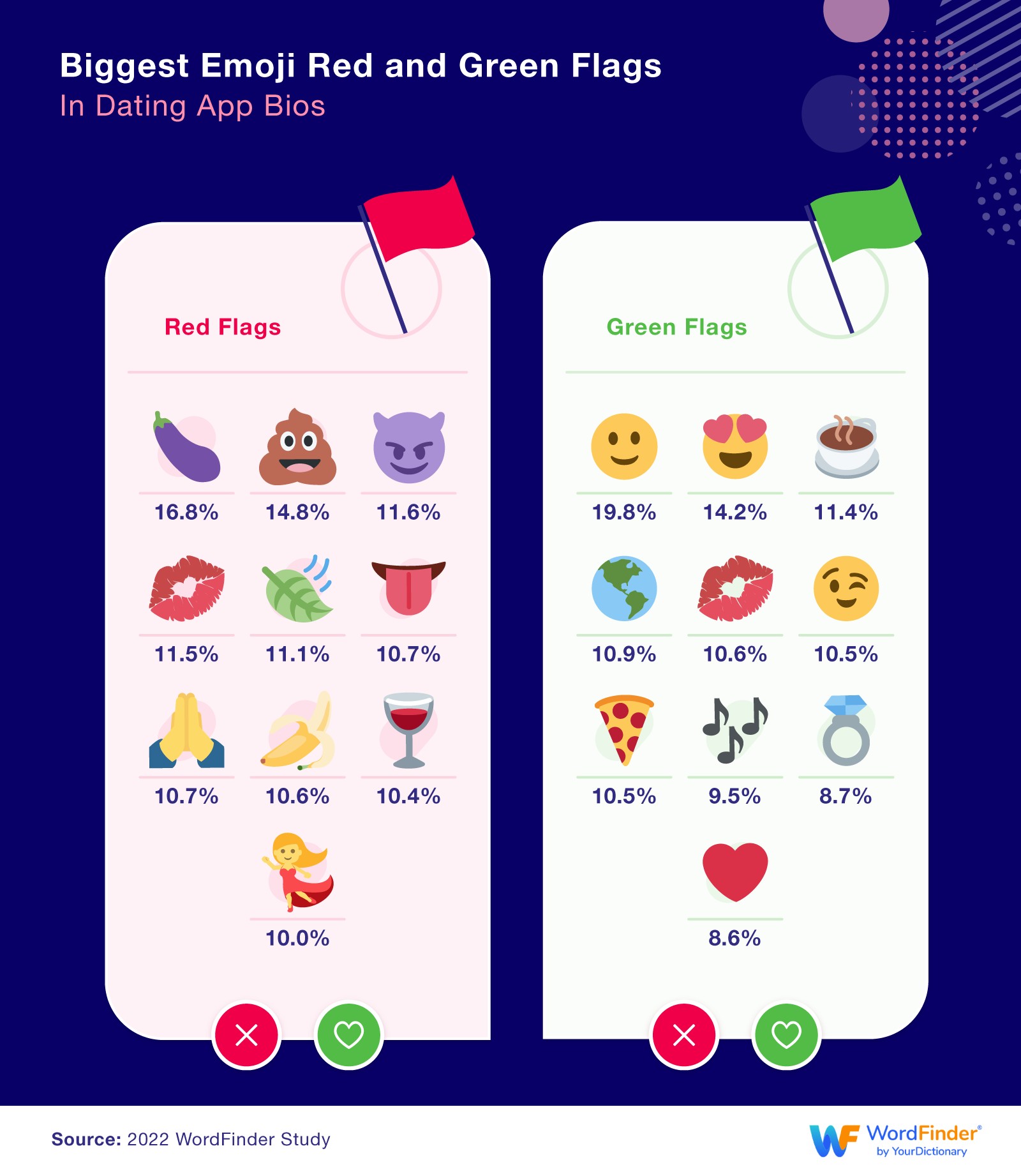 Biggest emoji red and green flags in dating bios
When creating an expressive dating profile, a good rule is to avoid sexually suggestive emojis. Among the top 10 emojis to avoid, five might be interpreted as such: the eggplant, happy devil, kissing lips, tongue, and banana. Online daters also didn't appreciate other types of emoji vulgarity, such as the pile of poo emoji. And if you're a cannabis enthusiast, it may benefit your online dating life to avoid its respective emojis (like the leaf) in your bio.
Keeping your emoji usage wholesome might just do it for you. The classic happy face emoji tops the swipe-right list, while more niche images like the cup of coffee, planet Earth, slice of pizza, and musical notes were also seen as positive profile additions. Each image has positive connotations, like a coffee date or a passion for travel (as suggested by the planet Earth emoji). These icons can be conversation starters, like a shared love of Words With Friends, increasing the appeal of going on a date with you.
Now that we know which emojis to use and not to use, let's see which were the most common in Tinder bios.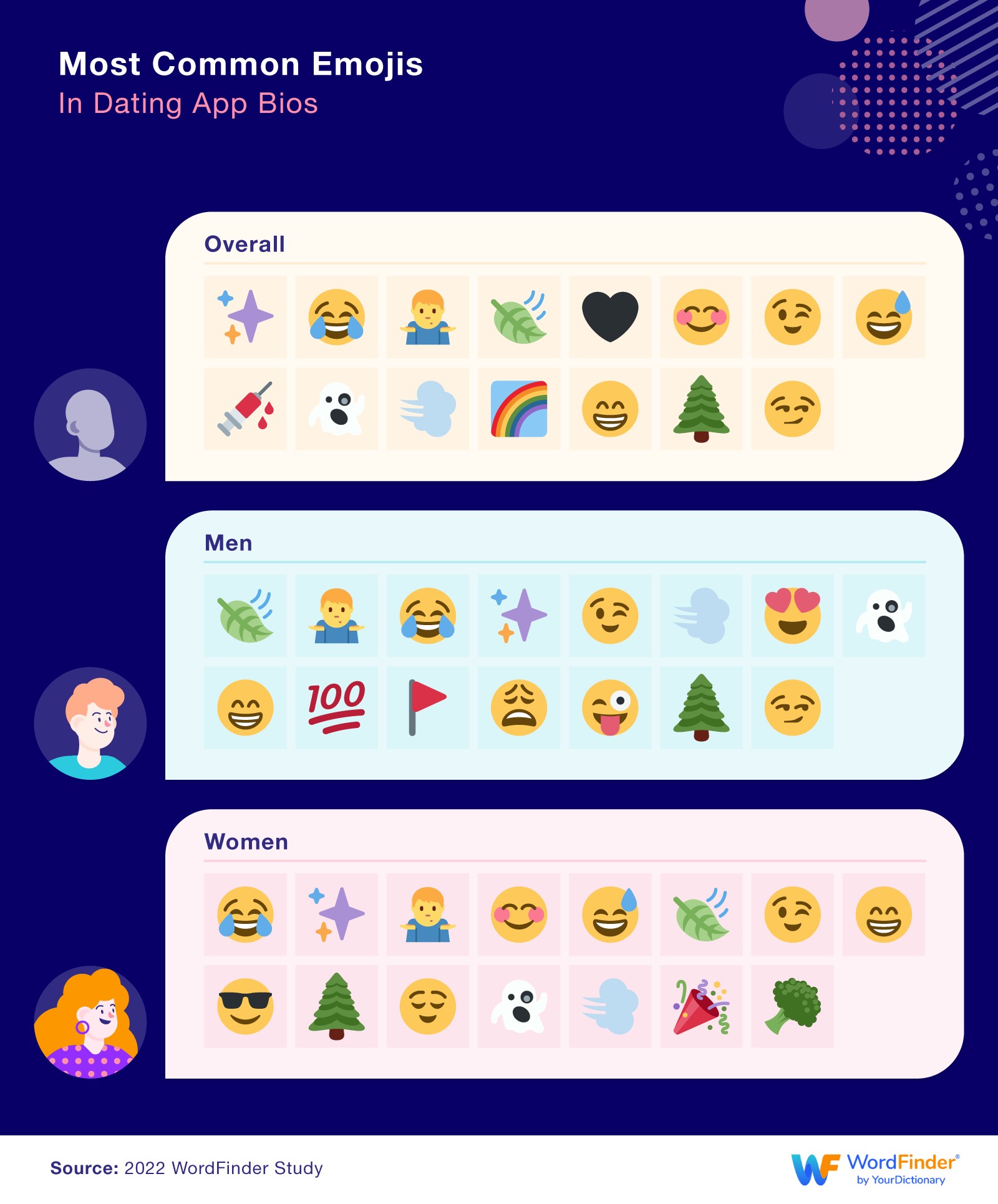 Most common emojis in dating app bios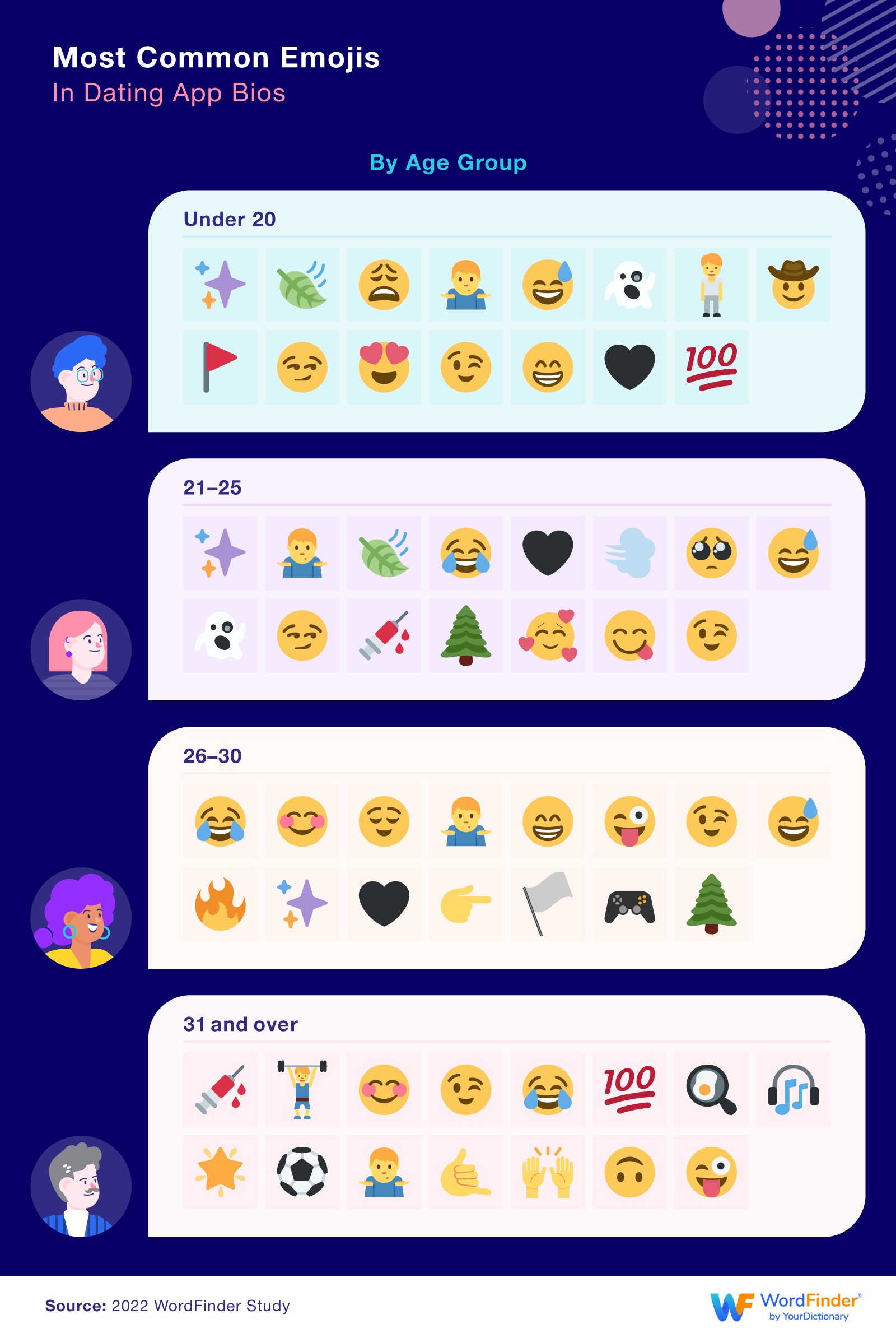 Dating app bio most common emojis infographic
Across all demographics, the most popular emojis in respondents' Tinder bios were sparkles, crying-laughing, shrugging, leaves, and black heart. Women might have been more likely to share their health habits on Tinder; the broccoli emoji was common in their profiles but didn't make the list for men. 
One emoji that was popular among most age groups (but wasn't found in many bios of those 20 years old and younger) was the crying-laughing emoji. It's probably because Gen Z has deemed crying-laughing emoji uncool. Instead, they use the skull emoji to say, "That's so funny I'm dying of laughter."
Upping Your Online Dating Game
Online dating presents the unique challenge of trying to make a positive impression on someone in a short time span. Online dating app users agreed that some words, topics, phrases, or emojis are more likely to result in a swipe right, while others are an automatic "next." Some Tinder profiles we analyzed got it right, but most could use a change to garner more success. No matter how successful you've been with online dating in the past, learning from others' perceptions can only improve your chances. 
Methodology 
For the first part of this study, we leveraged data from Tinder in order to analyze the bios of its users. In particular, we gathered the user's gender, age, and the text and emojis they used within their bio. In total, we collected data from 2,728 profiles. For the second part of this study, we surveyed 1,022 single dating app users: 54.5% of our respondents were male, 44.9% were female, and the remaining 0.6% identified as nonbinary.
About WordFinder by YourDictionary
WordFinder by YourDictionary is your one-stop shop for word games. Whether you're looking for game guides, strategies, customizable word search tools, or anything of that sort, WordFinder is the best online resource for championing your favorite word game.
Fair Use Statement
Are you or any of your friends struggling with online dating? Feel free to share. We just ask that you do so for noncommercial purposes and link back to this page.