Americans have been mishearing song lyrics for decades. This can create a phenomenon called a "mondegreen," a term coined in 1954 by writer Sylvia Wright and defined as "a word or phrase that results from a mishearing especially of something recited or sung." One of the most commonly cited examples of a musical mondegreen is "excuse me while I kiss this guy" from the Jimi Hendrix song, "Purple Haze." (The original lyrics are "excuse me while I kiss the sky.")
Using recent survey data from over 1,000 Americans, we identified which modern and classic hit songs are often misheard. Are some genres more often misunderstood than others? What lyrics have been understood differently, and how? Read on to find out!
Key Takeaways
"Enter Sandman" by Metallica, "The Motto" by Drake, and "7 Rings" by Ariana Grande are the most misheard songs by Americans.

Electronic/EDM fans (77%) are the most likely to prefer their misheard lyrics to the original song lyrics.

61% of Americans reported finding incorrect song lyrics on Spotify.
Getting It All Wrong
First, let's establish which songs are lost in translation the most. We broke down the top 40 most misheard classic and modern hit songs by genre and by how many people heard the lyrics wrong.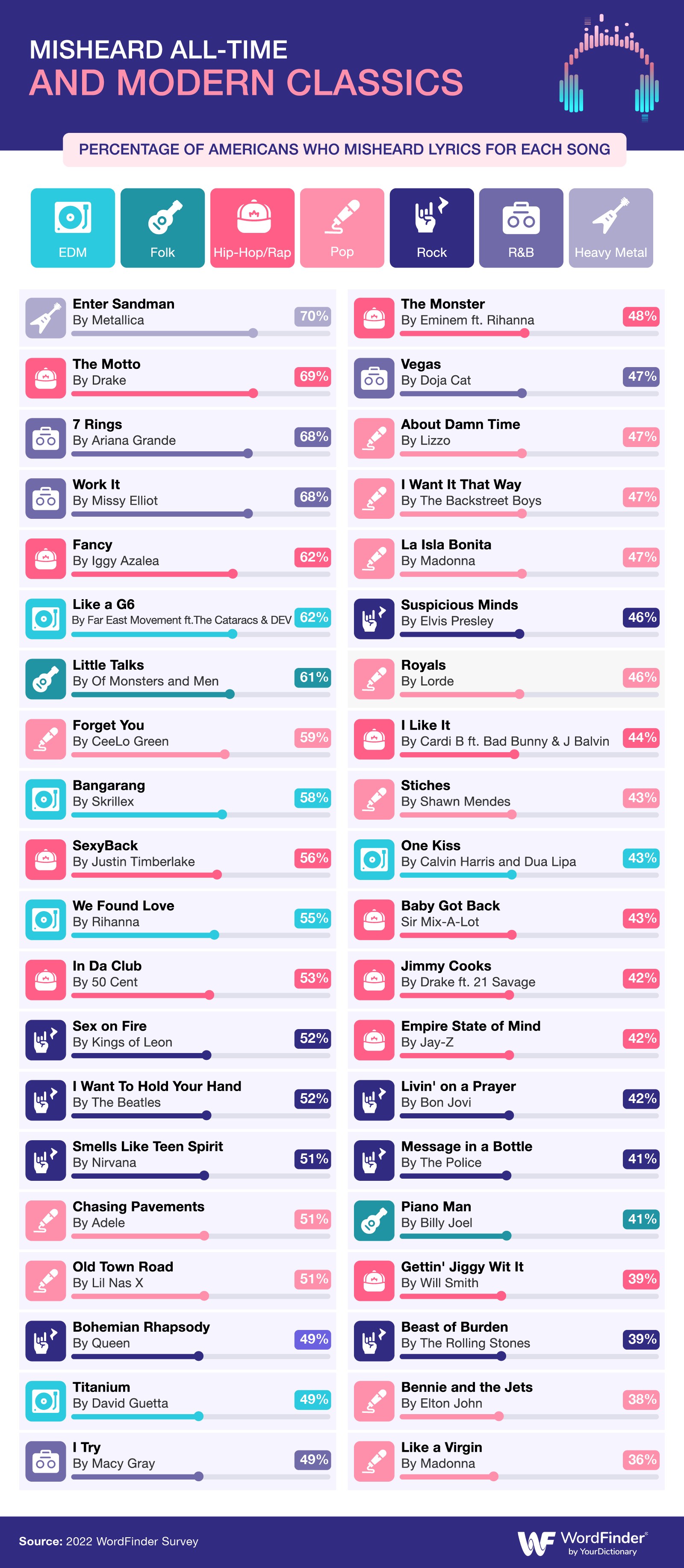 Most common misheard song lyrics infographic
Americans commonly misinterpreted songs from a wide range of musical genres, but the top five misheard songs included metal, hip-hop, and R&B: "Enter Sandman" by Metallica, "The Motto" by Drake, "7 Rings" by Ariana Grande, "Work it" by Missy Elliot, and "Fancy" by Iggy Azalea. 
However, there wasn't a strong correlation between these genres and mondegreens; metal and R&B were among the genres least likely to be misheard, alongside folk and EDM. Pop, hip-hop, rap, and rock music threw listeners much further off the mark when it came to lyric comprehension.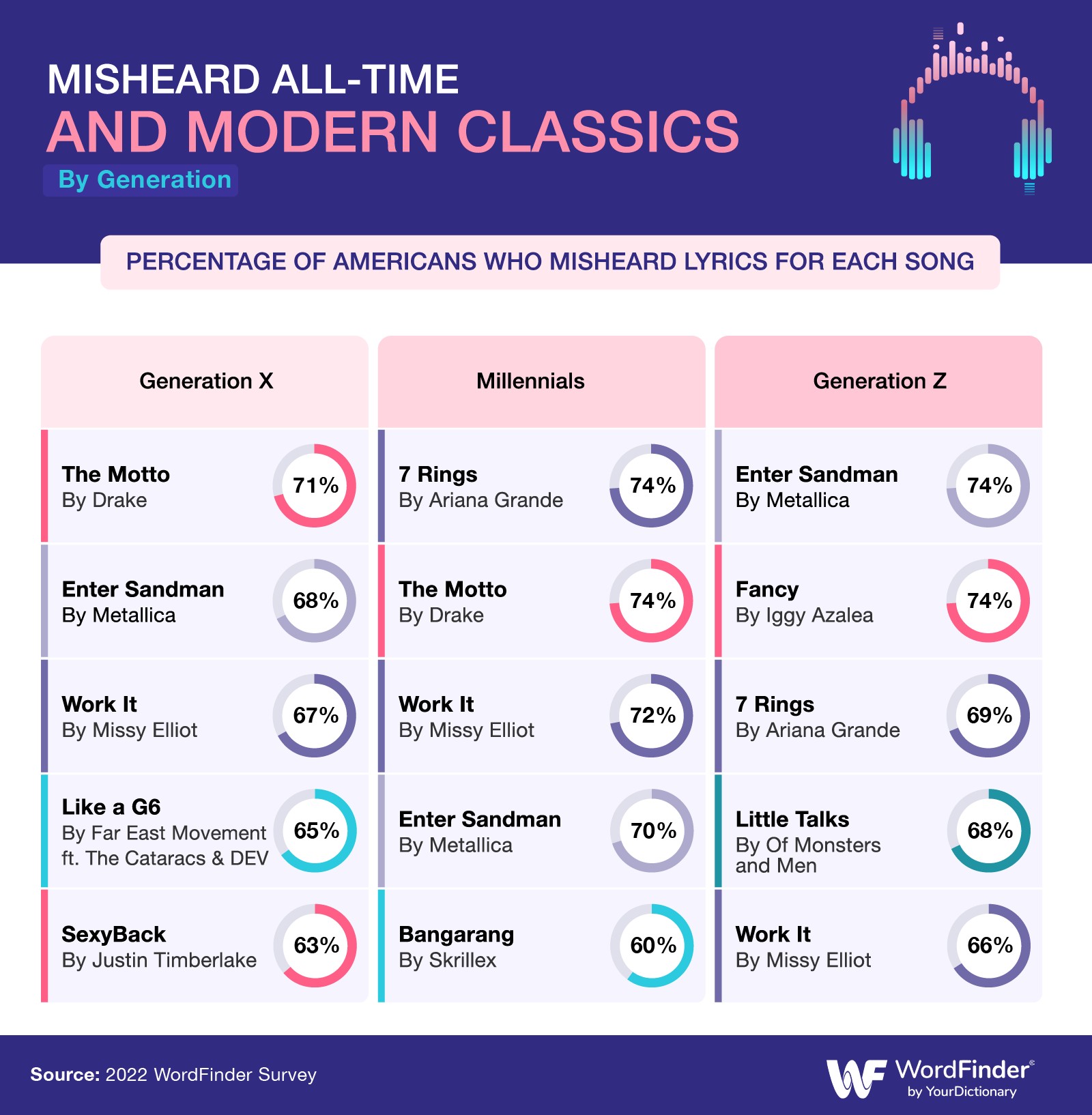 Misheard lyrics by generation
A person's age might affect how they relate to or understand music. From Gen X to Gen Z, each generation had its own unique tendencies when it came to mishearing hit song lyrics. For example, with the advent of the vocal mixing software known as auto-tune in 1996 and its popularization in modern hip-hop and pop music, older listeners may not be used to interpreting the heavily-modified vocals of songs like Far East Movement's "Like a G6." This song ranked among the top five songs misheard by Gen X, the oldest generation we surveyed. The same applied to Gen Z for their misinterpretation of "Little Talks" by Of Monsters and Men (ranked fourth) and "Fancy" by Iggy Azalea (ranked second). 
Still, we found a couple of songs that were misunderstood by music fans of all ages. Metallica's "Enter Sandman" and Missy Elliott's "Work It" both ranked within the top five misheard songs among Gen X, millennial, and Gen Z music fans. Maybe the frequent screaming and growling that often characterizes heavy metal vocals were tough for listeners to decipher in "Enter Sandman." But in the case of "Work It," we'll see in the next section why this song is so hard for most people to understand.
Common Misunderstandings
Curious to know what you thought they're singing instead of the actual lyrics? Let's look at the most common lyrical mix-ups for 15 of the most misheard classics and see just how far off the mark Americans are.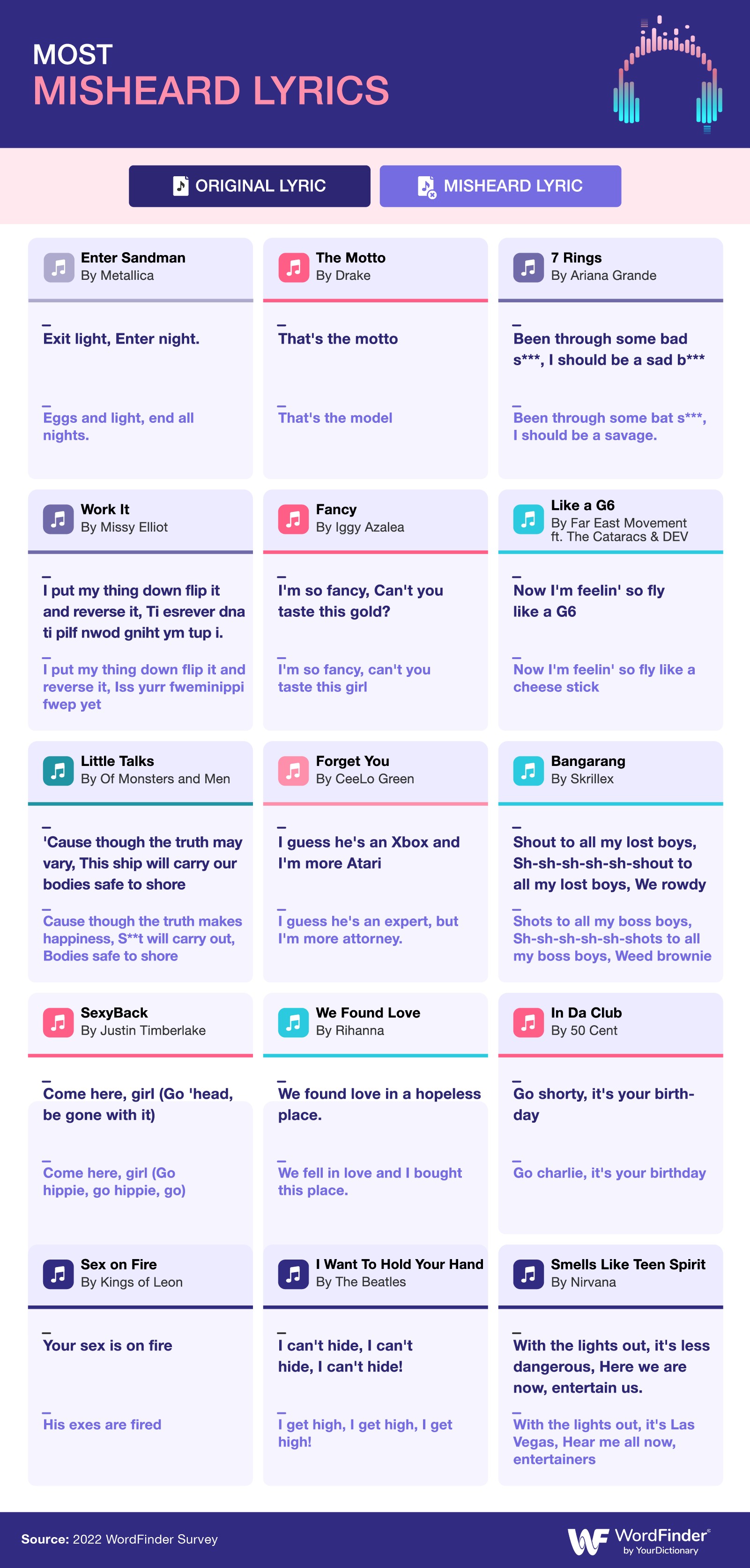 Misheard song lyrics and correct lyrics
When presented with a sound clip of "The Motto," in which the lyrics were "that's the motto," music fans seemed to most frequently hear "that's the model" instead. A minor word scramble. Far East Movement's "Like a G6" lyrics produced the most comical misunderstanding when listeners thought they heard "now I'm feelin' so fly like a cheese stick." What's most interesting is that in both examples, the confusing lyric is written in the song title.
Meanwhile, Missy Elliot's tricky lyrics in "Work It" make it easier to misinterpret. When music fans listened to "I put my thing down flip it and reverse it, ti esrever dna ti pilf nwod gniht ym tup i," they most often heard "I put my thing down flip it and reverse it, iss yurr fweminippi fwep yet."These words were hard to understand because Missy and her collaborators quite literally reversed the audio of the vocalsat this point in the song. That's quite a bit more of a word jumble for sure.
Does It Matter?
Regardless of how wrong a listener's interpretation is, alternate lyrics can alter a song's meaning. Next, we asked music fans whether they preferred the misheard lyrics to the original ones.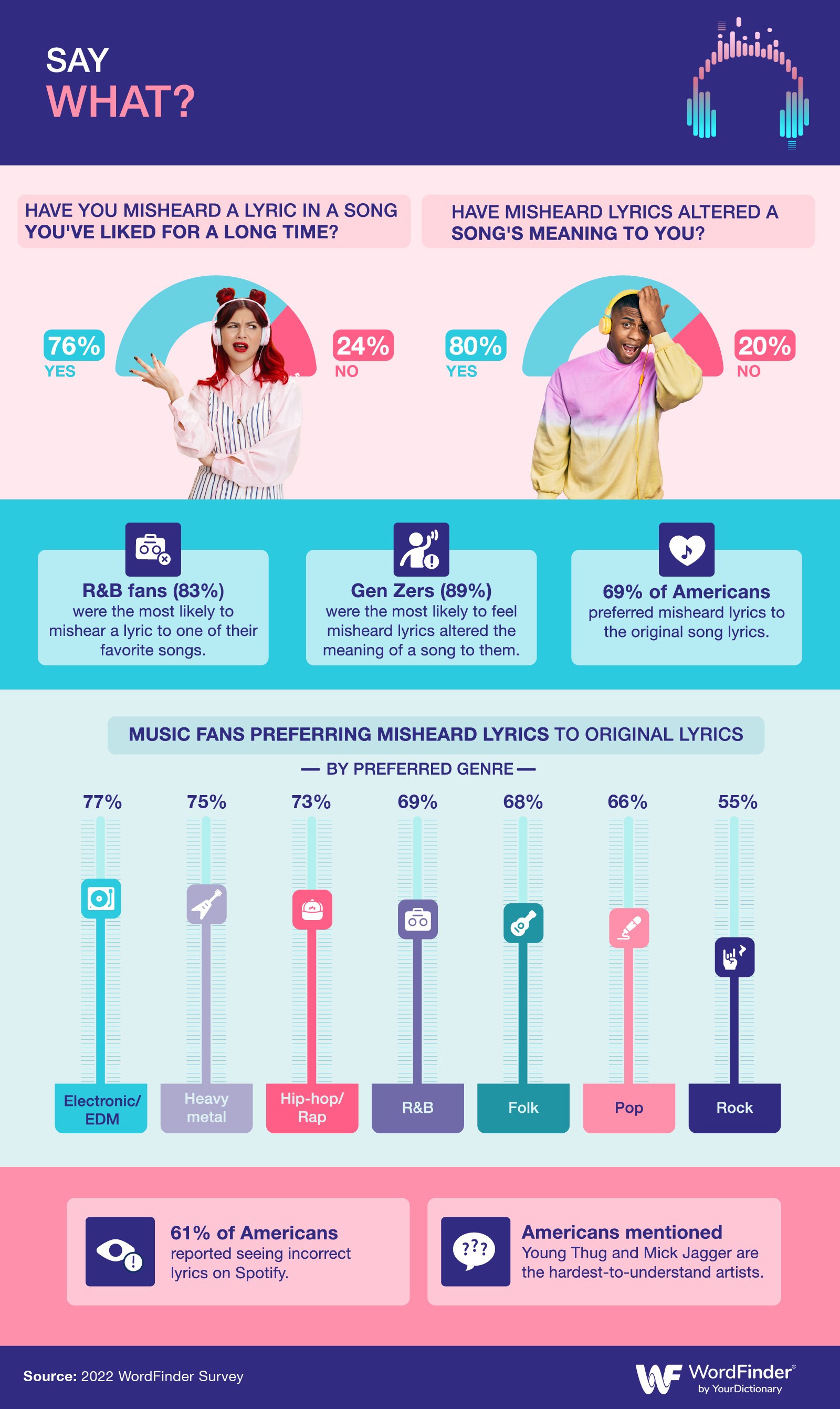 Music genre misheard song lyrics
Most of us have probably had an "aha!" moment when we realized what a vocalist was actually saying in our favorite song all these years. We found that 76% of fans misheard a lyric for a song they have liked for a long time. But some people might prefer to remain uncorrected.
People's interpretation of music varies. As individuals, we all relate to art in unique ways which the creator may or may not have intended. Maybe that's why, even after discovering the correct lyrics to a song, 69% of fans preferred their misheard lyrics to the original words. This was most common among EDM fans, 77% of whom preferred their own version.
Right or Wrong: You Decide
Whether you're a musician expressing yourself or a music fan tuning in, misunderstandings between singers and listeners are to be expected. Fortunately, the experience of mishearing lyrics is one that most people share, which is why there are plenty of places to hunt down lyrics online. So, don't feel too down on yourself if you can't properly put down, flip it, and reverse what Missy Elliot's rapping. Who's to say that your interpretation isn't just as important, if not more so, than what the artist intended?
Methodology 
For this study, we surveyed 1,016 Americans. We presented respondents with a sound clip and asked them to select what they heard among four options in order to measure misheard lyrics.
About WordFinder by YourDictionary
WordFinder by YourDictionary is the word game aficionado's home base. Home to a wealth of game guides, strategies, and customizable word search tools, WordFinder is the best online resource for achieving word game victory.
Fair Use Statement
Was this article entertaining? Feel free to share it with your friends. We just ask that you do so for noncommercial purposes and that you link back to this page.