Peter Morris (1991)
Peter Morris has the honor of being the first person to win the World Scrabble Championship (WSC). Peter was born in England, but he later became a U.S. citizen. He returned to England in 1991 to play in and win the tournament.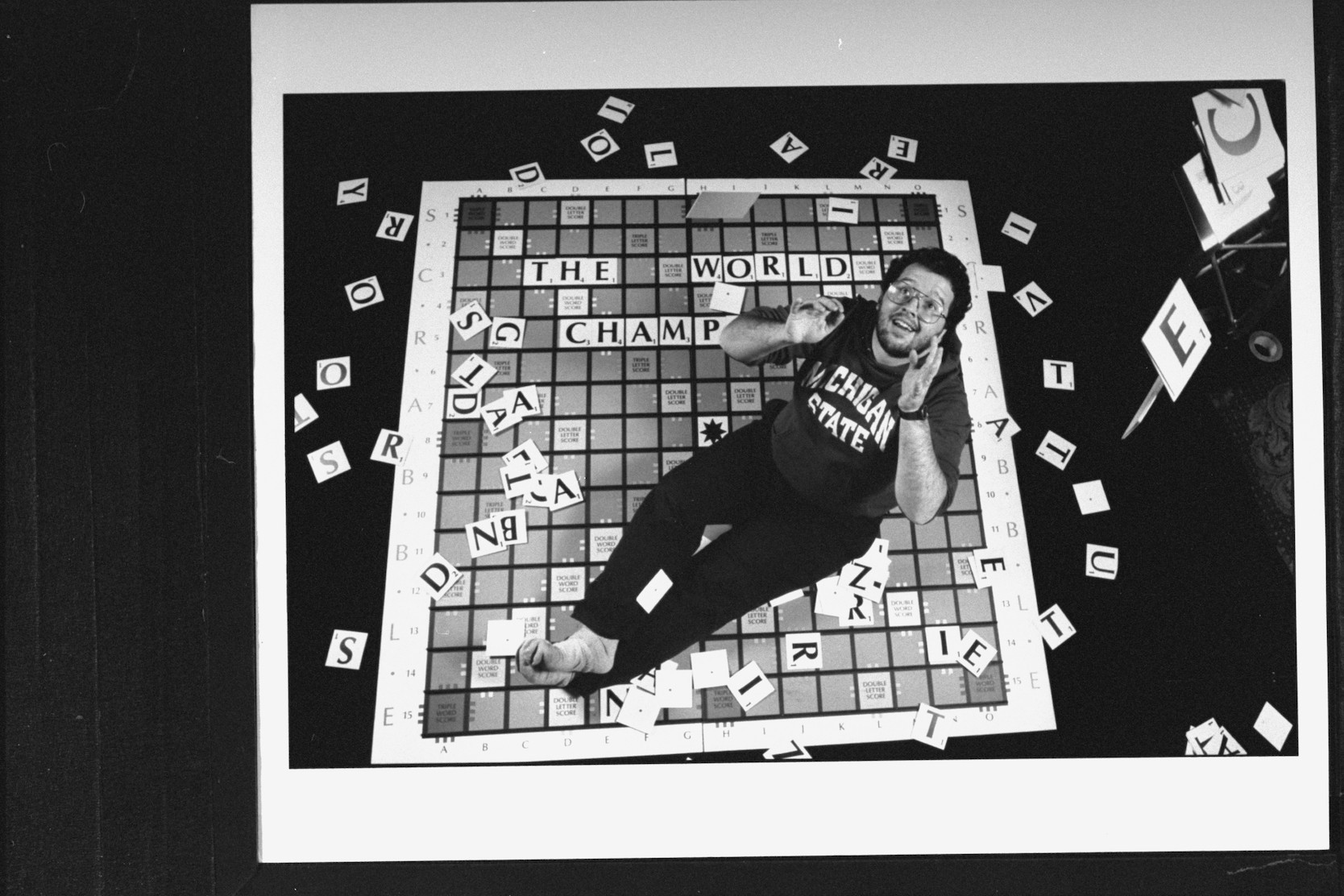 Peter Morris Scrabble world champion
In addition to his Scrabble skills, Morris is also an accomplished author and an avid baseball enthusiast. In fact, he's combined both passions to write and publish multiple books that analyze the game of baseball.
Mark Nyman (1993)
Mark Nyman is also from England. Unlike Peter Morris, Mark Nyman has lived in England his entire life. Mark also differs from Peter by being a full-time Scrabble player.
In addition to winning the 1993 WSC, Mark also holds the distinction of winning more major UK Scrabble tournaments than any other player. He has over 20 wins to his name, according to the Association of British Scrabble Players. He certainly knows how to find words that win!
David Boys (1995)
David Boys is one of the best Canadian Scrabble players in the world. He won the World Scrabble Championship in 1995. He also claimed third place in the 1991 and 1999 tournaments.
David's career as a Scrabble player has continued for the past three decades. His first recorded tournament appearances date back to the mid-1980s. Lifetime, he has played over 1,800 Scrabble tournament games.
Joel Sherman (1997)
Joel Sherman, also known as "GI Joel," was the winner of the 1997 WSC. A lifelong Scrabble player, Joel has played in over 4,700 tournament games and has a more than 60 percent win rate.
Currently, Joel holds the record for the highest score in a North American tournament game. In 2011, at a Connecticut Scrabble tournament, he beat Bradley Robbins with a score of 803 to 285.
Joel Wapnick (1999)
Joel Wapnick won the WSC in 1999. This was not his only tournament win. Wapnick also won the Scrabble Players Championship (SPC) in 1983, as well as the Canadian National Scrabble Championship in 1998 and 2011.
To share his knowledge about Scrabble, Joel also wrote two books about the game. He published the first book, The Champion's Strategy For Winning At Scrabble Brand Crossword Game, in 1986. Wapnick followed up in 2010 with How to Play SCRABBLE Like a Champion.
Brian Cappelletto (2001)
Brian Cappelletto is another long-time Scrabble enthusiast. He won the WSC in 2001 and was the runner-up in 1991. Brian was also a SPC winner in 1998, and the runner-up in 2008 and 2010.
Due to his prominence in the Scrabble tournament scene, Brian has been featured in various media about the game. He appeared in the book Word Freak by Stefan Fatsis. Cappelletto was also a central figure in Scrabylon, the documentary about the 2001 World Scrabble Championship.
Panupol Sujjayakorn (2003)
Panupol Sujjayakorn won the 2003 WSC. Impressively, this was also his first time competing in the event. He was also the runner-up for the 2005 SPC and the champion of the 2002 Thailand Matchplay Championship.
Panupol is from Thailand, and despite English not being his first language, he has demonstrated an encyclopedic knowledge of the language and its words. This mastery of words has helped him achieve an impressive record during his Scrabble career, winning over 60 percent of his games.
Adam Logan (2005)
Adam Logan won the WSC in 2005. This was one of many titles he's taken in the numerous tournaments he's entered. Adam has won the SPC in 1996. He's also won the Canadian Scrabble Championship five times: in 1996, 2005, 2008, 2013 and 2016. 
Much of his success with Scrabble stems from his strong mathematical mind. Adam Logan has a degree in mathematics from Princeton University and a PhD from Harvard University. If you want to unscramble letters, it helps to be a logical puzzle solver!
Nigel Richards (2007, 2011, 2013, 2018, 2019)
Nigel Richards is considered the greatest Scrabble player of all time. The New Zealand native is the only person to have won the World Scrabble Championship more than once. He won it first in 2007, then came back to win it again in 2011, 2013, 2018 and 2019. 
These tournament wins weren't his only ones, either. Nigel also won the SPC five times, the UK Open Championship eight times, The Singapore Open Scrabble Championship 11 times, and the King's Cup 15 times. And as a bonus, he's taken first place in multiple French Scrabble tournaments despite not actually speaking French.
Pakorn Nemitrmansuk (2009)
Pakorn Nemitrmansuk is the second Thailand native to win the WSC, taking first place in 2009. He defeated Nigel Richards to take the title as Scrabble champion that year. He was also the WSC runner-up in 2003 and 2005.
When Pakorn won the WSC in 2009, it was his fifth time competing in the event. He first started attending in 1999, where he ended up in 40th place. With each subsequent WSC he attended, his placement rose, eventually culminating in his 2009 win. After that, in 2011, he took third place.
Craig Beevers (2014)
Craig Beevers was the second UK player to win the WSC. He won the Scrabble tournament in 2014. In the 2015 tournament the year after, he came ninth place.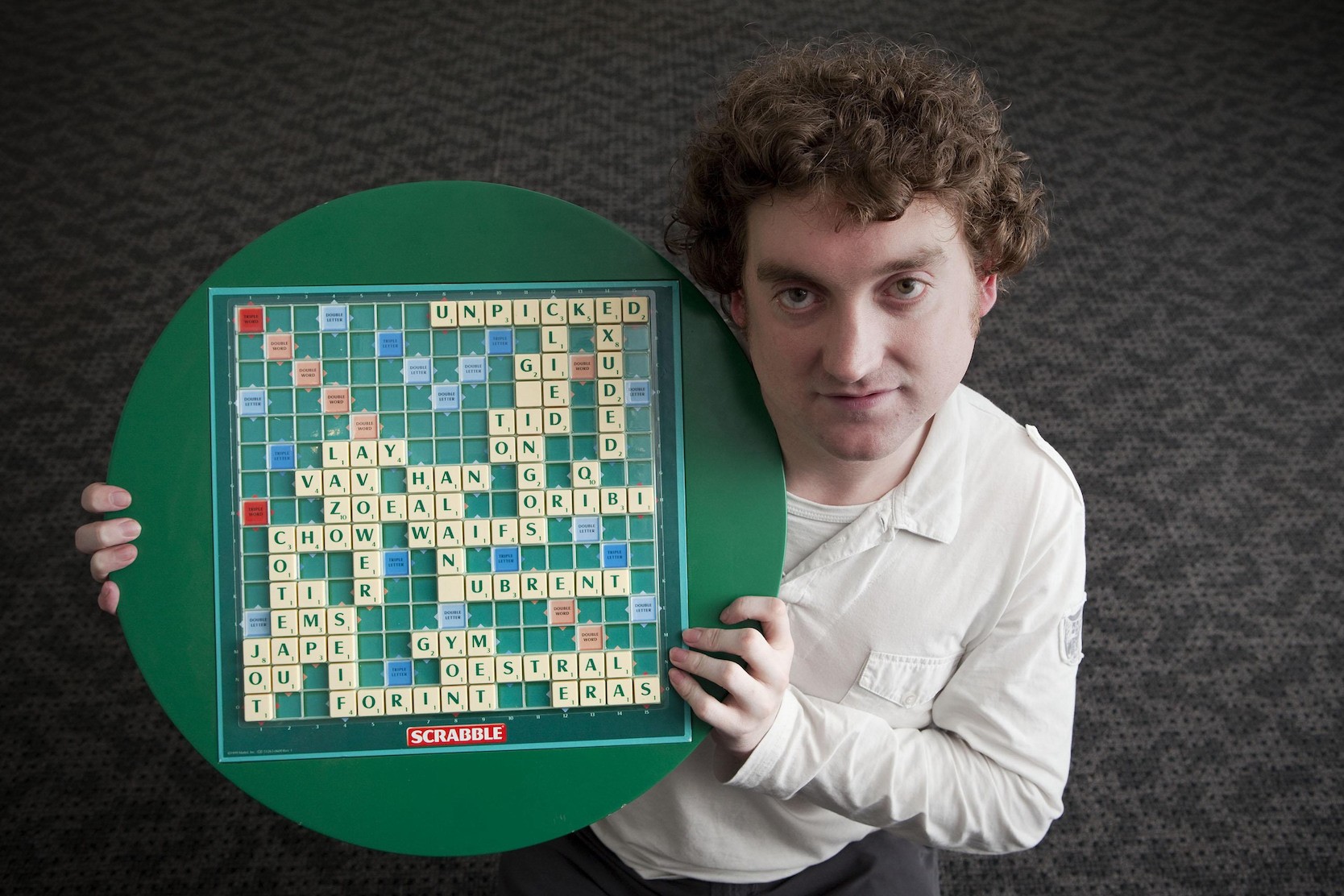 scrabble world champion Craig Beevers
Aside from his work as a Scrabble player, Beevers also does a lot to organize the competitive scene. He designed and manages the website for the World English Language Scrabble Players Association (WESPA). He also redesigned the The Association of British Scrabble Players (ABSP) website.
Wellington Jighere (2015)
Wellington Jighere is a professional Scrabble player from Nigeria. Jighere became the first player from Africa to win the WSC when he took first place in 2015. His 2015 win was his third of four appearances at the Scrabble championship tournament. Jighere finished third in 2007, 11th in 2009 and fourth in 2017. He quit playing professional Scrabble in December 2020.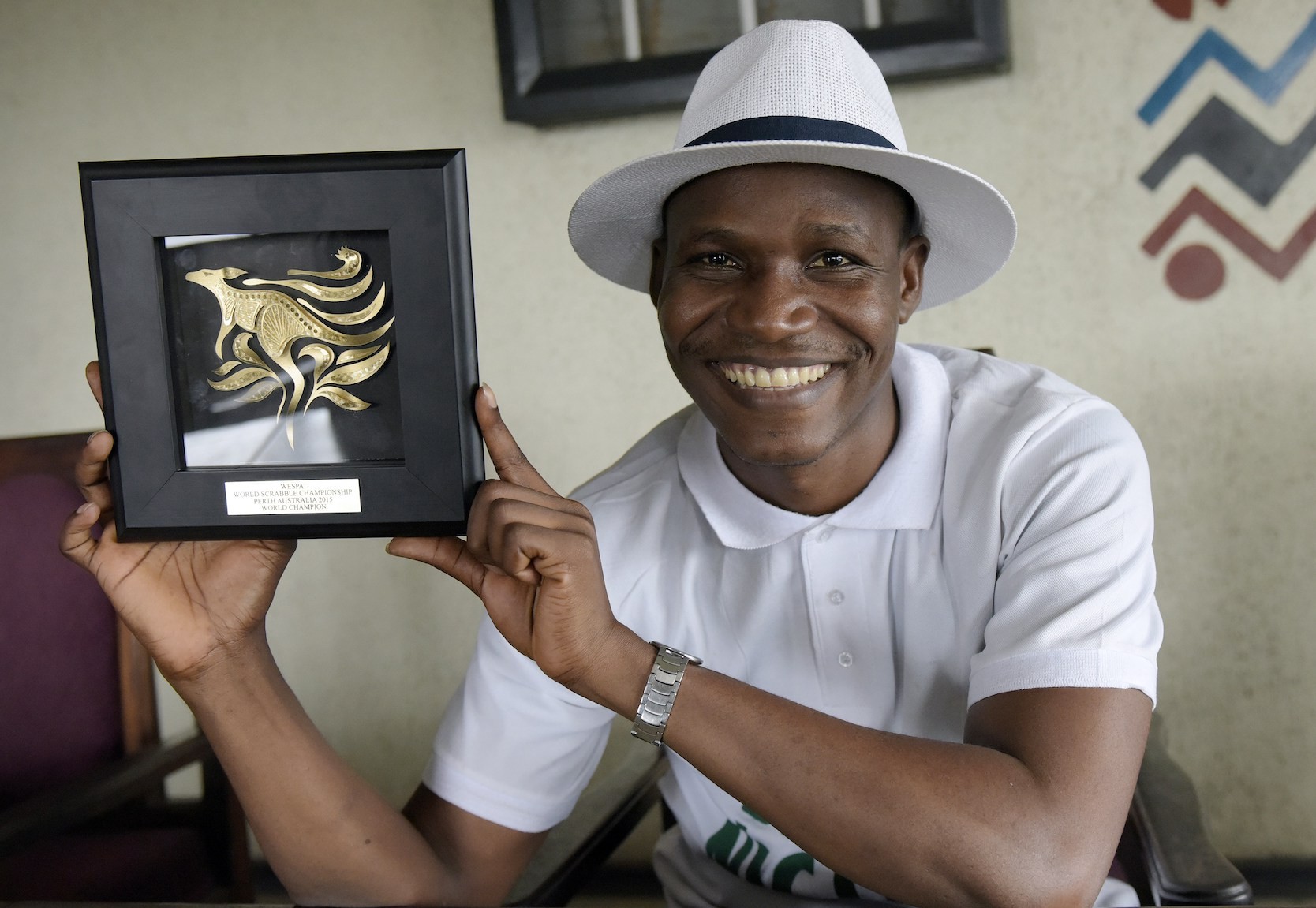 Scrabble World Champion Wellington Jighere
Brett Smitheram (2016)
Brett Smitheram won the WSC in 2016. Routinely a top player, Brett won numerous other tournaments and was named UK's highest-rated player five times. He also came close to winning the 2018 WSC, but ended up taking fourth place after losing to Nigel Richards.
Smitheram has also appeared on TV. He was a contestant on the UK game show Countdown in 1997. He won 6 episodes of the show, which qualified him to be a contestant for the final stage of Countdown's 37th series.
David Eldar (2017)
David Eldar won the 2017 WSC, the first Australian to do so. Another important win for him was the 2016 Collins Division for the SPC. The Collins Division is the version of the Scrabble championship that uses Collins Scrabble Words (CSW) rather than the NASPA Word List (NWL) as its official Scrabble dictionary.
What might surprise some people about David is that he's also an expert poker player. Eldar specializes in Omaha Hi/Low, playing regularly on Full Tilt Poker and PokerStars. Between in-person poker tournaments and online games, David has earned over $3 million in winnings.
Become the Next Scrabble Champ
These Scrabble champions come from all walks of life, but they all have one thing in common: they needed to start somewhere. If you have the drive to become as great a player as they are, you need to find your starting point too. That means going to events and tournaments, meeting other players and training. Our guide for finding a local Scrabble group can help. Join your fellow Scrabble lovers and start your own journey toward being a champion.
---
Zac Pricener has been a content creator for the past eight years. He's a bit of an all-around nerd, and he has a bad habit of working movie and TV show references into conversations whenever possible.