Hangmanwords.com Spans Many Themes 
Of all the online hangman sites on this list, hangmanwords.com boasts the most variety in terms of themes. You will find more than 20 word categories on the site's main hangman page. You can find words among such themes as animals, movies, sports and science.
Gameplay remains the same between categories. You are allowed to pick up to five incorrect letters. The sixth incorrect letter results in a hangman.
Gamesonline.com Keeps Things Simple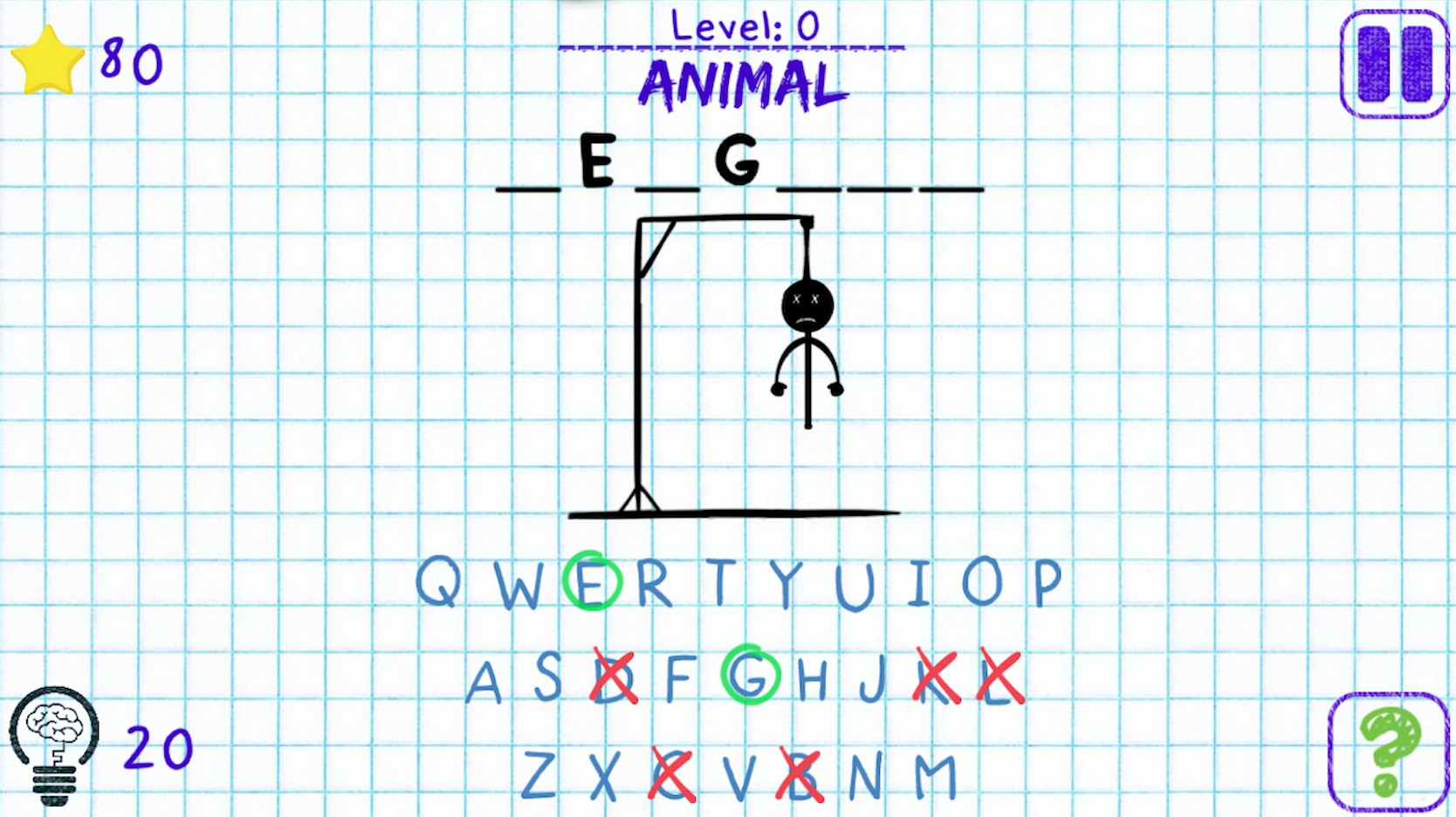 Hangman desktop game animal
Gamesonline.com offers a few different hangman online games. All of them have the same core gameplay to make words, of course. They just feature different themes. Some also have different difficulty levels.
Some themes on the site include Halloween, animals and capital cities. As for the difficulty level, a few games are meant for children, while others are for anyone. Kids Hangman, as expected, uses simple words that children are able to find.
Coolmathgame.com Floats a Tale
There's only one hangman online game on Coolmathgames.com, but it's definitely a fun one. The game has a slight story element to it. A child holding a bunch of balloons is walking alone in a forest. Suddenly, he is attacked by a hungry monster. The boy jumps and uses the balloons to float in the air to avoid the monster. 
Using typical hangman gameplay, you must spell the hidden word to help the boy escape. However, every wrong letter will pop a balloon. If you pop all of the balloons, it's snack time for the monster.
Hangman.io Features Two-Player Hangman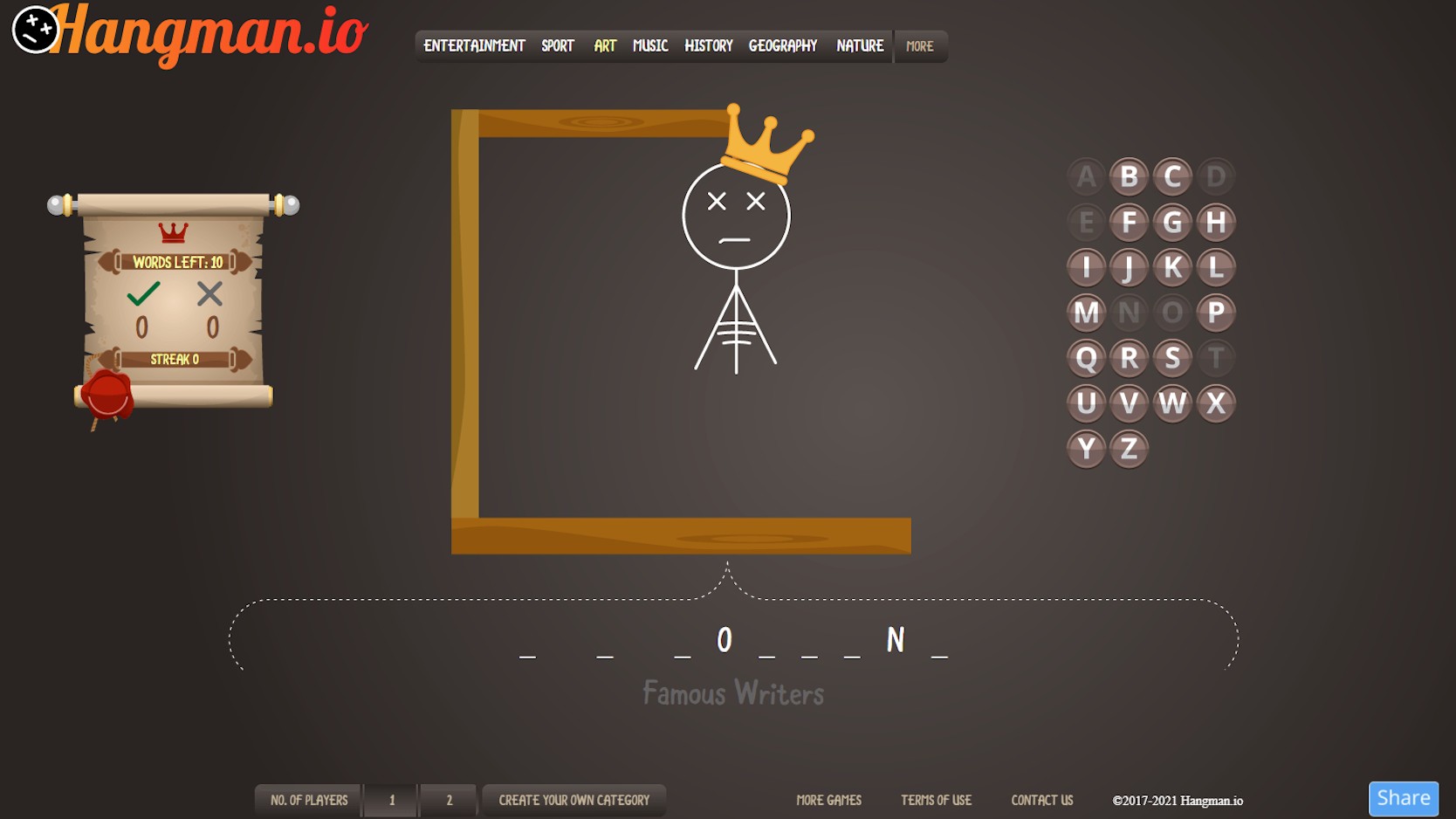 hangman desktop game famous writers
Hangman.io is probably the most content-rich site on this list. It only has seven themes, but each of those themes has specific subcategories. Say you pick art, one of the main themes. The game will randomly select a word from one of the art subsets. This might be something like famous writers or painting styles. You also have the option to manually select a specific topic.
Another thing that sets hangman.io apart from other online hangman sites is its two-player option. In the two-player mode, each player takes turns trying to find a word. But, each player also has their own word to find and their own hangman to save. The players' goal is to be the first one to find their missing word.
Twoplayergames.org Supports Up to Four Players
Twoplayergames.org offers free hangman games that up to four players can enjoy. It's a good option for people who want to entertain a group of children. They can work together to solve each puzzle.
The game also has eight different categories to choose from. Some examples are foods, shapes and colors. You can even combine the categories together. This means that one round might have the players find a word relating to a color. Then, the next round might ask them to find a word relating to a shape.
Play Games Online With Friends
Are browser games some of your favorite games to play? There are certainly a lot of fun ones out there. And, you can play many of them with your friends wherever they are. Check out our list of 10 great multiplayer browser games to find more web games to play besides hangman online.
---
Zac Pricener has been a content creator for the past eight years. He's a bit of an all-around nerd, and he has a bad habit of working movie and TV show references into conversations whenever possible.