The Ultimate Word Game Solver
As a quick refresher, or in case you're new around these parts, one of the most popular features on WordFinder is the word unscrambling tool. It will quickly and accurately unscramble letters to find words. This is perfect for solving anagrams, for example. Players of games like Words With Friends and Word Chums love it too. Enter the letter tiles in your rack and uncover high scoring opportunities!
Those are the basics. You can also take advantage of advanced search options, defining if you want your word to be a certain length or if you want it to start with a certain letter. Our inside guide on how to use WordFinder walks you through everything you want to know. 
But, a crossword puzzle is different from a game of Scrabble, isn't it? Then, how can WordFinder help you solve puzzling crossword clues? It's actually very easy!
Use WordFinder as a Crossword Solver
Many crossword puzzle fans enjoy the challenge. They want to rack their brains for the correct answer to each clue. So, when they get stuck, they may not necessarily want to be given the answer outright. Crossword solvers just want a little help or a hint. That's where WordFinder comes into play. 
Open our super convenient word finder unscrambling tool. 

Since you need a crossword puzzle solver, it shouldn't matter too much which game you select from the available menu. Choose "All Games (No Points)" for the widest range of possibilities.

Enter three wildcards (with a ? or a space) in the main search field. 

If you know the word starts with, contains or ends in a certain letter (or letters), enter them into the corresponding advanced search field.

Enter the number of letters in the word in the "length" advanced search field.

Click the search button and review the results. Do any of those words fit the crossword clue you're trying to solve?

You can also look through our collection of word lists. They include 7 letter words, words that start with Q, and much more. 
Depending on the crossword clue you're trying to solve, you may need to enter more letters into the main search field (step 3) beyond the three wildcards. It's a good idea to include at least all the vowels (AEIOU), plus some common consonants (like RSTLN). The main search field takes up to 20 characters.
Leverage the "Contains" Advanced Search
In the context of operating as a crossword clue solver, the most powerful feature of the unscrambling tool is the "contains" advanced search. In this search field, you can enter letters in word, as well as empty spaces. These spaces place the letters in position. Enter empty spaces with an underscore or by hitting the spacebar.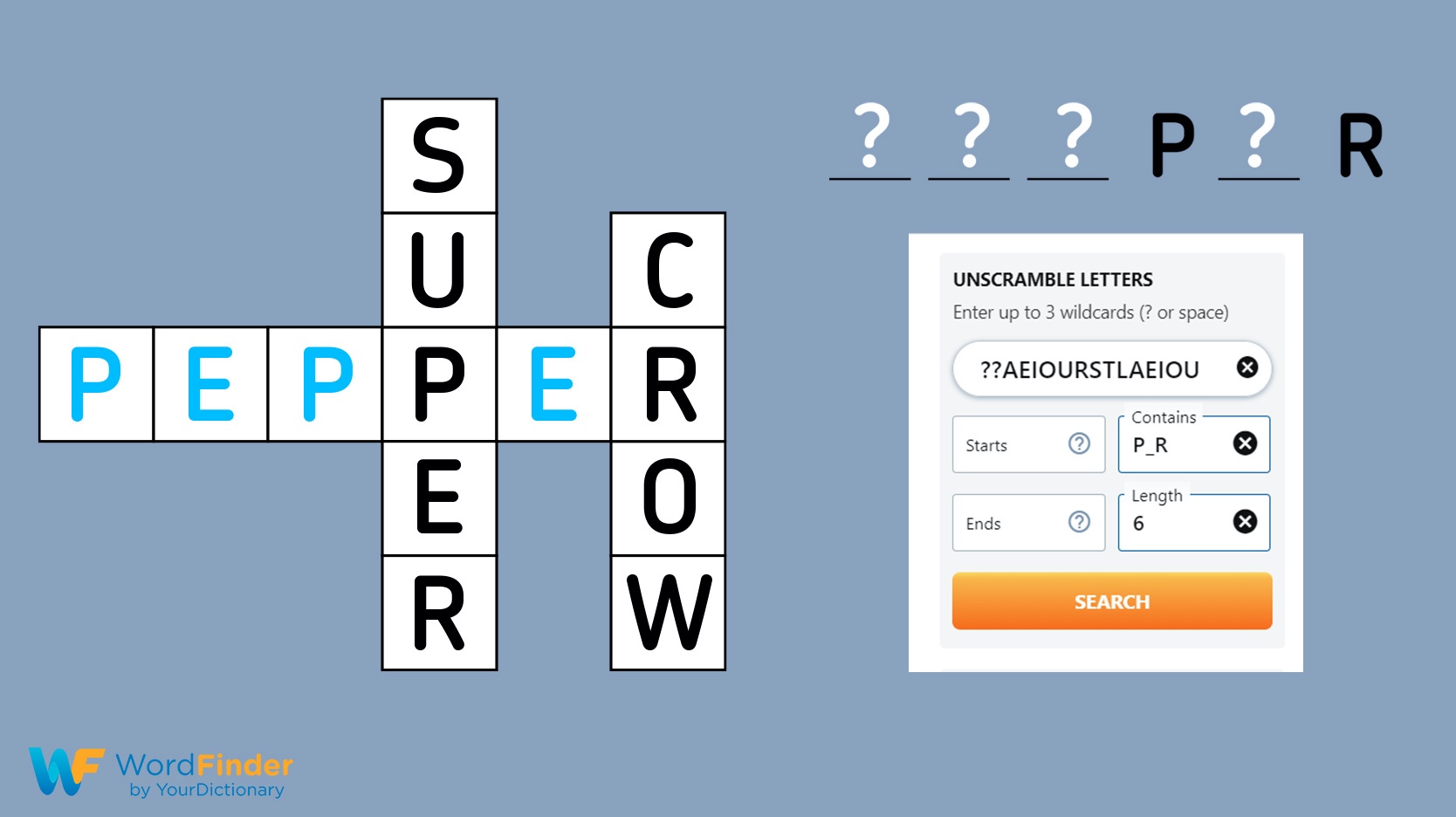 find missing letters with crossword solver
For example: 
If you search for 6 letter words that contain PR, you get words like UPROAR and PRAISE. 

If you search for 6 letter words that contain P_R, you get words like PEPPER and IMPURE.

If you search for 6 letter words that contain P__R (two spaces), you get words like POURED and UPWARD.
The more information you can provide the letter unscrambling tool, across all the advanced search fields, the more precise the resulting word list will be.
Get the WordFinder App
In addition to the web-based word finder, you may also enjoy the free WordFinder mobile app for iOS and Android devices. This way, you'll always have fast and easy access to a crossword solver on the go.
More Crossword Puzzle Solver Tips
Deb Amien of The New York Times says, "Solving crossword puzzles is like mental yoga -- both challenging and relaxing at the same time. Plus, it's fun." Crossword puzzles tap into a broad range of knowledge and trivia, as well as your vocabulary. How can you get better at solving them?
Always work in pencil. Even if you feel like an answer is obvious, it still might not be correct. Digital crossword puzzles usually make it easy for you to change your answers.

Try all the crossword clues before doubling back. This is also a popular test-taking strategy. Fill out as much of the puzzle as you can with answers you feel the most confident about. Then, you can go back to the ones you missed. 

Zero in on the shorter words. It's far easier for you to guess at 3 letter words than it is for you to guess a 12 letter word. When you fill in the shorter words, the rest of the puzzle becomes easier.

Pencil in the plurals. Not all plural words end in S, that's true. But, the overwhelming majority of them do. When you see crossword clues where the answer is a plural, pencil in an S as the final letter. You can always erase it later.

Practice, practice, practice. The more crossword puzzles you solve, the better you'll get at solving them. Plus, you'll start to recognize common crossword answers that pop up time and again. 
Challenging Crossword Clues Everywhere
There is a certain nostalgia to opening the Sunday newspaper and flipping over to the weekly crossword puzzle. You sharpen your best #2 pencil in preparation, cozying up in your favorite chair. At the same time, the convenience of the mobile app is undeniable. Take your solving skills on the go with the best crossword apps for iOS and Android. Many are free and offer different difficulty levels too.
---
Michael Kwan is a professional writer and editor with over 15 years of experience. Fueled by caffeine and WiFi, he's no stranger to word games and dad jokes.