New York Times Crossword
First, let's start with the good news. The general consensus is that the New York Times Crossword is the best crossword app you can get. There's a reason why this daily crossword puzzle enjoys the legendary status that it does. The bad news is that it's not totally free to play. While you can download the app for free, you'll need to pay for a $40 annual subscription (or $7 monthly) to access all the puzzles. 
Available for both Apple iOS and Google Android devices, the NYT Crossword app gives you the same puzzles as those printed in the daily newspaper. With your subscription, you also unlock 20 years' worth of classic puzzles. Besides the daily crosswords, the app also offers free mini puzzles each day without a subscription.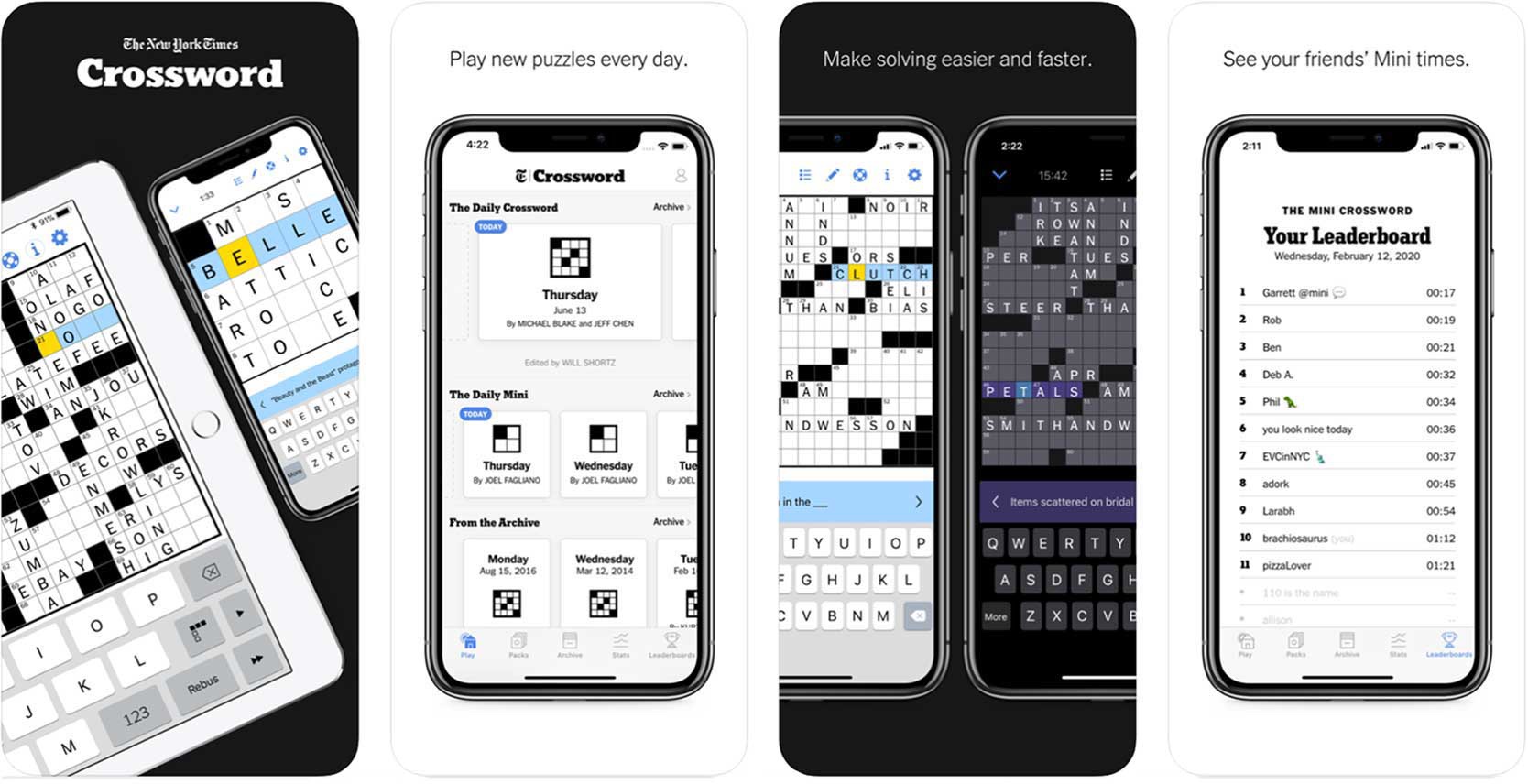 Screenshot of New York Times crossword puzzle game
Crossword Unlimited
WordFinder is an English language website, so we focus more on English language word games. Of course, many popular games are played in a variety of languages. If you fancy yourself a polyglot, then Crossword Unlimited by Havos Word Games is worth checking out. For starters, every game in the app is created automatically, so there's always a new puzzle to challenge. Select your grid size, difficulty level and more.
In addition to English, try playing crossword puzzles in such languages as French, German, Spanish, Czech and Russian too. Play many games at once, save games to revisit later, and zoom around for a better view. Download this free crossword app from the App Store for iOS or Google Play Store for Android.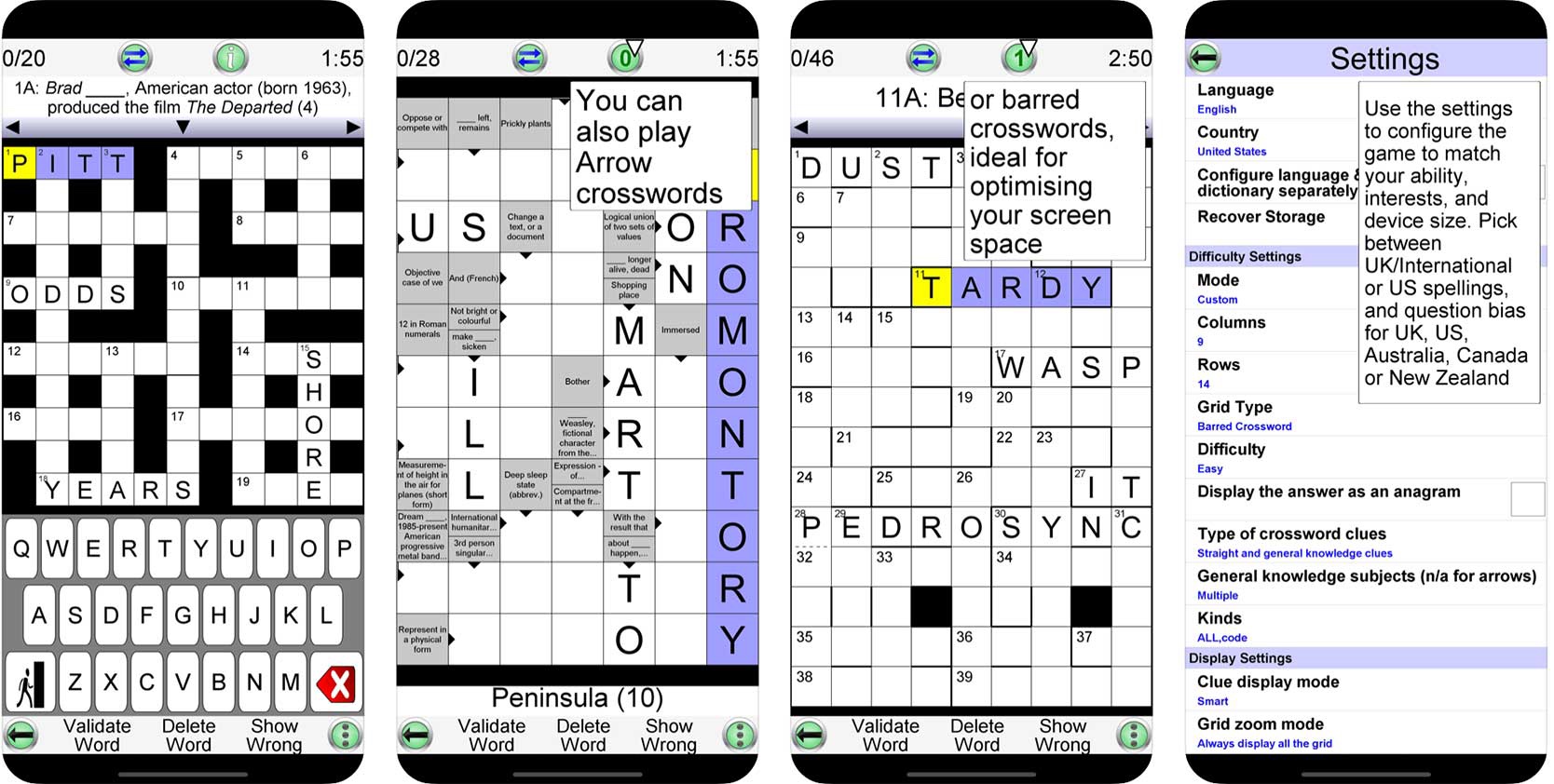 Screenshot of Crossword Unlimited game
CodyCross
Classic crossword puzzles are a lot of fun, but what if you want a free crossword app that's a bit different? CodyCross offers a fresh take on the classic game. There are no spaces between CodyCross answers, so all the horizontal words are the same length. They align so that one of the columns forms a mystery word. As you solve horizontal clues, you earn free letters to help with the other clues.
Travel across thematic worlds and genres with a friendly alien protagonist. Unlock power-ups to help when you're stuck and win daily prizes too. There's also an optional subscription for extra content. CodyCross is available for Android and Apple iOS devices.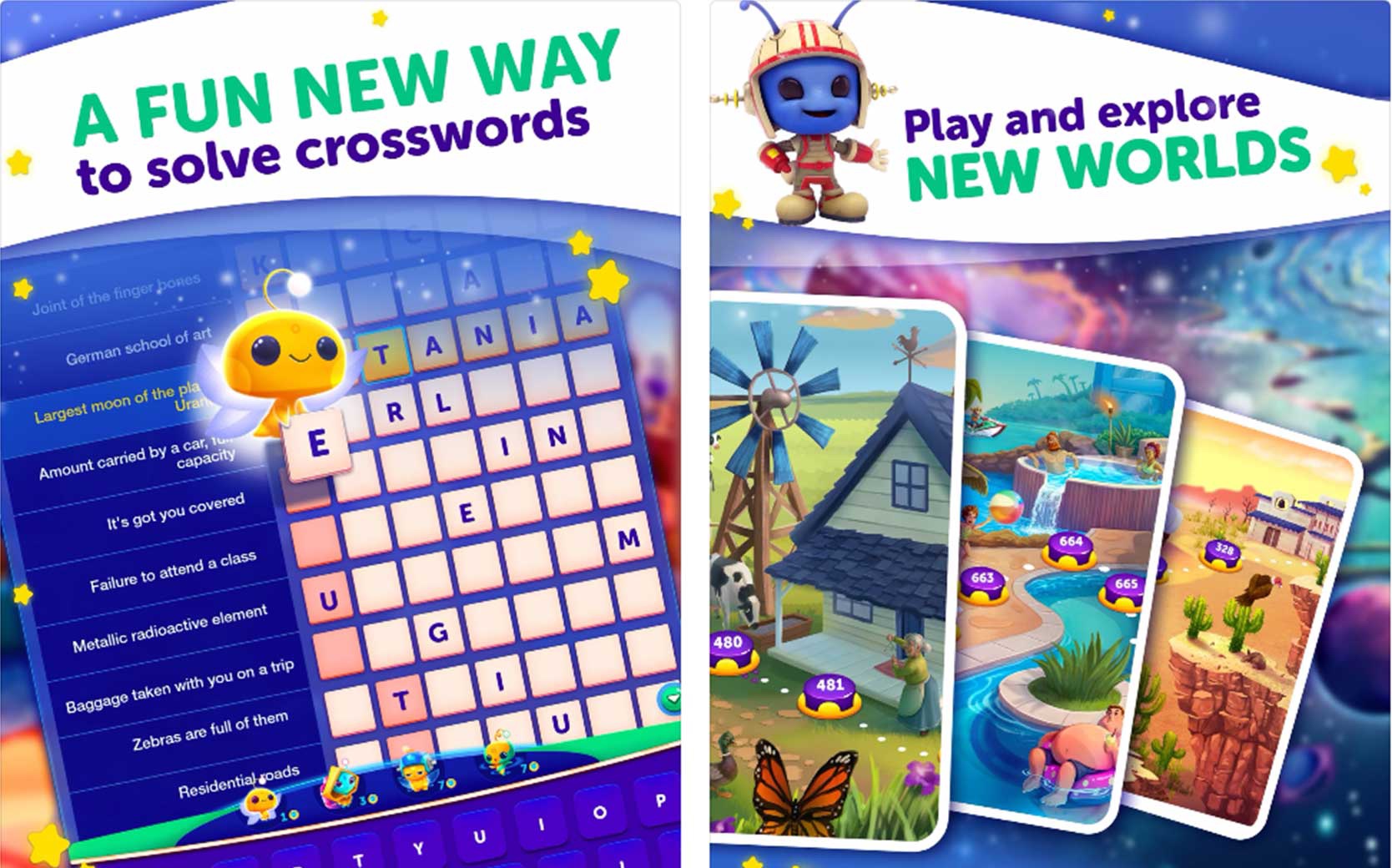 Screenshot of Cody Cross game
Crossword Puzzle Free (Redstone)
This free crossword app has two different names, depending on which mobile platform you use. On Google Android, it's called Crossword Puzzle Free. Hop over to an iOS device like an iPhone or iPad, and you've got Crossword Puzzle Redstone. Both names are accurate, since it is indeed a free app published by Redstone Games.
Enjoy free packs of crossword puzzles every week. They're conveniently organized into four difficulty levels. Once you've downloaded the new puzzles, you can solve them offline. When you're stuck on an especially tricky clue, take advantage of the "Smart Look Up" feature for word suggestions.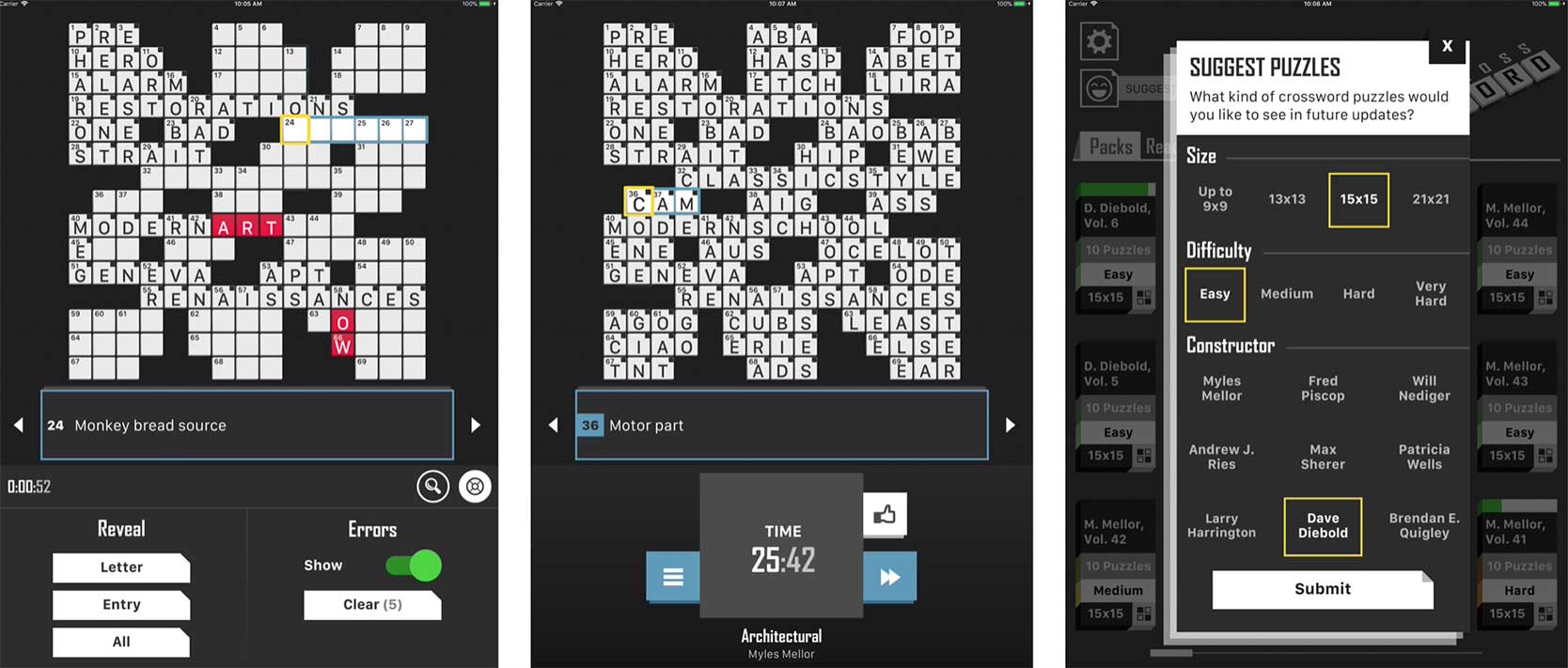 Screenshot of Redstone game
Shortyz Crosswords
What is the best crossword app for Android? A popular choice that comes up frequently in conversation is Shortyz Crosswords. It's not that the app is especially unique in design. If anything, it takes a decidedly simple and straightforward approach to the classic crossword puzzle. Tap on a space in the puzzle and it'll show the clue at the top, highlighting the letter squares in the grid.
What makes Shortyz such a compelling option is that you get free puzzles from top publications across the country. Among the list are the Washington Post, Los Angeles Times, and People Magazine. It'll even let you play the New York Times crossword if you have a paid subscription.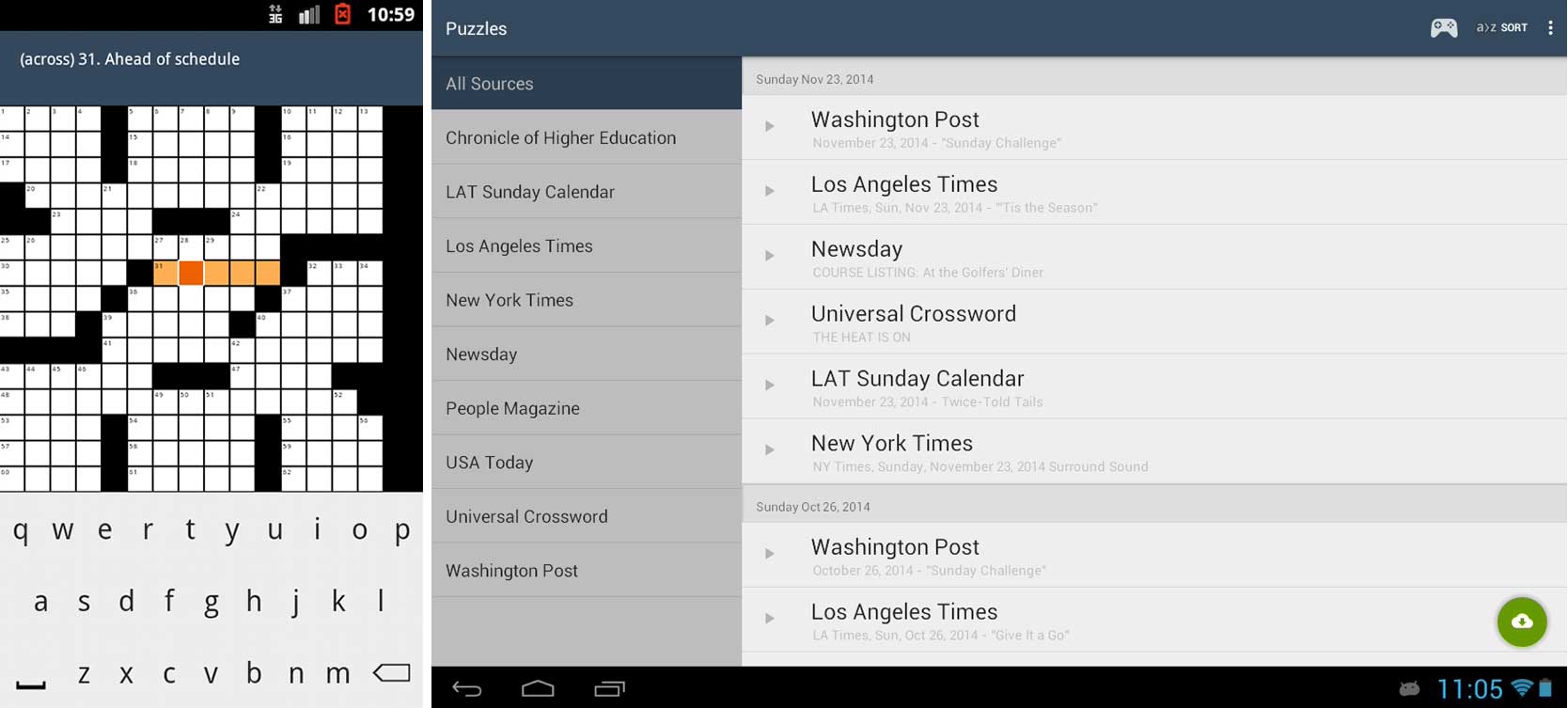 Screenshot of Shortyz gam
Zelnut Crossword Puzzles
If Google Android users have Shortyz, what's the best crossword app for iPhone? You'll find an especially aesthetically pleasing design in Zelnut Crossword Puzzles. Most crossword puzzle apps stick to solid colors. Zelnut, by comparison, offers calming HD backgrounds from around the world.
This is reminiscent of what you find in Wordscapes, a totally different kind of crossword app where you swipe letters to form words. With Zelnut, you gain access to a new puzzle for free every day. For more puzzles, you can buy optional in-app tickets starting from $1.99. Play in your choice of portrait or landscape orientation.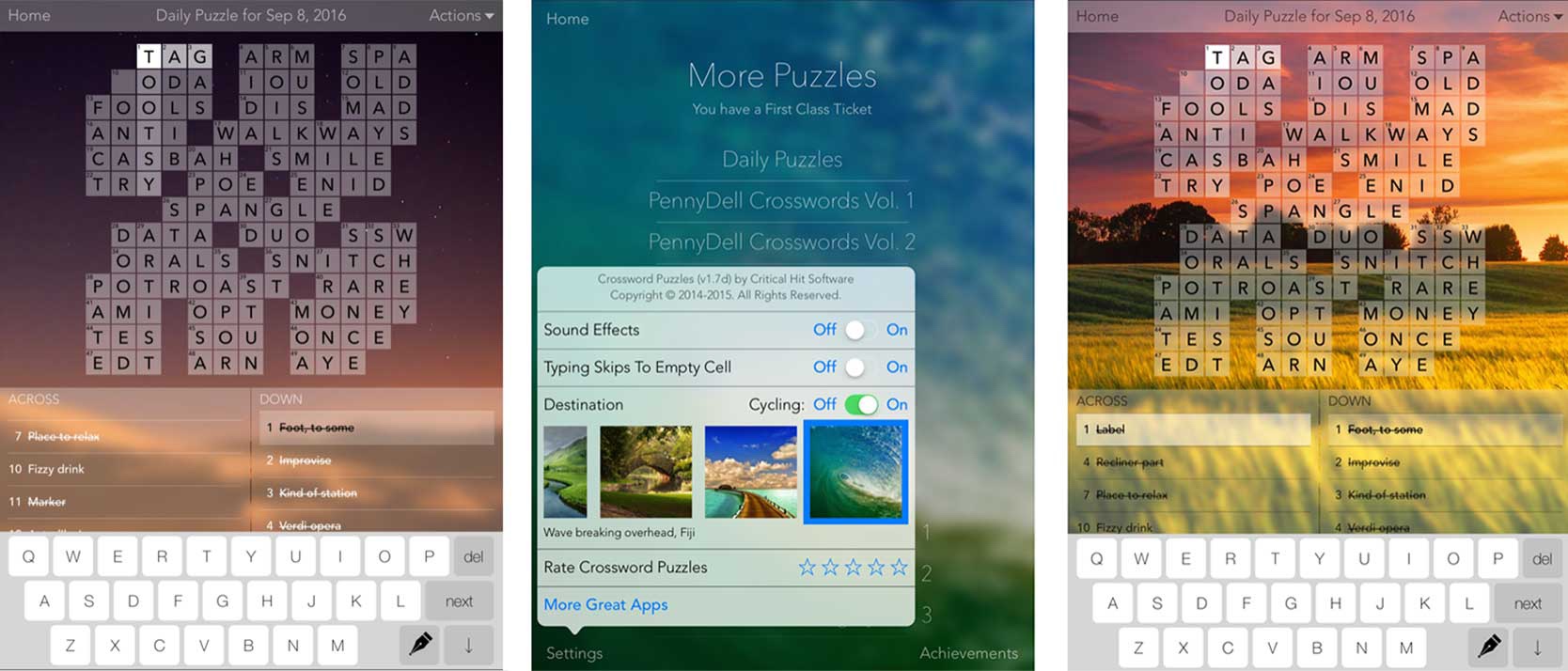 Screenshot of Zelnut game
5-Minute Crossword Puzzles
What if you don't have the time to invest in a particularly long or challenging crossword? No problem! Many mobile games are designed with shorter playing sessions in mind and crossword puzzles shouldn't be any different. Called Little Crossword Puzzles on iOS and 5-Minute Crossword Puzzles on Android, this app by Second Gear Games is perfect for playing on the go.
The entire puzzle is easily visible without scrolling or zooming around. Most of the crossword puzzles in this app have no more than six or seven clues. And they all fit on a grid no bigger than about five squares across, so five-letter words are the largest possible answers. The idea, as you might imagine, is to solve each little crossword in under five minutes.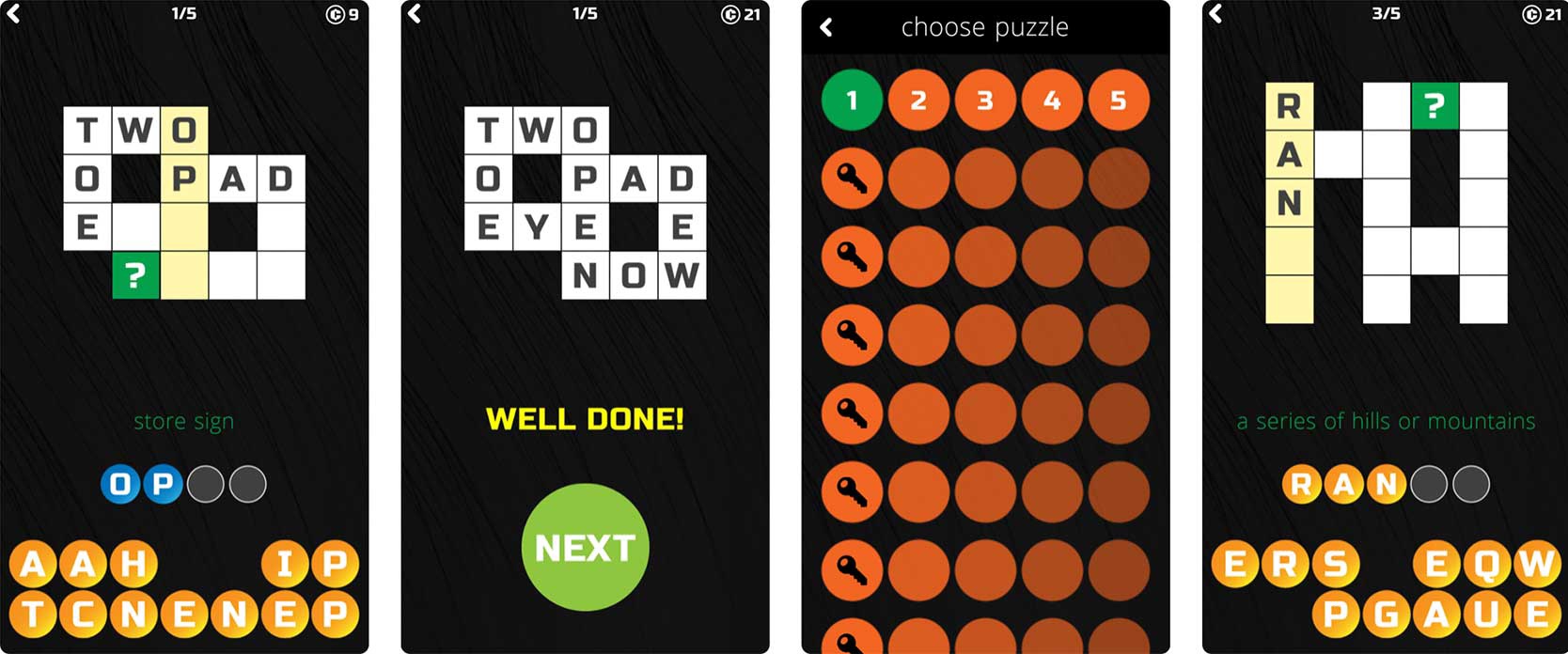 Screenshot of Little Crossword Puzzle game
Common Crossword Puzzle Answers
Ready to improve your crossword puzzle solving skills? Leverage our handy crossword solver for when you get stuck. You'll also find that as you play more, you'll start to encounter some similar clues. Familiarize yourself with common crossword answers. That way, you'll be ready to pounce when the opportunity arises.
---
Michael Kwan is a professional writer and editor with over 14 years of experience. Fueled by caffeine and WiFi, he's no stranger to word games and dad jokes.