Amanda Gorman
Reading "The Hill We Climb" at the inauguration of President Joe Biden on January 20, 2021, Amanda Gorman propelled herself onto the global stage. With her powerful words and inspiring delivery, she immediately became one of the most famous modern poets today. At 22 years of age at the time, she was the youngest poet ever to read at a presidential inauguration.
And yes we are far from polished.
Far from pristine.
But that doesn't mean we are
striving to form a union that is perfect.
We are striving to forge a union with purpose,
to compose a country committed to all cultures, colors, characters and
conditions of man.
And so we lift our gazes not to what stands between us,
but what stands before us.
Amanda Gorman is inspiring young women and girls across the country, particularly among BIPOC communities. She expresses a message of hope and optimism for a brighter future. She also performed an original piece at Super Bowl LV. Amanda Gorman is the first ever United States National Youth Poet Laureate. She is not the current United States poet laureate. That honor belongs to Joy Harjo, who has held the position since 2019. Harjo is the first Native American United States poet laureate.
Rupi Kaur
Born in India in 1992 and moving to Canada with her parents at the age of four, Rupi Kaur is among the most popular contemporary poets. She made a name for herself through social media platforms, sharing short visual poetry on Instagram and Tumblr. She sold over 3 million copies of her first poetry book, Milk and Honey (2014). It discusses the pain and change in women, including previously taboo topics like menstruation.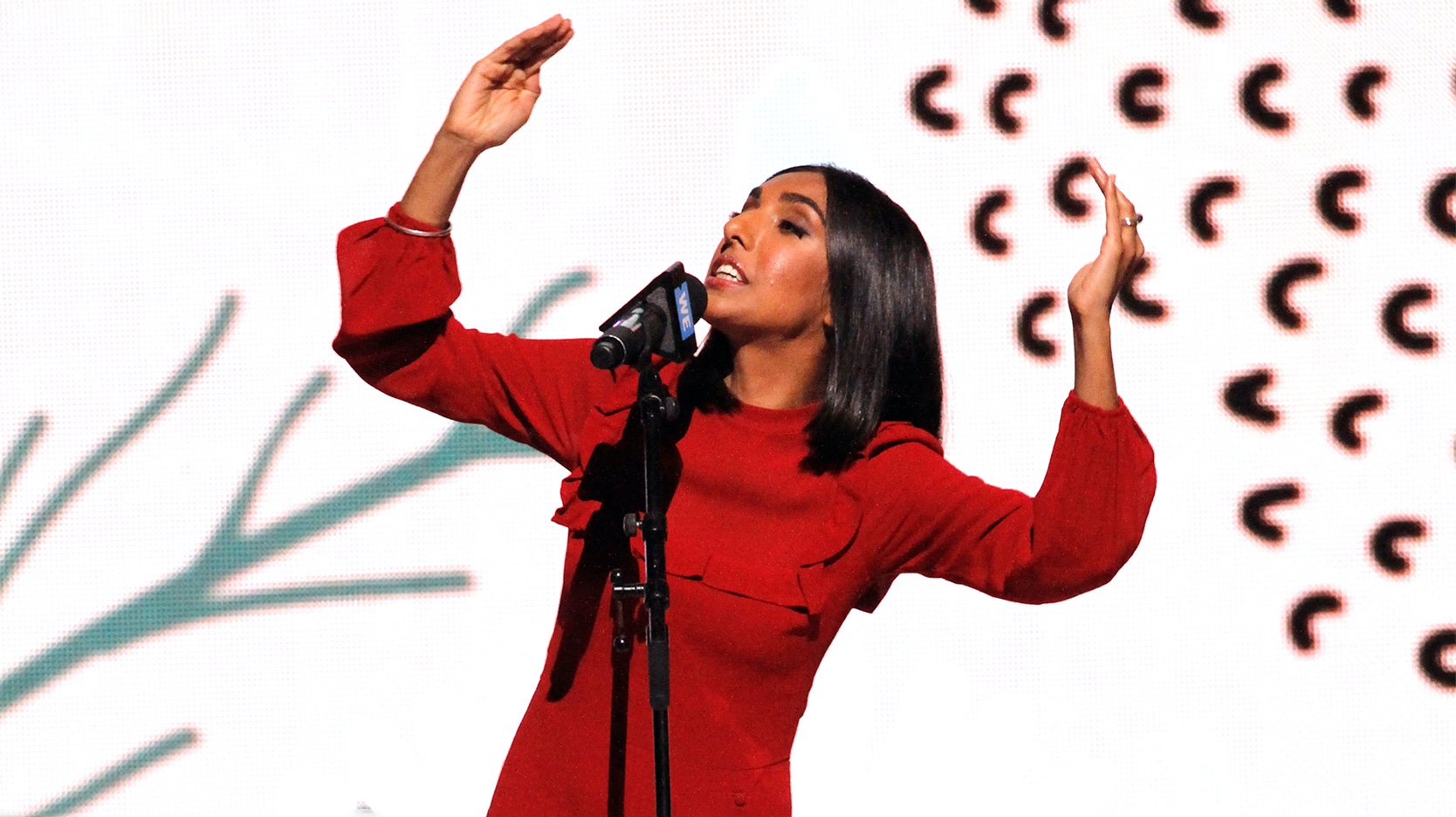 Rupi Kaur performs during WE Day Toronto 2019
you tell me to quiet down cause 
my opinions make me less beautiful 
but i was not made with a fire in my belly 
so i could be put out 
i was not made with a lightness on my tongue 
so i could be easy to swallow 
i was made heavy 
half blade and half silk 
difficult to forget but
not easy for the mind to follow
Rupi Kaur built on this success with her second book in 2017. The Sun and Her Flowers, which explores love and relationships, stayed on the The New York Times Best Seller list for 76 weeks. She was named among the BBC 100 Women in 2017 and the "Writer of the Decade" by The New Republic in 2019. 
Cathy Park Hong
Even though Rutgers University creative writing teacher Cathy Park Hong had previously published three poetry volumes, she received a lot more attention with the 2020 release of Minor Feelings: An Asian American Reckoning. The Asian American experience is slowly attracting more mainstream attention, and Hong is very much a part of that movement. As a daughter of Korean immigrants, Hong illuminates challenges with racial identity in modern day America.
But where does the silence that neglects her end, and where does the silence that respects her begin? The problem with silence is that it can't speak up and say why it's silent. And so silence collects, becomes amplified, takes on a life outside our intentions, in that silence can get misread as indifference, or avoidance, or even shame, and eventually this silence passes over into forgetting.
A combination of poetry and essays, Minor Feelings has been praised for its "provocative and passionate" writing, brutal self-awareness, and a voice that is "urgent and raw." Cathy Park Hong also won the 2002 Pushcart Prize for Translating Mo'Um, the 2006 Barnard Women Poets Prize for Dance Dance Revolution, and the New York Foundation for the Arts Fellowship. 
Gregory Pardlo
American poet and professor Gregory Pardlo is known best for finding words that are both "urban and highbrow." It's with this unique voice that he discusses both specific and universal themes. In his 2018 book, Air Traffic: A Memoir of Ambition and Manhood in America, Gardlo explores Blackness and masculinity in American culture. The book made top 10 lists with the BBC and New York Times, among others.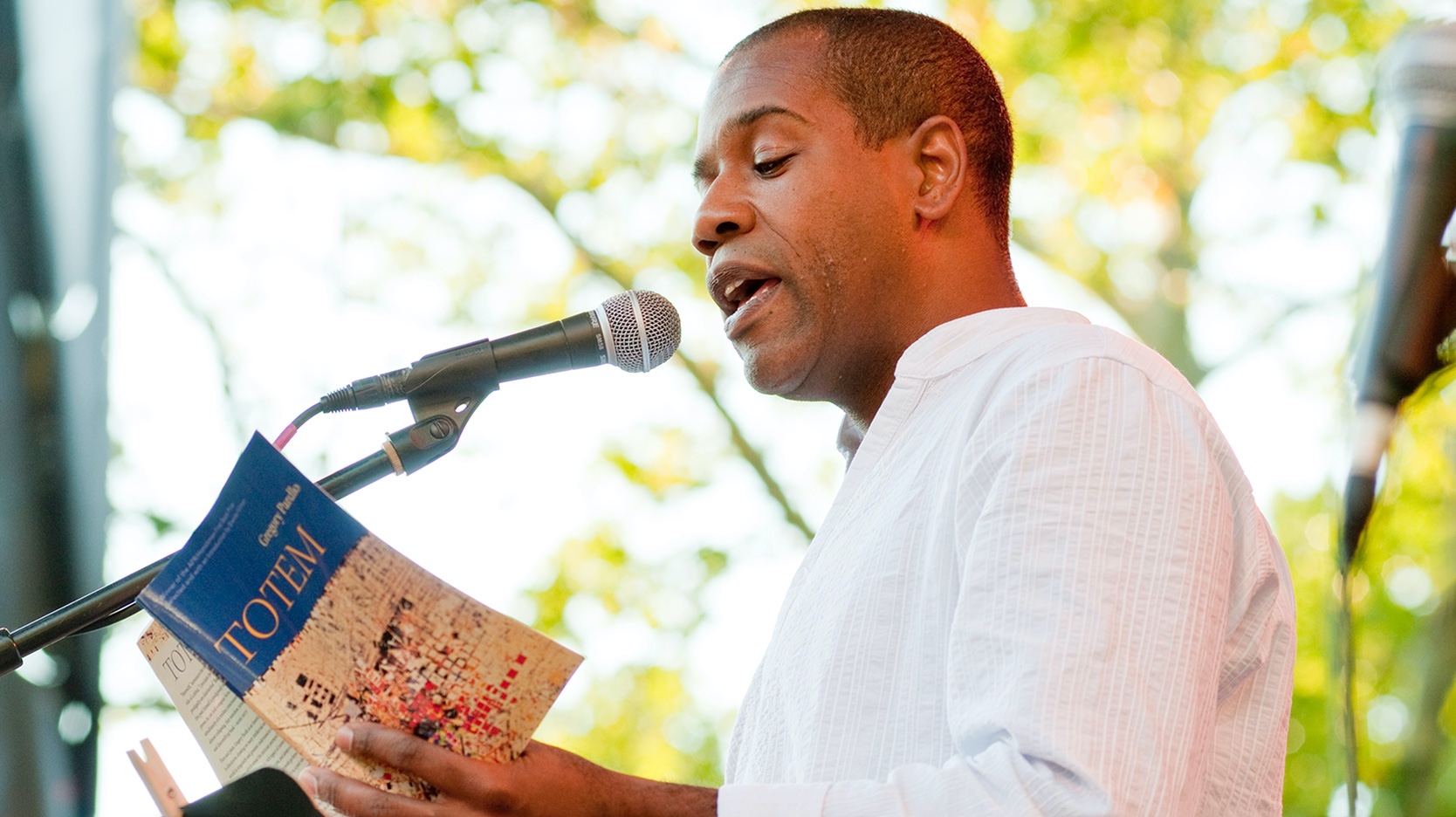 American poet Gregory Pardlo 2010
Because Venus lifted the Rosewater Dish like a shield
in the sun the gray father of two swatted a juggle
of balls against a playground wall that had been graffitied
for an episode of Law & Order set in the hood.
The desiccated catgut of his racquet strummed
like a junkyard harp with each gouty ground stroke.
A muscle fire stoked to warm the bagpipes in his chest. 
With his Digest poetry collection, Pardlo won the 2015 Pulitzer Prize for Poetry. He also won the Lotos Club Foundation Award for Creative Writing in 2004 and the American Poetry Review / Honickman First Book Prize in Poetry in 2007 for Totem.
Brandon Leake
It's not just a select few with specific intellectual interests who enjoy contemporary poets. Brandon Leake is representative of a whole generation of famous modern poets with mainstream appeal. In fact, Leake won the 15th season of the America's Got Talent competition in September 2020. He took home a $1 million cash prize and a Kia Stinger.
And then I went on Facebook and I realized
that my mama loved me,
the same way every mother loved their son, fearfully.
Because, normally, death don't really bother me.
I mean, I'm from south side Stockton.
I'm all too familiar with how some family reunions
only ever take place on graveyard grass,
and a hole can be a safe haven for a soul
in this mortal game of hide and go seek.
Unsurprisingly, Google search traffic for the AGT champion surged around the same time. An educator and motivational speaker, Brandon Leake was the first spoken word poet to compete on the popular TV show. During the competition, Leake performed pieces about the Black Lives Matter movement and his family. 
Shane Koyczan
From Instagram to nationwide television, contemporary poetry is gaining in popularity across many demographics. Shane Koyczan is a Canadian spoken word poet. He was born in Yellowknife, Northwest Territories and raised in Penticton, British Columbia. With over 24 million views to date, his biggest claim to fame is a YouTube video with an animated version of his poem "To This Day." In it, he talks about his experience with bullying as a child.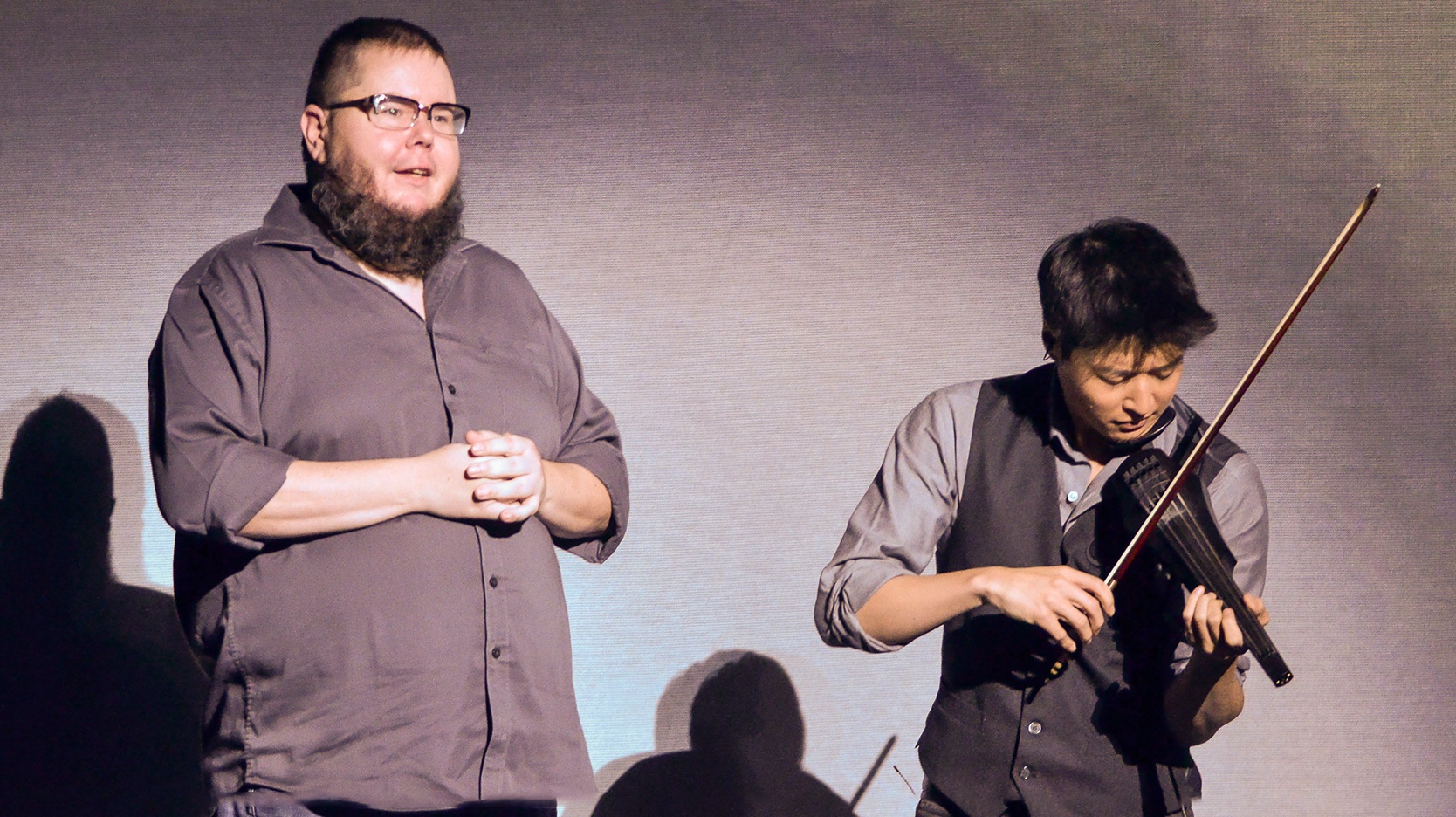 Shane Koyczan performs YouTube On Stage Live Kennedy Center 2014
I'm not the only kid who grew up this way
Surrounded by people who used to say 
That rhyme about sticks and stones
As if broken bones hurt more than the names we got called
And we got called them all
So we grew up believing no one would ever fall in love with us
That we'd be lonely forever
That we'd never meet someone to make us feel like the sun
Was something they built for us in their tool shed
Shane Koyczan also performed at the 2010 Winter Olympics Opening Ceremony in Vancouver and the 2013 TED conference in Long Beach, California. Koyczan is a member of the Tons of Fun University spoken word trio with C. R. Avery and Mighty Mike McGee. Active since 2003, the group performs "talk rock" at festivals and events. 
Fatimah Asghar
One of the most powerful trends in contemporary poetry is that famous modern poets are giving a voice to underrepresented communities. Fatimah Asghar co-created the Emmy award-winning Brown Girls with Sam Bailey. The 2017 comedy web series depicts a queer Pakistani-American writer and an African American musician struggling with young adulthood. The Atlantic praised the show's "vision of femininity" as "novel." 
From the moment our babies are born
are we meant to lower them into the ground?
To dress them in white? They send flowers
before guns, thorns plucked from stem.
Every year I manage to live on this earth
I collect more questions than answers.
In my dreams, the children are still alive
at school. In my dreams they still play.
Fatimah Asghar speaks to her experience as a Pakistani Muslim woman in America, her family history, and the persistent impact of colonialism. Her 2018 poetry collection, If They Come for Us, explores these topics with authenticity, anguish and vulnerability. She was featured in Forbes 30 Under 30 the same year. 
Modern Poets Everywhere
With World Poetry Day, UNESCO strives to "support linguistic diversity through poetic expression" Poetry has the unique ability "to capture the creative spirit of the human mind." These famous modern poets offer some of the best from the artform. To learn more about the powerful influence of local culture, check out our article on critically endangered languages. Did you know that more than half of the world's critically endangered languages are spoken in just 10 countries?  
---
Michael Kwan is a professional writer and editor with over 14 years of experience. Fueled by caffeine and WiFi, he's no stranger to word games and dad jokes.