Take on the Challenge of Absurdle
If you find that Wordle is a bit too easy sometimes, you can ramp up the difficulty by playing Absurdle. Of all the Wordle alternatives out there, this one is by far the most frustrating (but in a fun way). 
Absurdle is more difficult than Wordle because it actively changes the answer depending on which words you guess. It could register that you got a letter right, but that it wasn't in the correct spot. From there, the game might change the location of the letter by assigning a new answer. 
This active attempt to keep you from winning is why the Absurdle's creator describes the game as the "adversarial version" of Wordle. It's also why you have an infinite number of chances to find the word. So, you can't exactly lose at Absurdle. But, you'll want to push yourself to find words in as few turns as possible. Our handy Wordle solver can help with that. 
Keep Things Simple With Hellowordl 
When the idea of playing something as challenging as Absurdle doesn't sound too appealing, Hellowordl is a perfect, casual option. While a number of the alternatives to Wordle on this list mix up the gameplay somewhat, the mechanics of Hellowordl are identical to Wordle's.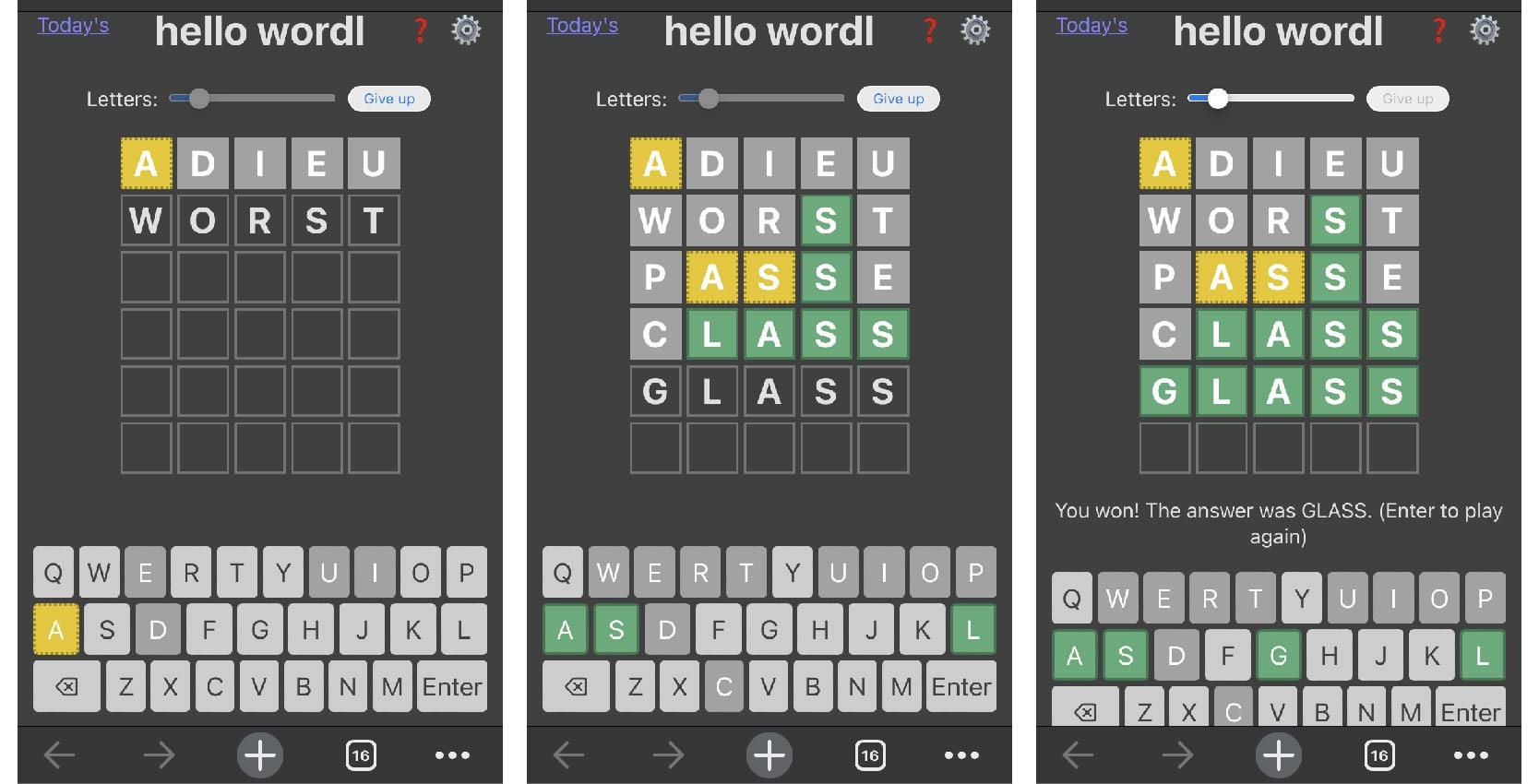 Hello Wordl mobile screenshots
As with Wordle, you have six chances to find five-letter words. You also have the same settings options to use a dark mode and to enable hard mode. The only real difference between the two games is that you can refresh Hellowordl to play multiple puzzles on the same day. The identical gameplay also means that you can use the same Wordle strategies to win.
Twenty-Six Reasons to Love Letterle 
Moving back to a true remix of Wordle's gameplay, we have the amusing game Letterle. While it is similar to Wordle, it's also totally different in one major way: It doesn't use words. Instead, Letterle challenges you to guess using only a single letter.
While this may seem like a pointless and random form of the game, the single-letter solution allows for quick games. And, since you can play as many times as you want, you can make up ways to challenge yourself. See if you can find the letter within a specified number of attempts, rather than the maximum of 26. Or, you can pick your letters by spelling words. Pick a word, such as "example," and try each letter from that word one at a time.
Play "Classic Mode" With Online Lingo
To go back to what some people would consider the roots of Wordle, you can play Lingo. Well, you can play an online version of the TV game show. This browser game lets you experience the traditional game and replay it to your heart's content.
While the gameplay in online Lingo is essentially the same as Wordle, there are a few major differences. First, you don't need to play real words. Your guesses can be any assortment of letters. This can help you more easily find the letters you need. Second, the game provides a hint for the first letter of each word. And finally, you can play either five- or six-letter puzzles.
Word Master Is a Masterful Wordle Substitute
Much like Hellowordl, Word Master is a simple replication of the basic gameplay that Wordle uses. There are no changes to the mechanics, the word lists are almost identical and you can use the often-superior dark mode.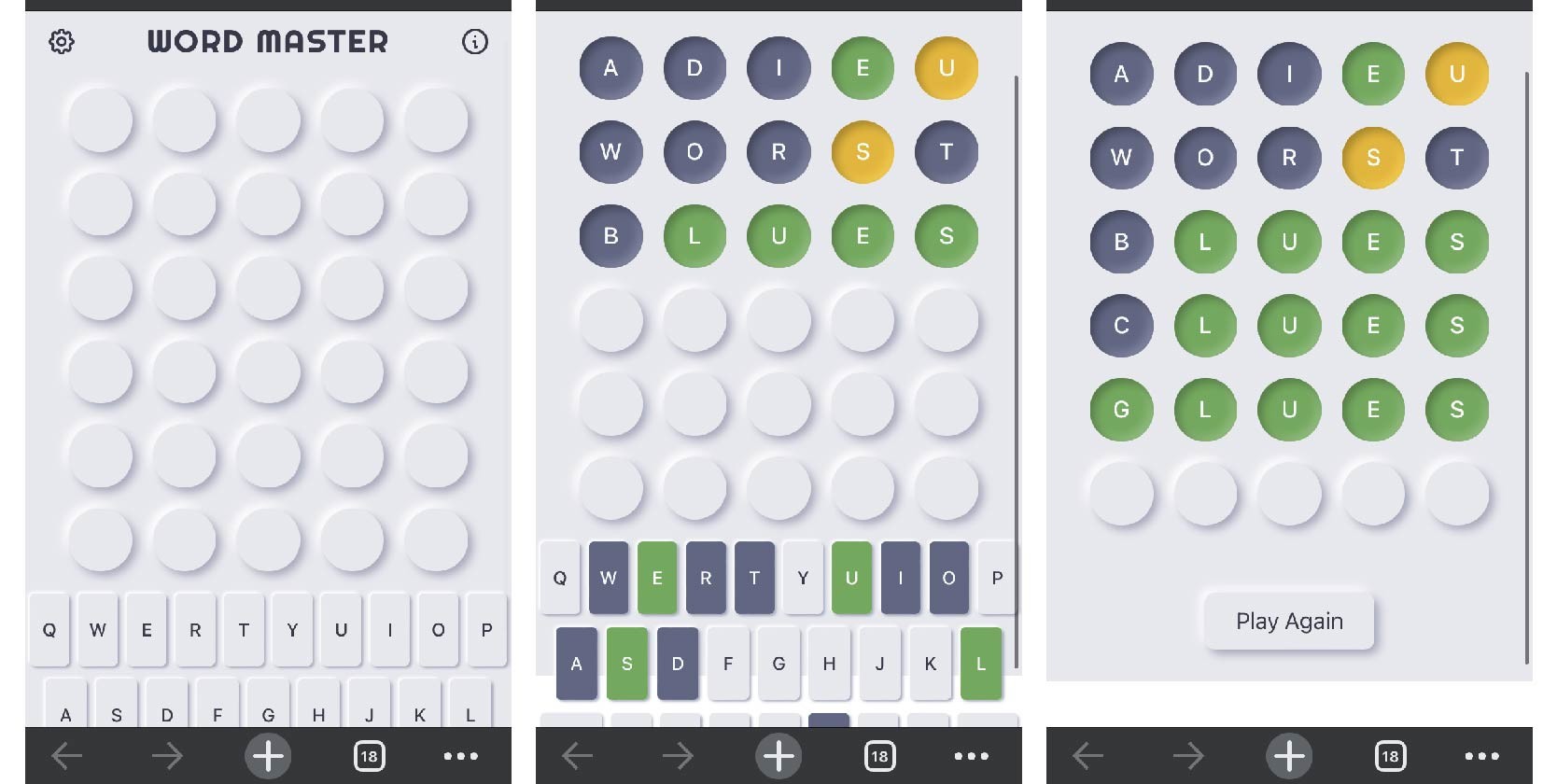 Word Master mobile screenshots
Really, the differences between Word Master and Wordle are minimal: You can play Word Master multiple times a day, it keeps track of your win streaks and it does not feature a hard mode. For that last one, if you're someone who prefers to play hard mode, you might want to stick with Hellowordl. Also, because you can play as many times as you want, your puzzles won't align with other players like they do with daily Wordle answers.
Wordle on the Go With PuzzWord
If you would prefer to play the Wordle app, unfortunately, an official version does not exist. There are, however, a number of apps similar to Wordle that use the same formula. One of the better examples of these is PuzzWord: 5-letter word Puzzle. 
PuzzWord plays the same way as Wordle, but it comes with other options and features that make it a bit more substantial. The greatest thing that sets PuzzWord apart is that it emphasizes keeping your win streak going and placing high on its leaderboard. This makes it the perfect app for anyone who strives to be the best in anything they play. 
The game also includes two different word lists. You can choose a list with all five-letter words, or you can use the list that only contains common letters. The last great bonus about this game is that it will work without an internet connection. This is the game for anyone who wants to take the Wordle experience on the go, perhaps in between some Words With Friends games.
Win Fast in Wordle and Wordle-Like Games
Finding sites similar to Wordle gives you the option to keep playing the game, but it also comes with another great benefit: It gives you more opportunities to practice. Quordle is another terrific example if you like solving multiple Wordles at a time. There's nothing worse than waiting all day to play the next round of Wordle only to lose. That's why it's important to get in some practice to learn the best strategies. One of the most crucial of these strategies is knowing which words to play first. If you need some tips on which words to start each game of Wordle with, our quick guide on the matter can help you out. 
---
Zac Pricener has been a content creator for the past eight years. He's a bit of an all-around nerd, and he has a bad habit of working movie and TV show references into conversations whenever possible.