What Is the Internet Scrabble Club?
The Internet Scrabble Club (isc.ro), or ISC for short, is a website where Scrabble players from around the globe can connect and play Scrabble in real time. It's completely free to use and offers an ad-free experience. Members may opt to pay an annual fee to become "contributory" players for added benefits.
The website design is very simple and minimalistic, offering a retro feel with simple characters and colors.
Who Created ISC?
The Internet Scrabble Club was originally founded by Florin Gheorghe ("Carol") of Romania, which is why the website domain has the Romanian "ro" extension. 2005 French matchplay national champion Herve Bohbot ("Herve" on ISC) is the other administrator of Internet Scrabble Club.
When Was ISC Created?
According to the whois information, the isc.ro domain was first registered on December 5, 2001. The oldest record of the website on the Internet Archive is dated January 7, 2002. The website was likely created around this time. 
How Many People Play?
While the Internet Scrabble Club does not clearly display the total number of members, it is possible to call up a list of current players. The "who" command "prints current ISC users sorted by rating." A request in April 2020 revealed a listing of 2,138 total players. Another request the next day brought up a list of around 3,700 players. 
At any given time, there can be thousands of users engaged in hundreds of games. 
International Scrabble Club Facebook Group
There is also an unofficial Facebook group called the International Scrabble Club. The private group's "About" page describes itself as "a group of people who enjoy word games." It is not officially affiliated with the Internet Scrabble Club. The International Scrabble Club was formerly called "WordBiz at ISC."
As of April 2020, the Facebook group has about 760 members. 
No Internet Scrabble Club Download Needed 
"WordBiz," mentioned above in the context of the Facebook group, is significant because it was the software that allowed players to view the Internet Scrabble Group interface. In order to play Scrabble on the site, users had to download and install the free WordBiz software on their computers.
Today, ISC users do not need to download or install anything in order to play Scrabble on the Internet Scrabble Club website. It is completely browser-based. There is currently no ISC mobile app.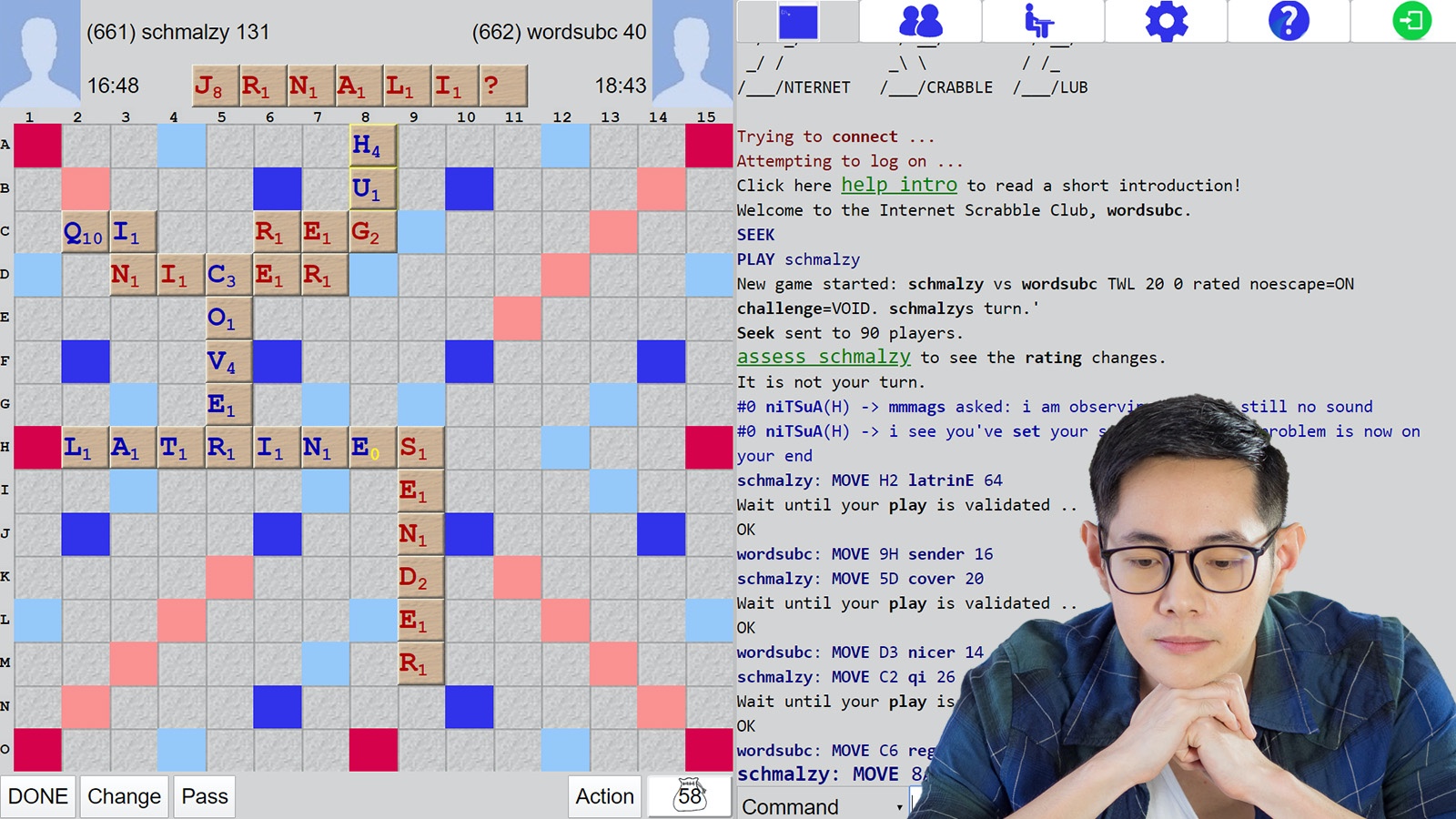 Internet Scrabble Player
ISC Rating System
Just as you may have an official Scrabble Elo rating based on your performance in tournaments, the ISC also has its own rating system. The average rating is around 900, while expert players have ratings around 1800. 
The formula for calculating how rating points are awarded is complicated, but you'll generally gain more rating points by defeating opponents with higher ratings and by winning your games by more points. If you resign or lose a game, you'll lose rating points. Your rating can change by up to 40 points with a single game.
Play Scrabble vs. Bots
In addition to playing against actual human opponents, you can also play Scrabble against the computer on ISC. There are about 35 "bots" on the Internet Scrabble Club server. The bots come in different difficulty or skill levels. Contributory members are given priority when requesting a game against a bot. 
Troubleshooting: Is the Internet Scrabble Club Down?
The help page notes that the ISC is "rarely down." If you encounter an error message saying that it is "trying to connect" and the "server is down" or "there is a problem with the internet route," the problem is likely related to your own Internet connection, firewall or antivirus software.
ISC Server Status
The homepage will also show you how many players are logged in and number of games in progress. If you are able to connect to the website but are unable to play a game, try the "uptime" command. It'll show when the server was last rebooted, plus the number of current players and games, among other statistics. If it shows that the server is up and people are currently playing, then the issue is probably on your end somehow. 
Getting Connected Again
Try clearing the cookies and cache in your browser, using a different browser, refreshing your Internet connection, or using another device.
ISC Basic Instructions
The Internet Scrabble Club website was created in a different era of the web, so its layout and list of commands can be confusing for modern users. Here are some basics to get you started.
How to Create an Account
In order to play Scrabble on the ISC website, you need to register for a free account. 
You can sign up via email, connect with Facebook or connect with Google. 

Choose a username ("handle"), choose a password, and enter your email address. 

ISC will verify your email address by sending a message with a PIN code. 
How to Start a Game
Once you've signed up for an account and verified your email address, you can "seek" your first game. 
Start by clicking on the "Seek a game" button on the bottom-left corner. This will bring up the "Seek a game" dialog box.

Game time: 25 minutes by default.

Dictionary: TWL (Scrabble Tournament Word List) is the default.

Challenge: Decide on how turns are verified and words are challenged in the game. "Single" means no penalty, "double" loses a turn, "5-points" issues a 5 point penalty, and "void" automatically validates a play.

Rated: Tick the box to count the game against your stats and rating.

Advanced options: Set your opponent's minimum and maximum rating, as well as the initial game time (per player), and the increment (added time after each play).

Fair-play agreement: Decide if you only want to seek players who have signed this agreement.

Click "Seek" to look for an opponent.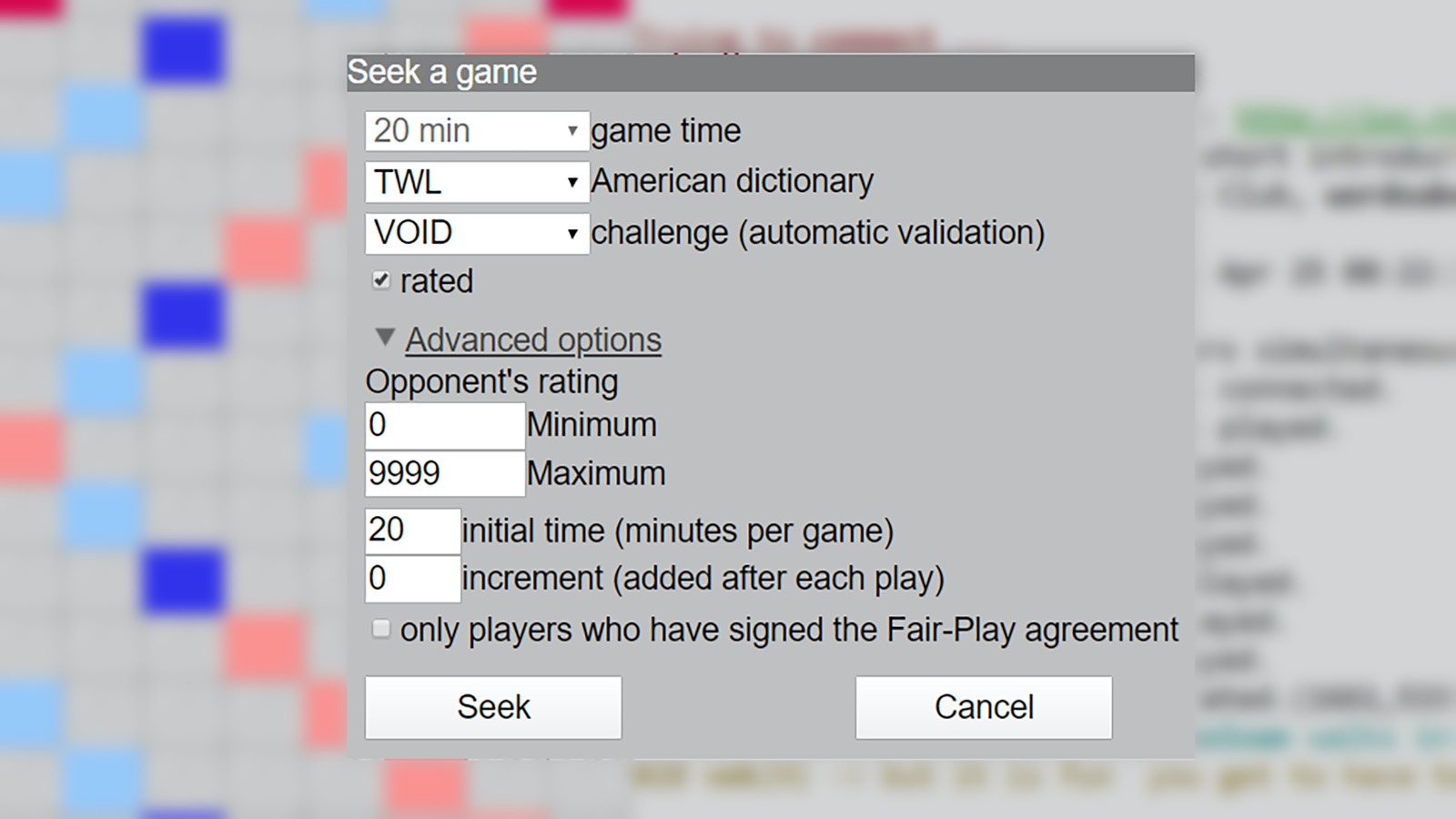 How to start a game screenshot
Internet Scrabble Club Commands List
The retro style of the Internet Scrabble Club website has its appeal to some users, but using a command line interface can feel intimidating and foreign for other users. Some of the most common ISC commands you may use include:
accept: To accept a challenge from another player (e.g., "accept player123" to accept a challenge from player123)

challenge: To challenge your opponent's last move

chat: To open a new chat window with a specific user (e.g., "chat player123" to chat with player123) or a channel (e.g., "chat 20" to chat with channel 20)

decline: To decline a challenge from another player (e.g., "decline player123" to decline a challenge from player123)

finger: To look up public information about a particular player, including wins, losses, rating, and average (e.g., "finger player123" to see information about player123)

help: To see information about commands and topics

match: To send a match request to a player (e.g., "match player123" to challenge player123 to a game)

observe: To watch a game being played by a particular player (e.g., "observe player123" to observe player123's current game)

rematch: To request a rematch with your most recent opponent 

shuffle: To sort your letter tiles (e.g., "shuffle 1" to organize in alphabetical order, "shuffle 2" to organize by letter value, "shuffle 3" for vowels first, and "shuffle 4" for random order)
You can also use the command "help commands" to bring up a list of available commands. Typing "help" followed by the name of any command brings up information about that command.
More Internet Scrabble Club Help
For more, check the official help page on the ISC website. It offers additional instructions for:
Connecting to ISC

Starting a game

Playing a game

Observing a game

Finding a player

Communicating on ISC

The rating system

List of ISC commands
Scrabble Words With Strangers
Go ahead and enjoy playing some words with strangers on the Internet Scrabble Club website. As you play more games and improve your rating, you might be wondering what a good Scrabble score is. The answer is that it depends, so play against a variety of players to see how you fare. And if you're ever stuck, the WordFinder's complete Scrabble dictionary is here to help unscramble your letters and find the best words to play!
---
Michael Kwan is a professional writer and editor with over 14 years of experience. Fueled by caffeine and WiFi, he's no stranger to word games and dad jokes.