Harini Logan: The Quick-Draw Speller (2022)
Deviating from tradition, the 2022 Scripps National Spelling Bee decided its winner via a spell-off between the final two spellers. This was a first in Spelling Bee history. Harini Logan and Vikram Raju had 90 seconds to correctly spell as many words as they could. At the end of the time, the player with the most words spelled correctly would be crowned the champion. 
In the end, Harini Logan (age 14) won with 21 of 26 words spelled correctly. Vikram Raju, 12, was the runner-up with 15 of 19 correct words.
Zaila Avant-garde: The Multi-Talented Sensation (2021)
The Scripps National Spelling Bee returned in 2021 after skipping the 2020 competition due to the COVID-19 pandemic. Held virtually for the majority of its rounds, the 2021 Spelling Bee had 209 contestants. The 11 finalists met and competed in person.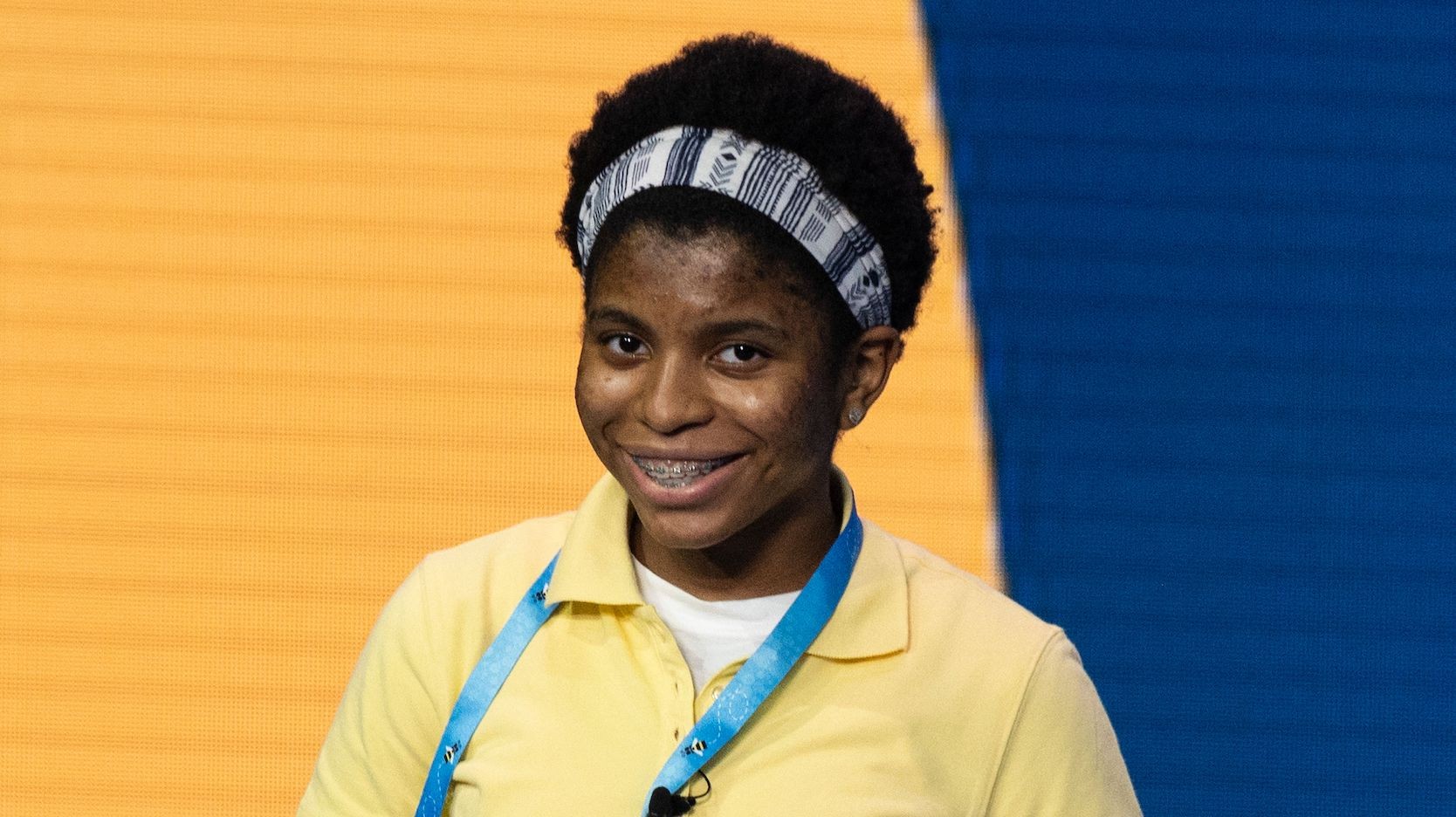 Zaila Avant-Garde 2021 Scripps National Spelling Bee
At the end of the Spelling Bee, 14-year-old Zaila Avant-garde took first place by spelling "murraya." Zaila was the first Black American contestant to win the Scripps National Spelling Bee ever, and the second Black champion after Jamaican speller Jody-Anne Maxwell won in 1998.
She's clearly an accomplished speller, but Zaila Avant-garde has proven to be an exceptional person with many talents. For example, Zaila is a top basketball prospect in her age group. She also holds three basketball-related Guinness world records:
The most bounces of four basketballs in 30 seconds (307)

The most basketballs dribbled at one time (six)

The most bounce juggles in one minute, using four basketballs (255)
Frank Neuhauser: The First Spelling Bee Winner (1925)
While the 1925 National Spelling Bee wasn't the first spelling bee ever, other competitions were local. It was the first in spelling bee history to combine them into a national contest. At first, The Courier-Journal of Louisville, Kentucky organized the competition. The Scripps Howard Broadcasting Company (later the E. W. Scripps Company) took over in 1941.
Louisville local Frank Neuhasuer was the first-ever National Spelling Bee champion. He spelled "gladiolus" as his winning word, beating eight other finalists. His hometown honored him with a parade. Neuhauser would later enjoy a successful career as a patent lawyer.
Barrie Trinkle: Spelling Out of This World (1973)
As you read about top spelling bee champions, you may wonder if the spellers went on to achieve great things. Barrie Trinkle is an excellent example. She went to the Spelling Bee three times, winning in 1973 by spelling "vouchsafe" in the final round. To her recollection, she didn't even ask any questions before spelling it.
Barrie Trinkle went on to study at the Massachusetts Institute of Technology (MIT). She joined NASA's Jet Propulsion Laboratory as an aerospace engineer. After about a decade, she changed careers to become an editor at Amazon and a writer. "It's almost like I tried to get away from words, and they pulled me back." 
She co-authored a book in 2006 —How to Spell Like a Champ — and served on the Spelling Bee's Word Panel for several years. 
The Year With 8 National Spelling Bee Champions (2019)
In the long history of the contest, the National Spelling Bee has generally crowned single spelling bee champions. Diane Reynard of Cleveland, Ohio and Colquitt Dean of College Park, Georgia were the first co-champions in 1950. Since then, there have been five more pairs of joint winners in 1957, 1962, 2014, 2015 and 2016.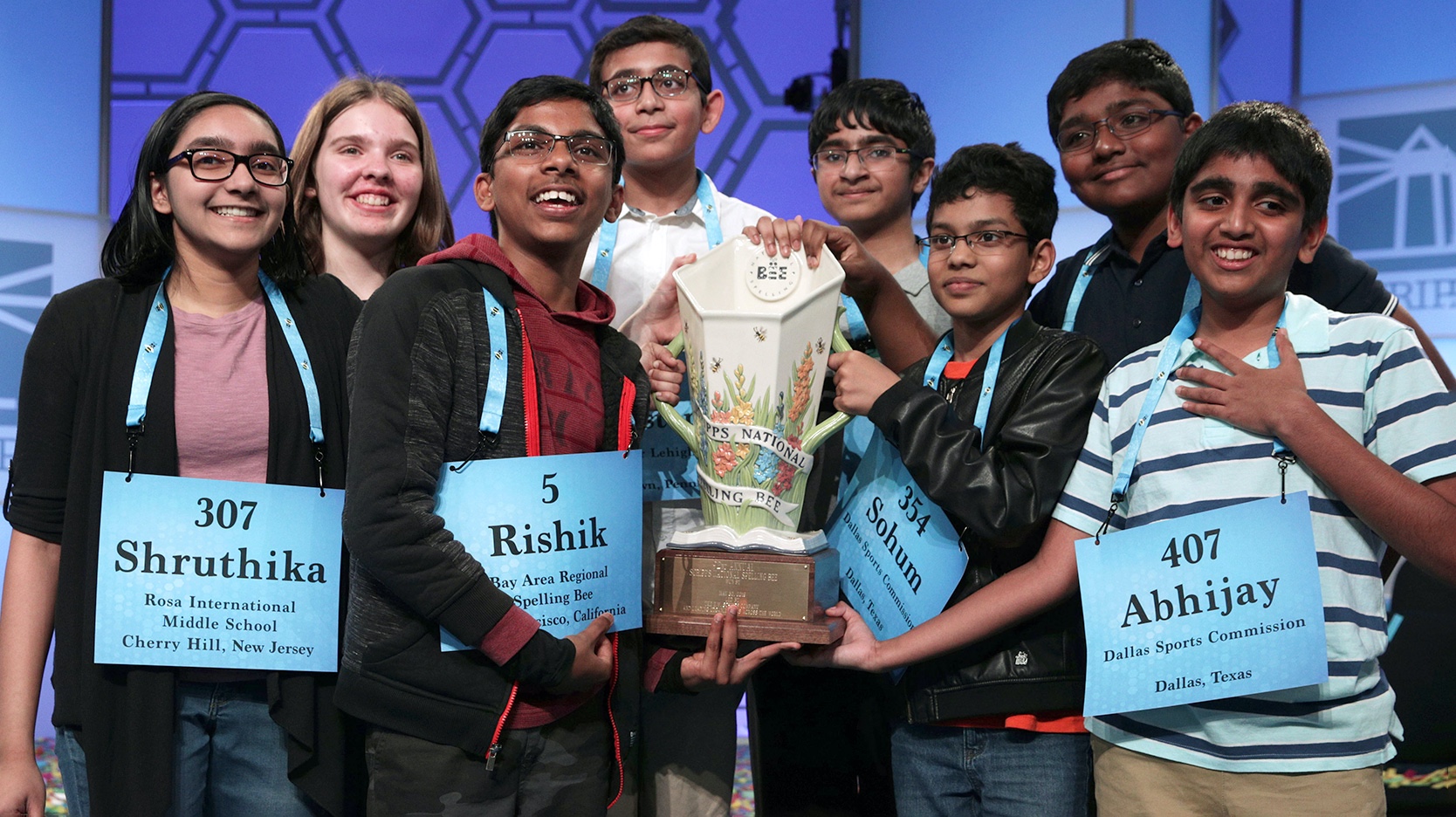 Winners of the 2019 Scripps National Spelling Bee
At the 92nd National Spelling Bee in 2019, everything changed. After five consecutive perfect rounds, the competition concluded with an unprecedented eight-way tie. Thus, a total of eight national spelling bee winners shared the championship. Their names, ages, hometowns and spelling bee winning words are as follows:
Balu Natarajan: Indian American Domination (1985)
Indian Americans only make up about one percent of the total population in the United States. Even so, the majority of spelling bee winners in the past 20 years come from this cultural background. The trend started with Balu Natarajan at the 58th National Spelling Bee in 1985. 
You may have noticed that seven of the eight co-champions from 2019 are Indian American. Since 1999, 26 spelling bee champions have been Indian American. 
Balu, who was 13 years old at the time, was the first son of immigrants to win the competition. His Bee-winning word was "milieu," meaning a person's social setting or environment. He would go on to become a sports medicine physician and the Chief Medical Officer of Seasons Hospice in Rosemont, Illinois. His son, Atman Balakrishnan, is following in his father's footsteps. 
Arvind Mahankali: The Stoic Knaidel (2013)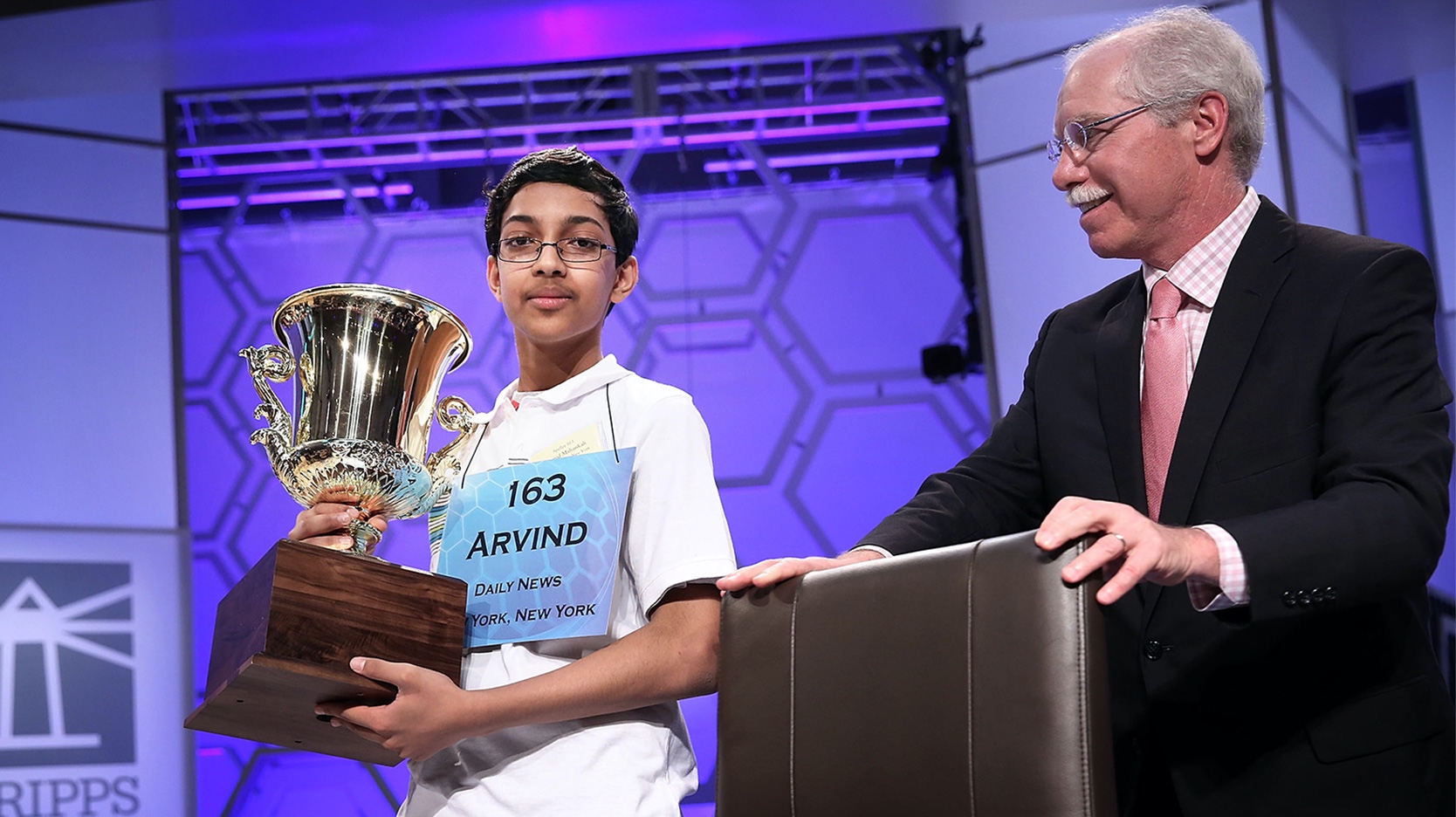 Arvind Mahankali Scripps National Spelling Bee Champion 2013
Most national spelling bee champions are pretty thrilled when they win. And understandably so! They have to qualify through regional competitions. Then, spellers endure a preliminary test and two rounds of oral spelling. Finally, they fight through five rounds of tough competition. It's no easy feat! Of course, they want to celebrate.
But not Arvind Mahankali of Bayside Hills, New York. When the 13-year-old spelled "knaidel" to win in 2013, he appeared nearly emotionless on stage. No big smile, no fists in the air, no jumping up and down with joy. He'd just won the national title and $30,000, beating out 280 other contestants. No big deal, right? After winning, Arvind celebrated by eating knaidel for the first time at a deli in New York.
Akshay Buddiga: The Foxlike Faint (2004)
Yes, this article is all about noteworthy spelling bee champions. Akshay Buddiga is not among the list of national spelling bee winners. But, he is noteworthy for a different reason. In 2004, the 13-year-old from Colorado Springs, Colorado was asked to spell "alopecoid." It's an adjective that means "like a fox."
He asked typical spelling bee questions. He asked about the word's definition and language of origin, for example. Then, while repeating the word one more time, Akshay fainted on stage. He recovered almost immediately, returned to the microphone and spelled "alopecoid" correctly. In the end, Akshay Buddiga would take second place. David Tidmarsh of South Bend, Indiana was the winner.
Akshay's older brother Pratyush won the spelling bee two years prior in 2002. Pratyush was a professional poker player and is currently involved in cryptocurrency. Akshay Buddiga works as a full stack software engineer. 
Nihar Janga: The Youngest Scripps Spelling Bee Winner (2016)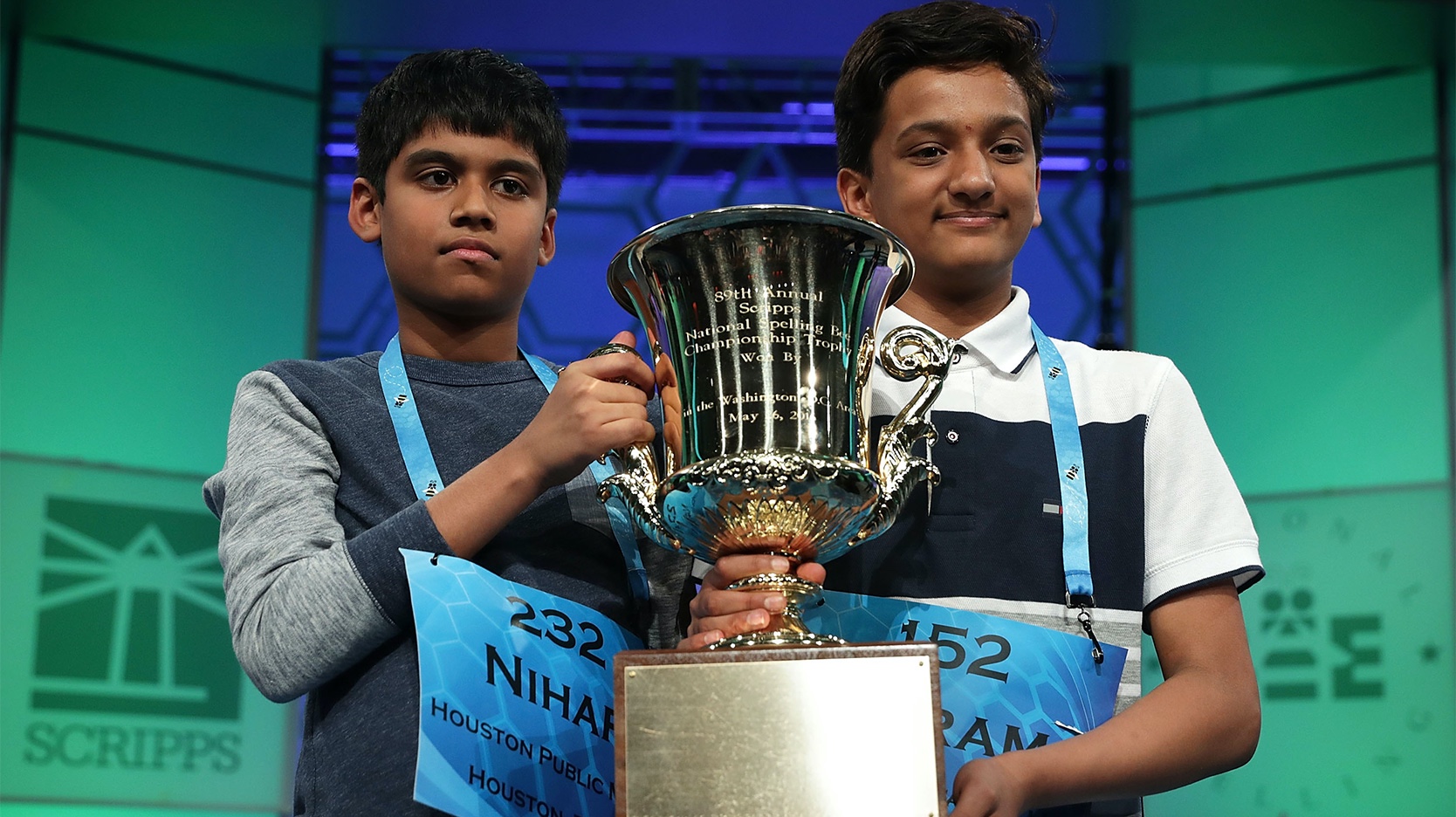 Nihar Janga and Jairam Hathwar Scripps National Spelling Bee champions 2016
Nihar Janga (L), Jairam Hathwar (R)
Most national spelling bee champions are usually around 13 years old when they win. The eligibility rules state that spellers cannot have passed beyond 8th grade. They also cannot be 15 years of age or older on the designated date. Older spellers tend to do better in the competition.
That's why it was such a thrill when Nihar Janga took the crown at the 89th Scripps National Spelling Bee in 2016. The native of Austin, Texas sealed the win by correctly spelling "gesellschaft." Just 11 years old at the time, Nihar Janga became the youngest spelling bee winner ever. He'd share the win with co-champion Jairam Hathwar, 13, of Corning, New York. 
Nihar became the first person ever to win both the National Spelling Bee and the National Geographic GeoBee in 2019. The 2020 Netflix documentary Spelling the Dream features Nihar Janga, along with other Bee contestants.
Jody-Anne Maxwell: An International Spelling Bee Champ (1998)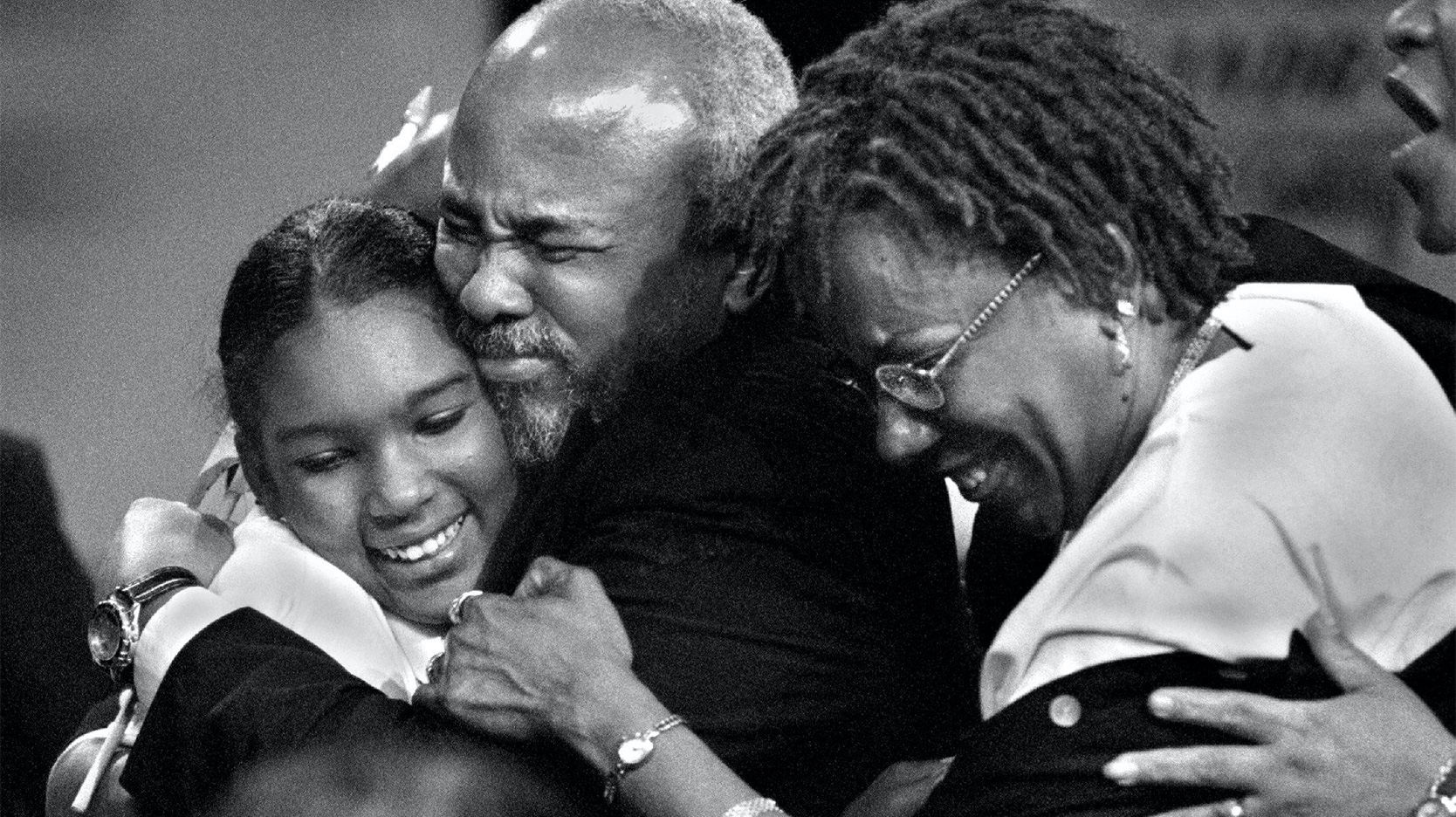 Jody-Anne Maxwell Scripps National Spelling Bee Champion 1998
Even though it is the Scripps National Spelling Bee, spellers do not have to be from the United States. The first winner from outside the 48 contiguous states was Hugh Tosteson Garcia of San Juan, Puerto Rico. He won the spelling bee in 1975. The first non-American champion was Jody-Anne Maxwell in 1998.
The Kingston, Jamaica native was also the first Black spelling bee champion when she won at the age of 12. Her prizes included $10,000 in cash and an $11,000 education trust fund. In the years that followed, Maxwell would achieve some fame. She became known both in Jamaica and among Jamaican communities in the United States. Jody-Anne Maxwell hostedThe KFC Quiz Show in Jamaica until 2004.
In 2018, Jody-Anne Maxwell earned a law degree from Chicago-Kent College of Law. Since then, she's been working as an associate at a Chicago law firm. 
Spelling Bee Resources: Can You Spell Victory?
Has reading the stories of these triumphant Scripps National Spelling Bee winners inspired you to improve your own spelling skills? Or perhaps you're interested in teaching vocabulary to future spelling bee champions? A great place to start is WordFinder's comprehensive list of spelling bee resources. This is a full guide that will teach you everything you and your children will need to know to start their journey to become spelling bee masters.
---
Michael Kwan is a professional writer and editor with over 15 years of experience. Fueled by caffeine and WiFi, he's no stranger to word games and dad jokes.