While Scripps gets all the attention on the national level, there are numerous local and regional spelling bees that take place every year all over the country. These competitions are a valuable opportunity for children under the age of 14 in the United States. This opportunity includes the development of language skills, but can also offer students a wide range of other personal enrichment activities.
History of the Spelling Bee
Typically, when we talk about the spelling bee, this refers to the Scripps National Spelling Bee. The Scripps National Spelling Bee was established in 1925 through the combined efforts of nine newspapers. It was meant to consolidate and formalize smaller spelling competitions that took place in the United States. The first winner of the Scripps National Spelling Bee was 11-year-old Frank Neuhauser, who won the competition by correctly spelling "gladiolus."
However, it is important to note that while the Scripps National Spelling Bee is perhaps the most well-known spelling competition, it is far from one of a kind. Spelling bees were popularized in the United States during the 19th century, well before the establishment of the Scripps National Spelling Bee. Additionally, many similar spelling competitions are held around the world. 
Why Should You Encourage Participation in Spelling Bees?
As mentioned, spelling bees can offer a wide range of opportunities for children. These opportunities include:
Development of reading and writing skills

Improvement of self-confidence

More options for social networking

Development of social skills

Development of good time-management skills

Development of good study skills

Improvement of communication skills

Improvement of critical thinking skills

Better understanding of language structures and history

More time to bond with family and friends

Travel opportunities

More exposure to different people, places, and cultures
Students can gain these benefits through preparation for a spelling bee, as well as during the contest itself. 
How to Prepare for a Spelling Bee
To some degree, the way that you or your child should prepare for a spelling competition depends on their unique personality and situation. In addition to understanding what strategies and resources are available, it is important to consider the child's personality, learning style, and personal goals. This can help you determine which strategies and resources will be most effective. It also may be helpful to test the waters with a few different options to determine which seem to be the best.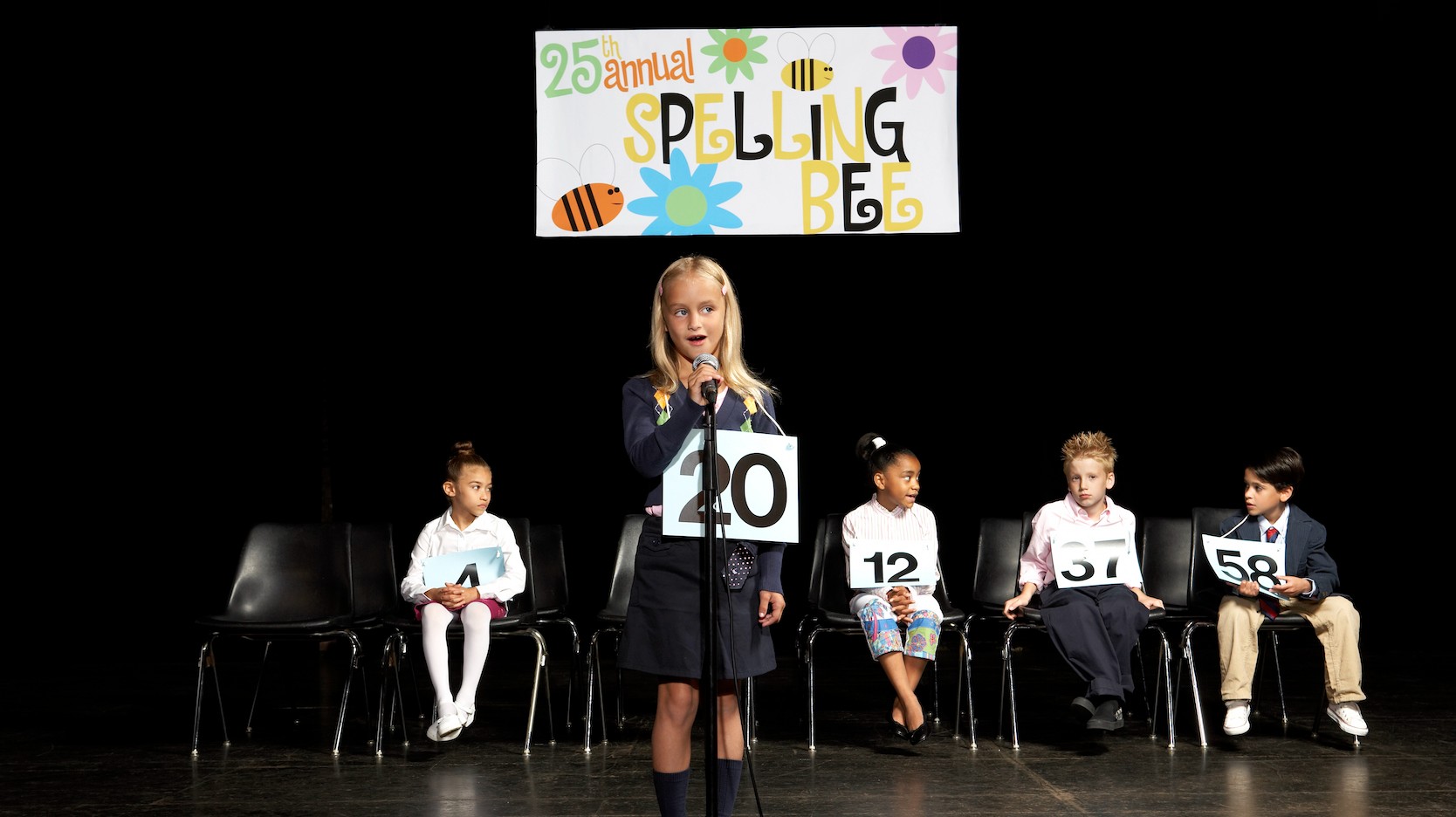 Spelling bee competition with black background
Spelling Strategies
By utilizing some basic spelling strategies, a child can drastically improve their spelling performance. This is because these strategies offer additional clues to work with beyond simple rote memorization. You are likely to find more success if you try out several different strategies that your child can have in their toolkit. These strategies include:
Teach basic rules:There are many grammatical rules (e.g., "i" before "e" except after "c") that a child can use as guidelines for spelling. While many of these rules do have exceptions, they can still be used as a good fallback strategy. 

Break down a word phonetically: Teach your child which letters are typically associated with particular sounds. While this method isn't foolproof, it can help your child determine what the most likely letter combinations are. 

Teach etymology: With a solid understanding of common root words, your child may be able to decipher the spelling of a word based on its meaning.

Use words in different ways: Have your child say the word, spell it out loud, write it down, and use it in sentences. It is important to present the word in different ways so that their brain continues to actively process the input. 

Use mnemonic devices: A mnemonic device is any tool used to prompt a memory. This can be as simple as teaching your child to think "Wed-nes-day" when prompted with the word "Wednesday." 
Tips for Helping Your Child Study
There are also many general approaches you can take to help your child study. These include:
Creating a dedicated study space: A dedicated study space can help improve study habits by reducing distractions and reinforcing scheduling.

Asking them to explain things in their own words: This will help ensure that they are learning and not parroting. Additionally, repeating the information in their own words may help reinforce their memory. 

Presenting the information in various ways: This is another way to ensure that your child is absorbing the material rather than just regurgitating the information. 

Making your child feel comfortable asking questions: Perhaps the most important part of learning is asking questions if you are uncertain. As such, it is valuable for children to learn early on that it is a good thing to ask questions and tell you if they are struggling with something.

Ensuring that they have a good study-life balance: Over-studying can cause a wide array of problems such as stress and fatigue. It is important to keep an eye on their progress and their mood to ensure you aren't overdoing it. 
It is also important to always ensure that the material your child is studying is age-appropriate.
Spelling Bee Words by Grade Level
The Scripps National Spelling Bee is broken down into three levels of difficulty: 
One Bee: For early elementary school students

Two Bee: For later elementary school students

Three Bee: For middle school students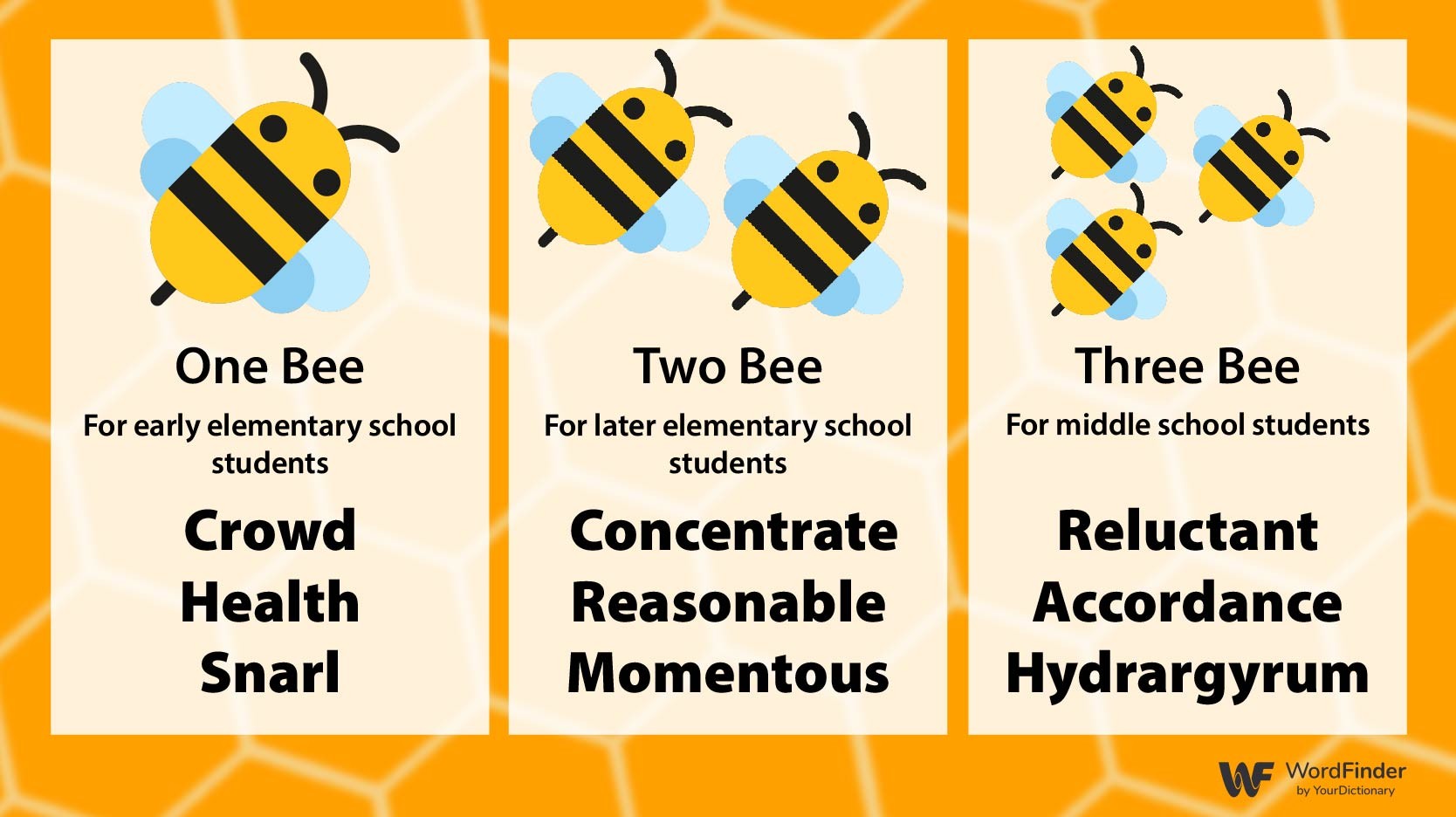 spelling bee levels with example words
The first difficulty level starts with five letter words and other short words. Words that have been used at the One Bee difficulty level include: crowd, secret, health, amazed, and snarl. Moving up, words get longer and more challenging. Words that have been used at the Two Bee level include: concentrate, dissolved, reasonable, gamma, and momentous. Finally, words that have been used at the Three Bee difficulty level include: reluctant, sojourner, accordance, suffused, and hydrargyrum. Use our word finder to uncover more study words.
Helpful Spelling Bee Study Tools
There are many different types of study tools that can help a child develop their spelling skills. Like study strategies, study tools should be chosen based on the needs and preferences of the individual child. 
Analog Study Tools
Analog study tools are concrete resources such as textbooks, work booklets, and flashcards. These can be purchased or created. Many such existing tools are specifically endorsed by the Scripps National Spelling Bee, and these may be a good place to start. 
Additionally, the Scripps National Spelling Bee offers several suggestions for children's books and novels that are a great resource for helping your child develop a rich vocabulary. These include works like "Curiosity: The Story of a Mars Rover," "Winterhouse," and "Shadowshaper."
Apps and Digital Games 
There are many digital word games available on a variety of devices that support the development of spelling and language skills, including:
Physical Games and Activities
There are also many games you can play in-person to improve spelling and language skills. These include:
Scrabble: Scrabble is a board game where players build words on a grid using letters printed on tiles. Some schools offer Scrabble tournaments. Keep a Scrabble dictionary handy to verify valid plays!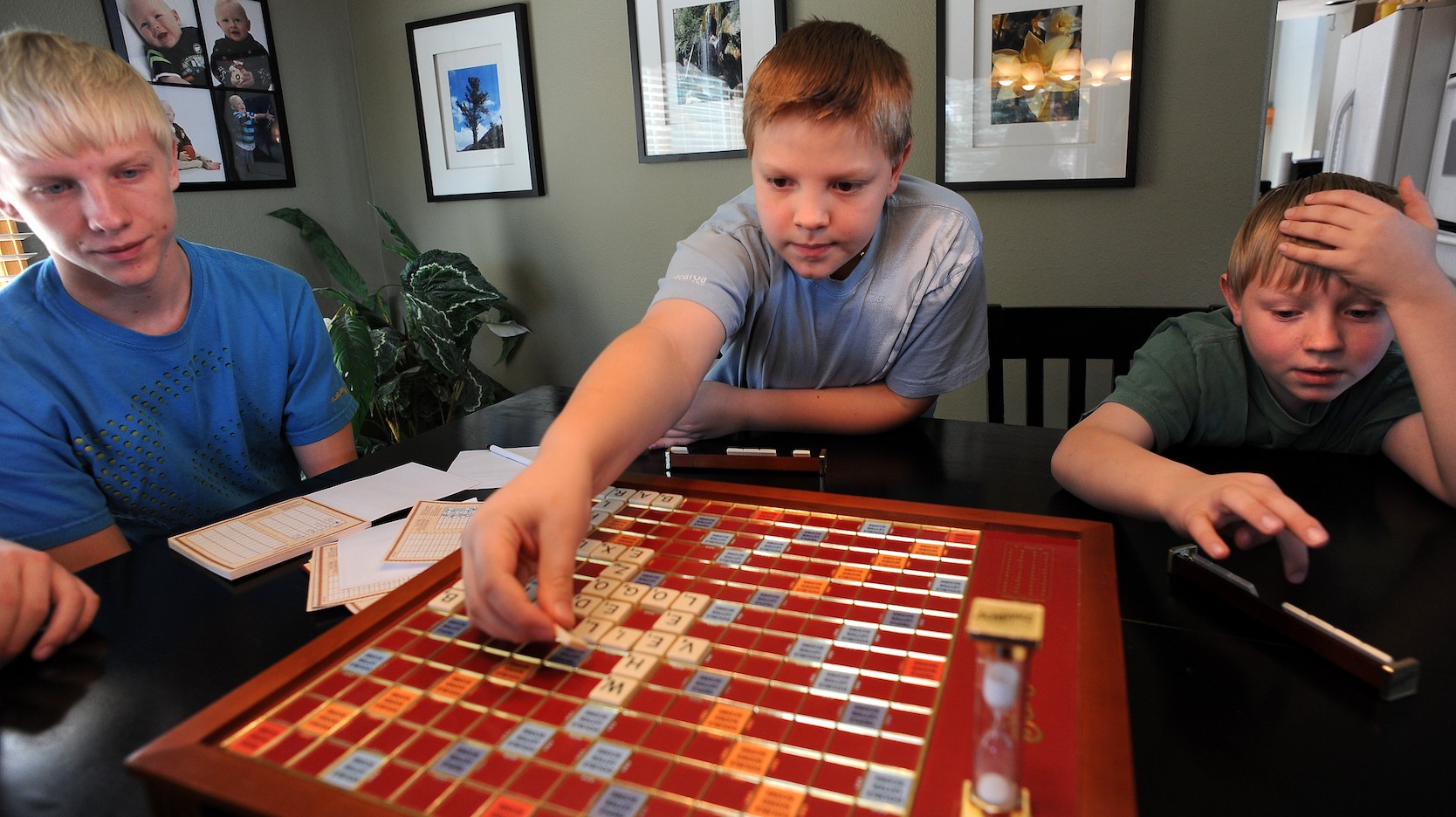 boys playing scrabble at table
Bananagrams: Similar to Scrabble, players use lettered tiles to build words. However, Bananagrams revolves around the ability to form words more quickly than your opponents rather than strategically placing them on a board.

Quiddler: Quiddler is a card game where players use lettered cards to build words. 

Upwords: Upwords is similar to Scrabble, but tiles are allowed to be stacked on top of each other. 

Boggle: In Boggle, players shake lettered dice into the game's playboard, and then they must build words based on adjacent dice combinations.

Apples to Apples: Apples to Apples is a word association game where players present cards from their hands that they feel are most closely related to the card drawn by the dealer. There is also an Apples to Apples Junior for younger players. 
Further Resources for Finding Helpful Study Tools
There are many more spelling-related study tools and games available than those listed above, and the following resources can help you find which ones will be best for your child:
Additional Spelling Bee Resources
For even more information on the spelling bee, check out the following useful resources:
The Spelling Bee for the Win
The spelling bee isn't just a fun and exciting competition — it's a way to improve your child's vocabulary, memory, and cognitive skills. Take advantage of the many games and resources available for aspiring spellers of any age. Even if they don't walk away a national champion, they'll improve their verbal skills at a crucial time in their life.