Who Wants to Be a Millionaire Online Game
The goal of every game adaptation of Who Wants to Be a Millionaire? is the same: Replicate the show's core gameplay as best it can for its audience. The games may not always accomplish this goal in the most elegant of ways, but the important part is getting the mechanics right. This is what the WWBM.com online version does.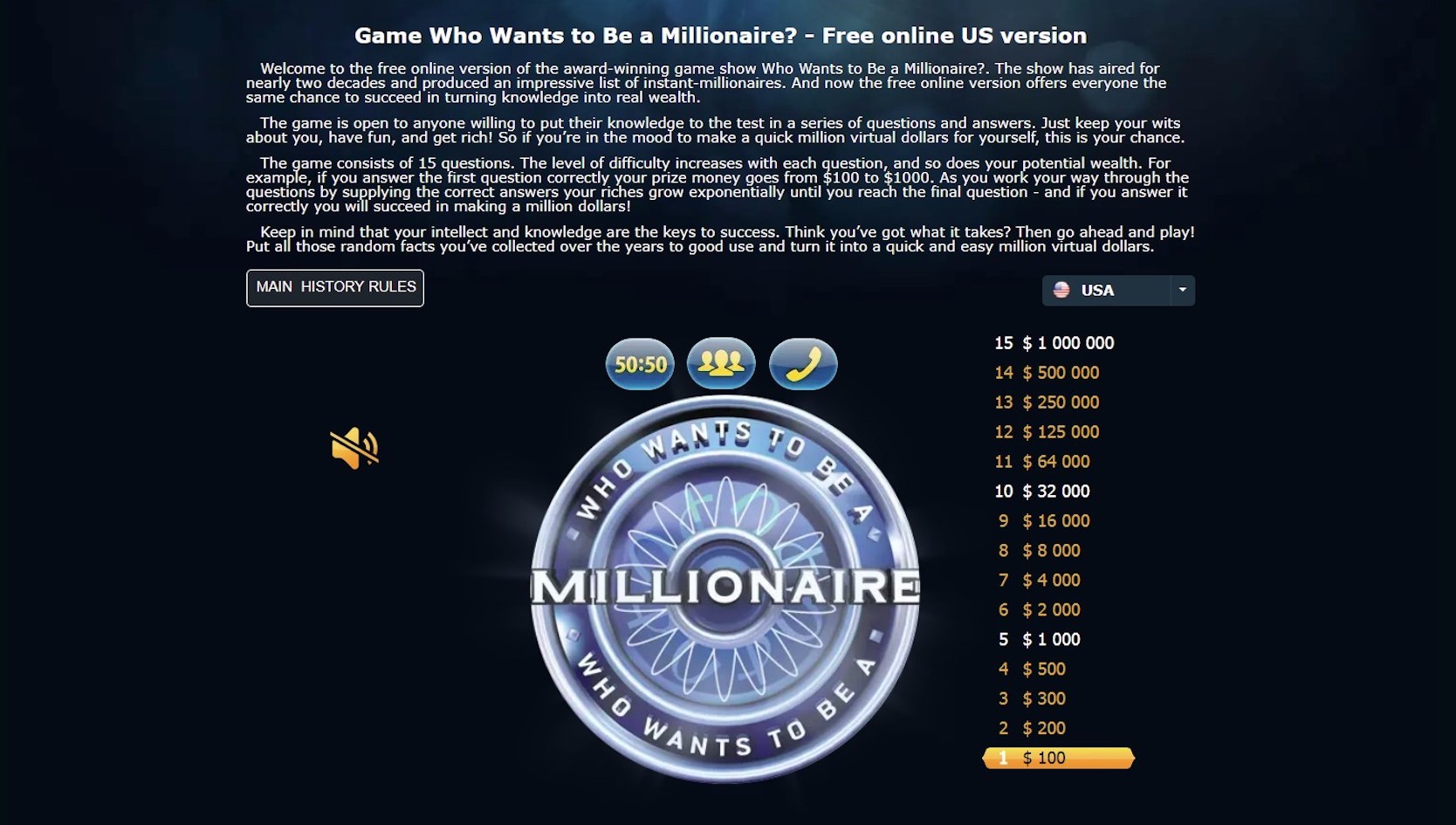 who wants to be a millionaire desktop game
This web-based Who Wants to Be a Millionaire? online game is not officially licensed by the show's copyright holders. Rather, it is more of a fan project meant to celebrate it. That's why this game has many of the same aesthetics and tools, but it presents everything in a basic and to-the-point manner. 
When you first load the site, you'll see an introduction about the show and game. This includes a link to a page with the game's rules. Beneath some ads is the first question. When you select an answer, you'll move onto the next question, which starts the timer and truly begins the game. This site keeps things moving and lets you get right into the trivia action.
Play Millionaire on Your PC
For a good Who Wants to Be a Millionaire? PC game option, your best choice for the most modern version is download it from Steam. The version of the game on Steam includes everything you know and love about the TV show, but it also adds some new features.
After you download the game and start playing, you'll gradually unlock more and more packs as you complete single and multiplayer games. Each game consists of 15 questions that pull from a pool of 3,000 differently themed questions. Themes in this game are common among trivia games: geography, science, history and entertainment/arts.
The game also has packs themed around specific countries. These include the United Kingdom, the USA, Spain, Italy, France and Germany. These packs have 2,000 questions each.
Million-Dollar Multiplayer
Possibly the best feature of this Millionaire PC game is its bountiful multiplayer. You and your friends can choose from various modes, either to compete or collaborate with each other.
Family mode: This is the perfect mode for families with young children. The questions are crafted to appeal to younger players while still being fun for everyone.

Cooperative mode: This mode allows you to work with up to three of your friends to answer the questions together.

Taking turns mode: You and nine other players play through a LAN setup. Share the controls to take turns answering questions.

Free-for-all mode: Earn more points than your friends by answering the most questions possible in a row. Keeping your streak going will earn you bonus points. The player with the most points at the end of the game wins.

Battle royale mode: You and 99 other players compete to find out who boasts the most general knowledge. Do your best to be the last player standing in this trivia-intensive competition.
Who Wants to Be a Millionaire Mobile App
If you want to play a Who Wants to Be a Millionaire? game on your smartphone or other mobile device, the officially licensed game will be your go-to option.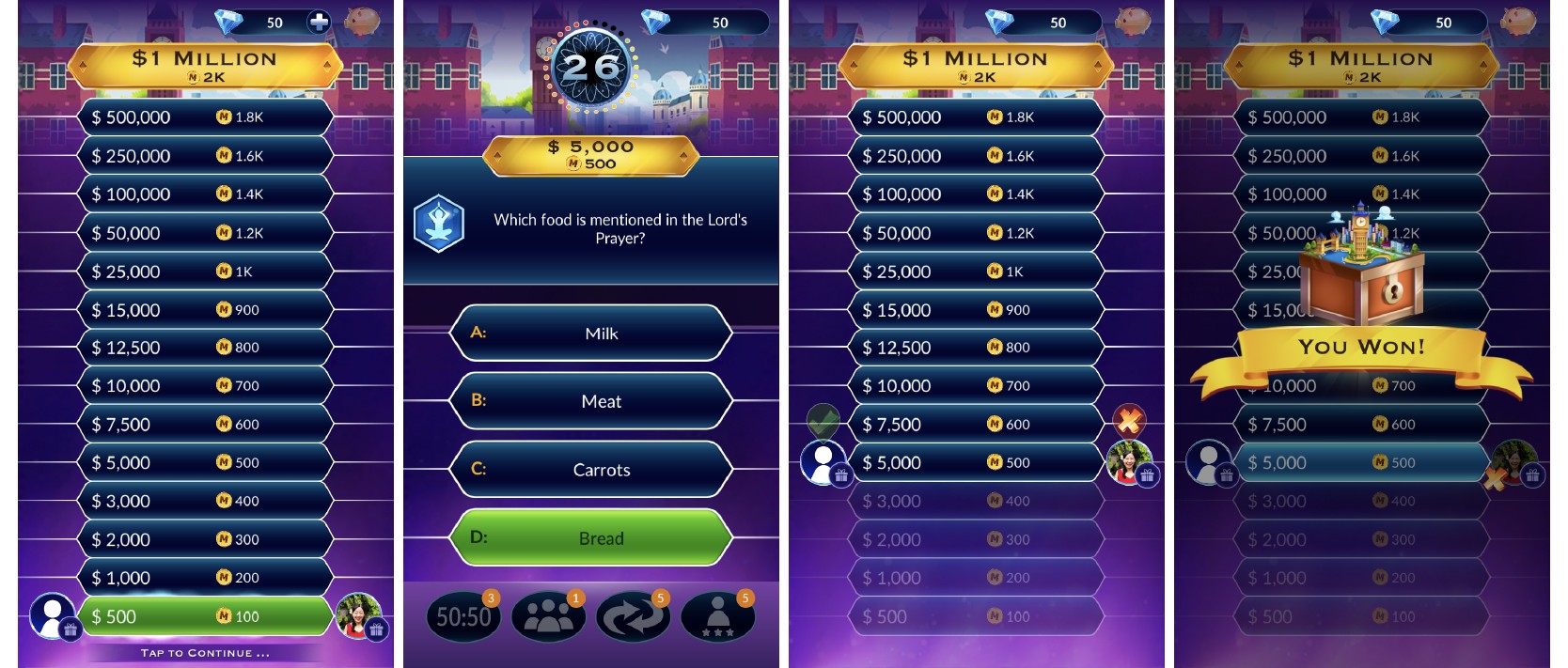 who wants to be a millionaire app
This mobile app, for iOS and Android, takes the rules from the TV show and refines them into a trivia game that's faster and easier to play. You compete against opponents head-to-head to see who makes it the furthest through the 15 questions each game. Both contestants answer the same questions at the same time. When you answer a question correctly and your opponent does not, you continue onto the next one by yourself.
As you progress, the questions become more difficult. That's when you can use some of the app's helpful lifelines. These are the same lifelines featured in the TV shows, like 50:50 and ask the audience. The game gives you a limited supply of lifelines, but you can earn replacements when you play additional games, best your opponents or reach the harder questions. You can also play offline.
More Fun Games From Game Shows
Adapting the TV show into several Who Wants to Be a Millionaire? games was an excellent idea. Its format and design lend itself well to being a single-player game. It's not alone in that, however. Plenty of game shows work well as video games. Jeopardy! is another worthwhile show-turned-game. If you check out the Jeopardy! app for yourself, you'll discover another engaging trivia game to add to your gaming library.
---
Zac Pricener has been a content creator for the past eight years. He's a bit of an all-around nerd, and he has a bad habit of working movie and TV show references into conversations whenever possible.