Words You Didn't Know You Could Play in Wordle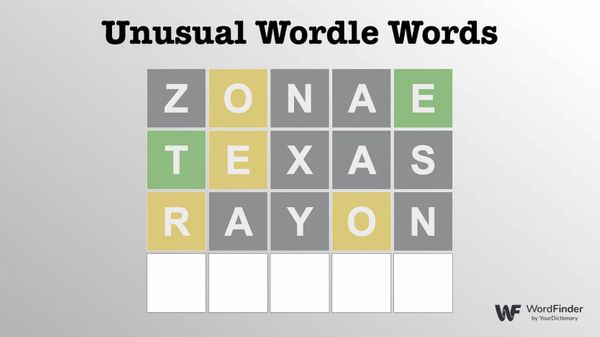 This work is licensed under a Creative Commons Attribution-NoDerivatives 4.0 International License (CC BY-ND 4.0). Please credit WordFinder by YourDictionary.
Wordle is a fun game. That's a simple statement, but it's also an accurate one. You have six attempts to find a five-letter word, so you'd better know what you're looking for. The list of playable words in Wordle is not as long as it could be, but it's still massive. Plus, some of these words are ones that you might not expect to be valid. We were surprised to learn they were playable too, which is why we decided it was a good idea to share them with everyone.
Names into Wordle Words
There are a number of words in Wordle that most people only recognize as names. Primarily, these are the names of locations. This means that the assumption that Wordle only allows common nouns, and disallows proper nouns, is inaccurate. Using a Wordle word finder confirms this. That said, some of these words do also have additional meanings beyond being names.
Obscure Words Valid in Wordle
Josh Wardle, the game's creator, strived to curate a word list composed of words that most people would know. The majority of the 5 letter words on the list are fairly common. But, there are still plenty of Wordle answers that fall outside of the realm of commonality.
"Questionable" Words
As with any word game, there are a number of valid words that many players would consider questionable. A few of them might even be downright offensive to some people. Regardless, they are part of the Wordle word list, at least for now.
Making the Most of Any Wordle Word
Now that you have a bunch of new, useful Wordle words at your disposal, it's time to start playing. Well, actually, there's one more step before you start: Make sure you know the best ways to use your words. Randomly guessing is a good way to use up all six attempts without getting any closer to the Wordle answer. Read our guide on the best ways to solve each Wordle puzzle for some sound strategy.
---
Zac Pricener has been a content creator for the past eight years. He's a bit of an all-around nerd, and he has a bad habit of working movie and TV show references into conversations whenever possible.