Wordscapes Help, Tips, and Strategies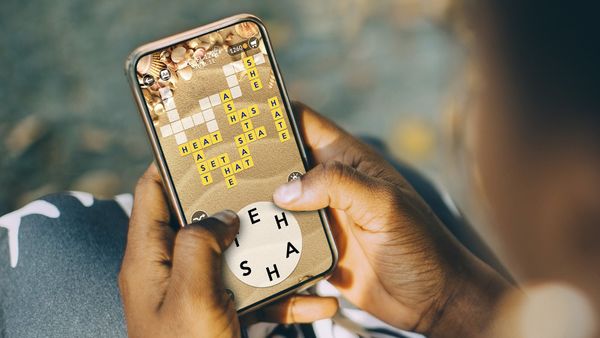 New to Wordscapes? We've got you covered. WordFinder is the internet's premier word game resource. We'll give you help on how to play, quick tips, and full-blown strategies for Wordscapes beginners and hardened word app experts alike.
How to Play Wordscapes
Wordscapes follows the pattern of games like Word Cookies and Word Crossy: it gives you a swipeable wheel of letters and an empty crossword pattern to fill in with them. Here follow the basics.
It's a Crossword… Without the Crossword
Wordscapes is basically a crossword without clues. Start a game and here's what you'll see:
Lines of empty spaces, just like a crossword

A wheel of 6 letters, very unlike a crossword

A shuffle button that mixes up the letters on the wheel

A star button that shows your bonus words

No clues

A Bullseye, a Lightbulb, a Rocket and possibly a Bee (more on them later)
Gameplay couldn't be simpler. Just spell words with the letters you're given to fill the blanks on the screen. Fill them all, you've beaten the level. Keep an eye out for bonus words: if you can spell something with your letters that doesn't fit in the puzzle, it earns you Coins (more about that below). That's the game.
Power (Ups) To the People
Remember the Bullseye, Lightbulb, Rocket and possible Bee? They're the powerups. Wordscapes lets players earn four kinds of helpful hints, each with a cute little icon.
Bullseye lets you reveal a single letter behind any blank of your choice.

Lightbulb reveals one whole word of your choice.

Rocket pops in a spray of fireworks pixels, revealing multiple letters at random.

The noble Spelling Bee reveals letters and leaves coins on the puzzle's toughest word.
Every powerup (except the Spelling Bee; we ain't saying she's a gold digger, but you won't see her unless you shell out real money) can be earned through play, generally in Daily Gifts, or bought with in-game Coins. Use liberally.
Coins! That's What I Want (Also Brilliance, I Guess)
Like any self-respecting free-to-play game, Wordscapes has in-game currency. Wordscapes Coins can be earned the hard way, through playing bonus words (1 Coin per word), filling in the extra word on some puzzles (1 Coin per letter), leveling up (25), and collecting stars on Daily Puzzles (up to 100 if you get enough.) They can also be bought straight up, cash money. Coins buy powerups. Powerups win games.
Wordscapes also uses a mechanic called Brilliance. Brilliance puts a big shiny sun on your starting screen, and every completed level increases the number displayed thereupon. It does nothing else, but it's a nice little affirmation.
Wordscapes Tips and Strategies
1. Go Long
Lots of Wordscapes levels come with bonus words that have a coin in every space. Devote your every exertion to spelling that word first. In free-to-play apps as in life, you gotta get that paper.
In the absence of a bonus, however, your priority should be to spell the longest word that fits the puzzle. There's usually one that uses all 6 letters on the wheel, and that's what buys the most help with the other clues. Plus, it just feels good to swipe in that 6 word monster on the first go.
2. Get Wordy
Not that you could tell from our florid prose, but the written word prioritizes concision. Not so in Wordscapes. Puzzles are untimed and every bonus word you spell is worth another coin. Swipe in every last word you can think of.
3. Pluralize It
You would not believe how many puzzles rely on adding an S to an already played word, or even, in a double-devious move, a bonus word that doesn't occur in the singular. If the letter S appears on your wheel twice, expect to pluralize approximately All The Things.
4. To Abbreviate or Not to Abbreviate
In some ways the Wordscapes dictionary is less generous than, say, Words With Friends. The slang word "hon" doesn't fly here, and there's certainly no "BFF" to be seen. However, the game does accept some abbreviations: "sub," "alt," "demo," and "pro" are all good to go. Generally, you're only getting away with formal dictionary words (the stuff that gets past your toughest aunt on family Scrabble night), but if you're stuck for a short word, try an abbreviation, it might just do the trick.
5. Do the Shuffle
If you're struggling to make letter connections, keep hitting the shuffle button until you see a pattern that makes sense. Sometimes the shuffle button just turns the wheel clockwise, which isn't much help, but eventually you'll see something different. It might not lead you to a real word, but a new perspective might give your brain the boost it needs.
Relax and Have the Last Word
Wordscapes, Word Cookies and Word Crossy all operate on the same mechanic of "here are the letters, there are the blanks. Spell." All three have advantages and drawbacks, but Wordscapes has a lot to recommend it as a go-to word swiper. The soothing art design and massive amount of content overcome occasional glitches and intrusive ads (though you can pay to remove ads) to provide a pleasant, relaxing gameplay experience.
Of course, games are much more pleasant when you win, even against yourself. Save your coins and powerups by using our Wordscapes Answers tool. Enter the letters on the wheel and see all possible answers.
Once you're winning at Wordscapes, take a look at our advice on how to win every game of Words With Friends and continue on your path to word game mastery.
---

Matt Salter has been a professional writer for over 10 years. He is a gaming and technology expert, and world-class word nerd.