What Is Scrabble GO?
Scrabble GO is the latest version of the popular word game. Originally, it was only available for mobile devices. You could download it from the Google Play Store for Android devices and from the Apple App Store for iOS devices. Now, the game is also available to play through your Facebook account. Plus, the developers plan on releasing a version for Amazon Fire devices at some point in the future.
While the app is free to download, it offers optional in-app purchases, unlockable features, and additional game modes. Asynchronous online gameplay lets you play with friends at your own pace.
Main Gameplay
The core gameplay of Scrabble GO remains unchanged from the original Scrabble game. You get the same Scrabble letter tile values and distribution, as well as the same Scrabble board layout. 
The standard Scrabble dictionary also applies, so that's how you can determine whether a word is a valid play in Scrabble GO. If you can play it in Scrabble, you can play it in Scrabble GO. Scoring works the same way too.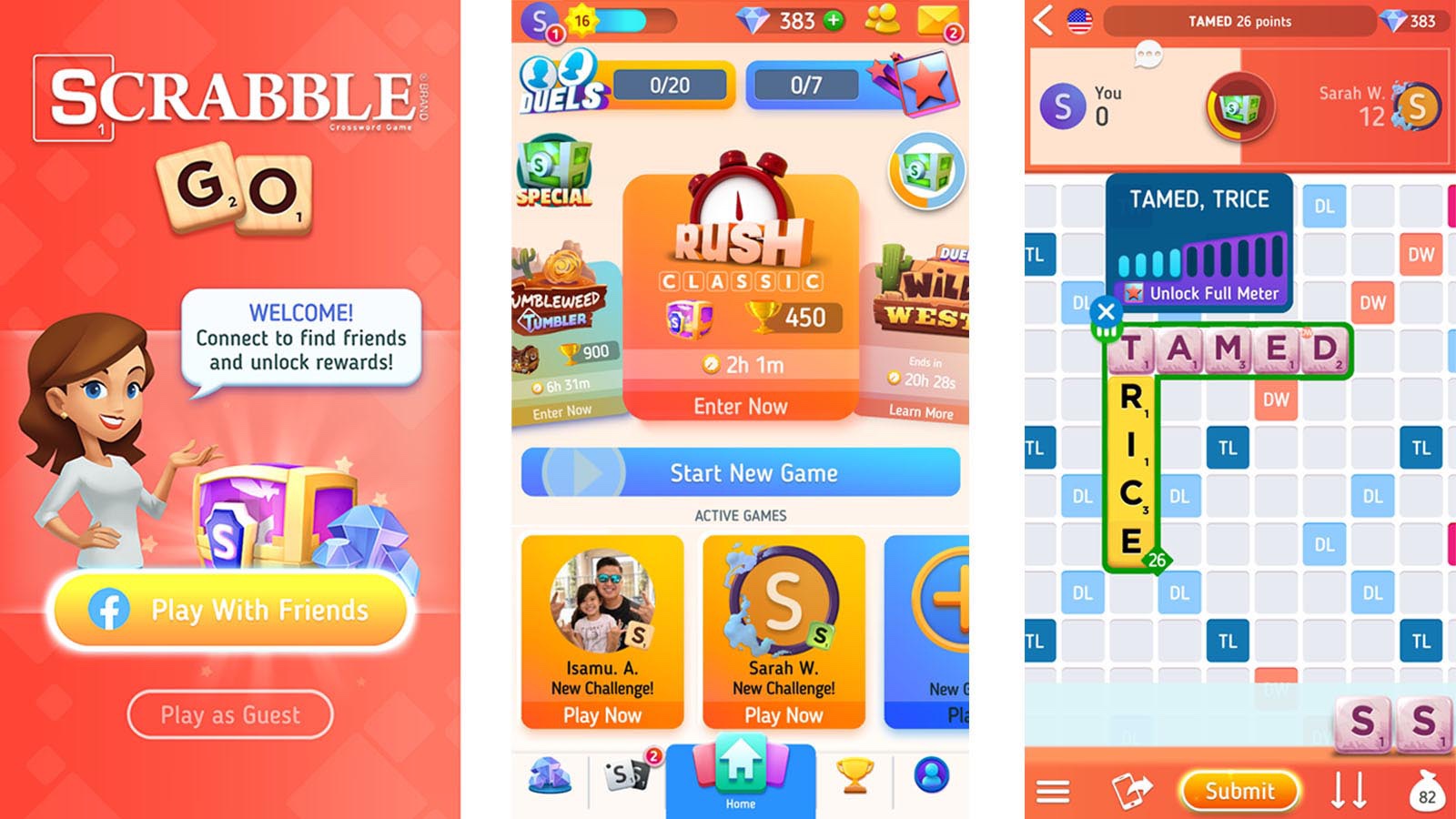 Scrabble Go game screenshots
New Game Developer
In 2009, Electronic Arts (EA) licensed the Scrabble brand from Hasbro and Mattel. EA used this license to develop and publish a Scrabble mobile app, among other versions of the game on other platforms. That license officially expired in 2020 and a different developer, Scopely, picked it up to create Scrabble GO. 
As of June 5, 2020, Scrabble GO is the only official Scrabble mobile app.
A Modern Take on a Classic Game
When Zynga first launched Words With Friends in July 2009, it introduced a number of modern features into the traditional gameplay of classic Scrabble. Scrabble GO adopts many of these same features and continues to build on this evolution. Notable highlights include:
The validity of words is checked automatically, so you cannot play any invalid words. Consequently, there is no "challenge" feature either, and you can't bluff with fake words.

Power-ups (called "boosts" in Scrabble GO) aid players in finding the best move possible.

Play online with friends (and strangers) from all around the world.

Play games against computer-controlled opponents.

Online leaderboards and player experience points track your progress.

Colorful graphics and animations add to the fun presentation.
For more on how the two games compare, refer to our guide on the key differences between Scrabble GO and Words With Friends. 
How to Play Scrabble GO
If you've ever played the original Scrabble or Words With Friends, you'll feel right at home with this game too. 
You get up to seven letter tiles at a time. Form words with these tiles, plus the ones already on the board, to accumulate points and defeat your opponent. While the physical board game version of Scrabble allows for up to four players, Scrabble GO is only played between two players.
Check out our easy instructions for how to play Scrabble GO for a more detailed explanation. The guide details how to navigate the app, find opponents, make moves, score words, take advantage of bonus squares, utilize boosts, and more. 
Game Modes
In the main game mode, you play one-on-one on a standard 15 x 15 Scrabble game board. The placement of bonus squares, like double word score and triple letter score, is the same as the regular board game. 
Beyond the main mode, you'll find other game modes, including:
Single Player: Play against a bot opponent named Zoey.

Scrabble Classic: Play a standard game without boosts.

Duels: Play on a smaller 11 x 11 board with just five moves per player.

Tumbler: Play a timed anagram game with six letter tiles at a time.

Rush: Score as many points as you can in 10 moves and three minutes.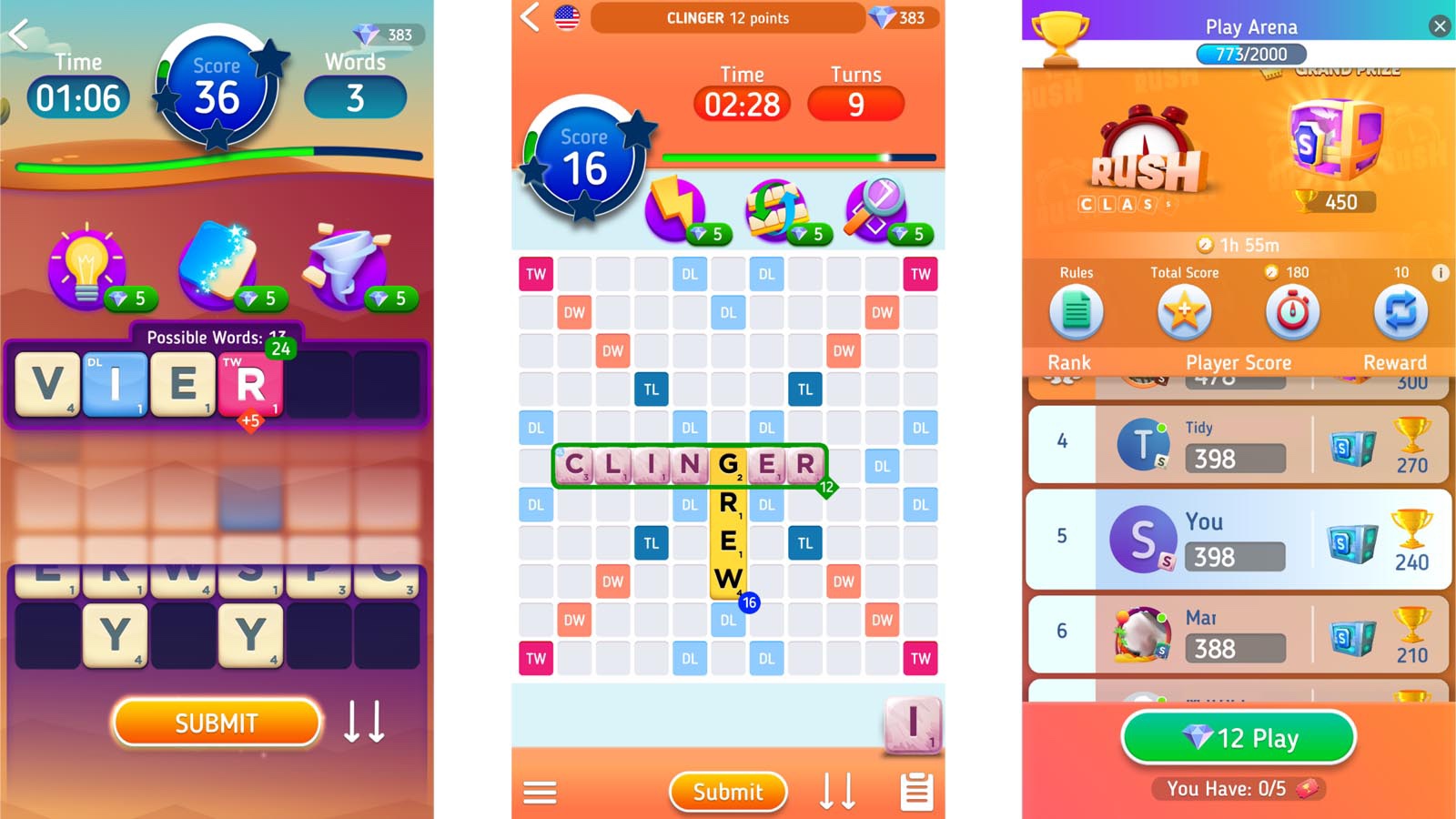 Scrabble Go modes screenshot
Scrabble GO FAQ
Want to know more about Scrabble GO? Some of the most frequently asked questions about Scrabble GO, along with their answers, include the following:
Is the Scrabble GO app free?
The game is free-to-play, though there are optional in-app purchases to buy gems and exclusive content.

What are the gems for in Scrabble GO?
Gems are a type of in-app currency. You can redeem them for boosts and other in-game items.

What do I use the Scrabble GO magnifying glass for?
The magnifying glass is an item you collect as you play the Word Search special event. Once you have collected enough of them, you will be able to use them to claim the calendar rewards.

What is the difference between Scrabble and Scrabble GO?
The main gameplay remains unchanged, but Scrabble GO introduces a number of additional gameplay elements (like boosts) and game modes. You can also unlock custom tile designs.

Is Scrabble GO replacing Scrabble?
The Scrabble app by Electronic Arts was discontinued as of 2020. The newer Scrabble GO app is the only official Scrabble app now.

How can I delete my Scrabble GO account?
Follow the easy steps in our guide for how to delete your Scrabble GO account. This also potentially involves deleting any game save files stored in the cloud.

Are Scrabble GO players bots?
Some of them are, just like how there are Words With Friends bots too. You can tell a player is a bot because their avatar is surrounded by clouds on the game's main screen.

Can I play Scrabble GO without Facebook?
Yes. While logging in with your Facebook account is the easiest way to play with friends, you don't need to connect your Facebook account to play Scrabble GO. Just choose "Play as Guest" from the app's home screen.

Who owns Scrabble GO?
The Scrabble brand is owned by Mattel in most of the world, and by Hasbro in the United States and Canada. The Scrabble GO game was developed and published by Scopely under license.

Can I play Scrabble GO on my computer?
There are currently three ways to play Scrabble GO on a computer. You can either play it on Facebook, you can run an emulation program like Bluestacks, or you can play the Android version on a Chromebook.
Should You Play Scrabble GO?
Is Scrabble GO any good? That's partly a matter of personal preference and largely a matter of personal opinion. Check out our comprehensive Scrabble GO app review for our take on the game. The aesthetic may not be for everyone, particularly if you're after a purer Scrabble experience. For that, alternatives like Internet Scrabble Club or Wordfeud may be better options.
---
Michael Kwan is a professional writer and editor with over 14 years of experience. Fueled by caffeine and WiFi, he's no stranger to word games and dad jokes.