Starting as Scrabulous
Lexulous is the game that people know, love and play today. But, it hasn't always gone by that name. The original version launched in 2005 as Scrabulous.
The Best Online Scrabble Game
Scrabulous, both the game and its website, were created by two brothers, Rajat and Jayant Agarwalla, from Kolkata, India. The avid Scrabble tournament players wanted a reliable way to play Scrabble online. Not content with the meager to nonexistent offerings of the time, Rajat and Jayant created their own company, RJ Softwares, to launch their game.
Scrabulous became a near-instant success, not unlike Words With Friends. Thousands of Scrabble fans flocked to it as the premier option for playing their favorite word game. The game's success even led to Facebook adding the game to the platform in 2007. The game's popularity continued to grow.
Ensuing Legal Battles
Unfortunately for the Agarwalla brothers, Scrabulous' popularity attracted the attention of Hasbro and Mattel. Hasbro owns the rights to Scrabble in North America, and Mattel owns the rights in the rest of the world. 
Too Similar to Scrabble
RJ Softwares copied much of Scrabble's design. Scrabulous used the same board layout, rules and, at least temporarily, number of tiles as Scrabble. The point of Scrabulous was to offer a reliable online Scrabble alternative. The site even directed players to Hasbro's Scrabble game rules. This included important information, like naming the official Scrabble dictionary as the official word list. 
With little to distinguish Scrabulous from its inspiration, Hasbro had the grounds to file lawsuits against RJ Softwares for infringing on their intellectual property rights. They did so in July 2008.
Removal from Facebook
When Hasbro formally sued Scrabulous' owners, Facebook pulled the game from their site in North America. A few weeks later, Facebook removed it for all other regions as well. Later that year, in September 2008, the Scrabulous site itself was forced to suspend activity, effectively killing the Scrabulous brand.
Reborn as Lexulous
Scrabulous got its second chance when the Delhi High Court ruled to allow RJ Softwares to post the game online again. The court decided that Scrabble's game design was not copyright protected. The only stipulation was that RJ Softwares could not use the name or any name that resembled Scrabble. The company opted to create the new Lexulous game and website in September 2008.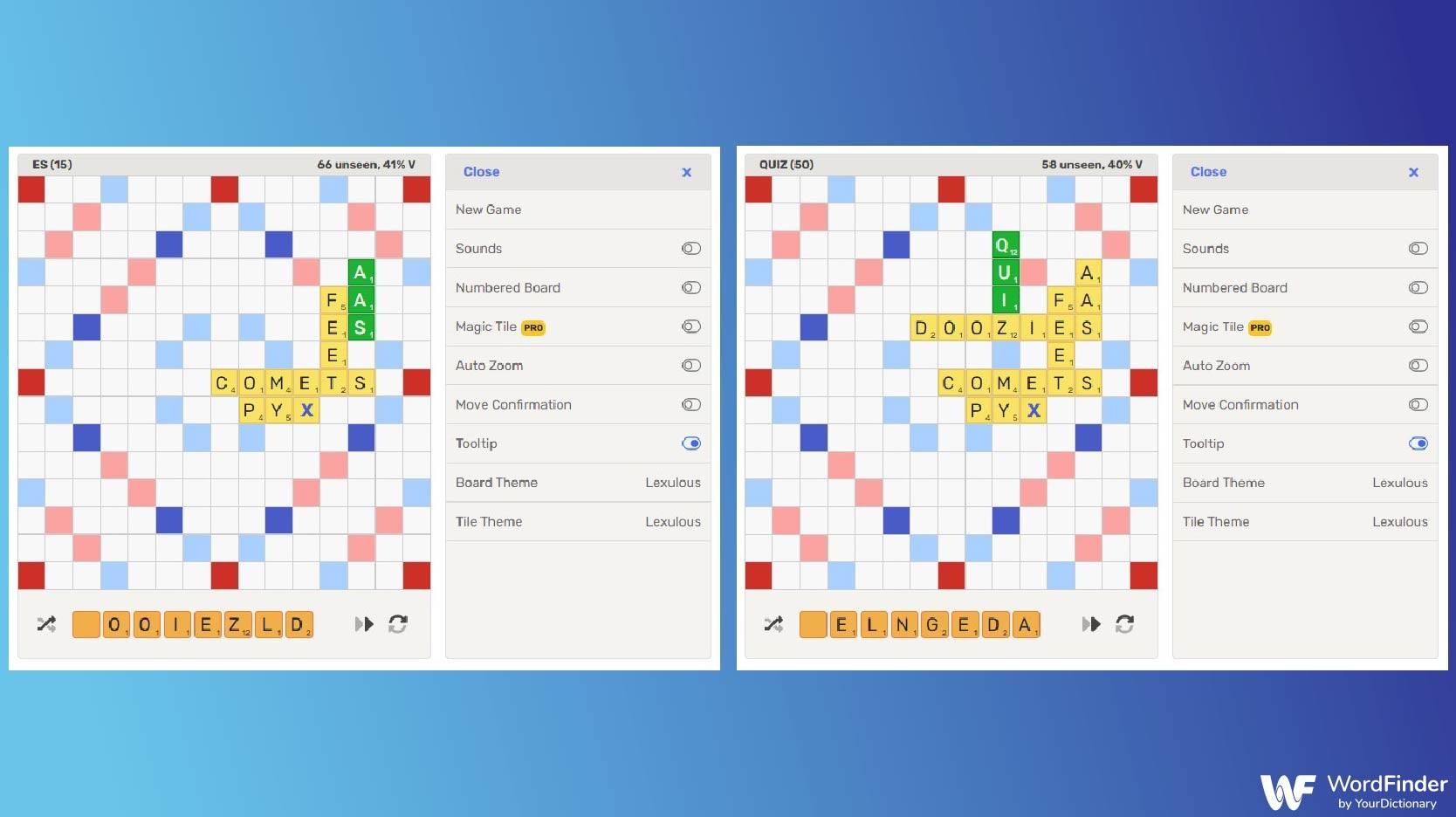 Lexulous word game screenshots
As a pleasant surprise for Scrabulous fans, who actively rallied to keep the game in operation, all of their games, points and other account details were transferred to the new Lexulous site.
Scrabble vs. Lexulous
Lexulous changed more than its name to appease Hasbro. RJ Softwares changed the Lexulous game board, rearranging the position of the score multipliers. In Lexulous, players keep eight tiles on their racks rather than Scrabble's usual seven.
Lexulous returned to Facebook at the start of 2009 when Hasbro withdrew their lawsuit. Hasbro made this decision after RJ Softwares made the significant changes to Scrabulous by shifting to Lexulous.
Playing Lexulous Today
Lexulous continues to serve as a popular online Scrabble clone. There are many places to find and play the game. It is available in the Google and Apple app stores, through Facebook, and on the main Lexulous website.
Another great thing about Lexulous is that much of the skills and tools valuable to Scrabble still work well with it. General word knowledge, the dictionaries and other player assets remain useful and reliable. One of these is our word unscrambler tool. If you need a Lexulous cheat tool, our Scrabble cheat and anagram solver can help with both games.
More Ways to Play Scrabble Online
Lexulous has retained a large following as one of the best options for playing Scrabble online. That said, it is by no means your only option. There are now many official and unofficial sites and apps that offer similar gameplay. Our list of nine online multiplayer Scrabble games is a perfect starting point for any word game fan.
---
Zac Pricener has been a content creator for the past eight years. He's a bit of an all-around nerd, and he has a bad habit of working movie and TV show references into conversations whenever possible.