Aggretsuko
Fans of the Sanrio anime series on Netflix will understandably gravitate toward the Aggretsuko game for iPhone and iPad. But even if you haven't watched the show, it's still one of the best iPhone puzzle games. The match-three puzzle game features characters from the popular television series. Haida, Fenneko, Director Ton and Washimi all make appearances. Beyond the familiar match-three gameplay, you can build and customize your office building too.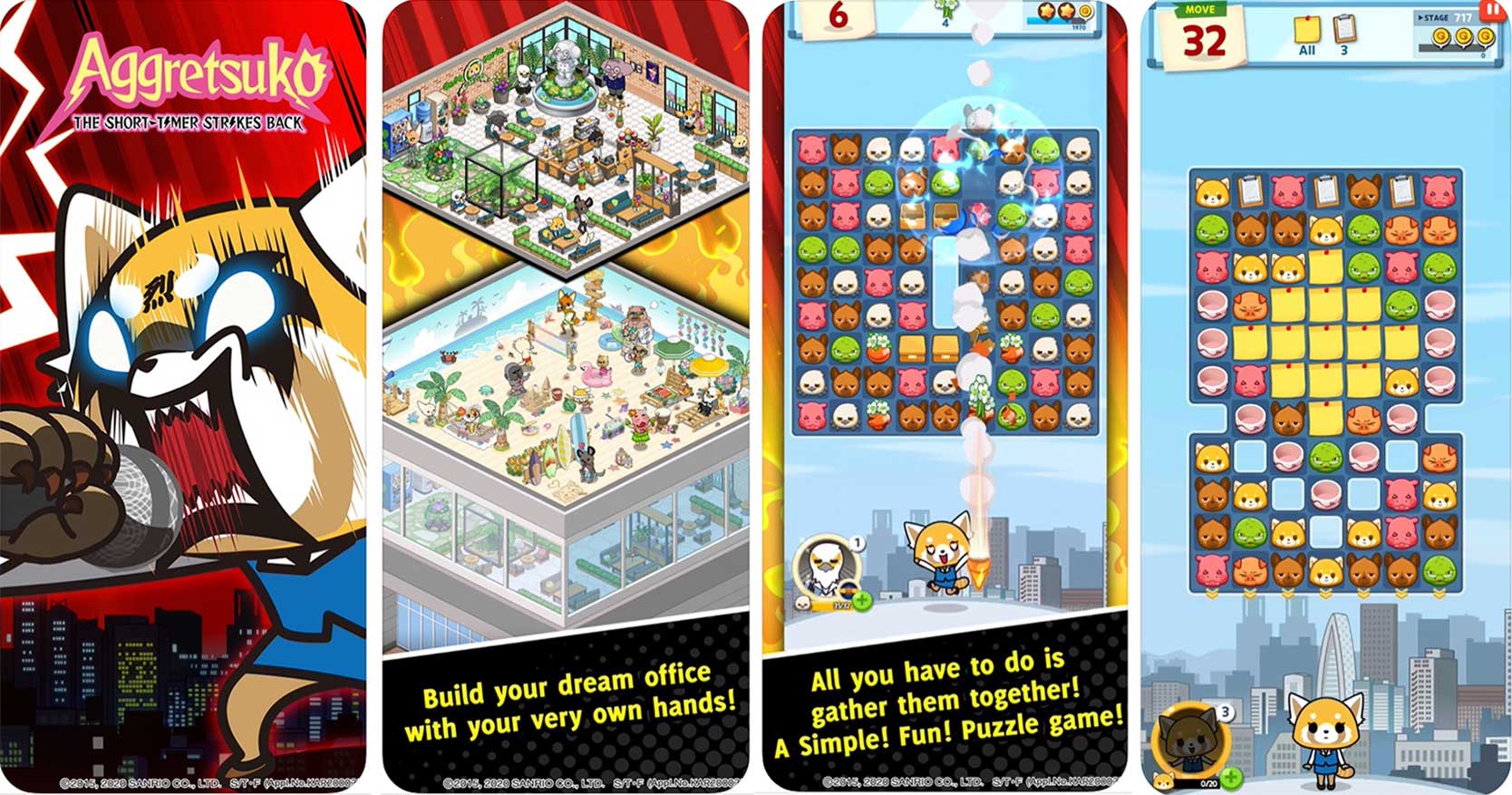 screenshot of aggretsuko iPhone game
Bubble Witch 3 Saga
If you grew up playing video games in the 1990s, you probably remember Puzzle Bobble. Also known as Bust-a-Move, the arcade puzzle game had you shooting and matching colorful bubbles. Bubble Witch 3 Saga, the third in its own series, plays the same way. You just trade monsters for witches, cats and other colorful characters. From the same makers as Candy Crush Saga, Bubble Witch Saga will have you playing "just one more level."
Sage Solitaire
Solitaire card games have been around for ages. You've probably played the digital versions on a Windows PC. How can a solitaire card game possibly make a list of the best iPhone puzzle games? Sage Solitaire earns its spot, because it takes a classic formula and introduces a game-changing twist. Cards are arranged on a 3 x 3 grid. You clear them by forming poker hands, but you must include cards from at least two rows. Simple, addictive and fun.
Cut the Rope
Cut the Rope is a game that almost always comes up when discussing the absolute best puzzle games for iPhone. This game by development company Zeptolab has a simple premise that gradually leads to a lot of fun and puzzling complexity. 
Your goal is to feed a little monster named Om Nom. However, all Om Nom wants to eat is candy. To give Om Nom its favorite treat, you need to cut the candy free from pieces of rope. The candy will fall when you cut the rope, so you need to make sure you cut it at the right time and in the right place. Doing it right will let the candy fall into Om Nom's mouth. Doing it wrong will leave the poor monster hungry and cause you to fail the level.
Alpha Omega
How's your word knowledge? Seeing how you're here on WordFinder®, you probably know a thing or two about word games. Not to be confused with a particular style of word chain games, what you get with Alpha Omega looks more like a crossword puzzle. The letters are all mixed up and you have to unscramble words to solve the stage. You have only the first and last letters to guide you.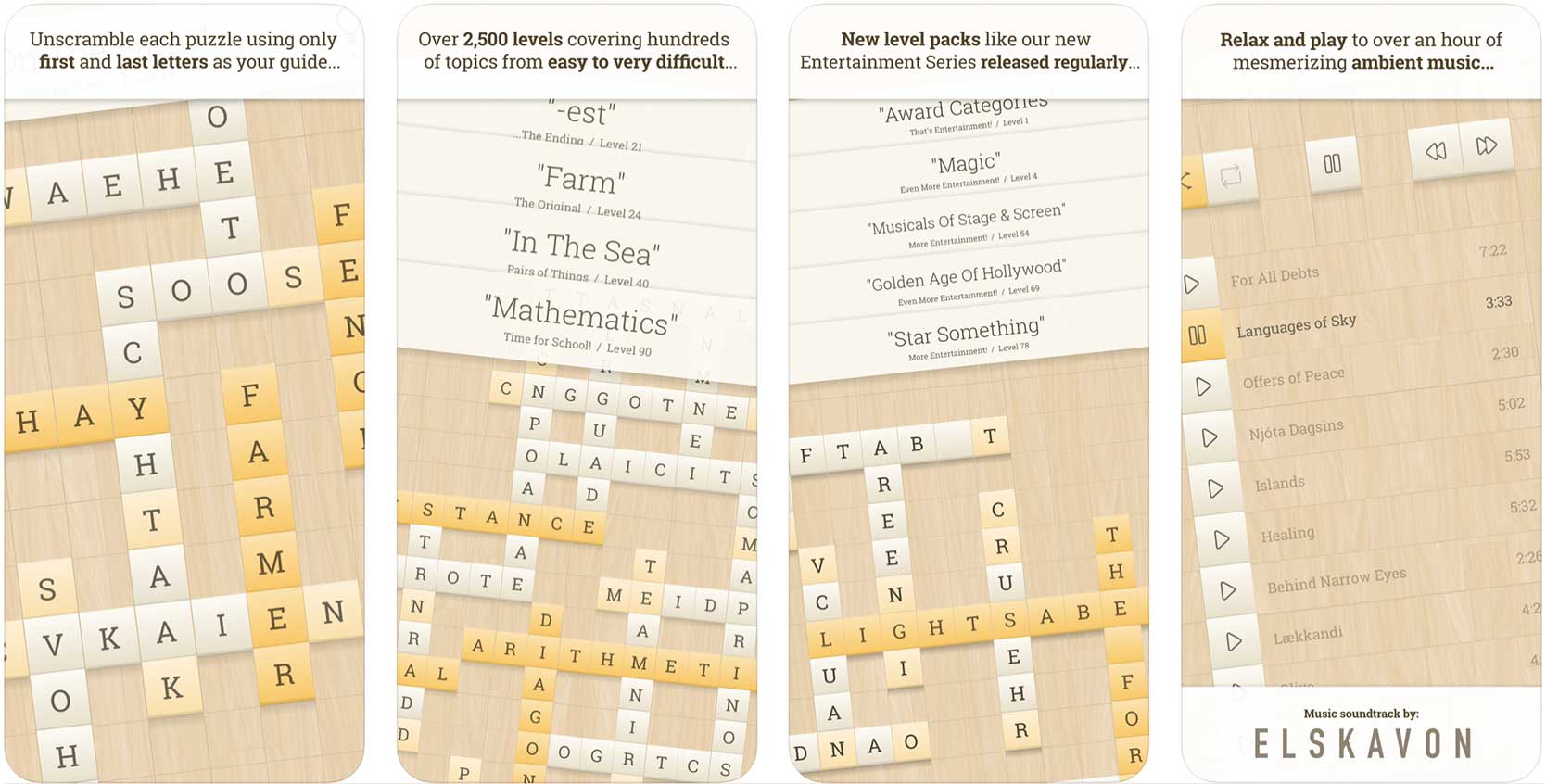 screenshot of alpha omega iPhone game
ULTRAFLOW 2
Seemingly simple-looking iPhone puzzle games are really the best. The minimalist, vector-style visuals of ULTRAFLOW 2 really speak to that kind of modern, "flat" aesthetic. At its most basic level, ULTRAFLOW is like a mini golf-style game. What's different about it is that your "ball" can only "bounce" off walls a limited number of times before sinking into the "hole." Can you do it?
King Rabbit
With a retro-inspired blocky art style, King Rabbit exudes both cuteness and nostalgia. In this action-puzzle game for iPhone, the goal is to get your little white rabbit safely to the goal in each level. Collect items along the way, avoid obstacles and hazards, and hop your way to safety. You can even create your own levels to share with the larger community!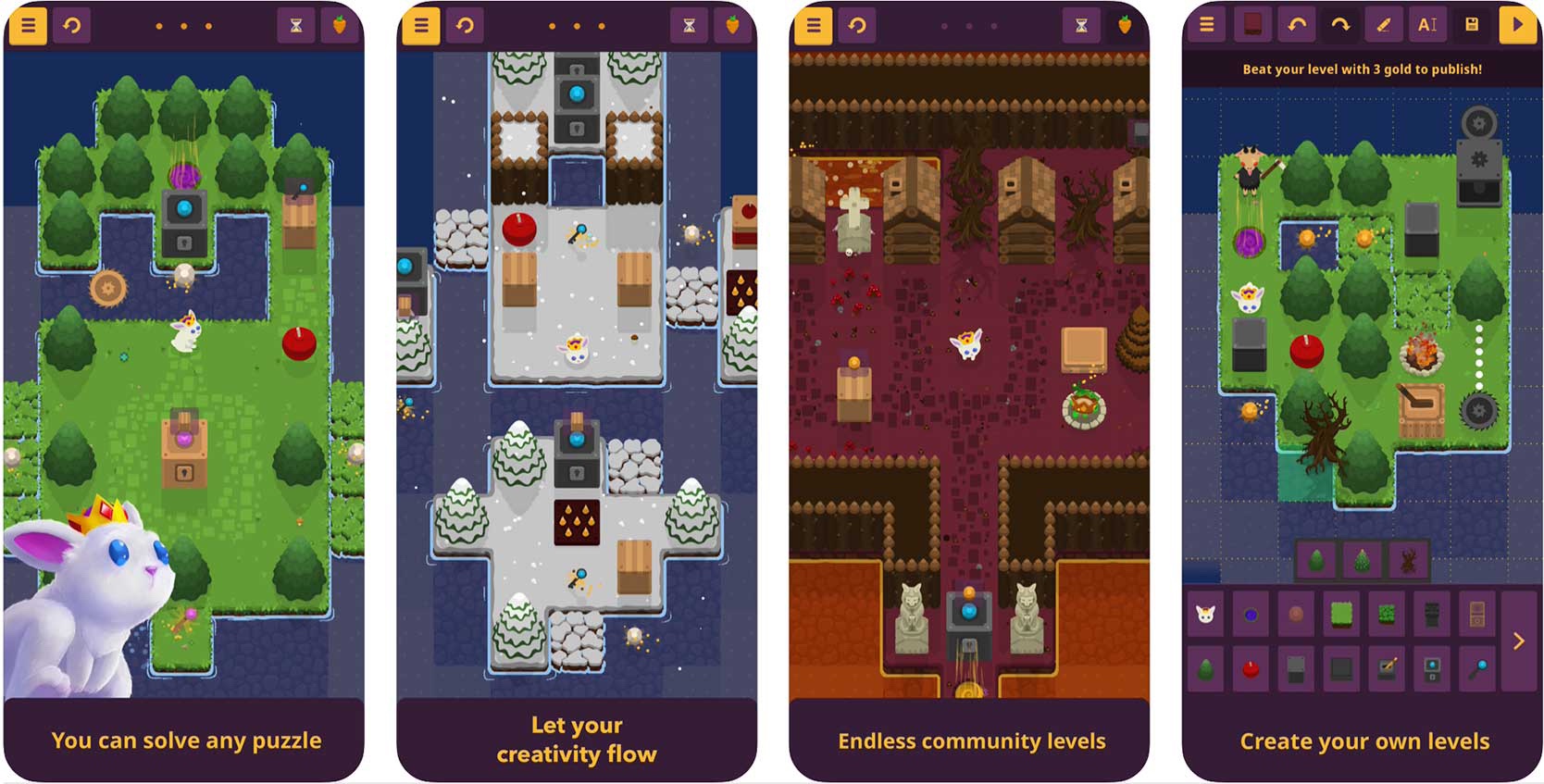 screenshot of king rabbit iPhone game
Cube Critters
Perhaps you prefer more competitive iPhone puzzle games? If you enjoy multiplayer word games like Scrabble GO and BattleText, you'll love challenging your friends (and foes) in Cube Critters. Similar to King Rabbit, you navigate treacherous mazes, work your way around sneaky obstacles, and collect fun power-ups too. Battle other players or challenge the single-player mode across cubic worlds.
High Rise
High Rise offers a three-dimensional twist on the classic match-three dynamic. Here, you build up a cityscape, one block at a time. Instead of matching colored blocks on a two-dimensional grid, you rotate a three-dimensional platform. Connect identically-colored blocks side-by-side and vertically to combine them. Combine more blocks to form impressive buildings for your burgeoning city.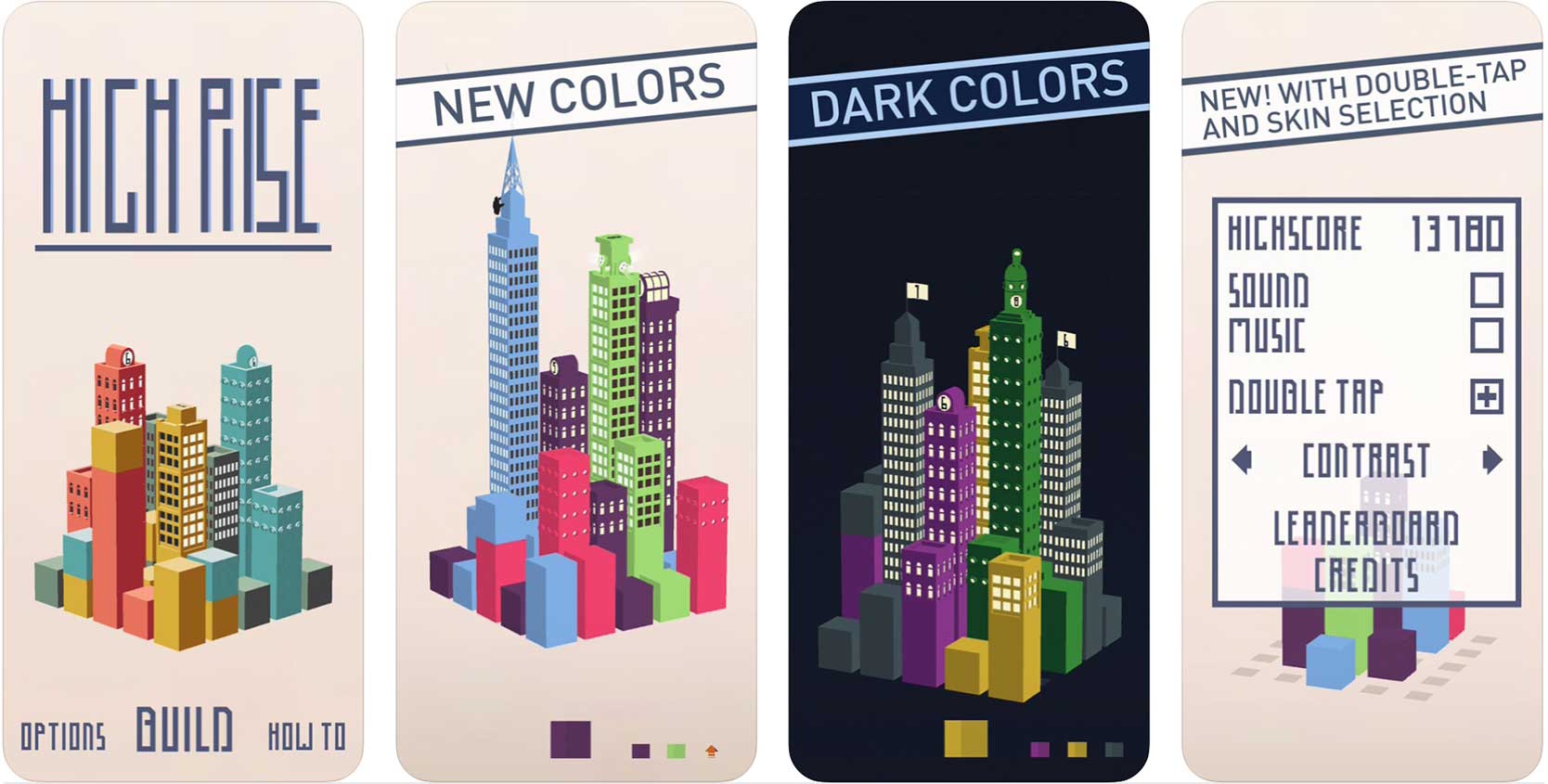 screenshot of high rise game for iPhone
1010! Block Puzzle
As far as Tetris-inspired puzzle games go, 1010! Block Puzzle strikes a great balance between familiarity and uniqueness. The colorful blocks look a lot like their Tetris counterparts, but in even more sizes and shapes. You get to play at a more relaxed pace here, because there is no forced gravity on the pieces; they don't fall to the bottom of the stage. Just like in Tetris, though, lines clear as you complete them. And you can compete with friends too! It's one of the best puzzle games for iPhone if you like traditional puzzlers.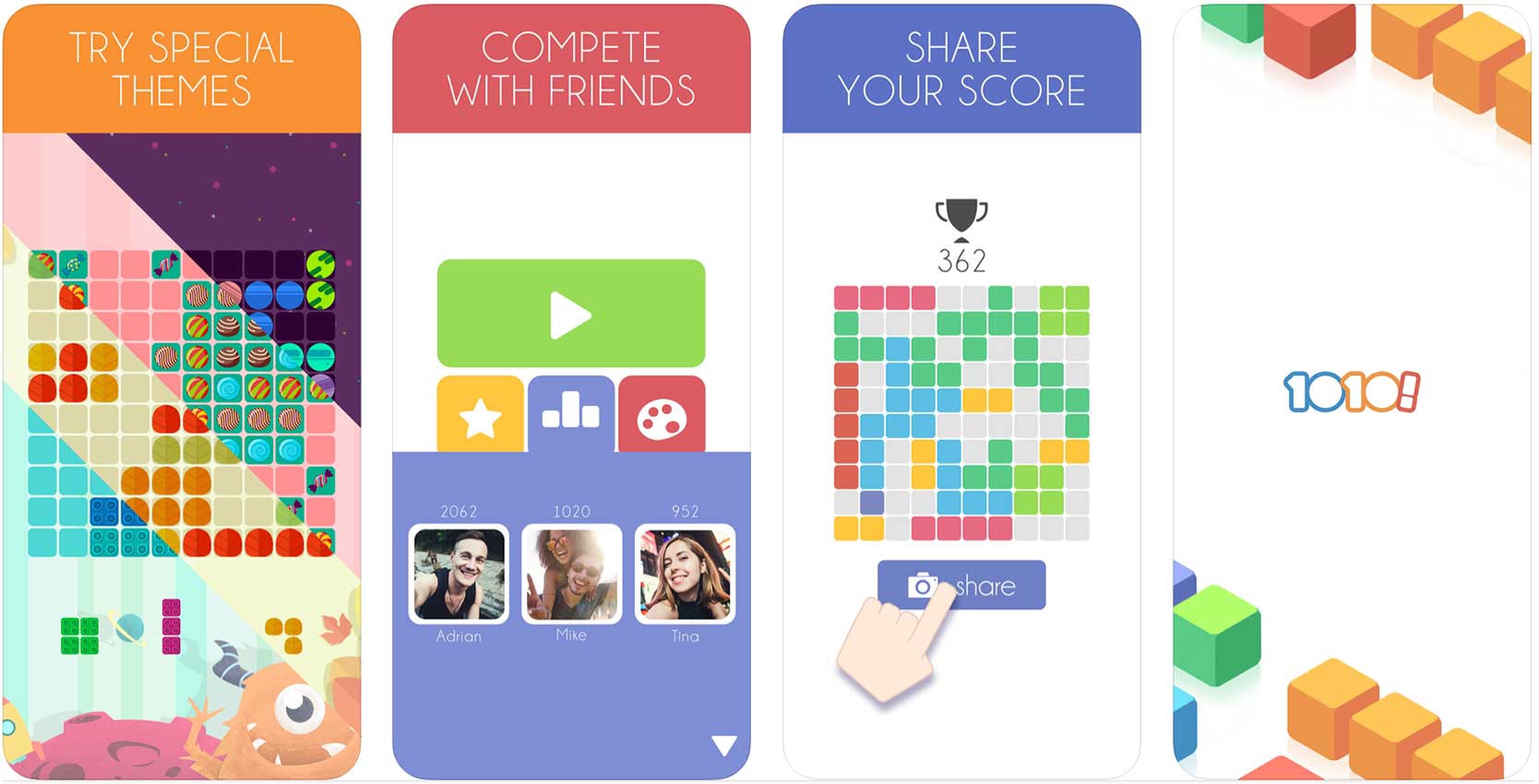 screenshot of 1010 iPhone game
AMAZE!!!
Paint the maze! In AMAZE!!! — and yes, those three exclamation points are part of its official name — the objective sounds simple enough. Fill the stage with colorful paint. The catch is that your painting ball only stops when it hits a wall. So, you've got to plan your route accordingly to fill in the puzzle. What a colorful way to pass the time!
Put on Your Game Face
Because the best puzzle games for iPhone are organized into short levels, they're perfect for when you only want to play for a few minutes. But, as you've likely experienced by now, the best free puzzle games for iPhone can easily draw you in for hours and days on end. They're wildly addictive. And for good reason.
Keep a good thing going by browsing through the most popular word games on iPhone, like Ruzzle and Alphabear. Or, if you prefer playing on the other platform, we've got an extensive list of the best puzzle games for Android too. Many of those games are also available on iOS.
---
Michael Kwan is a professional writer and editor with over 14 years of experience. Fueled by caffeine and WiFi, he's no stranger to word games and dad jokes.