1. 4 Pics 1 Word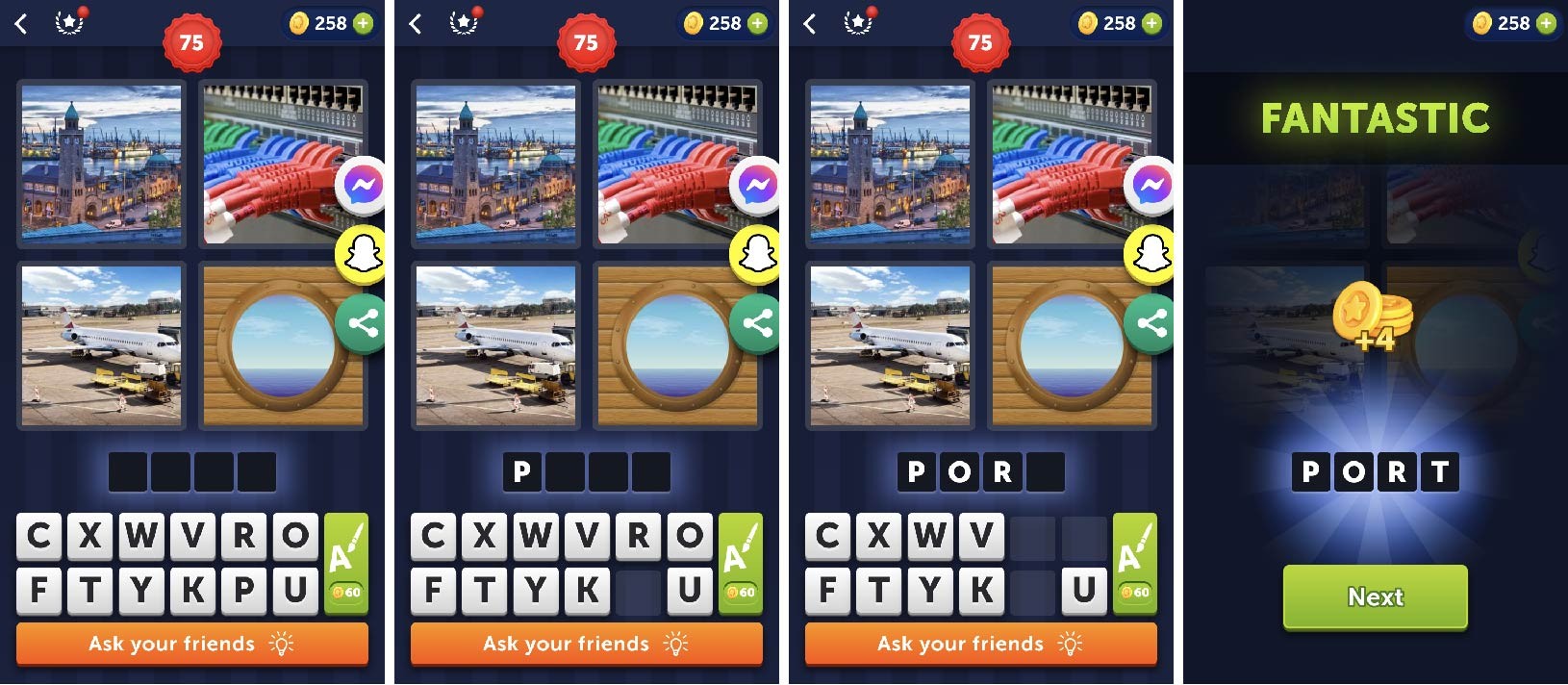 4 pics 1 word wordgame
There are many word associations you can play on your iPhone, but 4 Pics 1 Word continues to stand as the best of them. The game's premise is far from complex, but it still demands a lot from your creativity and anagram-solving abilities.
For each puzzle, the game presents four images that relate to each other in some way. Your goal is to find a word that explains their connection. You do this by finding the key word from the jumbled letters the game provides underneath the images.
2. 7 Little Words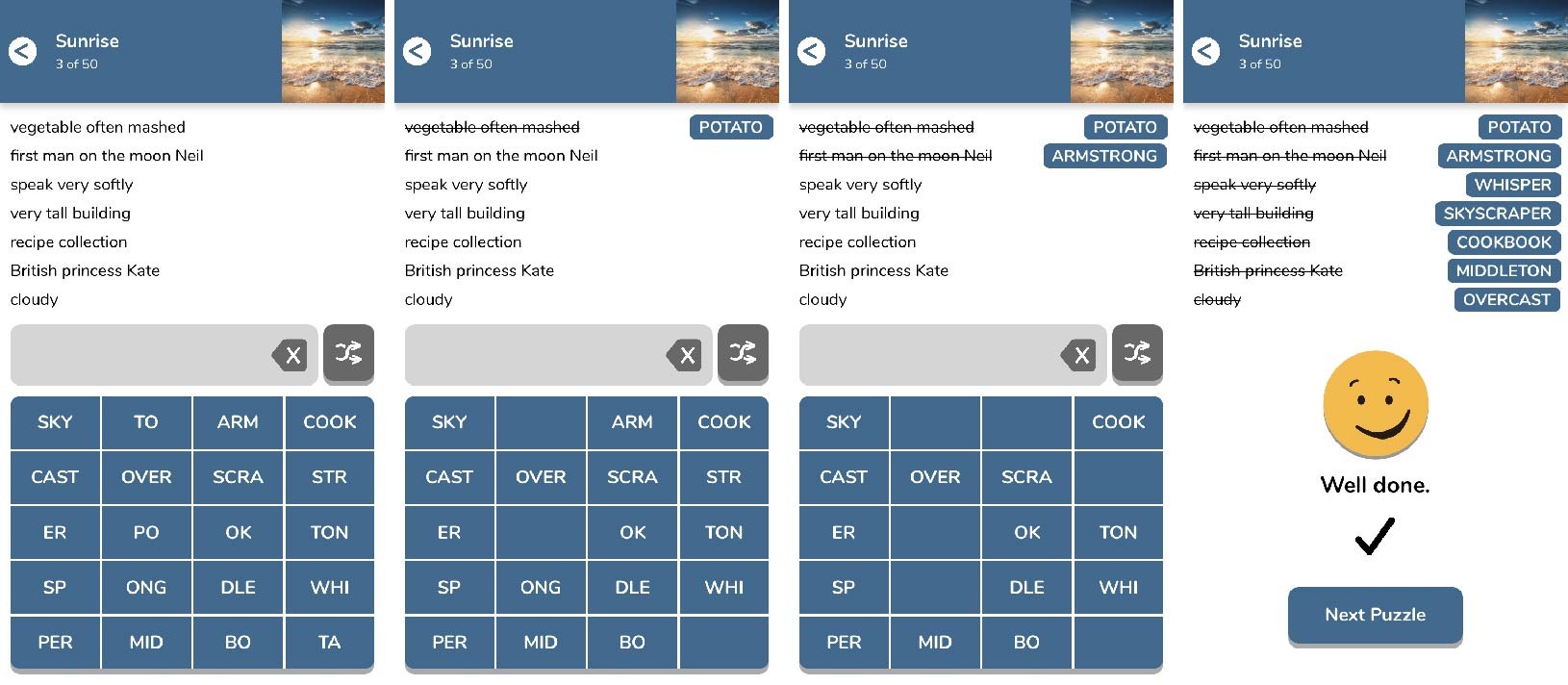 7 little words wordgame
The game 7 Little Words is a neat little mix of multiple word game flavors. The back of the box summary is as follows: You have seven clues, seven mystery words and 20 tiles representing groups of letters. Combine the latter to work out the former.
The genius of 7 Little Words is the tiles. By making them letter groups rather than individual letters, it creates a puzzle of many colors: a little bit crossword, a little bit anagram, and a dash of word search. It also comes with a sliding scale of difficulty based on the level of challenge you're interested in.
3. CodyCross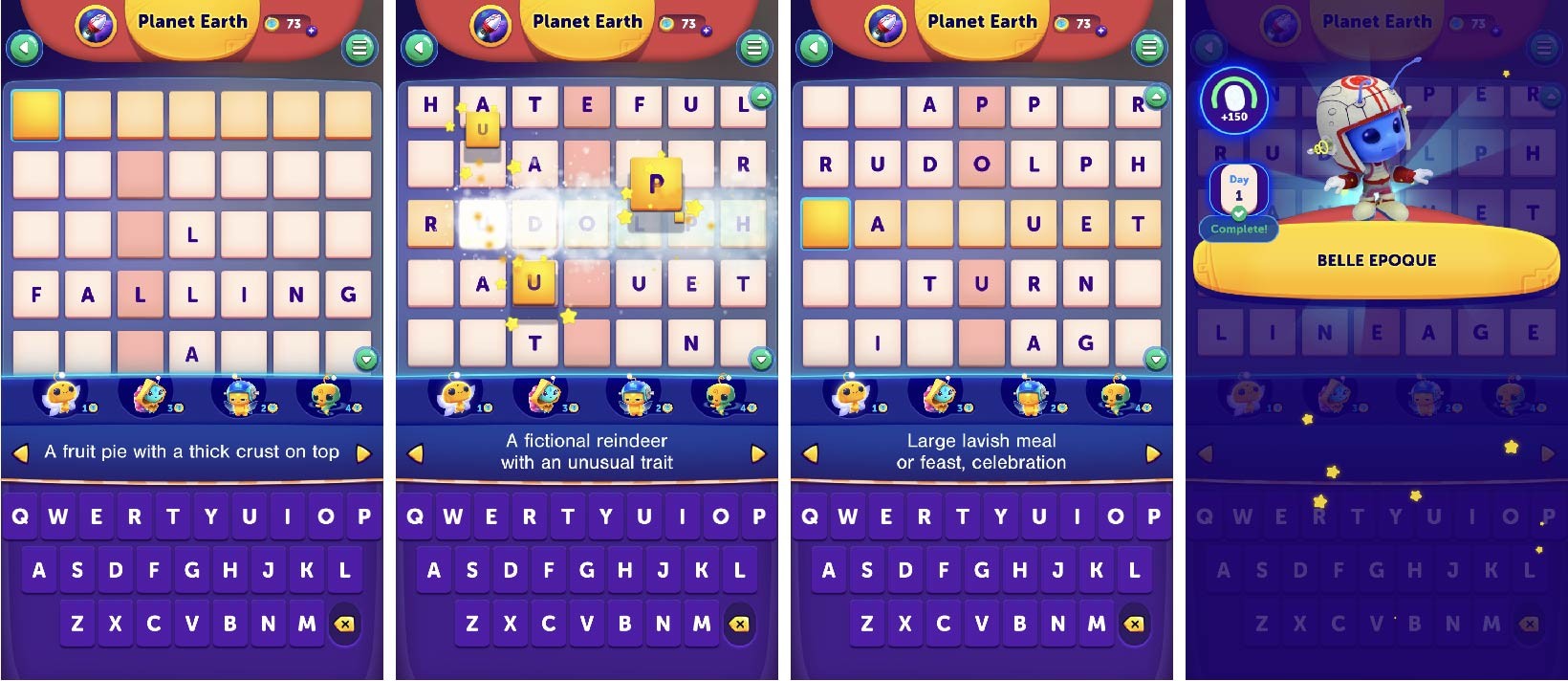 codycross word game on app
CodyCross is an interstellar-themed puzzle game. Your goal is to solve each level the same as any crossword puzzle. The difference is that CodyCross puzzle answers are not built of rows and columns with random placements. Each puzzle has an even distribution of same-sized words in one large column.
Only a few words form vertically. They generate a secret message that you gradually reveal as you find the horizontal words. The best part of the levels' layouts is that each time you find a word, the game randomly adds letters to other words in the puzzle. This creates a chain reaction effect that makes it fun and exciting to solve the puzzles.
4. Scrabble GO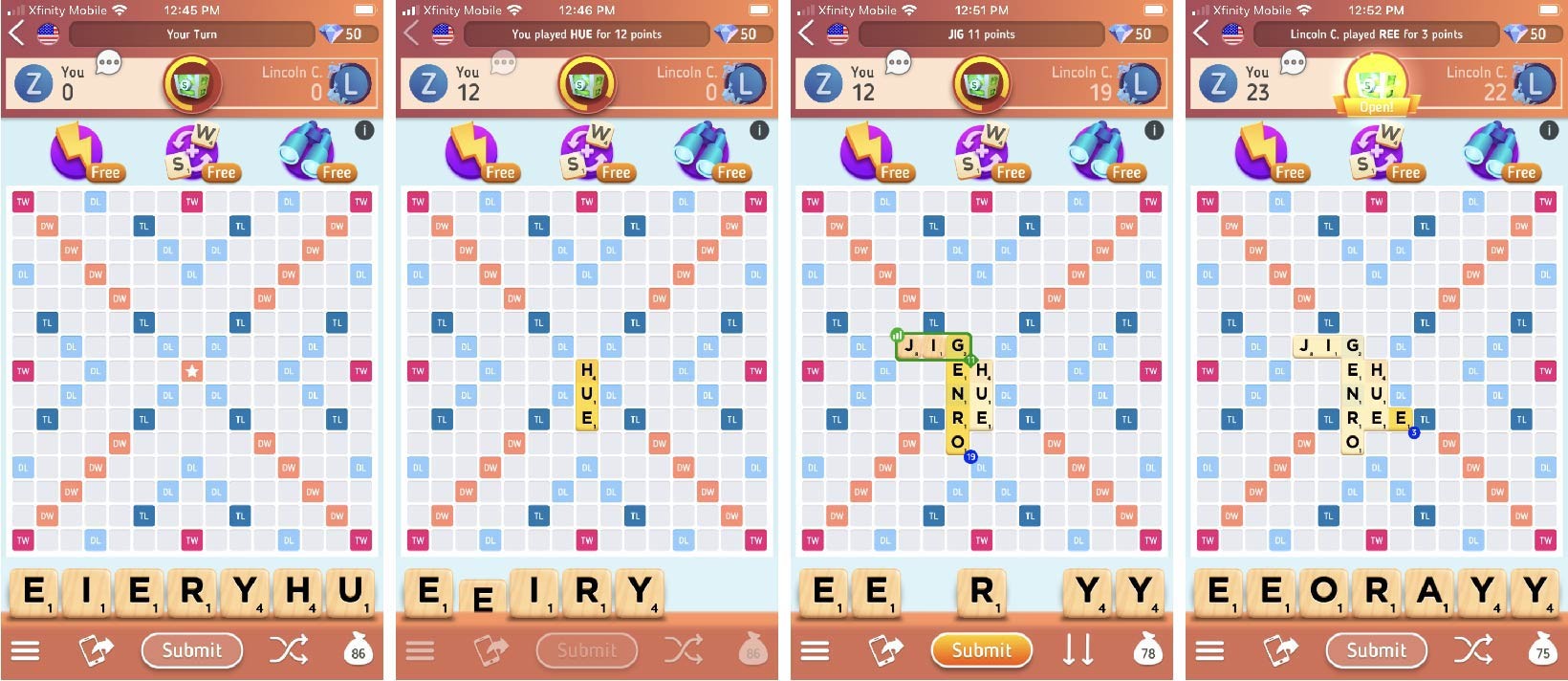 scrabble go word game app
Scrabble GO is the digital version of the classic board game. It's Mattel and Hasbro's answer to Words With Friends. The general gameplay is the same as the classic board game, but it includes the standard fare for app games. These include in-app purchases, multiplayer, ranking systems, power-ups and more.
This game also features various game modes. For example, you can play Scrabble Classic, which performs the same as the board game. Or, you can play Rush Classic, which challenges you to score as many points as possible within a set time limit.
5. Wheel of Fortune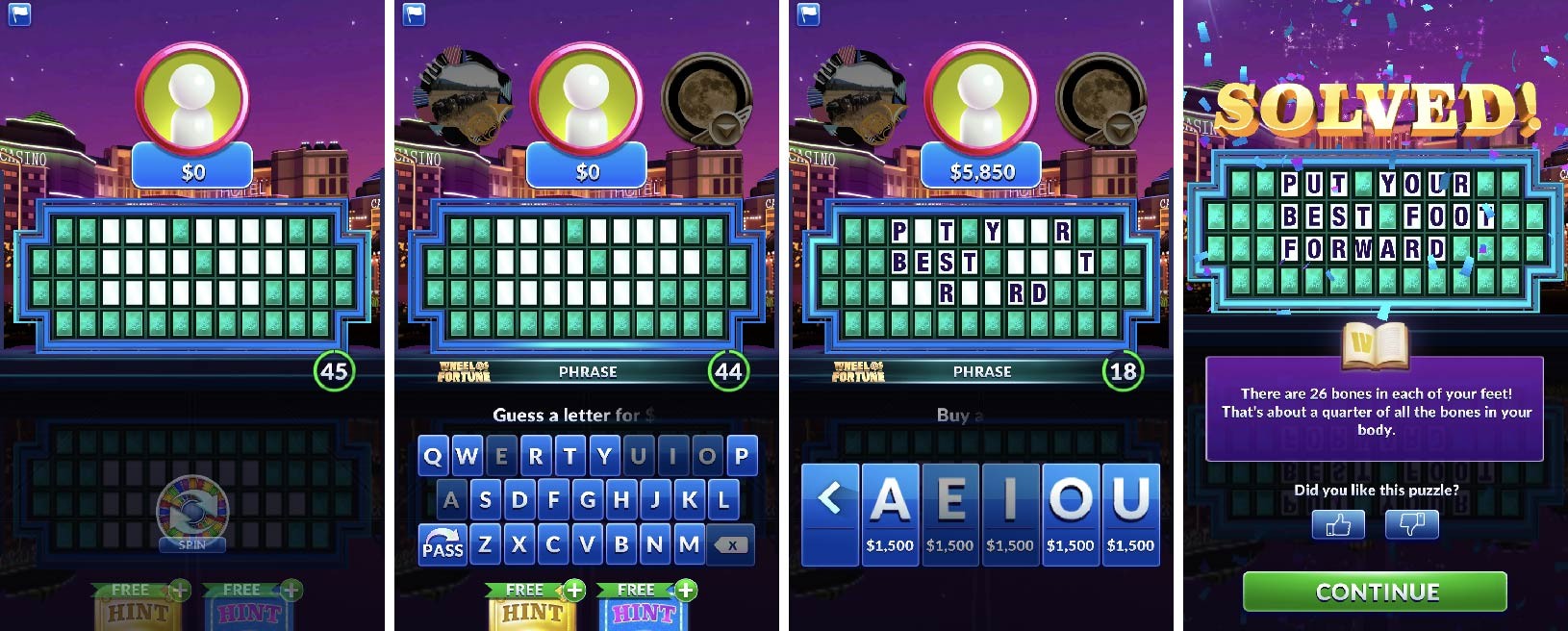 wheel of fortune word game
Wheel of Fortune is based on the popular TV game show of the same name. This game lets you experience a modified version of the show's rules. The basic principle of spinning a wheel for both the chance to increase your prizes and solve the puzzles remains the same.
What's different for the app is the condensed gameplay. Games take only a few minutes rather than half an hour. You can also play new game modes and compete in tournaments to increase how much of the essential in-game currency you have at your disposal.
6. Wordscapes

wordscapes word game on app
We've written about Wordscapes before, but it's worth repeating. It is smooth jazz — good smooth jazz, "Kind of Blue" smooth jazz — for the gaming soul. Its core mechanic of swiping a disc of letters to fill an empty crossword has been iterated dozens of times with varying success, but Wordscapes just does it right. And Wordscapes tournaments are fun, too!
The calming ambient music, nature themes and beautiful background photography make it the ideal escape from a long day or a long line. If Wordscapes has a drawback, it's that it hits its chill tone so perfectly that the occasional ads can seem even more jarring. Luckily, the ads are short. 
7. Word Connect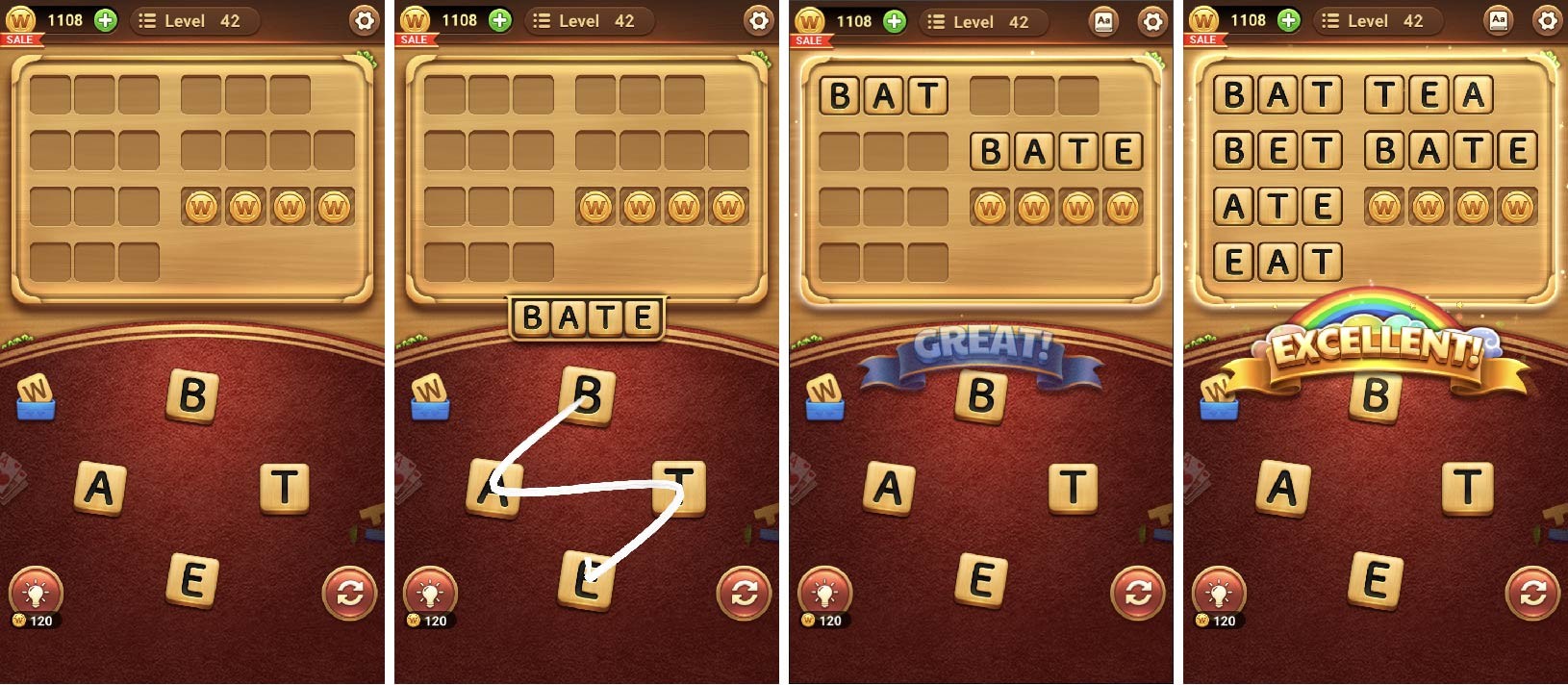 word connect word games app
Word Connect is a game that takes Wordscapes' popular formula and recreates it to deliver a new experience for players. This is an anagram solver, but instead of trying to fill an intersecting grid, you fill in blank words organized into columns and rows.
The use of lists rather than grids makes Word Connect a more difficult game than Wordscapes. The letters from one word do not fill the spaces of another. That means you don't gradually create clues for yourself. This makes the game more fun for experienced players looking for more of a challenge. That said, if you have any trouble figuring out certain Word Connect answers, remember that WordFinder is here to help.
8. Word Crush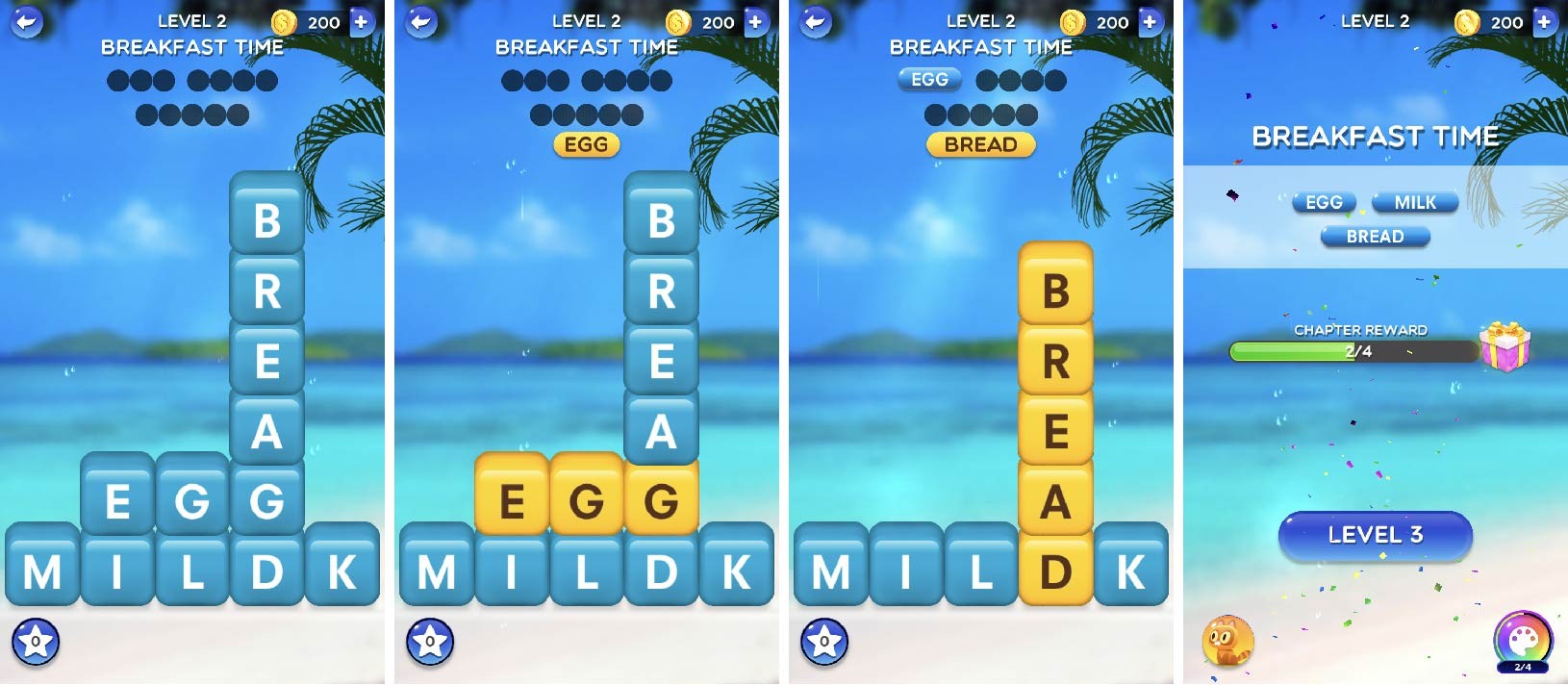 word crush word game app
Word Crush is a falling block word game. Blocks with letters printed on them rest in columns and rows. Draw a line through the letters to spell hidden words. When you do, the blocks disappear, and any blocks above them fall and take their places.
You can form the words only in straight paths, but the paths can start from the top or the bottom, from the left or the right. Words also vary in size. This variety means that the blocks will fall in random patterns each time. The words you find later on depend on what you find at the beginning.
9. Word Search Pro

word search pro word game on app
Word Search Pro is perhaps the best word search game on the iPhone App store. The gameplay is what any word search fan would expect: You are given a list of words and an assortment of letters in a large square. You must find each of the words in the seemingly random letters. 
Word Search Pro is fun because it doesn't distort the core mechanics. Everything it adds to the experience, such as the themed challenges and the daily puzzles, simply give you more of what you want. 
10. Word Trip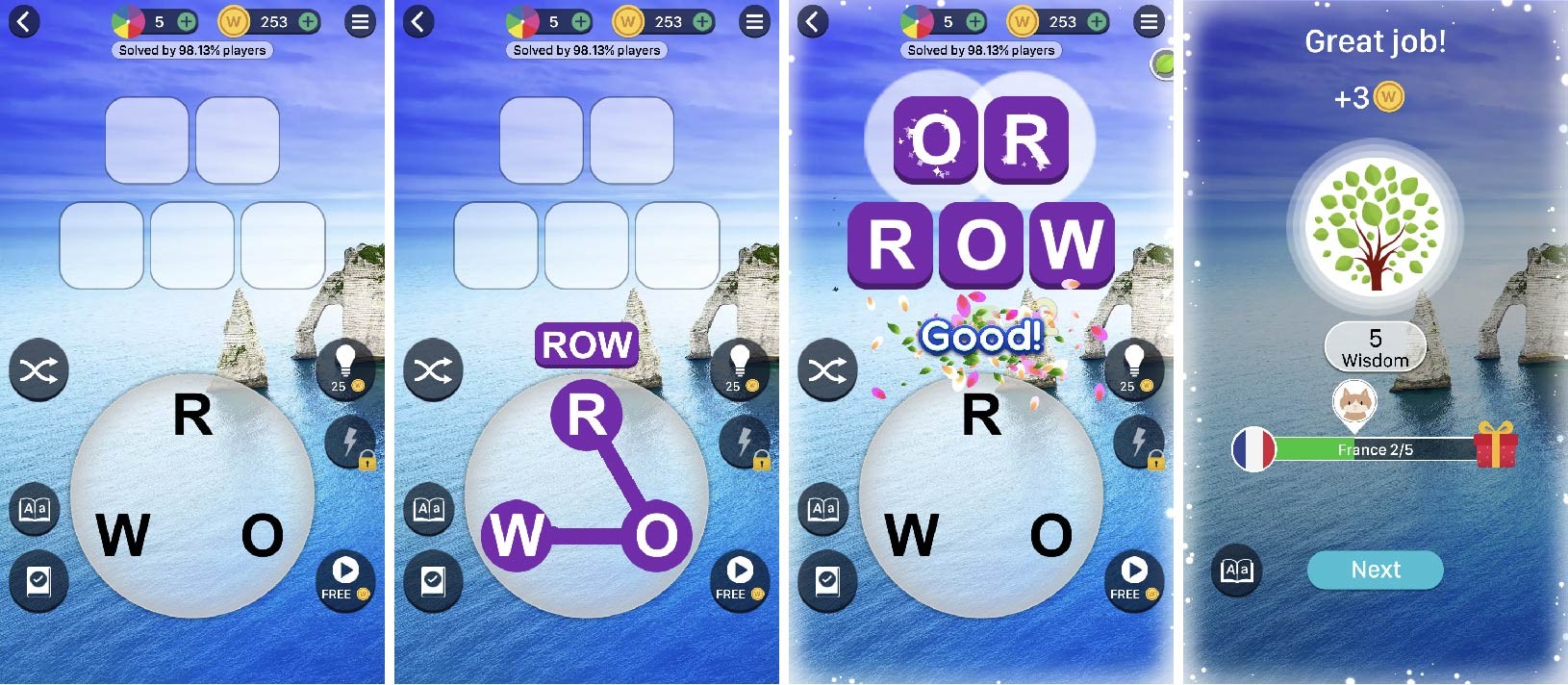 word trip word game
Another game inspired by Wordscapes, Word Trip takes you on a journey across the world as you solve its numerous puzzles. Much of the iPhone game is identical in function to Wordscapes, but the added modes and different puzzle structures keep Word Trip from being entirely derivative.
One of the best things about the game is the trivia-style game mode. For these puzzles, you are given phrases with the last word removed. You need to find that word, and others, to complete the phrase and clear the puzzle.
11. Words With Friends 2

words with friends word game
In many ways, Words With Friends is a slick interface wrapped around a new version of Scrabble. Its visuals have been retooled, its board slightly altered and the letter values are swapped around enough to avoid any legal issues. Still, the game is a clear imitation of everything Scrabble created.
That said, nowhere does it say knockoffs can't be good. The Rolling Stones were a knockoff of the Beatles. Metallica was a knockoff of Motorhead. Zynga has consistently innovated with their lexicographic killer app, and the latest version comes with new game modes, single player challenges, and a clean, legible interface.
Combine that with an enormous global player base and a moderate ad presence and you have a genuine phenomenon. Words With Friends 2 is, as of now, the best competitive spelling game in the mobile marketplace. As far as iPhone word games go, Words With Friends 2 out-Scrabbles Scrabble. It's just a better game.
Word Games All Day
These are currently the most popular word games on the iPhone. Of course, they are by no means the only games you might enjoy. The number of great games to play on your iPhone almost seem endless. If these games aren't enough for you, and you'd also like to try some games in a different genre, trivia games might be a good option. Read our list of the 11 best trivia games for some recommendations. You'll be sure to find something to play that's both fun and educational. 
---
Zac Pricener has been a content creator for the past eight years. He's a bit of an all-around nerd, and he has a bad habit of working movie and TV show references into conversations whenever possible.