Play Scrabble
We'll start things off with the premier online Scrabble experience. What makes it "premier"? Well, it's the only official Scrabble website. Licensed by Hasbro, Play Scrabble is a dedicated Scrabble playing online environment. It's completely free to join and use. You can even play using seven different languages. Play Scrabble makes playing in any part of the world at any time a breeze.
Play Scrabble also provides some other fun and useful features. You can play single games or tournaments (against friends, strangers or the computer), join the community forums, read news articles and more. Hasbro's goal is for Play Scrabble to be your all-in-one Scrabble destination.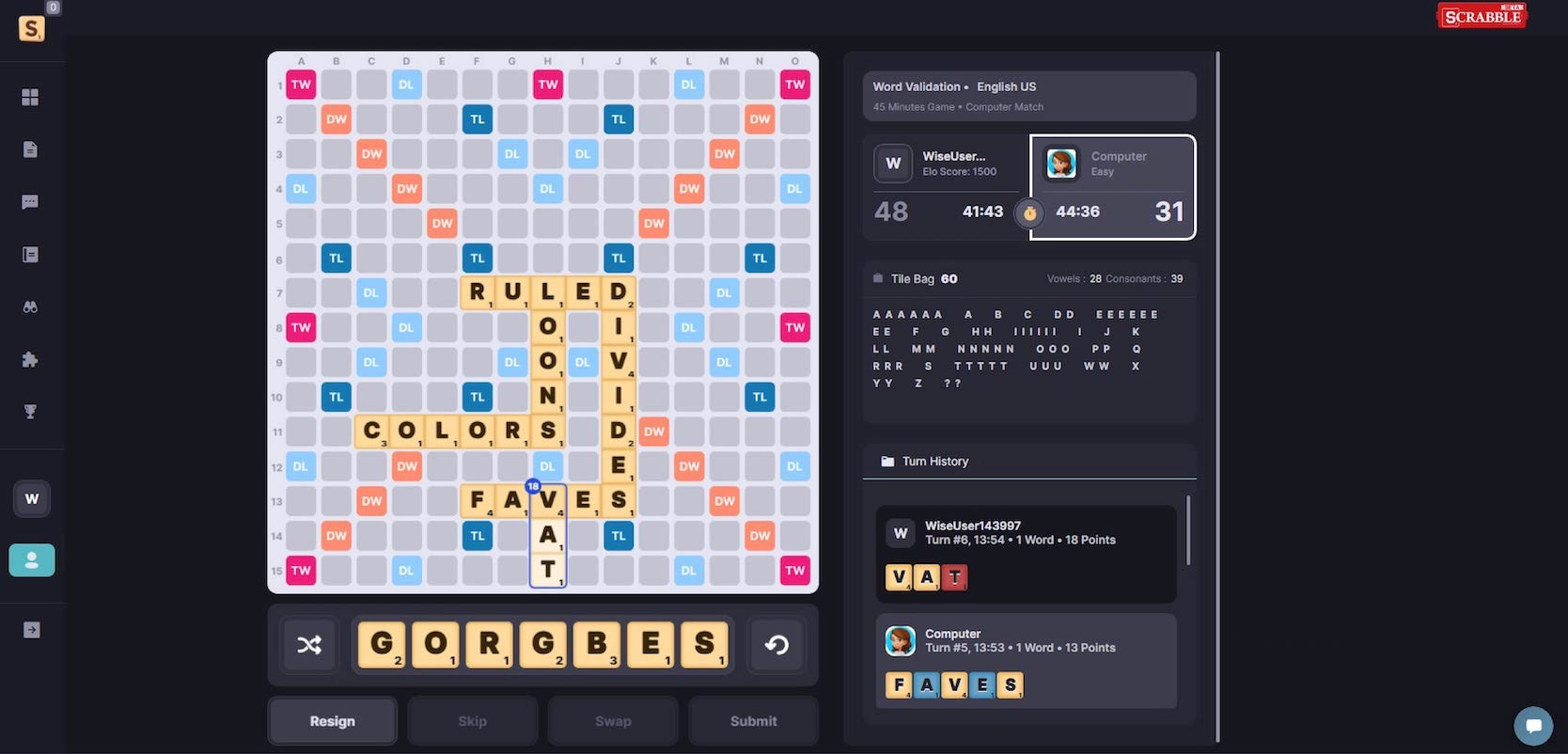 play scrabble desktop game
Internet Scrabble Club
If you're after a more traditional Scrabble game online, the appropriately named Internet Scrabble Club is a sound option. There are no bells and whistles here, and the site design boasts a decidedly retro vibe. This is a community of purists who simply want to play Scrabble online. Player ratings help you find opponents of similar skill levels and the chat function adds a social element. Read up on our guide to the Internet Scrabble Club for more information.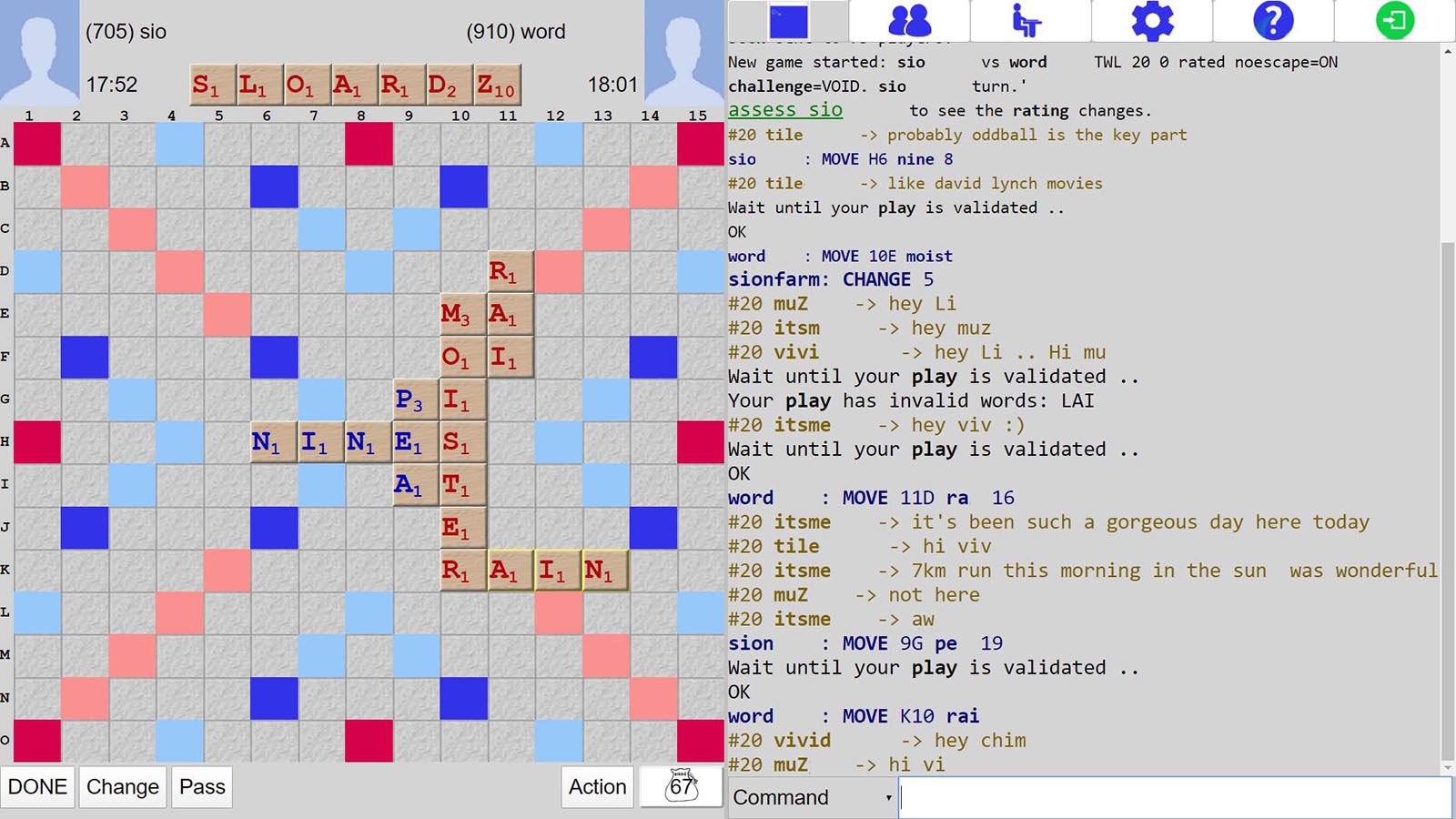 internet scrabble club screenshot
Lexulous
Previously called Scrabulous, Lexulous is a well-known Scrabble clone with a robust web experience. You will need to sign up for a free account, either using an email address or logging in with Facebook. Once you do, you'll be able to play Scrabble online with friends and other players from all around the world.
Choose between playing a "live" game in real-time or enjoying the turn-based email version for asynchronous play. There's also the option to play against a computer-controlled opponent. While Lexulous uses a standard Scrabble board, each player has eight letters in their rack instead of the usual seven. You also have the option to play SUPER Lexulous on a bigger 21 x 21 board, just like Super Scrabble. Of course, regardless of how big the board is, the rules are the same. That means our WordFinder solver tool can help you the same as well.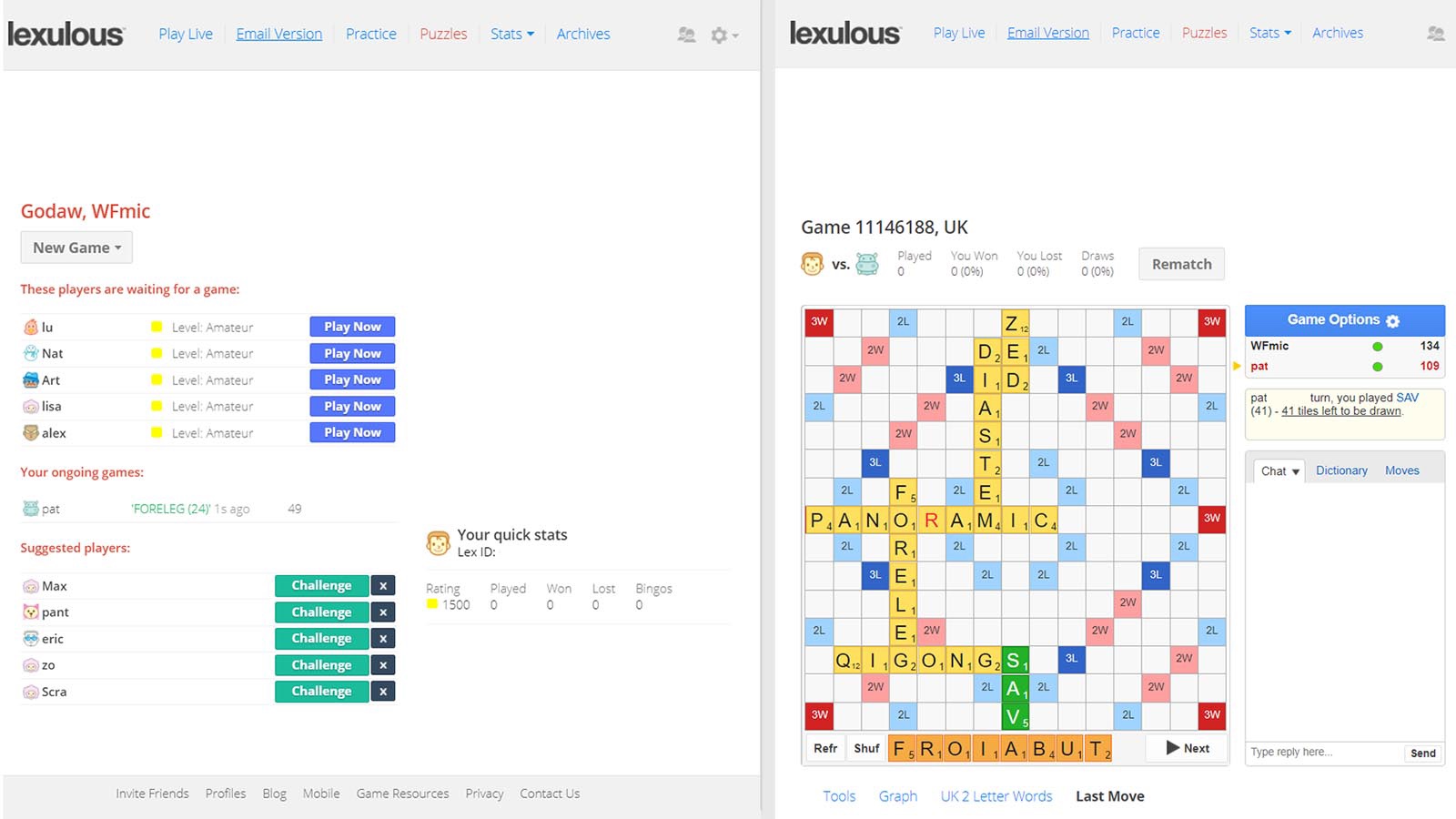 Screenshot of Lexulous game
Points4words.io
Level up your game and complete daily quests on points4words.io. With the core game, you can play Scrabble online against a friend, a randomly matched opponent, or a bot. The 11 x 11 game board is smaller than the standard 15 x 15 Scrabble board. It's similar to the smaller board in the Words With Friends Solo Challenge, making for a faster-paced game. As you play, hover over words to get their definitions.
In addition to the traditional one-on-one Scrabble game, there's also a points4words party mode where you can invite three friends to start a four-player online Scrabble game. As you continue to play more games (and win), you gain XP (experience points) and level up your profile. Daily quests, like playing three nouns, provide an added challenge. Sign in with your Google account to save your progress.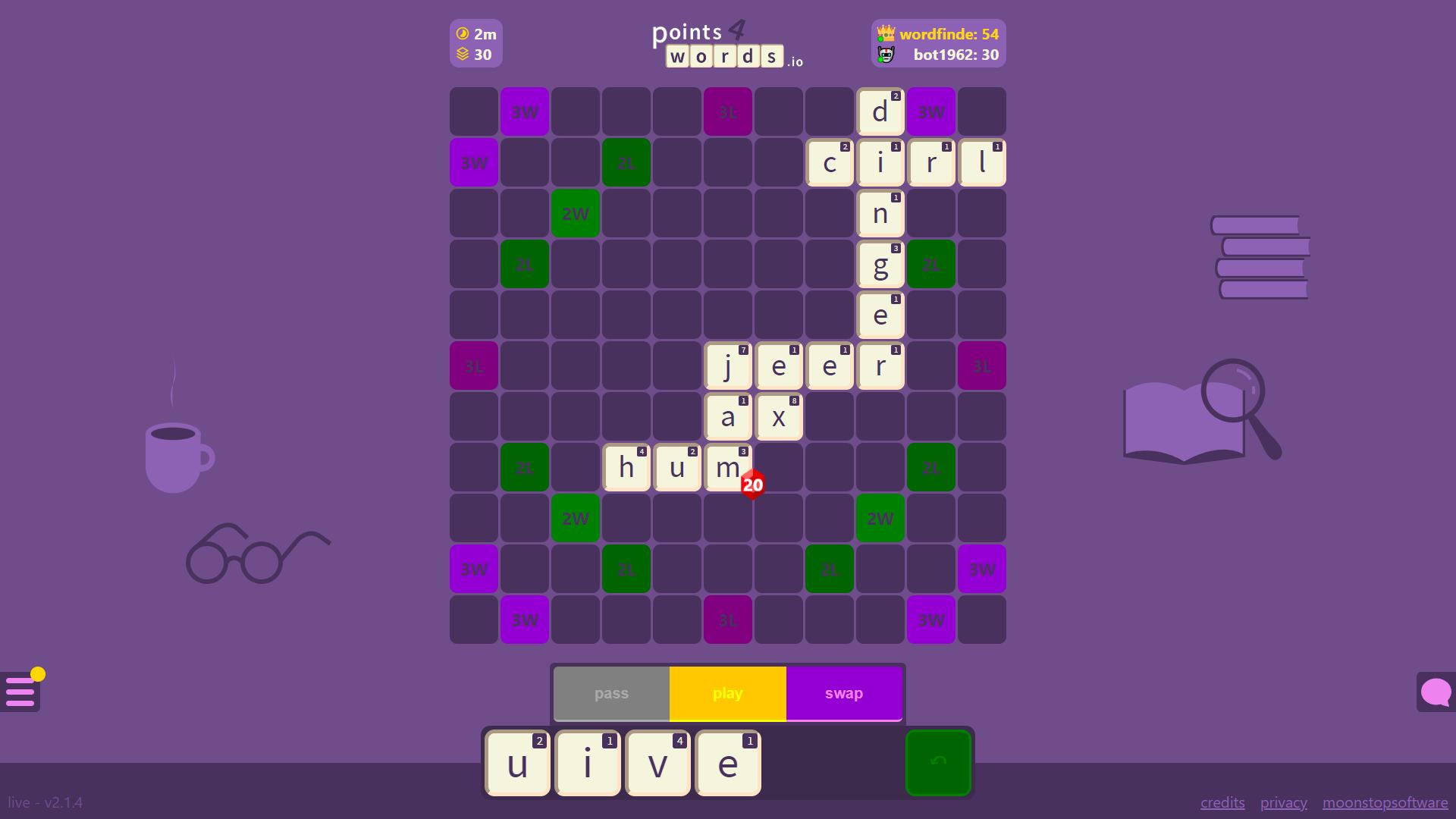 Screenshot of points4words.io online game
The Pixie Pit
The good news is that you can play not only 2-player online Scrabble, but The Pixie Pit also supports 3-player and 4-player Scrabble games too. The site boasts separate "rooms" for these different configurations. The bad news is that you need to pay a $15 annual subscription to play. If you want to try the site before committing, The Pixie Pit also offers free trial game rooms. The online Scrabble here is designed for asynchronous play, so you'll get email notifications when it's your turn.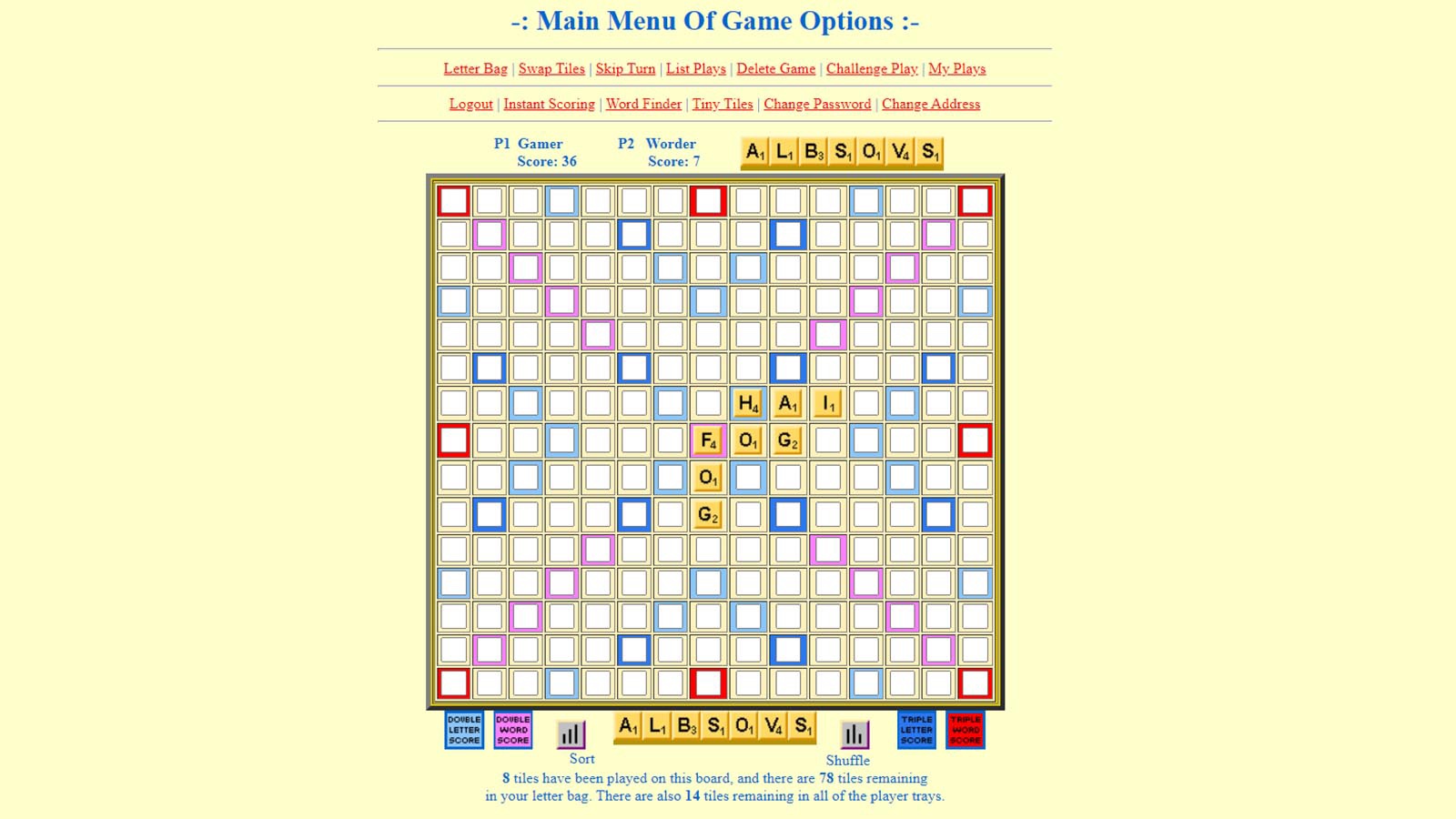 Screenshot of Pixie Pit game
Pogo Scrabble
You can play Scrabble on Pogo for free; you just need to sign up for a free Pogo account, which is the same as an EA account. Free play is ad-supported. You can remove ads with a Club Pogo paid subscription, which runs $6.99 per month, $14.99 for three months or $39.99 per year. The paid subscription also unlocks ranked matches sanctioned by the National Scrabble Association (NSA).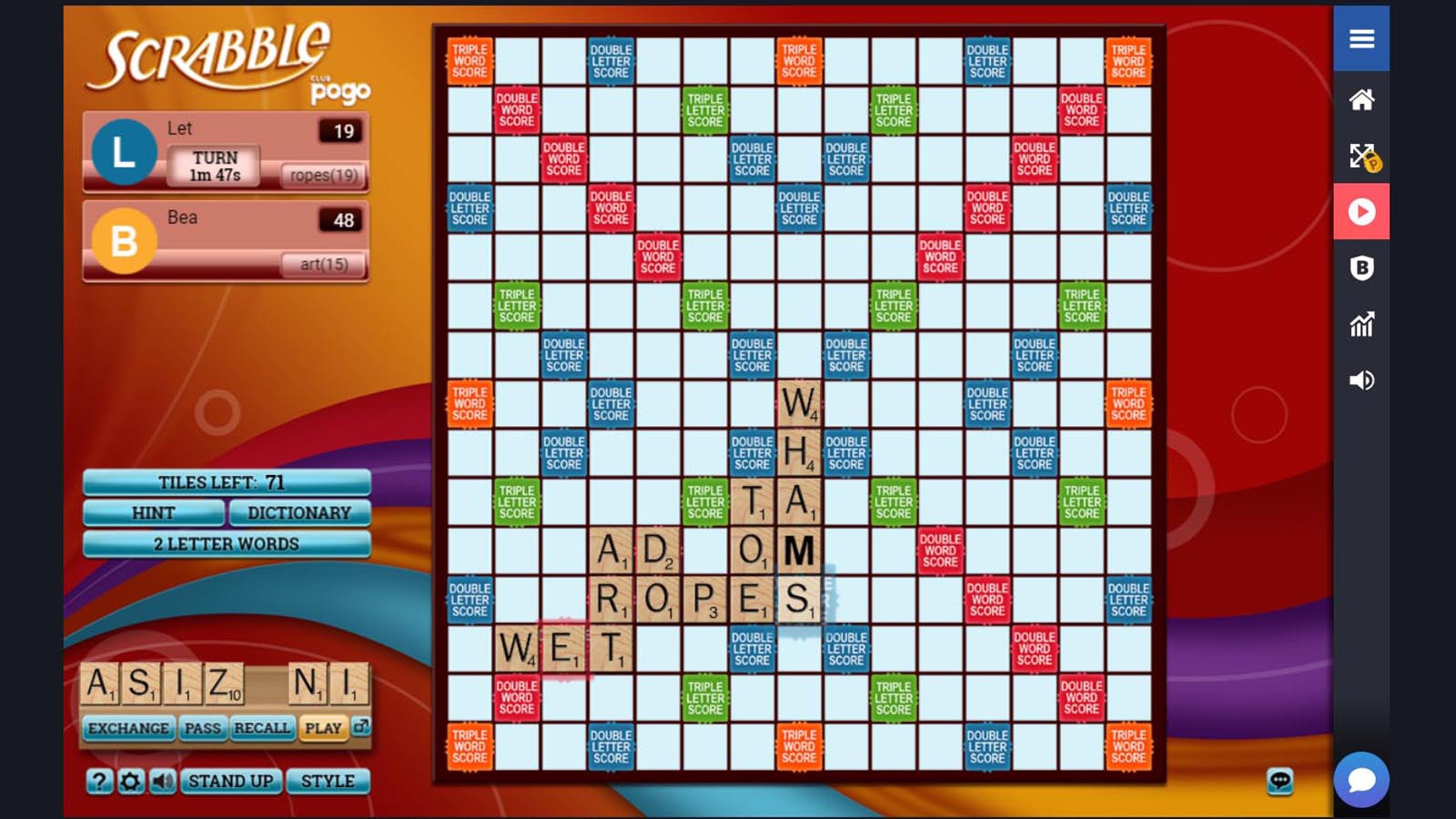 Screenshot of Pogo Scrabble game
Rackword
Another option for live Scrabble online with friends is Rackword. While it is easiest if you sign up for an account, you can use a guest account if you'd like. What's great is that you can invite friends via email (and they can use a free guest account too). Set the time per turn for as short as 30 seconds or as long as two minutes.
The Rackword game board is slightly larger than the standard Scrabble layout at 17 x 17 squares. You also earn additional points when playing four or more tiles, not just when you use seven tiles for a bingo bonus. Play in English or French, and choose between nine color schemes.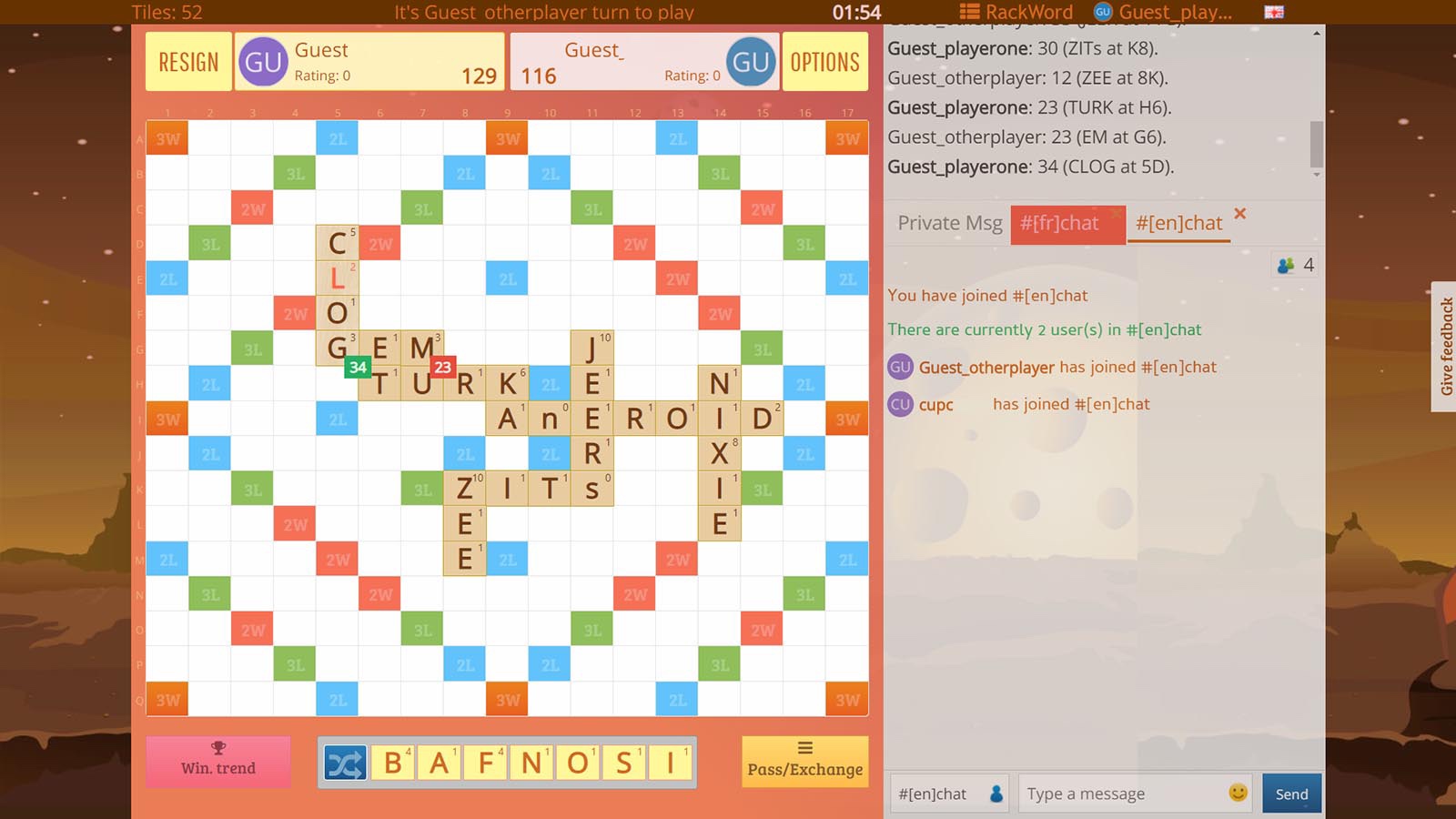 Screenshot of Rackword game
Woogles (OMGWords)
Woogles is a website built by a group of passionate Scrabble and word game fans for word game fans. It operates similarly to Internet Scrabble Club in that it offers a pure and simple way to play Scrabble online with friends and rivals. For the sake of legal distinction, its game is called OMGWords.
The Woogles website also places heavy importance on letting players connect and interact with each other. There is a dedicated chat room that everyone can use, plus leaderboards and rankings to help encourage friendly competition. And Woogles is free to use too, though it does accept donations to help keep it running.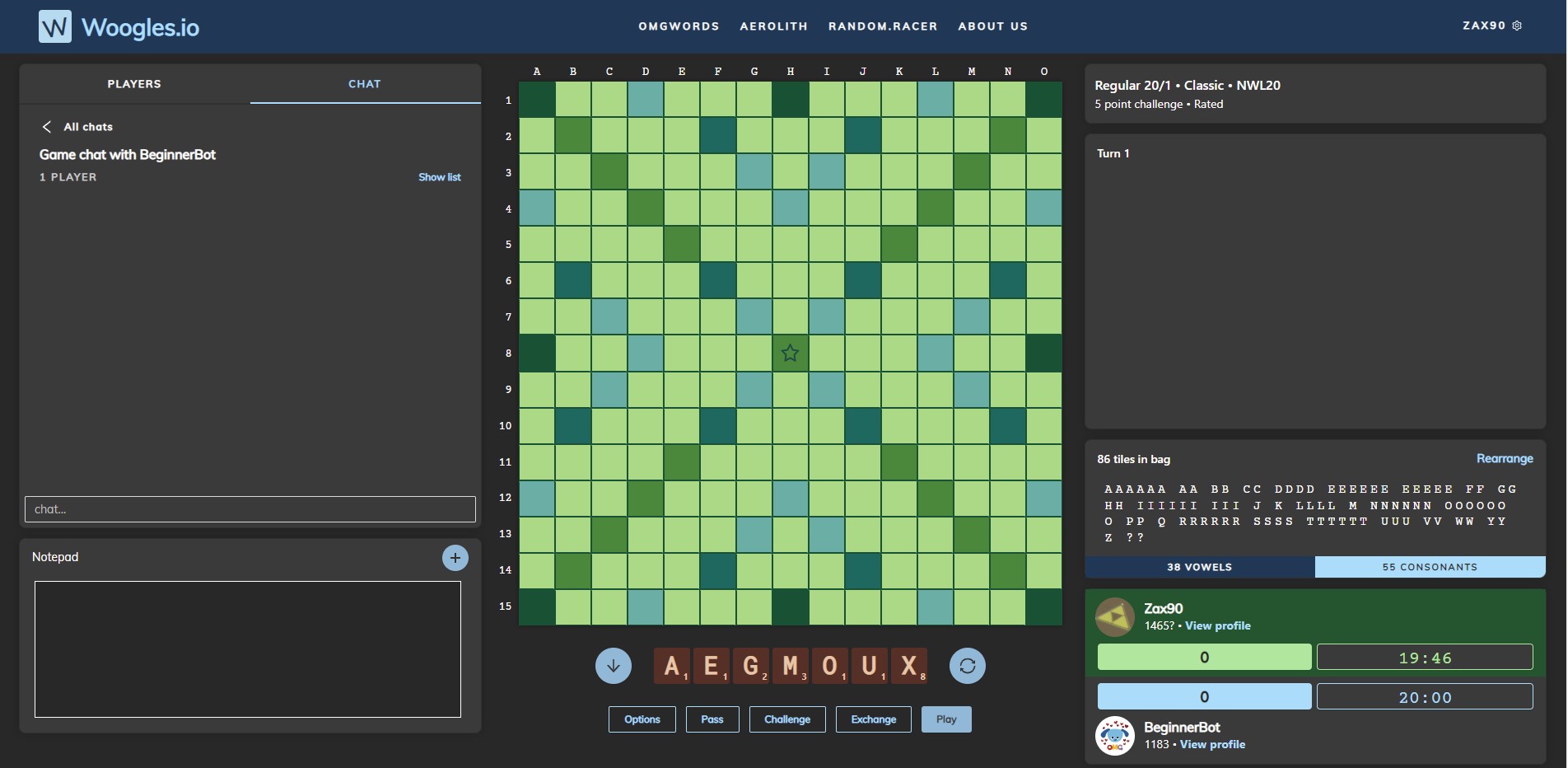 Woggles desktop game
Scrabble GO (Facebook)
The official Scrabble app on mobile devices is Scrabble GO. You can also play Scrabble GO on Facebook. The experience is practically identical, including layout and design. If you've read our ultimate overview of Scrabble GO, you'll already know about the colorful graphics, flashy animations and potential sensory overload. If that's your jam, then playing Scrabble GO on Facebook is quick, convenient and free. It's easy to find friends to challenge too!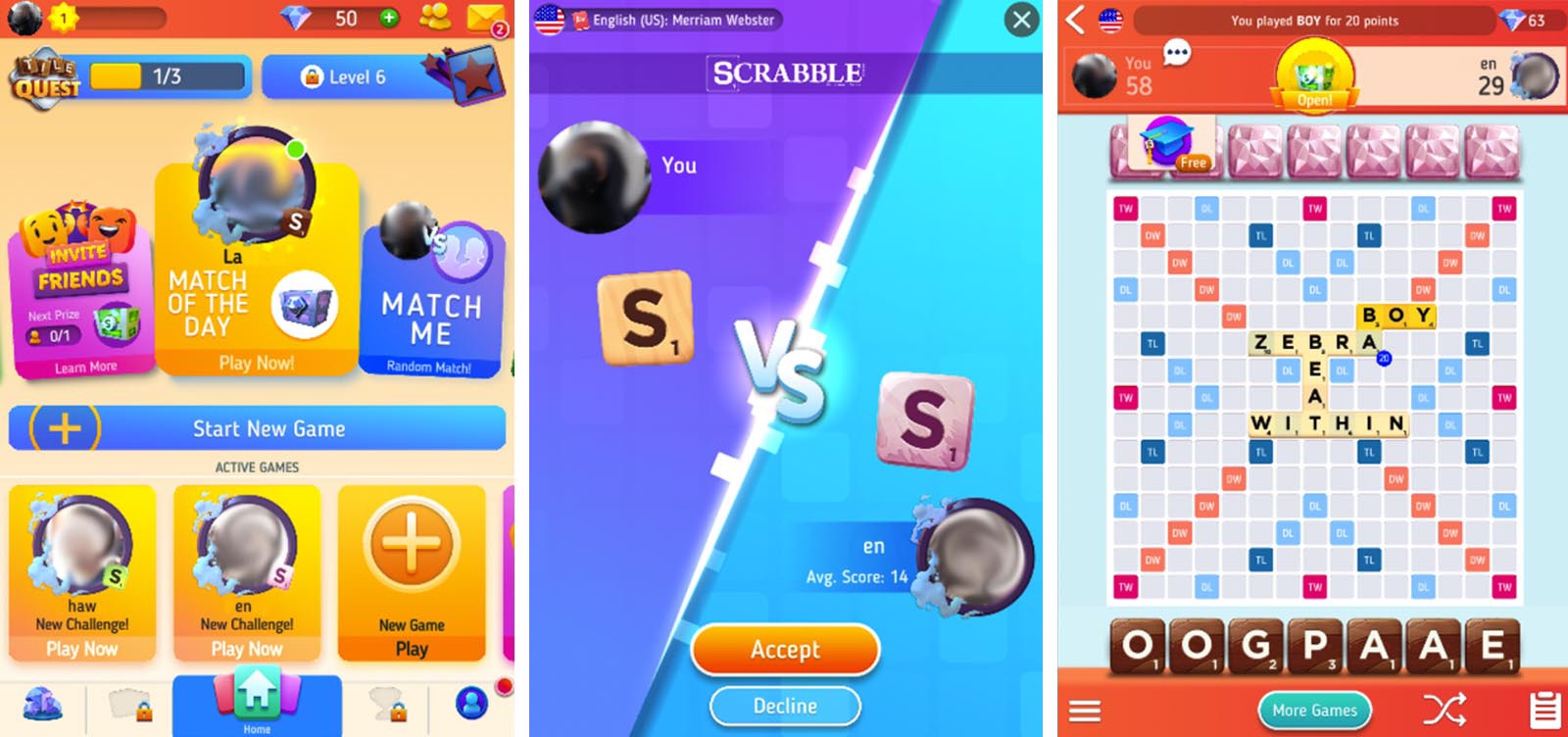 Screenshot of Scrabble Go game on Facebook
Word Chums (Facebook)
Just as the Scrabble GO mobile app is also available as a Facebook app, the same is true with Word Chums on Facebook too. The core gameplay here is the same as a traditional Scrabble game, but you get cute cartoon characters and more of a "fun" art style. Since it's on Facebook, you'll be able to find and challenge your Facebook friends with ease. And don't forget to leverage our Word Chums cheat to get a leg up on the competition too.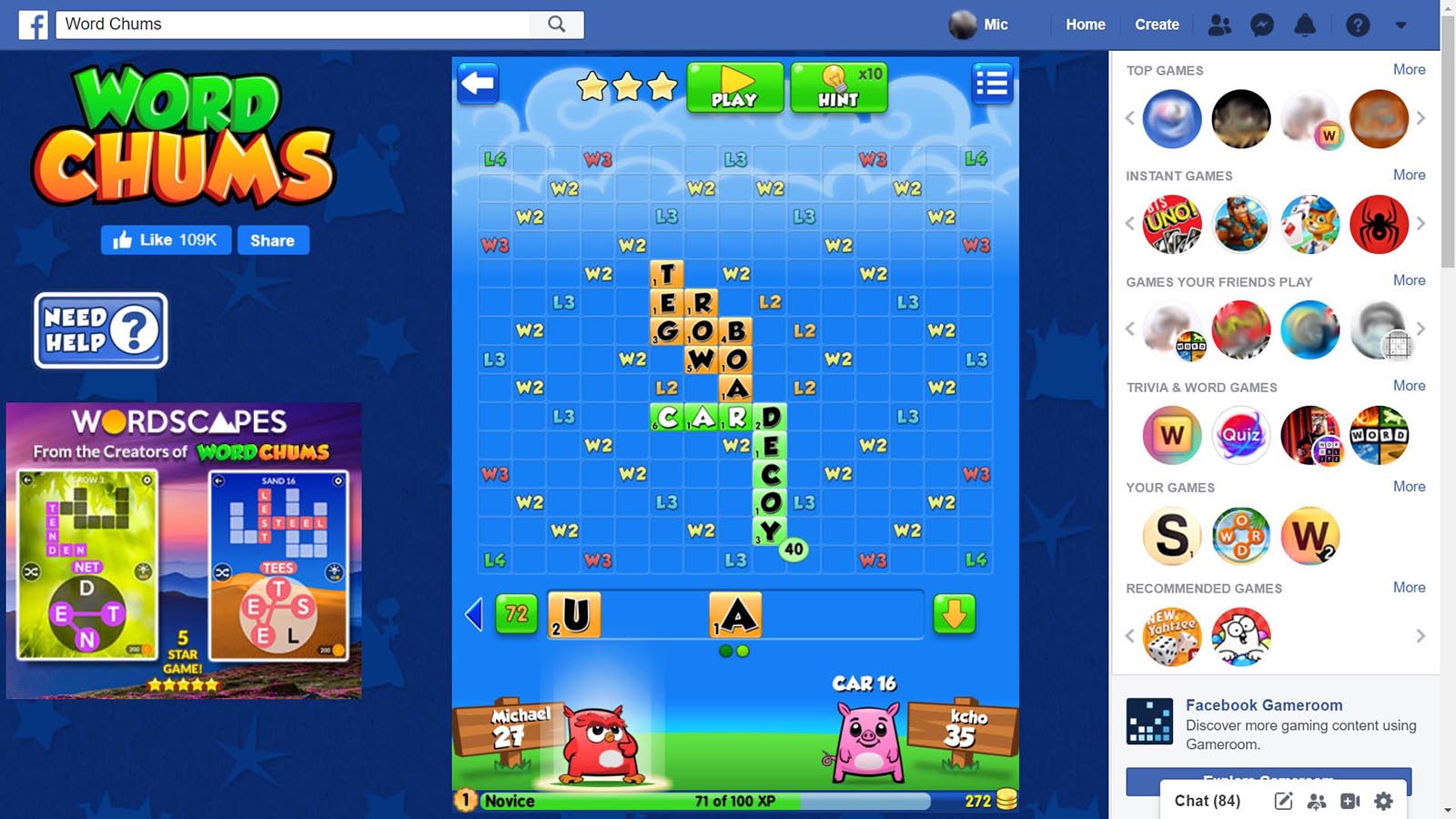 Screenshot of Word Chums game
Words With Friends (Facebook)
Last but most certainly not least is the best-known "Scrabble clone" of them all: Words With Friends. Again, while you can definitely play on your mobile device of choice with the official app, many people choose to play Words With Friends on a computer instead. The easiest way to do that is via the Words With Friends Facebook app. It plays just like the mobile game, including features like the Solo Challenge, rewards, and leaderboards.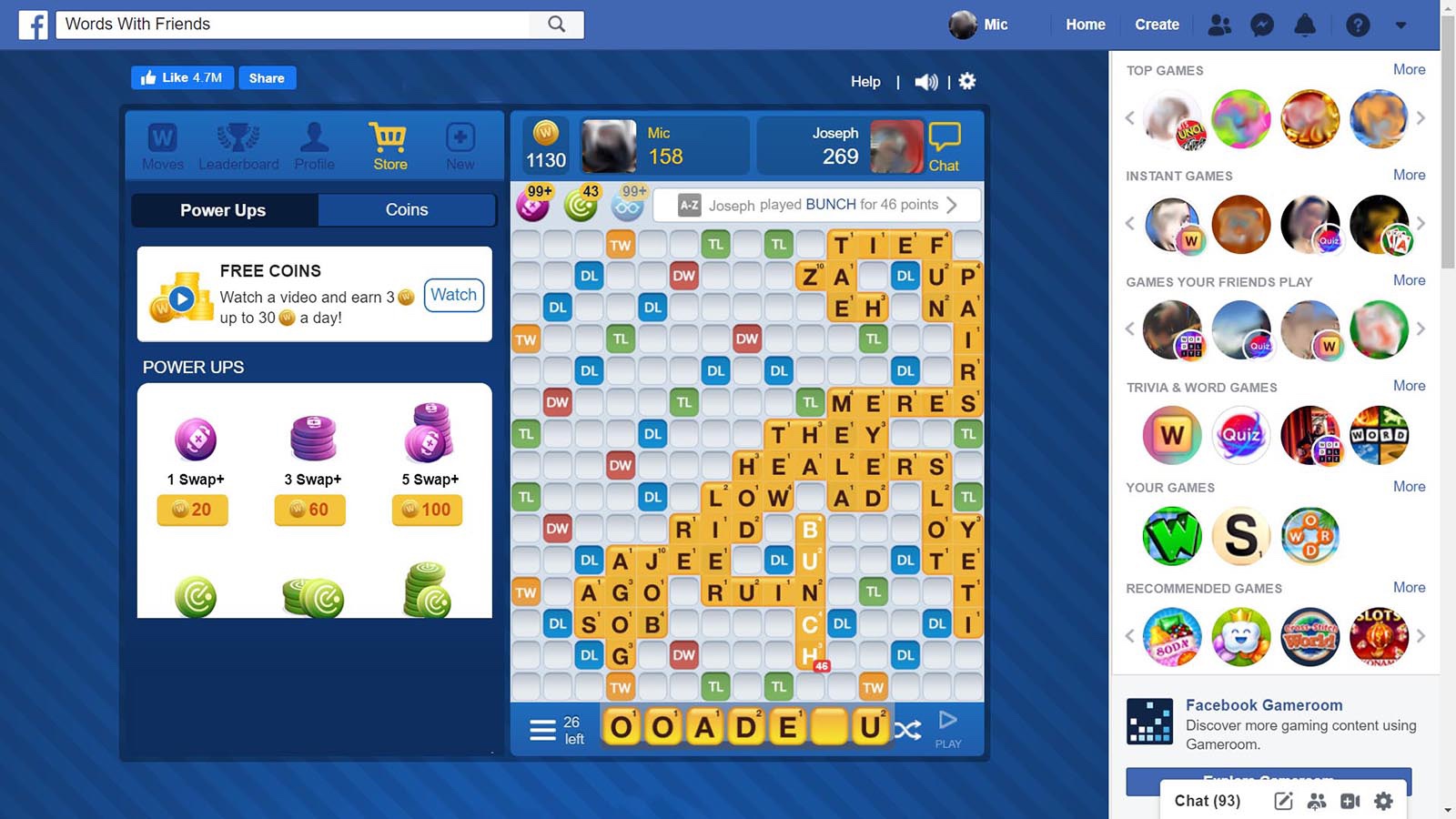 Screenshot of Words With Friends on Facebook
Play Single Player Scrabble Online Too
When you can't or don't want to play in person, you've still got lots of options for online Scrabble with friends. Better still, these games will typically verify every word to ensure they're playable. That way, no one can play an unplayable word! Want to practice on your own? Take a look at where you can play single-player Scrabble online for free. Build up those Scrabble skills and word lists!
---
Michael Kwan is a professional writer and editor with over 14 years of experience. Fueled by caffeine and WiFi, he's no stranger to word games and dad jokes.