The Multiplayer We've Been Waiting for
Since the beginning of Scrabble, one of the best things about the game has been its ability to accommodate up to four players. It's what allowed it to become a staple of family game nights all around the world. So, when the game came to our smart devices by way of Scopely's Scrabble GO app, many fans were surprised to discover that only a two-player mode was available.
Scrabble GO was created in response to Word With Friends, which is solely a two-player game. Many fans assumed that Scopely made and would keep Scrabble GO as a two-player game to match and compete with Words With Friends. That's why the inclusion of more multiplayer options comes as a very welcomed surprise.
If you're looking for online Scrabble games that support games with three or four players, Lexulous and The Pixie Pit are good options to consider too. Our Scrabble cheat will come in handy for any of these games.
Playing Scrabble GO With Three or Four Players
The most important thing you need to know about how to Scrabble GO with three or four players is that it's basically the same as playing with only two players. There are no unique rules for additional players, so you can jump right into the action without worrying about missing a step. It's the same Scrabble dictionary, the same core rules.
The only thing to consider, if you're someone who's only ever played two-player games, is that the game board is going to fill up with words much faster than you might be used to. This also means you'll have even more options for words to build off of, so you'll want to memorize as many words as you can to take advantage of every opportunity.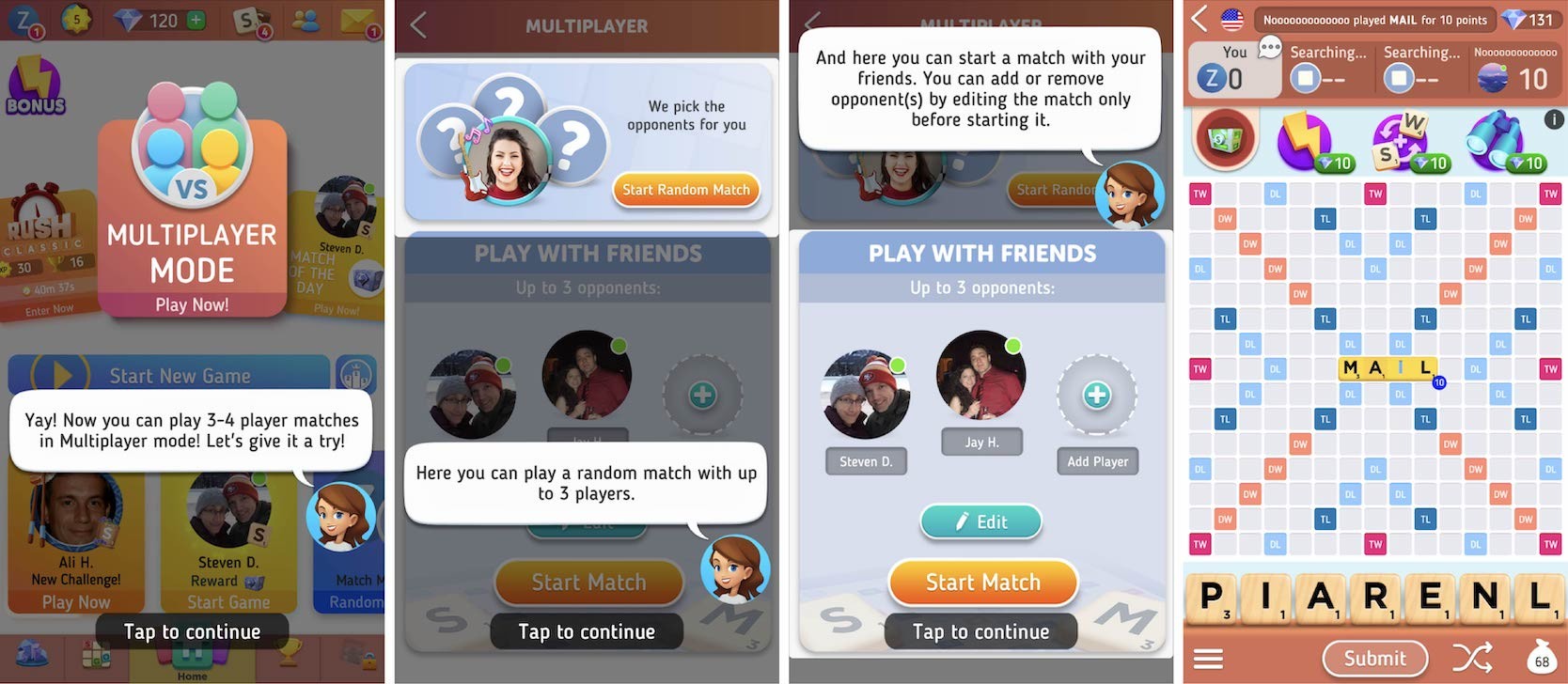 Scrabble Go mobile screenshots
The Features That Remain the Same
Everything you love about regular Scrabble GO matches is present in three- and four-player games too. Again, all this new Scrabble GO multiplayer mode does is add to the fun.
Using Boosts: As anyone who plays Scrabble GO should expect, you are free to use your Boosts, the game's power-ups, in the new multiplayer. This means items like Quick Word (randomly play one word from your rack) and Word Spy (reveal where to spell words on the board) can continue to help you win games.

Play with people you know: Playing with people on your friends list works the same way in multiplayer mode. Connect your Facebook account to your Scrabble GO account and send invitations to friends to join your game.

Play with random players: If no one you know is available to play, the app can connect you with up to three random opponents for a four-player game instead. Be aware that it might take some time for the app to find players to fill every spot in a multiplayer game.

Chat with players: Connecting with the other Scrabble GO players is easy with the chat function. Write any messages you want. Or, use the app's preselected responses and emojis. Sending greetings, farewells, congratulations and even the occasional smack talk is quick and easy.
Why Play Scrabble GO's New Multiplayer Mode?
If you're thinking about trying the new multiplayer mode in Scrabble GO and you're wondering about its benefits, there are a few big ones. While the core gameplay doesn't change, the extra players make for a unique experience and new game dynamic.
Meet more people at once: Playing with people you know is fun, but so is meeting new people who enjoy Scrabble. By playing the new multiplayer mode and selecting random opponents, you can meet and make even more friends at once.

Connect with friends and family: The main point of playing Scrabble is to have fun with other people. For many players, this means playing with their friends and family members. The ability to now play with more than just one other person is a huge benefit, particularly for people who don't live close to their families. Multiplayer mode in Scrabble GO provides a game that everyone can play together.

Play under greater pressure: Going back to how these games go faster than one-on-one games, that's where a lot of the fun comes from. Competing with more people for board space and high scores forces you to think faster, unscramble letters more quickly and anticipate more moves. Multiplayer mode in Scrabble GO provides a more intense challenge than the regular versus mode can offer.
Answers to Your Scrabble GO Questions
The new multiplayer mode is a great bonus for Scrabble GO fans everywhere. Though, if you haven't played Scrabble GO yet and are doing a bit of research to see if you'd be interested, the details about this mode won't tell you everything you need to know. For that, you'll want to read our Scrabble GO overview. This guide will help you learn every important detail about Scrabble's official entry into the mobile gaming world.
---
Zac Pricener has been a content creator for the past eight years. He's a bit of an all-around nerd, and he has a bad habit of working movie and TV show references into conversations whenever possible.