Getting Started With Scrabble GO
Scrabble GO is the official Scrabble app for mobile devices and the game's answer to Words With Friends. Download it from the Google Play Store for Android devices or from the Apple App Store for iPhone and iPad. So, first of all, you'll need to download and install the game on your phone or tablet.
How to Play With Friends
When you start the app on your phone or tablet for the first time, it will present the option to connect your Facebook account. This is the main way that you'll be able to play with friends in Scrabble GO. 
If you're content with single-player games and playing with strangers, you can choose the "Play as Guest" option instead. Even with this option, you can still search for friends by name or user ID.
Main Menu Navigation
The main home screen for Scrabble GO can feel overwhelming at first. There are many icons and menu items, most of which you can tap to access something. It can be broken down into five main sections.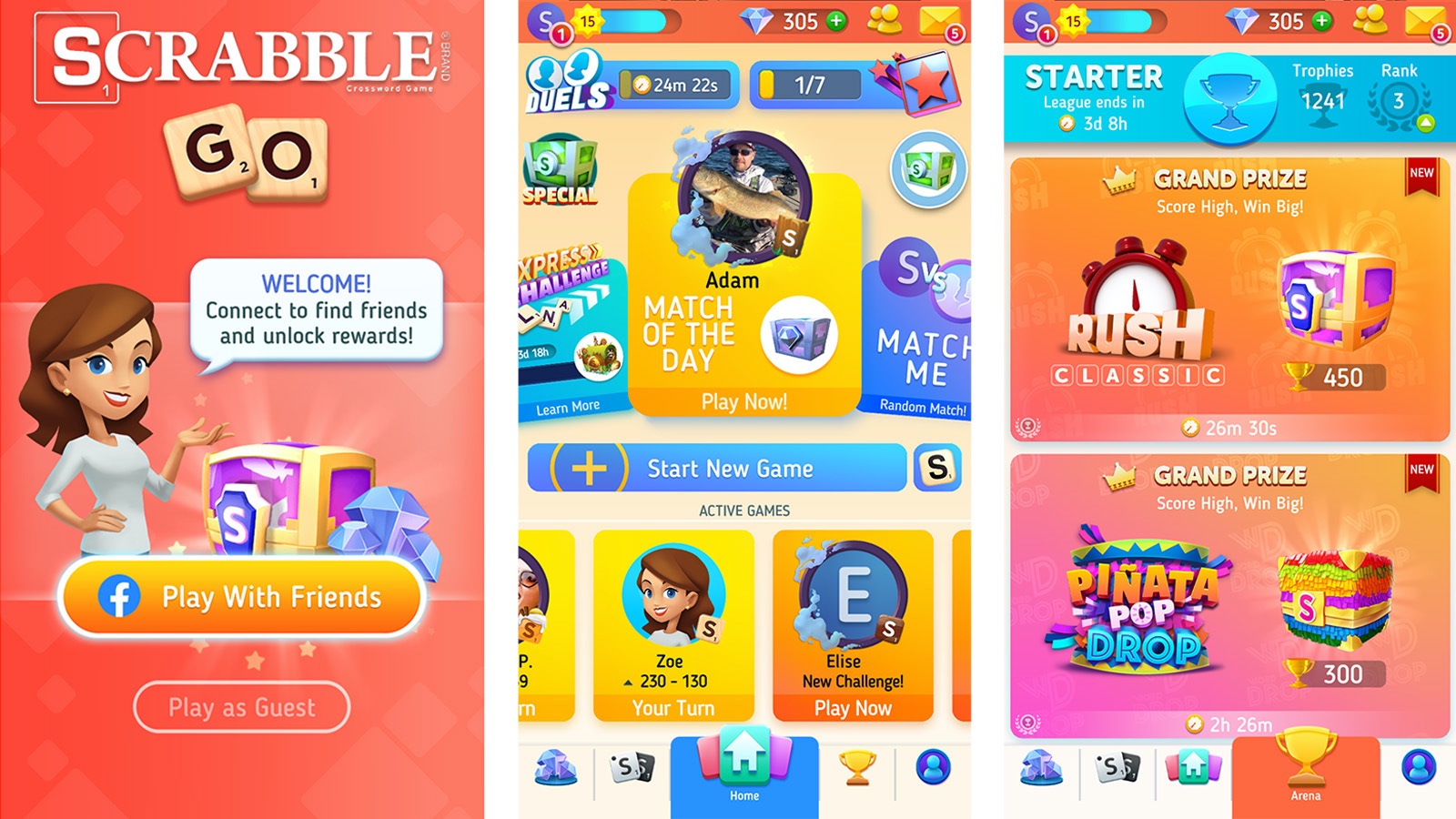 Screenshot of Scrabble Go Navigation
Upper Menu Items
Near the top of the screen, you'll find mostly status-related items. The three most important items are:
Profile: Indicated either by your profile picture or by the first letter of your name, the profile button is in the upper-left corner. The number and meter next to it represent your current experience (XP) level.

Gems: Shaped like a diamond, a gem is the in-game currency. You can use it to buy boosts and other in-game items. 

Inbox: Represented by an envelope, the inbox is where you'll find rewards you've earned. You must go here to accept them.
Main Carousel
The main carousel features most prominently just above the middle of the screen. Scroll between the different options and items by swiping to the left or right. The order can vary and may include:
Play Now: Find invitations to play against specific opponents.

Match Me: Start a game against a random opponent.

Special Events: Participate in time-limited events to earn prizes and bonuses.
Start New Game
This narrow bar across the center of the main home screen provides more options for starting a new game. You can:
Search for a friend by their name or user ID

Find friends when you connect social networks

Find opponents based on suggestions

Match up against an opponent the game picks on your behalf

Start a single player game against the computer

Play Scrabble Classic without boosts

Find friends from your phone's contact list
Active Games
Just like how you can swipe to the left or the right in the main carousel, you can do the same with your active games. 
Typically, the games where it is your turn are listed first (in yellow), followed by potential matchups (in orange), and then games where it is your opponent's turn (in blue). After that, you'll find such options as viewing your match history, connecting with friends, or starting new games.
Lower Navigation Buttons
At the bottom of the main home screen are five navigation buttons. From left to right, they are:
Shop: Where you can buy or redeem gems for in-game items

Tiles: Custom and premium letter tiles, including unlocking progress

Home: Main home screen with the features described above

Arena: Special events and upcoming tournaments

News: Leaderboards and other updates
Basic Scrabble GO Gameplay Instructions
Everything that you may already know about how to win a Scrabble game also applies to playing Scrabble GO. The core game mechanic is the same, with the exception of available "boosts" that function as helpers or hints.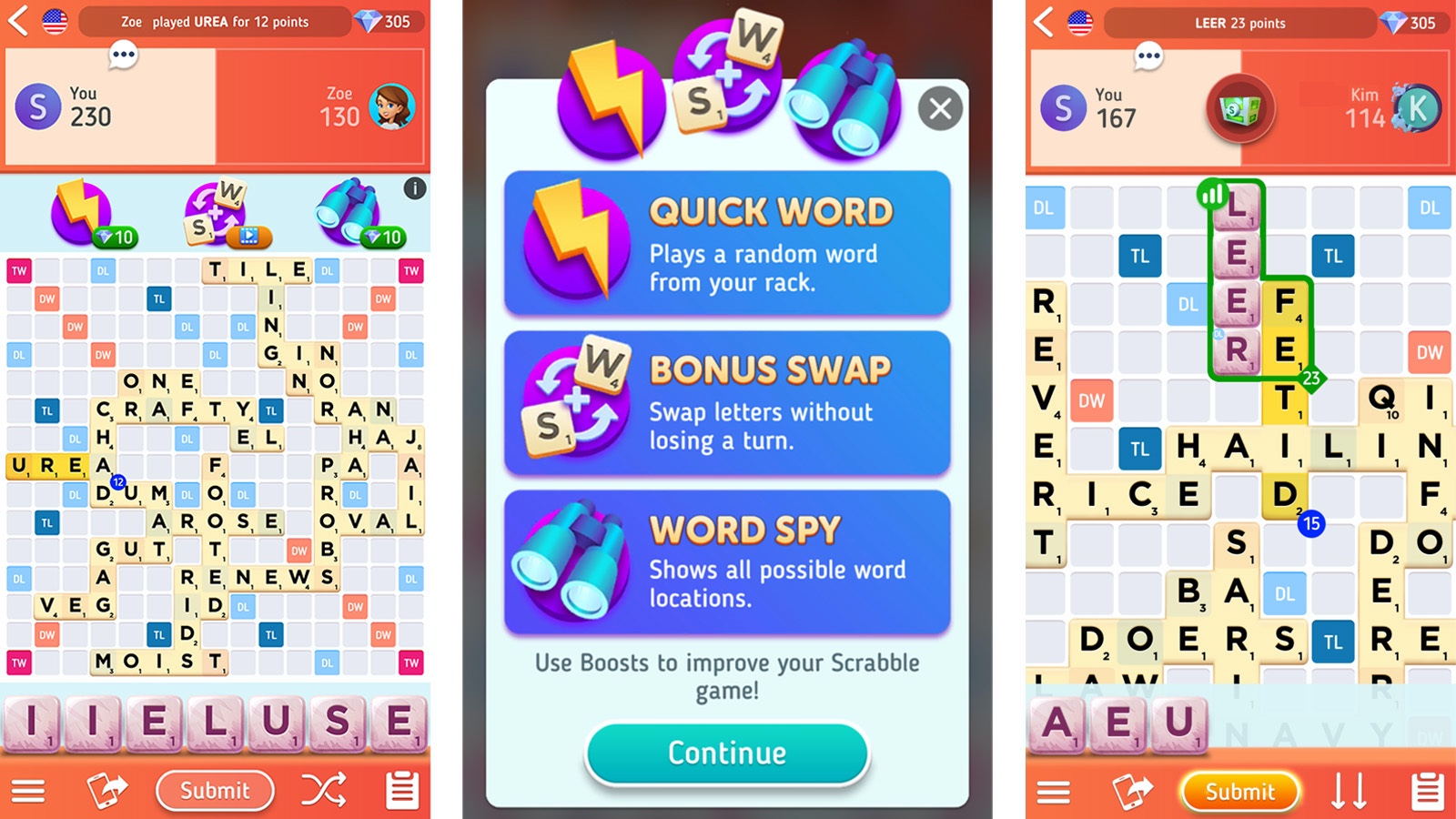 Screenshot Scrabble Go Instructions
Scrabble Letter Tiles
Scrabble GO uses the same 100 letter tile set as the original Scrabble game. The Scrabble letter values for individual letters are also the same. Letters like E and S are still worth 1 point, Q and Z are worth 10 points each, and so on.
Each player starts with 7 letter tiles. Used letters are replaced with new tiles until they've all been used. You can also use a turn to swap unwanted tiles, but it means you will have to wait until your next turn to play a word.
Scrabble GO Scoring
The main objective of Scrabble GO is to form words using the letter tiles in your rack, along with the letters that have already been played on the game board. Players take turns. You form words in a single row or column. But, you also earn points for other words that are formed as a result of playing your single word. All other words must also be valid. 
As an example, let's say you play the word BAITS. 
BAITS is worth 7 points (B=3, A=1, I=1, T=1, S=1). 

If, in playing the word BAITS, you also form the word BE using an E that is already on the board, you earn an additional 4 points (B=3, E=1).

Your total for that one turn is 11 points (7 for BATS, 4 for BE). 
As a benchmark, an average of 30 points per turn is a great goal to set for yourself. 
One Scrabble rule you can use to your advantage is the "bingo" bonus. If you play all 7 tiles from your rack in a single turn, you earn a 50 point bonus. So, playing the word WELCOME nets you 14 points for the letters themselves, plus the 50 point bingo bonus, for a total of 64 points. 
Bonus Spaces
The very first turn in a game gets an automatic double word score. The first turn must use the center space. If you played BAITS as the first turn, it would be worth 14 points (7 x 2 = 10).
The Scrabble GO game board also features a number of bonus spaces:
DL: Double letter score

DW: Double word score

TL: Triple letter score

TW: Triple word score
You can stack these bonuses on top of one another for even more points. If the "B" in BAITS is on a DL space, and the S is on a DW space, for example, the score for that play would be calculated as:
B = 3 x 2 = 6

A = 1

I = 1

T = 1

S = 1

BAITS = 6 + 1 + 1 + 1 + 1 = 10

Double word score = 10 x 2 = 20 points
Boosts
Scrabble GO also offers a number of "boosts" you can use during your turn. 
Quick Word plays a random word from your rack.

Rack Swap lets you swap letters without losing a turn.

Word Spy shows all possible word locations.
How to Win Scrabble GO
Whereas you may challenge a word in a Scrabble board game, this is not a part of Scrabble GO. That's because the game automatically verifies that every word is valid. If you attempt to play a valid word, it will highlight in green. If the word is invalid, it'll show in red and you will be unable to submit your play.
Winning in Scrabble GO is a lot like winning in Scrabble itself. The player with the most points at the end of the game wins. Get a good handle on useful 2-letter words so you can score multiple words in a single turn. Using hooks and taking advantage of bonus squares are great ways to earn more points too. Strategy and board control play huge roles as well.
How to Play Duels
Beyond the main game mode in Scrabble GO, you'll also find Duels. While the main idea is the same -- form words using your letter tiles -- the dynamic is a bit different.
Each player only has five turns instead of playing until the letter bag runs out of tiles.

Each turn has a 40-second time limit.

You play on a smaller 11 x 11 game board.

You earn prizes based on cumulative wins over a given period of time.
This is a much shorter and faster-paced version of the game that you play in real-time with your opponent.
Ready to GO Play? 
In many ways, Scrabble GO is still the old-fashioned Scrabble game you've always known and love. In other ways, it introduces additional modes, options and features that depart from the original. If you're still unsure, have a look at WordFinder's comparison between Scrabble GO and Words With Friends. The article highlights some key differences between these two popular word games. Now, get out there and have fun!  
---
Michael Kwan is a professional writer and editor with over 14 years of experience. Fueled by caffeine and WiFi, he's no stranger to word games and dad jokes.