Spelling Out the NYT Spelling Bee's Basics
The New York Times Spelling Bee is a daily, single-player word game that challenges you to find as many different words as you can from a limited set of letters. It arranges the letters in seven hexagons to create a single larger hexagon (like a honeycomb).
Given its core design and player objective, it's easy to see how the NYT Spelling Bee word game is similar to classic Boggle. Both games put your anagram-solving skills to the test. The major difference is that Spelling Bee is a more relaxing and meditative game, with no time limit or competing players, while Boggle is usually the opposite. You can also reuse letters in Spelling Bee.  
How to Play the NYTimes Spelling Bee Game
Similar to other popular word games like Wordle and Wordscapes, the NYTimes Spelling Bee takes almost no effort to learn. The game's actual complexity depends on how many words you know and how creative you are at unscrambling letters.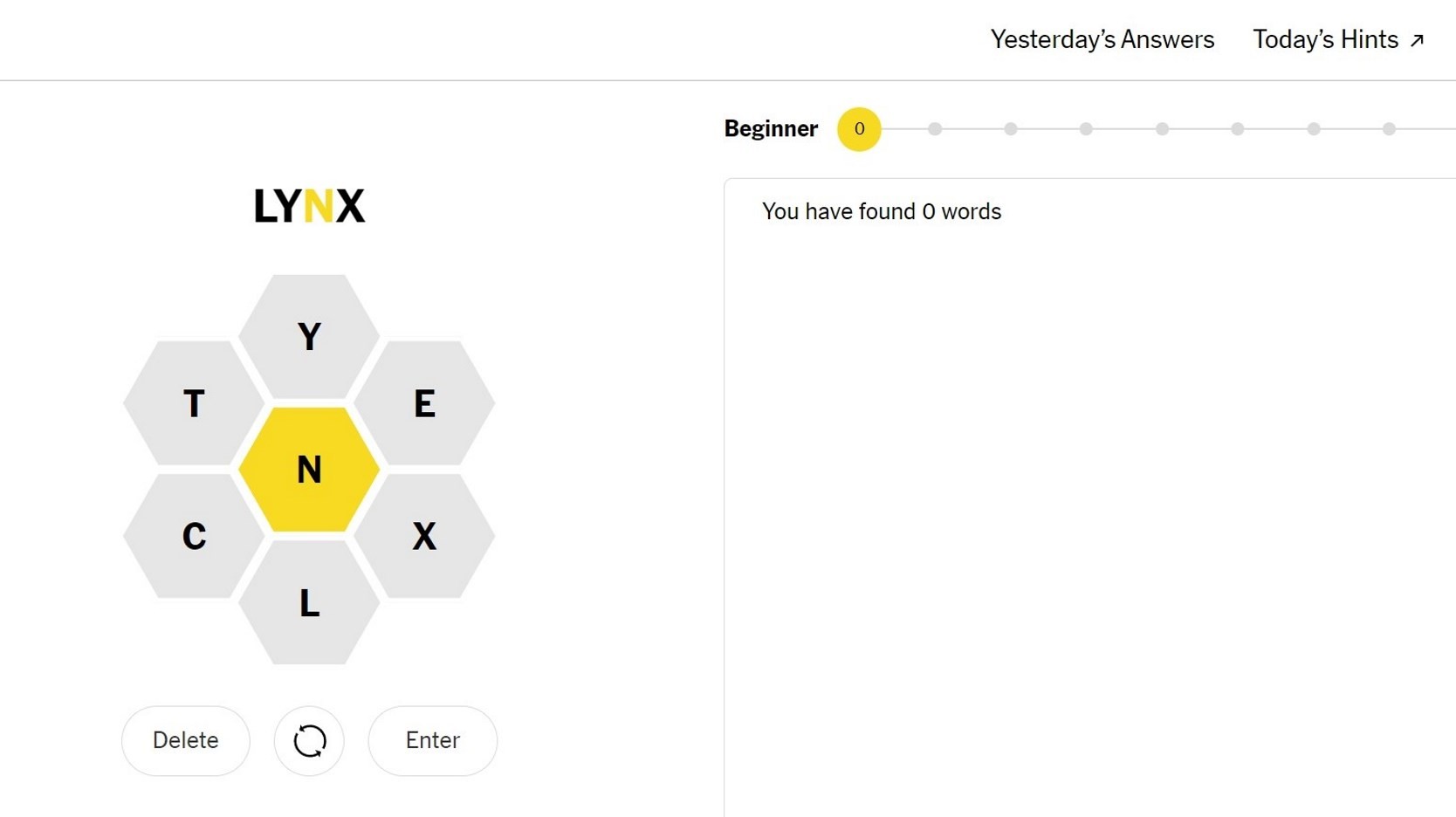 NYT Spelling Bee game screenshot
Tap on or type letters to spell valid words.

Every word must include the center letter at least once.

Pick whichever letters you want in any order.

Use any letter as many times as you like.

The words you spell must be at least four letters long.
There is theoretically no maximum word length, so if you can find 13-letter words, you absolutely should.
Where to Play Spelling Bee
Play the NYTimes Spelling Bee on The New York Times website or via the New York Times Crossword mobile app for iOS and Android. You can try the game for free, but you'll need a paid NYT Games subscription to play it fully. A subscription costs $1.50 per week or $39.95 per year. The subscription includes access to more games like the NY Times Crossword, Mini crossword, NYT Letter Boxed, Sudoku and more.  
Scoring Big With NYT Spelling Bee Answers
The game goes for as long as you can come up with words. As you play, the game tallies up your score. You earn points for every valid word you spell. Four-letter words in the NYT Spelling Bee are worth one point, but the points increase significantly with larger words. For example, five-letter words jump to five points each.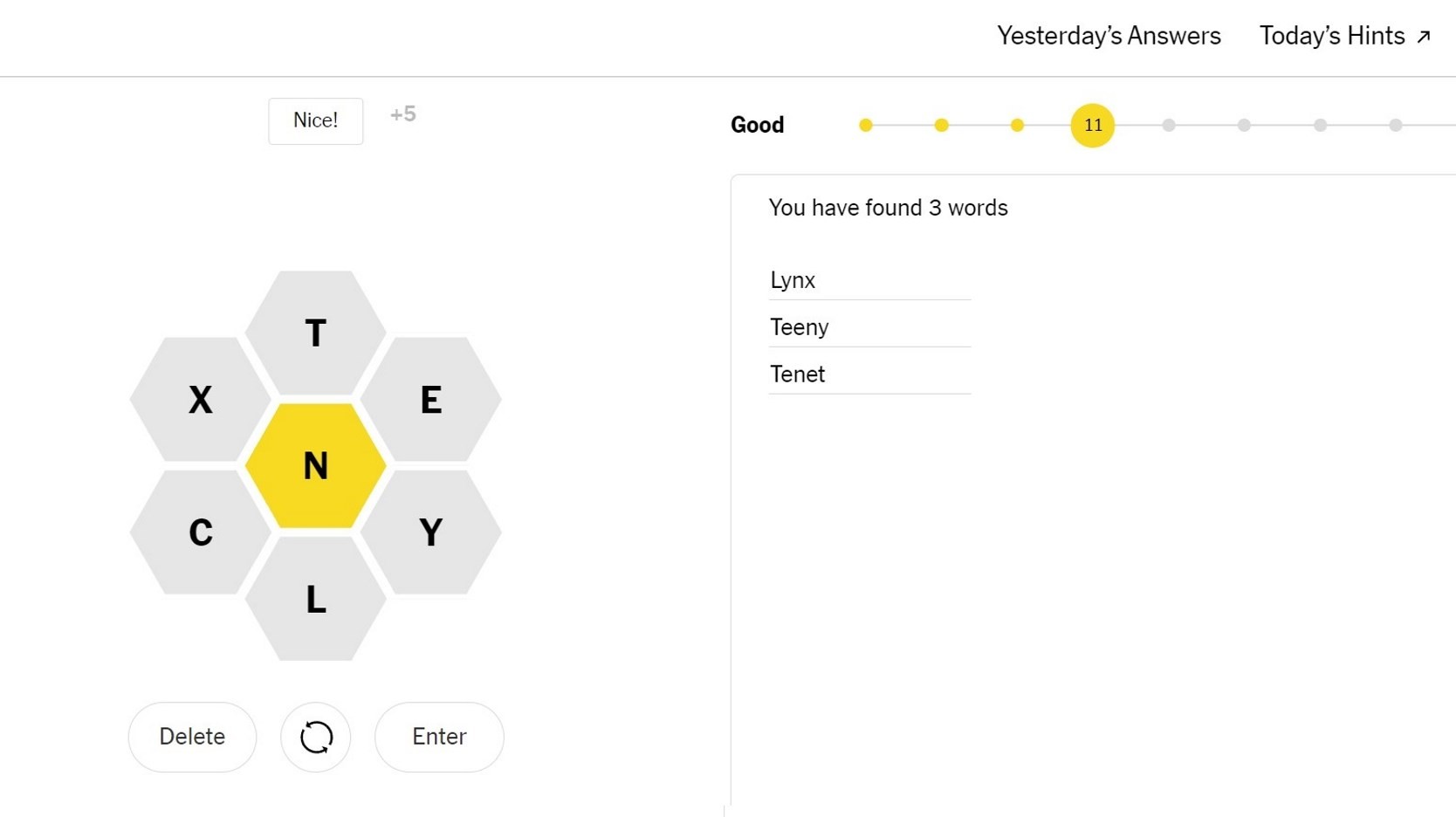 NYT Spelling Bee game screenshot
And, if you create what the game designates as a pangram, a word that uses all available letters, you earn 14 points. That's all seven letters at least once. The more you're able to string the letters together to create longer words, the higher your score will be.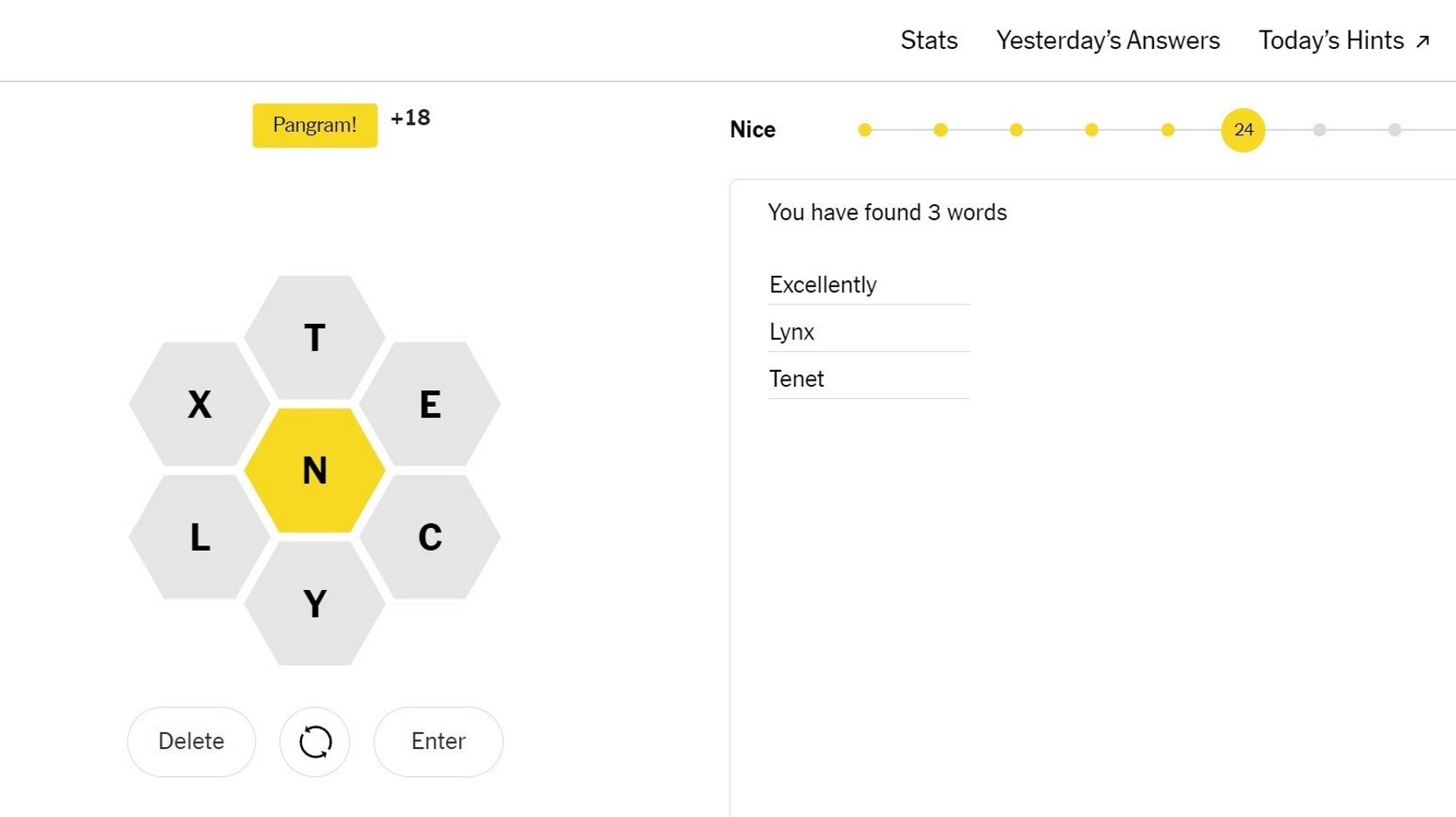 NYT Spelling Bee game screenshot
The New York Times Spelling Bee Ranking System
As your score goes up, the NYT Spelling Bee game boosts your self-esteem with designated benchmarks. It does this with a ranking system. You start each puzzle as Beginner. Your goal is to keep going until you achieve Genius level. From there, you can share your results on social media for everyone to see.
The NYT Spelling Bee even offers a secret achievement ranking for the most dedicated players: Queen Bee. To earn this rank, you must find every word in the day's word list.
Valuable NYT Spelling Bee Strategies
It takes careful thought, a good memory and an eye for anagrams to find most or all of the daily NYT Spelling Bee answers. Here are some tips and general advice to ensure your skills always lead to a brag-worthy score.
Rotate the letters: Like shuffling a Words With Friends letter rack, you can rotate the Spelling Bee's letters. If you're having trouble envisioning the letters in different positions, literally shifting them could help you see new words more clearly.

Duplicate the letters: Spelling Bee breaks the mold by allowing you to use letters multiple times. In fact, the game emphasizes doing this. While you play, do your best to make using a single letter several times into a habit. 

Find longer versions of shorter words: One of the best ways to find the longer words is to start by locating shorter ones. Since you're only trying to use them as a starting point, they can be shorter than the four-letter minimum you need for each answer. Then, if you can add -S or -ED to the end, for example, you've found some additional words.

Use WordFinder: Our word finder tool is a fantastic NYT Spelling Bee solver. Enter every letter you have into the search bar multiple times. Be sure to enter the center letter in the "contains" advanced search filter! Remember that all valid NYT Spelling Bee answers must include the center letter at least once.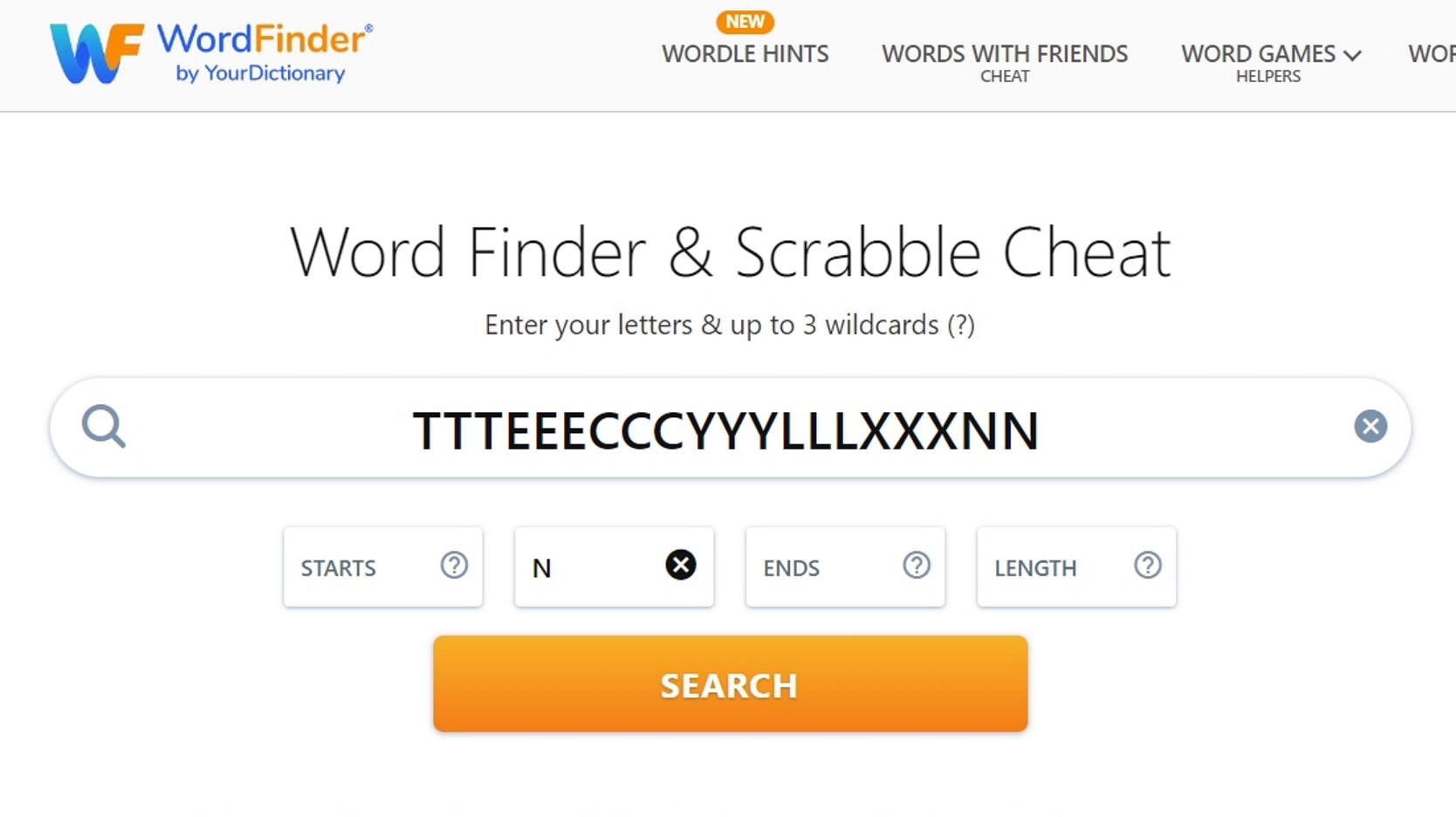 WordFinder by YourDictionary word finder tool
Who Made the NYT Spelling Bee?
The New York Times Spelling Bee was the result of two people wanting to provide a different type of word game to NYTimes subscribers. It was an idea that Will Shortz, a crossword editor for the NYTimes, proposed to co-worker Frank Longo. Initially, the idea for what would become the Spelling Bee stemmed from Polygon, a game in The Times of London newspaper.
Frank Longo refined the concept and developed the game, which the NYTimes initially published in February 2015 in the newspaper's print edition. Three years later on May 9, 2018, the NYTimes Spelling Bee made its way to the web.
The NYTimes Spelling Bee's Word List
Like most other word games, the New York Times Spelling Bee uses a carefully curated word list. The puzzle editors check each day's game to ensure that the potential answers strike a proper accessibility balance between casual players and true word lovers.
The desire to balance the word lists occasionally leads to some controversy, though. Certain words that players believe should be part of the day's list will be mysteriously absent. When this happens, a number of players inevitably resent their inability to play those words. (They even have a dedicated Twitter account for airing such complaints.)
But, as much as those players may want every word option to be valid, certain words simply won't be playable NYT Spelling Bee answers. Like Wordle, the NYTimes Spelling Bee tries to use a balance of words that everyone will know. As the game's editor Sam Ezersky explained, he uses a specific list of dictionaries and other reference materials to find the best words for the game: 
"I have a variety of online, up-to-date dictionaries at my disposal, including Merriam-Webster, New Oxford American and the Scrabble databases. … Another favorite resource of mine is Google's News tab, which allows me to check if a word in question has made regular appearances in recent articles, especially in major outlets like The Times."
Find Some Helpful Wordle Hints
Though the NYT Spelling Bee came first, it is now the accompanying game to the wildly popular Wordle, which the NYTimes purchased and added to its collection. Both word games are worthy titles for anyone's roster of daily puzzlers. You already know we can help you with Spelling Bee, but we have multiple ways to offer some Wordle help too. One example is our set of daily Wordle hints. We offer subtle clues for solving each day's Wordle puzzle. They are the perfect tools when you need a bit of help but still want to find the answer yourself. 
---
Zac Pricener has been a content creator for the past eight years. He's a bit of an all-around nerd, and he has a bad habit of working movie and TV show references into conversations whenever possible.