Possible Wordle Answers With Only Three Unique Letters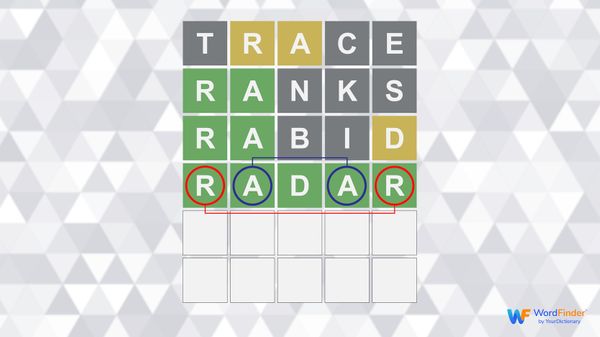 Adapted from Getty Images
Has a tricky Wordle answer ever caught you by surprise? We've all been there. We use our favorite tactics and starting words, find only one valid letter and wonder what's going on. When that happens, it typically means a word is using duplicate letters. What's really bad is that some words will use two sets of duplicates or even one letter three times. To brace for these dangerous Wordle double letters, take a moment to review our list of words you play in the game.
5-Letter Words With the Same Two Letters Twice
While they certainly don't make up a large portion of the thousands of five-letters words that comprise Wordle's full collection of puzzle answers, there are still plenty of words with double letters hidden in the game. These are the ones you'll want to watch out for. And remember, our Wordle solver is here when you need some extra help too.
As a bonus for the Scrabble and Words With Friends fans, we've included each word's scores for those games as well. You might be surprised to learn how valuable some of them are.
5-Letter Words With the Same Letter Three Times
Even when you play the best Wordle starting words, you can still be thrown for a loop. An equally challenging problem is when a Wordle answer uses three copies of a single letter. Right when you think you're safe because you deduced that a word has a duplicate letter, it tricks you again by having one more copy in there.
*"Mamma" is the only Wordle word that uses only two unique letters.
From Watching Wordle Words to Avoiding Them
While you don't exactly need to memorize all the Wordle words with duplicate letters, it's important to study them enough so you'll remember that they're in the game. Some words you do want to keep fresh in your head, however, are the ones that will do nothing but hinder your game. Check out our list of the worst Wordle words to find out which ones you should avoid using if you want to keep your win streak going.
---
Zac Pricener has been a content creator for the past eight years. He's a bit of an all-around nerd, and he has a bad habit of working movie and TV show references into conversations whenever possible.