The Word on Word Blitz
Word Blitz is a multiplayer word game. It's free to play, whether you download the app, access it on the web, or play it on social media. 
The premise is simple: Spell words. (Perhaps that's too simple.) What the Word Blitz game does is challenge you to unscramble and spell words by connecting letters set in adjoining squares. These squares all sit in a 4 x 4 grid. Go from one letter to an adjacent letter to combine them and create your game-winning words.
The basic gameplay is inspired by Boggle, the classic party word game. It shares that in common with many other Boggle-like games that are also enjoyable game-time options. 
How to Play the Word Blitz Game
There's not a lot of complexity to playing Word Blitz. That's the game's goal, honestly. It wants to be a game you can play right away. That said, it still helps to thoroughly understand the rules before diving in.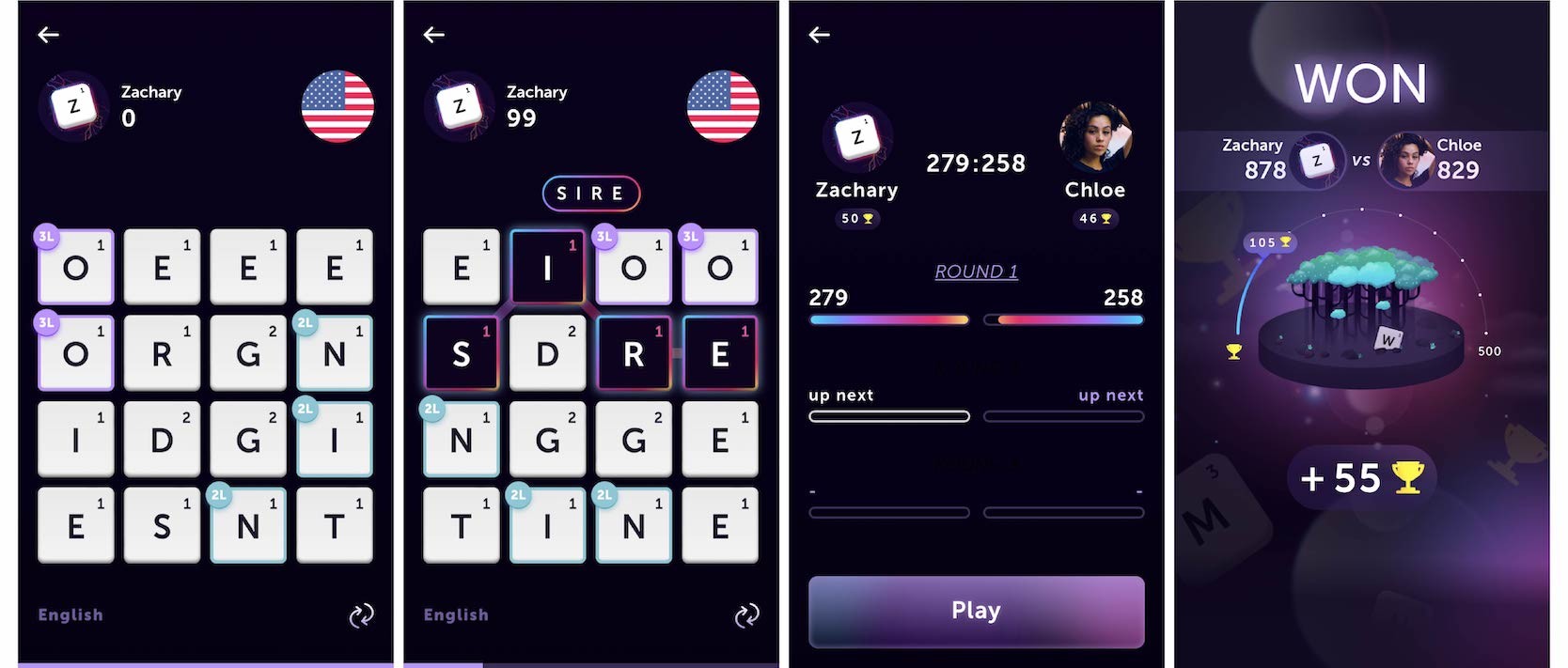 Word Blitz mobile app screenshots
Choose your opponent: First, decide whom you're going to play against. You can play against a friend or a random person. If you select a friend, you'll have the option to send an invitation to that friend. If you select a random player, the game will match you with someone automatically and immediately begin the game.

Start the first round: Once you have your opponent and are ready to go, the Word Blitz game will show you the grid of letters for your first round. This also means that the timer, which is only 20 seconds long, will begin to count down.

Find your words: Find as many words as you can in the 20-second time limit. Do this by connecting letter squares that are in contact with each other. If you are playing on a phone, start with one letter and slide your finger to the next ones you want to use. When playing on a computer, you do the same but with the mouse cursor.

Rounds 2 and 3: Once time runs out, the game will take you to the score screen and tally each player's score for the first round. After that, you compete in two more rounds with the same opponent. These rounds have the same rules as the first, though they use different letter squares each time.

Winning the game: At the end of the third round, the game will combine each player's scores from all three rounds to get their total scores. The player with the highest total score wins the game. The winner also receives a number of Trophies. Trophies are what the game uses to measure a player's ranking.
Word Blitz Facebook and Other Versions
As anyone would expect from a mobile game, the Word Blitz game offers multiple places to download the mobile app or play it directly. No matter what device you're using or what your preferences are, Word Blitz has you covered for options.
Word Blitz Cheats and Strategies
The premise of Word Blitz is simple and easy to learn. But, that doesn't mean winning every game will be a breeze. You need to outspell your opponent if you want to achieve victory. To make sure you're always one step ahead, try implementing these essential tactics.
Take advantage of the sneak peek: Before each round starts, you can actually see the grid and the letters on it. It's only for a few seconds, but take this opportunity to find some starting words before the timer even starts.

Create words using high-value letters: Each letter has a point value, similar to Scrabble tiles. For each round, the grids contain multiple letter squares with score multipliers as well. These variable values mean that you should focus first on forming words using the higher-value letters. When you can't find a word using those letters, tap the Rotate button at the bottom of the screen. This will move the letters around and open up new possibilities.

Create the longer and shorter forms of words: Make all of the words you can. Then, make other words by using those words you already made. Put another way, look for other forms of a word you've already played. Say that you found "gin." The word gets you some points, but then you notice the G, E and R nearby. You create "gin" again, but you keep going, add the other letters and spell "ginger" for a much higher score.

Guess when needed: There is no penalty for guessing a word. Take advantage of that. When you're having trouble finding the words you need, and you think a word might be valid but aren't sure, try it anyway. The most it will do is waste a second, but if you are already behind, it's worth a shot. (If you find yourself needing to guess too often, we suggest taking the time to grow your word game vocabulary.)
More Mind-Racking Fun With WordBrain
For anyone who needs a Boggle-like game that lets them get straight to the action, Word Blitz is a solid choice. All those choices for where to play it make the game all the more appealing, too. Now, if you're looking for a game with a similar style but with a focus on single-player, we'd suggest WordBrain. This game throws puzzle after puzzle at you to test your word-finding skills. Its extra features, such as the daily puzzles and power-ups, keep things interesting and give you a reason to keep logging in every day.
---
Zac Pricener has been a content creator for the past eight years. He's a bit of an all-around nerd, and he has a bad habit of working movie and TV show references into conversations whenever possible.