Wordle: The Party Game Takes the Competition Offline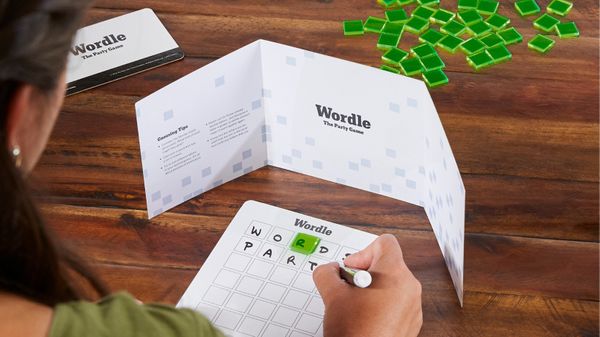 Image courtesy Hasbro Gaming press kit
Can't get enough Wordle? Or wish there was a party game element to the popular online word game? Well, you're in luck. New York Times Games has partnered with Hasbro, Inc. to create Wordle: The Party Game. Inspired by the digital version, this analog Wordle board game can be enjoyed by two to four players, adding a competitive element to your favorite word-guessing game.
When Is the Wordle Party Game Release Date?
Wordle: The Party Game launches on October 1, 2022. It will be available initially in North America, though they have not yet indicated whether it will ship internationally. According to the official website, you pre-order the Wordle card game today via Amazon, Hasbro Pulse or Target. It's priced at $19.99. The Wordle party game is for players ages 14 and up.
"Wordle truly brought us all together and that's what makes it so special," said New York Times head of Games Jonathan Knight. "At New York Times Games, we're focused on quality crafted puzzles that everyone can experience together, which is why we're so excited to team up with Hasbro to bring a fresh new format to the global sensation of Wordle."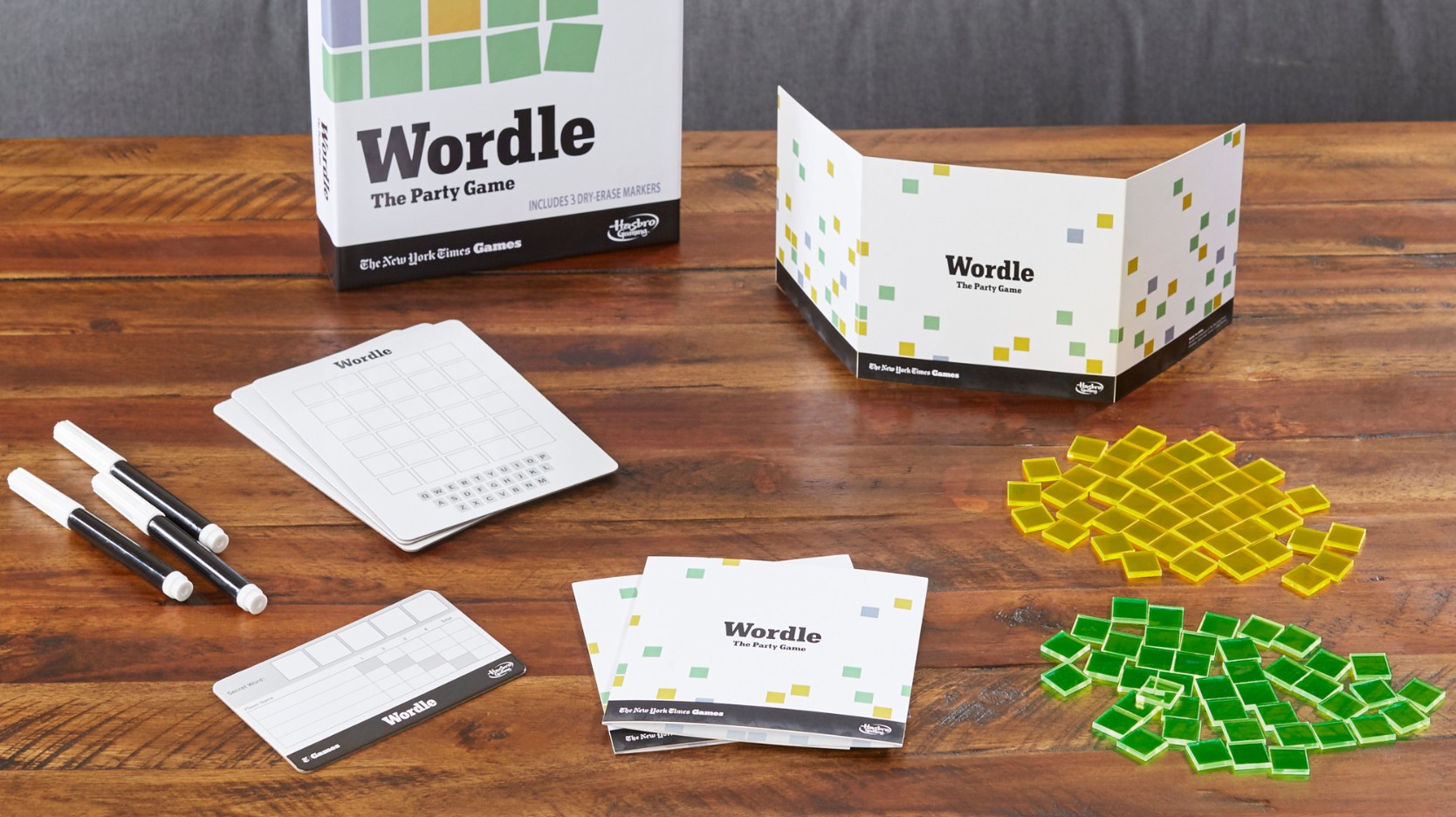 Wordle The Party Game
Compete Against Friends With Wordle: The Party Game
The most obvious difference with Wordle: The Party Game compared to the regular Wordle you play on the New York Times website is that it is a physical, analog game.
The competitive element, since there are up to four players, might change how you feel about the game too. This introduces a social aspect beyond simply sharing your Wordle squares on Twitter. Of course, you'll still want to avoid playing the worst Wordle words if you want to win.
Choosing Wordle Words to Play
With the Wordle game on the New York Times website, everyone plays the same single word each day. With this Hasbro Wordle party game, the designated "host" gets to come up with their own Wordle answers for each round. And, you get to play as many times as you want.
Just like with physical Scrabble, validating questionable words is another aspect you'll want to consider. What words are and aren't allowed?
Wordle Party Game Modes
Playing the official Wordle game means that hard mode is really the only variation. With the new Wordle board game from New York Times Games and Hasbro, you get four different ways to play Wordle:
Classic play

Fast

Time

Teams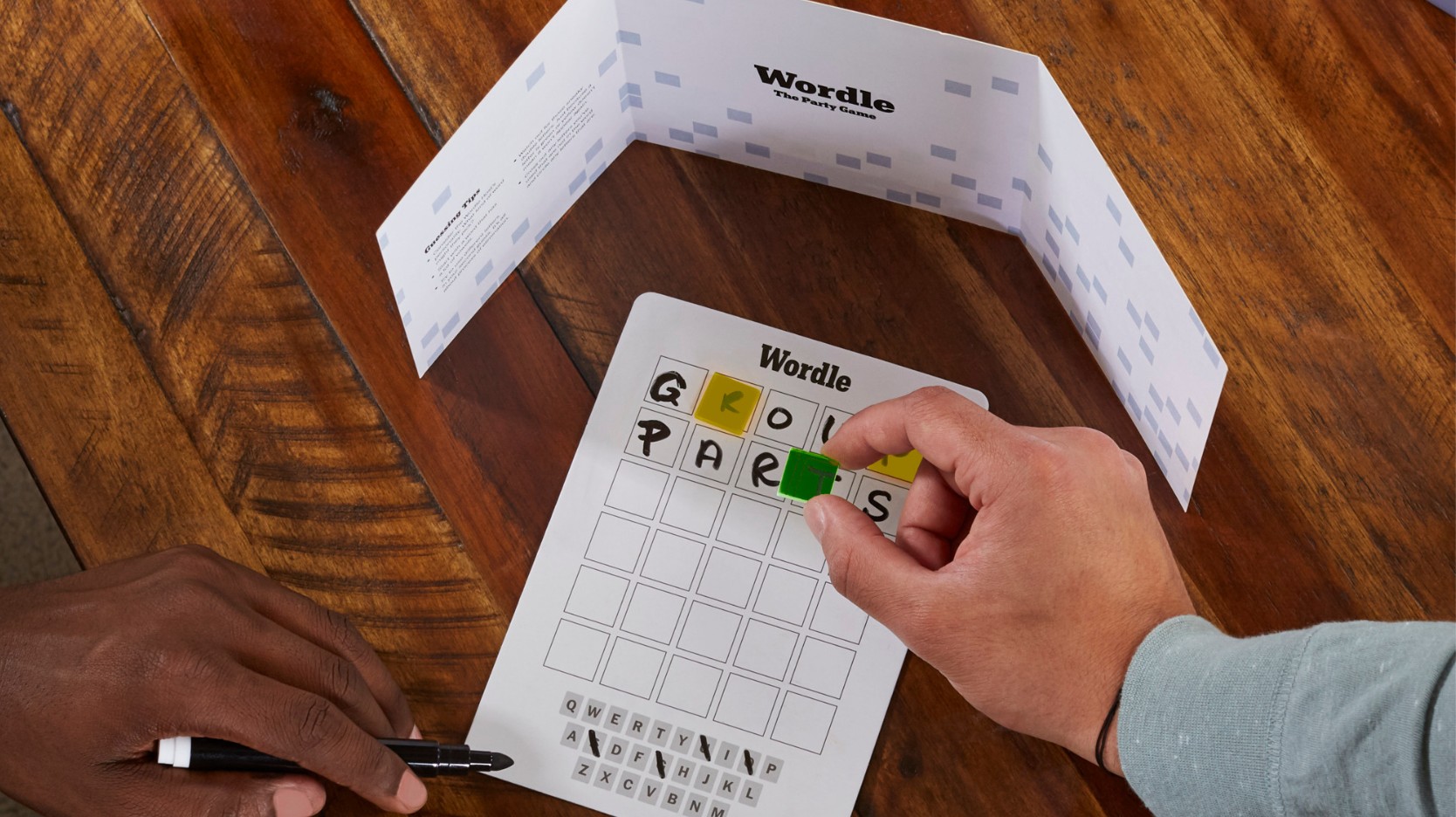 Wordle The Party Game
Wordle Board Game Instructions: How to Play
It wouldn't be completely accurate to refer to Wordle: The Party Game as a board game, as it doesn't have a game board in the traditional sense. Instead, players get individual dry-erase Wordle boards and markers to record their guesses as they try to find words.
The core gameplay is identical to what you've been doing as a daily Wordle solver: the goal is to correctly identify five-letter words. The difference with Wordle: The Party Game is you'll designate one player as the Wordle Host. The other players then compete to see who can guess the Secret Word in the fewest number of tries.
Designate a Wordle Host for the first round, and take turns after that.

The Wordle Host chooses a secret word, writing it down on the host card.

Each player writes their first Wordle word on their player board.

The host places the semi-transparent green and yellow squares on each player board to show which letters are correct, just like in the Wordle web game.

Remember that players must still only use valid words for their guesses. Keep a Scrabble dictionary handy to settle any disputes.

Players continue guessing until they correctly identify the secret word.

On the host card, record the number of guesses each player took to identify the secret word correctly.

Wipe the secret word off the host card and pass it on to the next Wordle Host for the next round.

After four rounds, add up the total number of guesses for each player. The player with the lowest overall score wins.
While not part of the official rules for Wordle: The Party Game, it's up to you whether the host can offer any Wordle hints to help guessers!
Another Digital Word Game Gone Analog
Wordle: The Party Game isn't the first time that Hasbro adapted a digital word game into an analog board game. A prime example is the Words With Friends board game. Just as Hasbro partnered with NYT Games for the Wordle board game, Hasbro partnered with Words With Friends publisher Zynga for the board game version. It's another fun option to consider for your next family game night!
---
Michael Kwan is a professional writer and editor with over 16 years of experience. Fueled by caffeine and WiFi, he's no stranger to word games and dad jokes.