The History of National Scrabble Day
Before getting into the history of National Scrabble Day, it's worthwhile to get some context from the history behind the game.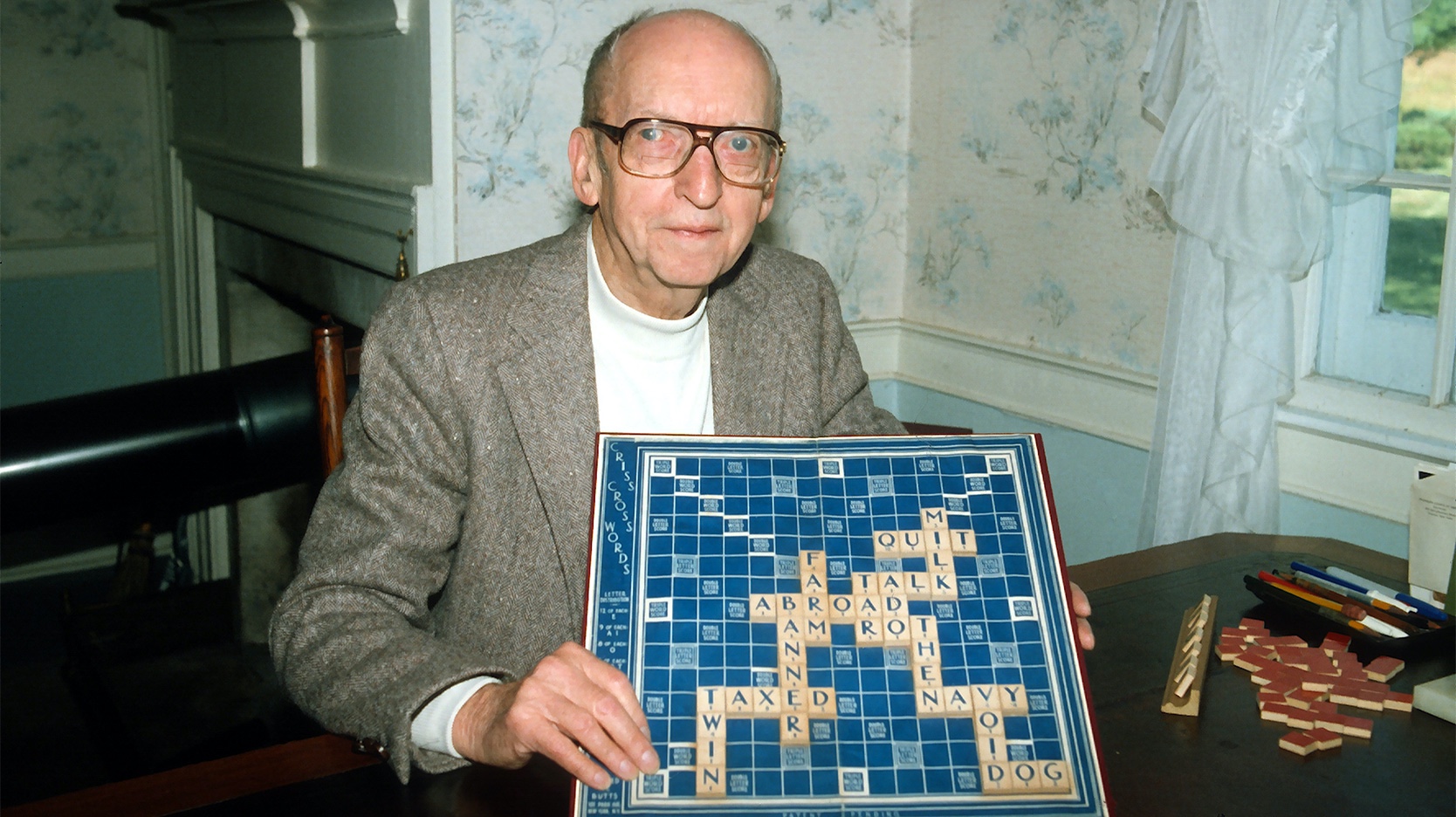 Alfred M. Butts inventor Scrabble board game
Alfred M. Butts
1929: The Great Depression puts many people out of work. This includes American architect and amateur artist Alfred Mosher Butts.

1931: With extra time on his hands, Butts is inspired by his personal love of anagrams and classic crossword puzzles. He creates a new word game called Lexiko with cardboard letter tiles.

1938: Alfred Mosher Butts adds the now-iconic 15 x 15 game board and the crossword puzzle-style layout. Lexiko becomes Criss Cross Words (sometimes called Criss-Crosswords).

1948: After failed attempts at marketing Criss Cross Words himself, Butts sells the rights to James Brunot. Brunot then renames and trademarks the game as Scrabble.

1952: Game maker Selchow and Righter buys the manufacturing rights and Scrabble is a hit, selling almost four million sets in 1953. Selchow and Righter bought the trademark too in 1972. 

1984-1990: Scrabble airs as a daytime game show on NBC, hosted by Chuck Woolery.

2004: Scrabble is inducted into the American National Toy Hall of Fame.
While the story of the Scrabble board game is reasonably well documented, there is not as much information about who founded National Scrabble Day. 
Why April 13?
So, the bad news is that no one seems to know how National Scrabble Day got started in the first place. Similarly, no one knows for sure who created National Play Monopoly Day on November 19. We do know why National Scrabble Day is on April 13, however. That's the day, in 1899, that Scrabble inventor Alfred Mosher Butts was born.
And millions of people have been finding words from jumbled letter tiles ever since
Quick Facts and Figures
An excellent way to get into the spirit of National Scrabble Day is to learn more about the game with the triple word scores and bingo bonuses.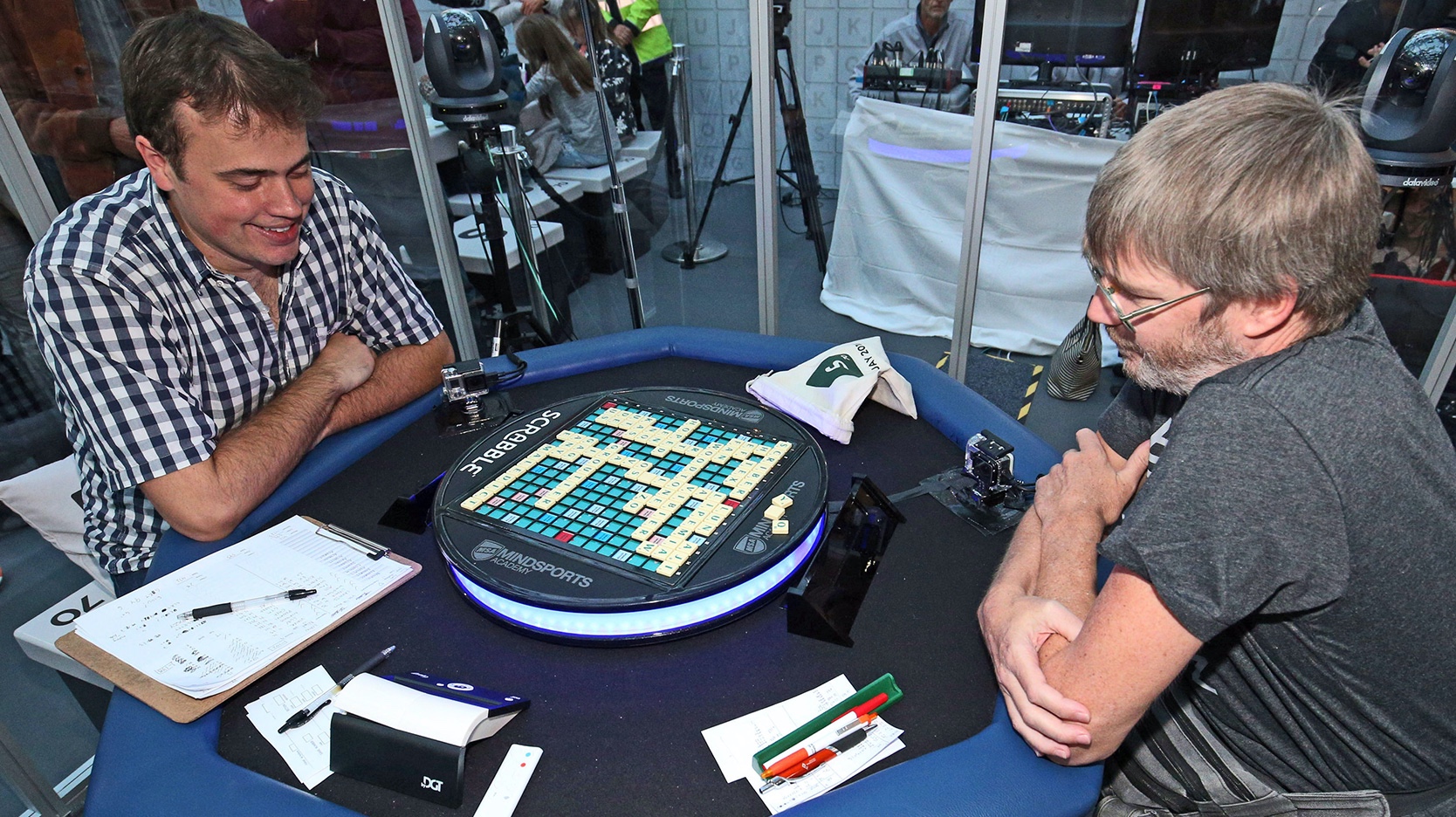 Nigel Richards Scrabble World Championship 2018
Nigel Richards (right) Scrabble World Championship 2018
The Scrabble trademark is owned by Hasbro in Canada and the United States, and by Mattel in the rest of the world.

The Scrabble board game is available in 30 official languages, plus several unofficial languages like Klingon. Approximately 150 million sets have been sold in over 120 countries around the globe.

There are around 4,000 Scrabble clubs around the world. 

The World Scrabble Championship started in 1991. It was held every second year until 2013 when it switched to an annual event. The championship has been an open event since 2014. It attracts upwards of 130 entrants with a total prize pool of up to $50,000.

Nigel Richards of New Zealand has won the championship five times, the most of any competitor: 2007, 2011, 2013, 2018 and 2019.

The World Scrabble Championship started in 1991. It was held every second year until 2013

There are several different Scrabble word lists. Many players in Canada and the United States use the North American Scrabble Players Association Word List (NASPA word list, or NWL). It currently consists of 187,632 playable words. In international play, the Collins Word List (CSW) is a common standard, consisting of 279,496 valid words as of the 2019 version.

In the NASPA Word List, you'll find 105 two-letter words. In the Collins Word List, you'll find 127 two-letter words. Memorize as many as you can, as 2 letter words are key to any winning strategy. These word lists are different than what you'll find in Words With Friends too.

Some celebrities who love Scrabble include Daniel Radcliffe, Tina Fey and Justin Timberlake.
Celebrate Your Love of Scrabble
Now that you know a bit more about Scrabble history and Scrabble trivia, what are some of the best ways to celebrate National Scrabble Day?
Enjoy Single Player Scrabble
Naturally, the biggest way to observe National Scrabble Day is to play a rousing game of Scrabble with friends, family, and frenemies alike. But, what if you can't get together with other people to play the board game in person? You can still enjoy the game by playing single player Scrabble online for free. Keep up with those word-forming skills and strategy play, even when you're alone. 
Try Other Scrabble Games
The traditional game of Scrabble is a popular classic for many reasons. You can also branch out and try some other versions of the game. Keep it lighter and faster paced with Scrabble Slam, a card game inspired by the original. Scrabble isn't just for grown-ups with big vocabularies either. Get younger players involved by introducing them to Scrabble Junior. There are rules for both beginner and more advanced play. 
Play Scrabble Online With Friends
You don't have to be in the same room to enjoy National Scrabble Day with your fellow word nerds! Thanks to modern technology, there are many options for online multiplayer Scrabble too. Or, if you prefer, the official Scrabble GO app developed by Scopely is a great option for iOS and Android devices. No matter where you unscramble words from letters, you'll have a fantastic time!
Get Crafty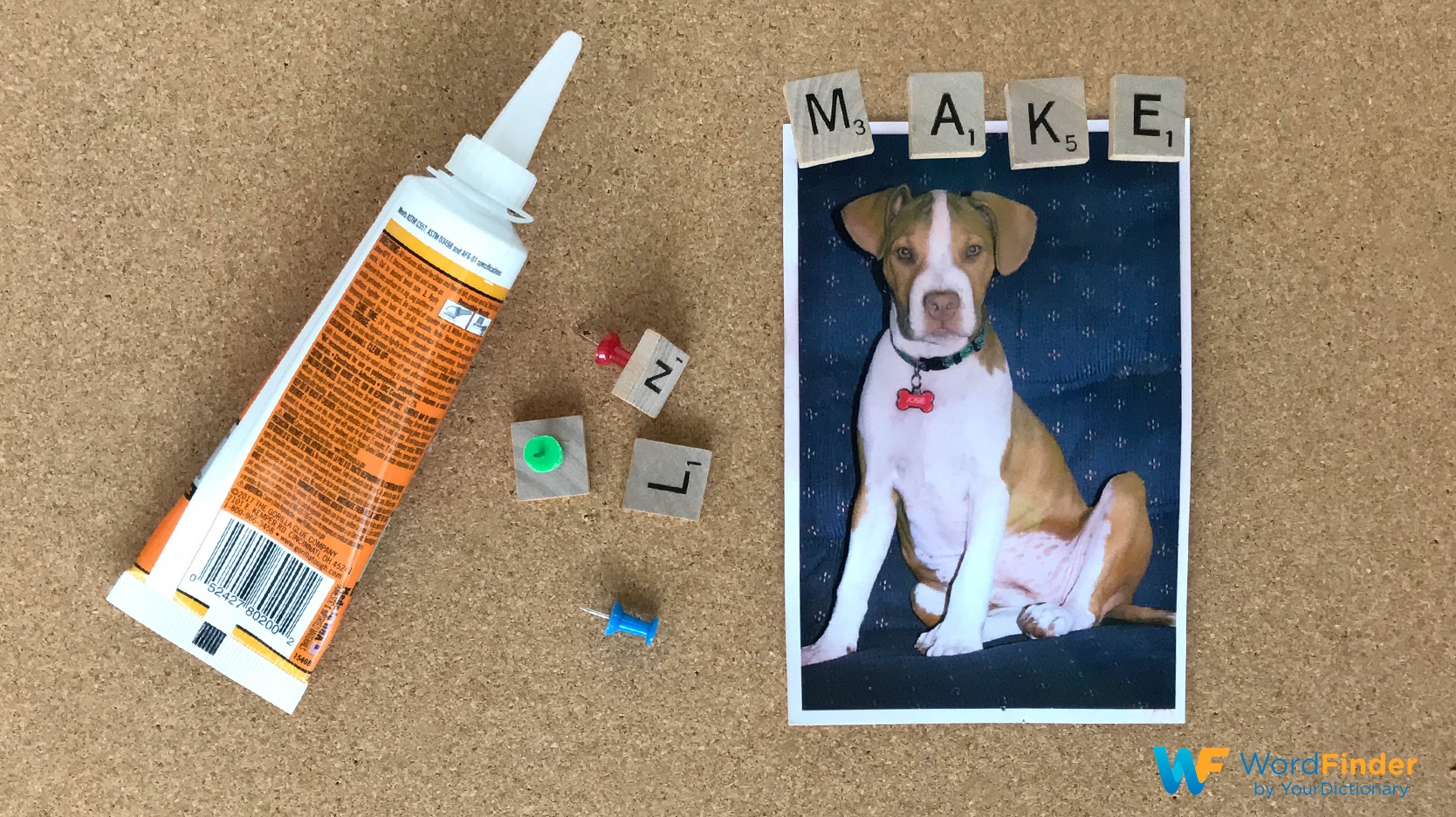 scrabble tile craft cork board push pin
Scrabble® tile craft - Cork board push pins
Of course, there's more to celebrating National Scrabble Day than just playing variations of the word game! For example, after you finish playing a game with a friend, try recreating it as a crossword puzzle. Then, hand your new crossword to a different friend to solve. Incorporating Scrabble tiles as part of a "name frame" project can be a lot of fun too.
Exercise your creativity and get into the arts and crafts side of things to express your love of Scrabble. DIYs.com has a list of 25 fun projects you can try. And if you're taking a digital approach, grab some free printable block letter templates from LoveToKnow.com too. 
Bake Scrabble Cookies
Arts and crafts are one thing, but what if you're more culinarily inclined? Yes, you can eat your love of words and word games too! Bake up some Scrabble themed cookies and enjoy them with your housemates! Just adapt some of your favorite cookie recipes, reshaping them into letter tiles. 
Share on Social Media
Scream from the rooftops, at the top of your lungs! Or perhaps share a pithy tweet on Twitter about it. Either way, let everyone know what you're doing to celebrate National Scrabble Day! Use the #NationalScrabbleDay hashtag on social media. Wordle isn't the only social word game phenomenon!
Study Our Word Lists
If you really want to get good at Scrabble, you'll need to expand your vocabulary as much as possible. After all, the more words you know, the more words you'll remember and be able to play in an actual game. And so, a great place to start is by reviewing our extensive collection of word lists. From words that start with A to words that end in Z, from 7 letter words to words with Q not followed by U, we've got all your winning words covered.
---
Michael Kwan is a professional writer and editor with over 15 years of experience. Fueled by caffeine and WiFi, he's no stranger to word games and dad jokes.