1. 4 Pics 1 Word
The title of this game is right on point! In 4 Pics 1 Word, you are literally shown four pictures, and then it's your job to come up with the one word that connects them all. From the dozen letters at the bottom of the screen, you must form a word of a certain length. Maybe they're all "colors" or they could be "recipes." If you get stuck, be sure to use our 4 Pics 1 Word cheat tool to help you unscramble those letters!
4 Pics 1 Word is available for free for both iOS and Android.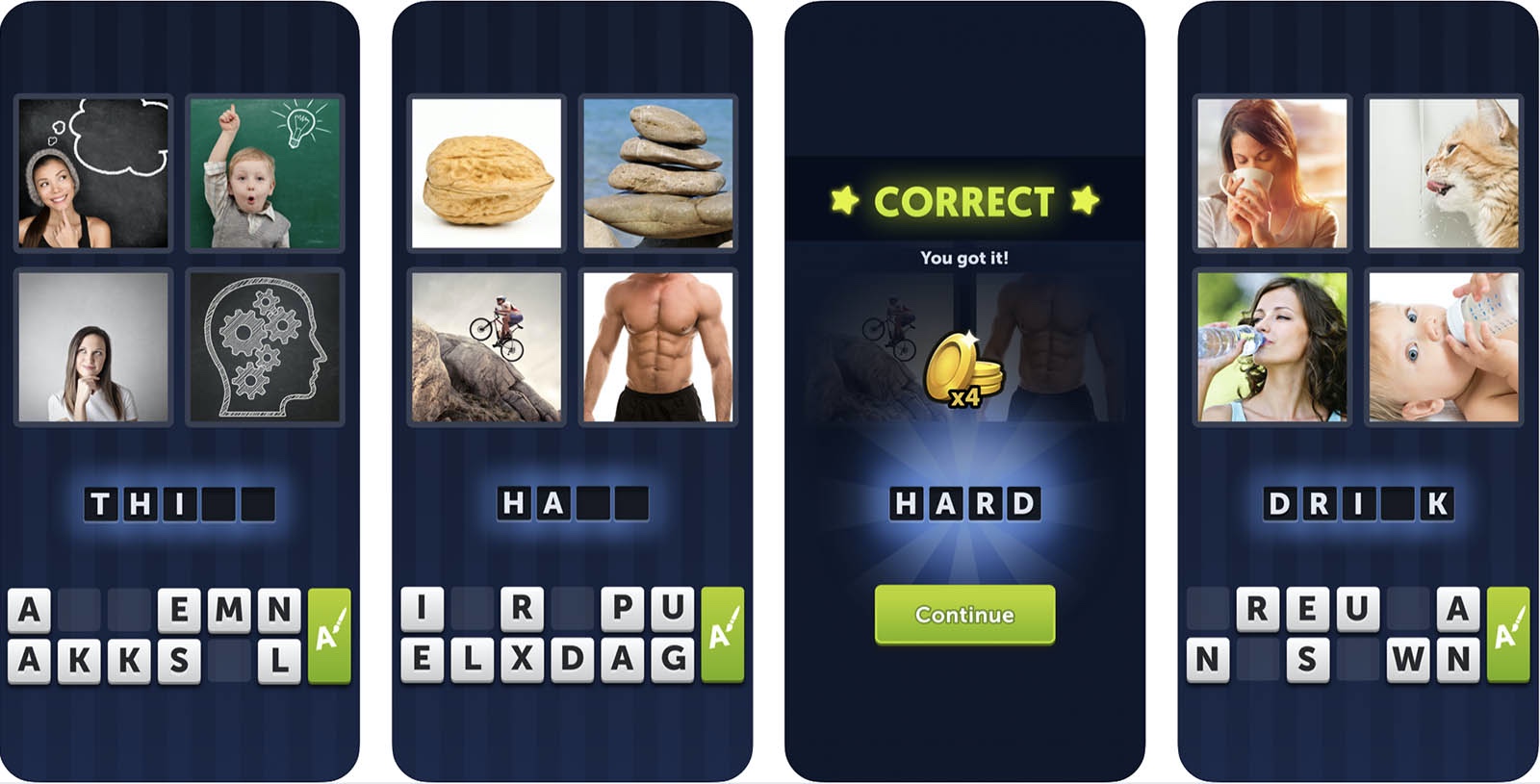 Screenshot of 4 Pics 1 Word game
2. Bonza Word Puzzle
If you enjoy solving crossword puzzles, but want to try something a little different, Bonza Word Puzzle might be the "right fit" for you. Portions of a crossword puzzle are broken into Tetris-like pieces that you must then reconnect to form cohesive, interconnecting words. All of the words follow the same theme, like "eye of the (blank)," as indicated by the clue at the top of the screen.  

Download Bonza Word Puzzle for Google Android and Apple iOS devices.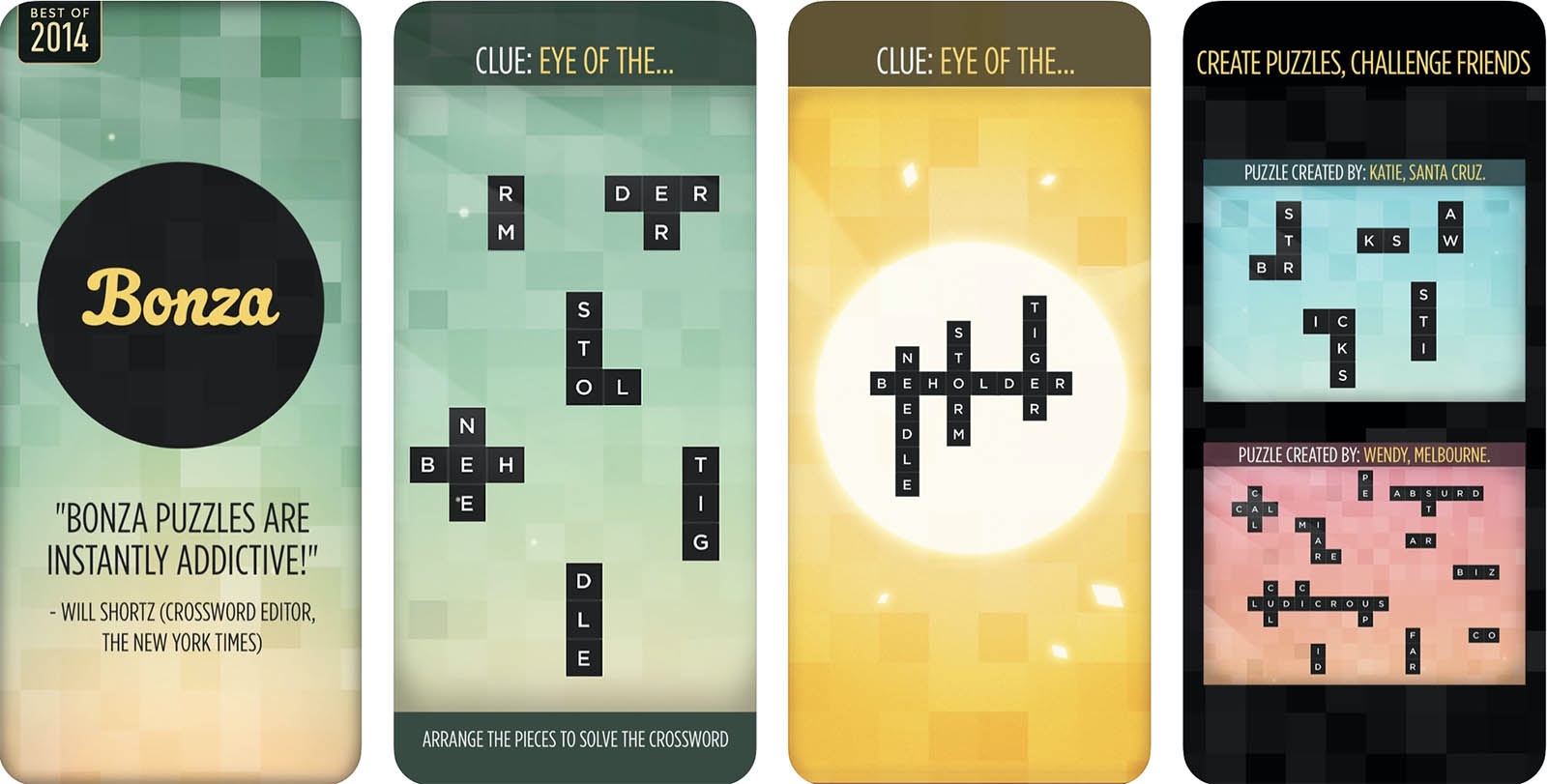 Screenshot of Bonza game
3. Classic Words Solo
Do you enjoy playing Words With Friends except for that "with friends" part? Going beyond the Words With Friends Solo Challenge, you can enjoy a fully solo word game with Classic Words Solo. Instead of playing against human opponents, which would require an online connection, you compete with a computer player. For people who love free offline word games, this game is great at simulating the online multiplayer experience. And just like with Words With Friends, you can use our word finder tool to find the perfect words for every match.
Get Classic Words Solo on your choice of Apple iPhone or Google Android.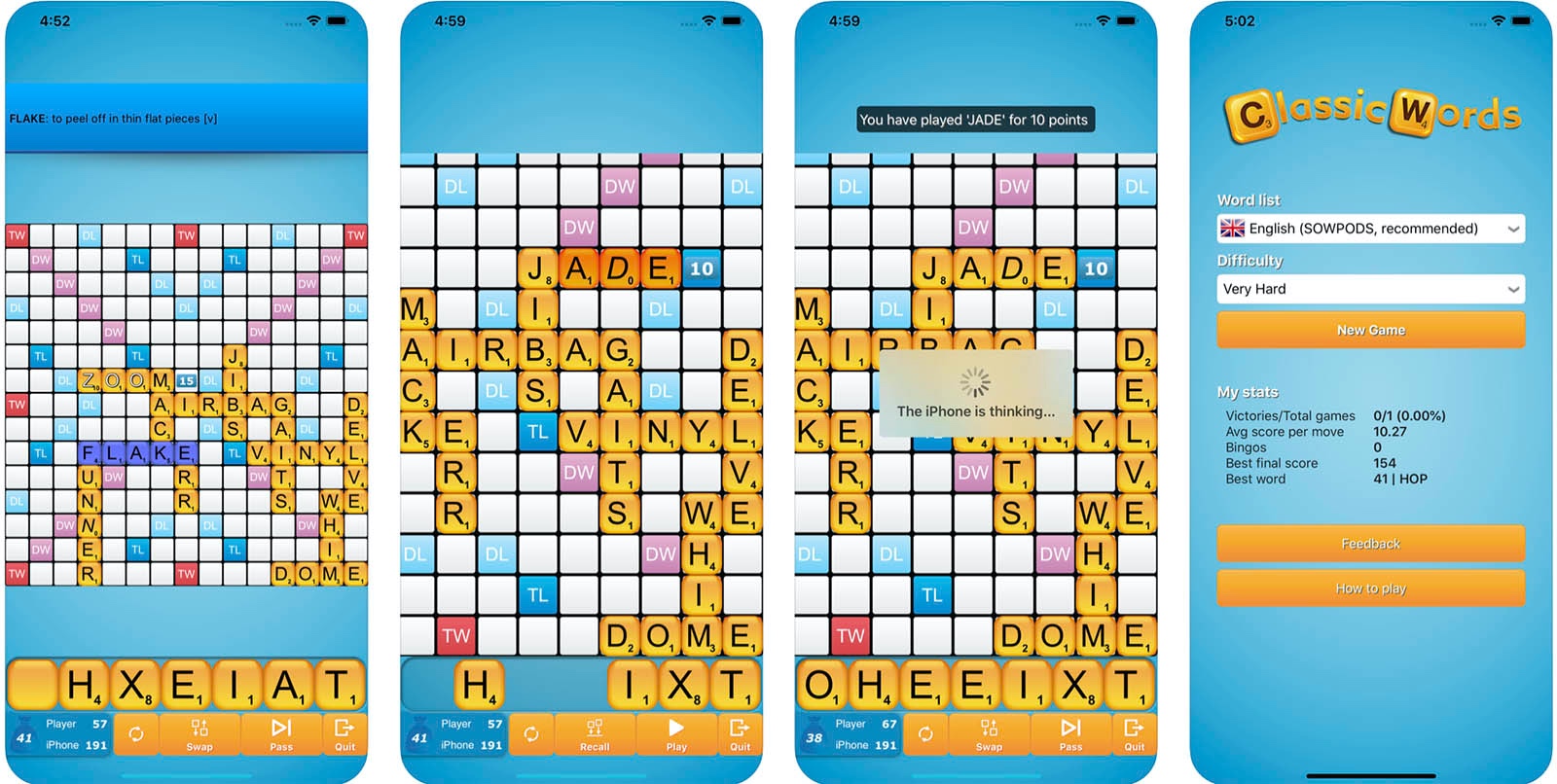 Screenshot of Classic Words (solo) game
4. Fill-Ins
Fill-Ins is one of the better apps with the fill-it-in version of crossword puzzles. Instead of crossword clues, fill-it-in puzzles provide the actual words. Then, you figure out where those words are supposed to go. Fill-Ins is not a flashy game. It doesn't have extra modes or power-ups. Rather, Fill-Ins focuses on delivering a quality rendition of the puzzle formula. Adjust the difficulty level to taste and play to your heart's content.
Fill-Ins is available via the Google Play Store for Android and the App Store for iPhone.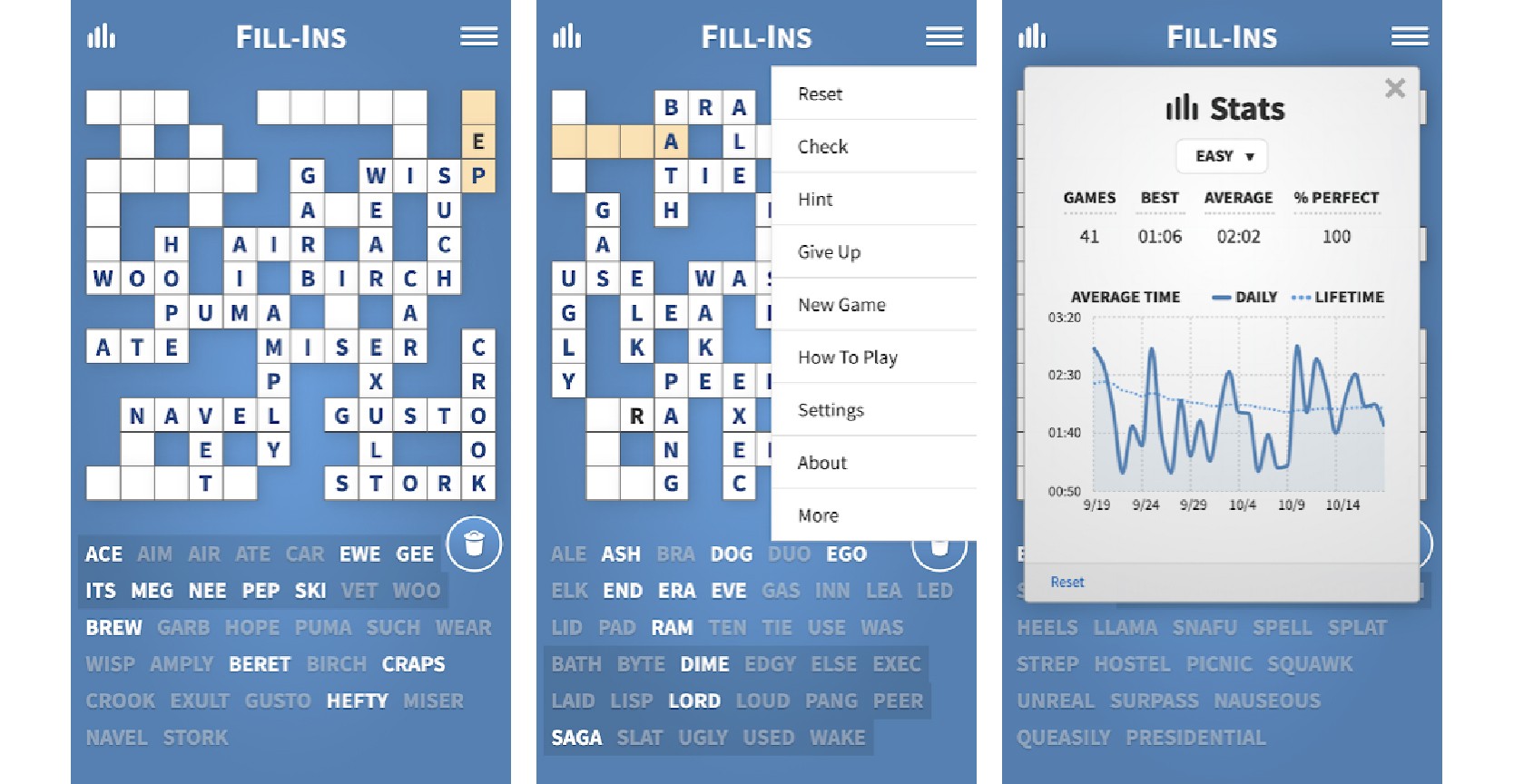 Fill-Ins mobile app screenshots
5. Wordalot
One of the most popular word games on iPhone is Wordalot. It also happens to be one of the best free offline word games you can play on the go. Described as a picture crossword, Wordalot challenges you to complete a crossword puzzle where the only "clue" is a single photo or image. Find the words "hidden" in the picture and add them to the puzzle using the provided letters.
Wordalot is available via the Google Play Store for Android and the App Store for iPhone.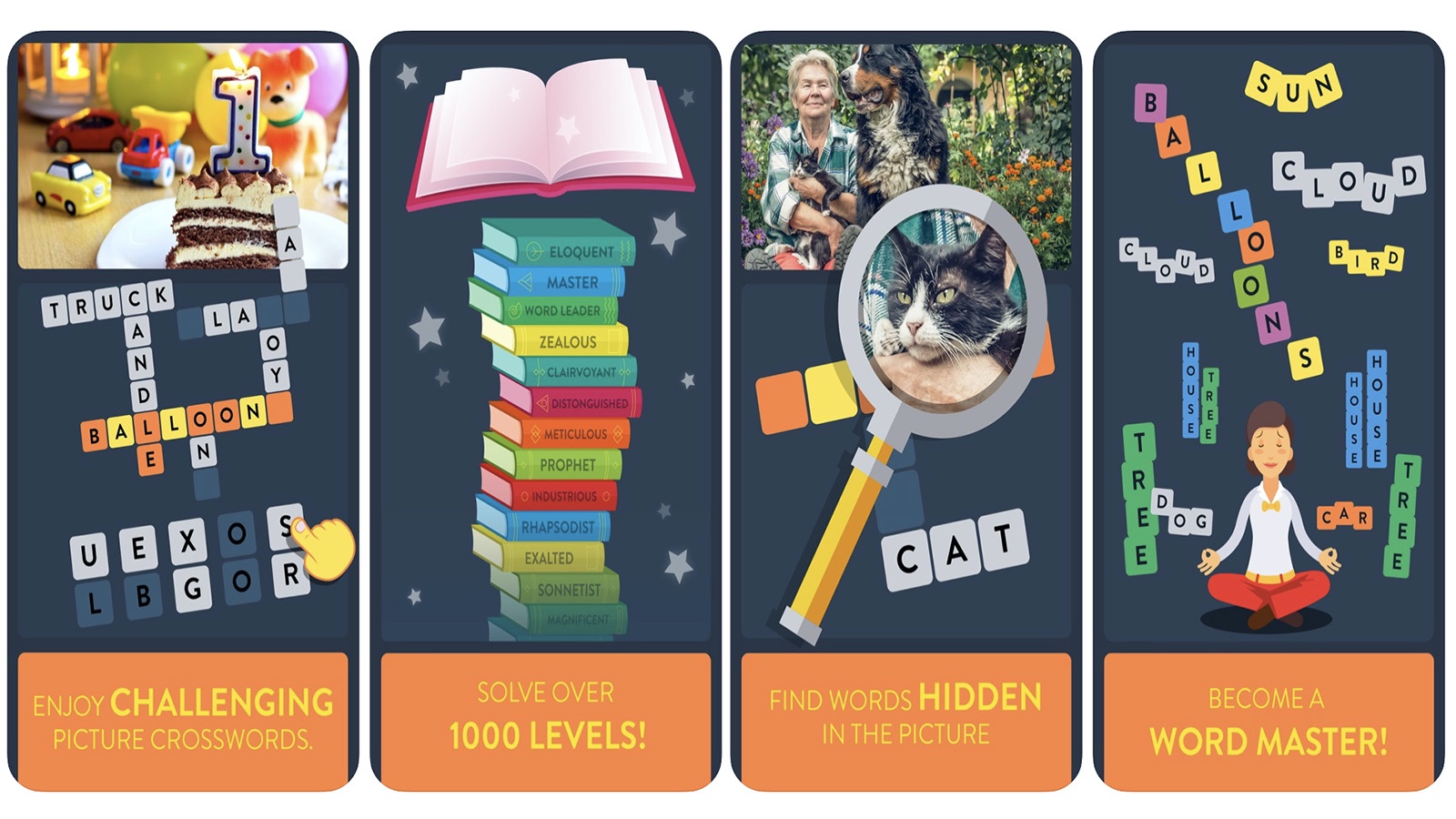 Wordalot game screenshot
6. Word Bound
Do you like playing word guessing games? While you do need an Internet connection to view the word definitions, you don't need to be online to play the actual game. In Word Bound, you unscramble letters to form a mystery word. 
A correct letter in the correct space turns green, a correct letter in a wrong space turns yellow and an incorrect letter turns blue. Based on these clues, you keep guessing until you get the right word.
You can find Word Bound in the iPhone App Store and the Google Play Store for Android.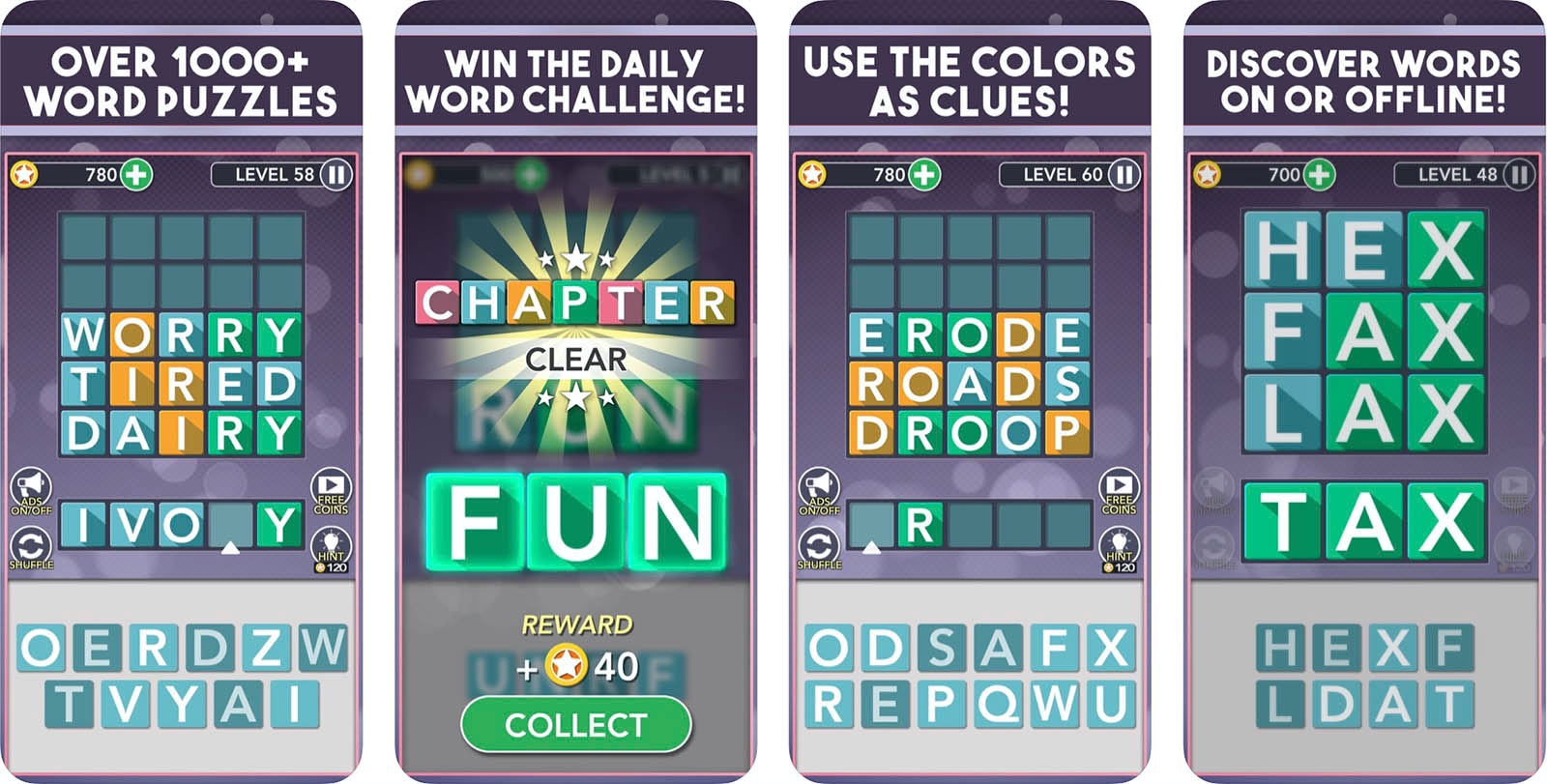 Screenshot of Wordbound game
7. Word Connect
In Word Connect, you swipe between letter blocks at the bottom of the screen to build hidden words and collect coins. Unlike some other free offline word games where you only have one game mode, Word Connect offers a few different modes based on the same underlying game mechanic. 
The mystery Word Connect answers might be arranged in a list, for example, or they could form a crossword puzzle. With thousands of levels and up to 11 themes, Word Connect provides hours of enjoyment.
Word Connect is a free download in the Play Store for Google Android and the App Store for Apple iOS devices.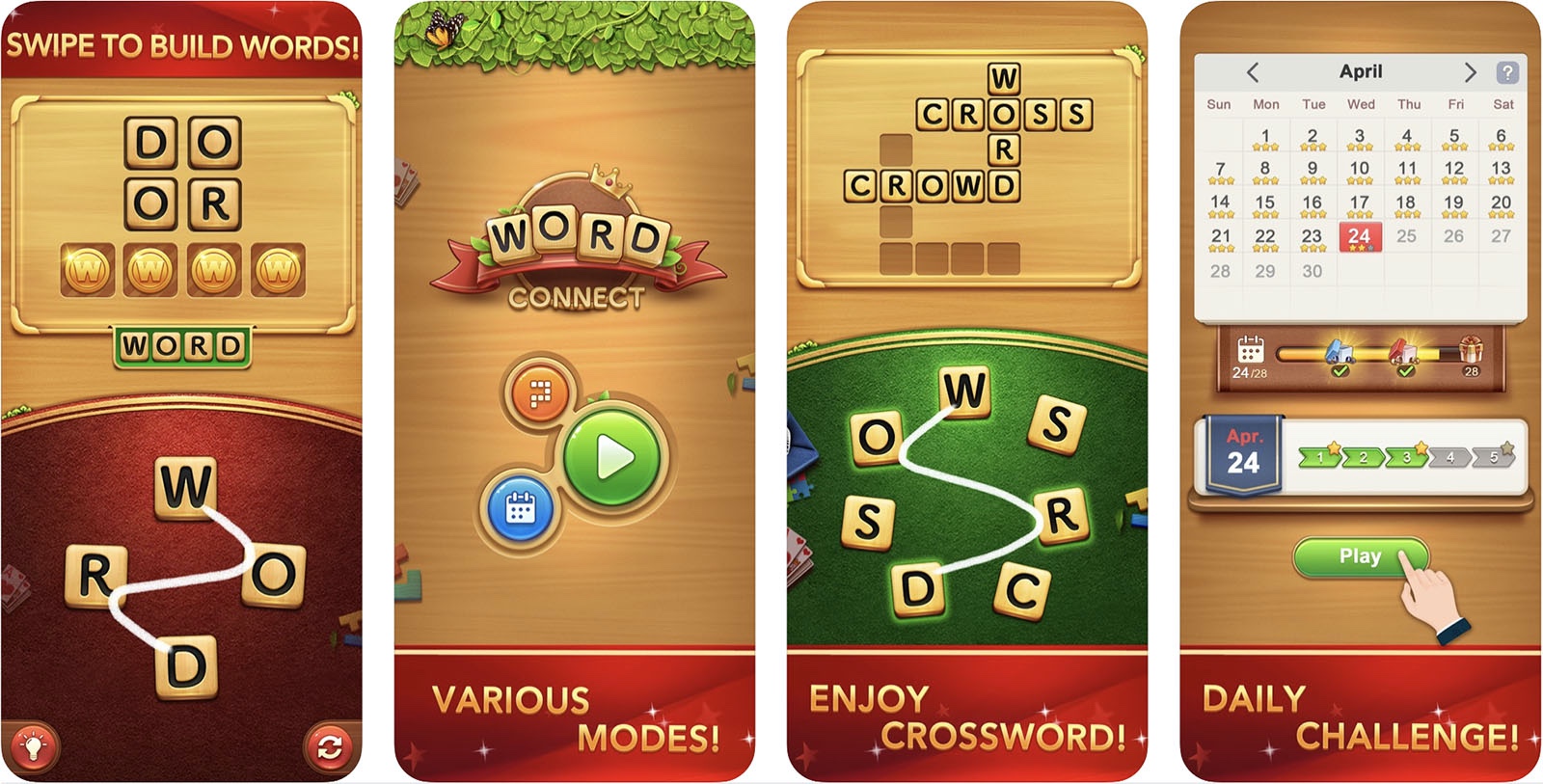 Screenshot of Word Connect Game
8. Word Heaps
You could say Word Heaps is heaps of fun. In this free offline word game, you're shown several stacks of letters. You must swipe to connect these letters into words that align with the category or topic for the level, like rainbow colors or ordinal numbers. When you form a word, its letters disappear, and the remaining letters fall into place to fill the void. Enjoy over 2000 levels and earn rewards along the way.
Word Heaps is available through the Apple App Store and Google Play Store.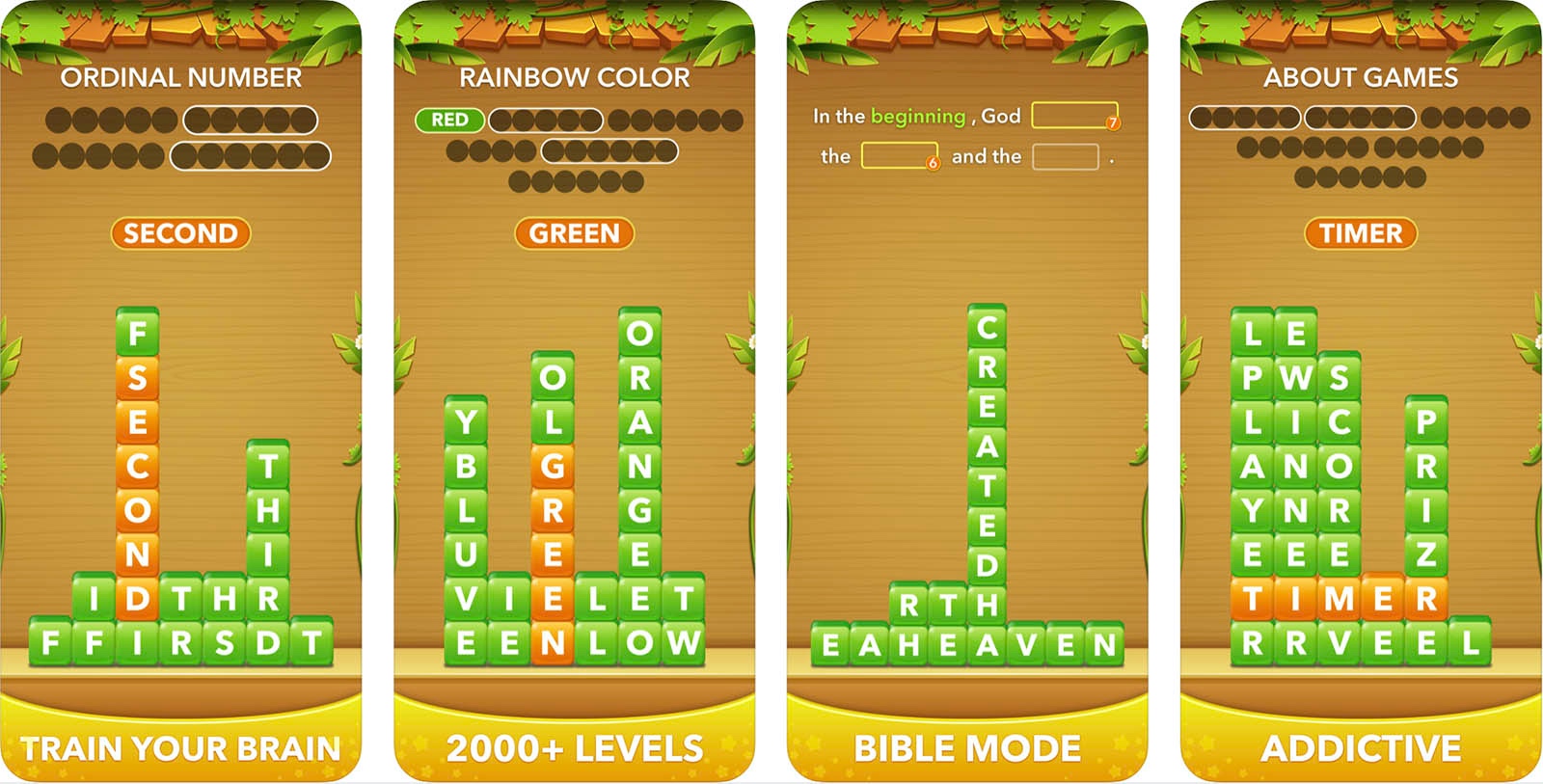 Screenshot of Wordheaps game
9. Wordscapes
Escape to beautifully relaxing vistas from all around the world with Wordscapes. Also available as Wordscapes in Bloom for people who prefer flowers over landscapes, Wordscapes challenges players to form words based on a circle of letters at the bottom of the screen. 
Link letters and uncover mystery words, all while playing completely offline! If you prefer a list format over a crossword puzzle, check out Wordscapes Uncrossed. For every solution to every level, refer to our Wordscapes Cheat and Answers site. 
Wordscapes is a free download on both Google Play and the App Store.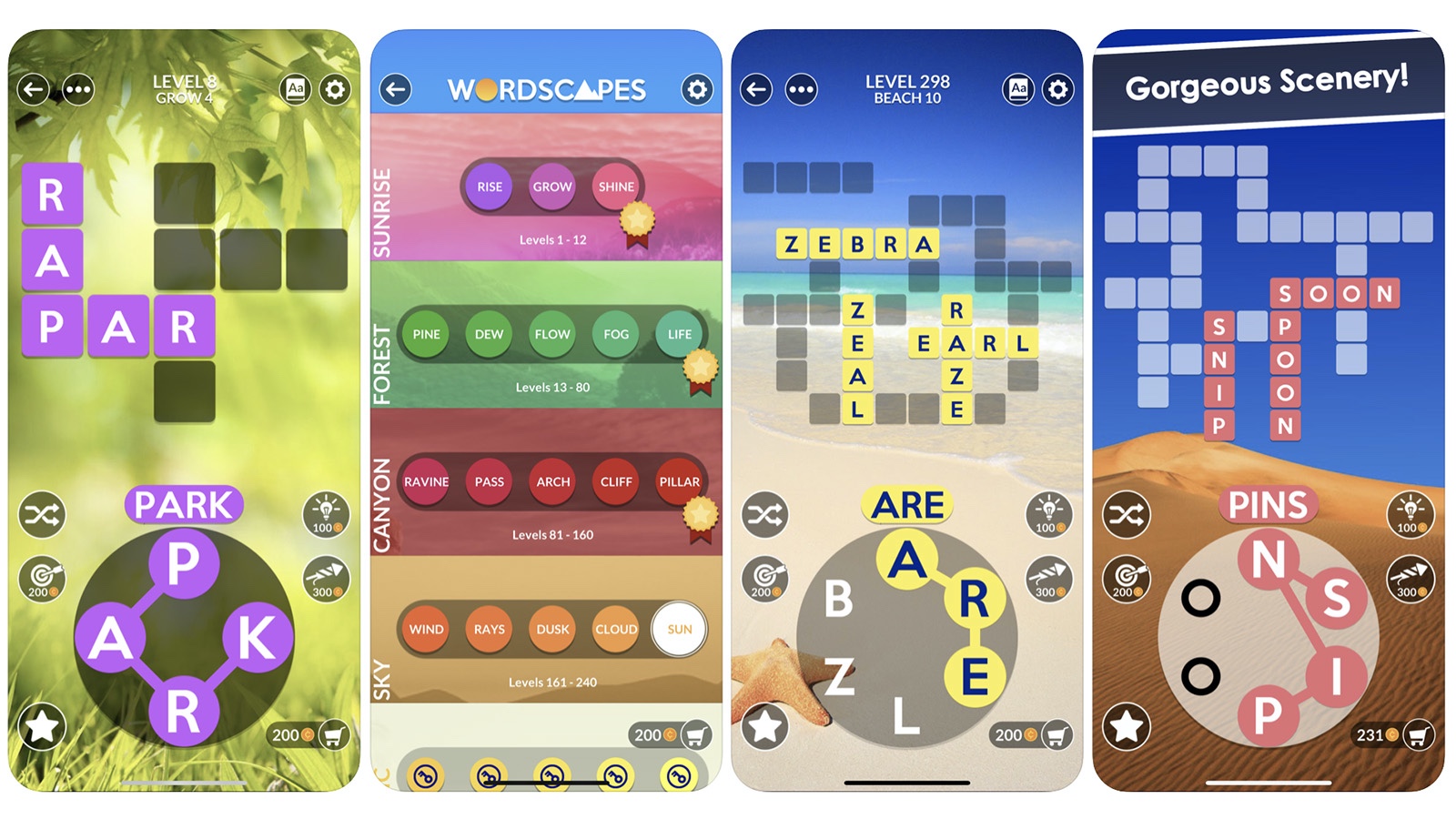 Wordscapes game screenshot
10. Word Search
Sometimes, you just want a good, old-fashioned word search. But, maybe you don't want a physical printed book and prefer the convenience of an offline app. Wordloco's Word Search is exactly that, offering increasingly challenging word search puzzles in 16 different languages, including English, Spanish, Russian, German, Czech and more. It's everything it needs to be with nothing more and nothing less.
Word Search is available through the Google Play Store as a free download.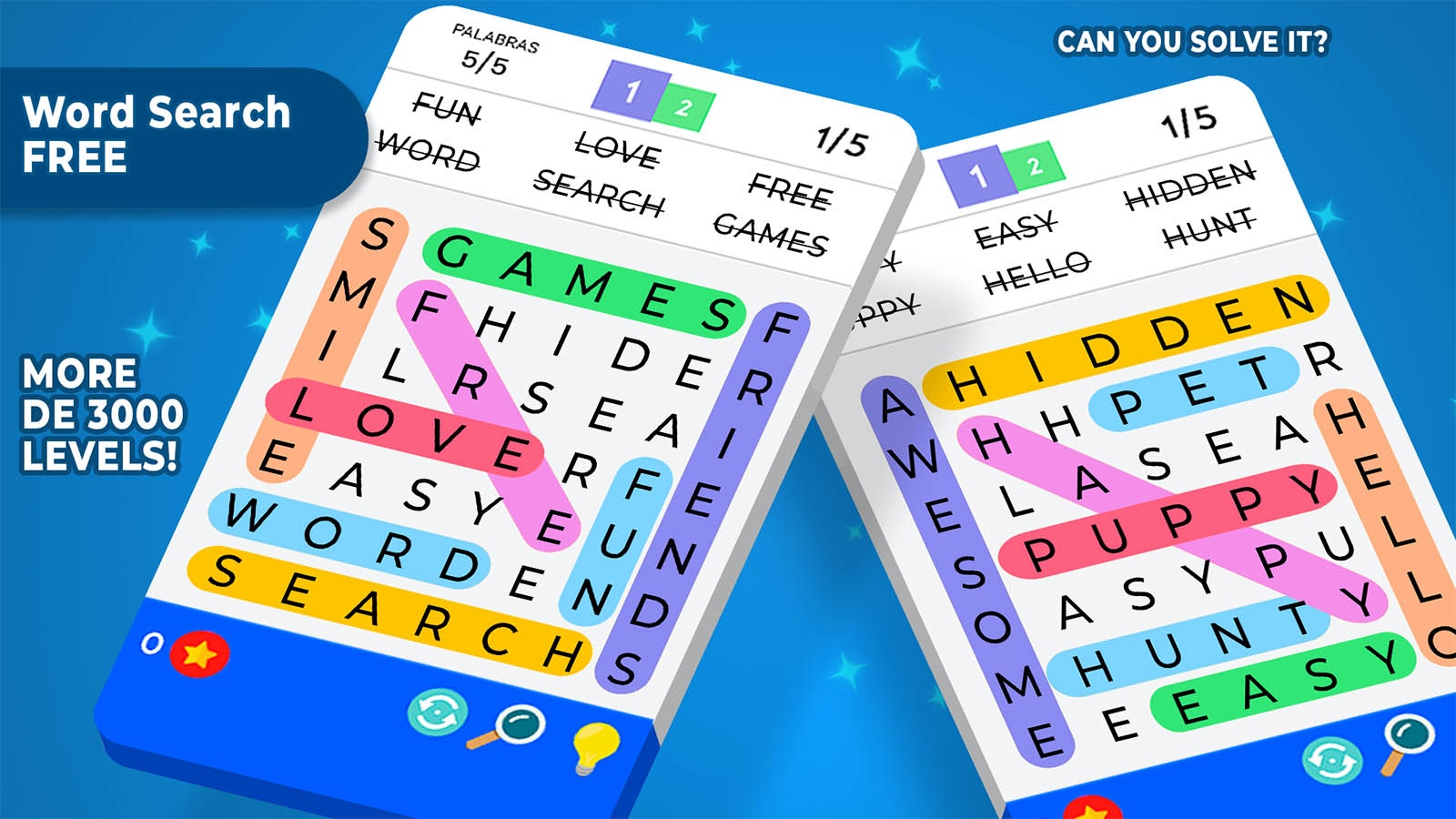 Screenshot of Word Search game
11. WordWhizzle Search
For an offline, single-player word game, you might want to take a look at WordWhizzle Search. It's essentially Boggle minus the social interaction. Like Boggle, the game shows you a grid of letter blocks. Unlike Boggle, you're the only player and you need to form every word in a single line (though swiping backwards and diagonally also counts). It costs nothing to play the thousands of levels, building your vocabulary along the way.
WordWhizzle Search can be downloaded through the App Store for iPhone or the Play Store for Android.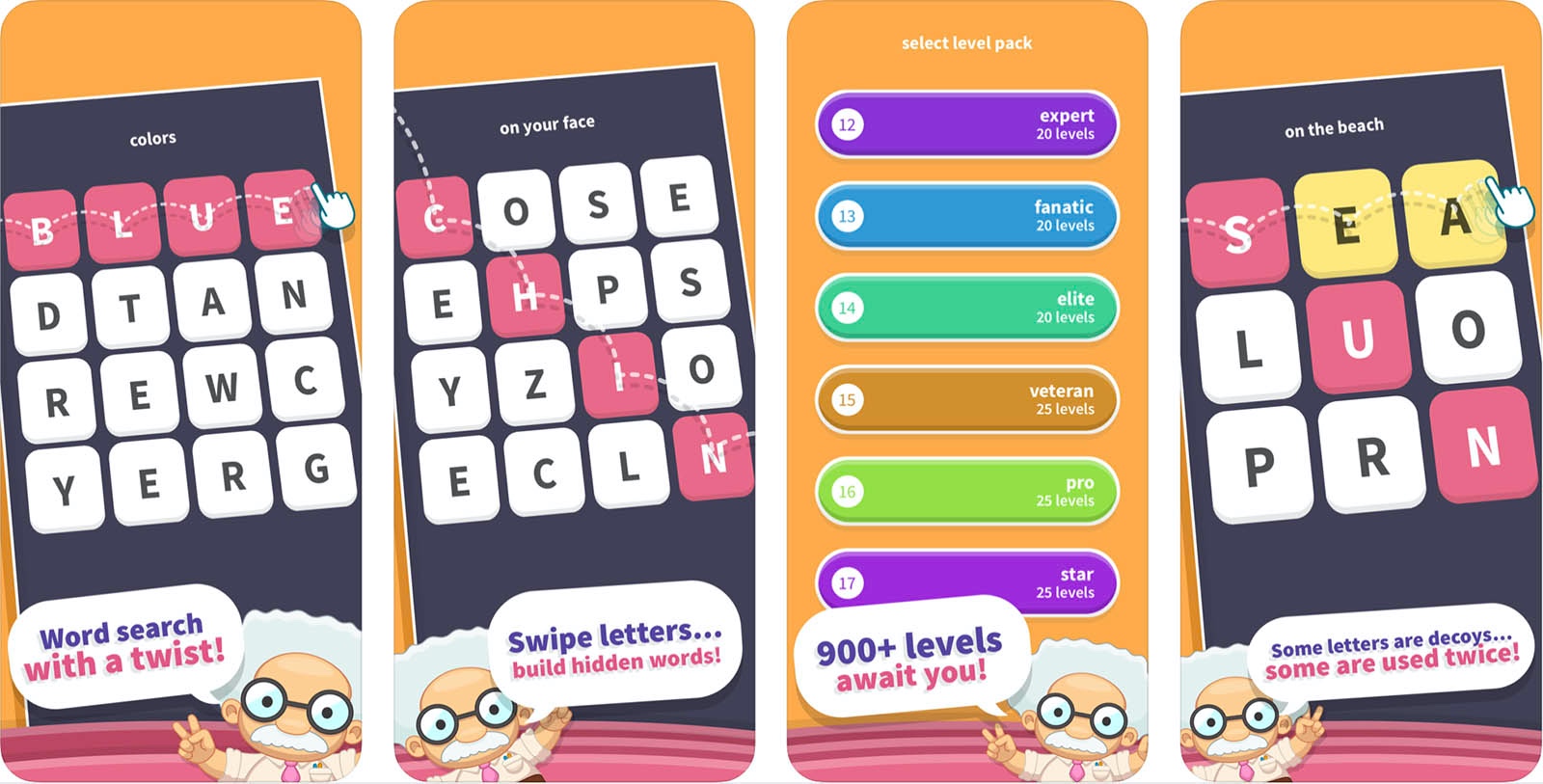 Screenshot of WordWhizzle game
12. Word Wow
Last but not least, as we are listing these free word games to download alphabetically, there's Word Wow. Help a worm out by "digging" a path through the dirt to the bottom of each level. Form words using any of the letters in any order -- they don't need to be next to one another -- to clear them from the stage and find gems along the way to unlock secret bonus levels. To take off some of the pressure, try the no-timer option.
Word Wow is a free download for Google Android and Apple iOS devices.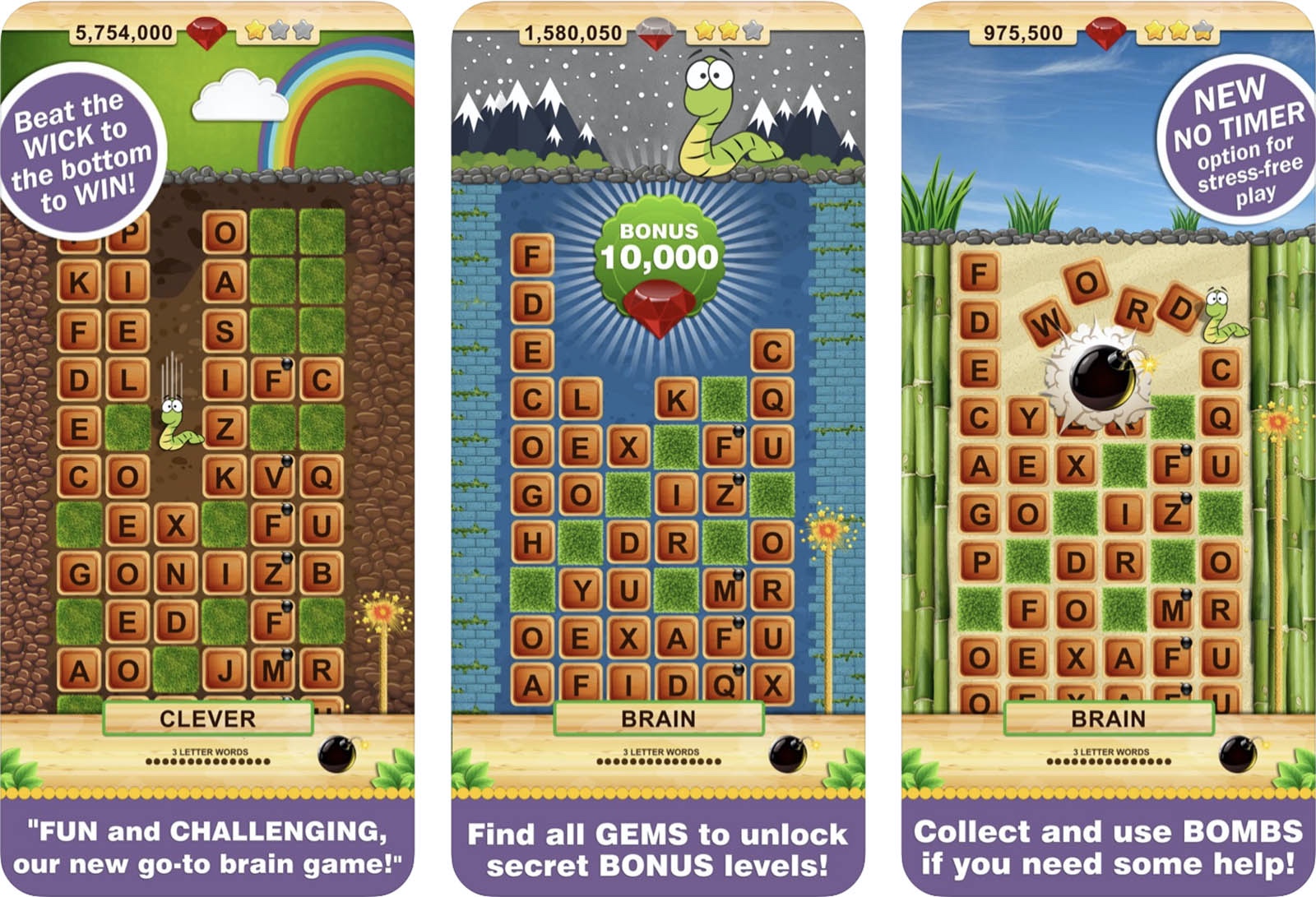 Screenshot of WordWow game
Word Games for Days
The next time you jetset across the country or escape to your summer cabin, you'll have no shortage of free offline word games to download and play at your leisure. And then, when you hop back online, you can partake in some awesome multiplayer word games. Or, if you find that you keep forgetting where you leave your phone, maybe you should play some brain games to improve your memory too.  
---
Michael Kwan is a professional writer and editor with over 14 years of experience. Fueled by caffeine and WiFi, he's no stranger to word games and dad jokes.