Infinite Word Search
Normally, you'd think of word search puzzles as solitary affairs. And they usually are, including the over 130 categories of word search puzzles to choose from in this game. But, what sets Infinite Word Search apart is the competitive multiplayer game mode. Play with Facebook friends or match up against random opponents, as you both seek out the hidden words at the same time. It's a race to see who can find the most words! 
Infinite Word Search is available for both iPhone and Android.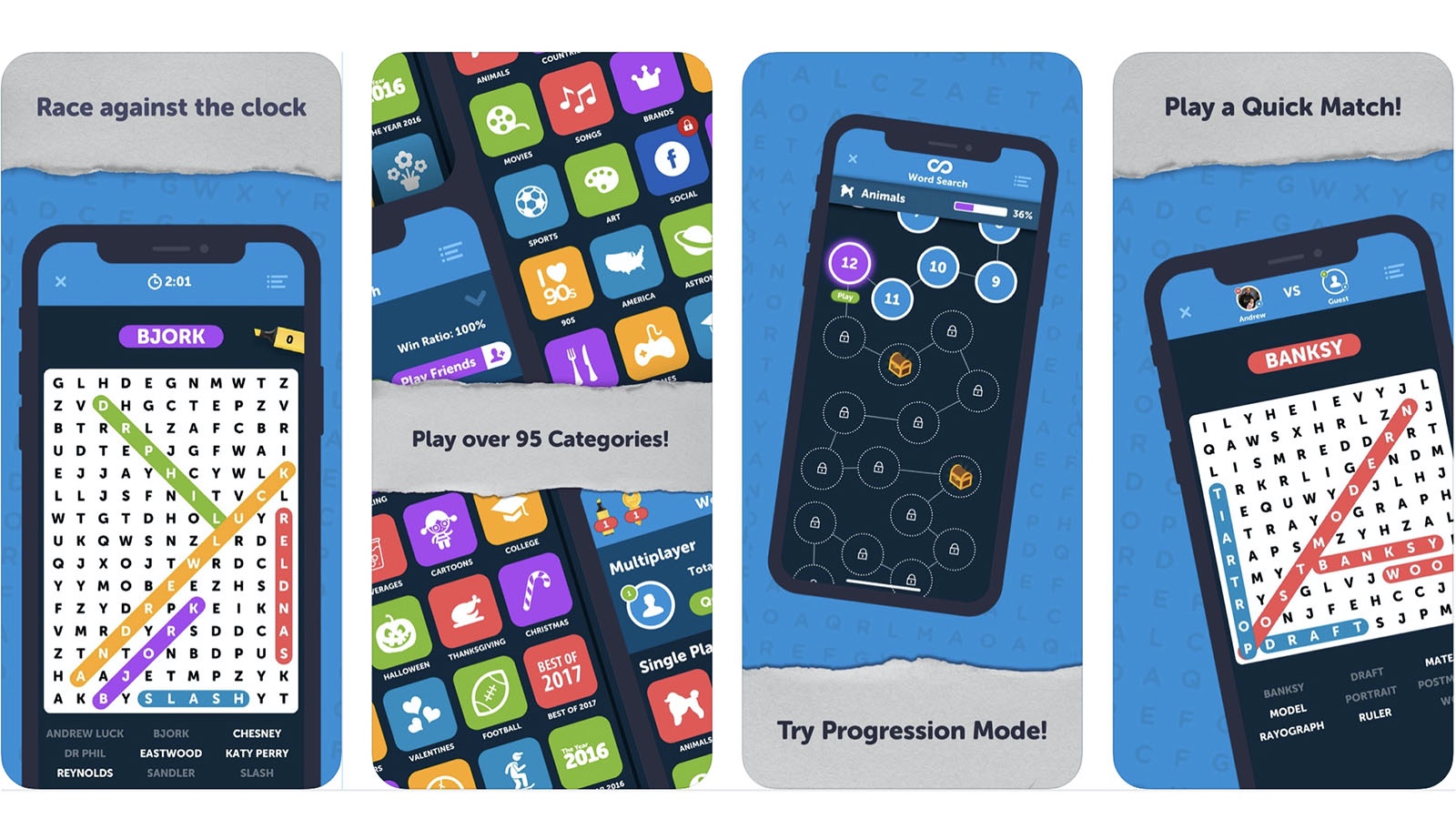 Screenshot of Infinite Word Search game
Word Chums
By now, you probably know about Scrabble and Words With Friends. You're probably familiar with the standard gameplay of laying down tiles and forming words for big points. On the surface, Word Chums just looks like another Scrabble clone. (Don't forget about our Word Chums cheat tool too!)
Dig deeper and you'll discover fun graphics, best word challenges, leaderboards, and even a 3-4 player mode. This is the multiplayer word game to play with friends, especially if you want to move beyond the 2-player dynamic of Words With Friends. Find it in the App Store and Google Play Store.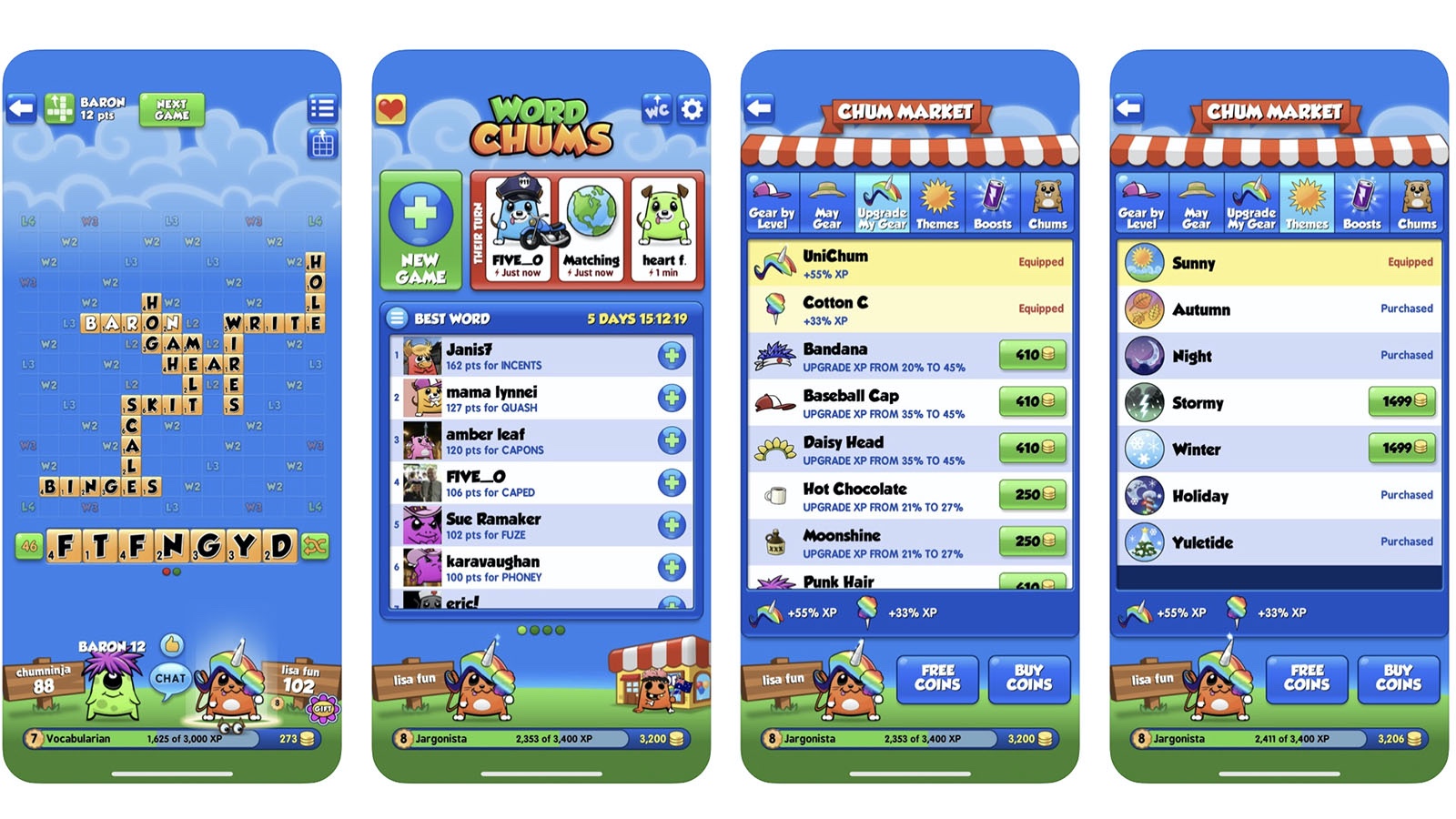 Screenshot of Word Chums! game
Ruzzle
Also making our list of the most popular iPhone word games is Ruzzle. Positioned as the "world's fastest word game," Ruzzle features fun graphics, frequent tournaments, and even team play. Find as many words as you can in just two minutes, swiping across the randomized letters and earning more points by swiping over bonus tiles. 
It's easy enough to start a new online game against Facebook friends, Twitter followers, Ruzzle friends and previous opponents. You can also get matched up against a random opponent. Get Ruzzle for Google Android or Apple iOS devices.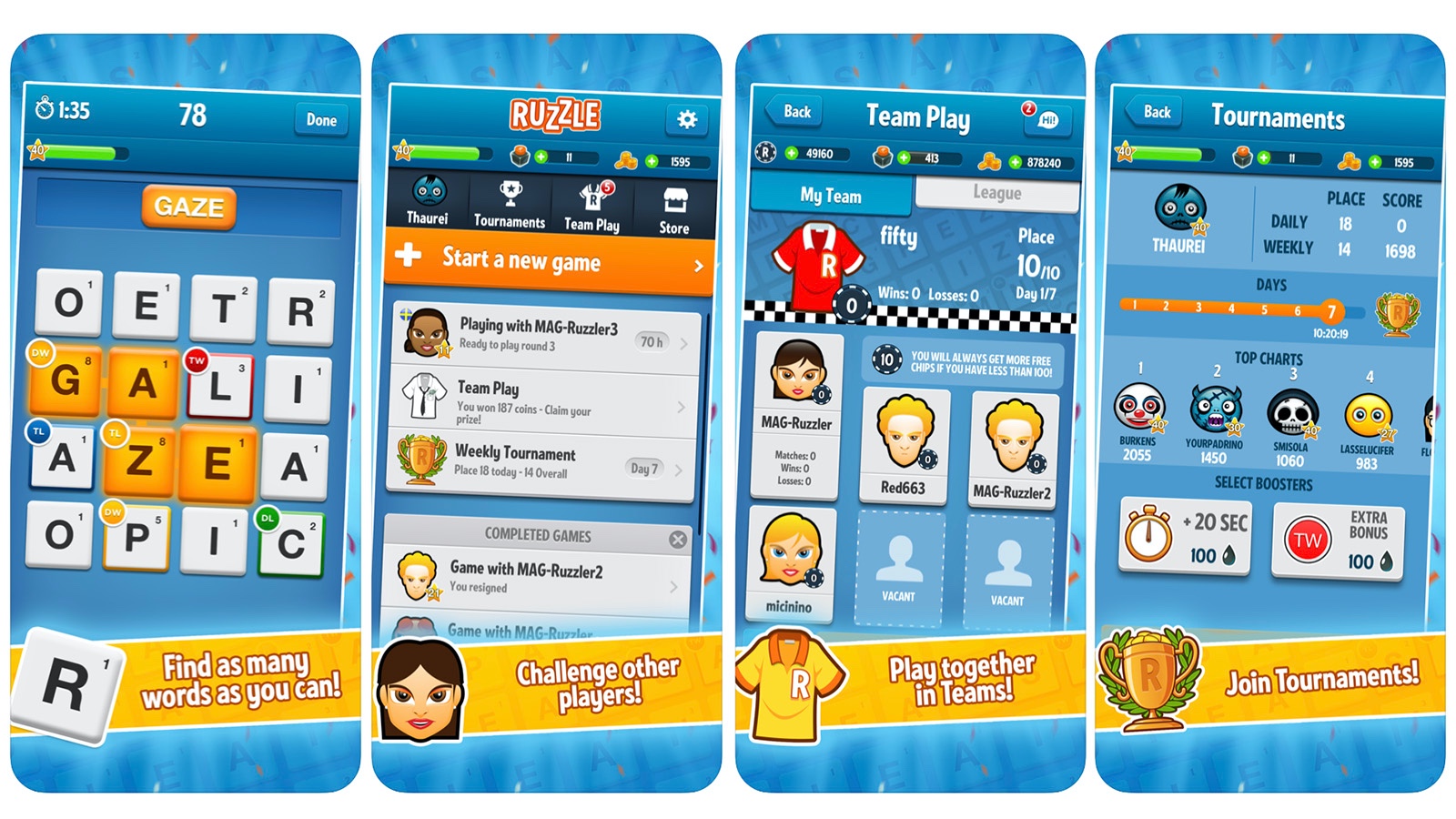 Ruzzle game screenshot
Boggle With Friends
Recognize that "With Friends" ending? Of course you do. Boggle With Friends is also made by Zynga, the same company that brought you Words With Friends. And just as Words With Friends introduced more modern game dynamics like power-ups, Boggle With Friends does the same with the traditional game of Boggle. 
Staring down at the 4 x 4 grid of scrambled letters, you try to connect adjacent letters to form as many words as possible. Boggle is already one of the most popular 2-player word games in the world, and this mobile app makes it even more accessible. Explore fun new modes, daily challenges, and even head-to-head tournaments. Get it for iPhone or Android.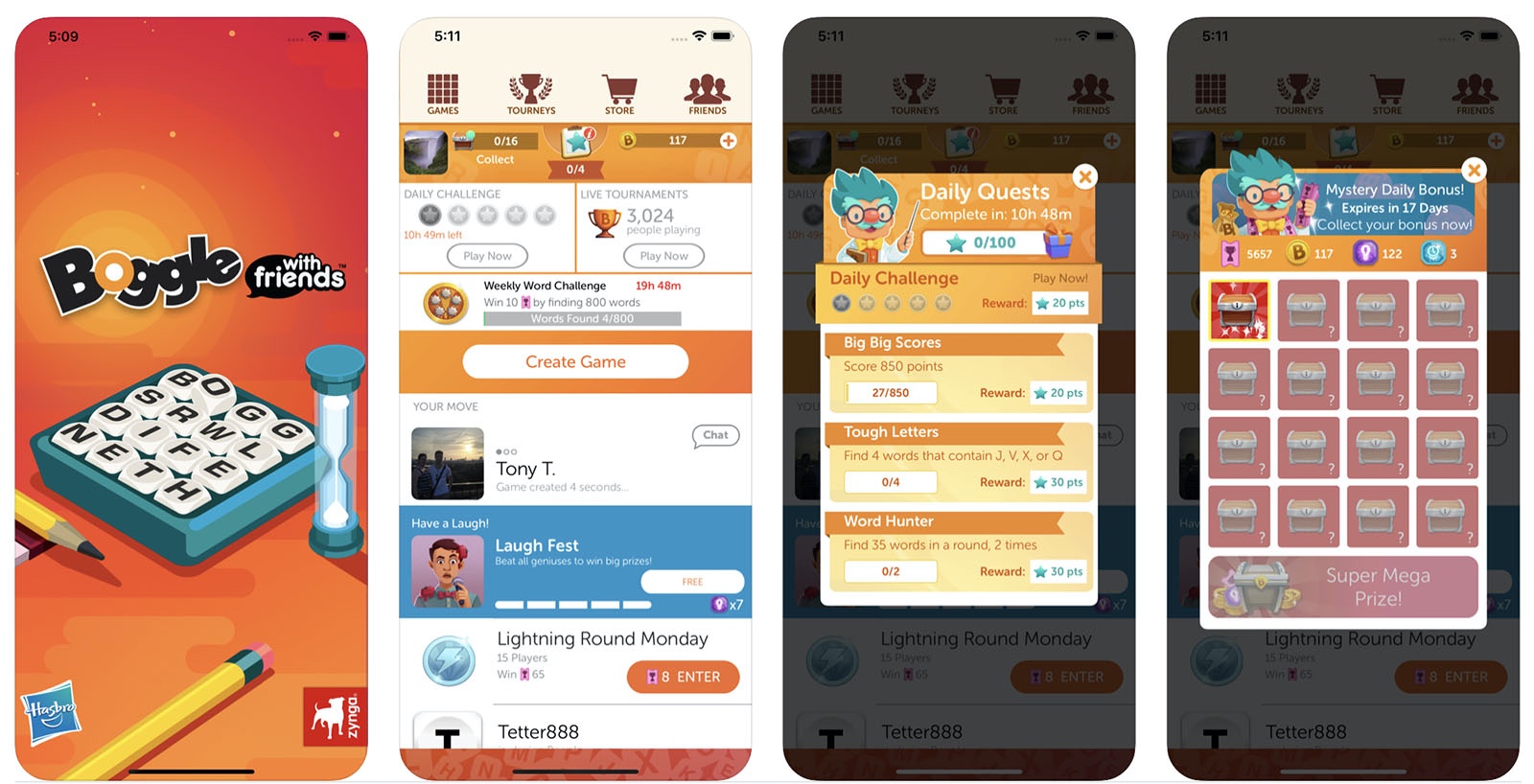 Screenshot of Boggle with Friends game
Scrabble GO
For the absolute purists, there's the Internet Scrabble Club. For people who want something a little different and more accessible, there's the Scrabble Slam card game. But what if you find yourself somewhere in between and you're looking for an experience beyond Words With Friends? Another option is Scrabble GO. 
While you can still play the classic Scrabble game you know and love, Scrabble GO lets you try a number of new game modes. Duels is faster-paced with just five turns and a timer, Word Drop shifts remaining letters as you, Tumbler challenges you to find words from a rotating set of letters, and Rush is a solo game on a smaller board. Scrabble GO is available for iOS and Android devices.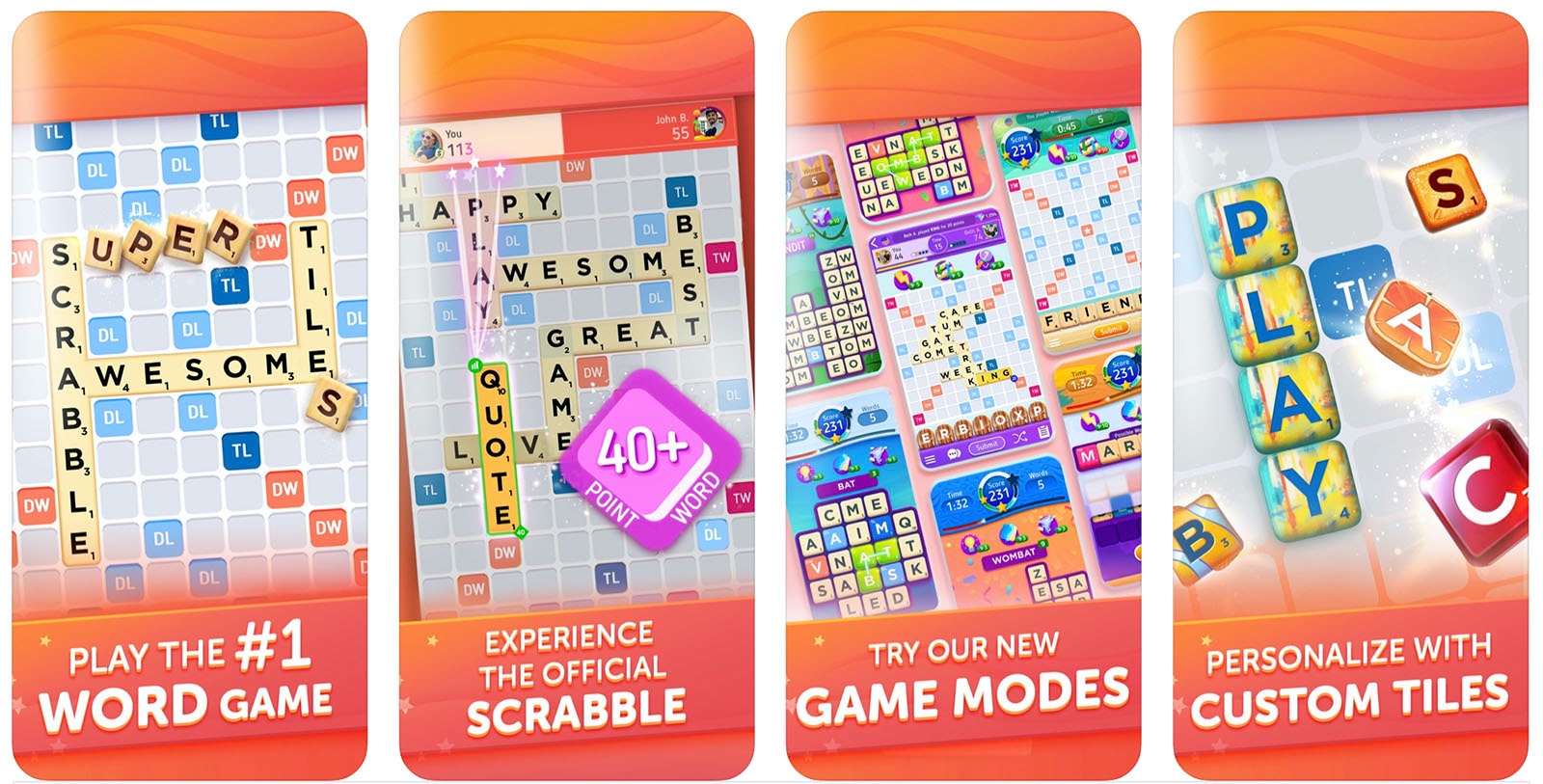 Screenshot of Scrabble GO game
BattleText
Do you feel the need for speed? Think you have the fastest thumbs around? Maybe BattleText is the online multiplayer word game for you! This is what happens when you enter a text message battlefield, gamifying the chat experience for the crown of fastest texter. Come up with longer words and type them more quickly than your opponent.
Multiplayer game rounds feature different rules and restrictions. For example, the last letter of your opponent's word must then be the first letter of your word. Or, another round might eliminate certain letters from your keyboard, or you may be forced to include certain letters in your word. Download it via the iOS App Store or Google Play Store.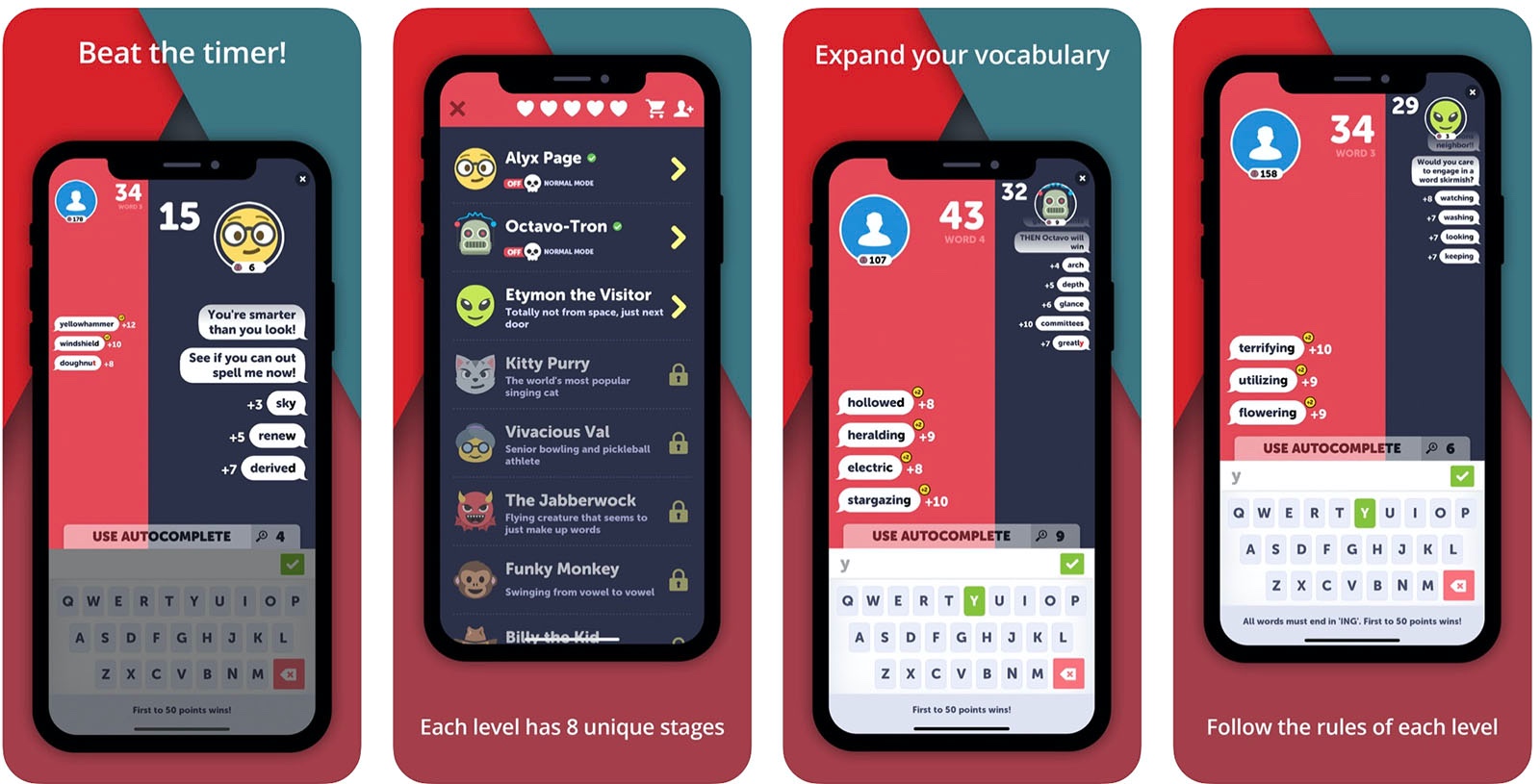 Screenshot of Battle Text game
Wordox
When playing Scrabble or Words With Friends, you're often concerned about laying down the highest-scoring word possible. But what if the game were really about board control and every letter was only worth one point? And you could "steal" letters from your opponent? Enter Wordox, a unique blend of Reversi and Scrabble. 
When you play a word, you claim those spaces on the 9 x 9 board. When your friend plays another word, they "steal" the spaces with your letters, just as they would in Reversi, Go, or Othello. Be the first player to mark 25 points to win. It definitely takes a different kind of mindset and perspective to win this fun multiplayer word game! Wordox is available for both Android and iOS.
Screenshot of WordOx game
Mobile Multiplayer Word Games Are Massively Fun
Get in the game! Enjoy some really fun word games to play with friends, sharpening up those vocabulary skills and maybe even learning a few new words along the way. If you'd rather play on your computer, there are tons of multiplayer word games online too. And don't forget to check out WordFinder's list of fun Android word games for even more variety. 
---
Michael Kwan is a professional writer and editor with over 14 years of experience. Fueled by caffeine and WiFi, he's no stranger to word games and dad jokes.