What Is Canuckle?
Canuckle is a special remix of the Wordle formula. It launched on February 10, 2022.
The gameplay in Canuckle is identical to Wordle. But, instead of answers that could be almost any five-letter word, each Canuckle answer closely relates to Canada in some way. Examples of past puzzles include "cabin," "maple" and "moose." The Canuckle name is based on the word "canuck," a slang term for Canadians.
The chosen words are inspired by Canada's culture, government, natural features and history. Mark Rogers, along with his brother, Jeff Rogers, set out to create a game that celebrated their home and shared what they knew about Canada with the world. That's why, whenever you complete a Canuckle puzzle, the game offers a bit of interesting trivia about the word, clearly explaining how it relates to Canada.
Origins of the Canadian Wordle Game
Canuckle came to life because of the same reason Josh Wardle created the original Wordle: family. Mark and his family were caught up in the Wordle craze when the word game initially became popular. The more they played, the more they thought about how a Canadian-themed version of Wordle would be a fun idea.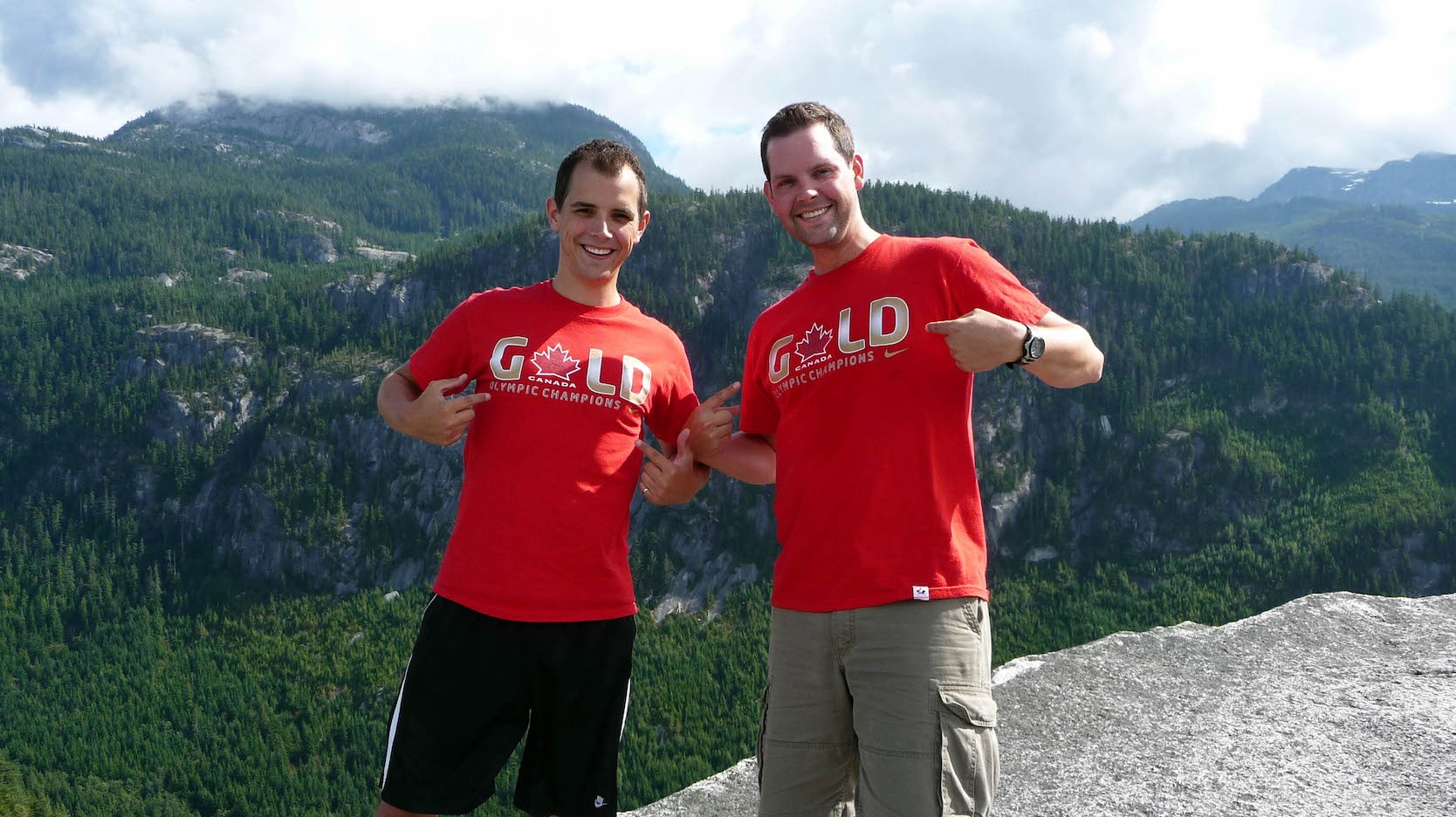 Mark Rogers (right) and his brother Jeff
Mark Rogers (right) and his brother Jeff
This fire of this interest was further stoked by multiple, well-timed factors:
One was the 2022 Winter Olympics. Watching and rooting for the Canadian athletes as they competed in Beijing ignited the Rogers family's sense of national pride.

Another was seeing all the other Wordle spinoffs that were popping up. One example was Gordle, a word game for hockey fans.

A third motivator was that Mark's kids weren't always familiar with the Wordle answers. By creating his own game, he could let them play with words they were more familiar with and related to their home country.
Interesting Canuckle Facts
Since its launch in early February, Canuckle has gained a large following and had an overall positive reception from both word game fans and lovers of all things Canadian. For some clear examples, Mark was kind enough to provide us with some Canuckle user details.
Canuckle statistics (as of April 20, 2022):
Played in 196 different countries.

Played in 1,213 different regions.

Played in 12,166 different cities.

More than 2.9 million users.

Over 55 million page views.
To learn more about Canuckle, be sure to follow @canucklegame on Twitter. Each day, they post the facts about the previous day's puzzle answer. They also share and discuss various Canadian topics and current events.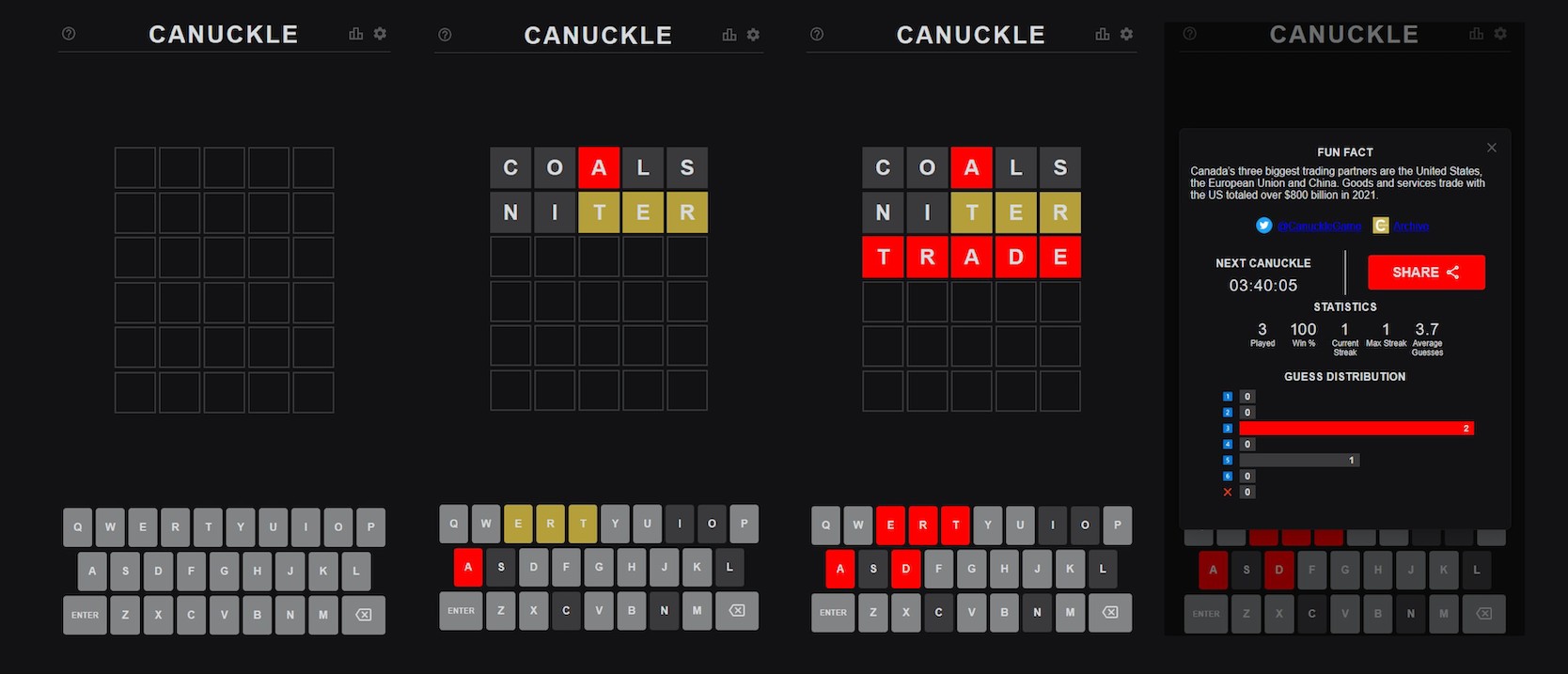 Canuckle word game screenshots
The Canuck Behind Canuckle
Mark Rogers is a true Canadian who is very proud of his country. In fact, much of his career has involved serving the Canadian people and government in some regard. And, of course, he's also a big fan of Wordle and word games.
WordFinder: To start, can you tell us a little about yourself? Who you are, what you do, what led you to today with Canuckle.
Mark Rogers: Sure. Mark Rogers, born and raised in Ottawa. Actually, I guess I was raised in all parts of Canada. My dad was part of the military, so we moved around a bit. I'm now living in Ottawa with my own family. I have three girls, married to my wife Laurie. And I work for the federal government. I've been an employee of the government for about 20 years. I've been living in Ottawa and just started working on this Canuckle stuff with my brother, and it's turned into something pretty fun. So yeah, I've been pretty excited about that.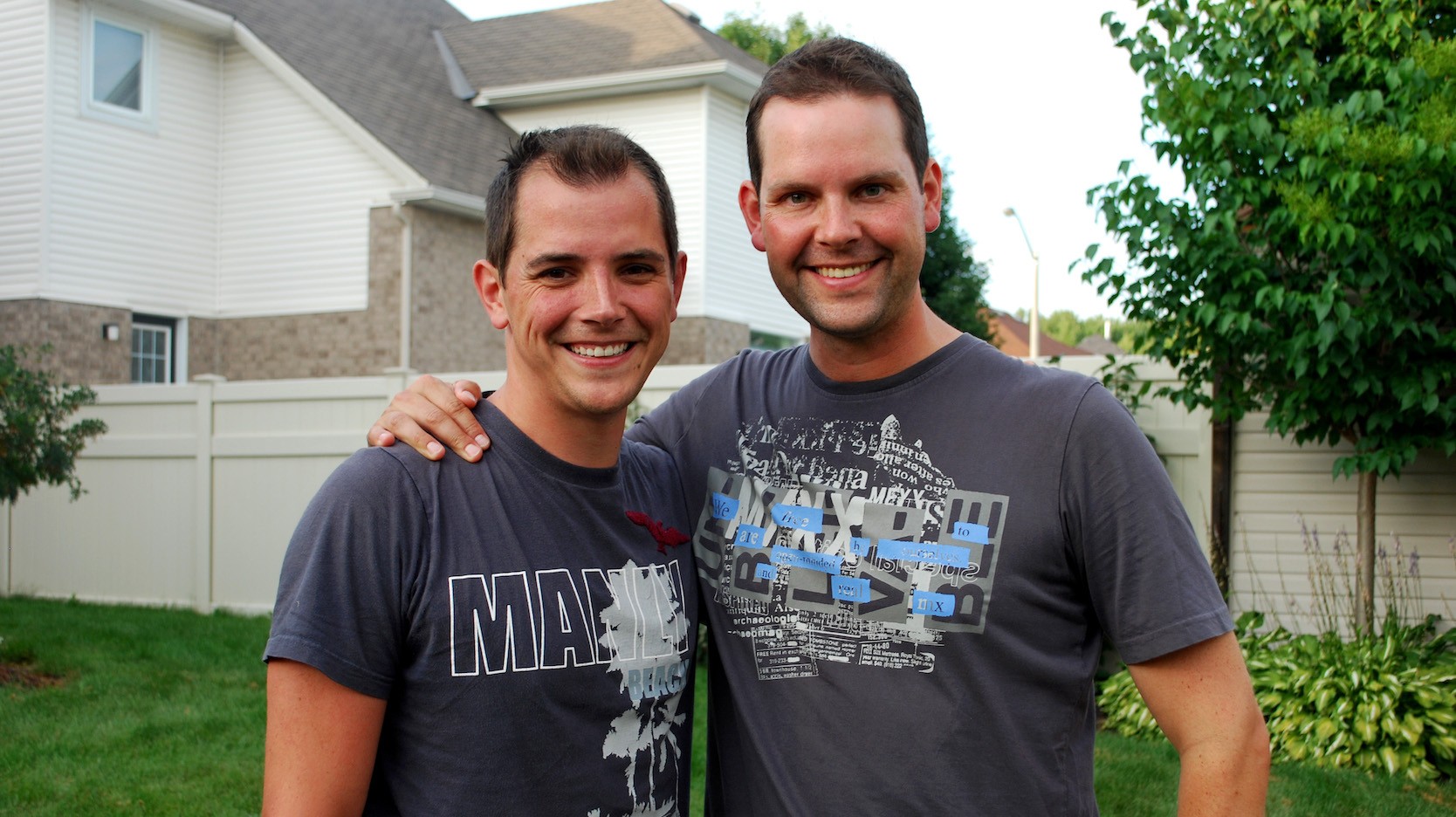 Canuckle co-creators Jeff (left) and Mark Rogers (right)
Canuckle co-creators Jeff (left) and Mark Rogers (right)
WF: What do you do exactly for the Canadian government?
Mark: I went to school for electrical engineering and worked for high tech for a little bit, and then moved to the government. I work for Shared Services Canada. We're responsible for supporting all of the different federal departments from an IT perspective. Right now, my client portfolio includes the Department of National Defence and Veterans Affairs Canada.
WF: What are some of your favorite word games? Which ones led you to them as an interest?
Mark: Good question. Our family are big board game fans. We play a ton of the classic games with the kids. So, favorite board games … big fans of Scattergories, Pictionary, Taboo. We have an annual family games night with like 25 of my family members. My dad's a big game's night master with scorecards and grids and stuff. I've grown up playing games as part of a big family, playing anything where you gather around, grab some snacks, just hang out and do stuff with family.
Word games … I mean, we got into Scrabble. My parents are huge Scrabble players. So we played a ton of that as well. And now there are a bunch of fun games that our kids really like. One's called Taco Cat Goat Cheese Pizza. Really interesting one. You ought to look that one up and check that out.
We got into playing Wordle in early January when it was really starting to get some traction and I'd seen it on Twitter. I'd seen that people post in the green and yellow squares, and I was like, "What is this? I gotta check it out." And it was so fun and easy to play.
And then I got all my family playing, my kids playing, and it gave us all something to chat about and share and compare. And obviously, there's some competitiveness, right? "Oh, I got it in two," "I got in three." That really made it fun. That's been a big part of it. And I think that's what spawned it. That's what drove where we went with Canuckle.
Canuckle's Creation and Management
As with any game, the creation of Canuckle required a lot of knowledge, planning and inspiration. Mark Rogers explained the full extent of what he and his brother needed to do to take Canuckle from idea to reality.
WF: How did you go about making Canuckle? I read on the site that it is powered by the same engine as Wordle.
Mark Rogers: The code for Wordle is quite complex and elegant and simple at the same time because it's really just a single JavaScript file that is powering the whole thing. It has a ton of lines of code in there that the originator Josh Wardle created.
The game runs on a single page. There's no log-in — it's literally one page and then the code behind it. So, before [the] New York Times purchased it and then put a copyright on it, it was out there and available, and that's why you see so many variants out there right now of the Wordle code. You see all the different [variants] – Quordle and Dordle and all the new ones – so there's a ton of code that is out there and available right now.
And obviously, this is not anything where we coded it from the ground up and can claim copyright. So that's why the references are there that this is powered by Wordle.
We were able to then look at it and say, "OK, let's reverse engineer it." I went to school for electrical and computer engineering but haven't been doing that in a while. But I've also done some web design in some previous jobs of mine. And my brother, who's also an engineer, is an engineer for IBM. And he develops apps, actually, for IBM. So our skill sets are sort of complementary because he's got more of the backend type of code knowledge and I've got more of that presentation layers and seeing how it all translates to when you publish it to a website.
I was able to find out by looking at the Wordle code, "OK, how could I change the colors, and change the title, and change the words that are running." And then we added some new features, like the fun fact that comes up after you solve the word to give a bit of Canadiana trivia. We changed the way that some of the different pieces present. And then, obviously, the color scheme and the messages that come up when you solve a word are all very Canadian-centric.
So, it's understanding the code well enough to be able to reverse engineer and look and see where it is, and then modify and add on to it and build it. And then we've also published all of our code to GitHub as well. So it's all there and available with the reference so you know this is powered by Wordle.
And that's since spawned multiple variations of Wordle and Canuckle now. There's actually a developer who created Indle, which is an Indian Wordle. And Stardle, which is an astronomy-based word every day. … So, it's pretty cool to see that.
WF: How often do you update the word list, and what's the main reasoning behind doing so?
Mark: The latest version that we put out has an auto-refresh built into the page so that, as we get more and more people updated on the latest version, they will always get the updated word list, which is great. I guess maybe a bit of a downfall of Wordle is that it doesn't actually talk back and forth to a server every day and then gets a new word. When you load the page, all of the words and the dictionary that were on your browser, they're all [still] there. And then, if you don't refresh that page to get a new puzzle, you still have all the old content.
Let's say I make a typo in a fun fact, or I wanted to add a bit more clarity to the origin of "kayak" [Canuckle #36, March 17]. The problem is, if you haven't got the latest version, you're not going to get the latest updates. We just released version 4 last night [March 28]. … Once you get to that version, and tomorrow, if I make a change to the word list, it'll refresh automatically when you play.
We've changed about four or five words since the original launch. Yesterday's word [March 28] was "order" for the Order of Canada, which is our second-biggest honor. The Order of Canada is for if you've contributed to the nation and you've done extraordinary service for the country or been an amazing volunteer or community advocate. Then, you get the Order of Canada presented by the Governor-General.
That was the word that we added after the fact. The word that was supposed to run yesterday originally was "eagle." Now, the eagle is the national emblem of the USA. USA and bald eagles, that's like the big thing. But the Pacific coast of British Columbia on the west coast of Canada actually has the most eagles in the world. And the eagle feather is actually a really spiritual and symbolic item for the First Nations Indigenous people in Canada. So, that was the thought originally for the word "eagle," but after chatting with a few people, I think the feedback would have been quite strong that eagle is very American, even though a fun fact may tie it back to Canada.
Those are the reasons why we've made a few updates like that. We had the word "goose" that ran obviously for Canadian Goose. The goose is obviously a big Canadian animal. We also down the road had the word "geese," but we're not going to run the word "geese" now because we already had "goose." … Originally, I was gonna say, "Oh, one's Canada Goose (like the company) and the other's Canadian geese." But it's a bit too similar. And because we're limited with 142 words from now to Canada Day – that's our ending date as scheduled right now – we wanted to make sure we had the best words there.
There are lots of drivers for making sure that we hit the mark on "Is this going to be a good word? Is this going to work?" And that definitely changes based on feedback.
WF: Where do you find your Canada trivia? And how did you choose the fun facts you would share each day? What are your go-to sources?
Mark: I've got a few go-to sites. For every word that we're going to run, if you just Google that word, plus Canada plus fun fact, you get a lot of really great stuff. There are a couple of different sites that come up like the Canadian encyclopedias, Canada historical-type site, Wikipedia, … I get a bunch of stats from Stats Canada, especially on things like the number of, consumption of, you know, billions of liters of beer that Canadians had in the last couple of years. Things like that. Some government websites have a lot of cool stuff. But really, there are a lot of Canadiana-type sites that are out there.
To try to make [the trivia] consumable, we turn it into a one-or-two sentence little bite that people can sort of chew on. And then from there, we expand that when we tweet about it and tweet about the word. so it's been fun from that respect.
The Trickiest Canuckle Words
One of the things that makes word games fun is when they know how to test your skills and word knowledge. Some of the hardest Wordle words are great examples of this. And so is Canuckle, which has stumped more than a few players with some of its clever Canadian-inspired answers.
WF: Do you know which days have been the most difficult for people, statistics-wise?
Mark Rogers: That's an interesting thing. There are no stats that are stored. It's all based on if people tweet about it or share their scores. It's actually something we're thinking about doing because we're running Google Analytics and nothing is tied to, like, a username and no scores are stored anywhere. We can actually try to record when someone gets a game in three, we could just send back, "Yeah, [the player] got a three" and then start getting some numbers back, because I'd like to know which ones were the most difficult.
It's definitely just based on Twitter feedback. "Scoff" [Canuckle #40, March 21] was the hardest one yet because no one thinks of that as a Canadian word, unless you're from the East Coast.
"Banff" [Canuckle #13, February 22] was particularly tricky. Again, another double-f ending, so that may be a theme there. That was a bit of a tricky one because people weren't necessarily thinking of proper names as a word.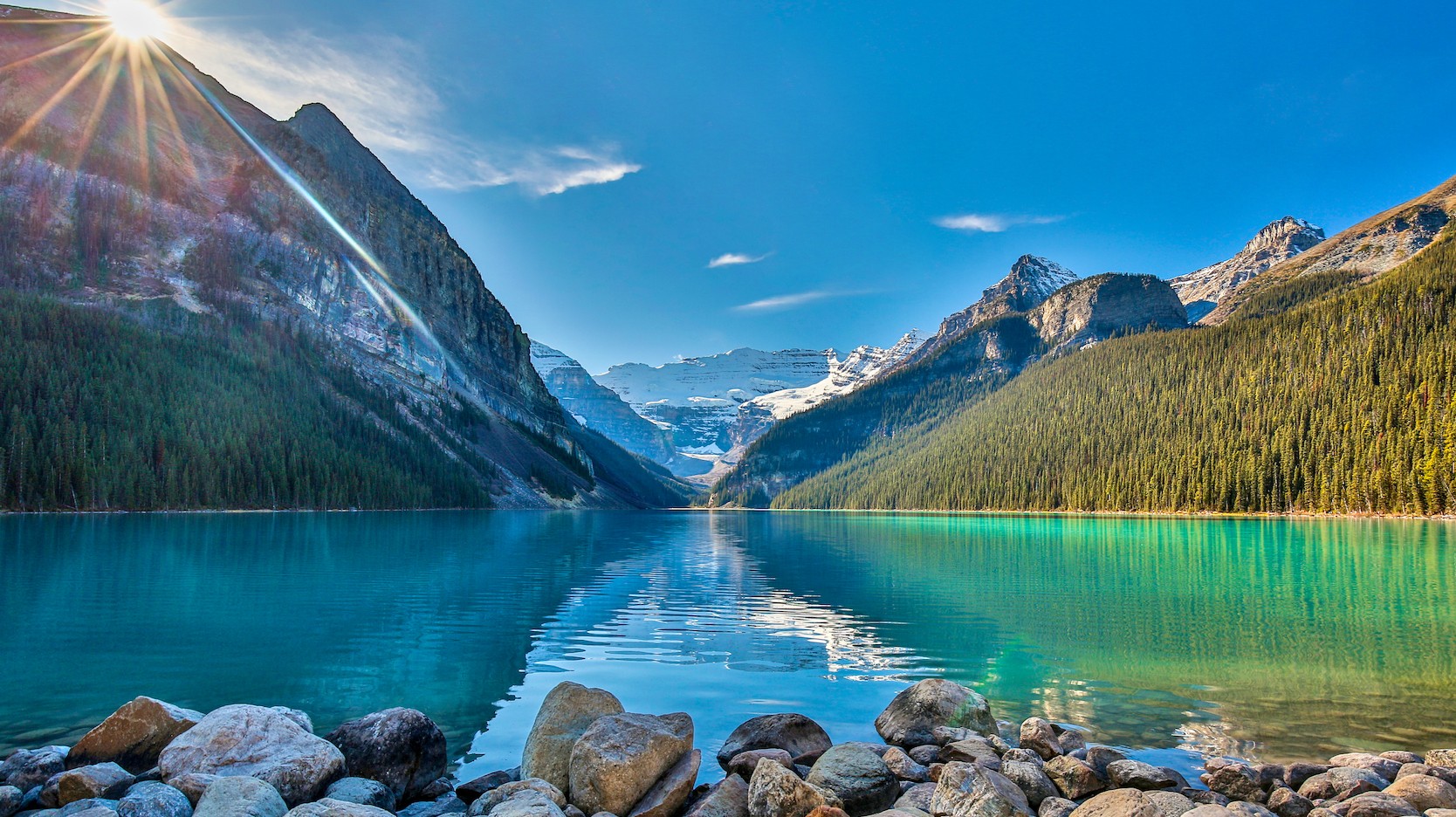 Banff National Park scenic
Banff - Canuckle #13 (February 22)
I can tell you we have some hard ones coming up that are sort of scoff-like that are going to be good. Hopefully, at that point, we have some of the data so that we can start saying, "Hey, here's this word, and here's the difficulty level. Here's the average score that we had or the number of people that played." I think that'd be sort of cool to release that.
[Since the time of this interview, Canuckle has started capturing guess stats for each Canuckle word, tweeting out the average guesses for each word the following day.]
WF: What have been some of your favorite Wordle-inspired games? Have there been any of your personal favorites that have popped up?
Mark: The original Wordle I still play. I really like Quordle, the four-at-a-time one. I think that one is fantastic. It makes you think a bit differently, just trying to figure out multiple words at the same time. I think that's sort of a fun challenge.
What else do I really like? I really like Gordle. If you haven't seen this one yet, this is the one that's the hockey players' last names. They've got the dictionary for this based on all the players that have been in the NHL. That one's been really cool. I do really like that one and if you haven't seen that one, check it out.
We have a list on our Twitter of all of our favorite word games. We've got all the spinoffs and variations, so I've included a bunch in there.
There is another Canadian one called Spellie. They did a variation where they changed the keyboard layout for kids so that it's in an alphabet layout as opposed to a QWERTY keyboard. They've got different levels, and you can unlock emojis. So if you guess "bears," then you unlock the bear emoji. And they've gamified it for young kids. It's like grade levels, two to six sort of thing, for kids. … And it's a dad out in Vancouver who built that. So, we retweeted them and really highlighted them because of some pretty cool stuff they've done with that.
Canada Day Finale (and Possible Future Plans)
At the end of our time talking with Mark, we wanted to hear what he had to say about the game's future. Canuckle is set to end on Canada Day (July 1, 2022). The game will not completely disappear on that day, but there are many options and possibilities that Mark and his brother need to consider.
WF: Was ending on Canada Day always your plan? What was the decision behind that?
Mark Rogers: Pretty early on, we were concerned that we weren't going to have enough words. We only had about 50 or 60 words early on. And then with some input from people and doing some more research, spending some time curating a list. … Actually, one of my daughter's teachers sent me a spreadsheet with, like, 100 words that he had already prepared to help him guess. It was sort of his cheat sheet while he was playing the game. And I was able to grab some words from that as well.
So when I looked at the numbers and the words that we had, and we'd started on February 10, I was like, "OK, July is a long way away. That's a lot of words to run." But then I said, "I know the Canadian words are going to have a limit, right? I don't want it to stretch and start thinking, "How's that related to Canada?" There are only so many "canoes," "maples," "north" and all those ones that we really associate with Canada. But if we start going into "that's not really 'Canadian,'" then that's not as much fun.
When we looked at all the words we had, and the dates lined up, I saw that July 1 was reachable based on the words in our database, and I said, "OK, we can definitely get to Canada Day with a good set of lists of words, with maybe some spares to sub in, just in case something happens with the world and all of a sudden a word is no longer relevant or whatever.
We wanted to be prepared to do that as well.
But ending on Canada Day really seemed appropriate. It was a fun way to celebrate – land on the birthday. … but I think it's good to have the end on Canada Day, and then we'll see what happens.
Maybe we'll come back in advance of next Canada Day, like in 2023. We talked about maybe doing a limited edition version of Canuckle leading up to the next Canada Day, like for 30 words or something. So, we're playing with some ideas, but this is just for fun on the side in my spare time. It's lots of work, lots of hours, so it'll also be nice to have a little bit of a break in the summer.
WF: You said the Canuckle Archive was staying up after July 1, correct?
Mark: Yeah, that's gonna stay up for sure. So that's up there now at canucklegame.github.io. We've had about 130,000 hits already on Canuckle Archives. It launched about a week ago, and there are still lots of people going to that, which is great. It's obviously not as current, because most people now who joined are playing the regular game and they're just playing it every day, so they don't have a need for it. But the cool thing with the archive is the random button. You can click on random and it plays any puzzle based on yesterday's puzzle and the first puzzle on February 10th. … So it's fun that's out there still, and I think a few just had fun going through the old stuff and seeing all the fun facts.
WF: Was there anything else you wanted to share? Perhaps some future plans or anything in general.
Mark: Not anything [definite] I want to share. This is a whole new thing for me, all this engagement. It's really been a lesson in social media. And people really rely on it and want to come to your game site every day, which is a pretty cool thing. But it's also a responsibility. There was one day that the Github server was down for an hour and a half, and I got so many messages on "Where's Canuckle? Is it quitting? Is it gone? What's going on?" And you realize this actually has a bit of a following, which is pretty cool.
Maybe we'll do a famous or influential Canadians version of Canuckle, which I think would be really fun. We could talk about historic people, comedians, authors – people who have made a difference in Canadian history. And again, the dictionary will be totally different because you've got to accept names in that. So I've got to change the words and what's acceptable. So there's a lot of work that goes into that right now. It's just a basic list of all five-letter words that are not proper nouns. But that's something that I think would be really cool to run another version of it.
Twitter's just one small piece of it. We may launch a Facebook page, because I know a lot of people play and post their scores on Facebook as well. But it means it's another medium to actually manage and go through. It does take up a lot of time. I'm thankful that my wife has been so supportive and helped take care of stuff when I disappear into the office and do research on words for a couple of hours. It has been a lot of late nights, but it's been pretty cool that this turned into what it has.
I don't know what the endgame is going to be and what's gonna come of all this. I think it's still going to be something pretty cool at the end.
The whole thing is that this is fun. And it's cool that we build something that people are enjoying. And I like what you said (earlier) like the "poetic finale" on Canada Day has a lot of appeal. And I think that's sort of a fun way to go.
[Since the time of this interview, Mark and his brother launched their Facebook Canuckle page on April 16, 2022.]
Enjoy a Side of Waffles With Canuckle
We want to thank Mark Rogers again for taking the time to speak with us about Canuckle. This game has been a hugely successful passion project for him and his family, and we wish them luck in whatever they decide to do after the game's grand finale on Canada Day.
Passion is almost always the key to success for any game. To grow, the people behind these games need to love what they are doing. That's what word game fans have seen from many developers motivated by Wordle. One such developer, James Robinson, is a clear example of this thanks to his Wordle-inspired game, Waffle. To learn more about the fun, food-shaped game and its maker, be sure to read the interview we had with the Waffle creator.
---
Zac Pricener has been a content creator for the past eight years. He's a bit of an all-around nerd, and he has a bad habit of working movie and TV show references into conversations whenever possible.