All About the Wordle Word Game
Wordle is a new online word game. It's free to play and takes little time to get started. The goal of this clever game is to deduce the secret word by finding and rearranging letters. You need to have good deductive reasoning skills and an adept vocabulary to find the answer. Each puzzle consists only of five-letter words, but that doesn't mean that solving them will be a breeze.
Taking Inspiration From the Classics
The game is new in the sense of being a simple online game to play. But, if you are familiar with the classic game show Lingo, then you'll notice some striking similarities between the two. Wordle seems to have taken a lot of inspiration from the same game mechanics that the TV show used.
How to Win at Wordle
So, how does one play Wordle? As mentioned, the gameplay is similar to what was used in Lingo. Other apps and online games have used it as well. Your goal is to find a hidden word within a limited number of attempts. You only get six attempts to figure out what the hidden word is. If you fail, the game is over.

Wordle game screenshots
Each puzzle features a five-letter word. And, the game uses a different word for each daily puzzle. Yes, there is only one puzzle per day. To clear each puzzle, you need to find the right letters.
For the first attempt, try to play any valid five-letter word. The best words to play first in Wordle contain the most common consonants with some vowels, increasing your odds of finding some correct letters.

If any of your letters belong to the hidden word, they turn yellow. If they are part of the word and in the correct position, they turn green.

During subsequent turns, use the yellow and green letters and place them where you believe they belong in the word. This means that you leave the green letters where they are. You also need to play letters you haven't tried yet to find the remaining letters.

Repeat this process until either you find the word or use all six of your attempts.
When you need help coming up with the best five-letter words to guess, our Wordle solver is a useful resource. Enter the letters you know and browse the list of possible words to play.
Challenging Wordle's Hard Mode
The core gameplay never changes, but Wordle does offer an optional level of complexity. Select "hard mode" in the game's settings by tapping on the "gear" icon in the top-right corner. In Wordle's hard mode, you have to use any revealed hints in your subsequent guesses. This means you can't try a word with a completely different assortment of letters.
For example, if you enter the word EMPTY and the Y turns green and the T turns yellow, you must use those letters in your next word. The Y must be in the fifth position. Complete each guess under this limitation, adding each new revealed letter as you do, until you find the answer. In this case, the answer might be something like TACKY.
Development and Success With Josh Wardle
Wordle's gameplay isn't truly new, but its delivery and format certainly make it refreshing and fun. It's a simple webpage game that takes you straight to the game, lets you have your fun and then resets for the next day. That's an important detail to remember: You only get one attempt per day to solve the puzzle. If you fail, you need to wait until the next day's puzzle to try again.
Inspiration and Success
The simplicity and need to return to the game each day were the entire focus for developer Josh Wardle when designing the game. It started because Josh Wardle, a software engineer at Reddit, wanted to make a simple and fun word game for his partner and family. Wordle was the result. 
He originally made it just for his family, but once he realized how popular it was with them, he decided to share it with the world. He did so in October 2021. By the start of January 2022, more than 300,000 people had played the game.
On January 31, 2022, the New York Times announced that it had acquired Wordle from Josh Wardle for an amount "in the low seven figures." The branding changed to the New York Times font and style on February 11 and the full migration started on June 9. It was also around this time that the NYT started using Wordle to promote the NYT Spelling Bee game.
The Appeal of Wordle
As it turned out, there are plenty of word game players out there who are eager to play something simple and on a daily basis. The fact that Josh made this game as a hobby, which means there are no extra frills and no ads, helped make it even more appealing. 
Hip to Share Squares
Josh Wardle originally didn't even include a way to share your daily Wordle scores on social media. He only added the share button when he realized people wanted the option. 
The Wordle share function he added gives you the ability to copy and paste a duplicated image of your game. It shows all 30 squares — up to six rows of five squares each — but not the letters. The gray, yellow and green color patterns match your game so you can show everyone how you found your Wordle answers.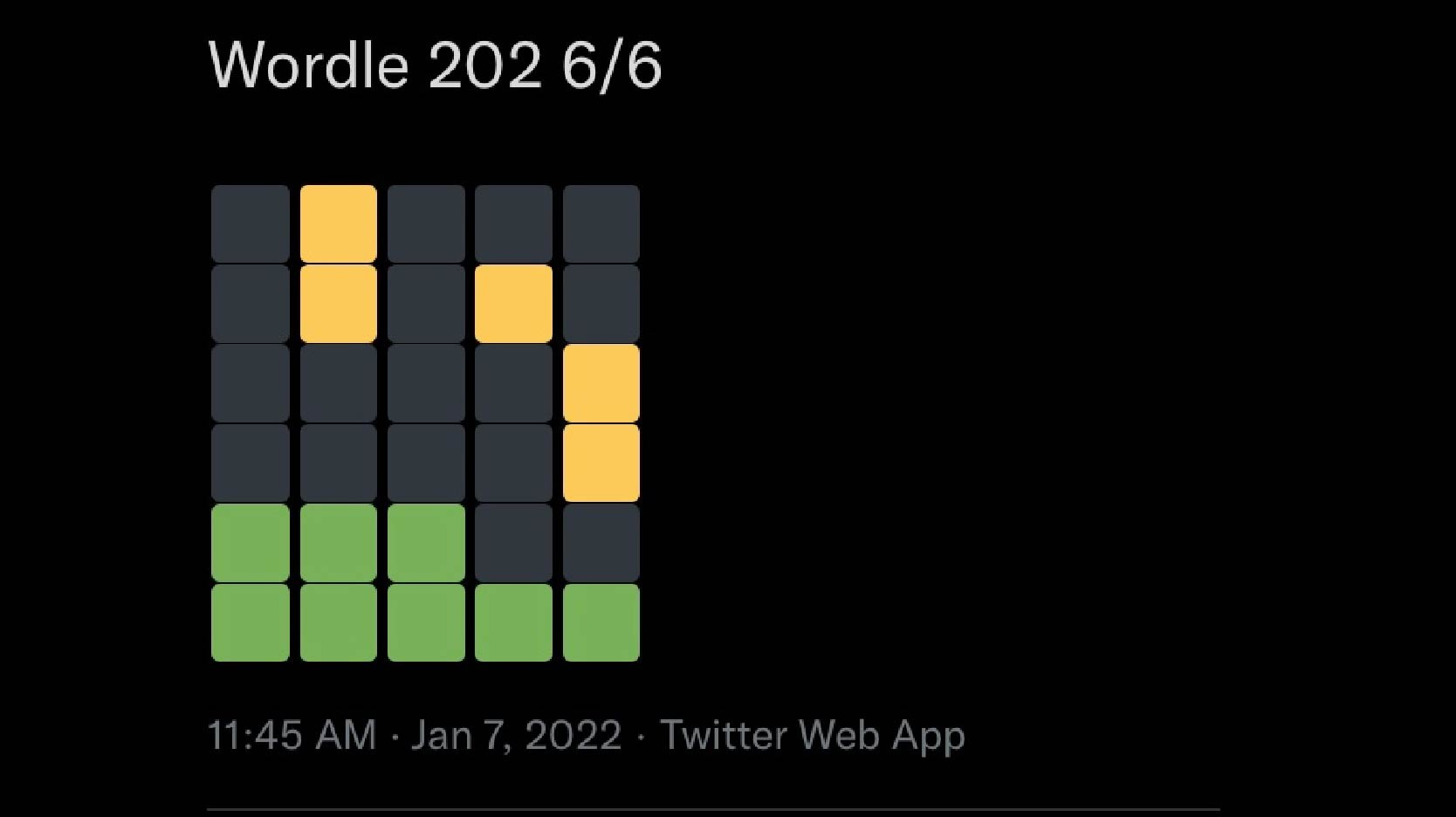 Wordle game social media
Why "Wordle" for a Word Game Name?
Why "Wordle"? Because like any decent human being, Josh appreciates puns and wordplay. As an inside joke for him and his family, he combined "word" with his last name. So, even down to its name, Wordle is a game that is meant to be fun and not taken too seriously. This same philosophy of fun applies to the Wordle board game from Hasbro Gaming and New York Times Games too.
Wordle's Other Uses and Meanings
Wordle has other meanings outside of the one Josh made up, though. Yes, it is also a real word. Sadly, though, it is not a valid word in Scrabble or Words With Friends. Outside of Josh's fun word game, you just might hear "wordle" used in two ways:
In computing, a wordle is a type of applet that generates word clouds. Word clouds, also called tag clouds, visually display and represent text data.

A wordle can also be a pivoted piece that forms the throat of an adjustable die. They are used to draw wire and lead pipes.
More Games Like Wordle
There are also a number of Wordle-like games if you're looking for more. Perhaps you enjoy Wordle, but you don't want to wait an entire day to play again. If that's the case, try playing Word Master. This game plays exactly the same as Wordle. The only difference is that you can play it as many times as you want each day. If you're looking for a game that offers more of a challenge, you could try Quordle, which has you complete four puzzles at once.
The Fun and Value of Web Games
If there's one thing that Wordle can teach us or remind us of, it's that the web is home to numerous worthwhile, entertaining and free games. They are the simple type of games that we can jump into and start playing right away. And many of them are great to play with friends. Check out our list of the 10 best multiplayer web games for some great recommendations.
---
Zac Pricener has been a content creator for the past eight years. He's a bit of an all-around nerd, and he has a bad habit of working movie and TV show references into conversations whenever possible.