Wordscapes Tournament Rules
Whereas Words With Friends added an extra layer with Words With Friends Live, Wordscapes tournaments are much simpler both in approach and presentation. If you're wondering about how Wordscapes tournament rules and how tournaments work. You just keep playing the game like how you always have. 
There are two tournaments that run every weekend: Star Tournaments and Team Tournaments.
Star Tournaments
Wordscapes Star Tournaments are individual tournaments.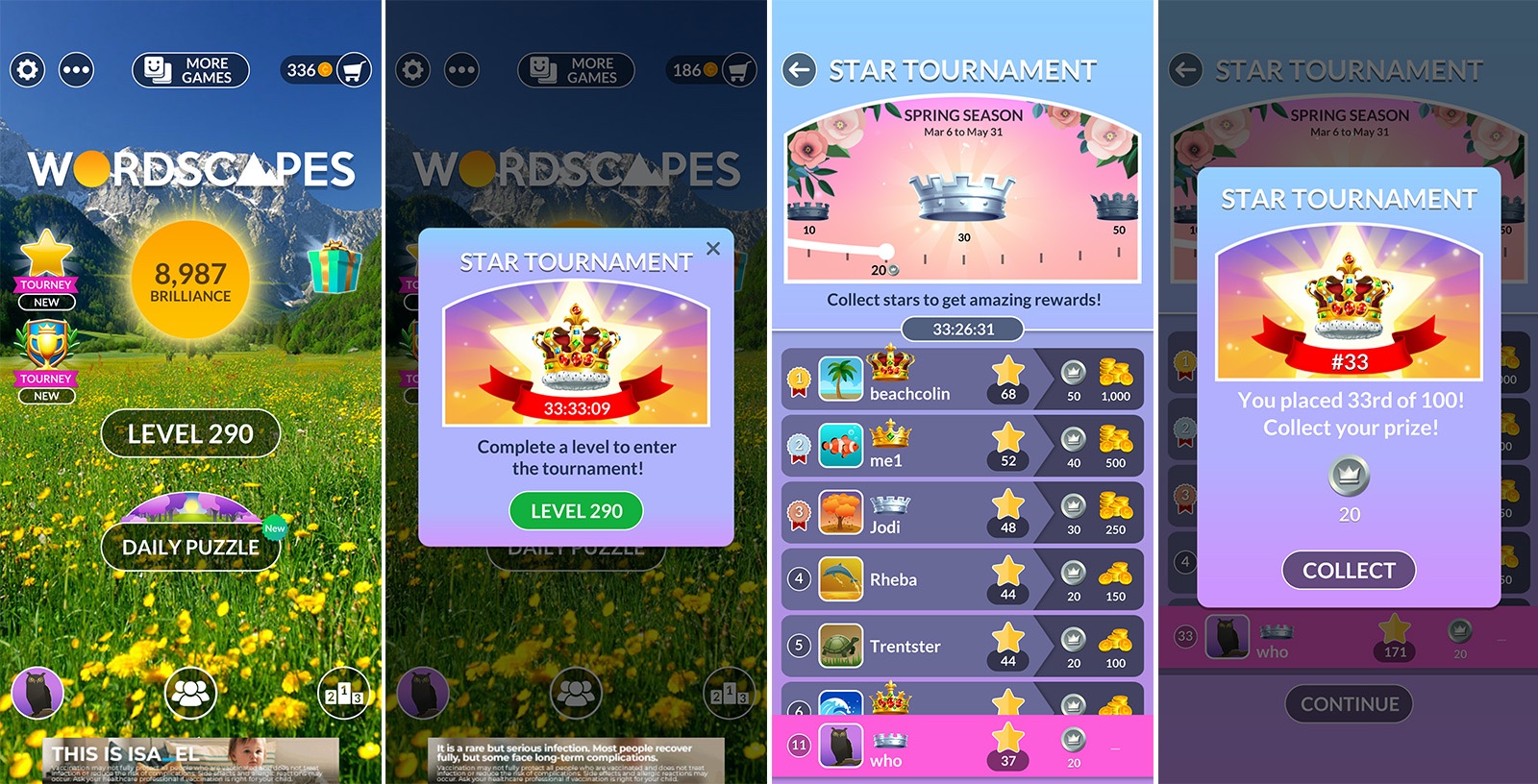 Screenshots of Wordscapes Star Tournament game
To enter the weekly Star Tournament, tap on the "star" icon (labeled with "Tourney" underneath) along the left side of the game's main screen.

After you opt into the weekly tournament, you play Wordscapes the way you normally would. 

The game will randomly assign you to a group of 100 players. 

When you find words, whether they're in the puzzle or they're "bonus" words, they each earn you a star.

The players with the most stars at the end of the tournament period earn rewards based on their place in the standings. 
Team Tournaments
Team Tournaments in Wordscapes work in essentially the same way as the individual Star Tournaments, except your team as a cumulative whole is competing against other teams.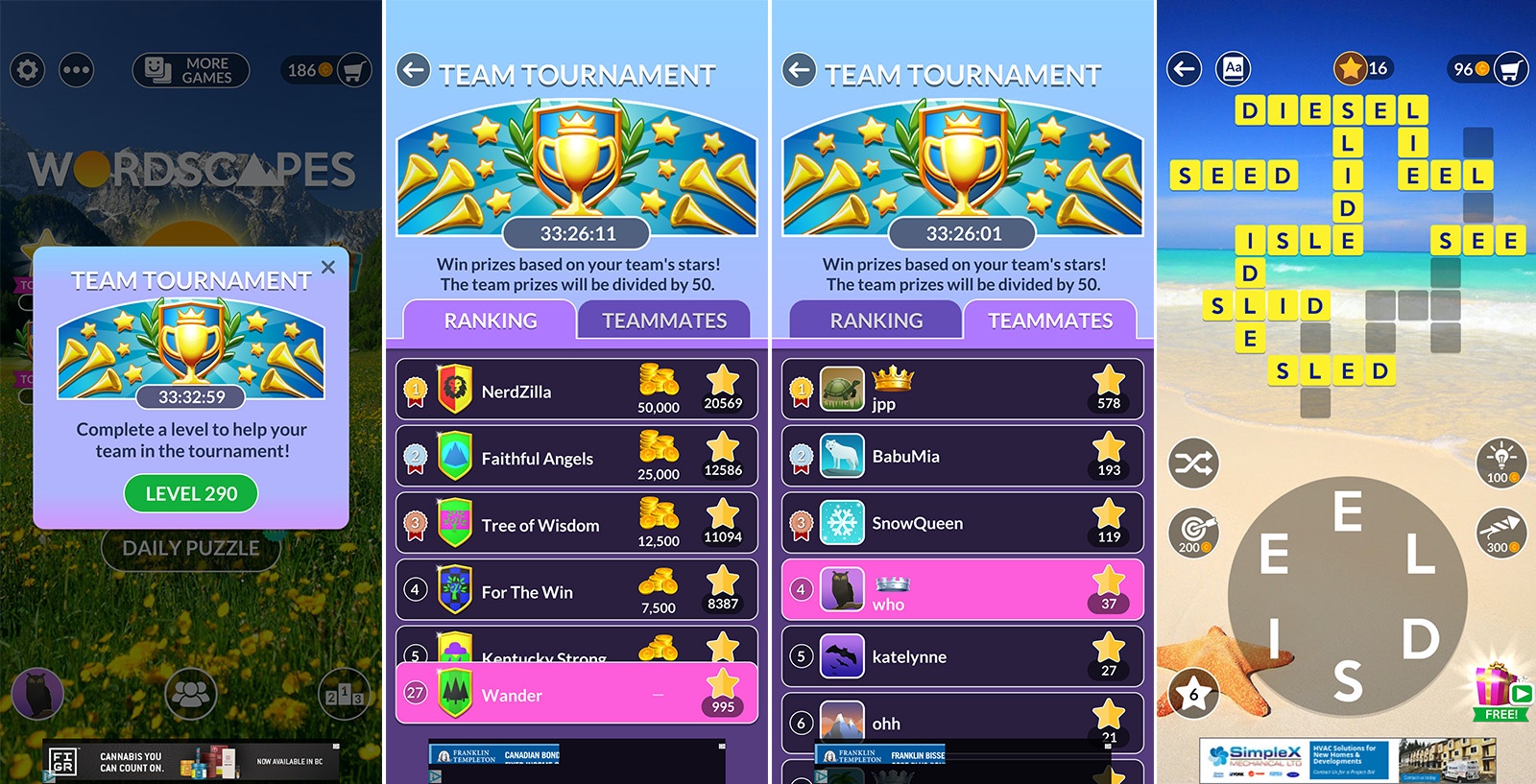 Screenshot of Wordscapes Team Tournament game
To enter the weekly Team Tournament, tap on the "trophy" icon (also labeled with "Tourney") below the "star" icon on the left side of the main screen.

Before you can enter a Team Tournament, you must first join a Wordscapes team. Choose a team by tapping on the "team" icon (it looks like three people) at the bottom of the game's main screen. You need to reach level 50 to join a Wordscapes team.

Play regular Wordscapes levels as you normally would. The stars you earn for forming words contribute to your team's total.

Top-performing teams earn rewards, which are then divided equally among team members.
Wordscapes Tournament Prizes
For the individual Wordscapes Star Tournaments, winners are awarded both silver crowns and gold coins. 
Silver crowns are only awarded during tournaments and serve as "bragging rights" for how well you've performed in tournaments. The more crowns you collect, the more elaborate your crown becomes. 

Gold coins can be redeemed for in-game power-ups, like the lightbulb (for revealing a whole word) and the bullseye (for revealing a single letter). 
The prizes may vary from week to week. As an example, the winner who comes in first place in a Star Tournament may receive 50 silver crowns and 1,000 gold coins. Even if you come in 33rd place (out of 100), you can still earn silver crowns, even if you don't get any gold coins.
Only gold coins are awarded in the Team Tournaments. The team that places first may receive 50,000 gold coins. For a team with up to 50 members, that means each player gets 1,000 gold coins.
Need help? Check out our Wordscapes tips and strategies to find every word (and earn every star) possible on every level!
When Do Wordscapes Tournaments Start?
Now that you're all excited about competing, you're probably wondering when you can play Wordscapes tournaments. While there may be some slight variation, you can usually expect to see the tournaments show up every weekend.
Start time: 3 p.m. PT (6 p.m. ET) on Friday evening

End time: 8 p.m. PT (11 p.m. ET) on Sunday night

Total time: 53 hours
You don't need to start playing right when the tournament starts, just like how you don't have to play all the way to the end either. Prizes are based on the total number of stars you (and your team) earn over the course of the entire tournament period. 
Wordscapes Wednesday Tournament
In addition to the main tournaments held over the weekend, there is also a shorter Wordscapes midweek tournament every Wednesday. This only consists of the individual Star Tournament; there is no Team Tournament on Wednesday. Access the Wednesday tournament via the game's home screen, just like a regular Star Tournament.
The Wordscapes midweek tournament starts Wednesday morning and runs until about 10 p.m. PT (1 a.m. ET). Note that the exact start and end times may vary. As with the main tournaments, you can win silver crowns and gold coins for participating.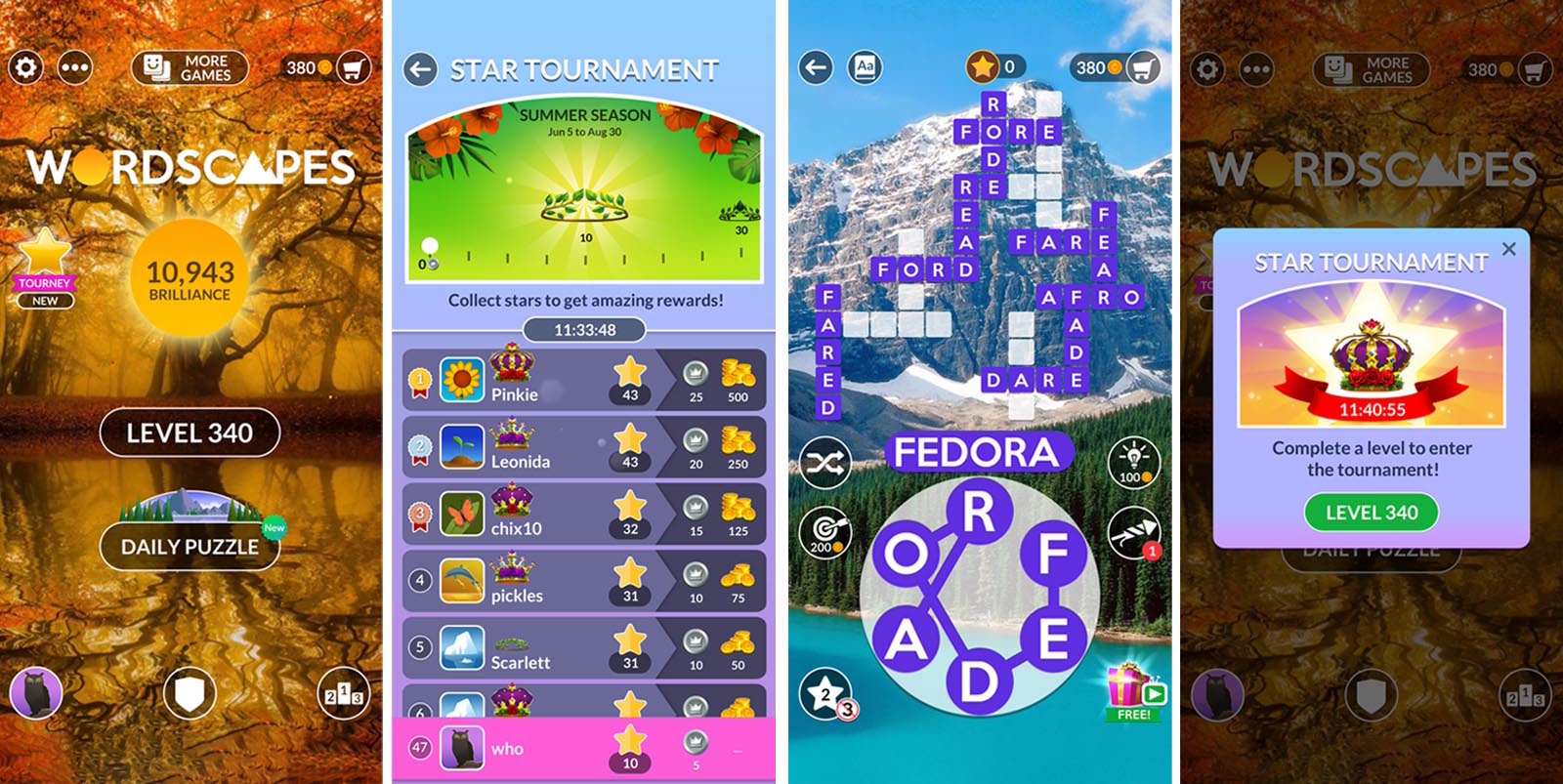 screenshot of Wordscapes tournament
Are You Up to the Challenge?
To do well in Wordscapes tournaments, you need to be good at playing Wordscapes in general. If you ever get stuck on any level in any pack, have a look at WordFinder's dedicated Wordscapes Cheats and Answers site for the full solution. And for more options, take a peek at our list of fresh multiplayer word games for iOS and Android. Game on!
---
Michael Kwan is a professional writer and editor with over 14 years of experience. Fueled by caffeine and WiFi, he's no stranger to word games and dad jokes.