How to Install Wordle on Your iPhone
Maybe it's not entirely accurate to call this an "installation." But, if you want to install a Wordle app on an iPhone, this is as close as you can get. At the very least, you can reach the Wordle website with just one tap of the screen. Doing the same with your favorite Wordle word finder is highly recommended as well.
Start by opening Apple's Safari browser. (This process doesn't work with Google Chrome or any other browser.)

Use Safari to search for the Wordle page on The New York Times website. Or, you can enter the site's URL into the search bar directly.

Once you are on the Wordle webpage, tap the square icon at the bottom of the screen with an arrow coming out of it. This will take you to your available sharing options.

Tap the "Add to Home Screen" option. Safari will let you change the shortcut's name if you'd like. If you're happy with the name, tap "Add" at the top-right corner of the screen.

Return to the home screen on your iPhone to find the shortcut. Tap on it to confirm it takes you to the Wordle website.
NOTE: This process works for Apple iPads as well. 
How to Install Wordle on Your Android
The process for installing Wordle on an Android phone or tablet is almost identical to how you do it on an Apple device. The only real difference is the browser you use.
Open the Google Chrome web browser app. (This process only works with Google Chrome.) 

Use Chrome to search for Wordle or enter the site's URL into the search bar.

Once you are on the Wordle website, tap the three vertical dots at the top-right corner of the screen. This will display your settings and options.

Tap the "Add to Home screen" option. Just like Safari, Chrome allows you to change the name of the shortcut's name if you want.

If you're satisfied with your choice, tap the "Add" button underneath the shortcut name.

Chrome will ask you to confirm the creation of the shortcut. Tap the "Add" button once again to finish creating the shortcut.

Return to your device's home screen to find the shortcut. Tap on it to confirm it takes you to playing Wordle.
Refer to our guide to the best starting words in Wordle to improve your chances of success! And if you ever want to check for past solutions, our full archive of Wordle answers is here for you too.
Wordle Apps Worth the Download
While there is an official Wordle party game, there is no official Wordle app for mobile. But, there are plenty of word game apps that provide a nearly identical experience, including several popular Wordle spinoffs. Some of them even bring extra features that Wordle doesn't have. Just remember that the puzzles you solve in these games won't correspond to the daily Wordle answers you see on social media.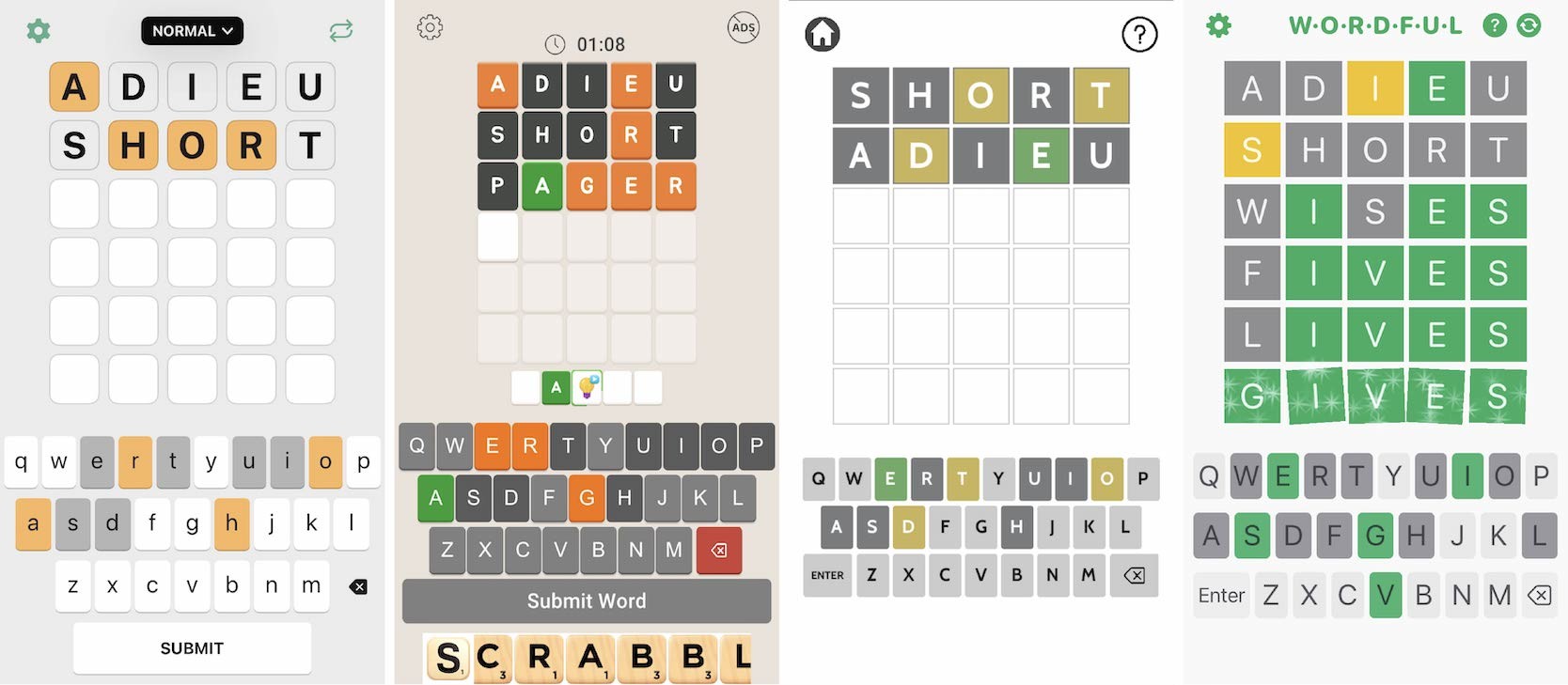 Worlde app screenshots
PuzzWord
If you're looking for a Wordle app packed with content, PuzzWord is probably your best option. This game has the same gameplay as Wordle and a similar word list, but it also has multiple difficulty settings. These range from Easy (four-letter words) to Impossible (seven-letter words). On top of that, PuzzWord has two more versions: One where celebrity names are the answer and one where the names of locations are the answers.
The last bit of extra content is the anagram solver game, CrossIt. This game is a mix between a crossword puzzle and Wordscapes.
Wordi
Although Wordi is not as complex as Puzzword, it's still a complete and entertaining game. There is only one main game mode, with the usual 5 letter word finder dynamic, but that mode keeps track of your performance. When you complete a puzzle, the app shows you a score, a grade and the number of turns you took to win. It also shows the definition for every puzzle's answer.
Wordus
Wordus is another simplified Wordle-like game. Similar to Wordi, it only has one game mode. It doesn't provide definitions like Wordi does, but it does feature a more elaborate leaderboard and ranking system. The Wordus app encourages players to continue increasing their scores and compete against friends and random players.
Word Guess
Wordi and Wordus keep things simple by having one game mode and some leaderboard features. Word Guess takes a different approach by forgoing the rankings and adding an extra, albeit simplistic, game mode. This mode is a very basic anagram-solving game akin to Word Connect. Each puzzle challenges you to find between three and five words.
Wordful
The simplest and most direct Wordle app you can find is probably Wordful. Here is an app that goes all-in on its focus. There are no extra modes, no scores and no ranking systems of any kind. You play one puzzle at a time, and you hit the reset button when you're ready to start a new puzzle. It's the perfect app for anyone who wants to keep their gaming to a minimum or wants a risk-free game to use as practice for Wordle.
Wordle Tips for any Wordle-Like Game
When playing Wordle, whether through a makeshift Wordle app or a game inspired by Wordle, one thing remains the same: You need to know the best ways to win. Using trial and error is great if you want to waste all of your turns and fail a puzzle. To make sure that doesn't happen, read our handy guide full of Wordle strategies and our daily Wordle hints. Following these tips and hints is a surefire way to find every word and keep your win streaks going.
---
Zac Pricener has been a content creator for the past eight years. He's a bit of an all-around nerd, and he has a bad habit of working movie and TV show references into conversations whenever possible.