How to Make the Most of the WordFinder App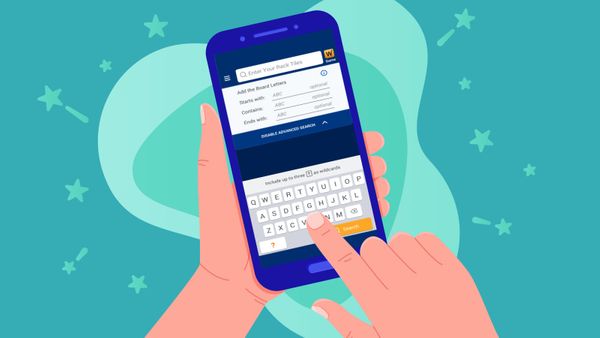 Vivali / iStock / Getty Images Plus
When you're already playing word games on your phone or tablet, it only makes sense to download the official WordFinder app too! This way, you'll always have our word unscrambler at your fingertips. All you have to do is enter the letters you want to unscramble and hit search! Want to learn more? Here's what you can do with our WordFinder mobile app.
Download the Latest Version
We're constantly updating our app -- available for Google Android and Apple iOS devices -- to provide you with the best possible experience! This includes adding new features, improving performance, fixing bugs, and optimizing navigation. If you want to make the most of the WordFinder app, you'll want to update to the newest version.
Select Your Word Game
Did you know that the WordFinder app supports 24 popular word games? Tap on the game icon in the top-right corner of the main screen, next to the search box. This will reveal a full list of the games we support, including Words With Friends, Scrabble GO, Wordscapes and Word Domination. By selecting your current game, you ensure you're using the correct dictionary and scoring system.
For example, Scrabble letter values are different from Words With Friends letter values. You'll also find that some words may be playable in Words With Friends, but they're invalid in Scrabble.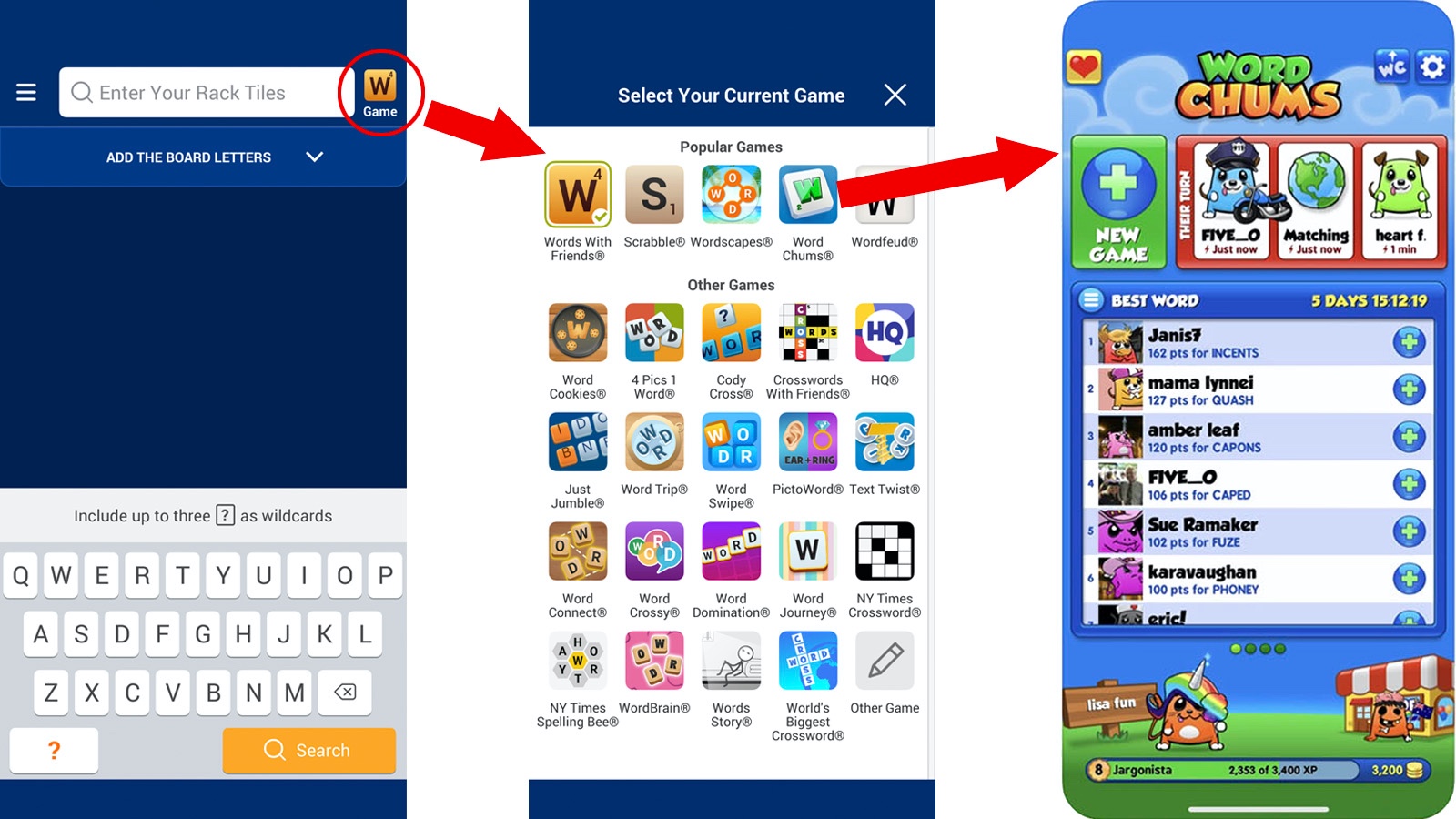 Wordfinder App instructions
Enable Advanced Search
The basic functionality of the WordFinder app is easy to understand. Enter the letters you want to unscramble, including up to three wildcards using question marks. Hit the search button and our tool will present a list of possible words for you to play. But, you should take advantage of the advanced search to maximize your point potential!
Access the advanced search by tapping the down arrow below the search bar. In the advanced search, you can enter letters you want the word to start with, to contain, to end with, or any combination of the three. For example, if you need to start your word with S to use a hook, you can do that with advanced search.
Customize Your App Settings
Just as you should select your current game, it's also helpful to adjust the app settings to suit your preferences too. Tap the menu (three horizontal lines) in the top-left corner, and choose Settings near the top. The most important setting is choosing between the Scrabble US and Scrabble UK dictionaries. Beyond that, you can also decide whether you want your results to be capitalized, in bold, or without color. You can also decide whether you want to see the bonus added to your score.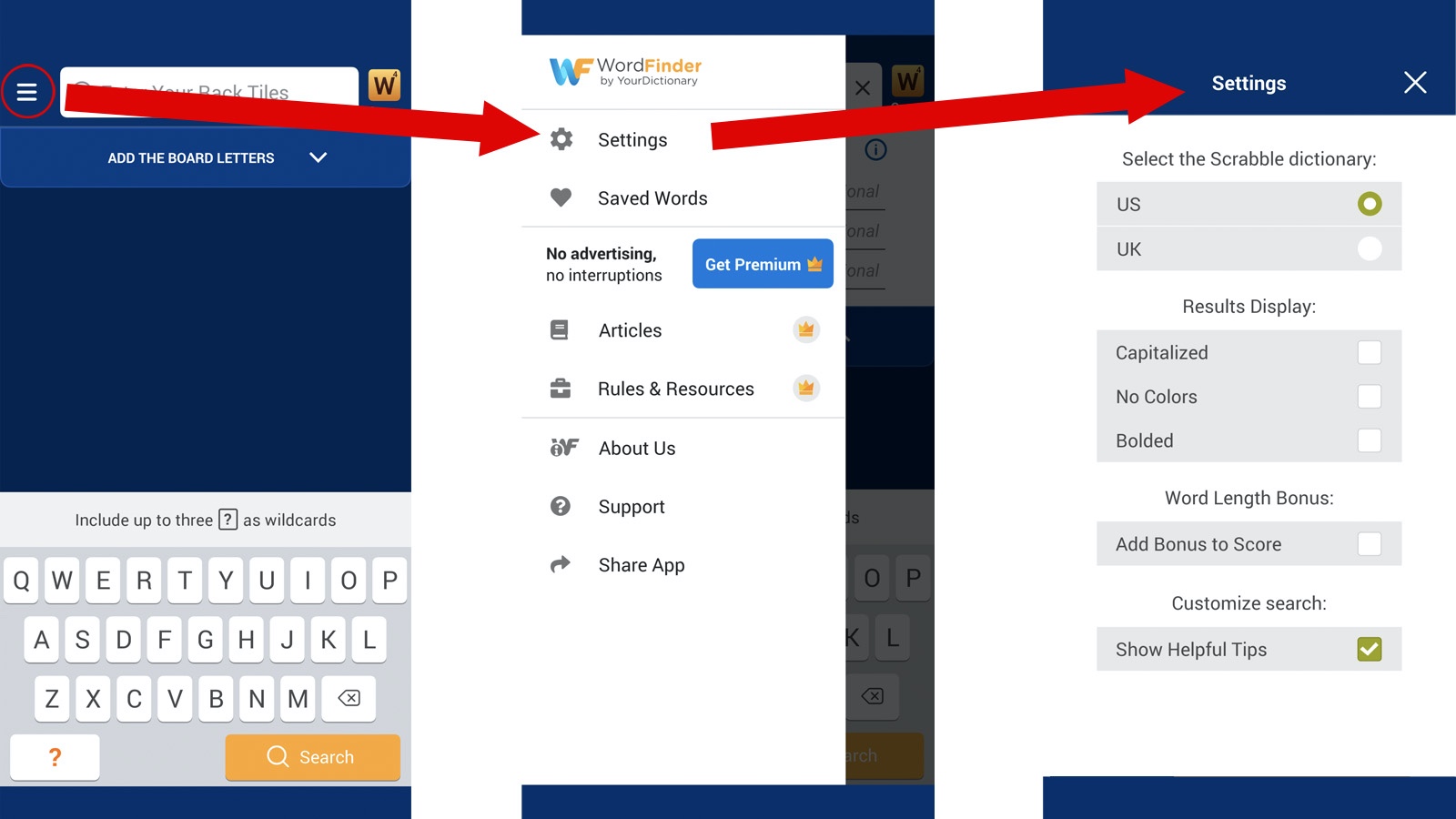 Wordfinder App Settings instructions
Sort by Total Points
By default, the app will group the list of words by word length. The longest words appear near the top. Within each grouping, the words are then sorted by total points. If you'd prefer to see the full list of words grouped by total points, you can do that too.
Once you have your list of words, tap on the icon with four squares below the game icon in the top-right corner. Choose to group by "Total Points."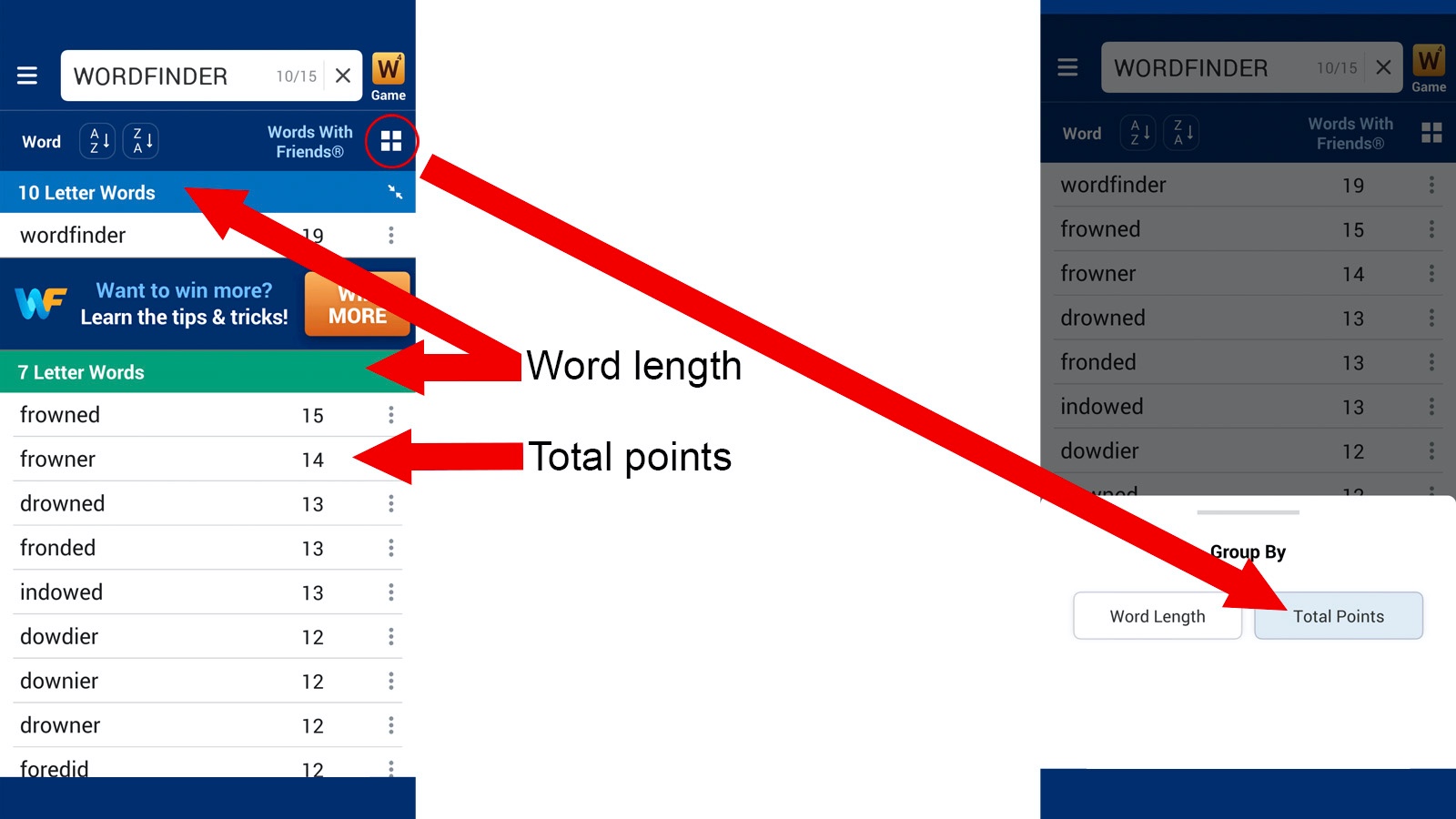 Wordfinder App sort Total Points instructions
Read Definitions of Words
One of the best aspects of playing word games is that you have the opportunity to expand your vocabulary in a fun and engaging way! Knowing some of the best lit words to play is one thing. Learning what they mean takes your game to a whole new level! Whenever you perform a search and get a list of words, tap on the three vertical dots next to any word.
Choose "Read definition" from the resulting options. Then, you can check out the full definition, including the part of speech and word origin, as applicable. You can even tap on the little "speaker" icon to hear how the word is pronounced.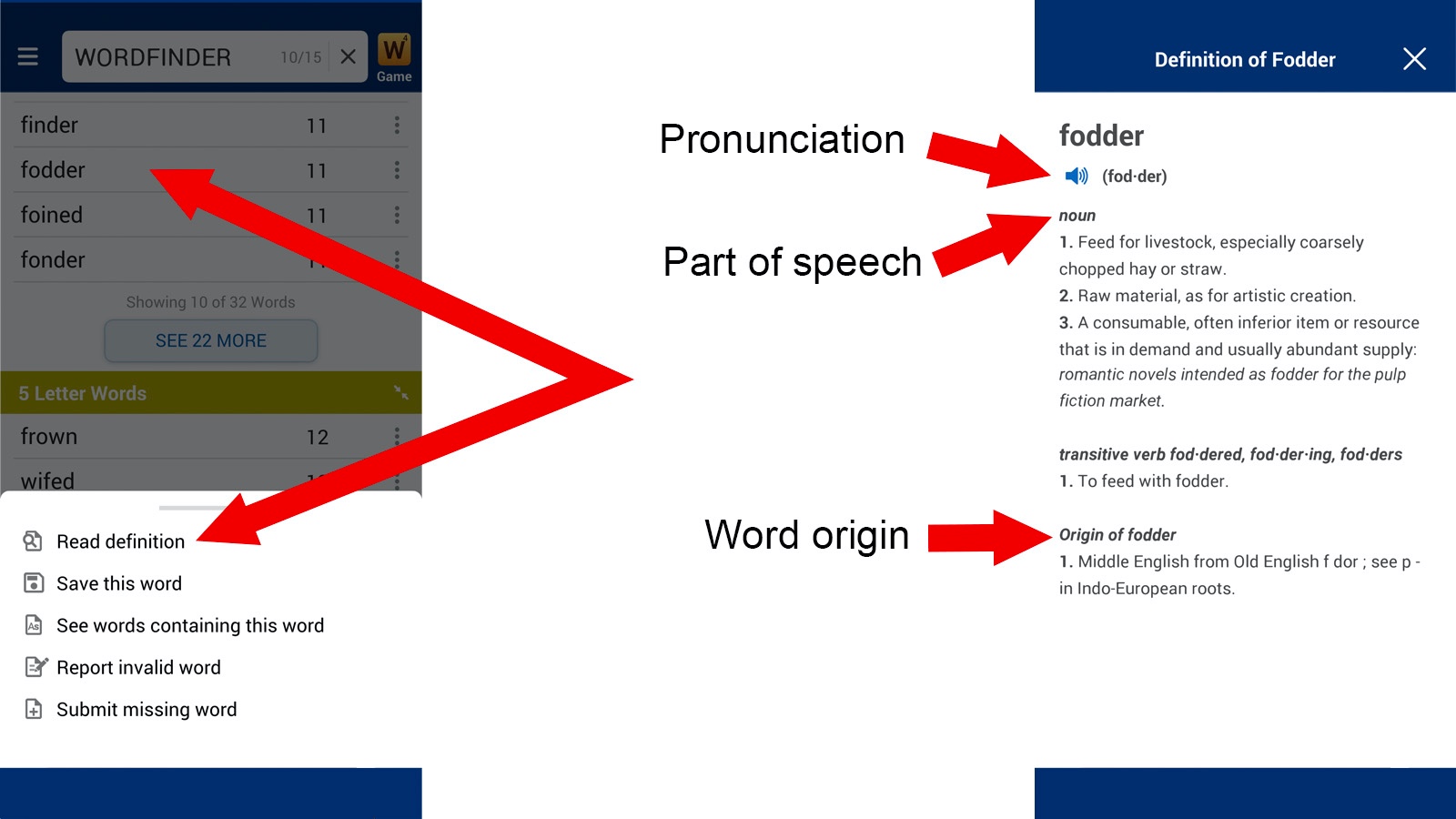 Wordfinder App word definition instructions
Save Your Favorite Words
Just like how you get to the definition of a word, tap on the three vertical dots next to any word. There, you'll also find the option to "Save this word." This is a handy way to save your favorite words for later, whether you're playing word games or writing poetry. Access your list of saved words by tapping the menu button (three horizontal lines) to the left of the search bar and choosing "Saved Words."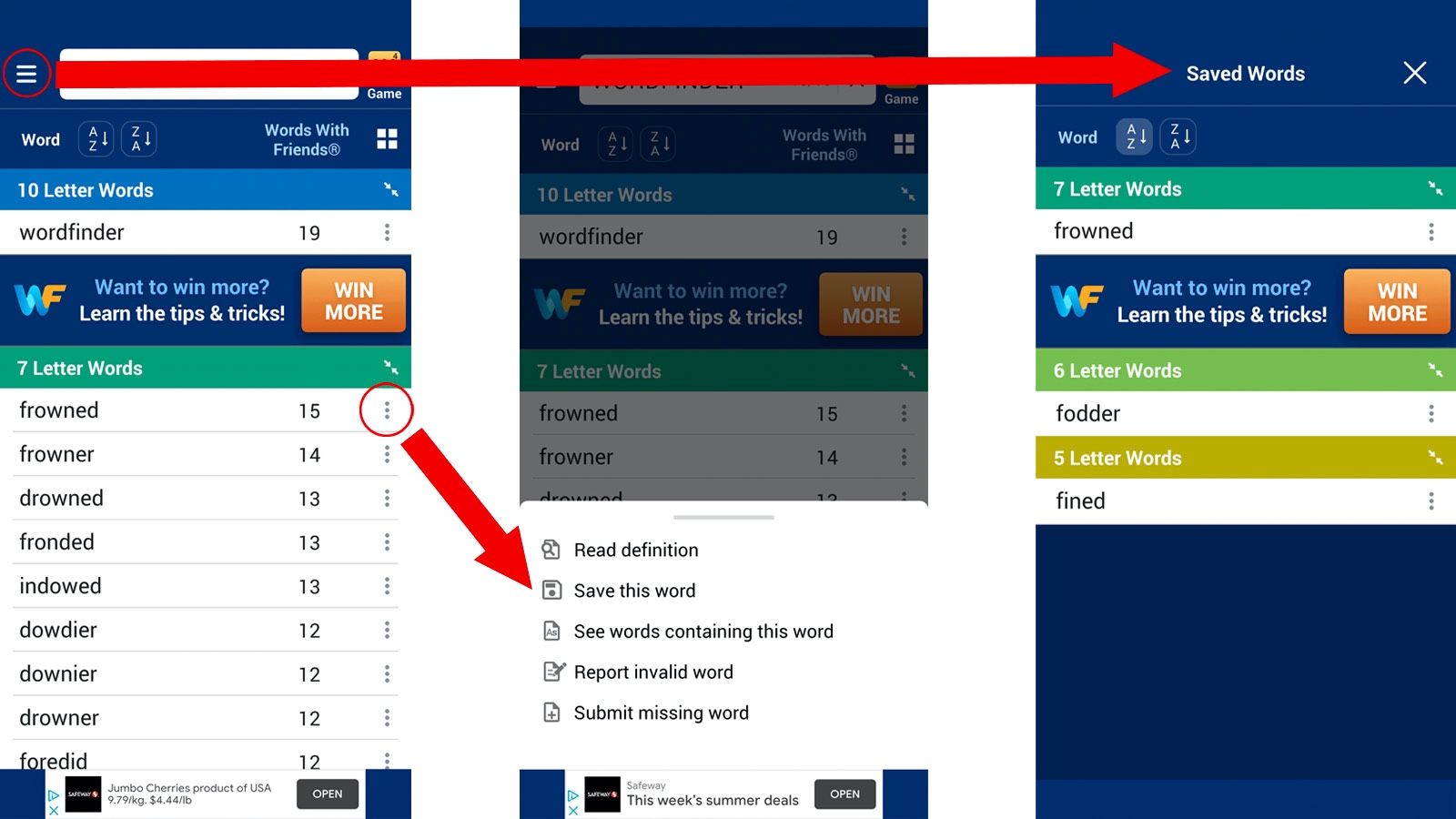 Wordfinder App how to save words instructions
Report and Submit Words
We always strive to provide you with the most accurate and comprehensive word list possible. If your favorite game rejects one of the suggested words, let us know! Tap on those same three vertical dots and select "Report invalid word." Similarly, if you play a word and it's not on our list, choose "Submit missing word" from that same list to let us know.
Find Your Winning Play!
Whether you're racking up those stars in a Wordscapes tournament or toppling the competition in Words With Friends, the WordFinder app is here to help. Download the app for Android, iPhone or iPad for free today. And heed these tips above to take advantage of everything it has to offer.
---
Michael Kwan is a professional writer and editor with over 14 years of experience. Fueled by caffeine and WiFi, he's no stranger to word games and dad jokes.