Word Stacks Basic Instructions
The main goal of Word Stacks is to clear all the letters on each level.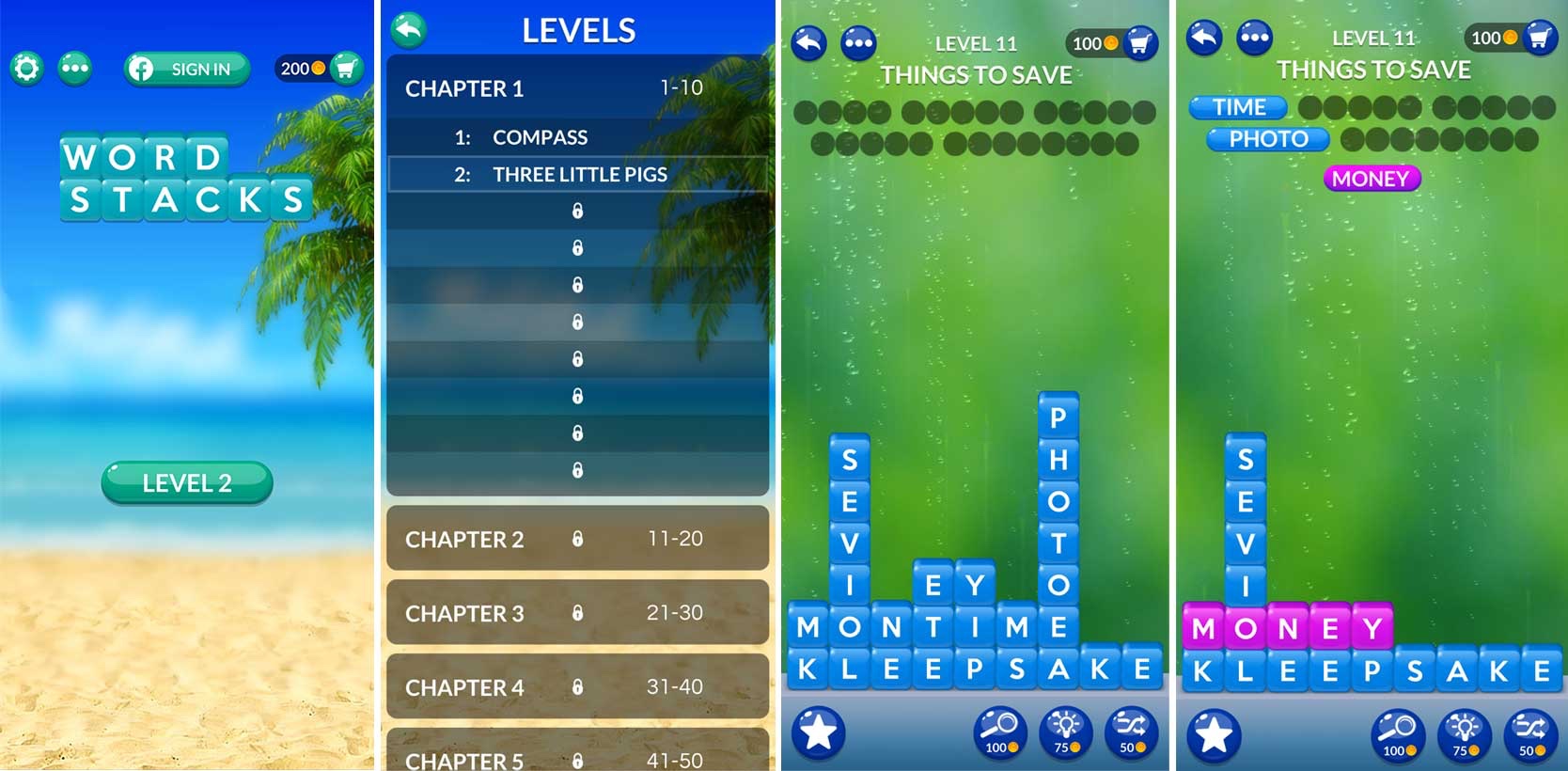 Screenshot of Word Stacks game
The level's theme is at the top of the screen. This should give you some sense of what words you're trying to find. 

Below the theme, you'll see how many words you need to find. You can also see how long each word is.

Swipe across the letters to form words. Each word forms a single line, either horizontally or vertically. It's not like Boggle rules where you zig-zag across the letter grid. 

Words can read forwards or backwards, downwards or upwards. 

When you find one of the target words for the level, it disappears. The remaining stack of letters fall down and to the right to fill the empty space.

Continue finding words until you clear all the letters from the stage.
There is no penalty for guessing incorrect words. Bonus words you find that are not part of the puzzle fill the bonus bar at the bottom-left of the screen. Every letter is worth one point. When the bar is full, you earn coins that you can then spend on hints, outlined below.
Word Stacks Hints
Like in many other word games, Word Stacks also offers hints to help when you get stuck. The hints in this game are similar to Wordscapes. You can solve any puzzle without using hints, but these powerups are part of learning how to play Word Stacks. The three hints are at the bottom-right of the game screen.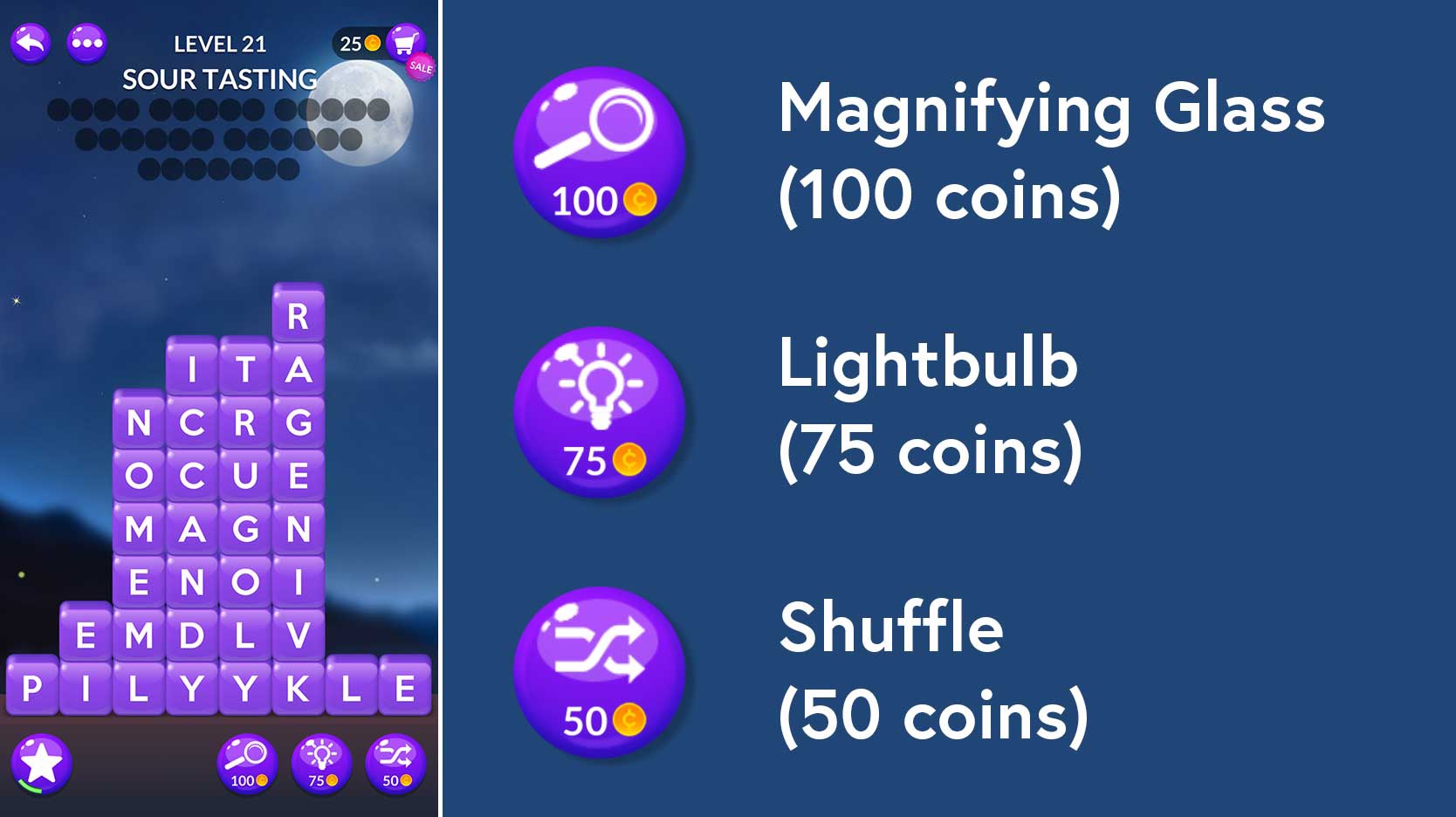 Screenshot of Word Stacks game
Magnifying Glass (100 coins): Highlights the first letter of word in the puzzle, among the stack of letters

Lightbulb (75 coins): Highlights the first letter of a word, but not its location in the puzzle

Shuffle (50 coins): Rearranges the letters on the board
Earning and Spending Coins
To use any of the hints described above, you need to redeem coins. You'll find your current coin balance at the top-right corner of the game screen. To earn free coins, you can: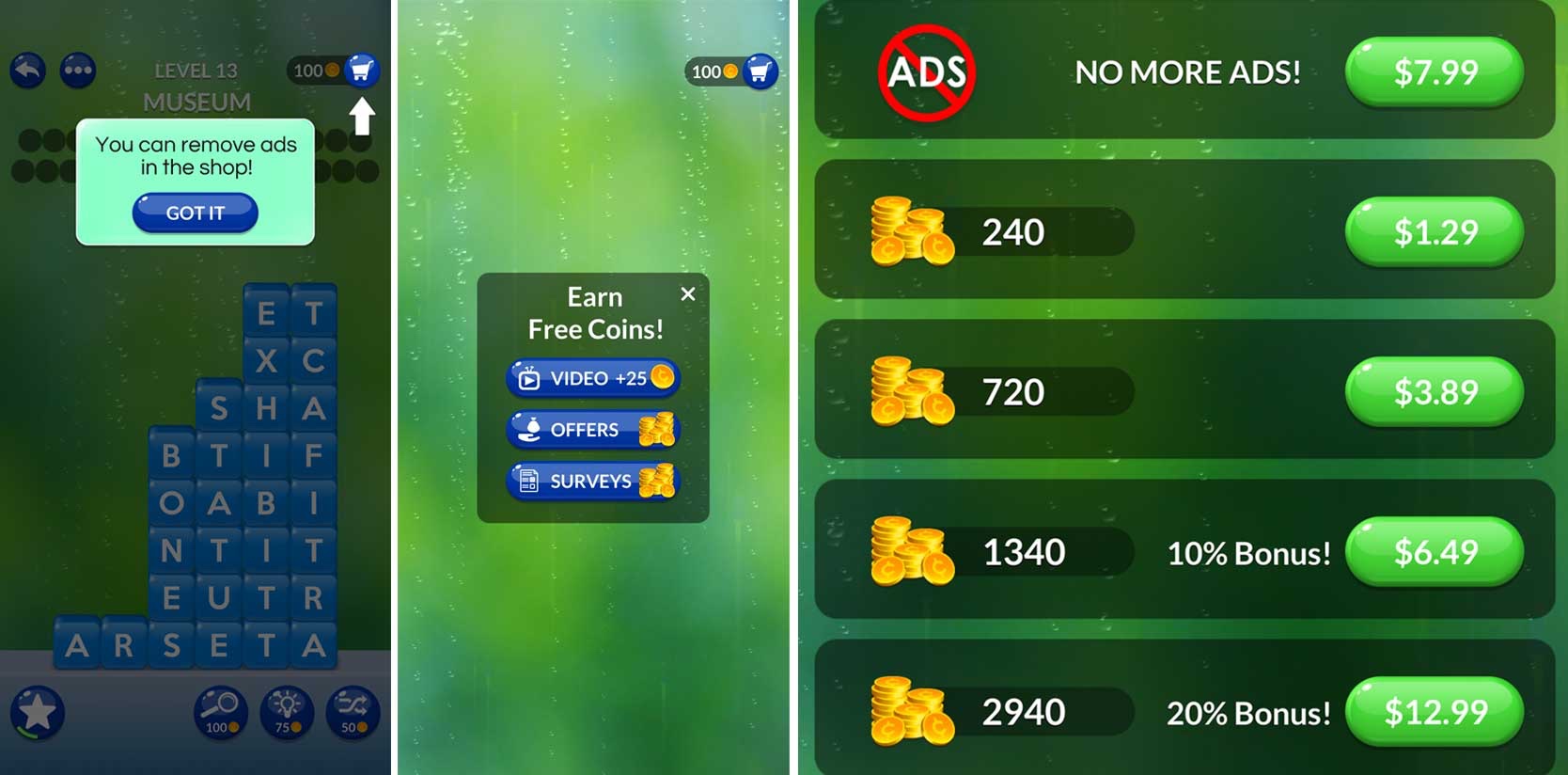 Screenshot of Word Stacks game
Fill the bonus bar by finding bonus words

Watch sponsored videos

Complete offers from advertisers

Answer research surveys
Access those last three options by tapping on your coin balance. Then, tap on the "back" button near the top-left corner. This reveals a pop-up with the three options to "earn free coins." 
In-App Purchases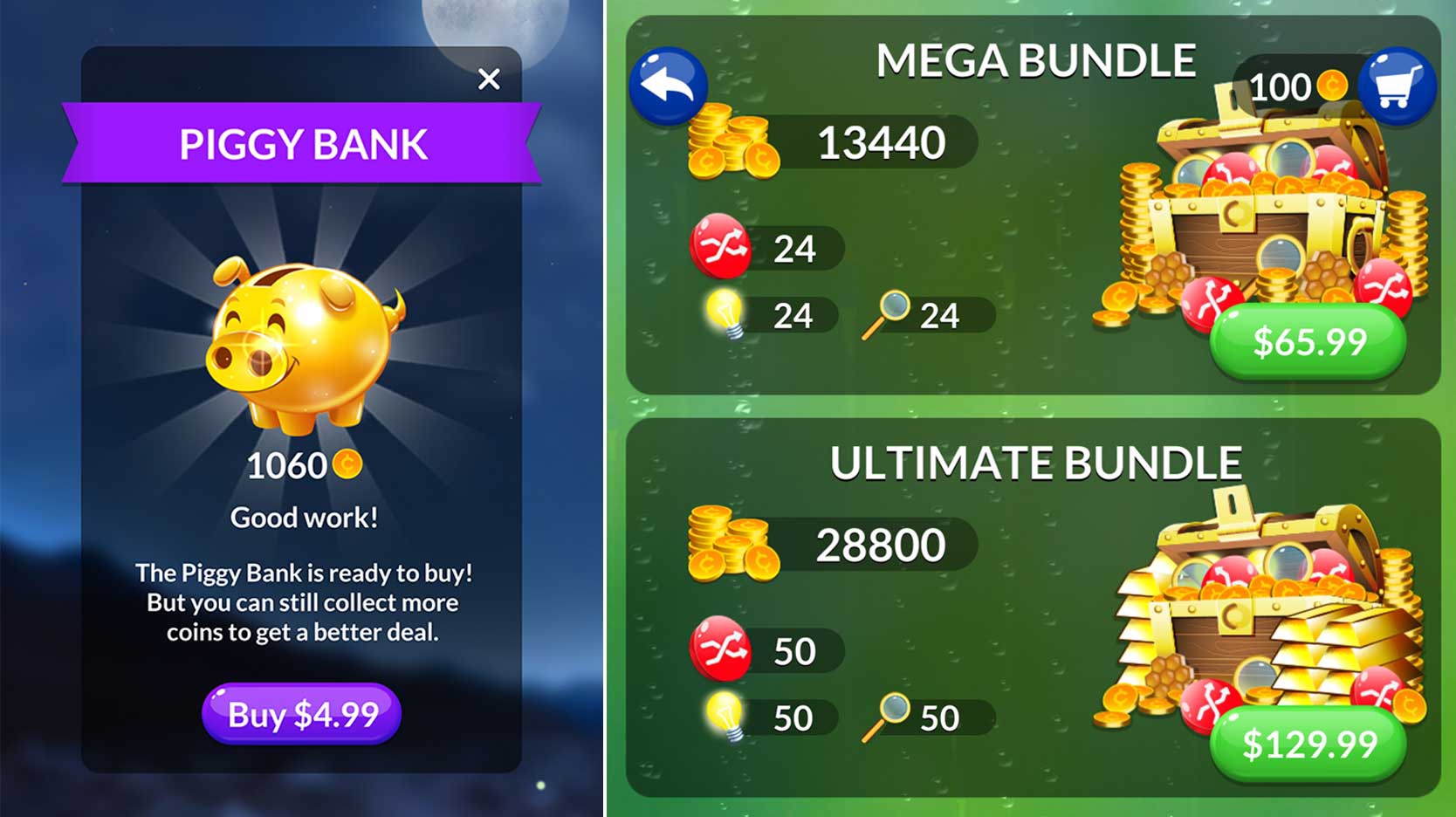 Screenshot of Word Stacks game
You also accumulate coins in your "piggy bank" as you find words in each level. You can then unlock those coins by buying the piggy bank as an in-app purchase. As before, tap on your coin balance to open up the "shop" where you can opt to buy the piggy bank. 
The shop also contains a number of bundles, starting around a dollar. You can buy bundles of just coins on their own. Or, you can opt for bundles that include both coins and hints. 
How to Remove Ads
About halfway down the list of bundles in the shop, you'll see the option to remove ads from the game. Whereas both Scrabble GO and Words With Friends require a monthly subscription for ad-free play, you can remove ads from Word Stacks for a one-time fee of $7.99. 
Themes, Chapters and Progress
As you complete each level, you earn chapter rewards and theme bonuses. When the chapter reward meter is full, the game rewards you with some coins. When the theme bonus meter is full, you unlock a new theme. 
Switch between themes by tapping on either the panda icon in the bottom-left corner or the rainbow paint roller in the bottom-right corner. When you do, you'll also see future themes and what level you need to complete to unlock them. 
To check on your progress in the game, return to the game's home screen. Next to the settings icon in the top-left is a button with three dots. Tap to see up to which level and chapter you have completed thus far. Word Stacks features hundreds of chapters and thousands of levels. Word Stacks "master levels" begin at level 5001.
Stacks of Word Game Fun 
Now that you know how to play Word Stacks, perhaps you'd like to broaden your word game horizons with another title. Improve your anagram solving skills with some Wordscapes help and tips. Wordscapes challenges you to unscramble letters and find words in a crossword puzzle format. 
---
Michael Kwan is a professional writer and editor with over 15 years of experience. Fueled by caffeine and WiFi, he's no stranger to word games and dad jokes.