Today, the Wordle hype seems to have quieted down. Fewer and fewer squares inundate our timelines. Does that mean the Wordle trend is dead? We put on our old-timey investigation hats and referenced multiple data sources to best assess the current state of Wordle. Are people still playing Wordle? Are you still playing Wordle?
Key Findings
Wordle popularity shot up rapidly in early 2022, over 100x in about a month. [Google Trends]

Mainstream interest in the game dropped up to 91% between February 2022 and September 2022. [Wordlestats]

Of core players who remain, 45% say they play Wordle more now than before. [WordFinder survey]
The Meteoric Rise of Wordle Online
While the first Wordle game was technically released in June 2021, creator Josh Wardle didn't share his game with the world until October 2021. Then, in late December 2021 and into early January 2022, the online word game really took off. It exploded onto the scene, rapidly picking up dedicated fans, including many celebrities who play Wordle. 
Global search interest, as measured by Google Trends, reveals a sharp increase in search queries related to Wordle through January and February. It took less than a month to see search interest in Wordle increase by more than 5,000 percent.
By the middle of January, search queries relating to Wordle surpassed searches for COVID-19 and the omicron variant.  It also passed frequent, everyday queries like "food near me" around this time. By the middle of February, there was 20 times more search interest in Wordle compared to COVID-19.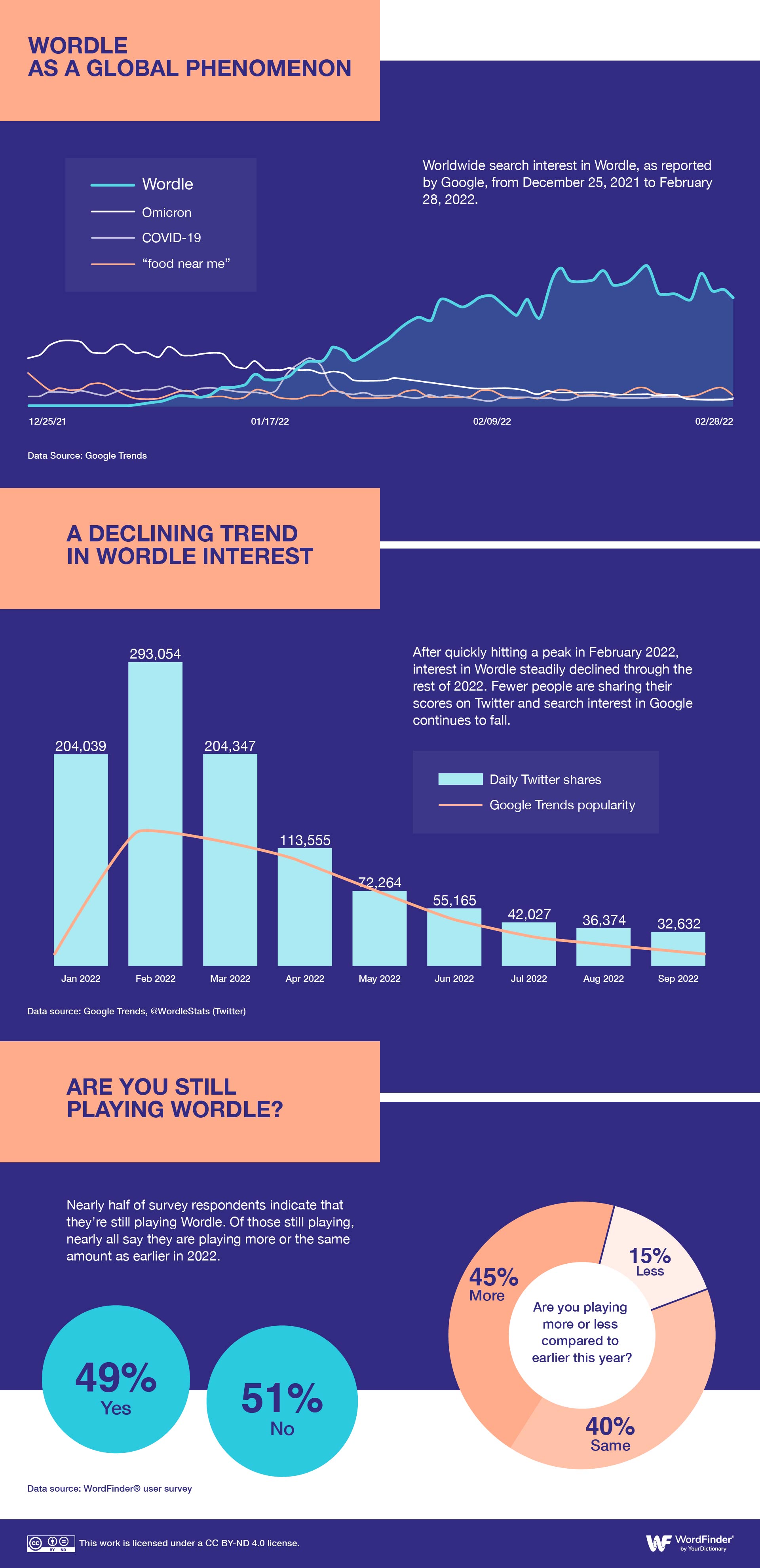 Is Wordle Dying Infographic
Reaching the Peak of Wordle Game Interest
After The New York Times announced that it was buying Wordle on January 31, some people wondered whether this would negatively impact its popularity. If it did, the impact certainly wasn't immediate. Wordle continued to increase in popularity, peaking around February 20, 2022. By that time, search interest had doubled compared to three weeks prior, increasing more than 100 times in less than two months. 
This insight revealed through analysis of Google Trends data is mirrored by information shared via @wordlestats on Twitter. The account gathers and shares daily data based on people sharing their Wordle scores on Twitter. These two data sets very much align with one another. The @wordlestats account also shows a peak around mid-February with as many as 350,000 daily shares on Twitter. 
It was very much during these first two months that many people online wanted to know more about the best starting words for Wordle. People were still asking what Wordle's hard mode was and whether they should be playing it. 
Waning Interest in Wordle Over Time
It was toward the end of February 2022 that interest around Wordle started to decline. And it has been steadily decreasing since then. All queries relating to Wordle have seen a steady decline in interest, according to Google Trends. Search interest declined 67 percent from mid-February to mid-September.
Similarly, the number of people who are sharing their Wordle scores daily on Twitter has steadily decreased as well. Compared to the peak of 350,000 shares in mid-February, a typical day in September 2022 only saw about 32,000 Wordle shares on Twitter. That's a 91 percent drop in a span of seven months. 
Meanwhile, people still complain online when Wordle answers appear particularly obscure or difficult. Some people accuse The New York Times of making Wordle harder, but the reality is that the core word list has remained largely unchanged since their acquisition of the game. 
A Similar Path as Other Viral Games
A graph representing interest in Wordle over the course of 2022 so far mirrors what we've already seen in other viral games, though perhaps at a faster pace. 
Farmville was a huge success on Facebook during the summer and fall of 2009, hitting its peak by early 2010 and very rapidly declining after that.

Angry Birds flew onto the scene in summer 2010 and it was a huge sensation. Interest peaked around the end of 2011, steadily declining since then.

Pokemon GO convinced millions of people to explore their neighborhoods starting in July 2016, but interest bottomed out by the end of the same year. 

Among Us launched in September 2020, but it was already declining in interest by the end of that month. 
In other words, even some of the biggest "viral" games only tend to sustain mainstream, public interest for a few months before many of the initial players start dropping out. The story of Wordle appears to be much the same. But, there's more to this story.
A More Dedicated Wordle Fan Base
Should we stick a fork in Wordle and call it a day? Is Wordle dead? Not at all. Instead, while some casual players may have abandoned the bandwagon at this point, more dedicated fans remain and are as engaged with the game as ever.
When we surveyed over 600 WordFinder® visitors, approximately 49% said they play Wordle. And of those who play Wordle, only 15% say they play Wordle less often than they did at the beginning of the year. Indeed, over 45% of respondents say they play Wordle more often now compared to earlier in 2022.
This enthusiastic interest in the game is reflected in the growing traffic to our Wordle-related content and tools, particularly our Wordle Solver and daily Wordle hints pages. It's especially pronounced on days when Wordle is harder than usual. We noticed sizable spikes on March 26 (epoxy), June 18 (cacao) and August 14 (khaki), for example. 
Join any number of Wordle groups on Facebook, Twitter, Reddit and other social platforms, and you'll find a dedicated group of Wordle players. They're just as actively discussing the game today as they were in January. 
The Rising Tide of Wordle-Inspired Word Games
Really, the story around the viral sensation of Wordle expands far beyond just the Wordle game itself. Wordle has inspired an innumerable collection of Wordle spinoffs and related games, revitalizing interest in word games in general. People who have always loved word games continue to do so, but Wordle opened up that world to people who previously didn't play word games on a regular basis.
Wordle continues to be at least 18 times more popular than individual harder games like Quordle, but Wordle-inspired games collectively have earned a significant fan base. Some players enjoy the versus dynamic that Word Fight brings to the table, for example. And this is only the beginning. 
Wordle has demonstrated that the general public — not just "word nerds" — can derive a great deal of enjoyment from playing word games daily. And there are new games to play almost every day.
Keep Playing Wordle Every Day
Wordle has left an indelible mark on word games specifically and on society in general. Everyone knows what those green and yellow squares are all about, just as much as they recognize Scrabble tiles and the Monopoly man.
Mainstream interest in Wordle may no longer be quite what it was in the early days of 2022, but many fans are still playing every day. In fact, The New York Times even partnered with Hasbro to create an offline Wordle party game. Will it join the ranks of Scrabble and Pictionary as a games night staple? Time will tell. 
---
Michael Kwan is a professional writer and editor with over 16 years of experience. Fueled by caffeine and WiFi, he's no stranger to word games and dad jokes.