How to Use WordFinder: An Inside Guide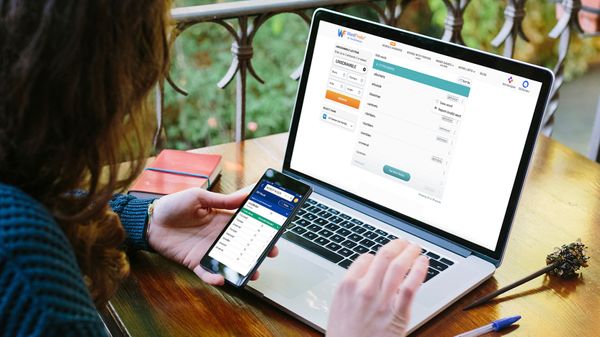 Adapted from Getty Images
Trying to find the best possible word to play against your friend in Words With Friends? Want to go and unscramble a high-scoring play in Scrabble? You've certainly come to the right place. We're called WordFinder for a reason! Make the most of our handy word finder and Scrabble cheat tool by following these simple instructions. We've got some really cool features to help level up your game!
Choose Your Word Game
Let's start with a basic primer. The core functionality of our word finder tool is to unscramble letters and find all the words you can spell with those letters. That's the big idea, and it's a really helpful one if you ask us!
Before you do anything else, you'll want to choose the word game you're currently playing. This isn't as important if you're filling out a crossword puzzle or writing some anagram poetry. It is critically important, though, if you're playing a game like Scrabble GO or Words With Friends. The games use different dictionaries and scoring systems.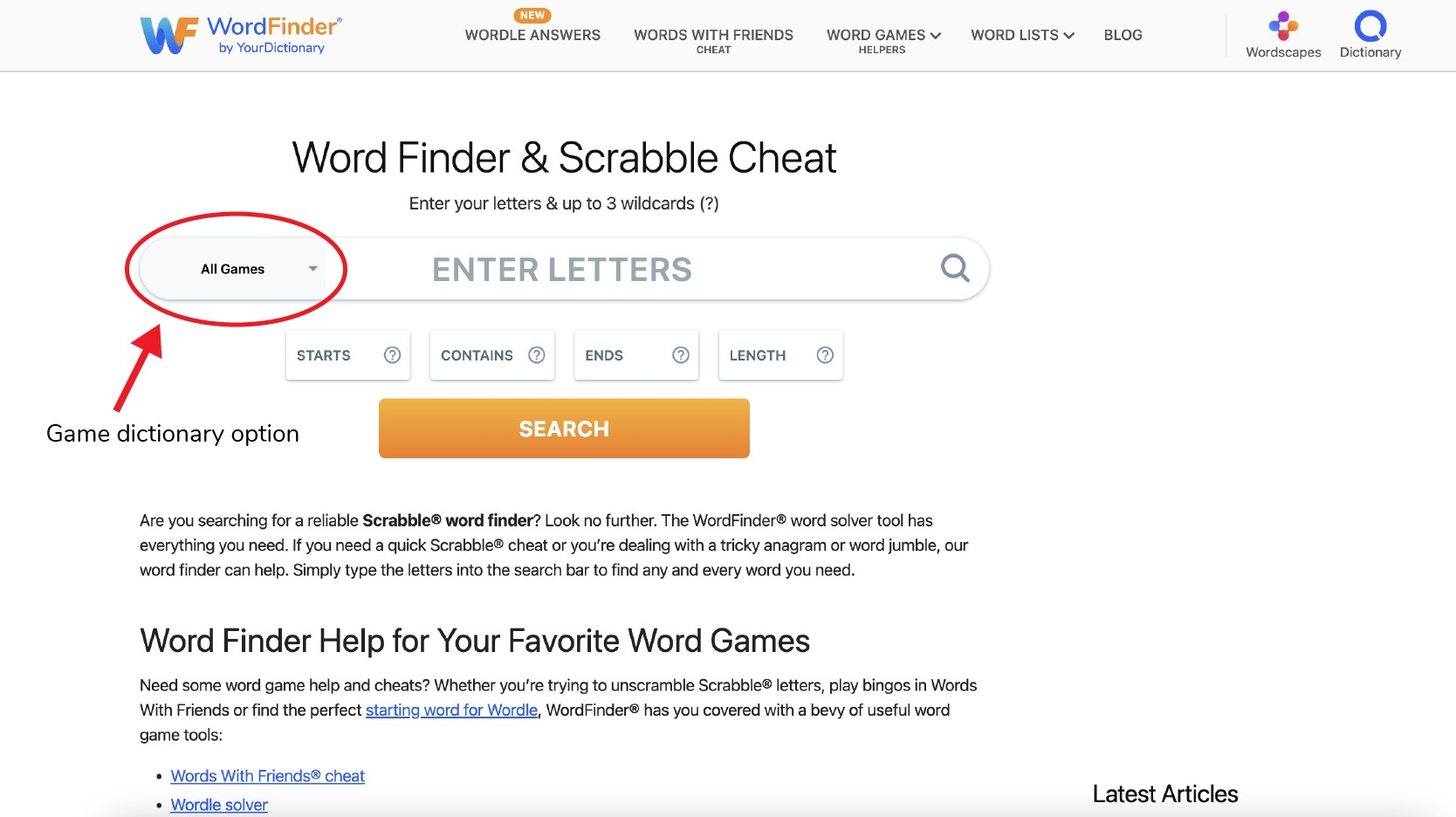 Choose your word game on WordFinder
The Correct Game Dictionary
From the main WordFinder homepage, you'll see the game dictionary dropdown menu next to the main search bar. Pick from the provided options. If you're not sure, "All Games (No Points)" is typically the safest bet. You can also choose from the full list of word game cheats that we offer.
In addition to Words With Friends and Scrabble, both US and UK versions, notable highlights include:
Our word finder tool can help with any of the games listed above. If you're looking for help with Wordle, we have a dedicated Wordle solver that will find all the five-letter words you need. Our daily Wordle hints can point you in the right direction, or you can jump straight to a list of Wordle answers if you'd like too.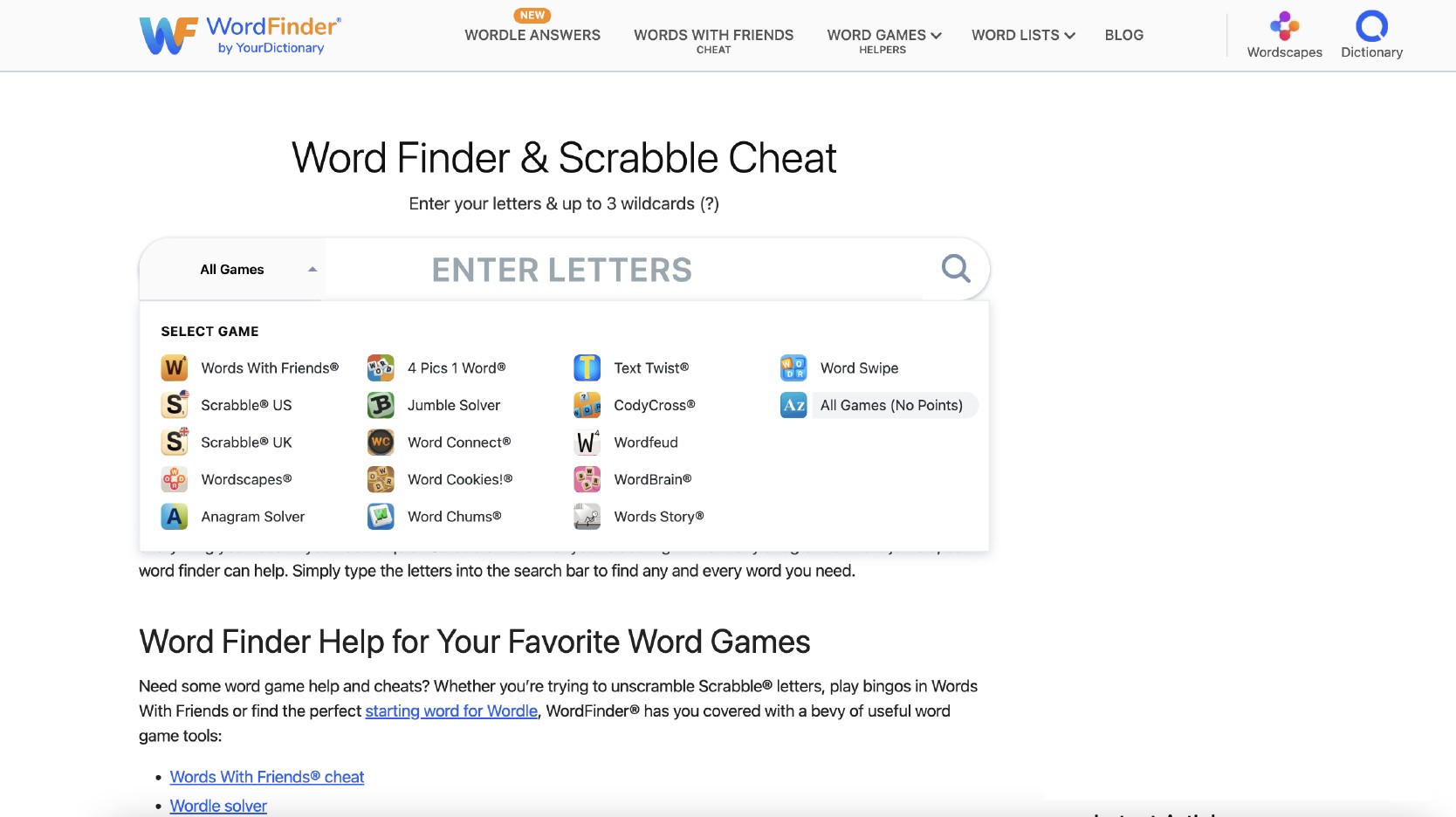 Select game dictionary on WordFinder
Enter Your Letters to Search
Once you've picked your game, the next step is to enter the letters you want to search and unscramble. You can enter up to 20 letters at a time, including up to three wildcards. Indicate a wildcard with either a space or a question mark. Then, simply click on the magnifying glass search button.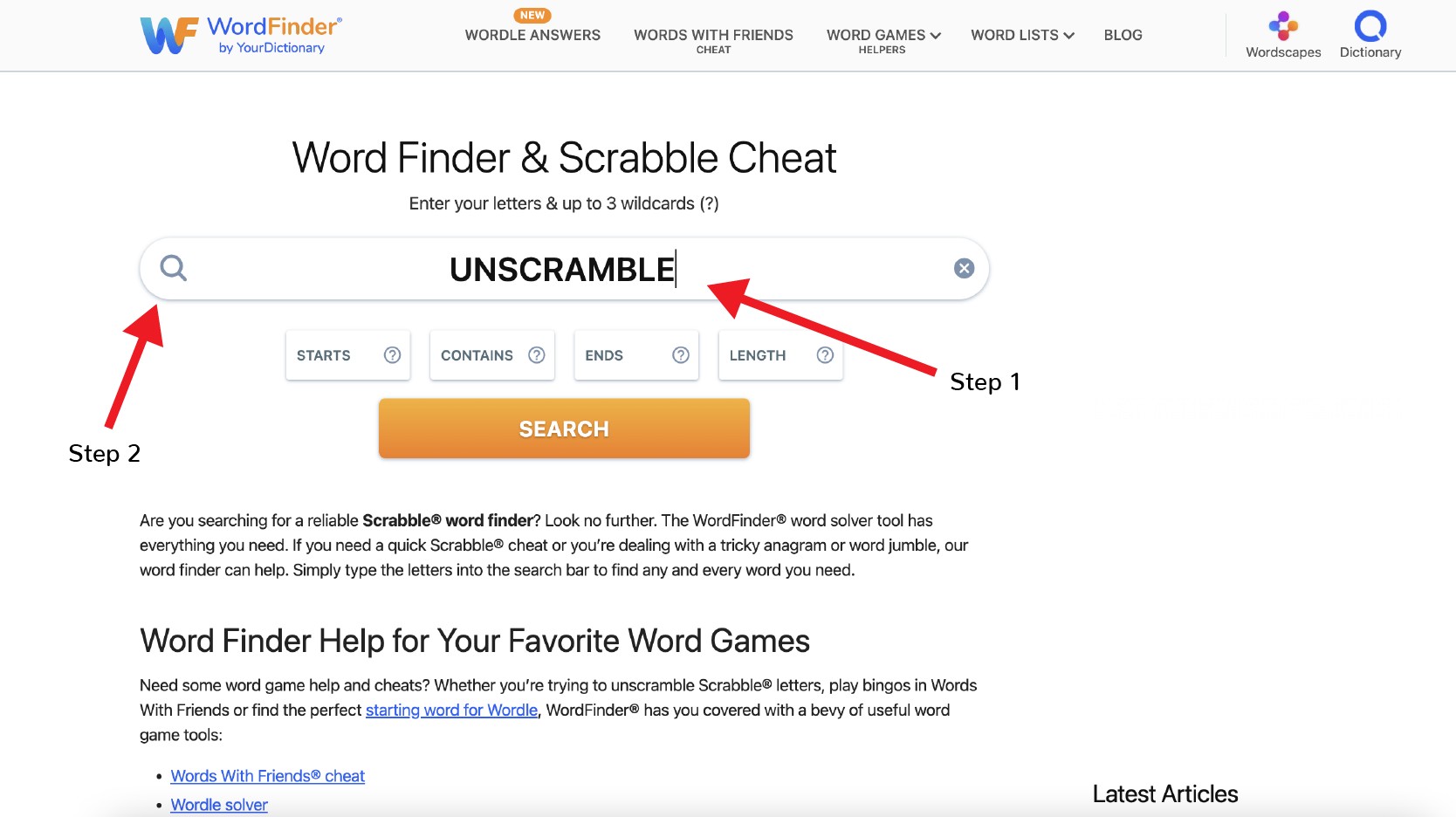 Enter your letters on WordFinder
Use WordFinder Advanced Search
But wait! There's more! Just like we have in the WordFinder mobile app, the WordFinder website tool also offers four main options for advanced searches. You can use any or all these options in any combination. You can also enter up to 20 letters in any of the search options.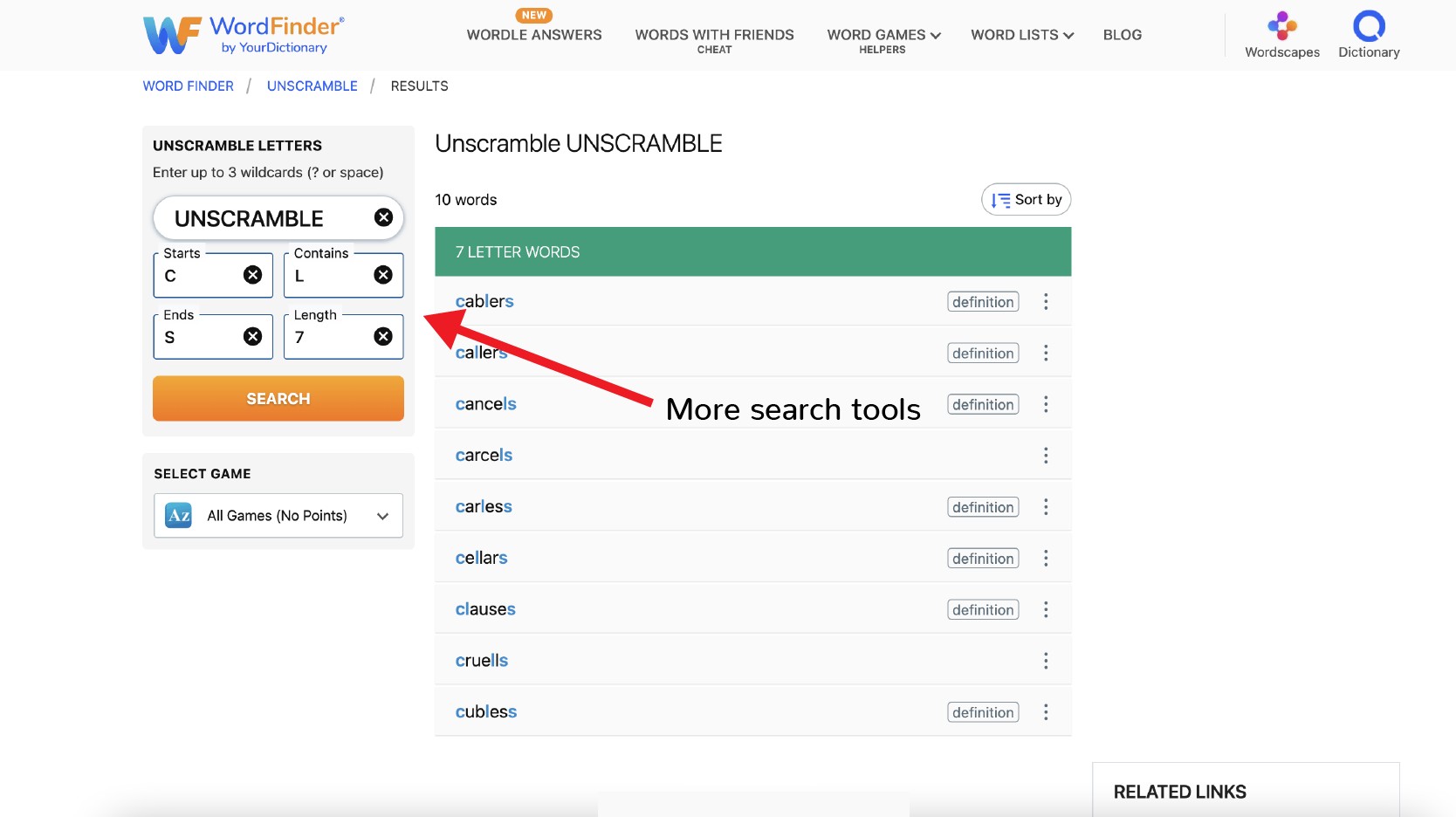 Advanced search on WordFinder
When you include letters in the advanced search, don't include them in the main search bar as well. Of course, if you want to include duplicate letters, you can. For example, if you want to build off an S as a hook in Scrabble and you have an S in your tile rack, then you can certainly include an S in your main search and add S to the "Contains" advanced search field.
Use a combination of advanced search options to get more specific results. For example, if you put "RACITI" in your main search, specifying you want a word that starts with D, contains "ON," ends in Y and is 10 letters long, the single resulting answer is "dictionary."
Read the Unscramble Letters Results Page
You've selected your game dictionary, you've used the advanced search, and now you're looking at the results page with all your words. That's awesome. By default, the word list is sorted by length. If applicable, you'll see how many points each word is worth in your game too.
Beyond looking through this list to find the best word you should play, you can also take advantage of these features, options and functions.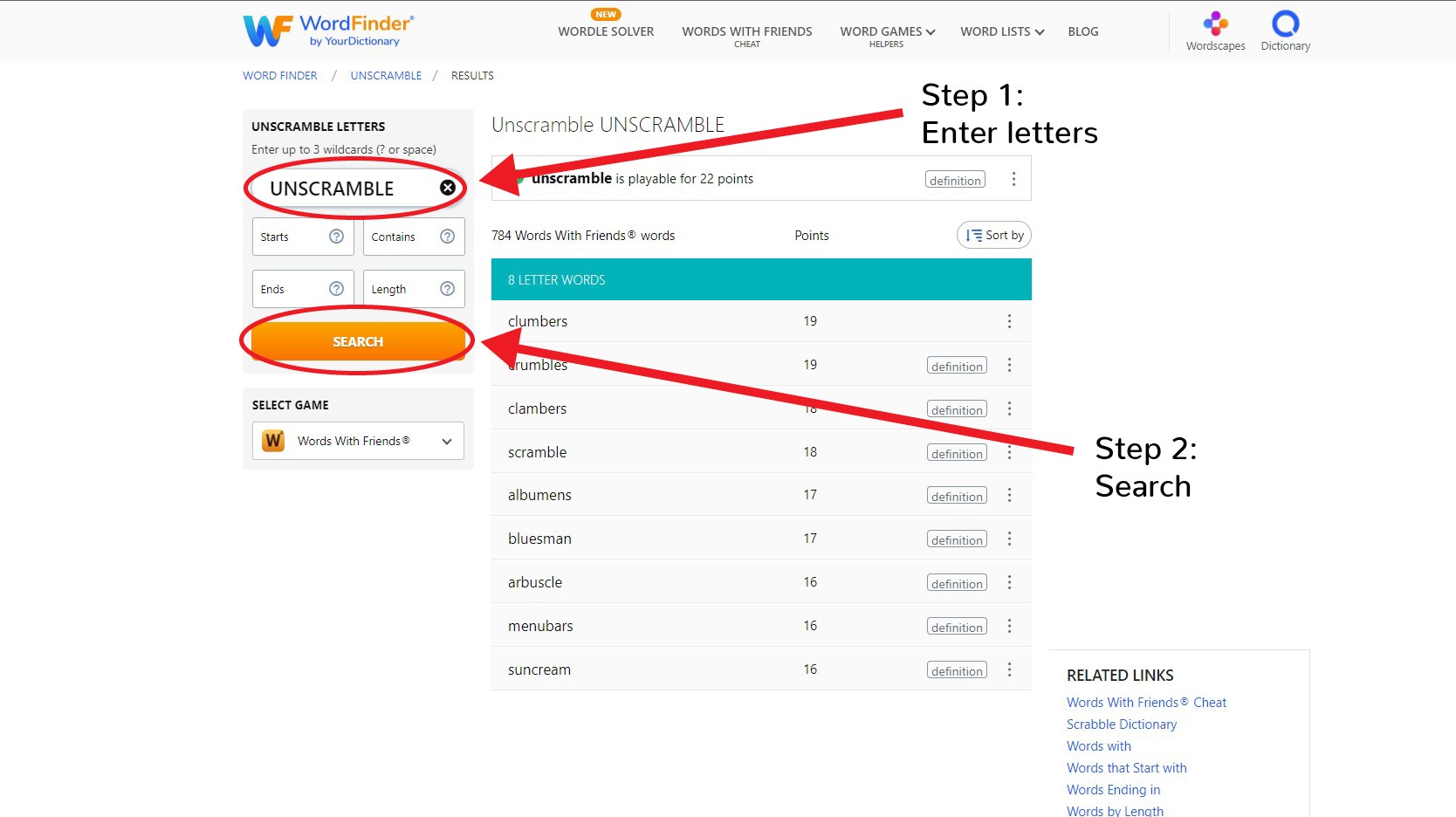 Unscramble results page on WordFinder
Verify Words With the Scrabble Dictionary
Sometimes, you may not be as interested in unscrambling a set of letters. Instead, perhaps you've already got a word in mind that you want to play. What you want is to confirm that this is a valid word you can play in Scrabble or Scrabble GO. That's when you'll want to use the WordFinder Scrabble dictionary.
Simply enter your word into the provided search field on that page and hit enter. Right at the top, you'll see whether your word is playable in Scrabble. You'll also see how many points it is worth, the part of speech and a brief definition. Below that, you'll get a list of Scrabble words that use the same letters, in case you're curious about other options you may have.
Our Scrabble dictionary is especially handy if you're playing the traditional Scrabble board game. Keep the page up on your device of choice and refer to our Scrabble dictionary whenever someone challenges a word in Scrabble. Get ready for the chance to say "I told you so!"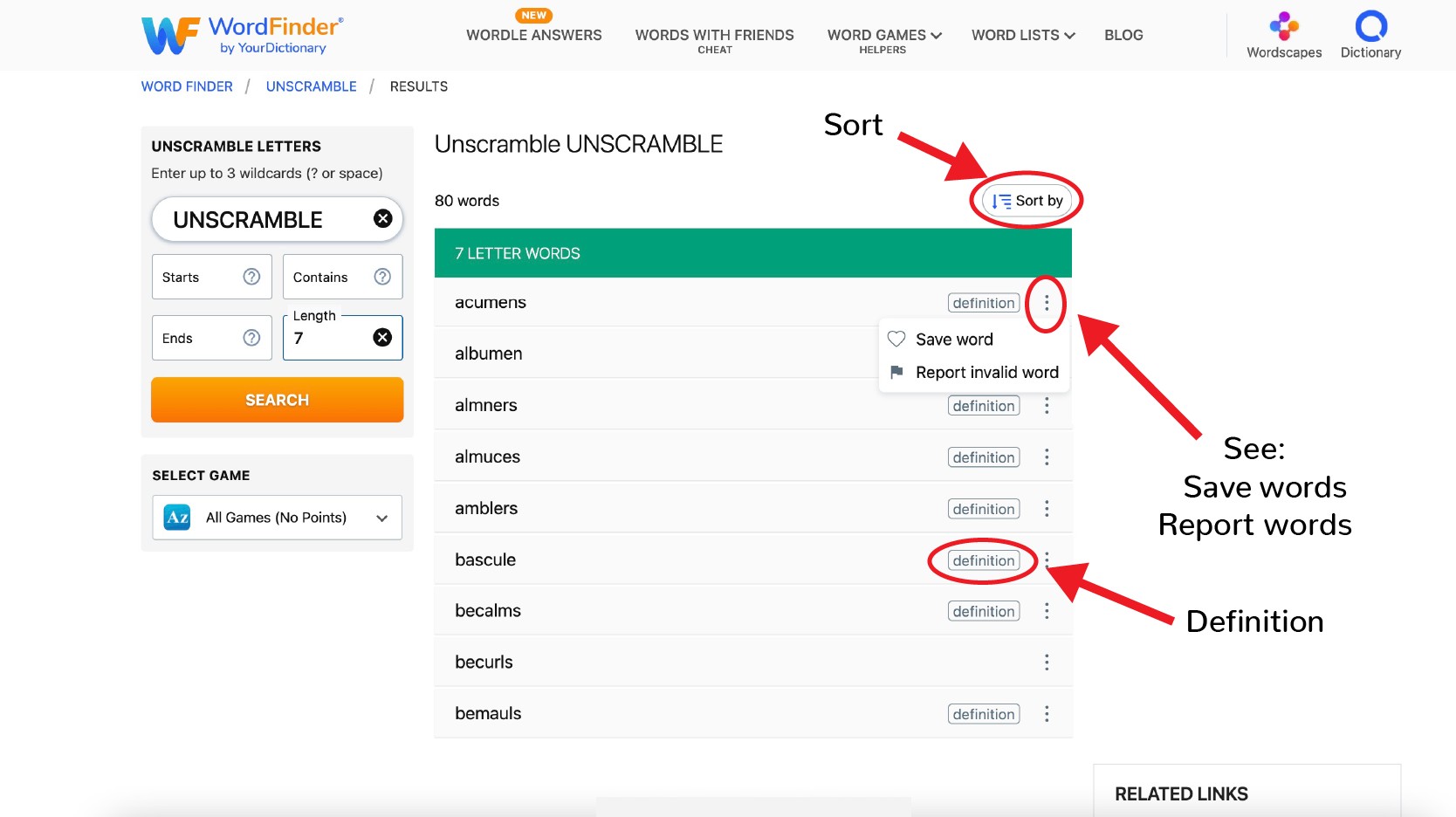 Verify dictionary on WordFinder
Browse the Word Lists
If you want to win in your favorite word games, it pays to build up your word knowledge. Expand your vocabulary by browsing through our word lists. These word lists are great places to find just the right words to fit in just the right places at just the right time. They include: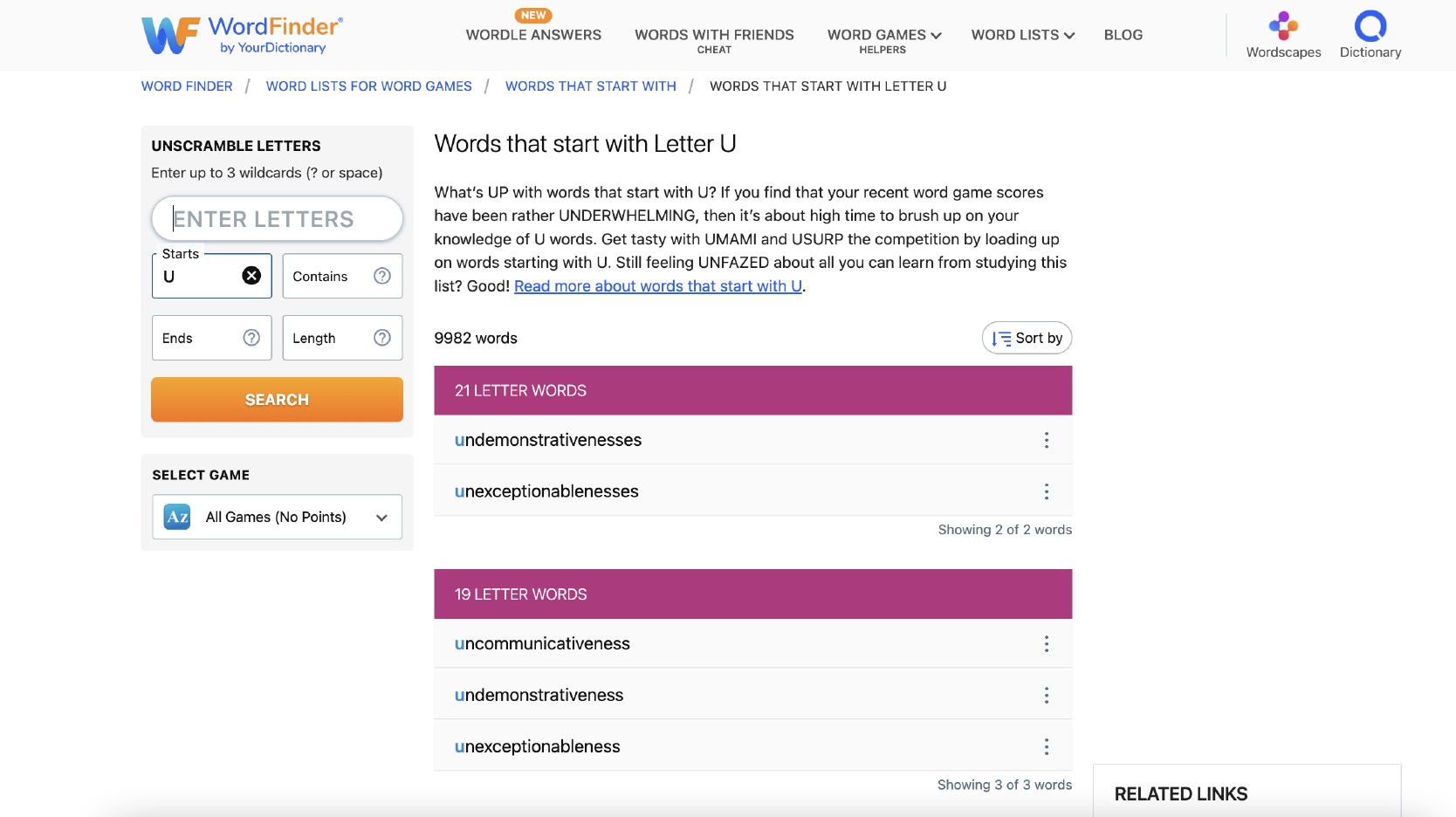 Browse word lists on WordFinder
Get the WordFinder App Too
We want to help you find the best words in whatever way is most useful to you. The WordFinder website is mobile-optimized to work on any device with any size screen. We're always right here, accessible from any web browser. If you'd prefer to get an app, we've got you covered there too.
The WordFinder app supports lots of word games and is super convenient to use. Get it on the Google Play Store for Android and download it on the App Store for iOS devices. Happy playing!
---
Michael Kwan is a professional writer and editor with over 16 years of experience. Fueled by caffeine and WiFi, he's no stranger to word games and dad jokes.