Wordscapes Meets Tower Defense… With Cats
For longtime fans of The Oatmeal webcomic, it might feel a bit odd that they'd decide to create a new word game. With Kitty Letter, you get the distinctive art style of the popular webcomic, adapted to the framework of a popular word game dynamic. If you know how to play Wordscapes, you're already halfway there with Kitty Letter.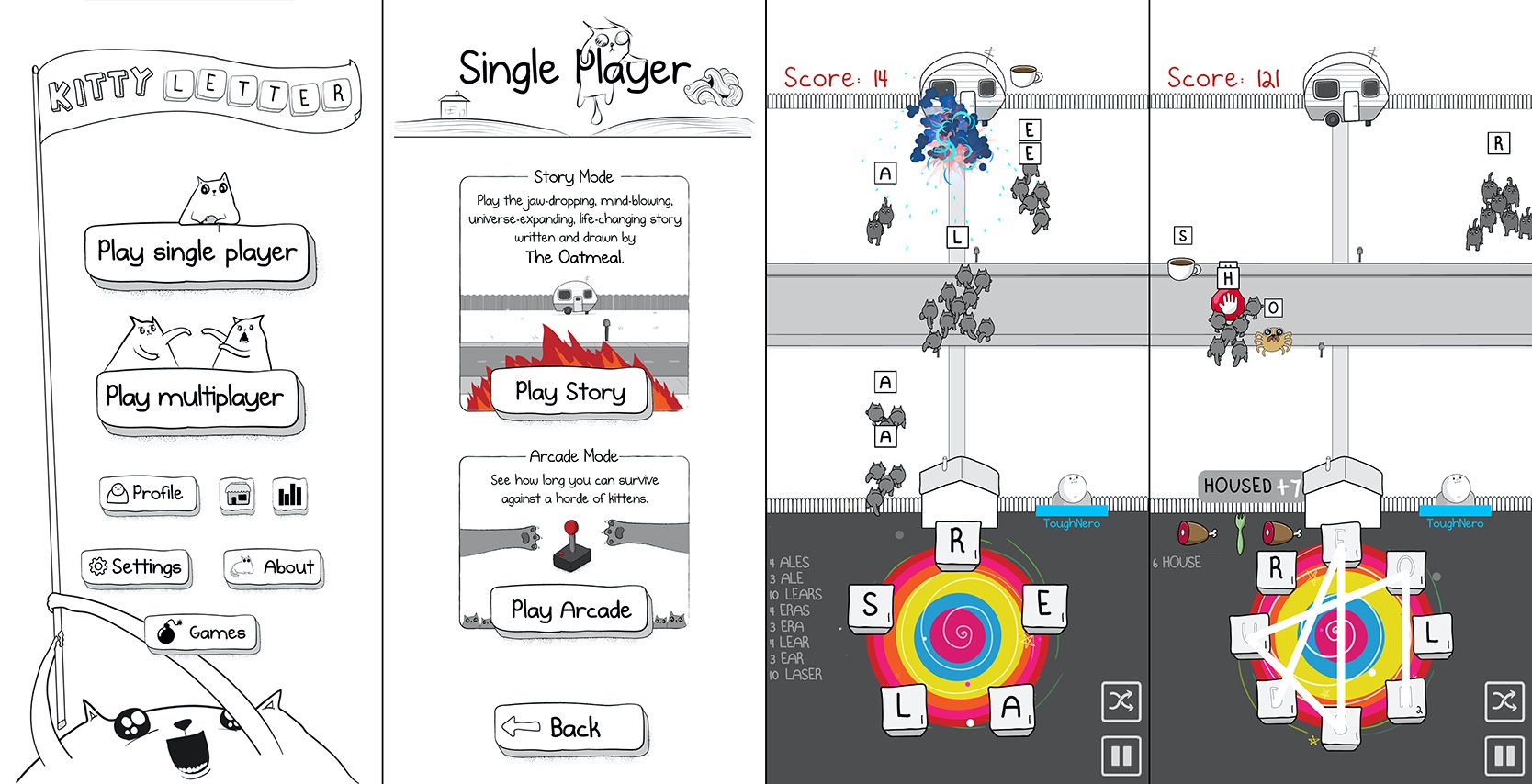 kitty letter game play main image
On the bottom half of the screen, you'll see a series of letter tiles arranged in a circle. Swipe between the letters to form valid words, which then appear in a list on the left. The main thing that sets Kitty Letter apart from other similar word games is the tower defense element. 
Words That Start With...
Whereas Wordscapes and Word Cookies are untimed and more relaxing, Kitty Letter has more of an arcade style adrenaline about it. An army of cats from across the lane march steadily toward your home. Your only defense is to send your own kitty soldiers to meet them on the battlefield. Instead of finding specific Wordscapes answers to pass a level, you must defend your home against your feline foes.
Each troop of attacking kitties from the other side has a letter tile above them. When you form a word to send your own cats into battle, the first letter of that word floats above that group. You must match the letter of the opposing kittens to defeat them. If the opposing cats reach your home, you take damage. And when the health meter of your home completely depletes, you lose. 
The Oatmeal's Signature Humor
Unlike most other seemingly similar word games, Kitty Letter offers more of a story mode. It's not just about progressing from one level to the next, per se. Rather, the single player campaign plays out like an extended comic from The Oatmeal. This is like how the developers approached the Exploding Kittens card game. It's meant to be fun and funny.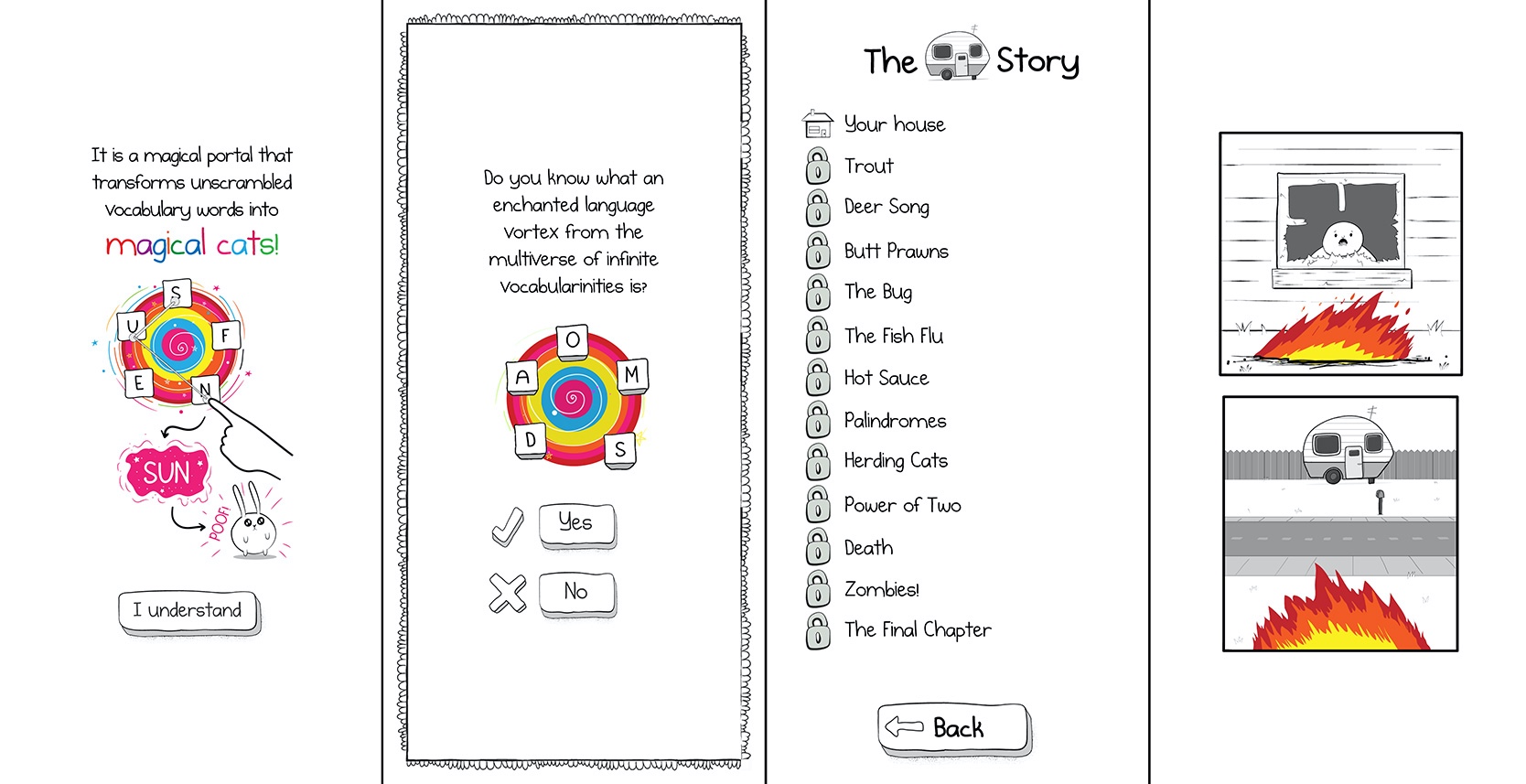 kitty letter game play humor
For example, the letter tiles in the bottom half of the screen aren't arranged in "a circle." They make up "an enchanted language vortex from the multiverse of infinite vocabularinitie." You don't just find words and earn points. You wield this "magical portal that transforms unscrambled vocabulary words into magical cats." Who knew unscrambling letters could be so epic? (We did.)
Most of the game is in black and white with simple line drawings, just like the webcomic. The main splash of color comes from the psychedelic "language vortex." You'll also spot occasional colorful elements on the battlefield, like powerups and special characters.
How to Spell Success
Naturally, it helps a lot when you already have an established web presence and a large community of supportive fans. It helps even more when the product is fun, engaging, rewarding and entertaining. That's exactly what you get with Kitty Letter from The Oatmeal. 
The dynamic of "swipe letters together and make words" is easy to understand. Many of the best Wordscapes tips and hints apply here too. In this game, though, you must frantically defend your home against an onslaught of aggressive kitties. As a result, gameplay feels much more intense. When you layer on the fact that you need to choose your words strategically, you get a game that's familiar yet new, simple yet complex. 
Kitty Letter Multiplayer Mode Too!
Playing challenging word games by yourself can be a great way to pass the time. Multiplayer word games add a whole new level of challenge, because you're playing against another human opponent. Whereas games like Words With Friends are asynchronous, Kitty Letter is in real-time. Choose to play against a stranger or a friend.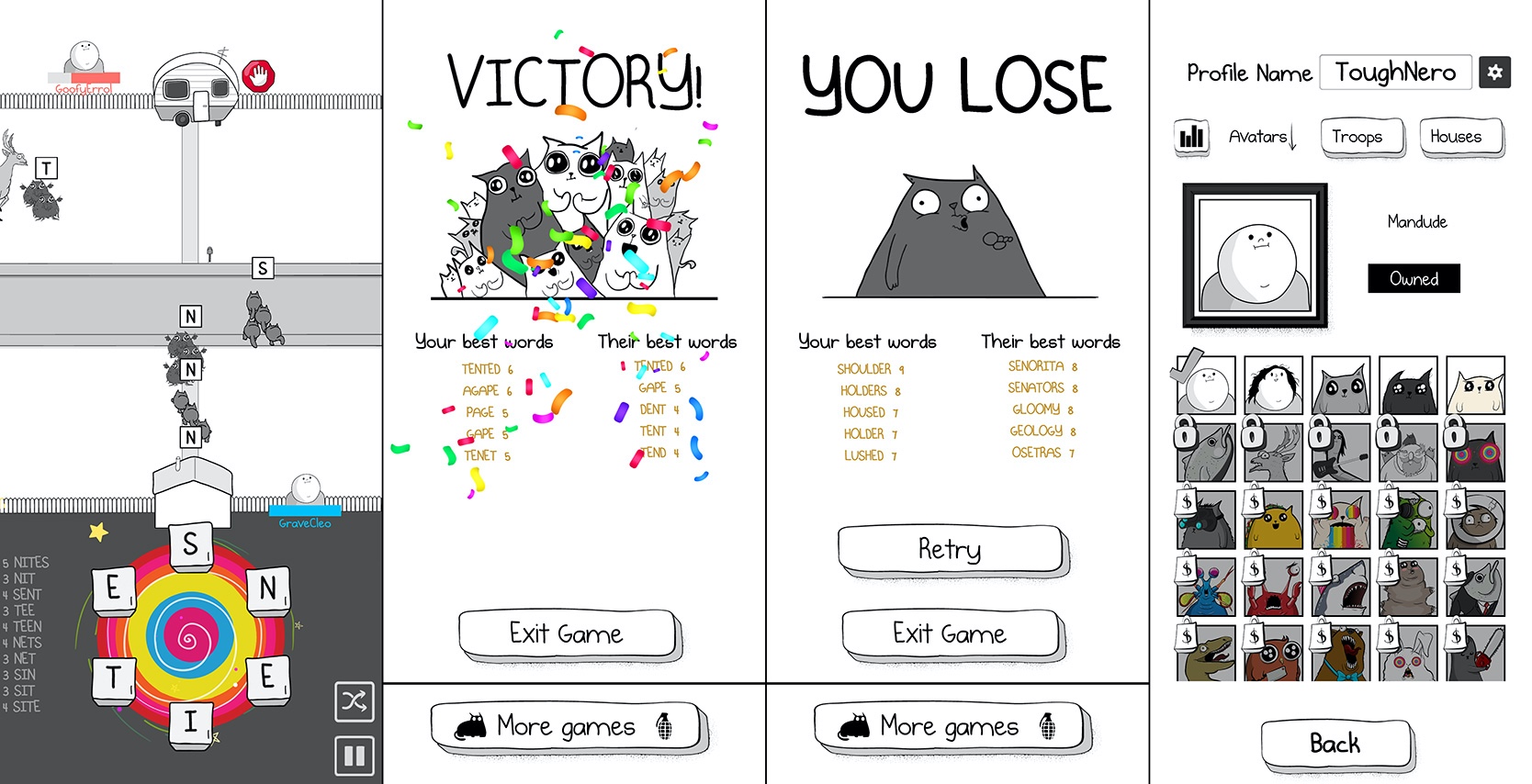 kitty letter game play multiplayer
The way you play is the same as the single-player story mode. The difference is the human player on the other side. They're finding words and sending their cats into battle against yours. The first player to run out of health loses the game. At least for now, there is no ranking system, but you can check your profile for your multiplayer stats. It's also there that you can select your profile name, avatar, troops and house.
A Scratching Post for Word Gamers
It's not very often that you come across a word game you'd describe as funny. If you like the twisted sense of humor from The Oatmeal and you're a fan of unscrambling letters to make words, Kitty Letter will scratch all sorts of itches. It's a fresh, compelling take on the subgenre, while sticking to a familiar gameplay mechanic. 
Kitty Letter is available now for Apple iOS and Google Android devices. It's free to download. If you're looking for more word games in this subgenre, have a look through our list of circle word games like Wordscapes. Most are more laid back than Kitty Letter. So, they're great options for when you need a break for an intense neighborhood cat rivalry. 
---
Michael Kwan is a professional writer and editor with over 15 years of experience. Fueled by caffeine and WiFi, he's no stranger to word games and dad jokes.