Pictawords
Pictawords is a simplified clone of Kryss. It pits you against either human or computer opponents in puzzle-filled matches. The rules of the game, the layout of the board and the power-ups are all the same as the game it's based on, making it easy to switch over from Kryss.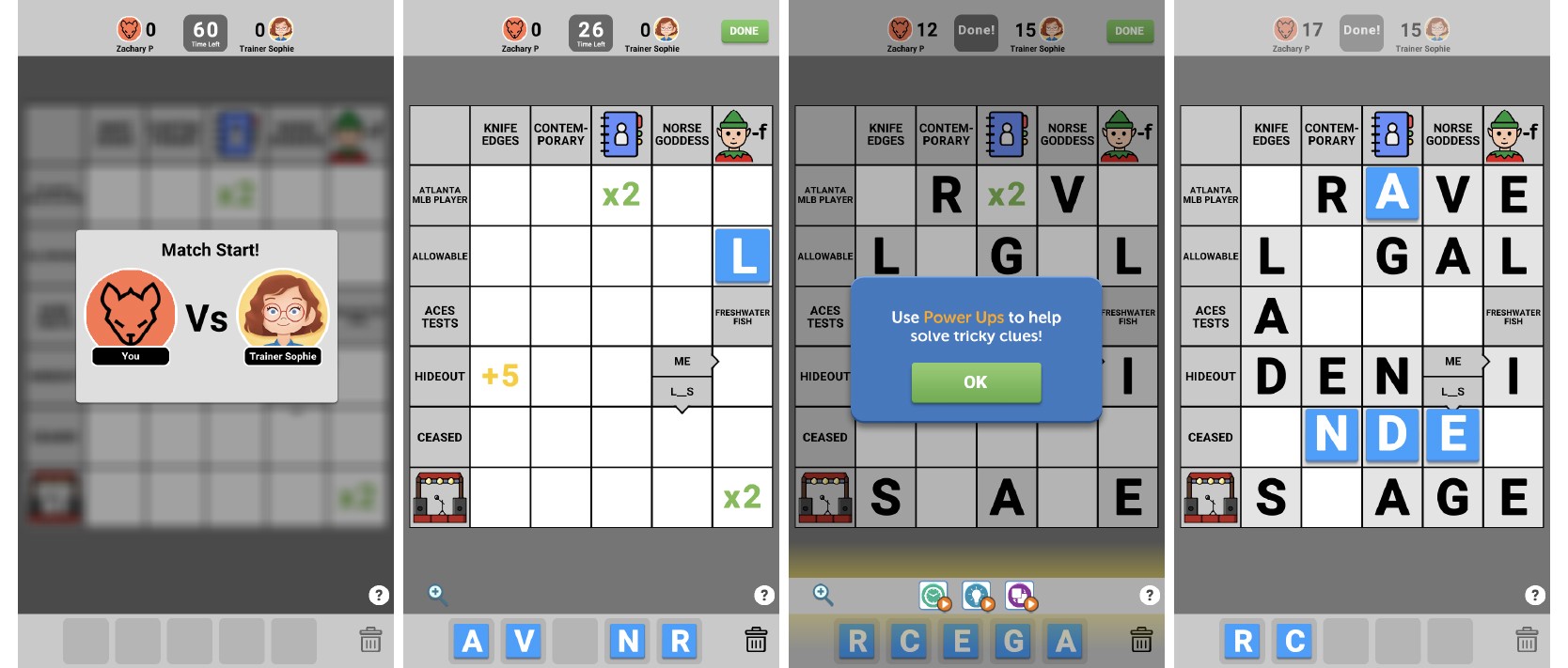 pictawords mobile app
The major difference between the two games, and the main reason someone might want to play Pictawords instead of Kryss, is that Pictawords doesn't require you to spend any tokens, the game's in-game currency, to join a game. You can play as many matches as you want without worrying about running out of resources.
Crossword Online: Word Cup
Similar to Pictawords, Crossword Online: Word Cup lets you compete against real and computer-generated players. The gameplay is not the same, however. In Crossword Online, each game is a multi-round tournament bracket. The puzzles are much smaller and similar to Wordscapes' take on crossword puzzles.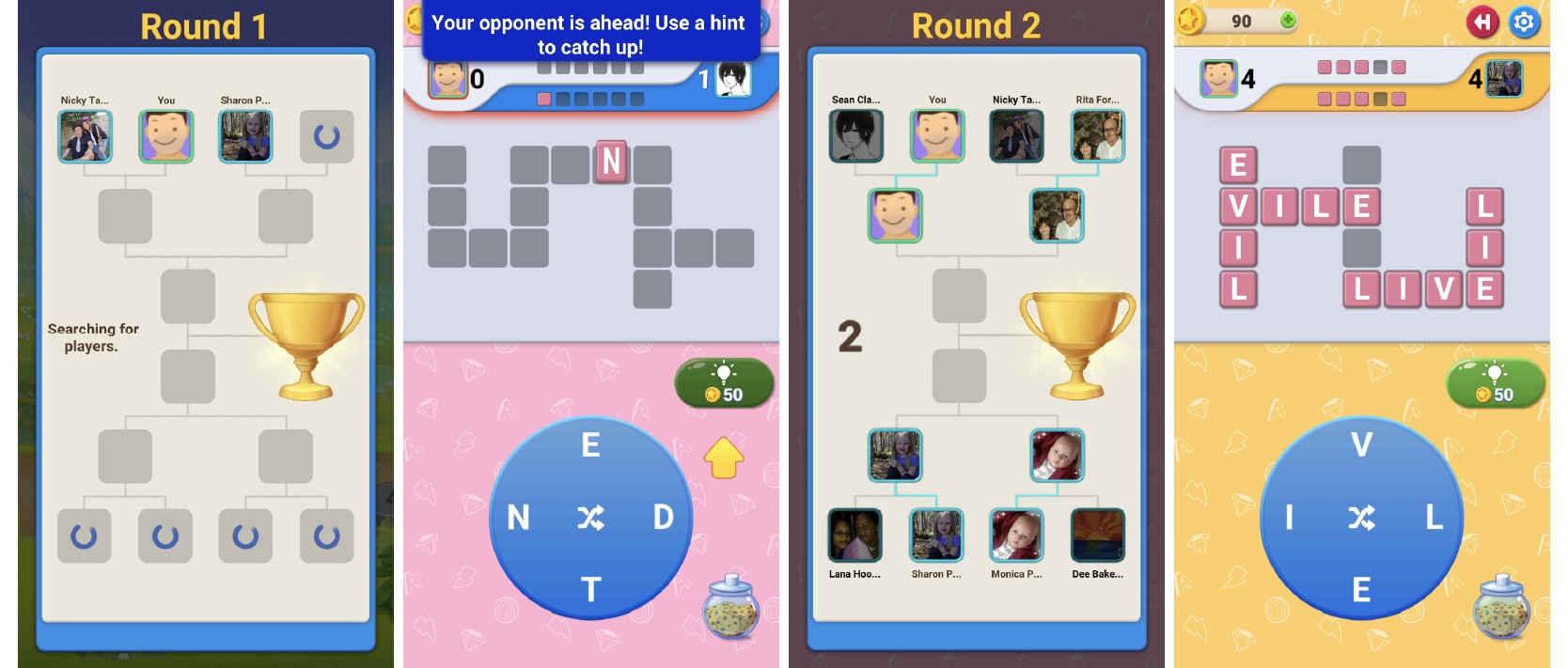 crossword mobile app screenshots
In each round of each tournament, players race to complete the puzzle. The first player to do so moves onto the next round, and the other player is eliminated. The player who survives until the end wins the tournament.
CodyCross
CodyCross is one of the most charming and clever revisions of the classic crossword puzzle formula. Instead of the conventional layout, you play CodyCross puzzles arranged in even columns and rows. It's a complete grid.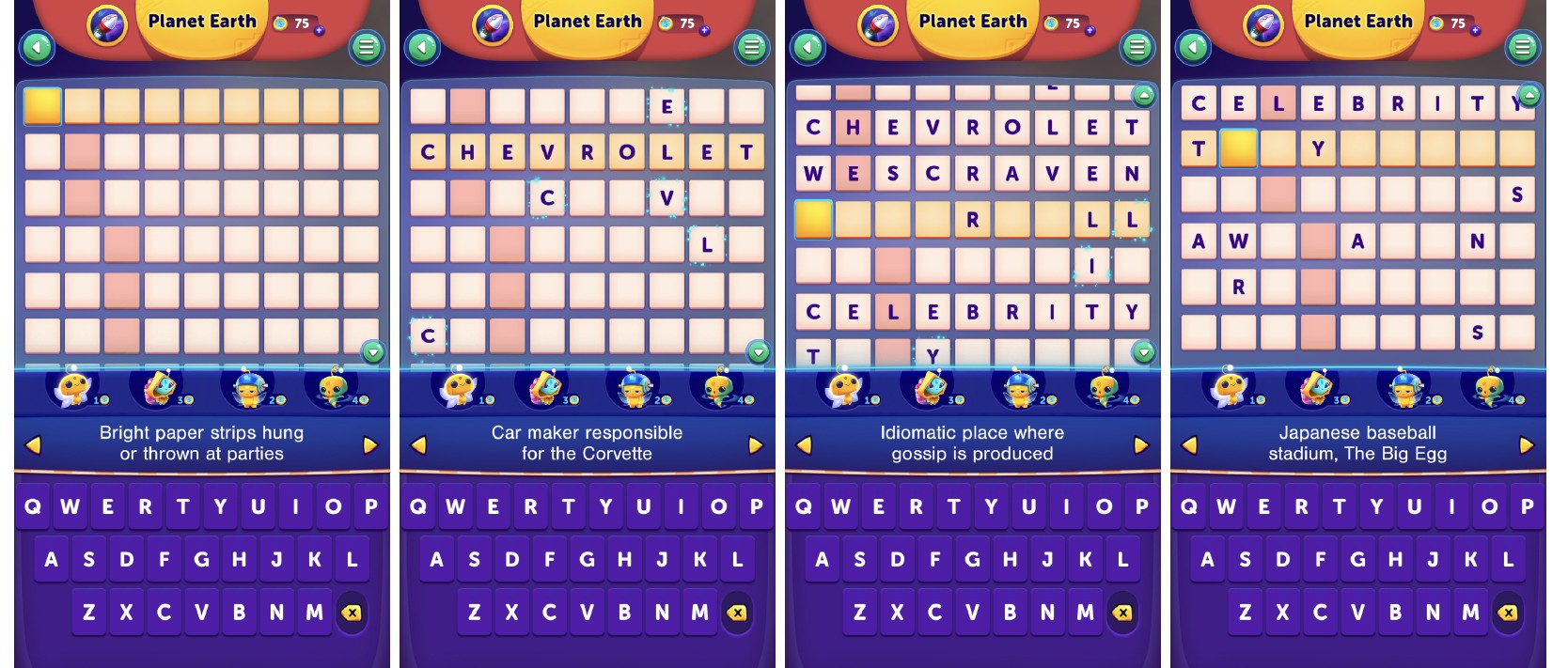 codycross mobile game screenshots
Blank words are stacked on top of each other and have their own clues. When you spell one word, random letters in the other words will fill themselves in, giving you an advantage when you go to solve them.
Crossword Quiz
Though not much of a radical change from the traditional crossword puzzle, Crossword Quiz breaks tradition enough by placing a bigger emphasis on its quiz and trivia aspects. You play on a normal-looking crossword puzzle board, but when you select one of the spaces, the game shifts to a different screen.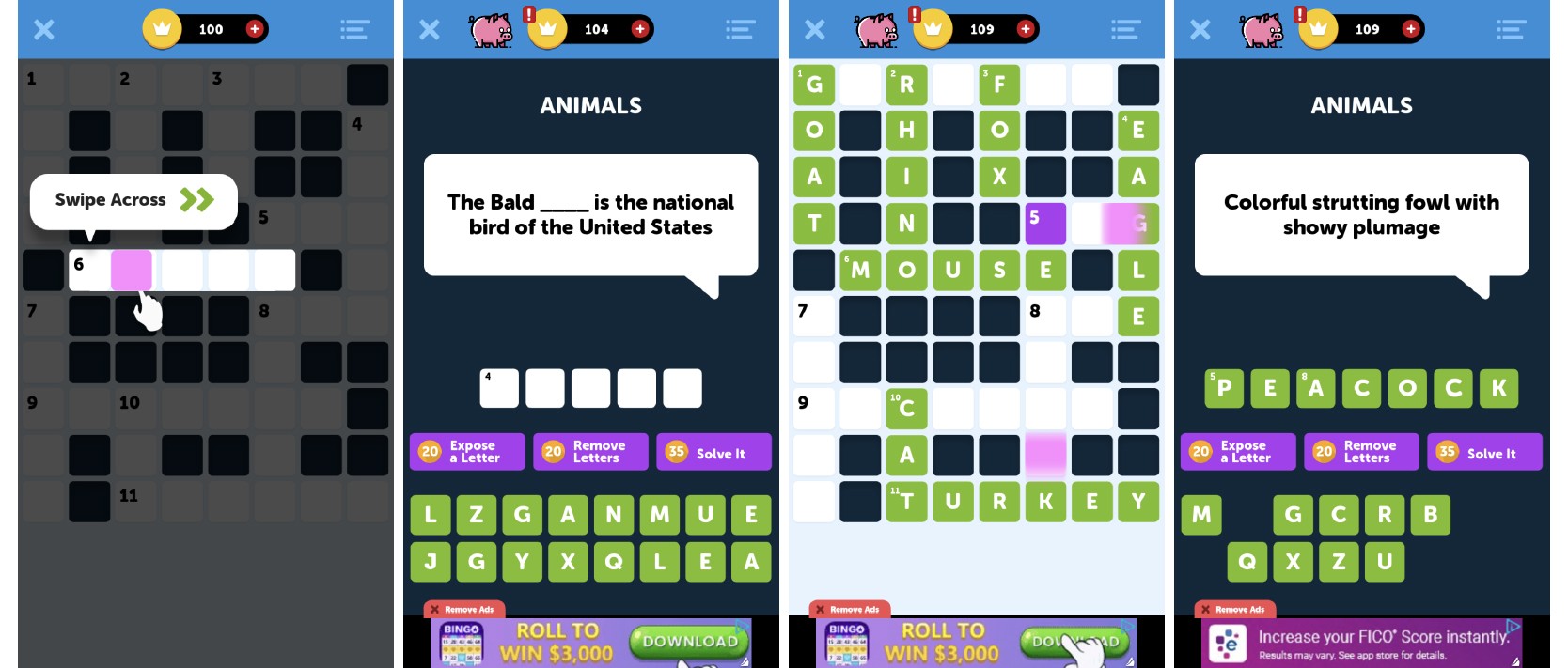 crossword quiz mobile app
This screen displays an anagram and either an image or a piece of text as a clue. Use the clues to find the right words with these letters in each puzzle. If any of the puzzles stump you, you can spend some in-game currency to use a hint. These hints will either reveal a letter in a word, remove unnecessary letters or outright solve one of the words.
Arrow Crossword & Other Games
Arrow Crossword & Other Games is a simple variety pack. There are no extra features and no gimmicks, which is perfect for crossword purists.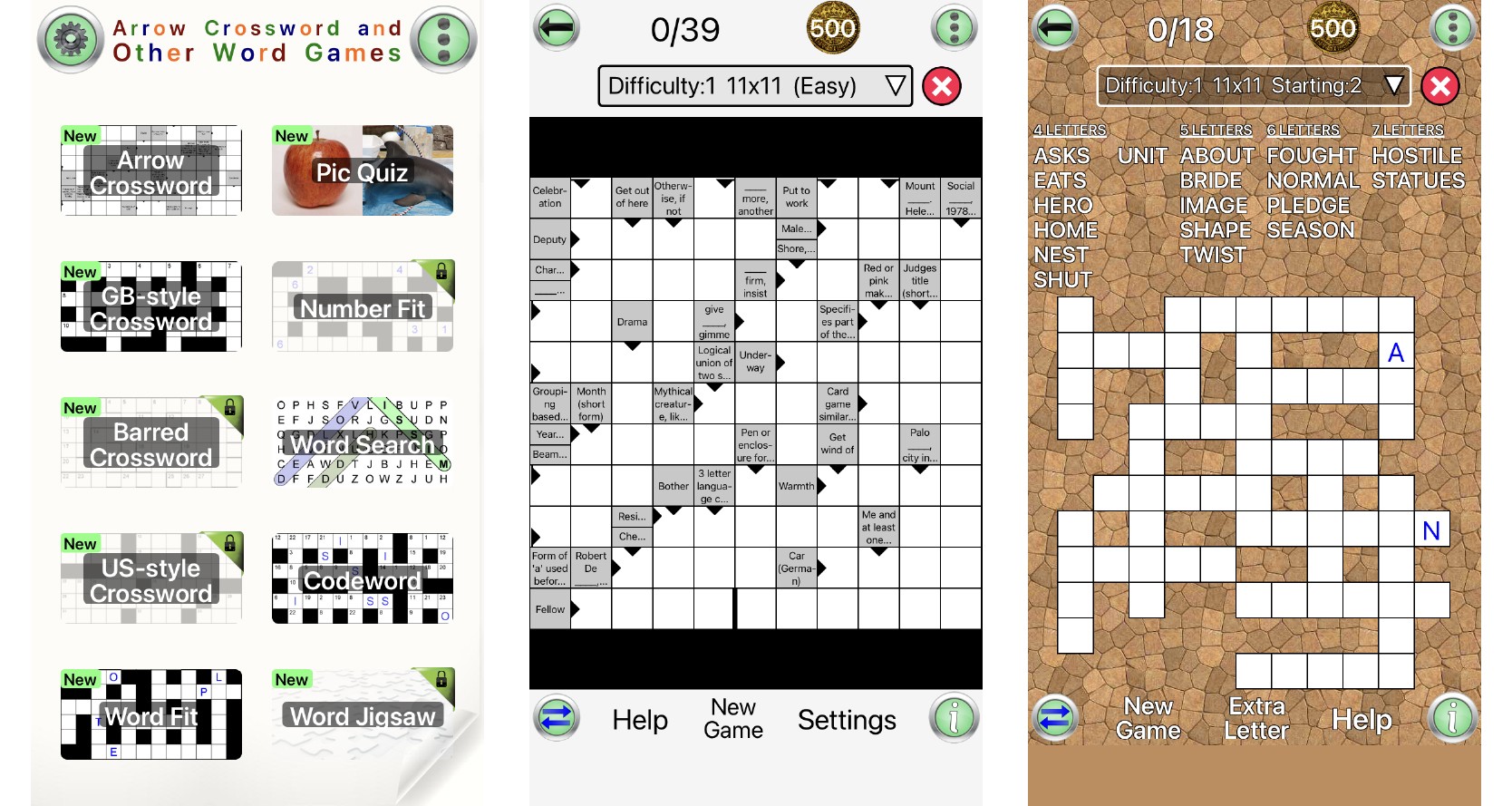 arrow mobile app screenshots
What makes Arrow Crossword great for this list is that all of its games are variations of crossword puzzles. There are normal crossword puzzles, picture-clue crossword puzzles, codeword puzzles and more. The app even comes with the reverse style of a crossword puzzle, the fill-it-in puzzle, where you try to fit the provided answers onto the grid.
Picture Perfect Crossword
While some other games mix clues and pictures together, Picture Perfect Crossword opts to use only the visual elements. When you start a game, you are taken to the puzzle and shown a picture for each word in it. Each word also has a limited number of letters you can use to create it.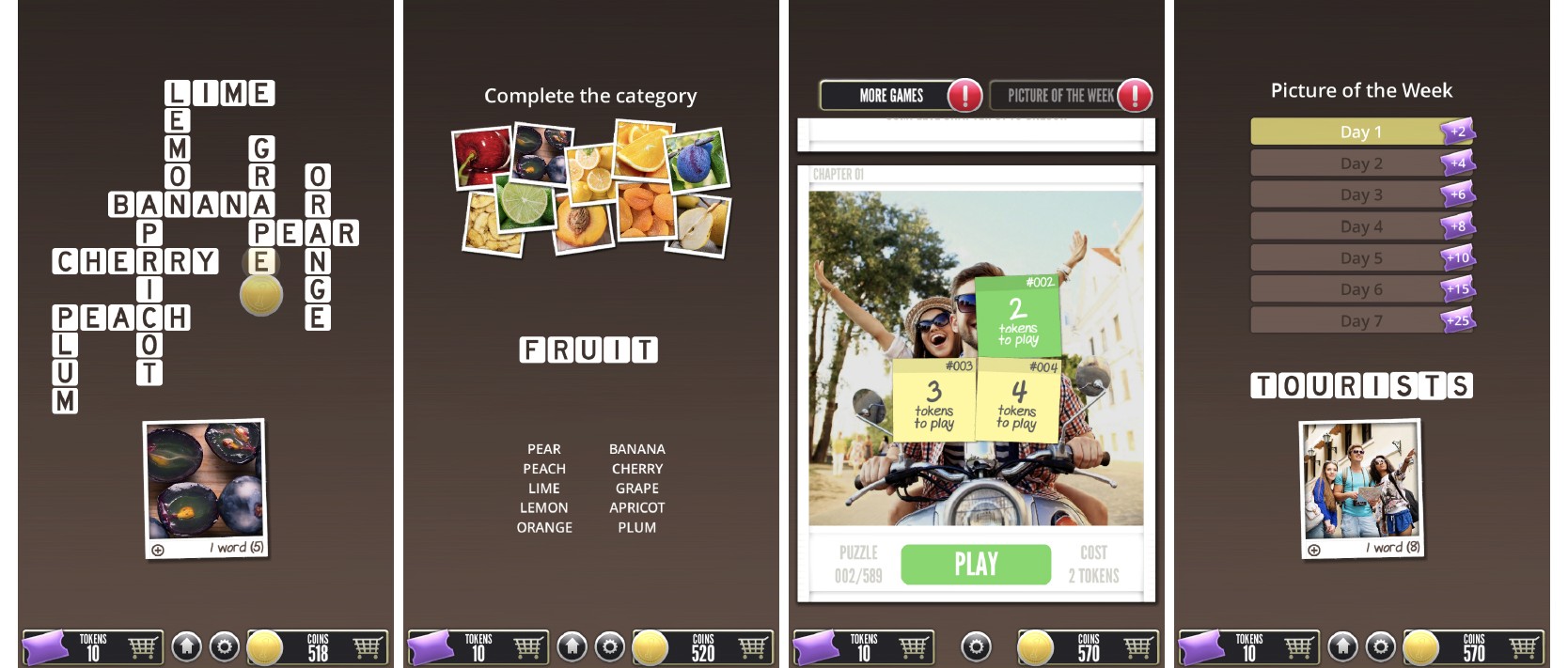 picture perfect mobile app
Once you select one of the words, the game displays a picture beneath the puzzle and above the letters. Similar to Crossword Quiz, you study the image and letters to figure out what the clue could be. 
Wordalot — Picture Crossword
Wordalot is another image-centered crossword puzzle app. What sets it apart from other games is that it uses one image for every word in the puzzle. Study the image intently to note all of its details.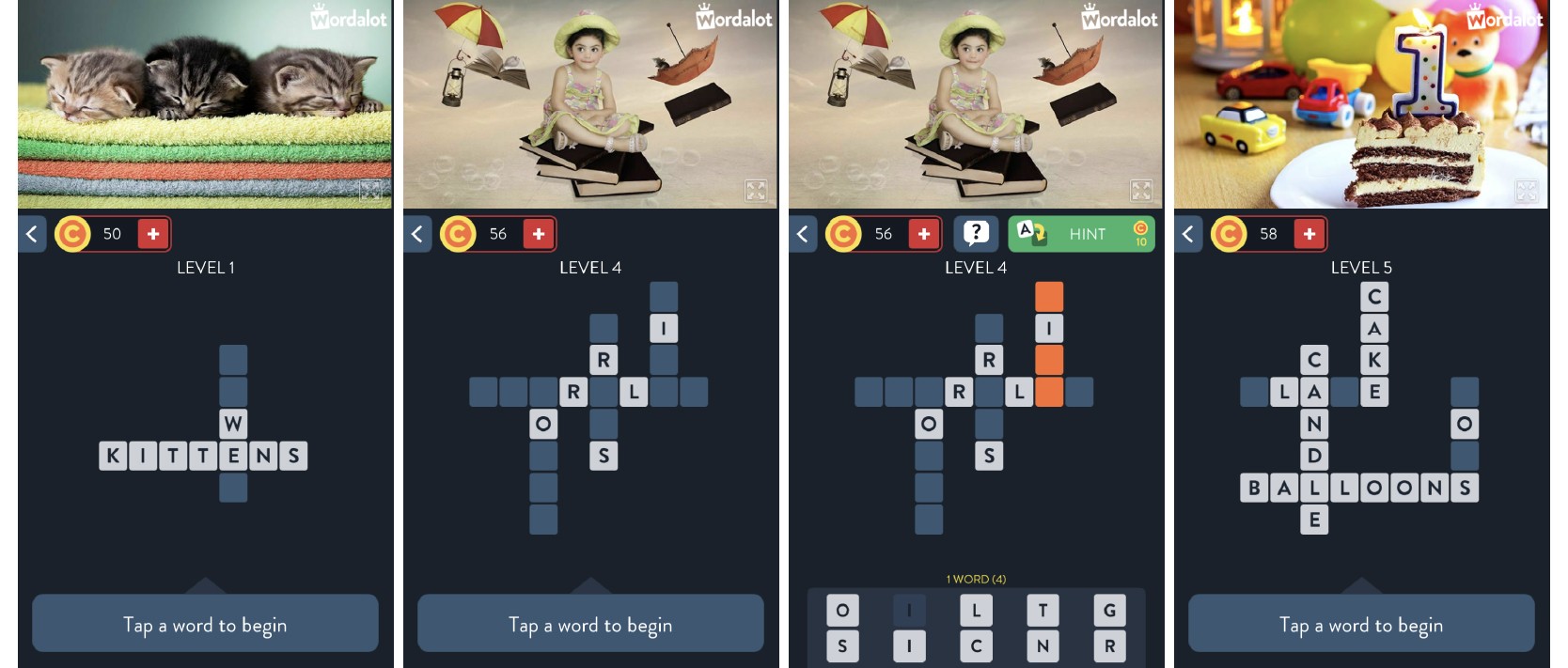 wordalot mobile app screenshots
Once you have a firm understanding of the image, you can select one of the blank words, look at the provided letters and try to figure out what part of the picture you are meant to spell. And, if you need any help, Wordalot allows you to spend its in-game currency to buy hints that reveal random letters in the puzzle.
More Crosswords Fun
Game developers don't often stray from the crossword puzzle formula. So, games similar to Kryss are in short supply. That doesn't mean we can't have fun with these games that do exist, though. And, you can certainly adapt Kryss tips to these alternatives. There's still a lot to love about normal crossword puzzles, too. If you're looking for new ways to enjoy crosswords, you'll find plenty in WordFinder's list of the seven best crossword apps.
---
Zac Pricener has been a content creator for the past eight years. He's a bit of an all-around nerd, and he has a bad habit of working movie and TV show references into conversations whenever possible.