Free Word Games for PC You Should Download
Got a computer running on Windows 10? Let's play some free word games on PC.
Microsoft Ultimate Word Games
With Microsoft Ultimate Word Games, you get three word games to download for the price of one. Oh, and that price still happens to be precisely zero dollars and zero cents. Wordament, like Boggle, challenges you to connect letters to form words. Word Twister is an anagram-style game, similar to Text Twist. And finally, Crossword is your standard crossword puzzle.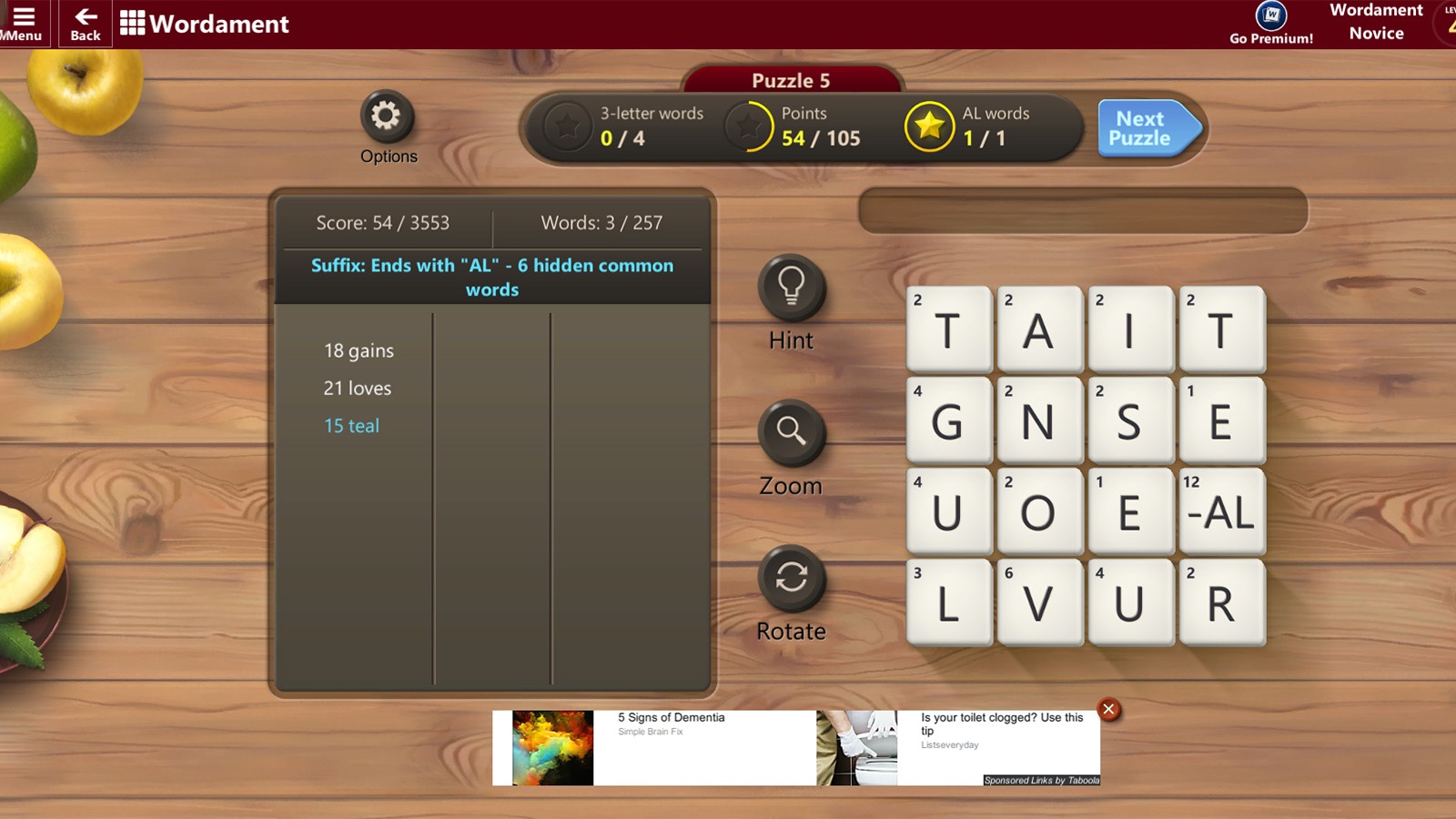 wordament word game from microsoft office
Word Crossy
If you enjoy playing Wordscapes on your smartphone, you'll feel right at home playing Word Crossy on your Windows PC. It works exactly the same way. Connect letters to form words and complete the crossword puzzle-like layout. Think of it as the crossover event between anagram word games and a crossword puzzle. Simple, relaxing and simply relaxing.
Simple Word Search
You don't need to wait for the daily word searches to appear in your local newspaper! With Simple Word Search on your PC, you gain access to dynamically generated game boards. That way, you never have to play the same game twice! This is the classic word game you know and love. Find words and earn bonus stars.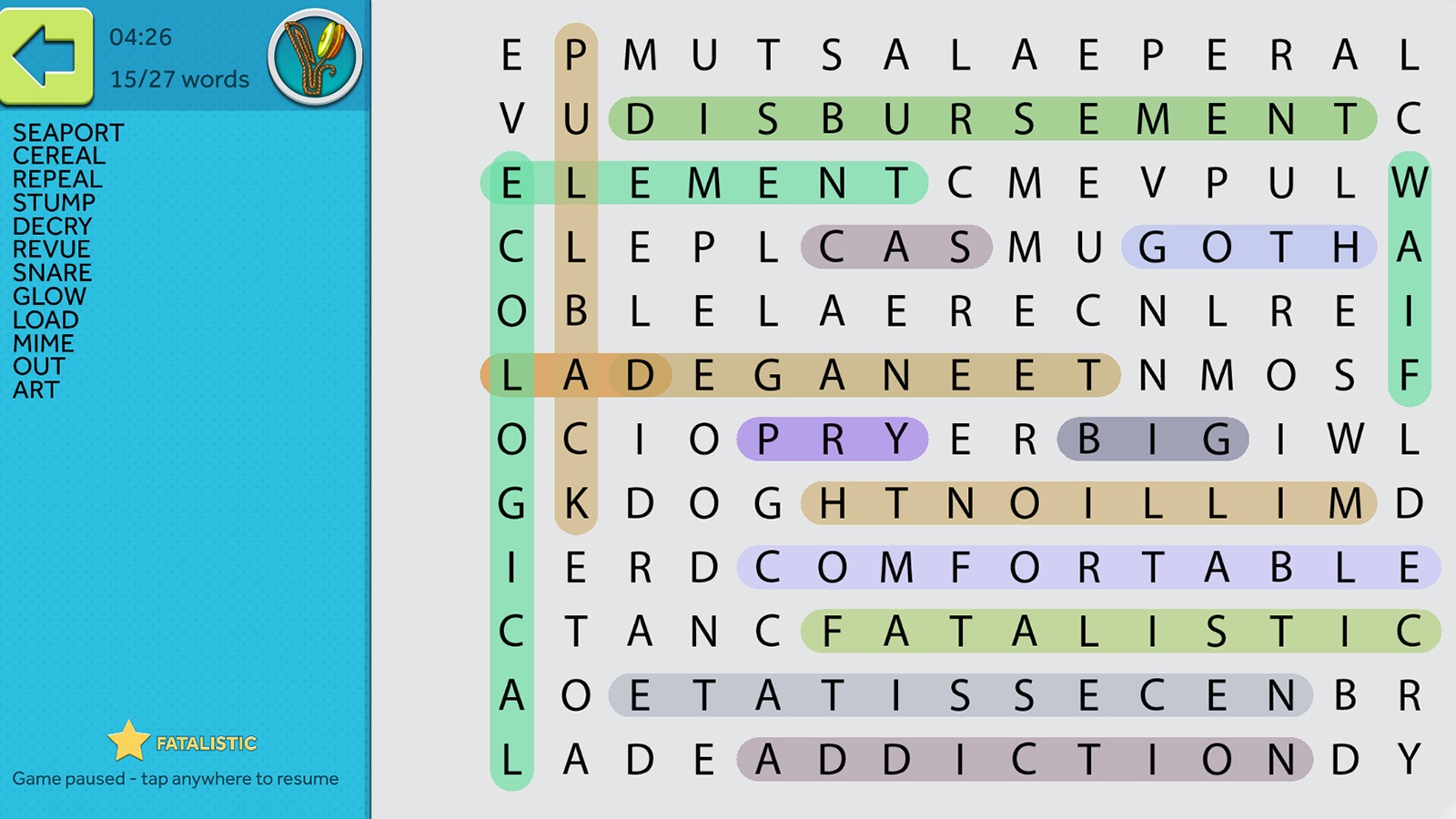 free letterpress word search game
Download Word Games for Mac for Free
We can't let the Windows PC people have all the fun, right? Check out these free word games to download on your Mac too.
Letterpress
Have you been playing a lot of Scrabble GO or Words With Friends? If you enjoy the competitive aspect of those word games, you'll find a lot to like with Letterpress. Rather than scoring points for words you play, the objective here is to turn as many of the letter tiles on the 5 x 5 grid to your color. Unlike games like Boggle, the letters you use in Letterpress don't need to be next to one another. Play against human or computer-controlled opponents. You can even create custom groups to play only with friends!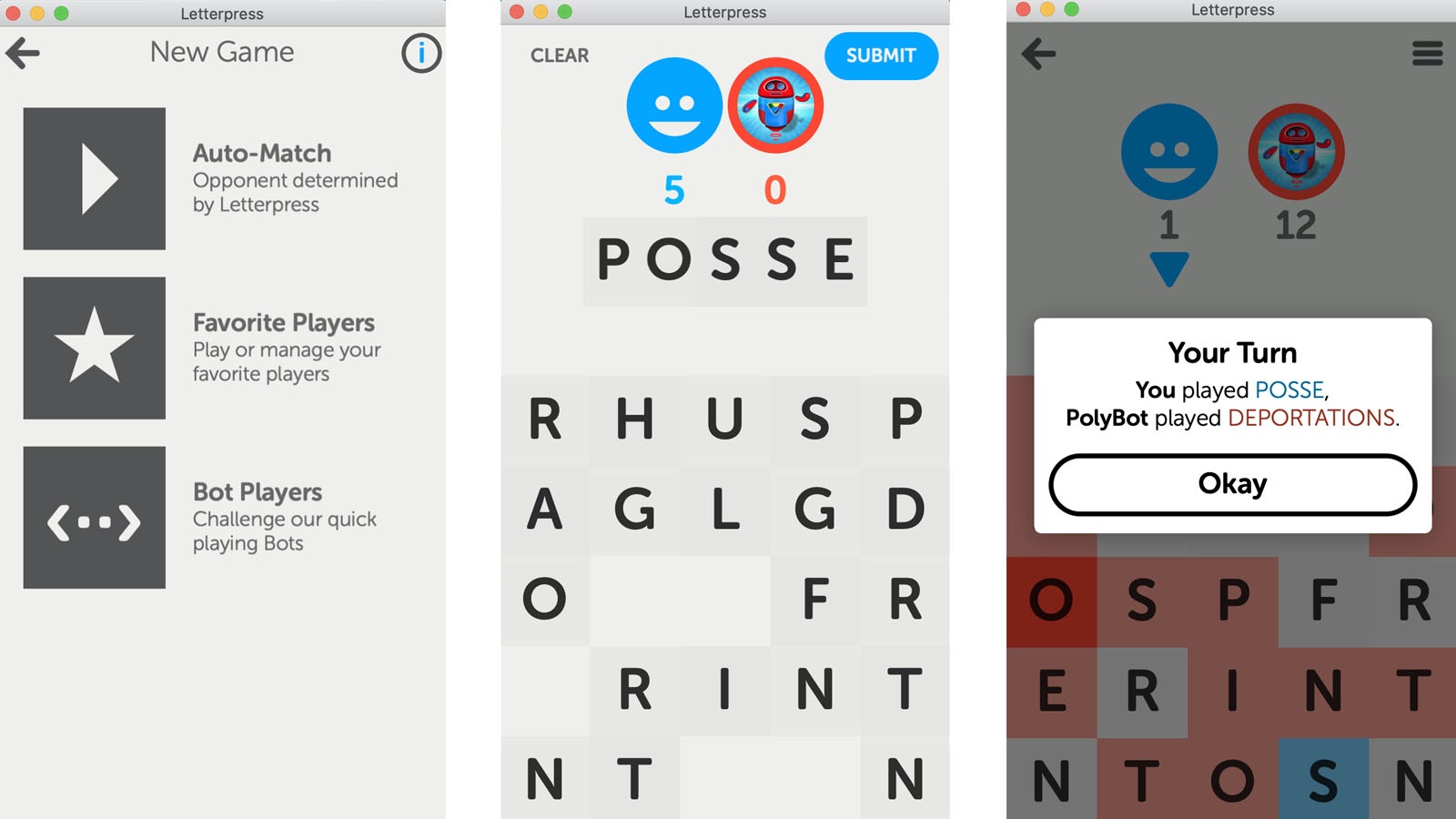 Screenshots of Letterpress game
Word Wow Big City
If you've been playing word games for some time, you may recognize this clever little worm. He's hungry again and it's a "race to the bottom" in Word Wow Big City for Mac. This series of games has been downloaded over five million times! Form words to clear a path for the worm to go down and around obstacles. Reach the bottom of the stage before time runs out, collecting special boosters along the way. There are over 750 levels to enjoy.
Word Connect Fun!
Addicted to circle word games like Wordscapes? Want to keep swiping those letters around and making words in a relaxing environment on your MacBook? Word Connect Fun! could be exactly what you're looking for! Yes, as you can probably guess from its title, this word game plays the same way as Word Connect. Since you're playing on a computer, it makes better use of the horizontal space by placing the circle of letters to the side rather than underneath.
Free Word Games to Download on Chromebook
Did you know that most Chromebooks can download apps directly from the Google Play Store? This means you can play your favorite Android word games on your Chromebook too, including Letterpress and Words With Friends 2. For the best experience, look for games with a tablet-optimized version. These apps often make better use of the horizontal orientation of your Chromebook display.
Bonza Planet
Offering a totally different take on the traditional crossword puzzle is Bonza Planet. Rather than trying to figure out what letters fit into what spaces, you manipulate and combine Tetris-like blocks of letters so they "fit" together to form a crossword grid. The theme of each level, like "fruit salad" or "deadly creatures," provides a clue for what words you may form when you combine these intersecting blocks of letters.
Wordfeud Free
The extra power-ups and flash of games like Scrabble GO might not be for everyone. For a more traditional experience, check out Wordfeud Free. The normal board layout is somewhere between Scrabble and Words With Friends. Or, you can choose to play on a random board for a challenging new spin. In addition to English, Wordfeud also supports such languages as German, Spanish, French and Danish. Upgrade to the optional paid version to remove ads.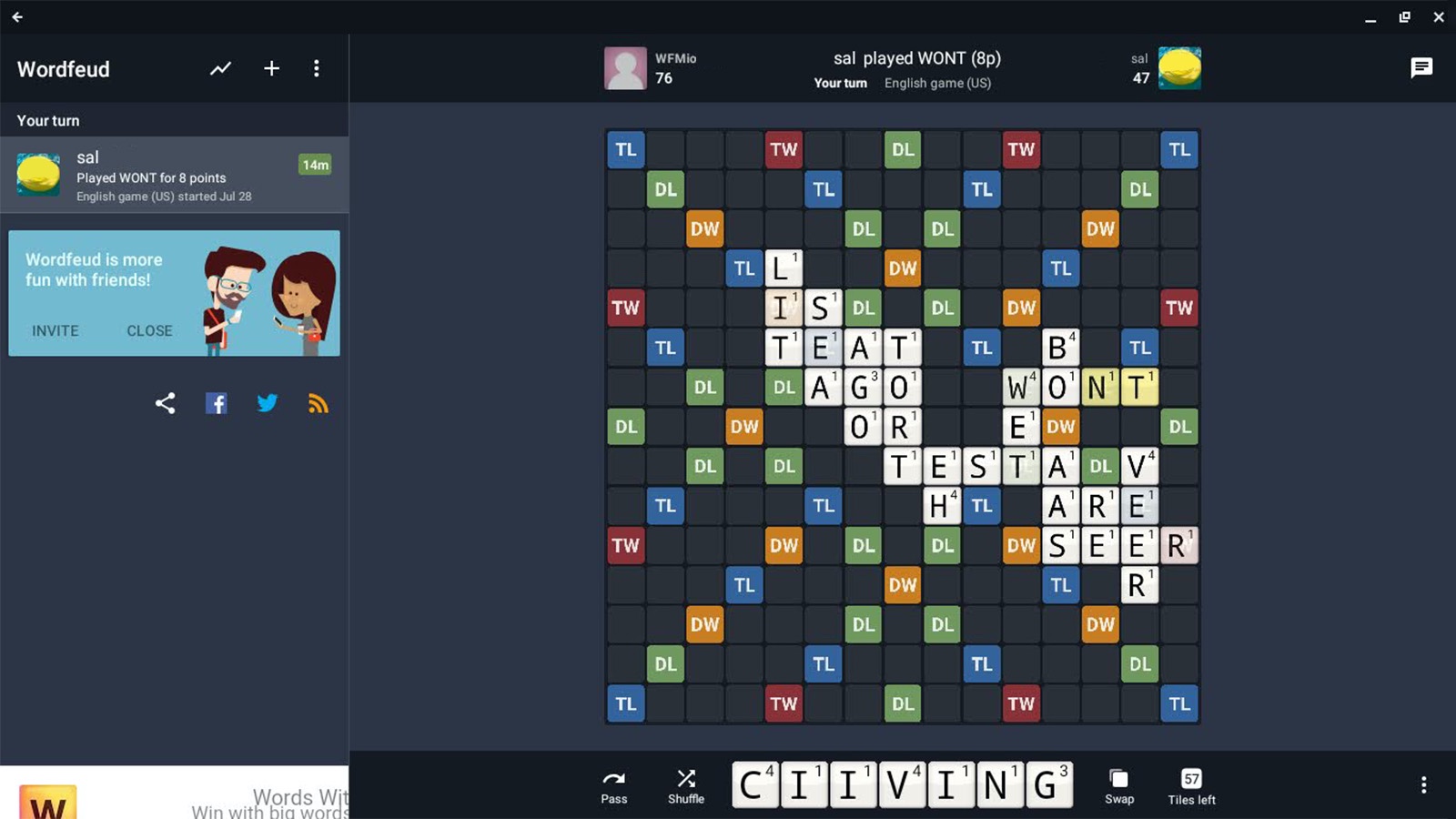 worded free game
PixWords Scenes
When you play a more traditional crossword puzzle, you find your answers based on written clues. With PixWords Scenes, your main clue is a single image for the puzzle. For each missing word, the game will show you some possible letters too. Unscramble the letters and form words based on what you see in the image, completing the puzzle one word at a time. It's a crossword with pictures!
Offline Games for Mobile Too
In addition to playing games on your Windows PC, MacBook, or Chromebook, you can also play free offline word games on your iOS or Android device too. Classic Words Solo, for example, gives you the Words With Friends experience in a single-player environment! Online or offline, there are always more free word games to download and play.
---
Michael Kwan is a professional writer and editor with over 14 years of experience. Fueled by caffeine and WiFi, he's no stranger to word games and dad jokes.