What's New With Scrabble GO?
First, let's start with a bit of background on how Scrabble GO came to be. The Scrabble brand is owned by Hasbro in North America. Hasbro, in turn, licensed the brand to Electronic Arts (EA) to develop and publish a mobile game. The Scrabble mobile game competed against Zynga's popular Words With Friends game. 
Whereas the Scrabble app leaned more into tradition and classic game play, Words With Friends introduced power-ups and other extra features. EA recently lost the Scrabble license to a different app publisher named Scopely. And Scopely then took the game in a different direction with Scrabble GO.
The new Scrabble GO app taps into the trend among mobile games to be flashier and more colorful. There is more of a "gamification" element beyond the main game itself. You get timed challenges, prizes, leveling up, in-game currency and more. 
Our article on how to play Scrabble GO highlights some of these game elements. 
The Problem of Sensory Overload 
Well, it's really only a problem if you think it's a problem. The trend among casual games and mobile games for years has been toward more animations and increased stimulation. The idea is to keep the gamer constantly engaged, constantly delivering a steady flow of dopamine. Ever use a power-up in a game like Candy Crush Saga? Nothing is ever static, nothing is ever boring.
With Scopely's Scrabble GO app, you see much of the same philosophy at play. Traditional Scrabble might look slow, pensive and methodical with muted colors and drab colors. By contrast, Scrabble GO is vivid, bright, and constantly in motion. This is true even of the main home screen, as the icons, notifications and game options pop and burst and blink.
The decision to go with this kind of presentation is one of the biggest differences between Scrabble GO and Words With Friends. Some players may feel overwhelmed as the home screen bombards them with so many options. Join leagues! Check the inbox! Review unlocked challenges! Start a new game with this player! Or this player! Or this one! 
It's a lot. And it goes after a cuter, more youthful design style.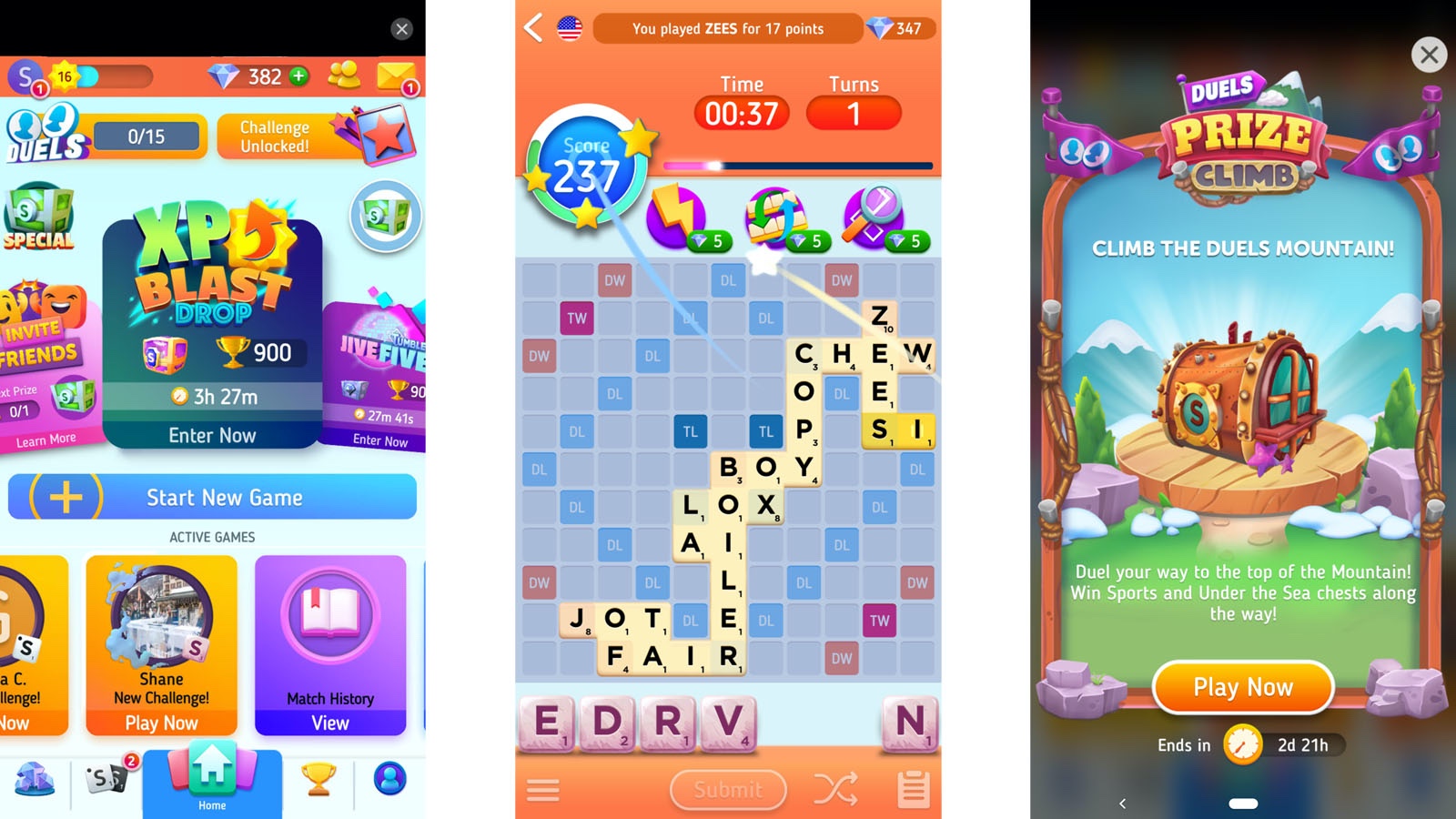 Scrabble GO style screenshot
In the Mood for More Game Modes
There's no shortage of reasons why you should play Scrabble. Those reasons still apply here with the Scrabble GO app, as the fundamental gameplay is still the same. You still get the same game board, you still get letter tiles, and you still have to unscramble those letters to form winning words. You use the same Scrabble word list too. That's all the same, except there's much more here.
In Scrabble GO, the standard game plays like a regular game of Scrabble, except you have the option to use power-ups. Beyond that, though, you'll find a bevy of other game modes. In fact, you don't need to "find" them as the game will actively push them in front of you with pop-ups and animations.
Some other game modes in Scrabble GO include the move-limited Duels, the single-player Tumbler Classic, and the fast-paced Rush Classic. Several of these pop up as short-term tournaments too. These tie into trophies, rankings, in-game bonuses, mystery prizes, unlockable tiles and more. 
Again, it's a lot. Some players may say these additional modes and bonuses add value and depth to the game. Other players may call them unnecessary distractions. You can try to ignore them and stick to the main game, but that's definitely easier said than done.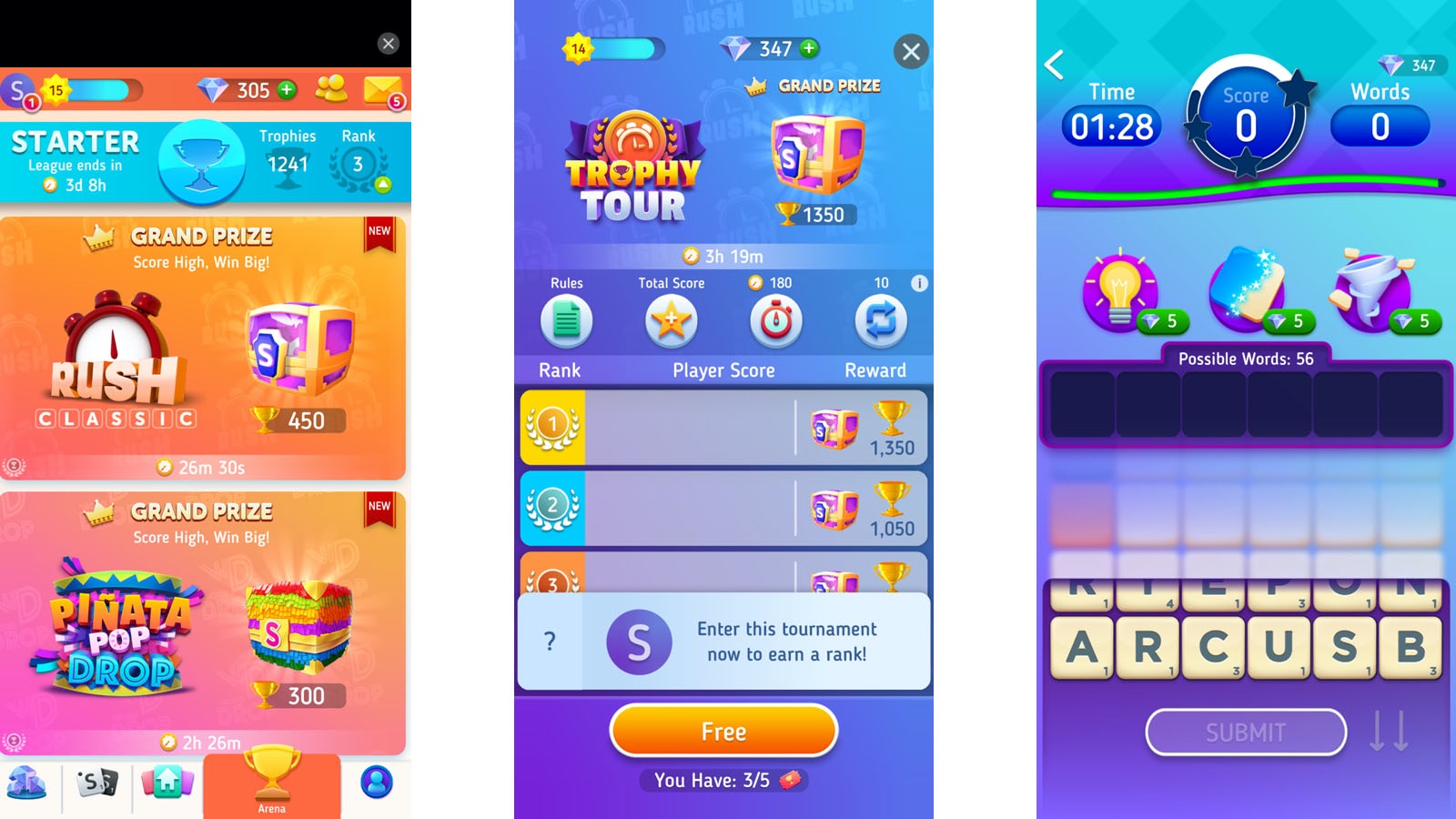 Scrabble GO game modes screenshot
These People Aren't People
Aside from the Words With Friends Solo Challenge, Words With Friends isn't meant to be a single-player experience. There are several great places to play single-player Scrabble online for free if that's more your kind of thing. And while it may not be immediately obvious, Scrabble GO can also be a great option for solo Scrabble play.
As you create new matches in the game, Scrabble GO will offer suggestions for opponents. You'd assume that these are other human players who also have the Scrabble GO app on their phones, but that's not necessarily the case. Indeed, if you don't connect your Facebook account, most match suggestions will be computer-controlled opponents.
The way you can tell -- and the app never tells you this is the case -- is that computer-controlled opponents have "clouds" around their avatars. When you start a game with one of these "individuals," you're playing against the computer. The simulation is rather convincing, though it would be nice if you could select a difficulty level.
What About Scrabble Classic?
Some players are unhappy about the direction that Scopely has taken with the Scrabble GO app. The bright colors and flashy presentation are a sharp departure from the traditional Scrabble experience. Can Scrabble purists still enjoy a regular game of Scrabble with this app?
Just like the computer-controlled opponents, this feature isn't immediately obvious either. But, it is there if you just want to find words and skip the sizzle. 
Tap on Start New Game on the home screen.

Choose Play Scrabble.

Scroll down until you find Scrabble Classic and tap to select it.

Tap on Match Me for a random opponent or choose from the list of available players.
The good news for purists is that Scrabble Classic does away with the power-ups ("boosts"). The bad news is that the flashy animation and pop-ups remain.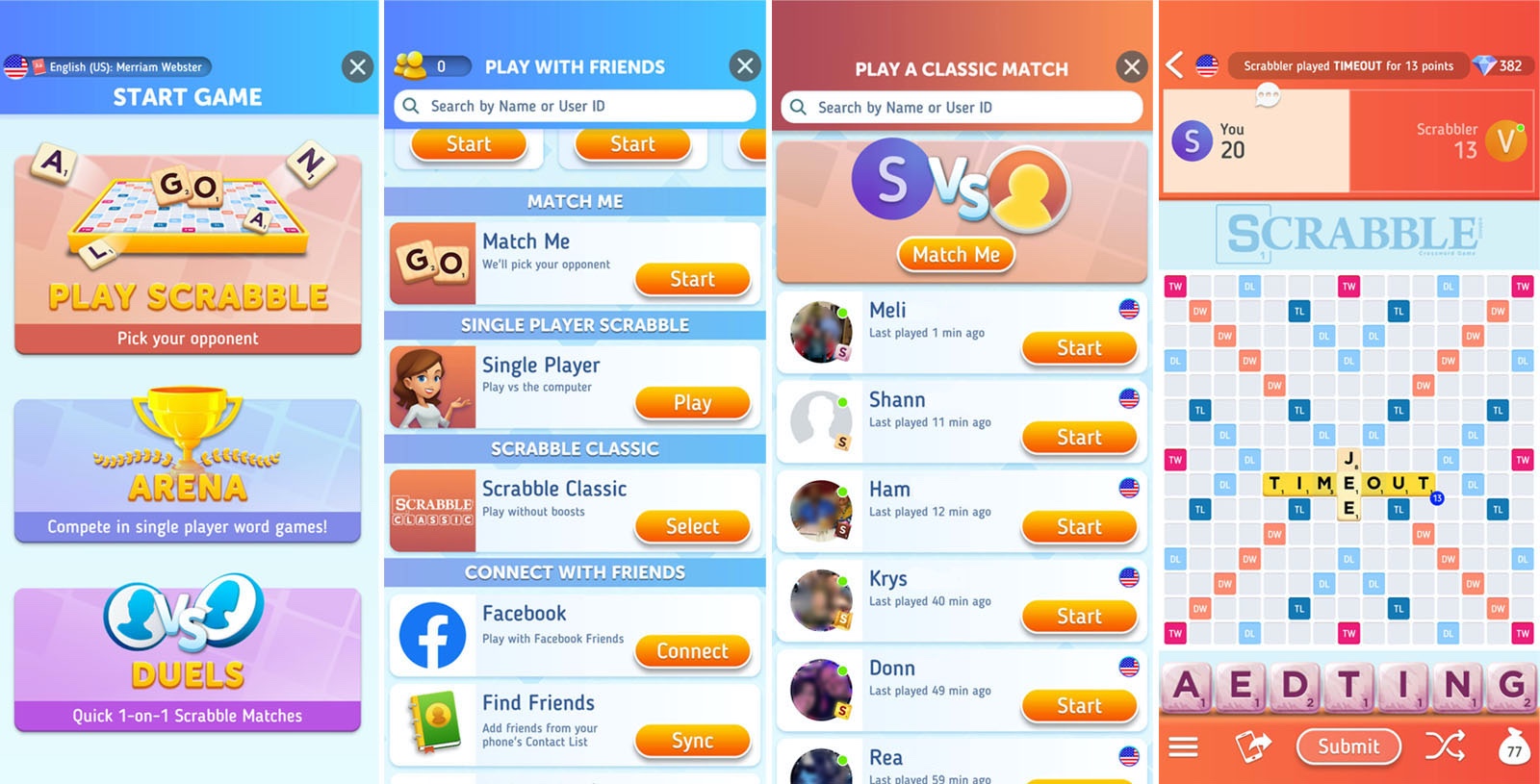 Scrabble Go Classic screenshot
Go Ahead and Play
Should you get the Scrabble GO app? It's a free download and you're under no obligation to spend any real money on it. For that reason alone, it's worth a shot. Download it from the Google Play Store for Android or the Apple App Store for iOS devices.
If you're a Scrabble fan, Scrabble GO is the official app now. The classic Scrabble app is no more. Don't go so far as to delete your Zynga account and uninstall Words With Friends, though. You can always keep both games on your phone until you decide which one you like better.
If you're looking for a Scrabble-style word game without all the extra modes and animations, Wordfeud could be a good choice. It's one of the many games we support on WordFinder too, and it's closer to the traditional Scrabble experience.
---
Michael Kwan is a professional writer and editor with over 14 years of experience. Fueled by caffeine and WiFi, he's no stranger to word games and dad jokes.