While the Essential Facts report focuses on Canada, its findings can extend to wider trends too. How have the pandemic and related societal changes affected the world of video games?
Playing More Video Games
As "shelter in place" and "stay at home" measures swept across the globe, people found themselves with more time on their hands. This didn't result in a lot of people playing video games for the first time. Rather, people who were already playing video games started playing even more.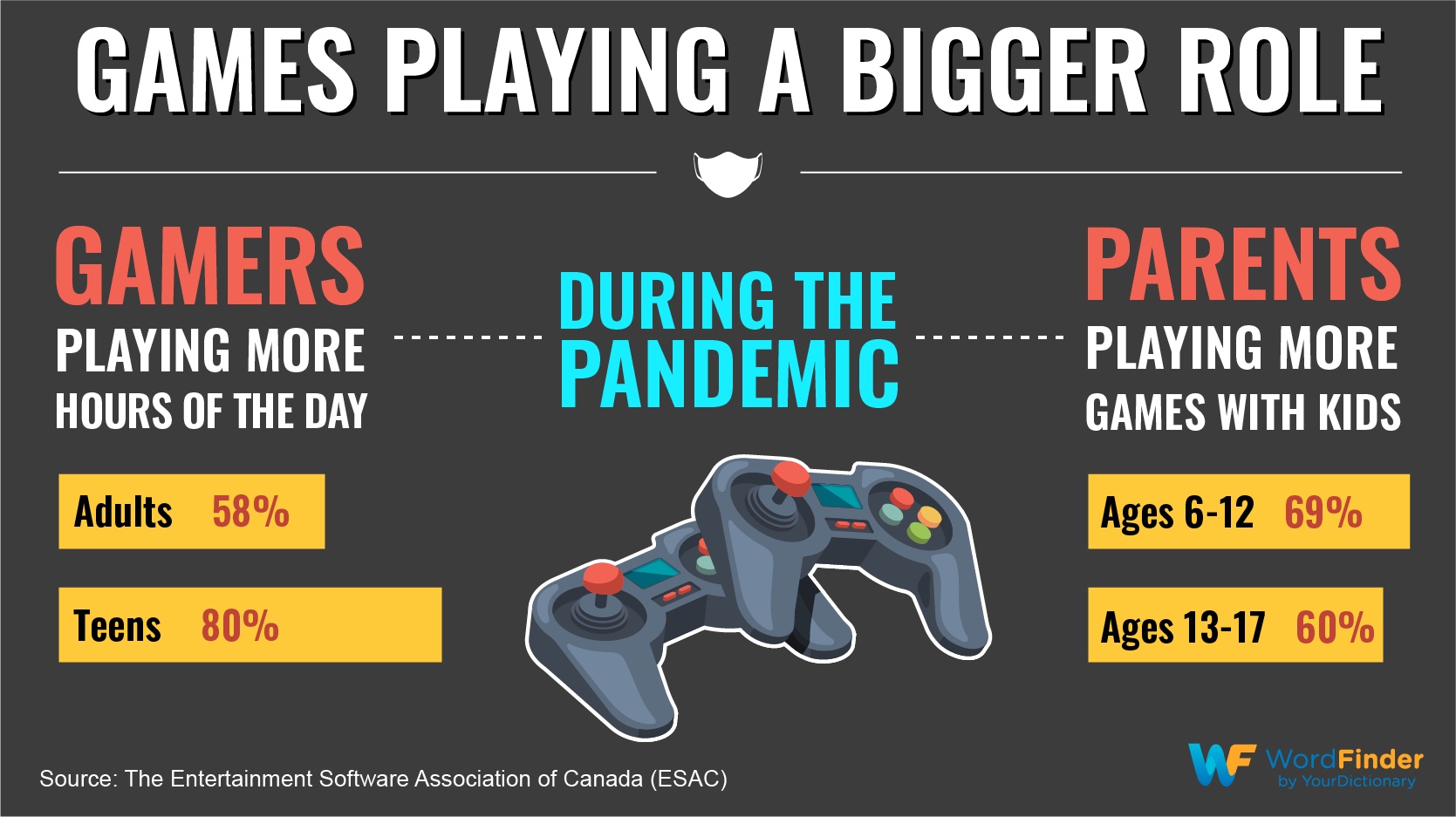 games playing a bigger role during pandemic infographic
Among adult gamers, 58 percent reported playing more games during the pandemic. An even greater 80 percent of teen gamers reported the same. 
Staying at home also meant families have been spending more time together. Among parents, 69 percent played games with their kids aged 6 to 12, and 60 percent played with their teens aged 13 to 17. Were they playing more word finder type games together? Maybe!
Buying More Video Games (and Consoles)
The ESAC and NPD Group conducted their study before the launches of the Xbox Series X and PlayStation 5. Most of 2020 marked the tail end of the previous generation. So, it's perhaps surprising that console hardware sales are up 58 percent year-over-year. 
There were significant gains across all categories, including hardware, software, and gamer cards. Video game statistics also reveal that digital downloads, including full games, are up. The immediacy of a digital download is awfully appealing. This is especially true if you're limiting visits to physical stores. Retail purchases continue to decline. 
Video Game Statistics: Mobile vs. Console
Mobile devices continue to be the most popular gaming platform among adults. Most consumers already have smartphones or tablets. It makes sense that mobile would attract the largest numbers.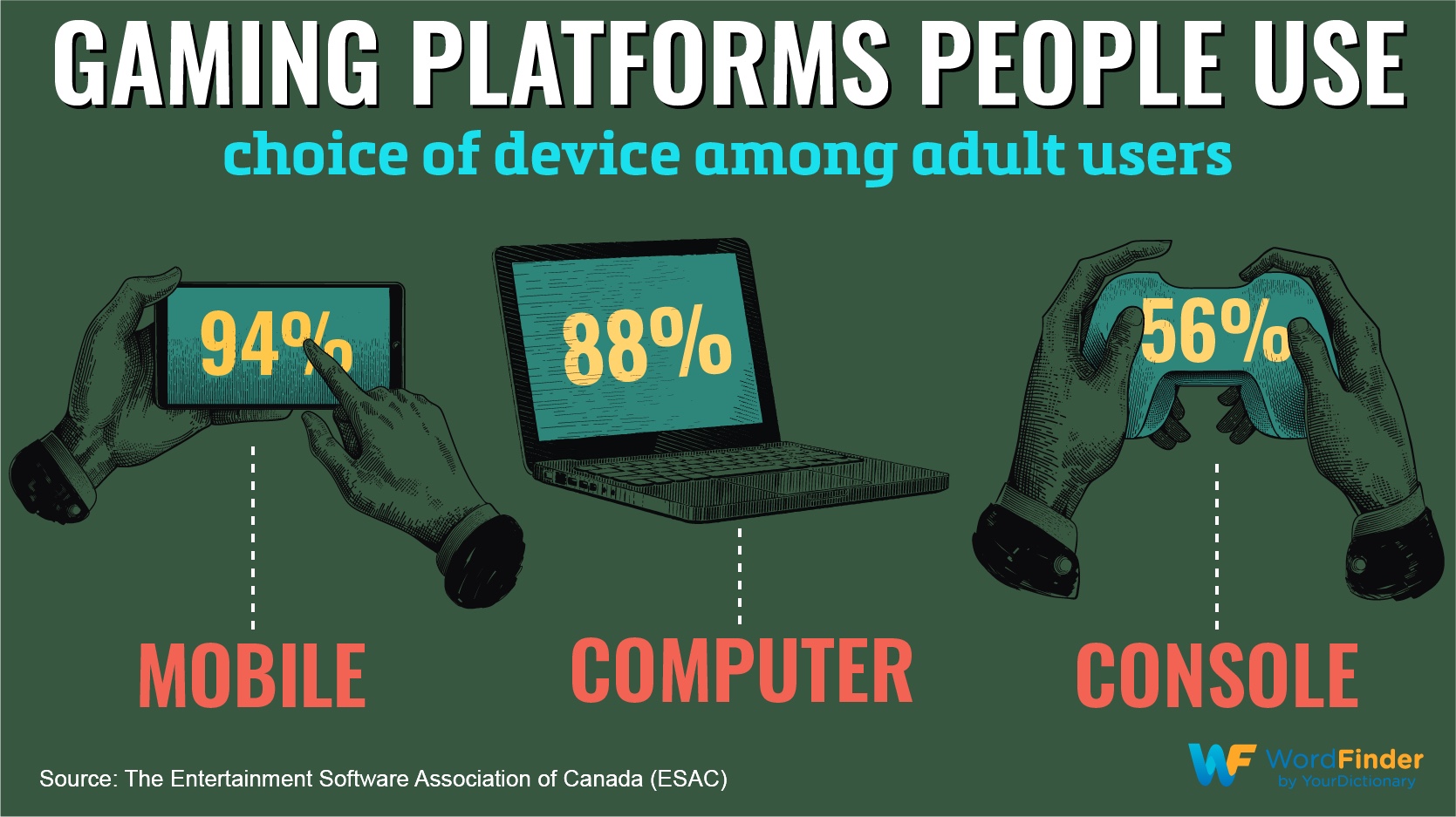 gaming platforms people use mobile computer console infographic
An astounding 94 percent of Canadian adult gamers report playing games like Words With Friends on mobile devices. Compare that to 88 percent who play games on computers and 56 percent who play video games on consoles. Even so, many gamers play across several devices and platforms.
Most Popular Video Game Genres
Taken as a whole, the most popular genre of titles are puzzle and word games. About 37 percent of adults and 24 percent of kids and teens play these types of games. The next biggest category are action and adventure games with 24 percent of adults and 33 percent of kids and teens.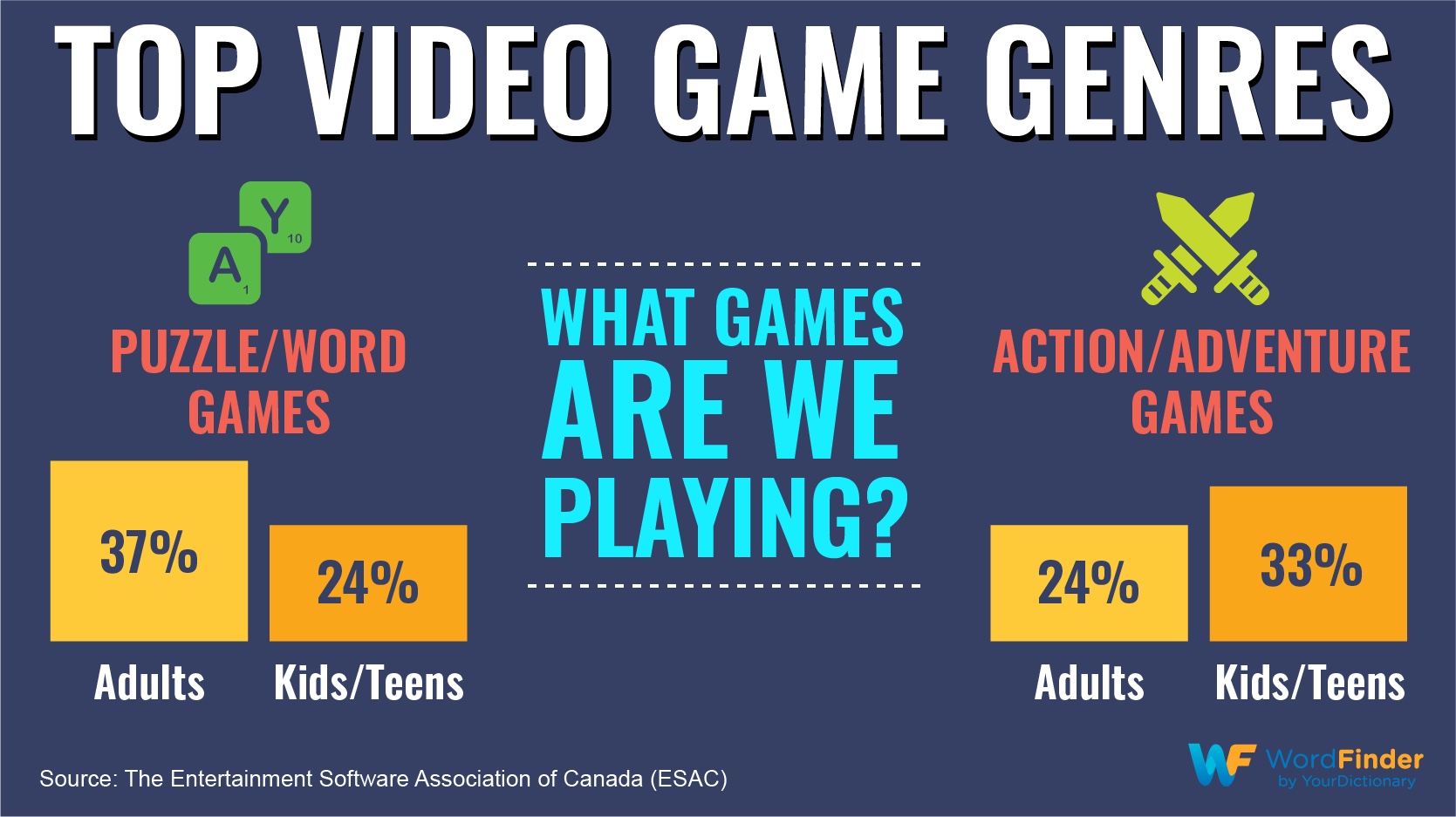 top video game genres puzzle word action adventure
Part of the popularity of puzzle and word games has to do with their relative accessibility. There are great word games for kids, which add a dash of fun to an educational environment. It's easy to play a quick game of Word Connect or Word Chums too. Similarly, mobile puzzle games are quick and easy to pick up. They pack a lot of fun into shorter gaming sessions. 
Gaming for Mental Health and Connection
Video games can be a powerful source of joy, entertainment and relaxation. Games help people stay busy too. Particularly in the lockdown environment of the pandemic, video games offer many mental health and social benefits too. 
65% of adults and 78% of teens feel better emotionally by playing video games. 

70% of teens play online video games to stay connected.

57% of adult gamers and 65% of teen gamers found playing games improved their mental health.

Video games are helping parents find common ground with their children.
On Gaming and Productivity
As these video game statistics have shown, gaming is not some niche subculture. Video games are as mainstream as movies, music and books. Games have a huge impact on personal lives, both during and outside of lockdown. 
Now, more people than ever are working from home. Read up on some surprising stats around the games we play and wasting time at work. Did you know that 10 percent of those surveyed said they wasted at least three hours each work day? 
---
Michael Kwan is a professional writer and editor with over 14 years of experience. Fueled by caffeine and WiFi, he's no stranger to word games and dad jokes.