Go Nutty and Find Words
Playing Word Nut is really easy once you get the basics.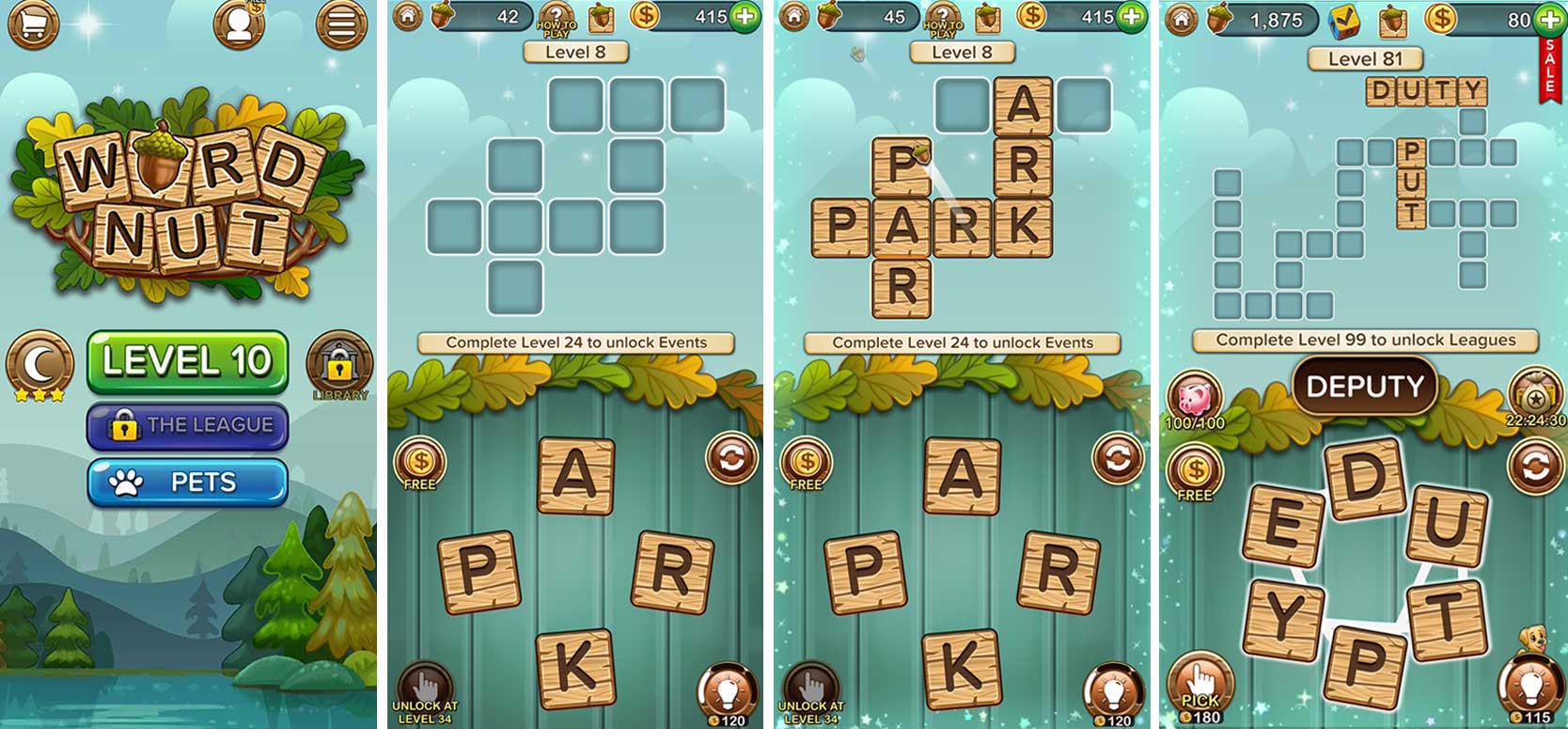 Word Nut Game Instructions
For each level, you get three to six letters in the lower half of your screen.

Find valid words and connect the letters by swiping between them. 

In some of the early levels, you can play two-letter words, unlike most other similar games. As you progress to later levels, valid words must be at least three letters long.

Your Word Nut answers fill the crossword puzzle in the upper half of your screen. Valid words that aren't in the puzzle are considered bonus words, so make words even if you're not sure they're allowed. You earn acorns for playing bonus words.

You clear a stage when you successfully complete the crossword puzzle in its entirety.

If you get stuck, shuffle the letters or use hints to reveal hidden letters in the puzzle. 
Nutty Extras
Beyond the basic gameplay of Word Nut, the game also offers extras that add to the experience. Tap on the menu button (three horizontal lines) in the top-right corner of the main screen. You can access many of these from the main screen itself too. Where indicated, you need to pass a certain level in the game before you unlock the corresponding feature.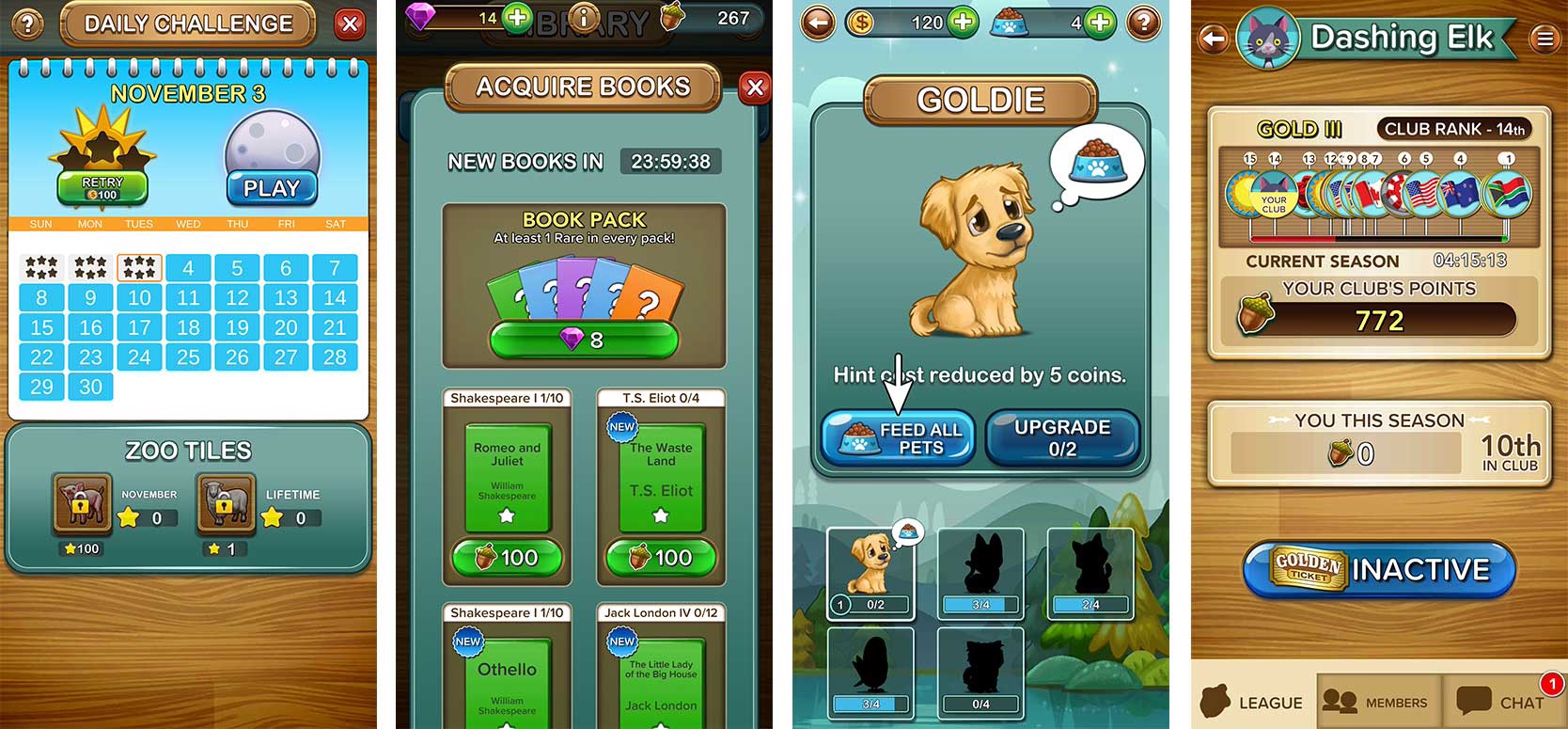 Word Nut Game Extras
Daily Challenge (Level 6): Each day, you get a bonus puzzle to play. The crossword is "uncrossed" with just a list of words to form. Earn coins and acorns for clearing the daily challenge.

Events (Level 25): Limited time events present the chance to earn more coins or acorns.

The League (Level 100): Join or create a club with other Word Nut players. Compete against other clubs to earn as many acorns as you can during a one-week season. This is like playing in Wordscapes team tournaments. 

Pets: Unlock and upgrade animal companions that help you in the game. For example, Goldie the dog reduces the cost of a hint by five coins.

Library: Add "books" to your library from such famous authors as Charles Dickens, William Shakespeare and Jane Austen. Note that you can't actually read any of these books; they're only for collecting.

Book Rewards (Level 16): Earn free books by clearing "chapters" in the game. The books you win are then added to your library.

Difficulty (Level 105): Switch from "normal" to "challenging" difficulty for harder words. In exchange, hints are cheaper and you earn double the acorns. 

Word IQ: Start with an IQ of 100. Increase your Word IQ as you discover new words and complete levels. Here, you can see how many words you've collected (out of 15,000) in total, including by length. 

More Games (Level 20): Try other recommended games, earning five coins every day for each game you install. 
Acorns, Coins and More in Word Nut
Word Nut features several in-game items that serve different purposes.
Acorns are what you use to "buy" books for your virtual library. Earn acorns by playing bonus words and by forming correct words consecutively. Your acorn count is also representative of your experience level in the game.

Coins are the major in-game currency in Word Nut. Earn coins by passing levels and unlocking chests. You can also buy coins with real money, including on a subscription basis. Redeem coins for hints in the game. 

Food is for feeding your pets, upgrading their abilities.

Gems can be redeemed for book packs, also for your virtual library. Book packs contain at least one rare book each.
How to Find Word Nut Answers
Feeling stuck in a rut in Word Nut? Fret not! Since the games play very similarly, you can apply many key Wordscapes tips and strategies to Word Nut too. For example, you can work out some Word Nut answers by prioritizing the longest word in the puzzle. When you form the longest word, you usually offer the most help with the other clues too.
When you need even more help solving anagrams, use the handy WordFinder unscramble tool to find missing words. Just enter the letters that you have and the tool will work its magic, showing every possible valid word. Play them all, because even if they don't fit in the puzzle, bonus words earn you bonus acorns!
Broaden Your Circle of Word Games
If you love solving anagrams and want to add some visual variety to your gaming routine, we've got you covered. Our list of circle word games work on the same fundamental principles as Word Nut. Swipe letters, form words, solve puzzles and level up.  
---
Michael Kwan is a professional writer and editor with over 14 years of experience. Fueled by caffeine and WiFi, he's no stranger to word games and dad jokes.