How Do You Decide What to Play?
To know which game you should play, you first need to know a few important details. 
What each game has in common

What they do differently

What features one game has that the other doesn't
It's crucial to weigh the pros and cons of each game and to understand what your preferences are. 
What They Have in Common
Naturally, since both Wordfeud and Words With Friends take inspiration from Scrabble, the core gameplay is similar. They are grid-based word games that use letter tiles to create words. The letters you use and words you spell earn you points, and the points are what will ultimately win you the game.
Their similarities go deeper than this, however. There are plenty of finer details that each game shares in common. 
A 15 x 15 grid for the game board.

A set of 104 letter tiles. Two tiles for each game are blank tiles.

Shows whether a word is valid or not. They will not let you play a word if it is not part of their dictionaries.

A chat function to communicate with other players. Always be mindful of potential scammers in either game, though.

Common Scrabble options, like passing your turn, shuffling your letters and swapping letter tiles for new ones

Invite friends to play by sending a message through Facebook, text and email.
Words With Friends vs. Wordfeud: What's Different?
There are some important differences between Words With Friends and Wordfeud. And these differences go beyond their superficial traits. These are things that both games do, but they do them in different ways.
Some letter tiles have different values and quantities. Increases and decreases in certain letters, both in terms of number of tiles and point value, can affect which words you play. If you play Words With Friends a lot, it might take some time to adjust to the Wordfeud letter values (see image below). Refer to our article on Words With Friends letter tiles for values in that game.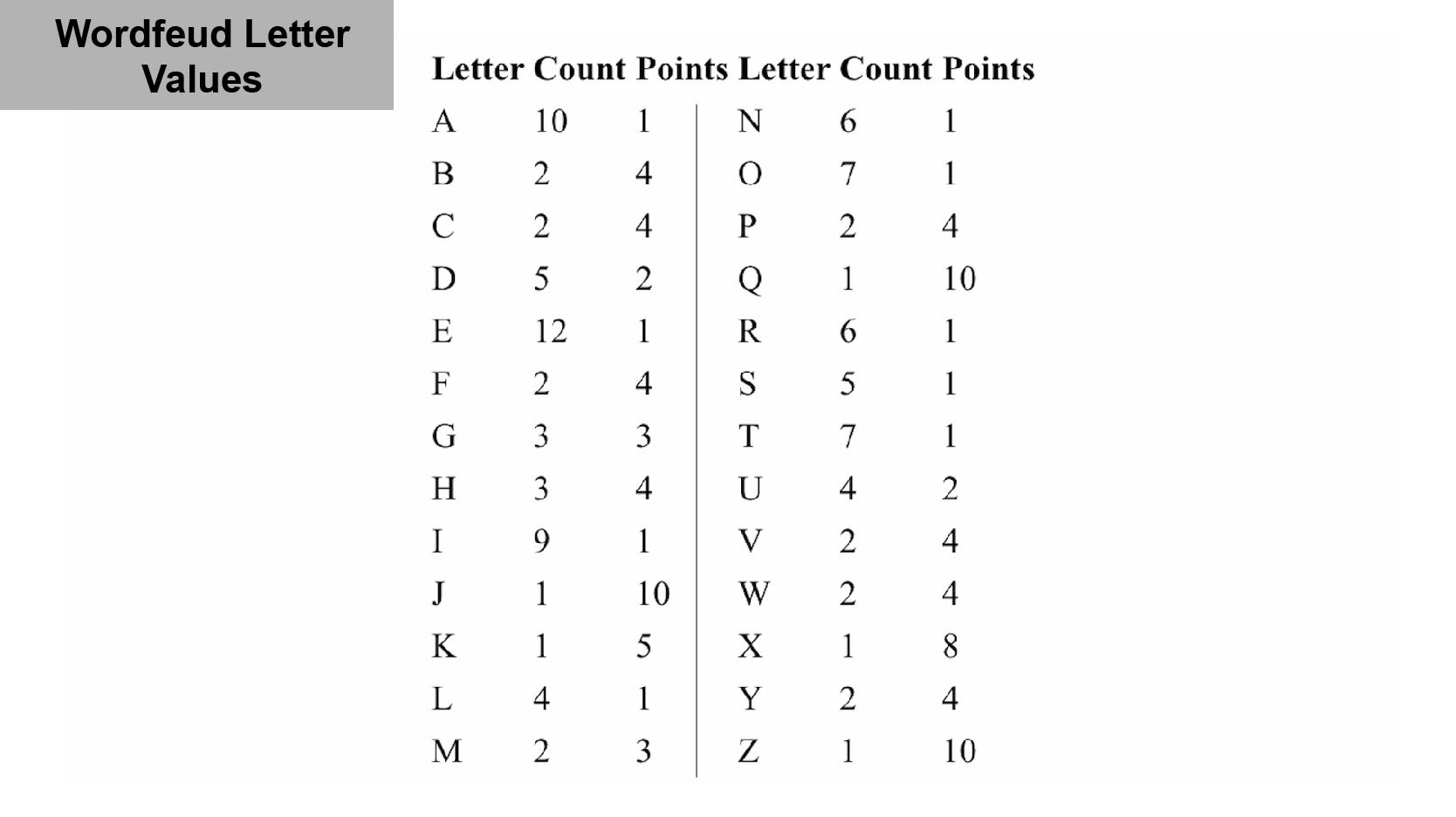 Wordfeud letter scores
Words With Friends emphasizes bonus features, events and customization options more. By comparison, Wordfeud is more of a purposefully basic experience. It has no bonus features, and it only has one game mode. 

Wordfeud has a ranking system and stats, but they are for personal enjoyment and growth. As we'll explain later, only premium members can view them. Words With Friends makes your rankings and progress more central to the experience.

The games differ in frequency of ads. There's no getting around the fact that free apps are almost always ad-supported. The difference between the two games is the prevalence of said ads. Words With Friends has a reputation for showing an excessive number of ads. Wordfeud shows ads too, but they are not nearly as frequent.
Unique Features of Each Game
The final and most important details to consider about each game are their unique features. These are the tools, game mechanics and options that truly allow them to stand as separate experiences. 
Wordfeud Features
For Wordfeud, there are certainly fewer components includedin the game. The thing is, that actually helps it. As mentioned, Wordfeud wants to provide a simple but polished experience.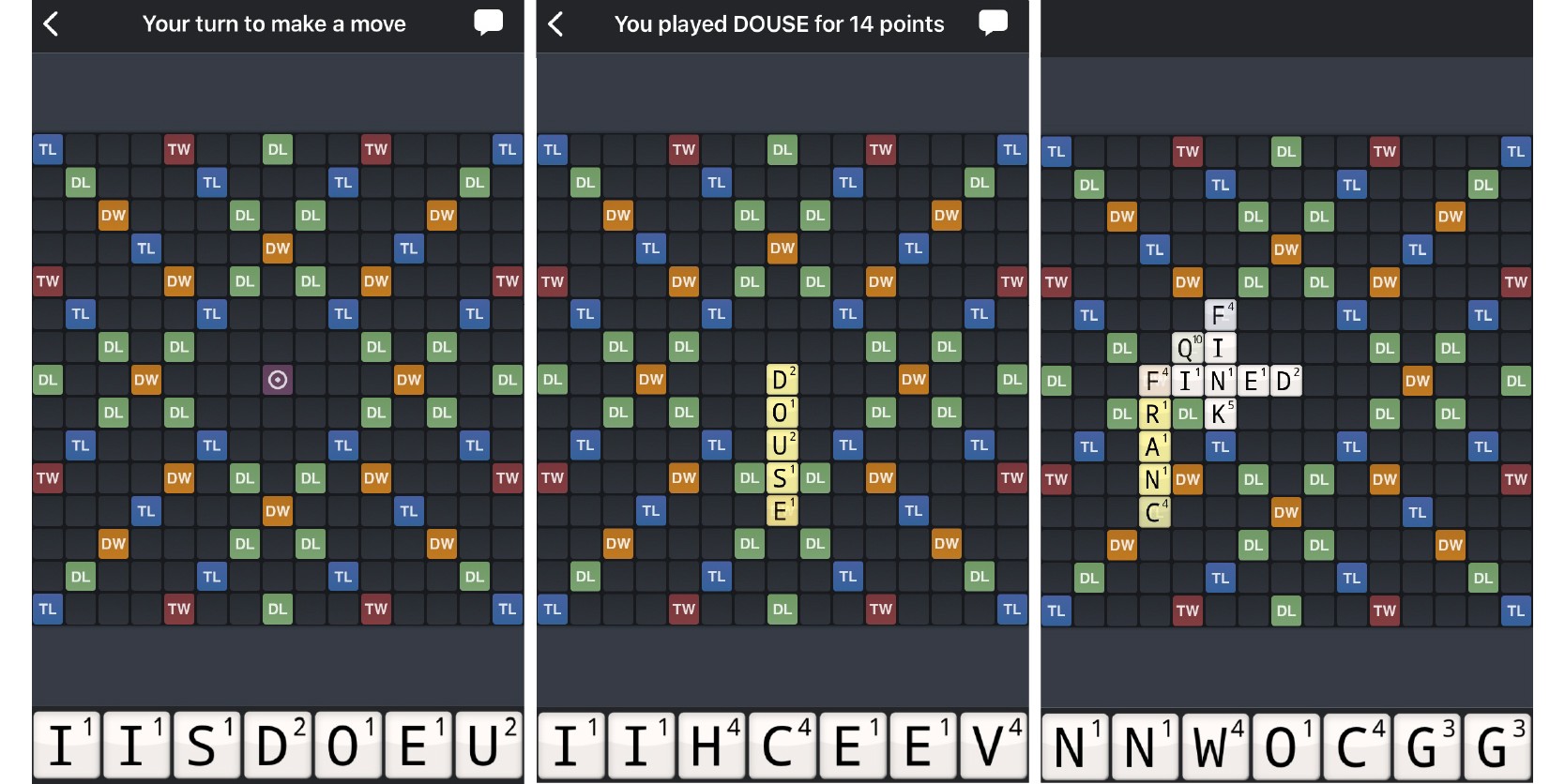 Wordfeud mobile app screenshots
You can use the normal game board, of course. Or, you can randomize the bonus tile locations in Wordfeud instead. Use this option to really challenge yourself.

Wordfeud has two game dictionaries for English players. You can use the TWL Scrabble dictionary (also known as the NASPA Word List, or NWL). Or, you can choose SOWPODS (also known as Collins Scrabble Words, or CSW).

The Premium membership lets you remove all ads with aone-time purchase of $4.99. It also grants you permanent access to statistics. These statistics include games won, games lost, your skill rating, highest game score, highest scoring word and more. 
Words With Friends Features
Words With Friends' greatest strength is its extra content. Though, for some players, the extra material can be overwhelming.

words with friends mobile app screenshots
You can change many of the game's graphical elements. Customize your profile picture and letter tile styles, for example.

The app has many different game modes. These include the Solo Challenge, Lightning Round, practice mode and traditional multiplayer. All modes let you test out how you want to play. The single-player modes are great for refining your skills.

Words With Friends has four power-ups that can help you during a match. Swap+, Hindsight, Word Radar and Word Clue all have the potential to help assure victory or avoid a crushing defeat.

In-app purchases abound in Words With Friends. Many of the previously listed features, like the different tiles, are only available to players who purchase premium bundles. You can also pay to turn off ads, but that only lasts for 30 days at a time.
Which Word Game Will You Choose?
It's not an easy question to answer. Both Wordfeud and Words With Friends have their high and low points. And they also focus on different things. If you are a fan of extra features and personalized effects, and don't mind repeated in-game purchases, then you might keep playing Words With Friends. But, if you want a simpler game that doesn't distract you with an overabundance of modes, ads or purchases, perhaps give Wordfeud a closer look. It may be the better option for you.
---
Zac Pricener has been a content creator for the past eight years. He's a bit of an all-around nerd, and he has a bad habit of working movie and TV show references into conversations whenever possible.