Internet Scrabble Club
Any discussion about 2 player word games has to start with the OG. As much as crossword puzzles and word searches laid the foundation for solo word play, Scrabble was the board game that got players to compete against each other for wordsmithing supremacy. The Internet Scrabble Club (ISC) is a website for purists who just want to play Scrabble online. 
We have a whole article with ISC facts and troubleshooting tips, including the site's Romanian roots and how you can start a game of your own. For additional options and some alternative gameplay styles, have a look at places to play single-player Scrabble online for free as well.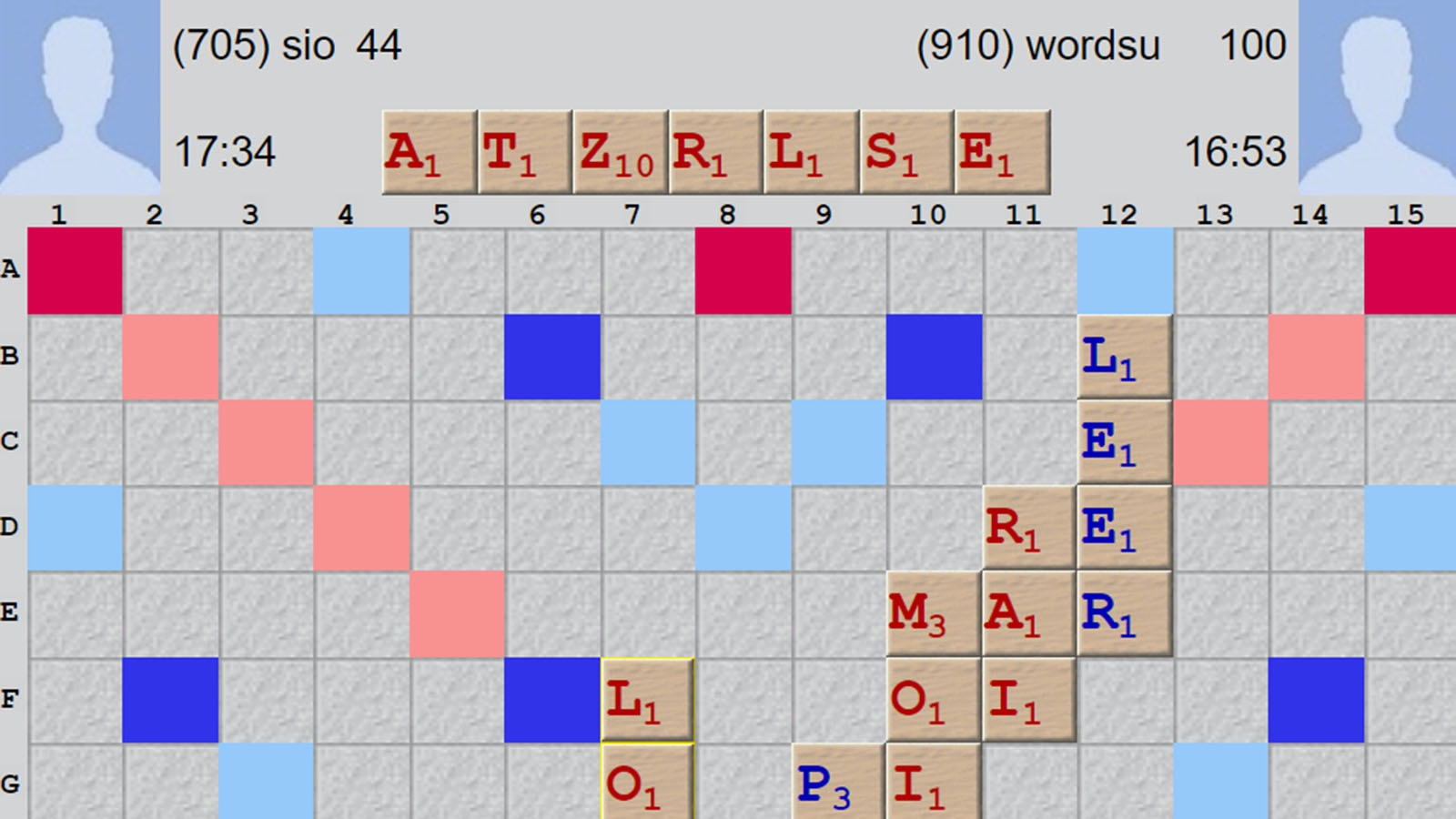 Screenshot of Internet Scrabble Club game
Words With Friends (Facebook)
These days, there are probably more people playing Words With Friends on their smartphones than there are people playing Scrabble the old-fashioned way. And who can blame them? The mobile game is fun, convenient and free to play! And it's got a number of power-ups, community features, and added challenges too.
In addition to the app for Android and iOS, you can also play Words With Friends on a computer. All you have to do is log into your Facebook account, link it up with your Zynga account, and navigate over to the Words With Friends Facebook app to continue the games you're already playing against the friends you already have.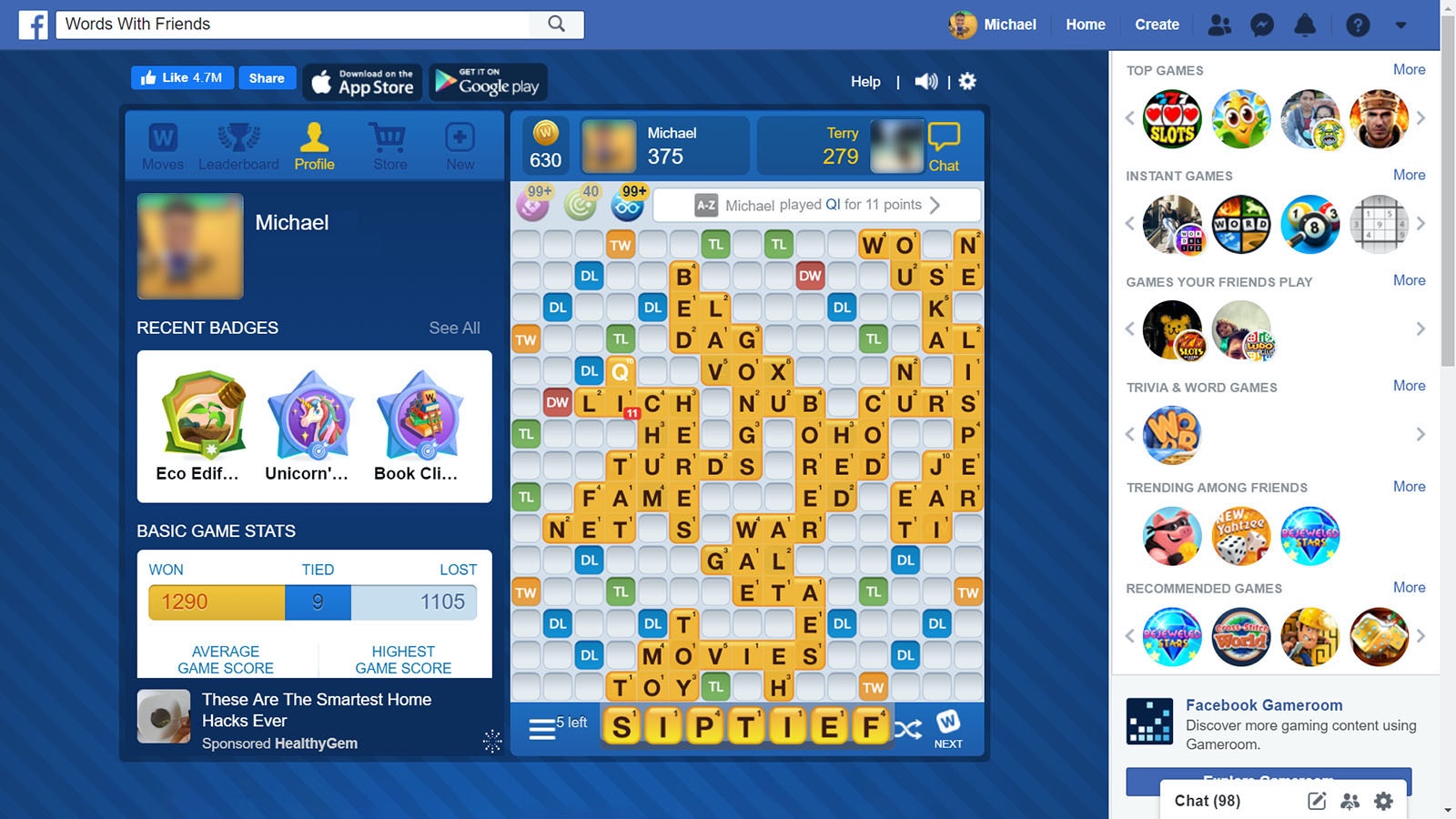 Screenshot of Words With Friends game
All Bad Cards
Heavily inspired by the popular Cards Against Humanity (CAH) card game, All Bad Cards is an online multiplayer party word game for adults. If you have younger players among you, the site also offers a more family-friendly version it calls (not) All Bad Cards. Create your own game or join a public game. You can even chat with other players.
The classic game mode is just like Cards Against Humanity. Based on an initial prompt card, you fill in the blank "to make the funniest phrase as rudely as possible." Other game modes include All Bad Memes, where you respond to GIFs with reaction phrases, and All Bad Slang, where you come up with funny definitions.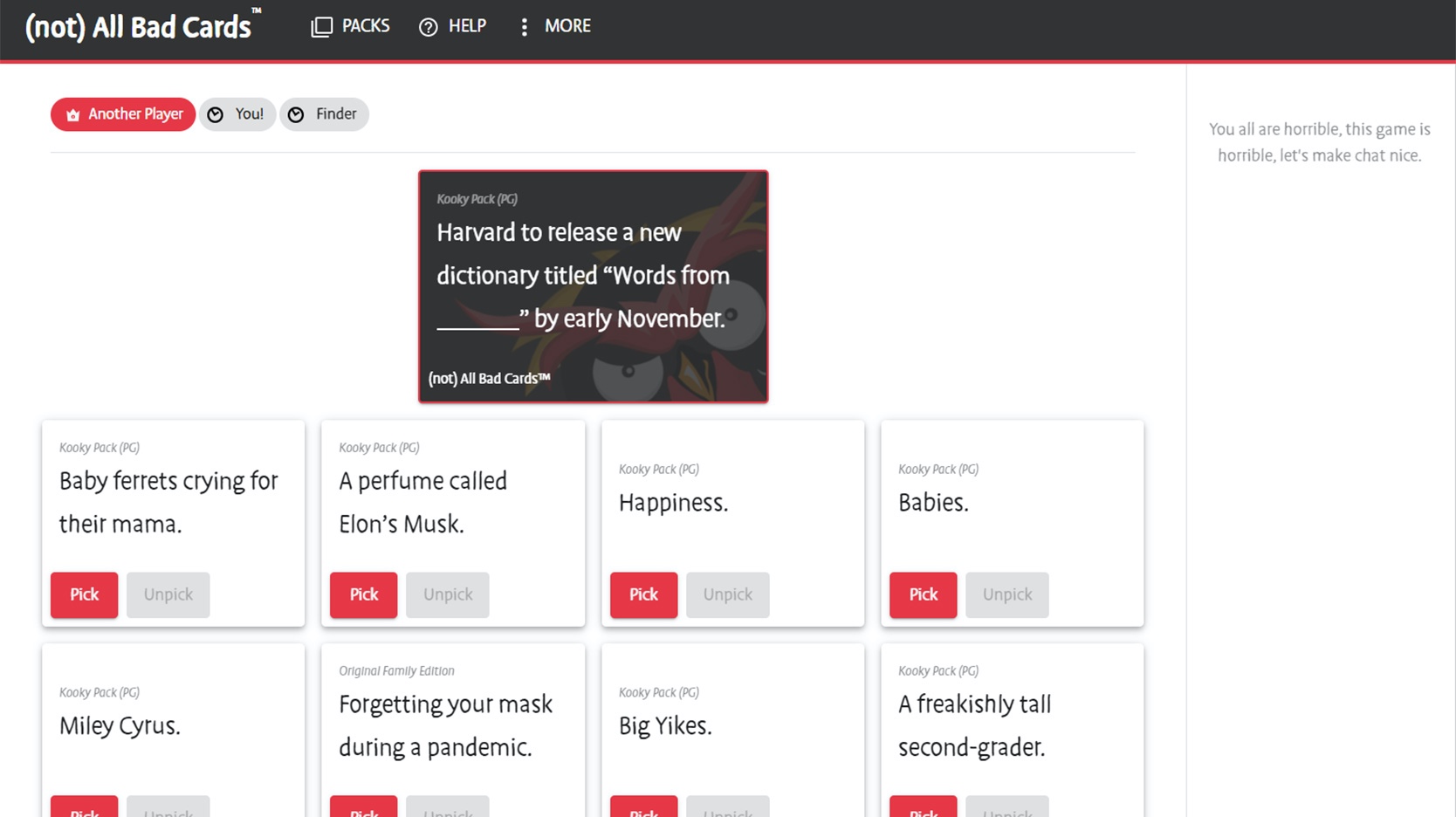 not all bad cards game
Hangman
Over on HangmanWordGame.com, you'll find a variant of hangman you can play online with friends. In this online hangman game, it's not a man you're hanging; it's a robot. And each incorrect letter adds a piece to the gallows and not to the robot. The basic gameplay is the same, however: you guess letters to complete a mystery word.
Instead of playing by yourself, you challenge other players to see how many mystery words you can solve within the two-minute time limit per round. More difficult words are worth more points, and the total points are tallied up after three rounds to determine the winner. The site also features achievements and leaderboards.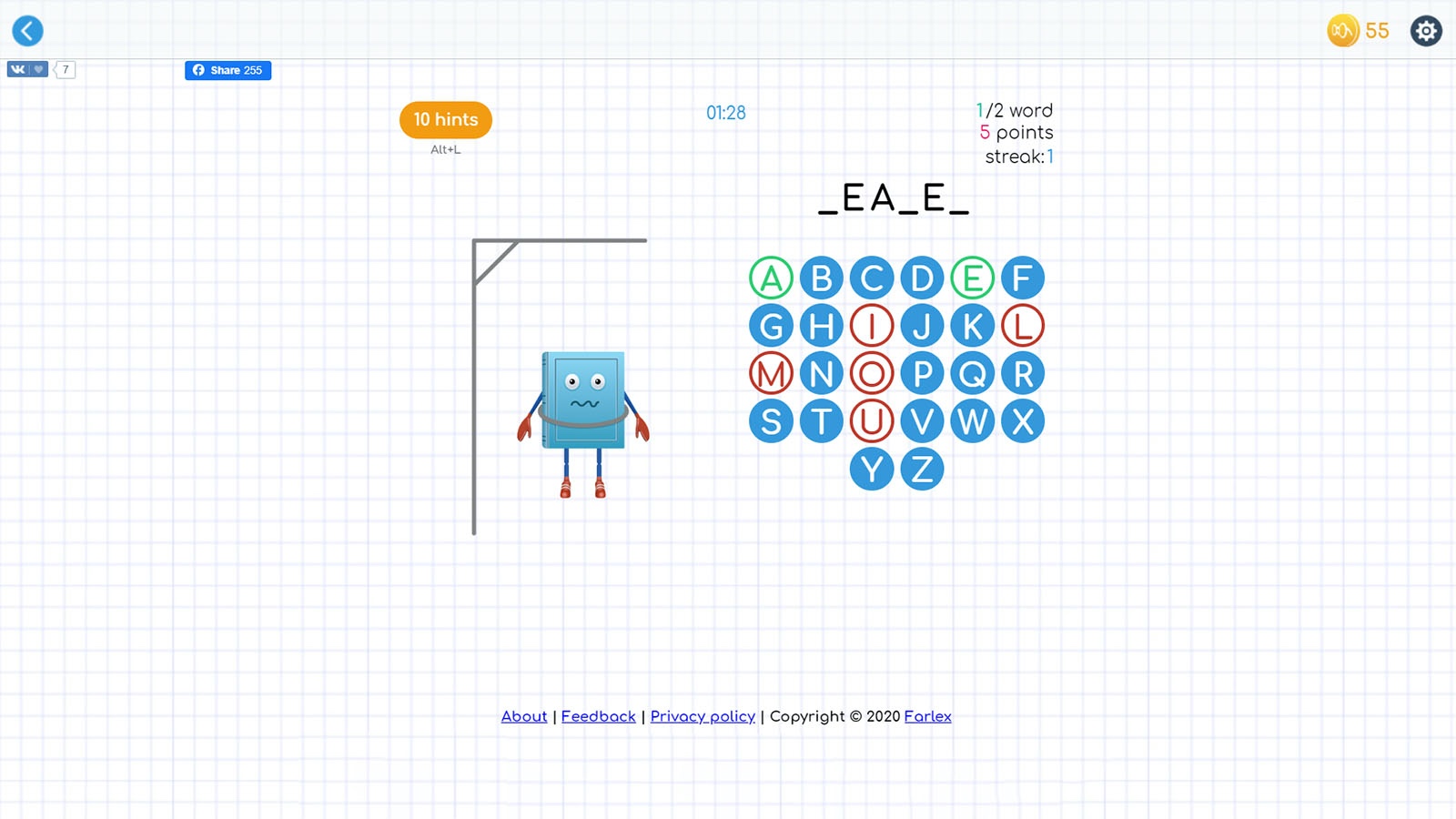 Screenshot of Hangman game
WordHub
You can use the same login and account from the Hangman game above over on WordHub. The "challenge" element, wherein you play against another player for three rounds to determine a winner, is also identical, as is the matchmaking dynamic for starting a new game. You also get achievements and leaderboards.
WordHub is similar to Wordscapes or Boggle in that you try to form as many words as you can using the provided letters. Unlike Wordscapes or Boggle, though, the letters do not need to be directly next to one another. You can use any letters in any order, and longer words score more points.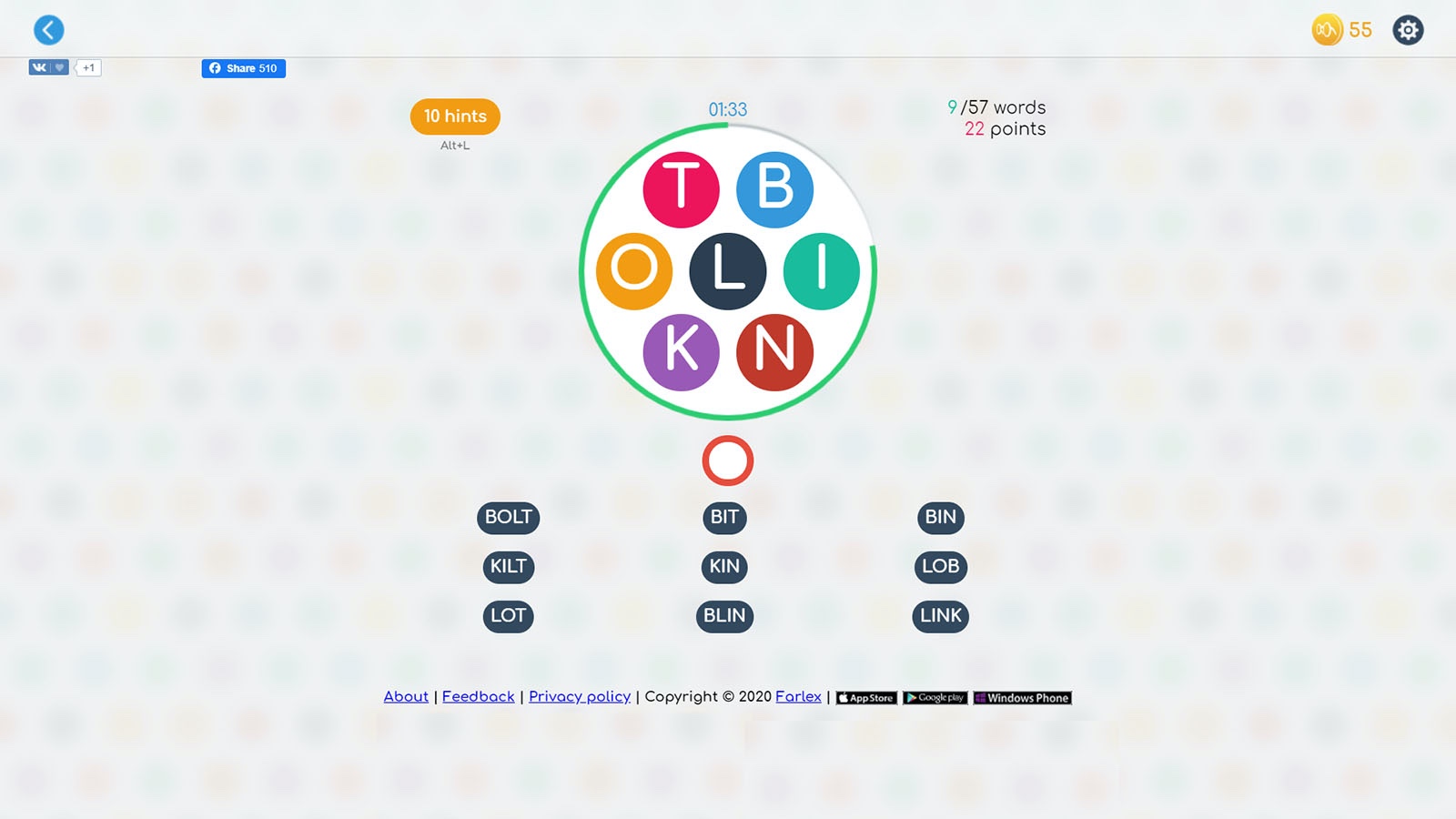 Screenshot of Wordhub game
Serpentine (Online Multiplayer Boggle)
Love the idea of racing against the clock as you try to connect letters to form words? Unleash your inner Peggy Hill with an online multiplayer Boggle game called Serpentine. While you don't need to login to play a game, creating a free account lets you track your rating, choose a unique username, and enjoy other benefits. This is a great multiplayer word game online, because several people play the same board at the same time.
Choose between different rooms for different board sizes. The Easy Room features a smaller 4x4 letter grid, the Medium Room utilizes a standard 5x5 Boggle layout, and the Hard Room offers a 6x6 letter grid. Additional rooms provide other gameplay tweaks, like longer rounds and six-letter minimums. And there's a new game every couple minutes, so you never have to wait long before you can play again.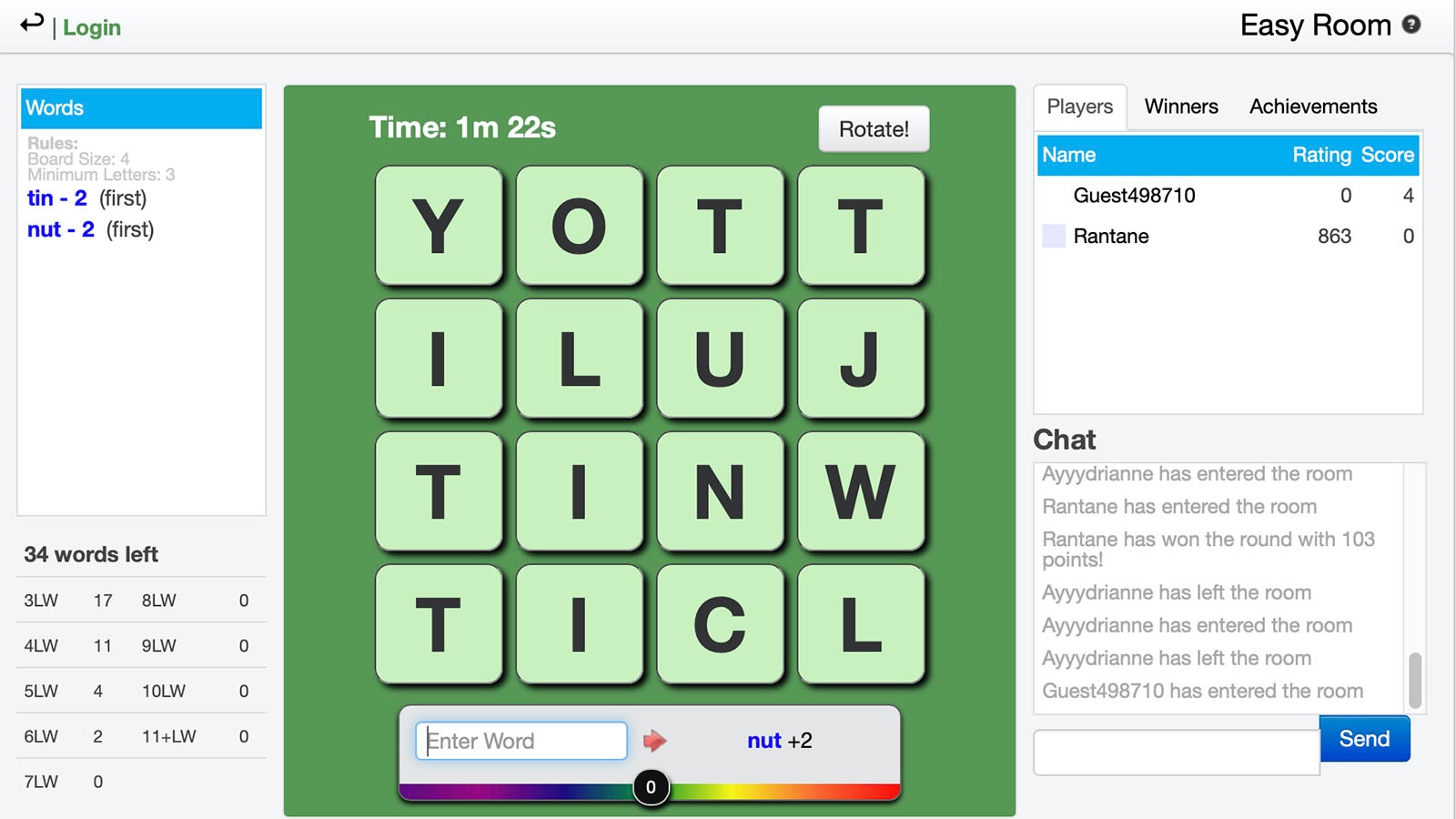 Screenshot of Serpentine game
Stop Online - Battle of Words
If you're already using Steam to play other computer games, then you might consider trying Stop Online by BRHP. Described as a "multiplayer battle of words game," Stop Online pits you against several players all trying to come up with the most words as possible within the allotted time limit.
For each round, a letter is drawn at random. You are then presented with a number of categories or themes. Your objective is to come up with words that start with the correct letter for each of these themes. For example, let's say the letter "A" is drawn. You may need to come up with an animal (e.g., alligator), a country (e.g., Argentina), and a color (e.g., aquamarine).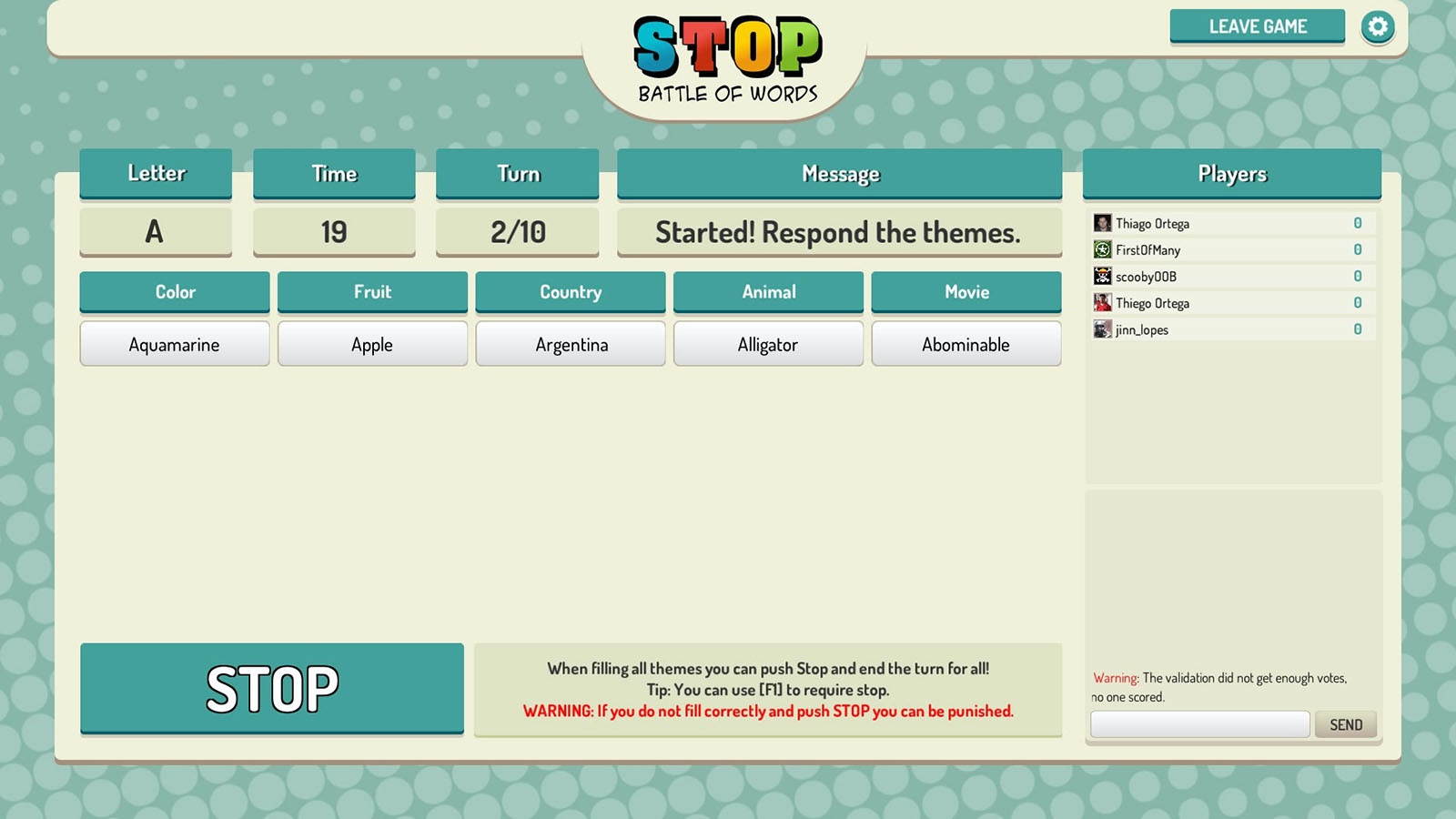 Screenshot of Stop Online Battle of Words
Fundox
Looking for a word game to play with friends that's familiar and yet a little different? Fundox is one of the more creative multiplayer word games online, combining elements of Scrabble and Reversi or Othello. The board layout may look like Scrabble or Words With Friends at first, but the objective is not to rack up points based on the words you play.
Rather, it's about claiming the spaces on the board like how you would in Reversi. When you form a word, the letters turn to your color. If you use an existing letter tile on the board, like one played by your opponent for a different word, that space then turns to your color. The game ends when a player reaches a defined point total.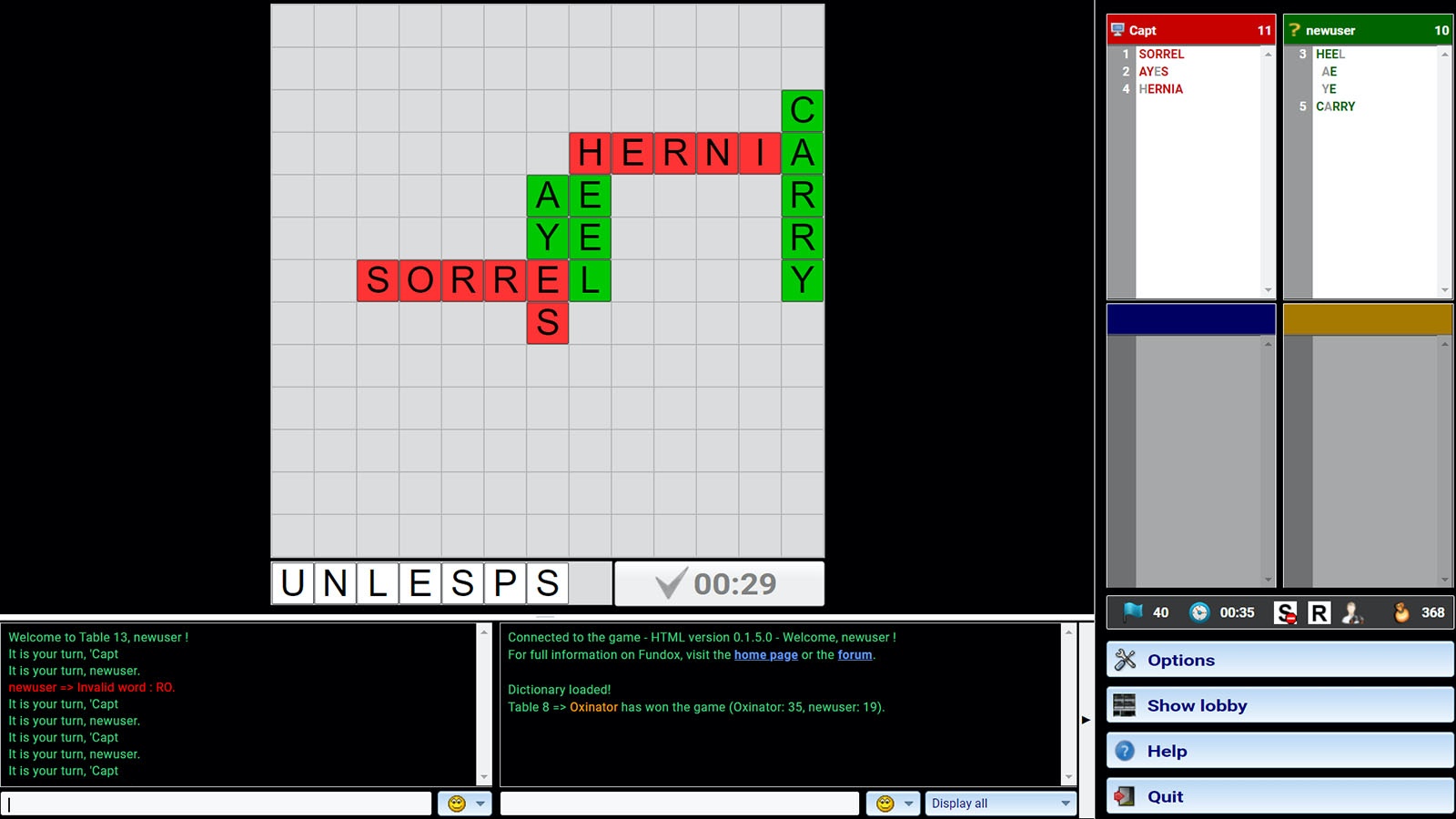 Screenshot of Fundox
Crosswords Arena
Whereas you need to sign up for a free account in order to play Scrabble online via the Internet Scrabble Club, no account is needed to play on Crosswords Arena. This is still the same kind of game that you know and love, including both the ability to play against other human players from all around the world and the option to play against computer-controlled opponents named after historical figures.
There are far fewer players here and much less of a community, so if you're looking for more of a sustained challenge, then the ISC may be a better fit. However, if you'd like to line up some online Scrabble with a friend, just tell them to get on this website at the same time as you, and challenge one another to a game.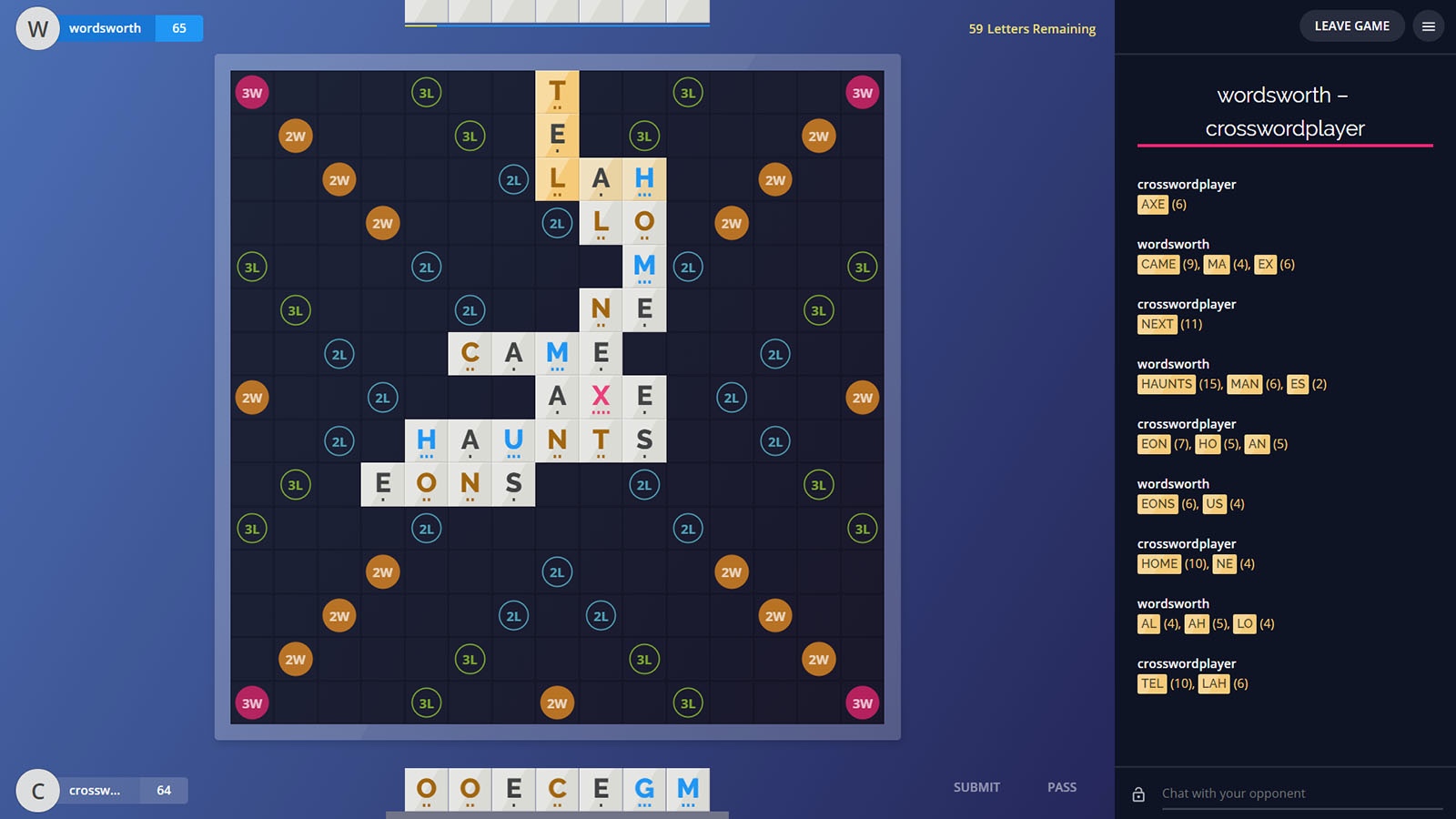 Screenshot of Crosswords Arena
Spelling Quest Online
Why limit yourself to the 225 squares of the standard Scrabble board? Go beyond the typical 15 x 15 board layout and extend those words into the far reaches of your vocabulary with boards as large as 400 x 400 squares in Spelling Quest Online. Available via the Steam store, Spelling Quest Online offers both human and AI opponents in a Scrabble-like game. 
The main difference, aside from the different sized boards (100 x 100 is the default option), is that instead of traditional turn-based gameplay, every player plays their letters simultaneously in a riotous frenzy of word creation. Will you be able to keep up?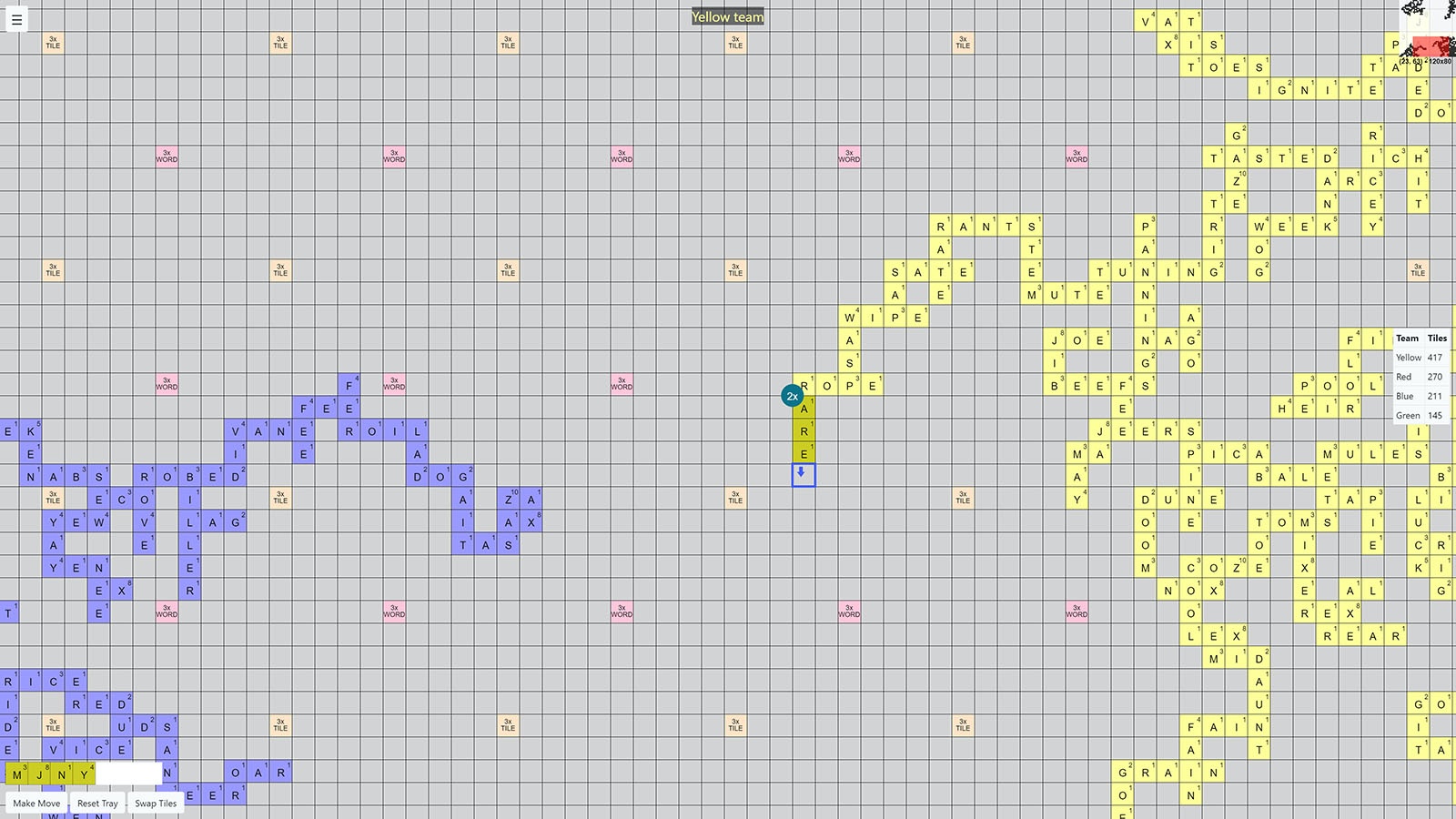 Screenshot of Spelling Quest Online
And That's the Word
Playing word games need not be a solitary experience! There are lots of fun word games to play with friends… and you can play them from the comfort of your computer! And while you're at it, be sure to check out our lists with popular word games on iPhone and fun word games on Android, plus multiplayer word games for mobile. Fun with words never has to stop, no matter where you are or where you go! 
---
Michael Kwan is a professional writer and editor with over 14 years of experience. Fueled by caffeine and WiFi, he's no stranger to word games and dad jokes.