Wordmeister
It isn't always easy or convenient to find a human opponent for Scrabble. And even then, maybe you'd rather play against the computer instead. One of the best free word games online for this purpose is Wordmeister. This single-player Scrabble game follows all the fundamentals of the traditional game. So, it's a great option for purists who want to brush up on their talents. And if you need any help forming a word, our WordFinder tool can help you the same as it does with Scrabble and Words With Friends.
If you'd rather play against other people, be sure to read through our list of Scrabble games to play with friends online.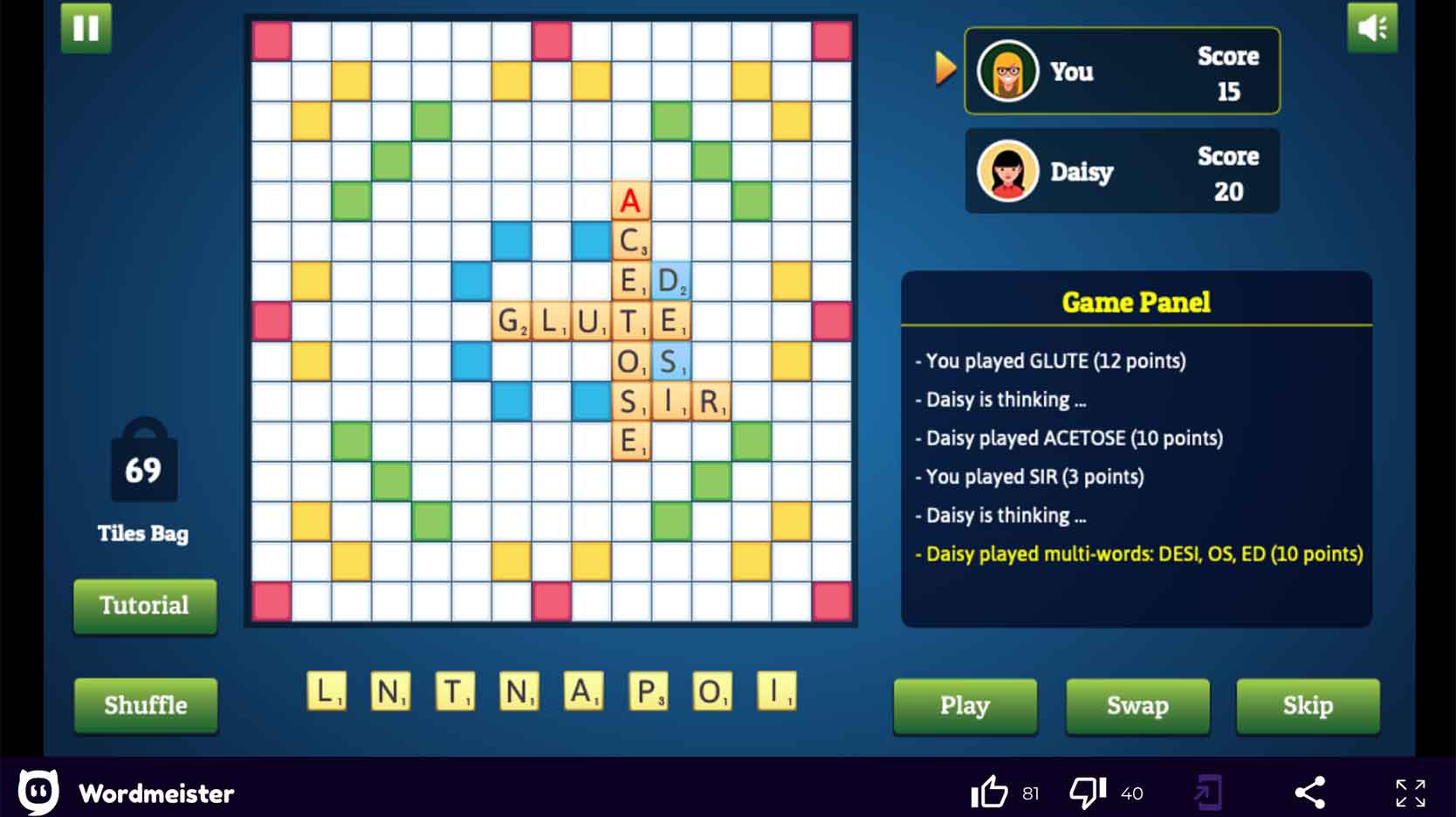 wordmeister word game
Lexigo
If you play word games often, you'll notice that many of them place letters in a grid. Lexigo feels different right away because it arranges letters in a honeycomb pattern. It's somewhat reminiscent of games like Boggle, but there are some key differences. For starters, the letters are in hexagons. You can also use the same letter more than once, and you must find the target word based on a hint. It's challenging and rewarding. 
Google Feud
It's time to play the feud, search engine style! Fans of the Family Feud game show will instantly recognize the Google Feud format. The difference here is that you're trying to guess what are the most popular autocomplete phrases in a Google search. For example, you might start with the phrase "I was bitten by a." The top 10 results are on the board. In this case, the top response is "radioactive pig." Bet you didn't see that one coming! 
Word Wipe
In Word Wipe, you need to join adjacent letter tiles together to create words. This includes not only horizontal and vertical connections but also diagonal ones, zig-zagging your way through the grid. What makes playing Word Wipe different from other seemingly similar free online word games is that your main goal is to clear rows and columns. The letters are not replaced as you use them. How many lines can you clear before you run out of time?
Wordle
No collection of free online word games is complete without the game that has become a daily ritual for millions of people. Wordle is a simple but compelling game that challenges you to uncover a hidden word. To play, you type a five-letter word and wait to see if any of the letters change color. Yellow letters mean they are part of the answer, and green letters mean they are part of the answer and in the right spot. You use these clues to narrow down your word choices until you find the answer. The Quordle word game is even harder, getting you to guess four words at once.
The game's difficulty comes from only providing six attempts to spell different words to find the answer. If you need any help finding the right words to play, be sure to consult our win streak-saving Wordle solver.
Skribbl.io
Looking for the best online word games with more of a visual flair? Embrace your inner Picasso with Skribbl.io. Here, you get to enjoy an online version of Pictionary with other players all around the world in real-time. You don't need to create an account or log in with any credentials. Just enter your name, pick an animated avatar and join a game. You can even create a private room and invite your friends!
Read up on classic word games to rediscover more online games inspired by childhood favorites. Remember Boggle and Dungeons and Dragons?
Wander Words
Find the path to form the solution. In Wander Words, you click and drag to connect letters horizontally or vertically. It's similar to Boggle, in this way, except you use all the letters in a single chain. The game provides a brief clue, like "compound words" or "vehicle." The solution can be more than one word, like "music teacher." How many puzzles can you solve in just five minutes?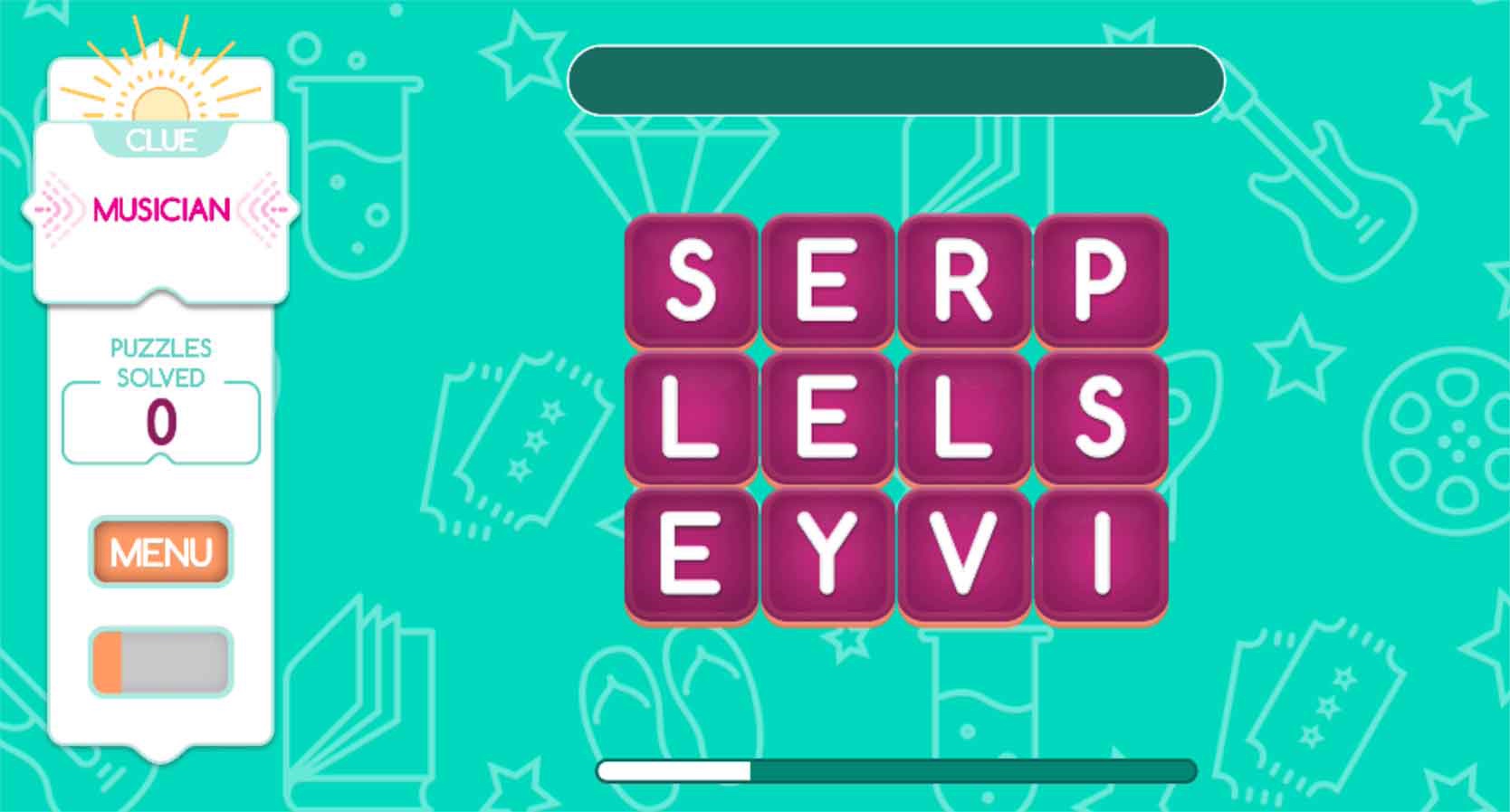 wander words game
Words With Friends
One of the biggest reasons why Words With Friends is one of the best online word games is its huge community of active players. The fresh take on the classic Scrabble game adds useful power-ups, a slightly modified game board, and a convenient Facebook connection to play with friends no matter where they are. It's easy to play Words With Friends on a computer, because Zynga offers it as a convenient Facebook app. Our handy Words With Friends cheat is ready to help when you need it too.
Best Anagram Crossword
Crossword puzzles are perennial favorites, but what if you want something just a little different? Best Anagram Crossword is exactly that. You get the familiar crossword puzzle layout, except the clues for each word are actually anagrams of the solutions. It's a clever combination of two common word game dynamics. And, when you're feeling stuck, know that our handy anagram solver is always here to help.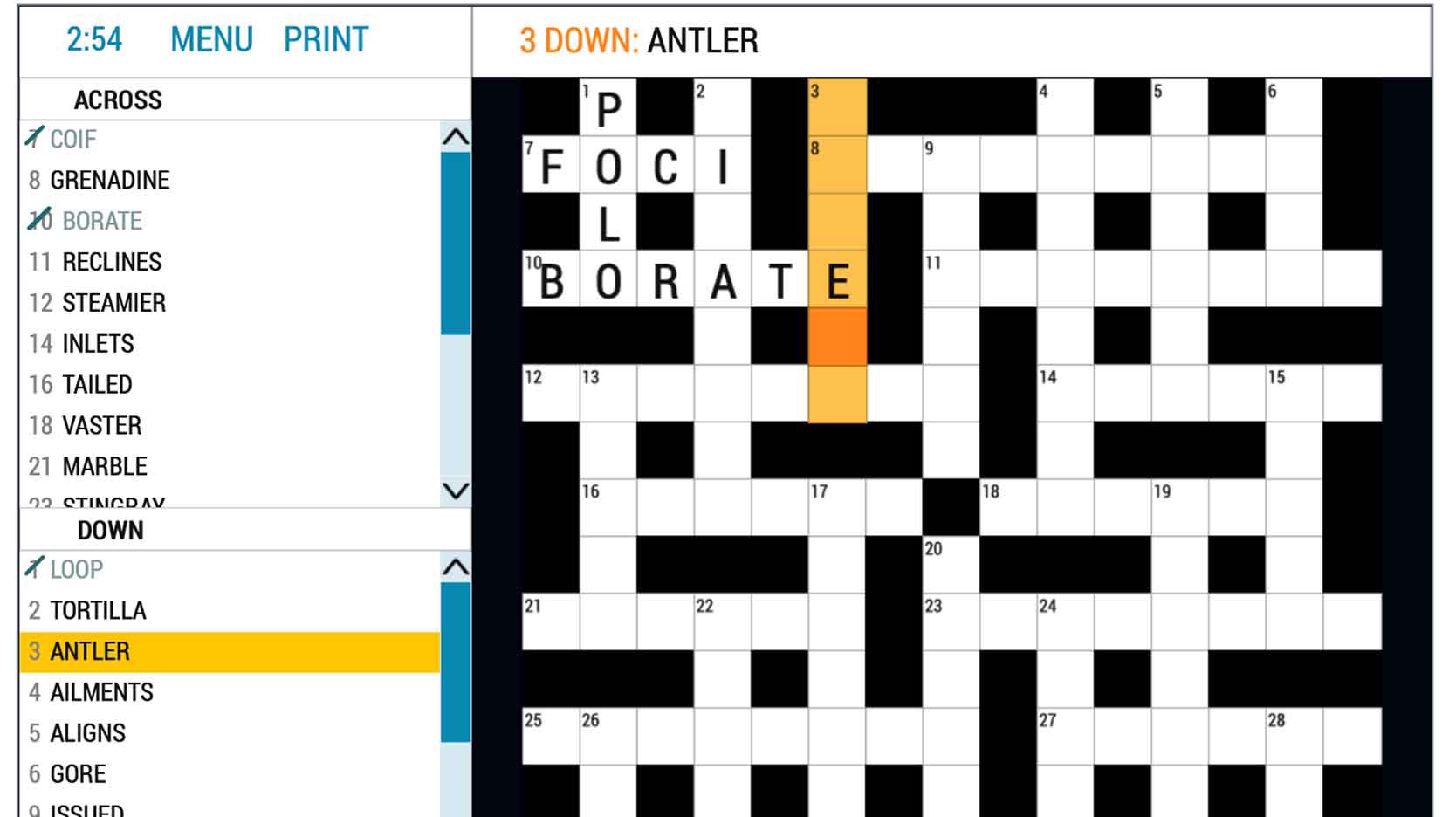 best anagram crossword online game
Daily Word Search
If it ain't broke, don't fix it. The Daily Word Search on MSN Games Zone is exactly what you need when you want to fill out a word search from the convenience of your web browser. Each word search puzzle fits a theme, like "golf" or "camping." As is par for the word search course, the words are hidden upward and downward, forward and backward. Simply click, hold and highlight. There's a new word search every day.
Wordscapes
The game you love to play on your smartphone is just as easy to play online on your computer. The Wordscapes Facebook app works exactly the same way as its mobile counterpart. You get a circle of up to seven letters, connecting them together to form words to complete each puzzle. Participate in the weekly Wordscapes tournaments to earn coins and crowns. When you're stumped, our comprehensive Wordscapes answers site has what you need to win too.
Wheel of Fortune Toss-Up Challenge
Love the game show on TV? Feel like you're right there with Pat Sajak and Vanna White with the Wheel of Fortune Toss-Up Challenge. This totally free online word game is also totally official and playable on the Wheel of Fortune website directly. It recreates the toss-up challenge from the TV show, revealing one letter at a time until you're ready to solve. There are three rounds with three puzzles each, followed by a bonus round.
Scramble Words
Another excellent word game online for anagram fans is Scramble Words. If you've ever played a game like Word Cookies or Wordscapes Uncrossed, you'll feel right at home here. Unscramble the letters to make new words and complete the puzzle. The main difference is that your letters are arranged in a simple row, like a Scrabble rack, instead of in a circle. 
Codeword
What do you get when you cross a crossword puzzle with a dash of sudoku? Codeword is one of the best online word games you can play for free with no download. Words interconnect on a grid, and the numbers in each crossword space correspond to a specific letter. For example, every "2" in the puzzle might be the letter "E." The puzzle uses all 26 letters at least once. This is a fun and engaging challenge for sure!
Mini Crossword
Part of the reason why you want to play these word games online is because they're quick and convenient. If you only have a few extra minutes to spare, the Mini Crossword on the LA Times website could be the ticket. Regular crossword puzzles could take hours to complete, especially if you don't get some crossword help when you need it. By comparison, you'll only find about 10 clues in the Mini Crossword. And each word is no more than five letters long.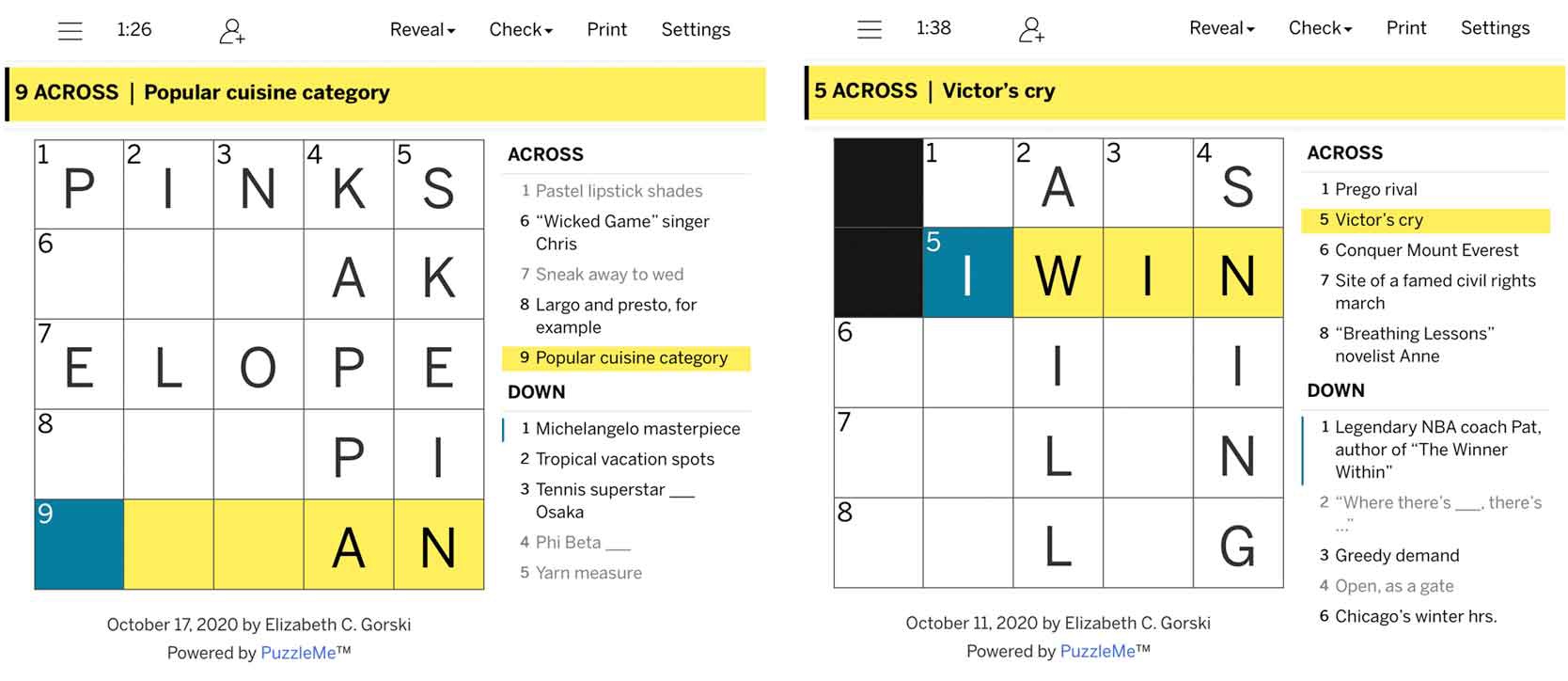 mini crossword games la times
Play Word Games Online With Friends
Sometimes, you want to play your favorite free word games alone. Other times, though, you want to play with friends. Just because you're physically apart doesn't mean you can't partake in a fun game together. There are tons of free online word games to play with other people. Who has the stronger vocabulary or puzzle-solving ability? Who will come out on top? 
---
Michael Kwan is a professional writer and editor with over 14 years of experience. Fueled by caffeine and WiFi, he's no stranger to word games and dad jokes.